Edwards was definitely an innovator, but more importantly, he documented hundreds of artists during their rise to fame. Sadly, the deejay passed away in 1981 before he could be adequately recognized for his crucial contributions to early rock 'n' roll. Nearly 30 years would then roll by before his images were discovered in a box under his nephew's workbench.
The "City Slicker Turned Country Boy," as Edwards often called himself, has been largely forgotten, but that is now changing. Author, songwriter, and bassist Christopher (Chris) Kennedy recently collected Edwards' photos in the massive hardcover coffee table book entitled 1950s Radio In Color: The Lost Photographs of Deejay Tommy Edwards, available via Kent State University Press.
Featuring accompanying text, analysis of each year the pictures were taken (1955-1960), brief bios, and each photo placed within historical context, the book is an essential purchase. And if you're curious, the Rock and Roll Hall of Fame will curate an Edwards' photo exhibit beginning January 12 through April 2012.
In a long-form conversation conducted over the past month, Kennedy discusses the unbelievable story of how he discovered the legendary deejay's pristine photo collection.
I located Tommy's nephew, who had five 35mm slides in his possession. About a month later, he called to say he found nearly 1,800 more, stashed under a workbench in cardboard boxes. He simply forgot he had inherited the whole collection.
As you can imagine, when I heard this, my imagination ran wild regarding what the collection might contain. I wasn't disappointed. With his camera and newsletters, Tommy Edwards captured the rock 'n' roll explosion, as well as 1950s pop culture, as never before seen or documented.
When I saw how beautiful and historically important his photographs were, I knew they should be shared. I knew what type of book the photographs should be presented in, having many photography, art and music books in my own library.
So I just approached the project as passionately as I did my recording career, writing songs and getting record deals. In my mind there was never a question whether I could do it, I just had to work out the details. Call it a false sense of confidence coupled with blind ambition. For me, that's a potent combination.
I believe Tommy had the need to make order out of chaos, after his traumatic experiences serving in World War II. In my research and interviews, I learned that Tommy was attached to an anti-tank unit in North Africa and saw heavy action.
He hardly ever spoke about his time in the military, but many agreed he seemed scarred from the experience, changed. His nephew theorized that his fastidiousness was a type of coping mechanism for him. He was a very meticulous guy, and we're lucky for that. The slides were in excellent condition.
He also self-produced an amazingly detailed, two-page newsletter for radio industry insiders from 1953 through 1960, called the T.E. Newsletter. The wealth of information in the newsletters is the photo collection's indispensable companion piece.
Tommy was a documentary photographer. His photos capture icons and unknowns alike, in such a candid and revelatory way. My favorite photos in the book are the ones where I can see my own dreams, disappointments and accomplishments reflected back at me. Dale Hawkins, Michael Landon, El Boy, Maureen Cannon, etc. etc.
Out of the nearly 1,800 photographs, I handpicked 200 for the book, based on various factors. Naturally, Elvis, Chuck Berry and other influential artists were included. If the subject was still alive and I interviewed them, that would play a part in the selection. Sometimes a photo would just be beautiful, regardless of who was in it, so it would end up in the book.
I would absolutely consider publishing more of Tommy's photos. However, the right situation would have to present itself.
Tommy Edwards (posing in Record Heaven with the Johnny Cash At Folsom Prison record) – I see a content person, someone I would have loved to have met and interviewed, someone who played a pivotal role in launching rock 'n' roll's first wave.

Tommy briefly flirted as a recording artist, recording five singles. Did he take this facet of his career seriously?

Tommy took his recording career very seriously. His first record of "What Is a Teen Age Girl?" was poised to be a hit when it was released in January 1957, but Coral Records didn't have enough records in the stores. So it was a missed opportunity, although it did go on to sell about 100,000 copies [it charted at a respectable No. 60 on Billboard's pop chart].

His proposed second single was "The Story of Elvis Presley," which was never released. It was to be a mock interview record with actual Elvis songs inserted as responses. Coral was apparently unable to get the rights from RCA to do it. I'd love to hear it today… I wonder if tapes exist?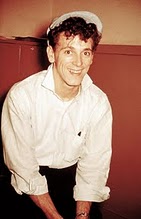 Gene Vincent

His other records didn't fare very well. All the records were narration over orchestral backgrounds, and when you hear them today, they offer great snapshots of 1950s teenage life.

Name a few artists from the '50s you especially admire.

I discovered the music of Elvis Presley when I was about seven-years-old, and I've been a fan ever since. I draw inspiration from the music of Eddie Cochran, Johnny Cash, and Roy Orbison. I admire what Sam Phillips accomplished at Sun Records. In writing the book, I discovered, researched and became a fan of Malcolm Dodds, Jimmy Crain, Nellie Lutcher, etc.

How did you learn about The Pied Piper of Cleveland and what prompted your investigation?

Well, The Pied Piper of Cleveland is music's first rockumentary, an October 1955 movie short personally financed by WERE deejay Bill Randle. This was the first film Elvis appeared in, also featuring Bill Haley and the Comets, the Four Lads, Priscilla Wright, and Pat Boone.

This yet unreleased film is the lost Holy Grail of rock 'n' roll. Being an Elvis fan for most of my life, I've always heard rumblings about The Pied Piper. It was Randle's death in 2004 and simple curiosity that prompted the search.

Discovering Tommy Edwards's slides taken on the day The Pied Piper was filmed is, short of finding the film, the next, best thing. A couple of other times I feel I've gotten damn close to finding the film. It's definitely lost, but hopefully not forever.

Tommy was the first deejay in Cleveland to recognize Elvis' talent. What was it about Elvis that knocked Tommy's socks off?

I think it's as simple as Tommy catering to the country music fans he was trying to attract to his Saturday radio show, "Hillbilly Jamboree." He knew the fans liked Bill Monroe, and here was a kid doing a Bill Monroe tune, "Blue Moon of Kentucky."

Tommy had his ear to the ground and knew that the record was making some waves in the South. So in late 1954 he began spinning it, and the northern audience reacted.

Consequently in February 1955, he booked Elvis on his Hillbilly Jamboree show at the Circle Theater in Cleveland. It was Elvis's first appearance north of the Mason Dixon line. Again, audience reaction was good, especially among the teenagers.

So Tommy continued to play Elvis's Sun singles and booked him at the Circle for an encore performance in October 1955 (during the filming of The Pied Piper). The favorable reaction of the Cleveland audience helped prove to the big record companies courting Elvis that his appeal was not restricted to the southern states.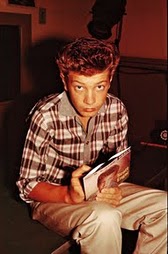 Scotty Engel (aka Scott Walker)

Also during that October 1955 performance, Tommy captured Elvis signing autographs. When I view those photos, I see an exuberant kid with a perm, on the brink of becoming an artistic phenomenon, basking in the adulation of females. In other words, I see dreams coming true.

Once Elvis became a national phenomenon, Tommy opined that Elvis wasn't recording country (aka hillbilly music) anymore. So, did Tommy come to accept Elvis' new direction with rock music?

I think Tommy was a bit possessive about Elvis, and very proud of the early role he played in supporting him. He wasn't too happy about Elvis moving away from country music in 1956. It was as if he and his country audience considered Elvis their own little secret, and the boy was slipping away from them.

Elvis returned to do a show on November 23, 1956, at the Cleveland Arena. Did Tommy and Elvis reunite?

After the October 1955 shows in Cleveland, they never met again. Elvis never spoke about Tommy's influence on his career, but had he lived to be properly interviewed, I could imagine he might have.

In the book, you called "Mystery Train" Elvis' last honest recording until his return from the army in March 1960. Why do you feel this way?

The beautifully effortless recording of "Mystery Train," from Scotty's first riffs to Elvis's laugh in the fade, encapsulates Elvis's time at Sun Records.

Sam Phillips' style of producing was to create an environment where the true essence of the artist was encouraged to expose itself, then thrive. The material that Elvis recorded at

Sun was culled from his own record collection, from the artists who inspired him.

When he moved to RCA, this changed. The material was brought in by music publishers who didn't know anything about Elvis as an artist. RCA's Steve Sholes let Elvis do his thing, but this change in song style to a more pop sound, to my ears, sometimes sounded forced.

When Elvis was drafted in 1958 and ended up in Germany, cut off from his career, he reconnected with his record collection to keep him sane. He survived, much as he did before recording for Sun, with his heroes on record, alone in his bedroom.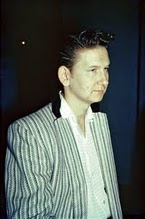 Roy Orbison

So when he returns from the army in 1960, the sessions include the standard RCA pop fare such as "Make Me Know It."

However, Elvis also dips back into his private stash, cutting such amazing performances such as "I Will Be Home Again" and "Reconsider Baby," as well as the operatic "It's Now or Never," a risky move for him, but his skill and unique, honest enthusiasm make it all work somehow.

How did you become aware of Elvis?

I have to pay props to my mom. It's a humid, cloudless afternoon at a mall in New Jersey, early summer, 1974. I'm an introverted six-year-old, staying put in Mom's shadow. My sister walks the aisles of Sam Goody's record store, in search of the latest LP by John Denver, her favorite.

Maybe it's her enthusiasm as she triumphantly pulls Denver's Back Home Again out of the rack, or maybe I find standing in the middle of a loud, bustling record store cool and exciting, but something in me clicks.

So I take the shot and ask my mom if I, too, can get a record. Exactly which record would have to be up to her, since I don't have a clue. Elvis Presley was 39 years old in summer 1974, and in three years he'll be dead. My mom was 36 years old, and remembers dancing to Presley's 1957 hit, "Teddy Bear," in her bedroom.

The 45 rpm record she chooses for me is "I've Got a Thing About You Baby" b/w "Take Good Care of Her," one of Elvis's latest. It's a safe bet for a six-year-old, something not too loud or offensive.

Later, on the back stoop, as the trusty Fischer Price portable record player spins the disc, I sit with my mom, watching the stars. It was simple, unhindered and beautiful, as most magic moments are. My mom, Elvis and me. Something clicks.

What was the experience that triggered your real interest in Elvis?

I was about 10 or 11 and Elvis had just died. One afternoon, my father asked if I wanted to hear something good. He proceeded to play Elvis's "In The Ghetto" and The Beatles' "Eleanor Rigby." I guess it was the scary cellos in both songs that got me because it seems from that moment on I knew I was going to be a musician.

As far as Elvis goes, the deal was sealed a few months later when I caught his 1965 film, Tickle Me, on late night TV. He was the epitome of cool, confidence and talent, and his image and style had a huge impact on me.

It's interesting to note that Tickle Me was made at the considered low point in Elvis's career. The film was very low budget and featured no new soundtrack songs. All the material was culled from earlier releases, such as the amazing Elvis Is Back! studio album from 1960.

In a way, it's a good introduction to Elvis because all the songs in the film are great, and at that time in 1965, he looked very healthy and fit.

Who were some of your memorable interviews?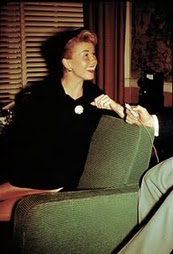 Doris Day

In my interview with Charlie Louvin, he spoke very candidly about his brother, Ira, which added to the intimacy of their photograph. George Darro, the rockabilly artist from Pennsylvania, has had a tough life but maintains this amazingly positive attitude, it's contagious. Also, Jackie Jocko was inspiring and fun.

It was insightful to interview a few of Tommy's girlfriends, who were able to add a very human side to his story. Many of women I interviewed, such as Wanda Jackson, Dolores Hart, and Beverly Ross, remembered the clothes and jewelry they were wearing, again, adding to the intimacy.

What is the story behind you tracking down rockabilly/country singer Sanford Clark of "The Fool" fame, which Elvis later recorded on his acclaimed Elvis Country LP in 1970?

I knew he was alive and living in Epps, Louisiana, but I couldn't find an exact address or phone number. So I called the local police and explained my purpose and mission.

It was Sheriff Porter's own suggestion that he take a ride out to the area where I believed Sanford was, and knock on a few doors. If he found Sanford, he would give him my contact info, and if he wanted to call, he would.

Within a few days Sanford called me, and in a low, gruff voice, asked if I was the fella who had the police come knockin' on his door. I told him I was, we had a good laugh, and he came through with a great interview. I called Sheriff Porter and thanked him.

My impression was Sanford is a guy who doesn't put up with any bullshit. He loved the music but had no use for the music business.

The Southern Gentleman, country singer Sonny James, rarely gives interviews. Was it easy finding him?

Sonny was very difficult to find. But most of the people I interviewed took work to locate. I enjoy that part of the process very much. It's exciting. Anyway, after exhausting all other avenues, I wrote a letter to an address I hoped belonged to him, requesting an interview.

He soon got back to me. Sonny was amazingly candid and very friendly.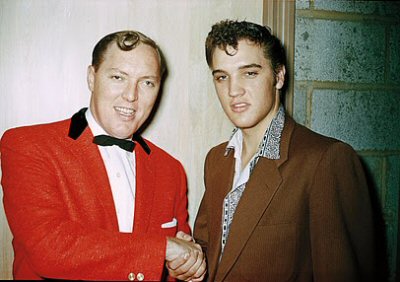 Haley and Elvis

He remembered that Tommy was responsible for breaking "Young Love" his first crossover hit in 1957) in Cleveland. A photo inscribed by Sonny to Tommy reads: "My best to a real good friend, T.E. – Thanks for everything."

I was shocked at the sudden fate of singer Vince Wayne…

Vince Wayne was from Cleveland, Ohio, and was an up and coming singer on Roulette Records. He collapsed onstage in April 1959 and died shortly after from a brain aneurism.

Tommy was a supporter of Vince [a photo of Vince at a February record hop appears in the book] and attended the funeral, with his camera. He shot pictures of Vince in the casket, as was custom at that time, and gave the photos to Vince's mother as keepsakes. A bit macabre, but in 1959 it was an acceptable practice.

Why did Tommy stop taking photos?

As a result of the payola scandal of the late 1950s, radio went through a quick and radical upheaval. The scandal was the wind of change that signaled the end of the autonomous deejays, including Tommy and Randle. The deejay no longer held the power to choose what records would be played, and as a result, no longer shaped tastes and trends.

Tommy no longer fit that job description and was forced out in July 1959. He flatly denied ever taking part in any payola schemes and was never accused. Tommy swore his reputation was clean, refusing even offers to go out for a cup of coffee with promotion men.

In reality, both Randle and Tommy escaped the payola scandal, and neither one of them had their reputations tarnished. Their relationship was one of intense competitive rivalry, with Tommy's undemonstrative efficiency often clashing with Randle's perceived intellectual snobbery.

More succinctly, they hated each other with a passion, according to WERE overnight jock Carl Reese. There was mutual respect, at a distance.

Because of the changing times in the business, Randle also left radio in the early sixties. He became a lawyer and had a private practice for many years. Only much later did he return to radio.

Tommy stopped taking pictures because he no longer had access to the celebrities his job had afforded him. In addition, when he was fired from WERE, he lost a part of himself.

An embittered Tommy kept a careful list of the rats who deserted him, including label executives and national record pluggers. Not much is known about it, as he never named names. Tommy felt betrayed by what were apparently superficial friendships within the business.

How would you characterize Tommy's relationship with his wife?

The impression I got from the research was that it was a strong and supportive marriage, at least for the majority of their time together. Ann assisted at record hops and traveled to deejay conventions with him. Tommy always spoke highly of her in his newsletters.

Ann's brother was able to give me a perspective on Tommy and Ann's relationship that no one else could, so I'm grateful for that. I got the impression from him that Ann was a drinker, and when she drank, she was a nightmare. But basically overall, she was a nice person with some deep rooted problems, like us all I guess.

When Tommy's radio career ended, the marriage was not able to sustain itself any longer. Perhaps without radio and the life it implied, the spark in their relationship was gone.

What did Tommy do for the remainder of his life?

After his radio career came to an end, Tommy opened a record store called Hillbilly Heaven in Cleveland, Ohio, which specialized in country music. Over time, he broadened his inventory to include all genres and changed the shop's name to Record Heaven.

I don't believe Tommy would have returned to radio on his own accord. But if someone came offering him a job, in Cleveland, he might have considered it. That was more his personality.

Tommy died in 1981 of a brain aneurysm. He was sixty-years-old. Upon his death, the photo collection and newsletters vanished. I discovered them in 2006 and 2009, respectively.

Tommy was very much a trailblazer in adopting technology. How would he feel about satellite radio today?

Tommy embraced new technology, and it was this trait that made his archives a reality. He built a lab in his home and began shooting color film in 1955. He had a record player installed in his car so he could audition discs on his way to work.

He perfected the record hop, bringing all of his own gear, as well as back-up gear in case a tube blew. He respected technology, and he used it to express his artistic ambitions.

Satellite radio has facilitated a return of the autonomous deejay and I think Tommy would've have loved it. It's a return to what made radio an amazing experience. Deejay, music and audience coalesce into one powerful, repeating wave.

Do you have any upcoming appearances tied in with the book that you wish to share?

The Rock and Roll Hall of Fame will curate a Tommy Edwards photo exhibit beginning January 12 through April 2012. It should be a beautiful show, featuring 32 photographs from the collection.

Do you have a new book project in mind?

As a continuation of the seven years of hunting, discovery and research I've done on The

Pied Piper of Cleveland missing film project, I'm hoping to write a biography on Bill Randle. He deserves it, and I've been working with his family as well as with my friend, writer David Barnett, on this idea.

Is there a reason why Tommy is not widely known today?

Tommy was never one to boast about his accomplishments. Reflecting back in a 1981 interview, he said he would have preferred to have a manager or agent to handle the promotional side of things. Professionally, he was a trailblazer and entrepreneur. Personally, he was a loner, and not in the negative sense of the word.

It's my hope that the discovery of Tommy's photographs and newsletters will gain him the recognition as not only one of rock 'n' roll's early champions but also as the deejay responsible for perhaps the most important photographic and written documentation of twentieth-century popular music ever produced.

Roberts describes himself as: "a freelance writer who loves reading biographies, watching classic movies, going to concerts, listening to music. Investigating pop culture, including anything from the '30s to the present, is a lifelong passion of mine. Everyone has a story to tell, and if I've been a good listener and asked questions, then I've done my job." You'll find many of his terrific interviews at www.examiner.com/pop-culture-in-national/jeremy-roberts.