ADAM SCHLESINGER: THAT THING HE DOES!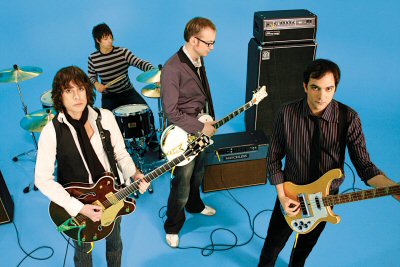 Photo Credit: Audrey Levy
FOUNTAINS OF WAYNE, left to right, Jody Porter, Brian Young, Chris Collingwood, Adam Schlesinger
By Paul Freeman [Dec. 2010 Interview]
Adam Schlesinger, as one of the main songwriter/performers with Fountains of Wayne, consistently turns power pop into pure pleasure. But there's much more to his creativity. He has been nominated not only for Grammys, but for an Academy Award, Tony and Golden Globe.
Since penning the title tune to Tom Hanks' "That Thing You Do!," Schlesinger has been inundated with movie assignments.
Recently, at a handful of shows, the New York native performed some of the tunes his fans love, but haven't had a chance to hear live before. His pal Mike Viola (Candy Butchers), who wrote amusing songs for "Get Him To The Greek" and "Walk Hard" shared the stage with him.
It was Viola who sang lead and co-produced the song "That Thing You Do!" Schlesinger's incredibly catchy composition perfectly captured the British Invasion era excitement.
Adaptability comes in handy when Schlesinger is scoring or writing songs for films. His music has been featured in such pictures as "Shallow Hal," "There's Something About Mary," "Josie and the Pussycats," "Scary Movie," The Manchurian Candidate" and "Two Weeks Notice." He turned Hugh Grant and Drew Barrymore into pop stars for "Music and Lyrics."
Schlesinger's TV credits range from "The Howard Stern Show" to "Sesame Street." One of his favorite assignments was co-writing songs with old friend David Javerbaum, longtime "Daily Show" staffer, for "A Colbert Christmas: The Greatest Gift of All" special (earning a Grammy for their efforts).
That pair also wrote the songs for the Broadway hit adaptation of John Waters' "Cry-Baby."
But Schlesinger isn't ignoring his rock band roots. A new Fountains of Wayne album is on its way, as is a new one from Schlesinger's other indie pop group, Ivy. He's also working on material for his supergroup Tinted Windows (which also features James Iha, Taylor Hanson and Bun E. Carlos).
The gifted and versatile Schlesinger has had his tunes recorded by such diverse artists as Katy Perry, The Click Five, Superdrag, Bowling For Soup, The Jonas Brothers and America.
The perpetually prolific Schlesinger took time out from his busy schedule to talk with Pop Culture Classics.
POP CULTURE CLASSICS:
Teaming up with Mike Viola, is that just a case of friends wanting to hang out together?
ADAM SCHLESINGER:
Yeah, more or less, that was the reason we decided to do some shows together. We did a couple this summer, on the East Coast. I guess the main thing was, we each had a bunch of songs that we never really got to perform, stuff we'd written for movies or for other projects. And we thought it would be fun to put a little set together where we did some of our own songs from our albums and then we did some of the movie stuff.
PCC:
So that's very cool for fans who have enjoyed these songs in other contexts, but have never had the chance to hear them performed on stage.
SCHLESINGER:
Yeah, that's the idea, at least.
PCC:
And what makes Mike a good collaborator for you?
SCHLESINGER:
Well, Mike and I have known each other for 20 years or something. We've played together in a lot of different contexts. We've worked on different stuff together. And we've had sort of similar paths. But mainly, we're the same generation and we grew up listening to the same music. We share so many references together, so it's easy for us to work on stuff together.
PCC:
Did you meet while working on 'That Thing You Do'?
SCHLESINGER:
No, we had already known each other for a long time at that point. We met in Boston, I guess in the early '90s. We originally just met, because my friend Chris Collingwood, from Fountains of Wayne, just happened to catch one of his shows locally, in Boston, and said, 'You gotta see this guy. He's really good.' And so we kind of just started as fans and then became friends and started hanging out with him. And a few years after that, Mike moved to New York and we ended up being roommates and stuff. So... a long history.
PCC:
The title song for 'That Thing You Do!' really captures the fun and excitement of the British Invasion era. Did you study those records, so you could match that feeling?
SCHLESINGER:
Well, to some degree, it was just a Beatles imitation, and I was certainly already familiar with the early Beatles. But when I heard about that assignment, they specifically described some bands, like The Knickerbockers, who were kind of Americans imitating The Beatles. So it's sort of one step removed.
PCC:
It must have helped that Tom Hanks was so into that sound. He was the one who inducted The Dave Clark Five into the Rock Hall of Fame.
SCHLESINGER:
He's very knowledgeable, obviously. And, thankfully, he had the confidence in his own taste to pick a song by a guy that nobody had ever heard of [Laughs]. A lot of times, the songs in movies just go to people with the track record for other songs in movies. And he had the confidence to just pick one out of the pile and say, 'I like this one.'
PCC:
Did that assignment in itself open up a lot of doors to you in movies and television? Or did those jobs come partially from the Fountains of Wayne success, as well?
SCHLESINGER:
No, that movie opened tons of doors to me. It was invaluable to me in so many ways.
PCC:
You mentioned sharing the same musical reference points as Mike. What were your earliest musical inspirations?
SCHLESINGER:
Definitely The Beatles, I think for both of us. Probably ground zero. But we both know so much stuff that was just on the radio, when we were kids, kind of '70s AM hits, classic rock. And we both have gone back and learned lots of music somewhat before our time, even, '60s stuff, that we were probably slightly too young to experience the first time around.
PCC:
A lot of people consider that to be the Golden Age. Why do you think that era had such a lasting impact?
SCHLESINGER:
Well, I think partially because a lot of it was really great. But also, for guys like us that really like melody and really put an emphasis on writing melody, as opposed to just writing rhythm tracks or riffs, or something. That was really at the fore, in that period. The melodic stuff was really adventurous. And you don't find that so much anymore, the kind of long melodies. These days, pop songs tend to be, you know, a four-chord progression that just repeats. And it's really more about the track, in a lot of ways.
PCC:
You do have that gift for writing melodies that people really latch onto, the hooky songs. Is that something that's just inherent in you? Or is it a result of studying how song structures work?
SCHLESINGER:
Well, you do a lot of studying, in the sense that you spend your whole life listening to stuff, thinking about it. I never thought of it as studying, in terms of having to do homework or something [Laughs]. But you just spend your whole life listening to records and thinking about why they sound the way they do. And I think Mike and i are pretty good imitators, too. We both latch onto what makes a certain period sound a certain way and kind of rip it off and sometimes put a little bit of our own spin on it.
PCC:
Your songwriting process, does that tend to be disciplined, forcing yourself to sit down and write? Or do you wait for the muse to arrive?
SCHLESINGER:
I usually have to have some kind of assignment. I don't really write all the time, for no reason. I usually need to either be asked by somebody to do something or else have some kind of self-imposed deadline.
PCC:
So is that a matter of learning the craft well enough that you can force yourself to sit down and come up with something?
SCHLESINGER:
When somebody gives you an assignment, like a movie or a television show or something, it helps to define the parameters right away, which actually makes it a lot easier than if you're just kind of sitting around, thinking, 'What should I write today?,' for no particular purpose. You know, the first battle is just deciding how to narrow that down from everything to something [Chuckles].
PCC:
As you're writing, do you know instantly when a song is clicking? Or do you have to live with it for a while?
SCHLESINGER:
I mean, it's a cliché, but usually the stuff that comes quicker does tend to be better. If there's an idea that you're just not able to finish for a long time, it usually means there's just something inherently wrong with it. But sometimes I'll have some little phrase or some melody or something that I know is worth continuing to work on. And I might not get it all the way done right away, but I'll have the confidence that the basic kernel of the thing is good and worth pursuing.
PCC:
Working with a variety of collaborators, does that help you get the creative juices flowing?
SCHLESINGER:
Well, I think it keeps it interesting and you learn something from everybody you work with. I mean, there's no rule about how to make music and everybody has slightly different ideas about it, different approaches. I try to stay open-minded and take something from each person's approach.
PCC:
Fountains of Wayne keep making great music. The chemistry there, is that just, again, similar musical tastes? The right mix of personalities?
SCHLESINGER:
[Laughs] It's definitely not the right mix of personalities. No, I mean, Mike and Chris and I have all known each other for years. And I think it's all shared sensibility and shared record collections and stuff like that and the shared instincts that you develop over a long period of time.
PCC:
You and Chris, do you have very different songwriting approaches?
SCHLESINGER:
I think we do, I mean, Chris and I really don't write together. We used to, a long time ago. But I think we do have different approaches. I think that I, at least for Fountains of Wayne, I tend to start with lyrics. And then figure out some music that works with the lyrics and then kick it around from there. I think Chris usually writes more just sitting and playing and having it all either happen at once or not. But I don't really know what his methods are, to be honest.
PCC:
Working on so many outside projects, does that make Fountains even more enjoyable than it would be if it were your only focus?
SCHLESINGER:
Well, I do think that getting away from it makes you appreciate it more when you get back together to do it again. I think, if Fountains of Wayne was the only thing I had going on, it probably wouldn't have lasted this long. And the fact that we work at this glacial pace [Laughs] and only put out a record every three or four years does keep it fresh.
PCC:
And Ivy, is there something new on that front?
SCHLESINGER:
There is, actually, believe it or not . We have a new record that's finished and coming out next year. I don't know exactly when yet. But, yeah, it'll be our first record in close to six years, so, I'm pretty excited about it.
PCC:
So, new records coming from both Ivy and Fountains of Wayne. Will you tour for both?
SCHLESINGER:
I think we will. I don't know to what extent. But I know both bands want to go out and play.
PCC:
It must give you a schizophrenic feeling with two different musical personalities going at once.
SCHLESINGER:
[Laughs]. Yeah, I mean, the two bands have co-existed for a long time. And it always kind of worked out, I think partially just because neither band was really like the kind of act that will go out for 18 months or something. I mean, we'll go out and do a couple weeks of shows and then do another couple weeks at some other point. But it usually works out.
PCC:
And what about Tinted Windows? More music on the horizon there, as well?
SCHLESINGER:
I have some more songs. We haven't started recording anything again yet. Everybody's been in sort of different modes for a while. But that was a really fun project and I think everybody really enjoyed doing it and I hope that we get back into it soon.
PCC:
The TV and film composing, is that something you have to go at with a very different sort of mindset from your other work?
SCHLESINGER:
It is a different mindset, because there's deadlines and a lot more people involved. But the basic process of writing something or producing something is not totally different.
PCC:
When you began working on scores, was that a daunting challenge or did you take naturally to that?
SCHLESINGER:
More often than not, I get hired to write songs, rather than scores. I've done some scoring and I really like doing scoring. I'm actually working on a score right now. But scoring is a little bit of a different mindset than writing a song. When you're writing a song, you're writing something that's supposed to have your complete focus. When you're writing a score, it's supposed to be supporting what's on screen. It's a different task.
PCC:
When you're writing a song for a film, is it kind of like playing a part, getting into the screenwriter's and director's and characters' minds?
SCHLESINGER:
It can be. Everybody is different. And there are some songs that are almost like part of the script itself, where the song has to literally help tell the story. And there's other songs where people just want it for atmosphere. They're not worried so much about whether the lyric really has anything to do with what's going on.
PCC:
The movie "Music and Lyrics," I think a lot of people were surprised at how good the leads sounded. Did you coach them at all?
SCHLESINGER:
Not really on set. I mean, I worked with them in the studio. So I guess, in that sense, there was a little bit of coaching. I wasn't on set with everybody, except for a couple of visits.
PCC:
But in the studio, were you surprised at how well they took to it?
SCHLESINGER:
It was a lot of fun. Everybody was really great. But they were all sort of bashful about it, in different ways. I mean, Hugh Grant, in particular, was sort of very self-deprecating. But, in the end, he did a really good job. It was sort of the same with Drew Barrymore. I mean, Drew Barrymore actually had a great voice and she was very shy about it. But she's actually a really good singer and I thought had a really endearing voice, as well, a very unique voice.
PCC:
And 'A Colbert Christmas,' that must have been a fun project to work on.
SCHLESINGER:
Yeah, that was great. I got asked to do that by my friend David Javerbaum, who I've worked with before. And he was one of the main writers of 'The Daily Show' for years. He invited me to work on that with him and it was very cool. For me, it was particularly fun, because I got to write many different genres of music within one project.
PCC:
Well, looking at your list of TV credits, it's amazingly diverse. You may be the only person who has credits that include both 'The Howard Stern Show' and 'Sesame Street.'
SCHLESINGER:
[Laughs]
PCC:
It must be fun to dart from one extreme to another.
SCHLESINGER:
It is fun. When you do what I do or what Mike does for a living, part of it is just developing this ability to morph into something else for each project. If there's a style of music that I'm not familiar with, I can go and study up on it real fast and try to do a decent approximation of it.
PCC:
What about working on the musical 'Cry-Baby'? Was that a daunting task, writing for a Broadway show? Or just another assignment?
SCHLESINGER:
Well, at the beginning, I thought it was just another assignment. I didn't realize what I was getting into, when i signed on [Laughs], because it was literally five years from the time they approached me to the time it actually got to Broadway. And in that five years, there were lots of delays and lots of holdups, but there was also lots of work. And the show gets rewritten many times. There's lots of cooks in the kitchen. And then, there's out-of-town versions of it and readings and rehearsals. It's just so complicated. But I had a lot of fun doing it, just being exposed to how that world works. I would definitely do it again. But I really had no idea what I was getting into, when I first signed on.
PCC:
So after that whole process, was it still a thrill when the curtain went up for the Broadway opening?
SCHLESINGER:
Yeah, that was realty exciting. I mean, it's a thrill anytime anybody does a song of yours anywhere, whether it's on the radio or in the theatre or whatever. That part is always exciting.
PCC:
Outside of the assignment work, do you tend to just try to write music that pleases you or are you always conscious of what might appeal to the public, to the listener?
SCHLESINGER:
It's some of both. Part of writing music is being a being able to anticipate how it's going to hit other people. And part of it is wanting to do something that feels good for yourself. Trying to strike that balance.
PCC:
What about producing other artists? Does that provide its own sorts of satisfactions?
SCHLESINGER:
I like doing that, if it's an artist that I'm excited about. Sometimes producing can be really fun and sometimes it can be really grueling and miserable [Chuckles]. It really depends on the experience. It's nice to get out of your own head and just try to help somebody else realize their own vision. And that's kind of what a producer's job is, to come in and help figure out what someone else wants to do with their own music, to just try to help them get there.
PCC:
As far as how smooth that path is going to be, sometimes you don't know until you 're actually in the studio with the artist?
SCHLESINGER:
Yeah, a job part of the producing job is psychology, more than music. It's developing a relationship with the person that you're working with, the group you're working with. Having them trust you and you trust them and being able to make suggestions and say that you occasionally don't like things, without alienating them at all. All that stuff.
PCC:
It seems like one of the big things for you is just to be able to keep challenging yourself musically.
SCHLESINGER:
I just like working [:Laughs]. I like having work. And I like playing music. If I can stay busy doing music and not doing something else, then I'm happy.
PCC:
So staying busy keeps the creative spark going.
SCHLESINGER:
It does. I think especially as I get older, there's less of a hierarchy in my own mind about which projects are important. I think when I was younger, it was just all about being in a band and everything else, I didn't think about it too much. If it happened, it happened. But now I'm realizing that you can have a very fulfilling creative experience with something that you didn't think much of at the beginning. And vice versa - things that you put a lot of hopes into can end up not turning out the way you hoped or whatever.
PCC:
With all that you've achieved, are there still goals you're striving towards or new forms that you'd like to explore?
SCHLESINGER:
I don't know that there's a specific answer to that question. I just want to keep staying involved in cool projects and get the chance to work with other interesting people, really.
PCC:
Is music more rewarding as ever for you? Do you find it as infinite its possibilities?
SCHLESINGER:
You know, honestly, I'm probably not as obsessive about listening to music as I was at one point, where that's all I did. Real life has intruded a little bit in that regard [Chuckles], where I don't just spend my entire life listening, going out and discovering new music, buying new records. But I still get just as excited when I write something and I feel like I've nailed it. I still think there's something great about writing a song and having it turn out the way you like.
PCC:
Okay, so you're not obsessively listening anymore [Laughs], but it must help at some point to actually have a life to draw from, when you're writing.
SCHLESINGER:
[Laughs] Yeah, it probably does to some extent.
PCC:
Well, your creative life has been quite remarkable and we look forward to hearing lots more great music from you.
SCHLESINGER:
Thanks so much for doing this. Nice to talk to you.