THE AHN TRIO: SEOUL SISTERS CREATE NEW CLASSICS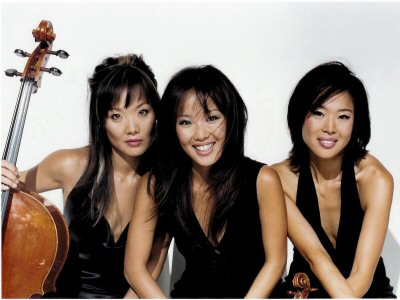 Photo Credit: Arthur Algort
The Ahn Trio: left to right, Maria, Lucia, Angella
By Paul Freeman [May 2011]
The acclaimed Ahn Trio - sisters Angella on violin, Lucia on piano and Maria on cello - have taken their classical foundation and explored new, beautiful musical realms. They have performed works penned by such diverse greats as Michael Nyman, Maurice Jarre, Pat Metheny and bluegrass favorite Mark O'Connor.
"A lot of our composers that we work with have some jazz background," explained Angella Ahn. "Right now, every piece we play is basically music that's written for us by composers like Kenji Bunch, who we work with all the time, but also Pat Metheny recently wrote a piece for us. We worked with a Russian composer, Nikolai Kapustin, who is a virtuoso classical pianist, but also played in his own jazz band for years and years. All of these composers are influenced by a wide range of music, but jazz is definitely part of it."
Ahn loves playing music that's been written specially for the trio. "It's such a personal experience. It's kind of the next best thing to writing your own music, because you're working on this music with these composers. They know you. You know them. They're definitely thinking about you as they write. It's a totally different experience from playing music that was written two hundred years ago, where the composer is long gone."
With contemporary composers, Ahn feels a responsibility. "There's a sense of, 'This composer might be at the concert. How do we make it exactly their idea, as close as possible to their vision?' I feel like, with older music, you have a little more freedom. Somebody like Tchaikovsky, this music has been around forever. There are so many different recordings with different phrasings, different articulations. And you have a lot more freedom in a way.
"With the living composers, because you're actually working with them, and you're having ongoing conversations with them, the biggest challenge, although I also look at it as a blessing, is that you really get to know and pick the brains of the composer. You can say, 'Hey, I kind of want to do the phrase this way. What do you think?' I think it's the most rewarding way to play music, because you do get this back-and-forth."
Such collaborations expand the sisters' musical palettes. "Being able to work with these great living masters that are from different backgrounds allows us to become more thorough musicians. We have to learn the different styles. We have to look at music sometimes from a different perspective. We have to think about things in not the most straight classical way."
The Ahns, born in Seoul, Korea, and now based in the New York area, have also collaborated with dancers, painters, DJ's, installation artists, photographers, lighting designers and even kite makers. "It's about the creative process. For the audience and for us, it's extremely stimulating and inspiring. It allows you to get into other artists' minds. It keeps you really fresh. You learn new things."
The siblings have learned to get the most out of their family ties, as well. "Of course, it's terribly difficult to work with your sisters," Angela Ahn said. "You grew up with them, went to the same school. You're always together. Also, because you're sisters, you don't automatically have the professional relationship. The three of us have really worked hard to build that professional relationship and forget that we're sisters, but we're actually colleagues. It's so easy to just talk to your sister like your sister, instead of somebody who you are working with.
"On the flip side, there is something amazing about being able to go all over the world and to take the closest people in your life with you. Obviously, we all have personal lives, other friends and partners or whatever. But there's the cliché thing of blood is thicker than water. There's something extremely comforting about having your sisters with you all the time. That is a strength."
Ahn, based in Brooklyn, seeks balance in her life. "We feel more passionately about music than maybe anything else, but we do not want to give up aspects of our lives. We have the relationships that we want to have. This is quite possible in the 21st century. I feel like it was harder to do that, say in the 18th century. As modern musicians, you can have a career, a family, friends, travel for leisure. All these things are possible. So we make sure that we do all the things that we want to do."
Their parents instilled that philosophy in them. "They really encouraged us. They knew we loved music, even at a very young age. Yet, they really gave us our childhoods, making sure we took little trips and, as much as possible not missing out on regular things of a child. I feel that that's made a huge impact."
Growing up in Korea, Ahn began playing violin at six. "My sister Lucia is totally responsible for all of us being in music. The reason Maria and I really wanted to play was because our sister was playing. Lucia was the one who begged our parents to let her take piano lessons. She got it started.
"We're so close in ages, my sisters are twins, we never really wanted the same thing. Just because she played piano and made me want to do music, I still didn't want to play the piano. I wanted it to be something different. I chose the violin after, at a very early age, seeing symphony orchestras play. The violins have the upper melodies soaring, amazing, lush sounds. Little did I know that, when I started, it wouldn't sound like that," she said, laughing.
Though the trio made their first public ensemble appearance in 1979, on Korean television, they didn't have grand ambitions at the outset. "It was a hobby. Part of the Korean culture is, you have a hobby and you take it seriously and you work hard. But we weren't thinking we were going to grow up to be professional musicians."
That changed when the family moved to America, in 1981. The girls were all accepted into Julliard's pre-college program.
"My teacher, Dorothy DeLay, who passed away over 10 years ago, was really nurturing and encouraging and my sisters had the same kinds of teachers. It was our early teens when we felt more serious about this."
After completing their Julliard studies and embarking on a professional music career, they were featured in a 1987 Time magazine story, "Asian American Whiz Kids." They appeared on MTV in 1997 as part of Bryan Adams' Unplugged concert. In 2003, People Magazine named the sexy sisters three of their 50 Most Beautiful People.
"Every time we get something like that, we are absolutely flattered and, in some ways, surprised," Ahn said, laughing, "because we're in our own little world. But what's wonderful about that is, we really, truly believe that classical music is for everyone. Often, people have this preconceived notion of 'Oh, I can't go to that concert, because I don't know anything about classical music' or 'I can't go to that concert, because I wouldn't know how to behave appropriately or to clap at the right time.' We feel like that's such a shame, because it's such great music, such emotional music and music that everyone can relate to in some way or another. So every time we get into a mainstream publication, we're grateful, because that allows us to be that much closer to the mainstream audience.
"I can't tell you how many times we hear, 'This is our first classical concert. We definitely want to attend more. We had no idea how much we would enjoy it.' More surprising is very hardcore traditional concertgoers who go, 'Wow, I never knew I would be so willing to open up to this modern music or this kind of interpretation.' And they're surprised, too. The bottom line is, that's the coolest thing about classical music - it is for everyone. It is so relevant. At our concerts, there are little kids, young couples, older people, really, really older people. A whole array of ages and backgrounds. That says a lot about what this music does."
Classical music opens up the imagination. "If you look at a painting, unless it's totally abstract, there are things you see on the canvas, whether it's a field or a mountain or a person. Or if you read a book. Or if you listen to a song with words. The words guide you. But with instrumental music, it's something that you decide for yourself. There are no directions. So you can take anything out of it that you want or that you feel. There are no limitations."
The Ahn Trio presents workshops, hoping to open up new worlds for young people. "Our parents, who were both working when we were children, still found the time to bring us to concerts. Our mother is extremely artistic and she wanted to make sure that her little kids, even if they didn't understand it, got exposed to different kinds of music, different kinds of dance.
"We realized that, for whatever reasons - parents can't afford it, they're too busy - so many children today weren't getting exposed to music the way we had been. So it was important for us to make an effort to make sure that the children get exposed. Having that from a young age, a creative way of looking at things is so important to the children's development. That comes from experiencing the arts. They look at art in a totally different way than they do with spelling or math. And everyone needs that. So we go to as many schools as we can or see that the venue we're working with brings in the students."
The trio, whose latest album is the exquisite "Lullaby For My Favorite Insomniac," relish every opportunity to share the joy that music gives them.
"The most rewarding thing is the connection that we feel with our audiences. And what's amazing is, even if the stage is very far from the first row of seats, we instantly can feel that connection."
Email Paul Freeman at paul@popcultureclassics.com.