ALAN ZWEIBEL: THERE'S NO CURBING THIS COMIC GENIUS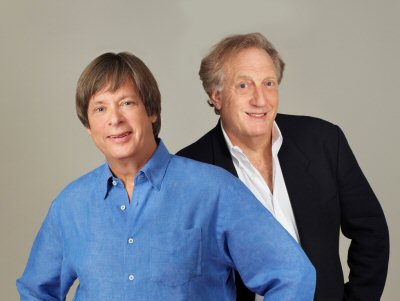 Co-Authors Dave Barry, left, Alan Zweibel, right
Photo Credit: Daniel Portnoy Wax Custom Communications
By Paul Freeman [2012 Interview]
For more than 35 years, Alan Zweibel has been at the core of some of America's sharpest, most innovative humor. One of the original "Saturday Night Live" writers, he was a creative force in both "It's Garry Shandling's Show" and "Curb Your Enthusiasm."
Also successful in the book world, Zweibel and co-author Dave Barry, have hit the road, promoting their insanely hilarious new novel, "Lunatics."
The gaggle of guffaws and giggles begins with the prologue and doesn't end until the last page. It's the zany story of two New Jersey dads whose feud starts with a youth soccer dispute and builds, through a series of misadventures, to their being mistaken as terrorists.
Zweibel met Barry in 2005, at Washington, D.C.'s Kennedy Center, where Steve Martin was being honored with the Mark Twain Prize. .
Zweibel eventually suggested writing a novel together, though they lived 1,500 miles apart. been garnering rave reviews. It's already set as a Universal movie starring Steve Carell.
Zweidel served as a creative consultant for a new Showtime documentary series, produced by Carell's company. Titled "Inside Comedy," it debuts January 26 and features such talents as Robin Williams, Billy Crystal, Sarah Silverman, Garry Shandling, Larry David, Jerry Seinfeld, Don Rickles and Chris Rock.
Zweidel certainly knows comedy. While in college, he peddled jokes to comedians at $7 a pop. He moved up from Catskills comics to Rodney Dangerfield. He decided to develop his own stand-up act. Lorne Michaels caught a set, was impressed and Zweibel landed a writing gig on a new show called "Saturday Night Live.'"
During his five seasons on the show, 1975–1980, Zweibel wrote classic sketches including the Samurai for John Belushi. He helped create the characters of Roseanne Roseannadanna and Emily Litella for Gilda Radner.
After Radner's death from ovarian cancer, Zweibel wrote a best-selling book about their friendship titled "Bunny Bunny: Gilda Radner - a Sort of Love Story," which he later adapted into an off-Broadway play.
Always looking to push the envelope, Zweibel co-created the wondrously quirky "It's Garry Shandling's Show" and served as consulting producer on "Curb Your Enthusiasm."
He collaborated with Billy Crystal on the Tony-winning Broadway hit, "700 Sundays." Zweibel has won multiple Emmy, Writers Guild of America, and TV Critics awards for his work in television which also includes "Monk."
Besides "Lunatics," Zweibel's books include "The Other Shulman," a novel that won the 2006 Thurber Prize for American Humor. His popular children's book, "Our Tree Named Steve," has been translated into eleven languages, and his young adult novel, "North," was made into a movie directed by Rob Reiner.
It was a delight chatting with the New Jersey-based Zweibel for Pop Culture Classics.
PCC:
How did the concept for this project come about?
ZWEIBEL:
Dave and I met about five years ago. Steve Martin was given the Mark Twain award, which takes place in Washington, at the Kennedy Center. It's sort of like the lifetime comedy achievement award. And Steve asked Dave to be a presenter. There were a number of speakers. And Larry David, who's my buddy, I helped him write his speech. And Larry insisted that me and my wife come down, so we did. And, at the end of the party, Dave and I introduced ourselves to each other. And we became very friendly. Our paths crossed a lot during subsequent book tours and whatever. Our wives became friendly.
So about a year ago, I said, 'Look, let's write something together.' And he went, What?' And I said, 'Like a novel.' And he said, 'I live 1,500 miles away from you. How are we going to do this?' And I said, 'Give me a couple of days.' And so I called him and said, 'Look, here's the situation...' I knew his daughter Sophie played soccer. All three of my kids went through, not only soccer, but little league, all that stuff. I said, 'Okay, so there's an AYSO game, soccer, under 12 or under 10, the ref calls one of the girls offside, when she kicks what would be the tying or the winning goal. Her father goes ballistic. He's one of these overzealous soccer dads. I'll be the ref. You be the overzealous dad. Let's alternate chapters and let's see where it takes us.'
So I sent him the first chapter, three pages or so. And this was all in email. We did not chart a course of where this was going to go. I acted on an episode of 'Curb Your Enthusiasm' this past season and I had worked on it a number of years ago. And I told Larry David how we were doing this. He said, 'Well, this is just like my show.' And that's absolutely right. You have no idea what the other guy's going to say, but you react and then you make it go forward, just like we do a dialogue, in 'Curb.'
So I had no idea what Dave was going to do with that first chapter. A couple days later, his chapter, as the other guy, comes back to me. And I go, 'Whoa! Whoa! Look at this vulgar animal!' [Chuckles] And I know why he chose that. In my mind, I'm going, 'All right, I'll make my guy sort of by the numbers, a good citizen and whatever.' And Dave just went the flip side of it. So we just kept on going back and forth, advancing the story. And in our minds - and this was never discussed - you take a small thing, two people have a feud and, as a result, eventually, there's a new Pope [Laughs]. 'Let's see where this goes.'
It just escalates as it keeps on going. And the two of us were actually surprised as to what it told us it wanted to do. Dave would send back a chapter and his character is after a drunken woman who's swinging lemur over her head out a window, on the George Washington Bridge. And it was Dave, who had the cop shot in the scrotum. I also believe it was Dave who had our two guys mistaken to be terrorists. I was the one who wrote about the insulin pump being mistaken for a bomb. But I didn't know it would go to such an Al Queda kind of level [Laughs], which is where he took it. And before you know it, we were going around the world. So we didn't chart the course.
And I have saved all the emails that we had during the process. There were a couple of times where he would write to me and go, 'Listen, you've got two kids. You've given them five names.' [Laughs]. But we only met, physically, twice during the process. He came up to New York. We had dinner. And we really didn't get to the book until we were on coffee.
PCC:
It must have been a fun, challenging way to work, but were there points where you would get something back from Dave and find yourself stumped for a while?
ZWEIBEL:
Yeah. It's like I would imagine a chess player. You make a move and you think the other guy is going to go this particular way and 'Oh, my God, he went that way?! What do I do?' So that would happen quite often. When I saw in my inbox that Dave had sent me back a chapter, I'd go, 'All right.' And I'd usually wait until a little later and I'd open it up. And I knew that A, it was going be funny and B, it was going to be something that surprised me. And invariably that is what it was. And I would let it sink in for a day and then go, 'All right. How do I advance things from here?'
And there were one or two times, when he would sort of stump me, but not really. I know that there were one or two times when I sent him a chapter and he would write and go, 'Do you think that this chapter that you just sent me is a lateral move, as opposed to a forward move?' And I'd look at it and go, 'Yeah, I guess so.' So I'd redo the chapter. But it was never, 'How about this?' or 'How about that?'
There was one time, they were on a cruise ship, and it's a clothing optional cruise, and my guy fell in love with somebody. And this woman, she gets swept overboard. And I had my guy then jump in after her. And Dave wrote me back. He said, 'Listen, I don't know the last time you saw a cruise ship [Laughs], but they're pretty high from the water. I'll buy one of them. But the other one? And they both live and they're going to swim to Cuba?' I said, 'All right, fine.' So I went back and I had the boat rocking to a point where that deck that she was on just about slapped the water, so she slid in. You know what I'm saying. But it would be little things like that.
And then, I think the only other conversation we had, you'll see, there are many stops before the guys come home - Cuba, Somalia, Middle East. And, at one point, he said, 'Listen, we should start bringing them home.' So 'Okay, when we get to China, we'll bring them home.'
But it was as vague as that. There was no blueprint. There was no outline. There was nothing. So every so often, we'd rein each other in a little bit, so we'd have to go back and tweak, maybe. But nothing that looked like, well, looked like we were responsible authors. Nothing that vaguely resembled that.
PCC:
So early on, were there doubts about whether this was even going to develop into something?
ZWEIBEL:
Absolutely. It was like having a deranged pen pal. It was like Ted Kazcinski having like this correspondence. We were a little dubious. What's going to happen here? Is this an exercise? At one point, he actually used the word 'plot' and I had to look up what he was talking about [Laughs].
What happened was, just to test our own sanity, when decided that, when we got to page 100, we would give those 100 pages to our respective agents and let them tell us what they thought. They passed it on to our respective publishers. Dave was with Putnam for a very long time. I was with Random House for a very long time. And the feedback was from both houses was, 'This is really good. We want this.' We were just wetting our finger and holding it up in the air to see which way the wind was blowing. And we signed a deal with Putnam Dave's publisher, based on the 100 pages. So, two things, one, 'Maybe we ARE on to something.' And two, 'Oh, f-ck, we've got to finish this thing. Oh shit, they're taking us seriously!' So we wrote the rest.
It all happened so quicky. I sent him Chapter One on February 25 of 2011. And by Memorial Day weekend, we had a deal with Putnam, based on the 100 pages, finished the novel and handed it in sometime in October, because Putnam wanted a January pub date. And sold it as a movie Thanksgiving weekend. We went into Thanksgiving weekend knowing that Universal, with Steve Carell playing the character I'm writing, we knew that going into Thanksgiving. So it was one of those things that never happens in real life. But the planets were sort of lined up that way.
PCC:
Does it become a little less fun, once you know the world is actually going to see the book?
ZWEIBEL:
These are great questions. You know something? It's a little less fun, because the secret's out. We're going to be judged [Laughs]. And by and large, we've been getting wonderful reviews. So we're sharing it with everyone and the fact that it's being received so well is great. And they've asked us to come up with another book together. So, when we go on our book tour, we'll be spending a lot of time with each other and maybe figure out another two characters to figure out what to do with.
PCC:
And the process of turning it into a screenplay, especially before you know it's definitely going to be published and you have total freedom, will it be more confining, working within the screenplay format?
ZWEIBEL:
Well, yes and no. You're absolutely right. A long time ago, Jack Rollins and Charlie Joffe, they were Woody Allen's producers. And years ago, I visited them, when I was out in L.A. And Charlie Joffe, who was in charge of the money and all of that, Woody had handed in the script for one of his early films, like 'Love and Death.' And I go, 'What's the matter? You look horrible.' And he says, 'Woody just wrote five words that are going to cost millions of dollars.' And the five words were, 'And then the war begins.' [Laughs]
So our story is all over the map and if someone were to budget out what we just did, it would be hundreds of millions of dollars. So reining it in is going to be a task. Giving it more heartthan it has, is something we need to address. So, prototypically, what we're using, is the original 'In-Laws,' with Alan Arkin and Peter Falk, or 'Planes, Trains and Automobiles' with Stebve Martin and John Candy. That kind of relationship, but also giving it who are these guys and how are they affected by their time together and how to they change by the time they come home? So we've got to give it some human emotions that the book may not have enough.
PCC:
Do you know who will play the other lead, opposite Carrell?
ZWEIBEL:
I'm doing a TV project with Steve Carrell's company and these producers and I have become friends and we wanted to work together. When we were at page 100, not only did we give it to our agents, but we gave it to a couple of people that we felt comfortable saying, 'What do you think of this?' And so I gave it to David Steinberg, the comedian, who's a director. And he's the director on this TV project. He read it and he handed it off to Carrell's producers and they fell in love with it. So I would send them every 30 or 40 pages, as we kept going. And, at one point, they gave it to Steve. Steve fell in love with it. So they ultimately got Universal to say, 'Okay, fine. We'll get this property with Steve attached.' So it happened that way. So we're essentially not even up to the part where the casting should begin. It happened sort of back door-ish that way. And it's great because, when I wrote that character, in my mind's eyes, I'm going, 'Who am I thinking of, when I'm writing this?' I was thinking of Steve Carrell. So it was one of those things, like 'Wow, wouldn't it be great? Let me write for that kind of character I know Steve could play.'
And like I said, the planets were lined up wonderfullty and that's how he's attached. So they probably won't even think about the other guy until after the script comes in and you go through that process, lining up a director and all that.
PCC:
Are you still developing that TV project you mentioned?
ZWEIBEL:
It debuts, January 26th, on Showtime. It's called 'Inside Comedy.' And David Steinberg is not only directing it, but he's interviewing a ton of really wonderful comedians and comedy people. The first episode is Jerry Seinfeld and Don Rickles. So you've got people and their influences, proteges and mentors. It's a really good mix of people. Ten episodes. Each one's different, thematically. So I'm working on that with those guys.
PCC:
And what's your role on that?
ZWEIBEL:
I think my offical title is 'consulting producer.' I was on the set a lot. I helped them get a lot of people. But it allowed me to go in and out. I did the same thing on 'Curb.' You don't have to be there every single day. But when you're there, you've got a load of responsibility.
PCC:
And who were the comedians or comic minds who inspired you to enter the field?
ZWEIBEL:
Wow, I've got to start with Woody Allen. Carl Reiner, Mel Brooks. No really unusual names that you haven't heard before, when discussing comedic influence. I learned about the Marx Brothers later. I was too young to have remembered the movies. I didn't discover those until after I saw Groucho host 'You Bet Your Life' and realized what a funny guy he was. And then my Dad told me about the Marx Brothers and I caught up with the movies. People like Monty Python really spoke to me. These are the people that made me laugh. And then I read that Woody Allen used to read a lot of Robert Benchley, so I got into reading Robert Benchley, some Thurber, satirists. And it just sort of mushroomed out that way.
PCC:
When you get to the point where you decided comedy might actually be a career path for you?
ZWEIBEL:
When I was in college, I started sending jokes in, monologue jokes. Johnny Carson was the host of 'The Tonight Show.' Dick Cavett had a show. Mad Magazine. And the talk show guys - there was no email back then - so I'd mail something in on a Monday, let's say, and on Thursday, I'd see my joke on TV. I'm not saying that they stole it. I'm saying that, at the very least, I was thinking the way their writers were thinking. And I'm going, 'All right, maybe I have something to offer.'
So when I graduated college, I started writing for a bunch of comedians, up in the Catskill Mountains, guys who were much older than me. I was 22 and these guys were like 40, 45. So it was like writing for my parents' friends. They paid me $7 a joke, which was the going rate at the time. Gradually I earned more - $10, $12. And I realized after a year or two - you can't fool me too long - two years later, I realized I was going nowhere fast [Laughs]. These were non-descript, very nice guys, very commercial comedians. But it wasn't until I started for guys like Rodney Dangerfield - you know, 'I get no respect,' that kind of persona, that I was writing for characters, not just joke-writing.
So I took all the jokes that all those older guys wouldn't buy from me, because they thought it was too hip for their room, and I made it into a comedy act for myself. There were two comedy clubs in New York at the time, Catch A Rising Star and The Improvisation. And I went on stage to deliver that material, with the hopes that somebody would come in. Because those were the places that were attracting managers and agents and producers. So you'd hope somebody would come in and like your material and give you a job on TV.
I did it for about four months. I became friends with a guy named Billy Crystal, who was just starting out. He lived three towns away from me, on Long Island. I was living with my parents back then. He was already married with a kid. He picked me up every night in his Volkswagen. We'd go in and do our shows and then, on the way back, we'd listen to our respective tapes and critique each other. Larry David also started around that time and I became buddies with him.
About four months into this experiment of mine, Lorne Michaels came in, liked my material and asked to see more. I had a meeting with him, because he was putting together this new show that was going to premiere in the fall, called 'Saturday Night Live.' I gave him a book with about 1,100 jokes in it. And I got a call a day or so later that I'd gotten a job on the show. So that was the break. That was the greatest.
PCC:
Was it a fun time? Or was it just frenzied and crazy?
ZWEIBEL:
It was really fun. You know, it's funny, I went last night to the premiere of 'Portlandia,' the comedy with Fred Armisen. And Lorne produces. So, at the after-party, everybody from the current 'SNL' was there. I was speaking with some of the current actors and it's two different sensations. We started a show. It was like, 'Let's put on a television show.' And it was fun. The only rule we really had was, 'Let's make each other laugh... and, if we do, let's put it on televison.'
So yes, it got frenzied. As the show became popular, more and more problems arose. People were fighting a little bit more to get their stuff on the air, because it could lead to creating your own TV series or a movie. But I remember it was incredible fun. It was so exciting. I met my pal Gilda on that show. I met my wife on that show. She was a p.a. We've been married 32 years now.
So for us, who were with the show when it started, it was like, 'Let's do something!' And this is what we came up with. The guys I was speaking to last night, it's a different kind of excitement, because they grew up watching this thing and now it's a dream come true to be on this show that they watched, growing up.
The process is harrowing. And you get very, very tired. But you look back and go, 'Boy, this was fun.'
PCC:
You mentioned Gilda. I know there was a special bond there. What do you see as being her unique magic as a perfomer?
ZWEIBEL:
I just think that she was not afraid to be in touch with who she was and what she was feeling. And it came through the screen somehow. So you felt that you knew her, even if you had never met her. It's one of those rare qualities, where, whoever they are, it transcends the character they're doing. There's a quality that's almost intangible. But there's a feeling that comes through. She wasn't shy about her fears in her personal life. And I just think that it was embraceable.
I wrote a book about the two of us, called 'Bunny Bunny,' years ago. And then I turned it into a play. And that book still sells like crazy. And the play is always playing somewhere.So there's something about her that's enduring.
PCC:
And 'It's Garry Shandling's Show,' that was so ground-breaking...
ZWEIBEL:
[Laughs] That was so much fun. It was like lightning struck a second time for me. Because now I met Garry. And I couldn't believe it. It was like, 'Wow! All right, I get it. This is going to be an interesting ride.' And that show lasted a number of years. And it was so much fun being silly, because we had our own rules of silliness. We created a world. It was like putting on the fourth-grade play, him driving into different sets, in a car, and all this stuff. And the writers that we attracted were guys who went on, Ed Solomon, who wrote 'Men in Black' and 'Bill & Ted's Excellent Adventures.' So we had different sensibilities. We had Tom Gammill and Max Pross, who have been producers on 'The Simpsons' for a million years. And I met them on my last year on 'SNL.' That was their first and only year on the show. And we're all still friends. But everybody was a little bit left of center. Again, the process is so grueling, might as well have as much fun as you can, doing it.
PCC:
You helped launch 'Curb,' as well. Are you just naturally attracted to that kind of adventurous, push-the-envelope, risky type of stuff?
ZWEIBEL:
Yeah, I think so. Even with this book, 'Lunatics,' as our guys are globe-trotting, going to all these different places, and unwittingly being liberators and hailed as being these great humanitarians, all of a sudden, Dave sends me a chapter, where Brian Williams is on TV, talking about how great our guys are doing, all over the world. And I'm going, 'I've never seen this in a book before.' Two guys alternating chapters. If that's not humorous enough, all of a sudden, Brian Williams is in here.
So I think that there's something about playing with the form, which I think is some kind of tenet of parody. You watch the norm and you just twist it a little bit.
PCC:
And is that more difficult to do when writing for film?
ZWEIBEL:
It's a different discipline. No, I don't think it's either more difficult or less difficult. It's once again, knowing what the straight line is, and how much you're going to adhere to it or bend it a little bit, no matter what medium you're talking about.
I do a lot of stage stuff and I collaborated with Billy Crystal and we won a Tony for '700 Sundays,' this one-man show that we did with him. And, once again there, there are a lot of devices in it and a lot of moves that are really charming, they're not ones that you see every day on the stage. But they work toward enhancing and reflecting the spirit of what's being said. It's fun, actually trying to think, 'All right, how else can we say this?' Or 'What else can we do to supplement what we're saying?'
PCC:
You've been involved with all these landmark successes. How do you deal, when a project doesn't work commercially?
ZWEIBEL:
[Laughs] I've had a couple of... foul tips, shall we say? Look, at the times that they happen, there's a part of you that goes, 'Whoa!, this is me! Hey! Will you guys get this right?' And then it really hurts. And I think that anybody who tells you that it doesn't hurt is lying. It's what you do with that hurt. And how long you lick your chops before just moving forward.
I wrote a movie based on a book that I had written, called 'North.' And in my speaking engagements, I take out and I read Rober Ebert's review of it, where he uses the word 'hate' 14 times. So it's like, what do you do with this? But it took me many years to be able to do that.
PCC:
When you're going through a depressed period, is it difficult to trigger that funny thing?
ZWEIBEL:
Yeah, sure it is. There's almost something blasmephous about saying, 'I'm going to write something funny,' the day that your grandma dies. You know what I mean? It's not like selling something. If I had a shoe store, even I'm sad, I'll sell the shoe. There's a different mechanic going on there than reaching into your soul, especially if you're writing characters, you're exposing yourself. And sometimes, you don't want to go there. Sometimes it's hard to get there. And those periods, that's rough going. And I don't know any writer that doesn't from time to time, go through, call it 'writer's block, call it whatever you want. And I don't care how successful you are or how prolific you've been, it goes to how you're wired and what you have to do to convey what you want to say on paper.
You've just got to ride those things out. One of the things you have to do - and I don't think I've reached this point yet, by any means - but I think the goal is to temper the frustration. Don't let it paralyze. Just go, 'Okay, here we go again. How do we get out of this one?'
PCC:
Over the years, have you found tricks for finding the inspiration?
ZWEIBEL:
The one trick that I've come up with for myself is, always work on more than one project at a time. But no two of them in the same medium. So I get stuck on the play, let's say, or I get stuck on the novel, okay, take a breather and write a piece in the Huffington Post that will be published next week. So what happens is, you're keeping your discipline. You're flexing different muscles. And you'll get immediate feedback, because it's out there, whether it's the Huffington Post or The New Yorker or whatever. And it's sort of like working through your depression, working through whatever is blocking you. And there are other times, when you just go to a movie or for a walk. So for me, I've always liked to work on more than one thing at the same time.
Yeah, I had a piece on The Huffington Post a couple of weeks ago and it took me two or three days to write. And it was very, very well received. As a matter of fact, AOL picked it up, so it sort of went viral. And I did it not because I was in any funk, I did it because I wanted to start advertising this book, because, at the bottom, they provided a link to the Amazon page, so people could pre-order. However, I'm thinking of doing more and more, because you keep your name out there - it has practical purposes. But, at the same time, it's a little bit of a respite from some of the other things that might be a little bit more emotionally taxing.
PCC:
Over the course of the career, have the rewards changed much?
ZWEIBEL:
The rewards have not changed. The rewards of sitting in the back of a theater and having people laugh at something you wrote that morning is such an incredible rush. The reward of always striving to and actually, when it's successful, of you getting to say what you wanted to say.
Look, anything that's in our head is worthy of a Pulitzer. But something happens between your head and the page," Zweidel said, laughing. "It turns to shit. It's only a foot between my head and my laptop. What happened? So, when you can accomplish, in one way or another, what you were hoping to, that's incredibly rewarding. That has never changed.
PCC:
Are there still goals you're hungry to fulfill?
ZWEIBEL:
Yes, because I believe writers are born. They're not made. So I just want to keep on doing what I'm doing. I fell in love with the theatre. I had done some before the project with Billy. There's something about that rush, I want to do more of that. I had a one-act play at a festival here in New York, the summer of 2010 and it was very, very, well received. So I've written two companion one-acts. And now it's a trilogy. And I'm looking to get that staged.
Look, I come from live TV. Before that, I was writing for comics who were performing in nightclubs. So to have that live, immediate reaction, is a drug in a way. So I don't have any specific goals saying, 'I've got to get that Oscar.' I don't think in terms of prizes. I just get turned on, having been lucky, whatever idea I've had, I've had the luxury of presenting it in the best way that I thought that this should be presented. Not every idea is a movie. Some things are only three-page articles. Not everything is a TV show. Some things are TV. And I'm not saying they've all been successful by any means. But, giving it an honorable or a noble attempt at letting it be realized for what it wants to be.
I was with Carl Reiner about six months ago, when we shot his interview for this Showtime series. He must be like 87 or something like that. And after we shot this in his backyard, I hung out a little bit with him. I hadn't seen him in a while. And my last book, I inscribed, 'Dear Carl, this book is really good... Alan Zweibel.' And I hand it to him and, without even skipping a beat, he reached up on a shelf, took out his brand new children's book and wrote, 'Dear Zweibel, your book is really good. But mine is better... Carl.'
Now here's a guy who just keeps going and going. He has a new novel. I like that. I know it's show business. But I always embraced the creative part and thought, 'Okay, let's build something new over here.'
For the latest news on this one-man laugh factory, including book tour dates, visit www.alanzweibel.com.