ALLEN TOUSSAINT: YES HE CAN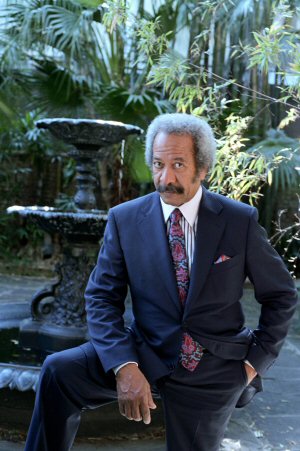 Photo Credit: Michael Wilson
By Paul Freeman [2010 Interview]
As a musician, composer, arranger and producer, Allen Toussaint has been making great records for more than half a century.
Born on January 14, 1938, Toussaint is a son of New Orleans. He's become synonymous with that city's music. A member of the Rock and Roll Hall of Fame, he ranks among the most influential R&B artists.
A wonderfully distinctive piano player, he penned such hits as Lee Dorsey's "Working In The Coal Mine," "Fortune Teller," "Whipped Cream," "Mother-In-Law" "Yes We Can" (popularized by The Pointer Sisters)) and "Southern Nights" (which topped the charts for Glen Campbell). Toussaint played on Paul McCartney & Wings "Venus and Mars" album. He arranged horns for The Band's "Cahoots" and "Rock of Ages." He produced the number one smash "Lady Marmalade."
Among those who have recorded Toussaint songs are Herb Alpert & The Tijuana Brass, Al Hirt, Irma Thomas, Ernie K-Doe, Otis Redding, The Rolling Stones, The O'Jays, The Meters, Dr. John, The Who, The Hollies, Iron Butterfly, The Paul Butterfield Blues Band, Van Dyke Parks, Jerry Garcia Band, Boz Scaggs, Three Dog Night, Warren Zevon, Little Feat, Bonnie Raitt, Bo Diddley, Devo, Robert Palmer, Phish, Ringo Starr, The Doors, Paul Weller, Maria Muldaur and Robert Plant & Alison Krauss.
In the '80s and '90s, interest in his work widened, thanks to sampling by numerous hip-hop artists.
"The River In Reverse," Toussaint's 2006, Katrina-themed collaboration with Elvis Costello, earned a Grammy nomination as best pop/vocal album.
In 2009, Toussaint released his first solo album in more than a decade, the Grammy-nominated "The Bright Mississippi." It represents a new direction for the artist, exploring classic jazz numbers. It was produced by Joe Henry.
A soft-spoken, humble gentleman, Toussaint brims with effusive praise for others. He downplays his own accomplishments, myriad and marvelous though they may be.
Toussaint was generous enough to talk with Pop Culture Classics in advance of his solo show at San Francisco's Great American Music Hall, March 3 (415-885-0750, www.musichallsf.com).
POP CULTURE CLASSICS:
'Bright Mississippi' takes you in a new direction, yet it sounds so natural. Did it feel right the moment Joe Henry suggested the project and these songs?
TOUSSAINT:
Yes, when he first sent them to me, I must say that I was surprised, because, I would think, when someone would think of me, they would think of the New Orleans thing and things that I've been noted for. But this was such a different direction and with such sophistication and such charm and gems of songs. I was really flattered that he thought of me in such a manner. And when we began to play the pieces, it was just magical. I felt very much at home.
PCC:
You seem to be at home in a number of genres, crossing back and forth without difficulty.
TOUSSAINT:
I must say, I have a wide range, as far as my taste is concerned. But some of it, I never thought I'd get around to actually recording. But I'm glad my taste has been of such a wide scope that I could fit into these things well.
PCC:
Why more than 10 years between albums?
TOUSSAINT:
I must say, whenever I do things, it's usually requested by someone else. That's why it's been so much time between albums, because I normally don't think on recording myself. Once I'm through with a project, I'm not looking for the next one. I'm just getting to whatever I can do with other folk. My whole life has been spent producing others. So I think 'me' less.
PCC:
Do you find producing others just as rewarding as creating your own albums?
TOUSSAINT:
More rewarding, producing others, because that's been my forte for so many years. Either I chose it or it chose me and I've been very comfortable with that. And it was always on to the next and on to the next. And in between what I'd normally do, I'd consider doing an album on my own, usually again, at the special request of someone or some company. So the most rewarding process has been recording other folk - writing the songs, putting it together, arranging the band and conducting the sessions and getting the record out.
PCC:
As far as your musical roots, did you study piano formally?
ALLEN TOUSSAINT ON TOUR
3/3/2010 - Great American Music Hall. Sam Francisco, CA; 415-885-0750, www.musichallsf.com
3/5/2010 - Kuumbwa Jazz Center, Santa Cruz, CA
3/6/2010 - UCLA Live, Los Angeles. CA
3/18/2010 - Allen Toussaint Festival "The Bright Mississippi"-Teatro Arena del Sole, Bologna, Italy
3/19/2010, Auditorium ll Parco della Musica, Rome, Italy
3/23, 24-27/2010 - International Jazz Festival Bern, Bern, Switzerland
4/9/2010 - YMCA Boulton Center, Bay Shore, NY
4/10/2010 - Sellersville Theater, Sellersville, PA
4/12/2010 - Belcourt Theatre, Nashville, TN
4/13/2010 - Variety Playhouse, Atlanta, GA
4/14/2010 - Bijou Theatre, Knoxville, TN
4/15/2010 - The Orange Peel, Asheville, NC
4/24/2010 - Touro Synagogue, New Orleans, LA
4/27/2010 - Snug Harbor, New Orleans, LA
4/30; 5/1//2010 New Orleans Jazz & Heritage Festival (Allen Toussaint Jazzity Project), New Orleans; LA
5/27/2010 - City Club at River Ranch, Lafayette, LA
6/30/2010- TD Canada Trust Toronto Jazz Festival, Toronto,Canada
TOUSSAINT:
I started playing the piano as a very young child. By the time I reached a good age of recognizing the world, the piano was present. So I really started early. As far as formal training, I had eight lessons.
PCC:
And that was enough?
TOUSSAINT:
If I was talking to a bunch of students, I would tell them eight lessons was not enough. But by the time my mother did enroll me in a junior school of music, boogie-woogie had me already. So I didn't do my homework properly. And she finally gave up on me playing classical.
PCC:
Was the piano a focal point for your family?
TOUSSAINT:
The piano was originally there for my sister to play. She didn't take to it. But I took to it right away and fell in love. And they couldn't keep me away from it.
PCC:
Was Professor Longhair one of the early influences?
TOUSSAINT:
Very strong influence on my life. A lot of my music would be different, if I didn't know Professor Longhair, a lot of it. He lives in my heart constantly.
PCC:
What was it about his style that was so unique, making him so influential?
TOUSSAINT:
It was so off the beaten path of the one-two-three-four. It was all in-between. Putting extra measures in just to get a point across. It was sort of wild. Unusual. Highly uncommon. Most other pieces had elaborations from something else that was similar to it. But Professor Longhair didn't seem to be similar to anything else at its time... and even later on, through his whole life.
PCC:
It must have been an amazing atmosphere, growing up in New Orleans, with music permeating the city.
TOUSSAINT:
Oh, yes. New Orleans has borne us so much music and continues to do so. There's still a very healthy music scene.
PCC:
I read that you grew up in a shotgun house. What is that?
TOUSSAINT:
Oh, the whole neighborhood was shotgun houses. We call them shotgun houses, because, the way they were constructed, you could stand in the front door and shoot a shotgun through the front door and it goes straight out the back door without hitting anything. It had no frills. No aesthetic beauty at all.
PCC:
So was music the bright light in your youth?
TOUSSAINT:
Oh, yes, music dominated my childhood quite a bit. I did the other things that kids do, some. I even considered myself an acrobat for a while. But I did more music than anything.
PCC:
Were you still in your teens when you began playing sessions?
TOUSSAINT:
Well, I started in a band called the Flamingos [a horn-driven group, not the doo-wop group] with Little Snooks Eaglin [noted guitarist] and some other guys, when I was 13. That was a wonderful place to start. For one thing, to be starting with Snooks Eaglin was very special, because he played then, even at that young age, like he did as a man. We mimicked all the records that were out in that day, all the R&B stuff. And had a good time doing that. I was able to cut my teeth on a lot of arrangements by mimicking what they were doing on the recordings of the day. So I developed my arranging chops through that process.
PCC:
So it was later that you began working sessions?
TOUSSAINT:
Sixteen years old, I was out doing sessions, yes. And that was wonderful, too. That was a delight to get in and be a part of the record-making.
PCC:
It must have been a musically educational experience
TOUSSAINT:
Definitely. To get in there and see how it was done. We started out on two tracks. So it was back in the day, you might say. At Cosmo Studios. That was a lot of fun to make records at last. I'd been hearing things on the radio and now I was seeing the process, how they were created. I must say that, having mimicked so many recordings, I was ready. I was up for the task.
PCC:
And you were part of some Fats Domino sessions?
TOUSSAINT:
Oh, yes. Dave Bartholomew called me in to play on a Fats Domino recording. Since we were up to two tracks, he could overdub his voice. And they had a deadline to get a recording out. And Fats Domino was in Europe. Dave Bartholomew wanted to get these three songs done, so he could hurry up and put that voice on it when Fats came in and he could get right back out. So I was called in to play as Fats would play. And I had him down, because I had already learned every recording that I heard him on. And he had quite a repertoire. But his formula was quite solid, cemented in, so I was able to do that.
PCC:
So you began by emulating the greats and gradually developed your own style?
TOUSSAINT:
Without me trying to develop my own style, it just grew out of all the reflections of my own life. If you just keep on doing things enough, after a while, you'll seep up out of there in some sort of way.
PCC:
Writing songs by age 11, do you think that's a talent you were born with?
TOUSSAINT:
I guess one might say that. What actually happened, as I see it, was playing so much and mimicking recordings so much and copying everything, because I thought all piano players, except me, could play everything that a piano was playing out there. So I was trying to catch up with them. So, mimicking so many things, and sitting at the piano so much, you can't help but try and come up with your own melodies. I do remember the first time I ever penned an instrumental. My mother bought an Emerson record player. And they gave her two albums, a classical album and a big band album. And there was song on there by Benny Goodman, called 'Love Walked Right In.' And there was a beautiful trombone duet in there. It was so beautiful, I tried my hand at writing a duet for two horns and it was a trombone and a trumpet. That was the first time I actually penned a piece on paper. And it was a good experience. I felt good about it. It seemed quite natural.
PCC:
Were you trying to gear your songs for specific artists early on?
TOUSSAINT:
When I first started writing songs, I wrote a few pieces with no one in mind. They just came to me. But I didn't present them to anyone. Very soon after that, people who weren't recording, but thought that they might want to, would ask me to right a song and I would write one for them. And not too long afterwards, when I started playing on sessions, sometimes the artist would need another song. They may have had only one song they were going to do and whoever was in charge wanted more than one. So they would come to me and ask me if I had any songs. I would say, 'No, but if we take a break, I'll get one.' And we'd take a short break in the studio and I'd write a song and when they'd come back off break, I'd teach it to the artist and we'd record that.
PCC:
Is it a different kind of challenge, when you're trying to tailor it to a particular artist?
TOUSSAINT:
It's better for me. It was always better for me, when I started writing a song, to write for an artist, because the artist has a sound that inspires you to do something. And the next artist has a different sound, so it inspires something different. So you have a tendency to not be as redundant as you might be, if you were just going from your own inner voice.
PCC:
An amazing variety of artists have recorded your songs. Did some surprise you with their interpretations. Were there some you especially liked?
TOUSSAINT:
I was always glad to hear the result. And it was mostly like I expected it to be. Every now and then, something came across much better, like on a cover job. I dearly appreciated any cover job, because that meant someone appreciated the song enough to listen, live with it, learn it, go in and teach it to musicians and record it... with me being far away. That's quite a compliment. So I've always appreciated every cover I've ever heard. Never heard a bad one.
PCC:
Going into producing, was that a result of wanting to see your musical vision through, once you'd written the songs?
TOUSSAINT:
It came out of doing all those sessions as a musician. I didn't go there to be the leader, but I wound up being the leader. So being a producer, that was a natural evolution. I was actually producing, without the title. The title 'producer' came when I got with a particular record company[the local Mint Records label] and was responsible for all of the music that was being done, not just being hired for whatever sessions they called me for that day. I was responsible for all the music. So then I acquired the title 'producer.' And that means getting everything together, from the kind of songs an artist should do, what musicians should play on it, how should it feel, if you can target the market, that whole bit. Of course, more than targeting the market, always having a good time.
PCC:
Were you conscious of shaping what people on the outside would regard as a New Orleans sound?
TOUSSAINT:
No, I never thought about what they would look for as a New Orleans sound. That just happened. I assumed then, and even now that, if I'm there, there must be a New Orleans sound.
PCC:
Because it's so much a part of you?
TOUSSAINT:
Yes, yes. So even if I do something that seems totally off the beaten path of what's expected, I don't feel guilty or a sellout, because I just feel that, if it's me, it must be some part of New Orleans, even if it's a part that we hadn't heard before.
PCC:
Your list of collaborations includes such diverse artists. I'd like to run a few names by you and please share your recollections with Pop Culture Classics readers. You recorded lots of enduring tracks with Lee Dorsey.
TOUSSAINT:
Oh, yes, we spent loads of time, in and out of the studio together. We'd ride motorcycles together. We'd do all kinds of things, We'd spend some nightlife together out in the clubs, like in the Dew Drop and different places. I spent time at his body-and-fender shop, because he spent loads of time there. That was his heart. So we just spent loads of time together, period. And recording was one of the things we did. He was such a high-spirited person. It was a joy to be around him. And I was around him quite a bit.
PCC:
And those high spirits certainly come out in the records.
TOUSSAINT:
Yes, his voice sounds like a smile.
PCC:
And The Meters, you made good use of their talents, as well.
TOUSSAINT:
They're magical. Definitely magical. Art Neville [singer/keyboardist/group founder] is quite a magic man. He can put together such wonderful groups and he's done it again and again. Even early on, when he had The Hawketts, at 15, 16 years old, he was a magical guy then. And every time he ever put a group together, it was total magic, including The Neville Brothers, of course. He's a good one.
PCC:
The Band, had you been very familiar with their work before you worked with them?
TOUSSAINT:
Before I went into the studio with them on that first recording, 'Life is a Carnival,' I had never heard of The Band. I really loved their music, but I had no idea who they were. But as soon as I heard it, I knew that they knew very well who they were. They were all going in the same direction. They had arrived at a great place, a great avenue. So it was a delight to work with them and to add to what they were doing. They were very meticulous about what they were doing and everyone knew their place.
PCC:
And Patti LaBelle, you certainly had a successful creative relationship with her.
TOUSSAINT:
Oh, yeah, well, with them, because when I first got with them it was Patti LaBelle, Nona Hendryx and Sarah Dash. And that was called LaBelle, that first gathering. Out of that came 'Voulez-Vous Coucher,' etc. It was a pleasure. For one thing, they brought such theatre to the scene. In fact, it was like a culture shock, when they walked in. We were usually moseying along, having a good time. When they walked in, it was theatre. For one thing, it was the first time I hd seen a lady walk into studio with a camisole top. That was just too cool. But they were full of theatre and they took it very seriously. Indeed a pleasure.
PCC:
And Paul McCartney, did you have much creative latitude when you were working on 'Venus and Mars'?
TOUSSAINT:
I didn't need much latitude, because Paul knew exactly where he was going. He knew where he was coming from, what he was, and where he was going. So I just fit in with Paul and played the parts that were pretty much defined, as to what they would be. I must say, he's a producer who knows how to go for the magic and he knows when he arrives there. He doesn't pass it up. He's right on. He's keyed in.
PCC:
The collaboration with Elvis Costello, that worked out so beautifully. Did you know right away that there was going to be a rapport there?
TOUSSAINT:
Yes, as soon as I got with Elvis, I knew. I first got with Elvis in '83, when we did a Yoko Ono song. He came down and had me produce - as he would say, I would say co-produce - the Yoko Ono song, 'Walkin' On Thin Ice,' which was fine. I wasn't familiar with Elvis' work then. Later on, he came back, in like '88 and I played on 'Deep Dark Truthful Mirror,' on the 'Spike' album. But in between those times, I wasn't in contact with him. Of course, right during the Katrina period is when we really began to get together. And I must say, that's quite a milestone in my whole life, having come into contact with anyone who has collected and carried around as much of what we use in this industry as Elvis Costello. He is a student, a scholar. He has it all together. And also, he shares the wealth. Everyone he works with, he gives them all true respect, for whatever they're doing. For recording artists, he knows not only the A-sides and the B-sides, he knows the D-sides and the F-sides. He has more respect for the art that we're in than anyone that I've come into contact with personally.
PCC:
And like yourself, he seems to take great joy in a wide variety of artistic collaborations.
TOUSSAINT:
Oh, yeah. He's all over the place. And also, he can do it all so very well. If he did any one of those things, he'd be a giant in the industry. Any one of them. If he was a bluegrass artist, he'd be a giant. If he was a blues singer. If he was a television host, he would be a giant. I wouldn't want to be on the opposite team from Elvis Costello.
PCC:
Have you found that participating in diverse collaborations has expanded your own music?
TOUSSAINT:
I would say so, because the collaborations that I've been in with folk, that's how folk know me at all, since I wasn't out front stage, center. So what people have heard of me has come as a result of me getting with others, if not writing with them, then working with them, and being inspired by them to produce them. I love the collaboration with folk, because they inspire you to do something beyond yourself. You plus them equals something neither one of you would have had alone.
PCC:
As far as your getting out on the road, was that partially due to losing your studio to Katrina?
TOUSSAINT:
Oh, yes. Getting out on the road was due to Katrina running me out of town. I wouldn't have left, if they wouldn't have pushed me out. In fact, I stayed in 'til four days after the storm, when it became martial law. Then we had to vacate. So the collaborations and all of that started with Madison Square Garden [2005 Hurricane Katrina relief all-star benefit concert] and getting with Elvis and doing 'The River In Reverse' album. Those collaborations put me on the road. And I'm very grateful that it did happen that way. Joe's Pub in New York has been truly a haven. It got me started doing the solo performances, which were totally foreign to me.
PCC:
So is that a totally different kind of gratification, having that immediacy there?
TOUSSAINT:
Oh, yes, because, in the studio, we're waiting for the red light to come on, then take three, take five and all that. We're trying to make music to get to the people. And when I'm on stage, there they are. What we do is done for the people. And there they are, when you're on stage. It's quite rewarding, I must say. It's quite gratifying.
PCC:
Was it a little bit scary, to start with, because you must have been in a comfort zone in the studio?
TOUSSAINT:
Yes. You seem to know very well, [Toussaint chuckled]. It was out of my comfort zone. It took some doing and isn't done yet, that I can reach a good, comfortable plateau there. I really had to work at trying to get some kind of comfort enough to gracefully go through that. And I'm not sure that I'm doing it yet.
PCC:
It must have been a great feeling to be inducted into the Rock and Roll Hall of Fame.
TOUSSAINT:
Oh, yes, indeed. Induction into the Rock and Roll Hall of Fame meant that my peers - or someone- thought that I was worthy of being in that number. So yes, as far as I'm concerned, that was like our Oscar.
PCC:
And the statuette was actually lost during the hurricane and had to be replaced?
TOUSSAINT:
Oh, yes, yes, absolutely. But the foundation was good about it and took care of it right away.
PCC:
How did you feel about being sampled by so many hip-hop artists? Was that just a new avenue for exposure?
TOUSSAINT:
I love being sampled by the hip-hop artists and the rappers and whoever, because it's quite rewarding to think that someone of the present time would, for one thing, pay attention to something that I'd done 40 years ago maybe, and see it in a light that it can live parallel, with this parallel universe that's going on now. That's quite rewarding. I love that.
PCC:
Your music is timeless. Do you think about your legacy, what you want to leave behind musically?
TOUSSAINT:
I'm glad that someone else sees it that way. I wouldn't be vain enough to say that.
PCC:
You're very modest. But it must give you a lot of satisfaction to know that people are still enjoying the music that you're created over the decades.
TOUSSAINT:
Oh, yeah, I do enjoy that very much.
PCC:
Do you tend to look back much or are you always looking forward to the next project.
TOUSSAINT:
Always looking forward, because my back burners stay warm. There's so much on the back burners. I need more burners to put 'em on. So I'm always looking forward.