ALLISON MILLER: MARCHING TO HER OWN BEAT WITH BOOM TIC BOOM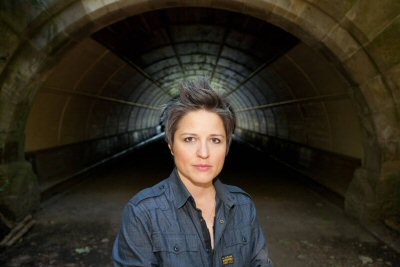 Photography by Desdemona Burgin
By Paul Freeman [July 2013 Interview]
Allison Miller has drummed for such jazz talents as Marty Erlich, Bruce Barth, Ray Drummond, Kitty Margolis, Kenny Barron and Dr. Lonnie Smith. She has also toured extensively with popular singer-songwriters Brandi Carlile, Ani DiFranco and Natalie Merchant.
These days, Miller is earning acclaim for fronting her own band, Boom Tic Boom, which has just released its second stirring, adventurous album, ďNo Morphine, No Lilies.Ē The luminous lineup features pianist Myra Melford, bassist Todd Sickafoose and violinist Jenny Scheinman.
Special guests on ďNo Morphine, No LiliesĒ include Steven Bernstein (trumpet), Ara Anderson (trumpet), Erik Friedlander (cello) and singer Rachel Friedman (on the track "Once"). The album displays Millerís growing, evolving skills as a composer.
Growing up in Washington, D.C., Miller began playing drums at age 10. Playing in clubs around the nationís capitol, she was featured in Downbeat magazineís ďUp and ComingĒ section. In 1996, she graduated summa cum laude from West Virginia University, with a degree in Music Performance. She soon became a much sought after drummer.
Miller served as Jazz Ambassador for the U.S. State Department, touring East Africa, Eurasia and Southeast Asia.
She started Boom Tic Boom five years ago. Miller has also been a driving force in the groups EMMA, TILT and Agrazing Maze.
In addition to performing and recording, Miller, whose drumming and composing were heard on Showtimeís ďThe L WordĒ series, devotes energy to teaching. In addition to her adjunct position at Kutztown University, she gives master classes at colleges and high schools throughout the country.
She founded the Walter Salb Memorial Scholarship Foundation, in honor of her late teacher/mentor. The foundation provides promising young musicians monetary awards to advance their studies.
POP CULTURE CLASSICS:
What was the original concept for Boom Tic Boom?
ALLISON MILLER:
The original concept came out of our first concert that we played at the Berkeley Jazzschool, in Berkeley. I live in New York, but was coming out to the West Coast for some shows. I had just had a particularly fruitful writing spurt. Iíd written all this new music for the first record that we did. It just so happened that Myra was around. Todd was around. I play a lot with Todd, in various projects. But with Myra, I had only played in Marty Erlichís band with her. I thought, ĎLetís see if this works.í And I put the band together and we did one show and the show was magical. And I knew after that night that I needed to record the band.
The concept behind this band is to basically let everybody be the incredible bandleader that they are [laughs], because everybody in my band is an amazing bandleader. And let them just completely be themselves and feature the band as much as possible and let the improvisation and the collective communication happen on the stage.
My composing is getting a little more complex. On the first album it was fairly simple. Everybody in the band, but Myra in particular, she has a knack, this was especially true for the first record, she would take my fairly simple melodies and really bring them to life and flip them upside-down and do all kinds of great things to them, that I know only Myra can do [laughs].
PCC:
Does this new album take new directions then?
MILLER:
Yeah, for sure. Because weíve now been playing together for five years, I really wanted to feature that element of the band, collective improvisation. And I wanted to feature each member of the band. So for me, thatís what this recordís about. Itís also heavily about my composing and how thatís changing. And what was going on in my life while I was composing the music for this record.
PCC:
What was going on in your life at that time?
MILLER:
Well, my partner was really sick during that time. So I was going through a lot with that. And writing the music during that time sort of served as a catharsis. It gave me little moments of being able to forget what was happening. And it helped me deal with the hard times.
PCC:
The title of the album, does that have any relation to those difficult times?
MILLER:
It actually does. When my girlfriend was in one of those places where she was kind of asleep, but going through one of her procedures, she said that. She said, ĎNo Morphine, No Lilies.í She doesnít even remember saying it. But it really hit me. It made me think about how lilies signify death and Ďno morphine,í for me, signifies not running from the pain, but dealing with it and pushing through the hard times.
PCC:
And the composing, had that form of self-expression always been kind of therapeutic for you?
MILLER:
It has. You know, Iíve been playing drums for so long, when Iím practicing drums, I lose myself, too. But itís a different kind of thing, because Iíve been doing it for so long. For me, composing is like a new discovery, each time I sit down at the piano. So it really allows me to get away and kind of escape.
PCC:
You mentioned how the composing has changed. Is that just a matter of it becoming more complex? Or just how is it growing?
MILLER:
I think Iím starting to hear new instrumentation in the band. Thatís why I have special guests on the record. And Iíve been taking some lessons and spending some more time just focusing on expanding my my knowledge around composing. Iím not just going to my go-to thing [laughs]. Iím really exploring all the different aspects of where I can take a melody and how a melody can sound different with different instruments. And, yeah, I think itís all just part of the natural growth. I hope I continue to grow as a musician... until Iím not around anymore.
PCC:
Thereís such a wonderful diversity within the album and yet it all holds together. Is that something you were conscious of, each tune having its identity, yet fitting within a framework?
MILLER:
Yeah. And I was very conscious of how the songs would come together in the final order and kind of storyline. I knew that, on the record, each song is very different from the next, but I do feel like the band sounds holds it together. And I feel like itís interesting to have different genres on the record. Itís also kind of inevitable, because each person in this band plays all different kinds of music. And I love that about the band.
PCC:
In terms of the journey of the album, even with every instrumental composition, do you find that it tells its own story in some way?
MILLER:
I do. And I feel like, if the listener can really take the time to listen to the whole album, then I feel like the message is conveyed. Sometimes I donít particularly love that you can buy just one track off iTunes, because I really specifically put the record together to go with the story. And Iím still actually holding onto the dream that people still listen to a whole album [laughs].
PCC:
Is it all about whatís working for you and the other musicians? Or are you thinking about what effect the music is having on the listener?
MILLER:
I think about the entire collective. And the collective for me means involving the people listening, as well as the people playing it.
PCC:
Do you set aside time for composing? Or is it a matter of waiting until a new melodic line or rhythmic pattern hits you?
MILLER:
Sometimes it just comes to me, like if Iím walking down the street and I hear a melody, Iíll turn on my iPhone and sing it to my voicemail. Actually, I donít have to turn on my iPhone. My iPhoneís always on [laughs]. Iíll sing it to my voicemail, which I think is the best thing that was ever invented for the iPhone.
Or, if I hear a noise sometimes... Like, yesterday, weíre staying at our friendís house. And we heard these birds in the morning, outside of our bedroom. And they go crazy in the morning. It happens at the same time every morning. Theyíre having conversations with each other. Itís incredible. And I became obsessed with a couple of the birds chirping. And Iím hoping to turn it into some kind of a piece.
PCC:
The composing is it sort of a sketch? Do you leave a lot of room for improvisation?
MILLER:
For me, improvisation is the key. So I treat most of my tunes as just a foundation, kind of like a launching pad for improvisation. But some of the new tunes on the record are through-composed. For instance, the second track on the record, called ĎEarly Bird.í That piece is through-composed. But in performance, Iíve encouraged the musicians to play with the melody a bit. There are a few tunes like that on the record, that donít have as much improvisation written in. But generally, I lean towards improvisation. And if you saw the band live, you would definitely hear a lot of improvisation.
PCC:
In the composition and performance stages, are you always trying to integrate the drumwork into the overall sound, rather than trying to hold the spotlight?
MILLER:
Yeah. Iím not a big fan of drummer-led bands and records that come out that have a ton of drum solos or where the drums are mixed so high in the mix that nothing else makes sense. I really want to feature the band. And make music first. But live, I definitely take my drum solos. I take advantage of that. But I hope Iím doing it in a musical way. A lot of my drum solos tend to have like a vamp underneath of the solos. So the band is still playing, yet I kind of take the forefront for a little bit.
PCC:
You have such a gift for creating compelling melodies. Do you find that the drums have more of a melodic element than people might think?
MILLER:
Definitely. I think drums are very melodic. They can be tuned in all different ways. Also, the cymbal is melodic. The ride cymbal is very melodic. And, if you listen to all the great drummers, through the history of jazz, you hear each drummer has their own special melody on the ride cymbal. I think thatís one of the things that drew me to jazz drumming in the first place, listening to all these different drummers, Max Roach, Elvin Jones, Roy Haynes, and hearing that each of them sounded completely different, yet each of them had a great feel. That uniqueness really pulled me in. And the drum set, the actual drums, are definitely melodic.
PCC:
You grew up in the D.C. area?
MILLER:
I did. I grew up in Olney, Maryland, which is about a 20-minute drive to D.C.
PCC:
So what were the first musical influences?
MILLER:
My very first influences, Iíd say, were probably what my parents were listening to. My Dad listened to a lot of classical. My Mom, I have very vivid memories of her listening to Earth Wind & Fire. And she likes gospel music a lot. And then I got into the pop music of the day. I was super into Prince, still am [laughs], Michael Jackson. I was really into early hip-hop and old Motown. I was also into this D.C. music called Go-Go music. I guess the most popular artist in that kind of music would be Chuck Brown. But I didnít listen to a ton of Chuck Brown. I listened more to bands like Rare Essence, Junk Yard Band, and this all-female Go-Go band called Pleasure. So those were my early influences.
PCC:
And what attracted you specifically to drums?
MILLER:
Well, I mean, what else is there? [laughs]. No, my Mom says I was attracted to drums from the time she can remember. She says I used to beat on the table to the radio and records. She also likes to tell people - she was a choir director for 30 years - and she likes to tell people that she would be directing the choir and she would feel me, in her stomach, kicking to the beat. Now, I donít know if she made that up [laughs], but I always wanted to do this.
She also made me learn piano before I started drumming. I think that had a huge effect on me and the fact that I want to compose and love to compose.
PCC:
Were there any role models for women drummers, when you were starting out drumming?
MILLER:
Yeah. I didnít have any personal female drummer role models. But I had some other instrumentalists that were personal role models. But I went off what I read in Modern Drummer at the time. And the three people that I would see a lot were Terri Lyne Carrington, Cindy Blackman and Sheila E. And, of course, I loved Sheila E., because she played drums for Prince.
There was this one concert movie that Prince made, came out in Ď85, that is called ĎSign oí the Times,í from his record. And Sheila E.ís playing drums on it. And they take an instrumental break on Charlie Parkerís ĎNowís The Time.í And she takes this epic drum solo. I can remember just constantly rewinding it on my VHS and playing it over and over again. Itís just incredible. And she looks amazing, because sheís on tour with Prince in the Ď80s. So sheís wearing this incredible Spandex tube outfit. And I just remember watching and thinking ĎThatís incredible!í At the end she throws her sticks. And sheís hitting the cymbals with just her hands. And I swear I could see like blood flying off of her hands. The whole thing was epic. And I loved it.
PCC:
Sheila has said how, early on, as a female, she had to face a lot of skepticism and prejudice. Did you experience any of that, as a woman drumming or as a woman musician?
MILLER:
I think I was pretty naive, when I was little, and unaware of things. Later on, I had a few band directors, from grade school, tell me about a couple of funny things that had happened, when I was younger. For instance, when I was a freshman or sophomore, I had auditioned for all-county jazz, which was a pretty prestigious band at the time, because a lot of great players had come out of that band, who are professionals now. So at the time, I auditioned and I got first chair. And I was young to get that first chair. And I remember, I had to audition twice. And I didnít know why. Later in life, when I became friends with the band directors, they told me that a few parents had called and complained and had said that he was being in favor of me, because I was a young girl and that I shouldnít have gotten that position. So I had to audition twice, with more judges in the room the second time. And I hadnít known about that. And, of course, I shouldnít have known about that at that age, but Iím quite shocked that that even went down in the first place.
In general, I didnít feel any kind of animosity and sexism until I got a little older and went to college, when people started pointing out, ĎWow, youíre a girl drummer.í And I was like, ĎWhat?! I guess I am!í And, of course, now Iím all for supporting young girls. I really want to be a role model for young girls and I try to teach as much as possible, because thatís really the most important thing is to pass along the craft to the younger generation.
For me, the best that I can do to help to eradicate this sexism is to speak my voice, say what I need to say about it and be out there, playing as much as possible, and be influencing not only the people who are listening to the music, but the other musicians that I play with. And every young male student that I teach is going to leave the practice room, leave the session with me, having a new understanding of what it feels like to be taught by a woman drummer. And theyíre going to have a new respect for women, even if theyíre not aware of it. Theyíre not even going to think itís strange, when they meet the next female drummer, because they were taught by a woman. So thatís really important.
PCC:
Starting out with an interest in artists like Prince, at what point were you drawn to the freedom and adventurousness of jazz?
MILLER:
That was a really specific time. I had started studying privately with this teacher, my first teacher, Walter Salb. Later, the song ĎSpotswood Drive,í on the new record, was written for him. He became one of my best friends. All my songs were written on his piano, because he left his piano to me, when he passed.
So, I started studying with him. And he gave me a Buddy Rich CD. And I listened to it and it just didnít grab me. I didnít know why. It just didnít grab me. At that point in my life, my listening skills werenít mature at all. But he gave me this CD and I wasnít really into it.
And then time went by and somebody, I canít remember who it was, gave me a Miles Davis record called ĎMiles Smiles.í And that record totally blew me away. I had no idea what was happening in the music, but I knew that I wanted to do it [laughs]. What really pulled me in was the way that Tony [drummer Williams], Ron [bassist Carter], Wayne [saxophonist Shorter], Miles [trumpeter Davis] and Herbie [pianist Hancock] played together.
And it makes sense, because thatís still what Iím doing - playing in a small group and having a lot of collective improvisation. Thereís so much improvisation on that record. And the way that Tony plays, so musically with the rest of the members. Itís beautiful to me. Itís not about showing off on the drums. And when he does show off, it doesnít feel like heís showing off just to show off. It feels like heís specifically doing that, because Herbie just played something else on the piano and that was a catalyst for him to respond.
PCC:
Being able to compose these song tributes on the new album, to musicians who have recently passed [Salb and drum greats Eddie Marshall on the tune ĎEddie Speaksí and Paul Motion with ĎSun Comes Up The Reservoirí], is that important to you, to have that kind of outlet for paying your respects?
MILLER:
It is. It also just happened. When I first started writing ĎSpotswood Drive,í I wanted to write this piece for him and I thought, he was kind of a surly, ornery kind of old, grumpy guy [laughs]. I loved him to death and he was definitely grumpy, definitely took great pleasure in offending as many people as possible. So, when I wrote it, at first I was writing the melody to be this kind of agitated, free-bop, fast tune. And then, as the tune started writing itself, I quickly realized that itís not going to be that. Itís going to be this beautiful, open, lullaby, kind of a ballad. And I realized, I was really writing this piece to describe the inside of Walter, not the exterior that he presented to the world. Because inside, he was the sweetest, kindest man. So that ended up kind of flipping on me and surprising me, because it ends up representing this sweet side of him and also represented how I feel about him.
PCC:
Are you still working with Agrazing Me, Honey Ear Trio?
MILLER:
Honey Ear Trio is still happening. We just did a tour in Spain a couple months ago. Weíre supposed to be going back there in November. We have not made a record only because of scheduling problems. Thatís been an issue. But weíre still going. Agrazing Maze is not going and Iím not sure why that happened. Itís one of those things that just got lost in space. Everybody got really busy. Agrazing Maze is a real collective and so is Honey Ear Trio and I think sometimes, when you have these collectives, unless someone takes the reins, sometimes things can get lost. And, for me, I think what happened with Agrazing Maze, I was kind of the person really pushing, making sure the band got booked, pushing the business end of things. And when I got a little exhausted with that, started getting busy doing other things, then it kind of fell by the wayside. In some ways, itís easier to just know youíre the leader, because then you know that you have to make stuff happen or it wonít work.
PCC:
Do you like having a number of different contexts in which to explore the music, going on simultaneously?
MILLER:
I really do. I love Honey Ear Trio. Itís a completely different way of playing music than Boom Tic Boom. I also love the collective spirit. When the collective spirit is really happening, itís wonderful, when people are getting along and things are happening. There also can be more of a tendency to have internal drama, when you have a collective. You hear about these rock bands, Fleetwood Mac, all these stories. Well, that can happen in a little jazz trio, too [laughs]. And I love playing in other peopleís bands, too. I love playing in Toddís band. Iím playing in Ben Allisonís new band. We just made a new record. I love playing in his band. I love playing with Lonnie Smith. I love really diversifying the music that Iím playing.
PCC:
What about playing with Ani and Brandi and Natalie, is that a different set of challenges, supporting singer-songwriters?
MILLER:
It is. Itís really different. I love it, as well. Itís a different role. Itís been almost two years since Iíve done any kind of tour like that. I kind of made a decision that I did not want to be out on the road all the time. And that was main thing. With that music, it works in a very particular cycle, where you make a record, and then you go on tour. And youíre pretty much on tour for a year. And thatís what became difficult for me, staying away from home for that long of a time and not having diversity in the music, having to play one kind of music and not being able to go home for 10 months or however long the tour was. Thatís what became difficult for me. But as far as the music goes, playing with those incredible singers, Brandi and Ani and Natalie, theyíre all incredible artists. Thatís not the part thatís difficult. The part thatís difficult is never being home.
PCC:
Those are three artists who have really carved out their own paths. Did you learn from the experiences you had with them?
MILLER:
Yeah. Brandi is an incredibly hard worker. She started out, going out to clubs and restaurants in Seattle, when she was 16, and saying, ĎCan we play music here? Youíll have to pay us this much, but weíll guarantee we bring people to your restaurant.í She really put herself out there. Sheís an extremely hard worker. And sheís a real powerhouse vocalist. A real pleasure for me, playing for her, was that she didnít care how loud I played. [laughs], because no matter how loud I played, she could still sing louder. So, yeah, I learned a lot about just being really on your business. Even for Brandi, she has all these people working for her, she still knows exactly what everybodyís doing. She kind of has her eye on everything thatís happening in her business, which I think is a really smart thing to do, especially these days, because the way that artists make their living has really changed. You canít make your living just from record sales now. Or just from touring. You have to really make sure that the person thatís in charge of getting your music licensed is really doing their job. And sheís really good at focusing in on everything.
And with Ani, Ani to me, is probably one of the most talented artists out there. And she is so diligent with her routine on the road and making sure she carves out time to write music, while sheís touring, which I really respect. Sheís also a master of keeping the music fresh. She is a jazz musician. Thereís nothing about her thatís not a jazz musician. She creates music on the spot. She likes the songs to sound completely different every night. She hires jazz musicians. She wants that improvisatory aspect on stage. And sheís a real master of grabbing the audience and pulling them in. I have mad respect for Ani.
And Natalie, of course, is incredible. Sheís been able to manifest her career into many different shapes. Sheís had the 10,000 Maniacs thing. And that, of course was her big break. And then she was able to leave that band and create this whole other career. And she really changed the kind of music she was making.
PCC:
So each of them following what they thought was right for themselves, was that something you ended up taking with you, in your career?
MILLER:
Yeah. Totally. I guess Iíve never thought of it in that way. But all three of those people I just talked about have really have followed their own career path and what they feel is the natural path to follow for them. Natalie changed the kind of music she made and then she got really into Americana music and started making modern recordings of old work songs and spirituals. And Ani is totally uncompromising, as far as following her artistic vision. Of course, she wants to appease her fans. But she doesnít think about whatís commercial or whatís going to be sellable. She purely writes from an artistic place, which I really admire.
PCC:
In your own music, do you find that you have no genre constraints or sense of boundaries, that itís just about whateverís working within that piece?
MILLER:
Yes. Totally. Because Iím a drummer, I do think about groove a lot. And I do think about my audience. I want to make a record thatís completely me and where Iím at musically and where the band is at. But I donít want to make a record thatís absolutely inaccessible to the listeners, except for a handful of people who can listen to extremely intellectual music or free music. I want my record to move people and to feel good. Even if itís not in a groove, I still want it to reach out from the speakers and grab the listener. And I think thatís very important for instrumental music, to give something for a listener to grab onto.
Melody is very important. So even if itís something thatís free and open, I still want it to have a melody thatís singable or a melody that grabs the listener. Thatís what Iím attracted to. I listen to music that has a melody that pulls me in. I can appreciate music thatís really out there and free, without any melody center. But it wonít grab me for a long period of time. I can appreciate the incredible musicianship happening, but I donít have as much of an emotional response.
PCC:
So you do want to keep the music on an emotional level and not be too analytical about it?
MILLER:
Yeah, Iím definitely not analytical. Itís funny, I had mostly really, really good reviews for this record. But I had this one review [ laughs] - thereís always one bad one in the bunch - and he didnít totally slam the record, but he did say that it was like an exercise in intellectual music. And I was laughing, because I thought, ĎOh, my God, thatís so not where Iím coming from in music.í And if something comes out and in itís in an odd metre, itís not that I decided and sat on my computer and said, ĎLet me make a song in this metre.í Itís just that it came out that way. And I didnít realize it did, until later.
Itís just very funny, the song ĎWaiting,í which is probably my favorite song on the record, that song the solo section has about five different metres in it and I didnít even know that until after I tried to write it out, after I wrote the piece. And I just let it be, because thatís how I played it. But it was just very funny to me that he was calling me intellectual and academic and just about impressing, which is so not what I was trying to do.
PCC:
And listening to the album, thereís such a wonderful array of emotional content in the music. In terms of the life of a musician, whatís been the most challenging aspect to you. And whatís been the most rewarding?
MILLER:
The most challenging thing is sometimes I feel like I wish I could turn my brain off. Sometimes I have fantasies of like going to a job where I just clock in and clock out. But I know I canít do that, because I would be miserable. Iím obsessed with music. I love it, but it never leaves me alone. And in some ways, I wish I could just step away.
I really love performing live and I love playing the drums. I love everything about the chemicals that are released, when I play, the musicianship and everything. Sometimes when Iím exhausted, I say, ĎOkay, I need a vacation.í And I go on vacation. But the whole time, I really struggle and Iím kind of miserable, because I just want to be playing [laughs]. So Iím a little obsessed. And also, financially, itís hard to be a musician. Thereís no stability. And that can be tough.
The most rewarding, I get to travel the world and I get to surround myself with incredibly creative people that inspire me all the time.
PCC:
Do you think project to project? Or are there long-term goals you want to achieve with your music?
MILLER:
I think more project to project, because I know that, if I continue to search and have curiosity about music, I know that the long-term thing will happen... which is really just play music till I die [laughs], with incredible people. And push myself. And also teach until I die. Because thereís nothing more inspiring than teaching.
For the latest news and tour dates, visit allisonmiller.com.