ANDREW MCMAHON: FROM ILLNESS TO WILDERNESS TO MUSIC SUCCESS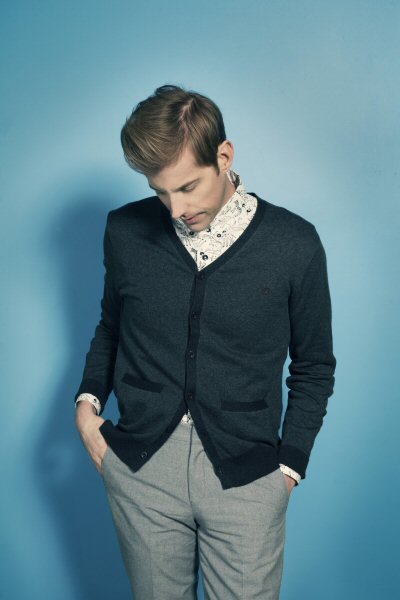 Photo by Tamar Levine
By Paul Freeman [July 2016 Interview]
Resilience is a word that comes to mind when pondering the life and career of singer-songwriter-piano player Andrew McMahon. Previously having recorded under the monickers Something Corporate and Jack's Mannequin, McMahon is earning deserved acclaim for his latest album, "Andrew McMahon In The Wilderness."
His greatest challenge involved health, not striving for music success, however. In 2005, excited about the recent completion of Jack's Mannequin debut album, "Everything in Transit," McMahon was diagnosed with acute lymphoblastic leukemia. With his sister Katie as stem cell transplant donor, he pulled through.
To help other young people with life-threatening illnesses, McMahon established the Dear Jack Foundation.
For the Foundation's newest fundraising initiative, McMahon is trying to amass $100,000 by November 11th, the date of his annual Dear Jack benefit concert. This will enable the organization to continue advocating for adolescents and young adults affected by cancer. He's getting fans to participate in the fundraising. They can even spearhead offshoot campaigns and if their group raises $7,500 or more, they're entered to win an Andrew McMahon concert in their living room. For more information, visit http://www.dearjackfoundation.org/dear-jack-100k-challenge/.
After his own recovery, McMahon recorded two more Jack's Mannequin albums, 2008's "The Glass Passenger" and 2011's "People and Things." One of the songs he wrote for NBC's TV series "Smash" earned an Emmy nomination.
He has moved his family - wife Kelly and daughter Cecilia Kate - away from the Los Angeles frenzy to South Orange County. He cut ties with his management and record company.
With the new monicker Andrew McMahon In The Wilderness, he released a 2016 album with that name as the title. The piano-driven pop soars with memorable melodies.
Additionally, he teamed with Lindsey Stirling on the song "Something Wild," featured in Disney's new "Pete's Dragon" movie. He's currently touring with Weezer and Panic! In the Disco. And McMahon has already begun work on a new album.
Personally and professionally, McMahon, 33, is in a good place. He's making the most of every moment.
POP CULTURE CLASSICS:
You're out on the road again. It is uniquely exhilarating to be on stage?
ANDREW McMAHON:
Pretty much. Needless to say, I've been playing shows for the better part of the last 16 or 17 years. It's safe to say it doesn't ever seem to get old. So I guess I'm stuck with it [laughs].
PCC:
"In the Wilderness," do you feel that this album was sort of the sum of all your band and solo and life experience to this point, that you had to evolve through those, to get there?
McMAHON:
I mean, to some extent. I look at this as the next step in my evolution as a writer and as an artist. But I don't necessarily favor one thing over the next. I'm always just trying to push forward and make the next new thing. Certainly, there was a culmination of a lot of moments in my life, my personal life, my business life, and that led to me saying, "Okay, I'm going to do this project. I'm going to call it "Andrew McMahon in the Wilderness."
So we're going to make new music under a new name and have us swing the bat for the third time and start the career over. I think in that sense yeah, it was a big moment, a culminating moment of a lot of things.
PCC:
Using the different names, like Jack's Mannequin, for your own projects, is that just to pave the way to carve out new musical identities?
McMAHON:
Yeah, well, I suppose so. I look at all three projects as pretty representative of the stage of my life I was in, when I was recording under those names. I think with this project, I was ready to move on from Jack's Mannequin and, in some ways, from what those years had come to represent for me. And so when it came time to decide, I liked the idea of having a monicker, just because there's something artful about having a band name.
But I also felt like, with so many band names [laughs] floating around now, that I wanted to include my own name as part of it, so at least people would know, "Hey, if I go see the show, I'll probably hear a Jack's Mannequin song and a Something Corporate song and a Wilderness song all on stage together." So that would be the reason for melding my name with the monicker.
PCC:
What is the significance to you of the "In The Wildnerness" phrase?
McMAHON:
Mostly, you look at where I came from with Something Corporate and with Jack's, a lot of those years I was pretty well insulated. I was working with a major label and a band and there was much more organization to my life. At the point where I got to retiring Jack's Mannequin, I was a little burnt out on the system I had been making music in.
I decided to cut ties with management, my record company and kind of hide out a little bit, figure out some things in my personal life. I moved out of Los Angeles. And I think that the whole emphasis of that reboot and starting over felt a little bit like being out in the middle of nowhere. It wasn't a bad feeling, but I had to sort of re-learn how I was going to approach my life and my art and that's where "The Wilderness" came from.
PCC:
Where are you based now?
McMAHON:
I'm based in South Orange County, like halfway between L.A. and San Diego now.
PCC:
The song "Cecilia and the Satellite," that was inspired by your daughter?
McMAHON:
It was, yeah. My wife was pregnant pretty much the whole writing of the album and, gosh, she was probably about two weeks away from her due date, when I ended up in the session where I wrote that song. I wasn't really avoiding the subject matter during the writing process. There were a couple of songs that had popped up that I think pointed to the fact I was going to be a new parent pretty shortly. But with the due date moving so close, I was thinking, "Let's try and write a song for this new person, whoever they be and try to impart some, whether it's words of wisdom or just some truths about who I was before she was born… and I hope to try and take good care of her." That was the mission, I suppose.
PCC:
People seem to find it universally relatable.
McMAHON:
Yeah. It's a wild thing. I'm very pleased that this is the song that, in a way, put this album on the map. In other ways, it's certainly the biggest 'hit' that I've ever had and the fact that it's a song that, one, I wrote for my daughter, but two, forced me to really reflect on my own life and try to paint as honest a picture as I could of the highs and lows that I had seen, leading up to her birth, it's pretty awesome to me that so many people ended up connecting with that.
PCC:
The emphasis on keyboards on stage, do you prefer that because it gives the band a different feel?
McMAHON:
Because I'm a keyboard player and I was largely in the studio by myself with a producer when I was making this record, I think there was a tendency, in the early stages… and a lot of times, that's how my records had to be - rhythm and keyboard production and vocals. Then we'd kind of add guitars later. I think at some point in the process, there was a moment where we realized like, "We haven't even put a guitar on this record yet." And it became this weird little mission for us to see if we could create the same sort of energy and build a song and an arrangement in a way that felt contemporary and big, but didn't necessarily include guitars. And we sort of stuck with that as an aesthetic.
And it was a fun experiment, because it gave me a chance to sort of explore like how we could use keyboards and pianos and carve out all the right frequencies to prop the voice up without sort of stepping on it. Obviously piano is a mid-range instrument. So is guitar. So leaving a little bit of that competition out of the studio, sonically, ended up making the record stronger.
PCC:
Have you always wanted to add a bit of showmanship to your piano-playing, climbing on top of the piano for instance?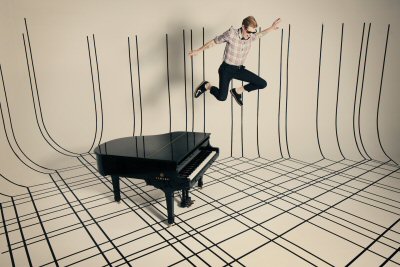 Photo by Tamar Levine
McMAHON:
[Laughs] That's been part of my shtick since I was probably about 16, 17 years old, starting to play in bands. The first show I saw was Billy Joel, on one of his later tours, when I was in the fifth grade. And then obviously I became a big fan of Ben Folds, when I was in high school and starting my own band.
I think the beauty of what both of those guys did, and Elton John, they were defusing some of the stately nature of what people associate with piano and piano players and there was always an irreverence that they treated their pianos with. And I felt obligated, and sort of selfishly, I enjoy the act of beating up my piano a little bit [chuckles]. So yeah, I learned a lot from watching their shows and definitely tried to bring that energy to my set, as well.
PCC:
Did you ever have a mishap leaping around atop the piano?
McMAHON:
Oh, God! Always. Yeah, yeah, yeah. [Laughs] I mean, gosh, on a Warped Tour in like 2002, I completely broke my ankle, running and jumping on the piano. At least once or twice a tour, I'll fall off the piano or I'll take a jump off the piano and end up on my back. I've already done that twice on this tour, so, yeah, there's no shortage of injuries. I've blown a knee out. You try your best to calculate. You want it to look dangerous for everybody. I do my best to put the show on, but sometimes it actually ends up being more dangerous than I expect.
PCC:
What was it that first inspired you to try to play the piano?
McMAHON:
There was always a piano in my parents' house. I grew up around music. I had four older brothers and sisters. And both my parents grew up in the 60s. So there was music in my house always. And always having a piano around, I was just drawn to it. And I would just play by ear at first, plucking out melodies, learn how to play bits of songs you hear on the radio… and eventually, somewhere around my ninth birthday, my uncle passed from skin cancer, from melanoma. And, for whatever reason, I just found myself drawn to the piano.
Shortly after his passing, I started writing songs, really to kind of cope with that loss. And it was that, that kind of triggered my love for writing. Even to this day, I use the piano to address some sort of angst or some sort of urgent question that needs answering. That's been my approach. It was always a part of my life, from a very young age.
PCC:
So did the music help you through the health crisis, when you had the leukemia diagnosis?
McMAHON:
It did and it didn't. I go back and forth on that answer. There's no question that knowing I had a record that I was really proud of, the first Jack's record, was a big moment for me, where I stepped out, away from my band and did something different, produced the record on my own with my buddy Jim. And we put so much into it. So being diagnosed right as I was finishing that record, there was certainly a mission for me to get back on the road and to have people hear it. And in that sense, music was a really key part of my sort of return and I think why I did bounce back relatively quickly.
But the flip side of that, making the follow-up record and record that I wrote in the process of my recovery, it made things a little more complicated for me. As an artist, there's a sort of need to be fearless and a need to not ask too many question of yourself, but to really lead into your subconscious and write what comes to heart and your mind immediately. And there's a sort of complex that comes with facing death, especially at a young age, where you start questioning everything. So in that sense, music became pretty complicated for me for a number of years after my illness.
PCC:
So after that phase, did surviving the illness end up changing your outlook or attitude in another way?
McMAHON:
Yeah, it was gradual. There was probably one moment, I would say, just within the last few years, where all of a sudden I realized that my perspective had shifted. But it's a very gradual thing. You don't just like get better overnight. At least, your mental state doesn't improve like it was light switch. It just gradually gets better. And then eventually you backslide a little bit. And then you get a little better. And it really is a thing you work through… at least it was for me.
But I think, with the birth of my daughter, and sort of finding some autonomy and space from my last project and getting out of Los Angeles and really trying to sort of start from scratch and not think too much about the past, but really start looking towards the future… The last four or five years have been a huge aid in that transition and finding perspective. Hey, would I have chosen to get cancer? No. But is my life better at this moment? Have I learned a lot? And do I feel like I've gained some insight that I wouldn't have had otherwise? Certainly. And those realizations have come in the fairly recent past.
PCC:
What was the mission in founding the Dear Jack Foundation?
McMAHON:
Well, for me, I saw a lot of people not make it. I started learning the horrifying statistics about adolescent and young adult cancer, how despite the fact that the ages 15 to 39, these are like what most people would consider formative years of your life. You're finishing school and getting married and starting your career and all these amazing milestones fan out in those years. Yet this is the most under-researched, underserved demographic of patient.
And countless young people, because they were listening to my music or they were drawn to my music because they'd been diagnosed, tell me the same stories over and over and over again, that they are treated in hospital wards with people either much older than them or much younger than that. They're not given any real support services, anything to deal with the emotional side of what it is to be a young person facing death and facing disease and all these complicated things that go along with it - fertility, school and work. And for me, being somebody who got out pretty easily, I would say, and did survive, it became a mission to try to make it a little bit easier, even if it was for five or 10 people a year or whatever we can do on the ground level, whatever we can do to make a difference, that it would be worth dedicating time and resources to do that.
PCC:
And you've launched a new initiative in that regard?
McMAHON:
Yeah, we're shooting to raise $100,000 in what we're calling "The 100K Challenge," between now and the 11th of November, which is the day that we do our annual Dear Jack benefit concert. So we get fans to participate and it's a peer-to-peer fundraising campaign that we've launched. And they can sort of spearhead their own campaigns within the 100K Challenge umbrella. And if their different group raises $7,500 or more, they get entered to win a concert in their living room.
PCC:
Touring with Weezer and Panic! In The Disco, what's that been like for you?
McMAHON:
I'v got to be honest - it's been like summer vacation or camp or something. It's been a lot of fun. For us, the barrier of entry is pretty easy, as far as what our commitment is on a nightly basis. We play a 30-minute set, I do a couple of meet-and-greets. And we sweat it out [laughs] before the sun goes down on these amphitheatre stages, trying to win over their fans. And we've found that everybody's been really gracious to us, both on the audience side of the stage and backstage. The bands out here are really great people and have been really supportive of us. And we get to watch good music, when our show ends every night. So it's hard to beat it.
PCC:
Is there a new album in the works?
McMAHON:
I actually just got the finished mix of my single in the mail right before we got on the phone [laughs]. So we're cruisin'. I've actually gotten myself in hot water by saying that we're close to finished and then it takes another year or so. I probably shouldn't make too many promises. But we have like six or seven tunes that I'm really, really excited about that are in pretty finished states of production. So I'll get home after this tour, put my nose to the grindstone and write a few more that feel like they're part of this album and that I'm excited about and get them mixed up and get them out. But I'm hoping sometime in the first couple months of 2017.
PCC:
Any new directions on this?
McMAHON:
To me, it feels like a real logical next move from the last record. There actually are some guitars on it, surprisingly [laughs]. It's a variation of what I did. I think the biggest thing for me is that, just from a process standpoint, when I started working on the first Wilderness album, I was sort of reinventing my process and writing in a different way, recording in a different way. And I feel that, as I got further and further into that first record, I was really finding my feet and understanding how I could use that process to make songs that speak to me and speak to an audience and sound like what I hear in my head.
And, if nothing else, by not stopping that process when that record was finished, but instead I kept writing, I kept going to the studio and continued to develop songs until finally they started to feel like the next thing, there wasn't this moment where I had to like relearn how to do everything, which is what I did have to do with the first Wilderness album.
But I think, if nothing else, I think the songs are tighter and they're that much more focused. And there's some lyrics on this record that I feel like are my best. There's a song called "Fire Escape" that we're playing now that will inevitably be the first single and I think some of the best words I've ever written are housed in that song. And I'm very proud of it.
PCC:
So through all the years, all you've gone through, Something Corporate getting a lot of acclaim, maybe not getting the big mainstream breakthrough, did you always believe that somehow, someday you were going to prevail and be widely heard?
McMAHON:
I don't know if it's a sense of belief as much as I believe in doing the work. And even with Something Corporate and Jack's and this project, it's like, none of them have had what you would consider the classic breakthrough where everybody knows your name [laughs]. And I'm okay with that. I think I always felt like, if I worked hard and wrote my best music and left the studio feeling like I had been honest, that I would connect with people. And that, to me, is the ultimate goal.
But sure, my hope has always been that I'll get to be one of those acts that you sort of can't escape [laughs], and that you hear their songs everywhere. And hopefully that will be because they're really well written tunes that deserve to be heard.
PCC:
Writing for the show "Smash," does that lead you to want to create in other areas, perhaps theatre?
McMAHON:
That was a pretty big moment for me, just because it was sort of in that aforementioned time when I had sort of shut down my career, in a sense, and just said, "I'm going to take a break and take a minute off." And that kind of fell into my lap. And the fact that I was able to write for these high-level production people, in a completely different medium than I was used to and have it go well and get a nomination for an award and all these things kind of came together, I think if anything, it made me feel like, "Okay, you can use this skill set for other things than just propping up your own artist career."
And so yeah, it definitely attracted me to the idea of writing for television and film. We just had this song come out yesterday that's in the end titles for the new Disney movie "Pete's Dragon." And that was really fun. So I am trying to get more into that sort of writing where you're serving another artist or film or show or maybe eventually doing something in theatre.
PCC:
At this point, what is the most rewarding aspect of the life in music?
McMAHON:
I'd say being on stage. We worked really hard in the last year to have an inventive stage show and not just settle for coming out there and playing songs, which is great, there are a million bands that do that and kill it. But for me, I've been kind of leaning towards trying to make our stage show whimsical and fun and have moments that inspire people to grab their phone and go, "I can't believe they did that?" [Laughs] You know? I think to have these songs that you care about, that you've written, and be able to apply them to a live format where you can really put on a show for people, and try and do it consistently and try and give people something that they don't see every time they go to a concert, I think it's sort of where it all lives, in sort of the fullest package, I suppose.
PCC:
You mentioned wanting to connect with the listeners, which you're obviously doing. What is the effect that you most want to have on them?
McMAHON:
Well, for me, it's the same reason I started to listening to bands like Counting Crows, when I was a kid and Weezer and their first album. I was always drawn to the music that you could tell whoever was singing the words, it came from their heart, it mattered to them. They had some version of their truth that they were trying to share with you. And that's what I've always wanted to do. Every time I write a lyric, where it really hits you in your gut, I'm like, "That's exactly what I'm feeling right now." And you're so grateful. Every time I write one of those lyrics, those are the ones that connect with people. When I have that moment where I'm like, able to scratch the surface enough to get past whatever the veneer is we all sort of put up to hide who we are, when you get those lines out and you put them on a record and people connect to them, that's what makes me tick, makes me excited about playing songs. So hopefully they just hear a little piece of themselves in the song.
For the latest news and tour dates, visit www.andrewmcmahon.com.