ARLO GUTHRIE: FAMILY LEGACY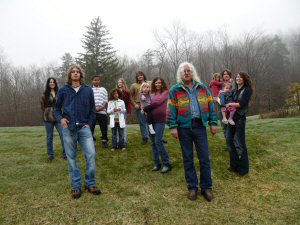 Arlo Took This Photo
by Paul Freeman (2007, updated with 2010 tour info)
Legendary folk music icon Arlo Guthrie is galloping across North America and into Europe with The Guthrie Family Rides Again" tour.
On this tour, in addition to their own much loved material, the Guthrie Family will cover such artists as Billy Bragg, Wilco, Eliza Gilkyson, Janis Ian, and The Klezmatics. They will also perform many of their newly written tunes featuring unpublished Woody Guthrie lyrics.
Arlo recently released "Arlo Guthrie: Tales of '69" (Rising Son Records). Long lost, it's a live 1969 Long Island, New York concert performance. It was originally recorded just prior to Woodstock. Highlights include three previously unreleased songs, a rousing "Coming Into Los Angeles," a very different version of "Alice's Restaurant."and a wildly amusing "The Unbelievable Motorcycle Tale." This 1960's Guthrie is young, funny, outrageous and joyously radical. Now in his sixties, he continues to carry on the family tradition.
When it comes to musical legacies, it would be difficult to top that of the Guthries. Arlo's dad Woody Guthrie, folk icon and activist, influenced countless artists, including Bob Dylan and Bruce Springsteen. Arlo himself made a huge cultural impact in the '60s and '70s.
Arlo enjoys headlining "The Guthrie Family Legacy Tour" with his grown children. His son Abe has accompanied Arlo for 20 years. "He's a fine musician," says Arlo. "He's had a number of much better offers than to play with me," Guthrie laughs.
"My daughter Sarah Lee and my son-in-law Johnny Irion are just getting better and better. Johnny's a fine guitar player. They're both creating new material that is outstanding."
The unique on-stage bond creates a special atmosphere for audiences. "Our audience has always been more like family than fans anyway, starting with my dad's peers who show up at the gigs periodically," Arlo tells Pop Culture Classics. "I've been on the road almost 50 years, so there's families that have been coming with their kids and now grandkids. Now there's a lot of younger people who may not even know me, but have heard Sarah Lee and Johnny somewhere. So we have a very diverse audience."
Arlo helps preserve Woody's musical heritage. "Frankly, it'd be alive and well without me. There's a wealth of songs and material, and, more important, there's a wealth of ideas and values that still reach people."
Does the folk scene still produce politically conscious songs these days? "Oh, yeah, more than enough," Arlo laughs heartily. "That would be true in any time when there's a lot of social upheaval. In an earlier era, with the Beatles or Bob Dylan, those kinds of songs broke through all of the commercial barriers and reached a whole lot of people. That's not as true today.
"Because of the internet and other avenues open to musicians, there's more of those kinds of singers and songwriters than ever before. They just don't depend on the entertainment industry for their livelihood or to get their work out. It's not going to be reaching out of your TV or radio to grab you, like it did 40 years ago."
As a youngster, Arlo didn't imagine a performing career. "I didn't want to be a singer. I wanted to be forest ranger. I didn't have any interest in being on stage. I'm not a limelight type of person. So for me, this life is a karmic disaster. I just ended up realizing at some point that this is the path of least resistance and I might as well learn to be happy doing it. Of course, I'm much happier when the family's with me and we're all doing it together."
With family a priority, troubadour life can be difficult. "In the early '70s, we bought ourselves an old bus, put our kids in the bunks, took the tutors on the road and tried to do the best of both worlds.
"When they got old enough to be on teams and things like that at school, we couldn't haul them off as much. But all through the summers, they would come out. Now they're bringing their kids. You take the guitar out of beautiful velvet cases, you put the kids in, you go to work," Arlo chuckles. "Now the grandkids are getting old enough to want to sing a few songs. We found a way that works for us. I don't know that it would work for everybody."
Even for the kids who don't choose to pursue performing careers, music becomes vital. "My mom and my dad let me know very early in life that, whether you're professional or not, music is a great friend. It's been certainly true for me."
In his father, Arlo found some things he wanted to emulate, others he would rather handle differently. "It's just like having any parent -- there's things about him that you like and things that you wished you could have changed. But at some point, you realize that your life is your own, it's not your parents'.
"There are things about your life that other people will recognize as being a family trait. That's true for everybody and it's true for us, too. Some of the traits that made my dad stand out in his own time, I think are still valid and they come through me and they come through the kids and grandkids. I love that. That's what family's all about."
Was Arlo's 60th cause for reflection? "It's one of those anti-reflection times," he laughs. "You don't want to think about it."
After heavy touring, he hopes to spend more time attending to the Guthrie Center and Foundation, which is dedicated to providing a wide range of services.
Arlo looks back fondly at the flower power days. "We were there at all of the be-ins and love-ins and stuff. Those were great times. And they were powerful times. A lot of people look back as it being just about getting stoned or wearing funny clothes. The truth was, there were a lot of people who took very seriously the need for a new approach to what it meant to be a human being. A lot of the positive things we see today are a result of that.
"We probably should have done a little more than party so much. But that was part of it, that life was meant to be not only good, but was meant to be fun, also. When you take the fun out of the good, you're left with a Puritan ethic. The Puritans ain't around anymore. Well, maybe they are, but they're not having any fun now either."
Arlo's sense of humor, like his integrity, haven't diminished over time. Other Boomers seem to have lost the '60s idealism. "I don't think they lost it so much. They probably got into a position where they didn't know what to do with it. So they just sort of set it on the back burner.
"It's sort of like seeing all of the antibacterial soap everywhere now. Everybody's trying to clean up everything, to the point where they're afraid of anything that's just normal and natural. But there's always a few germs that won't die. And I feel like more of a super-germ. The more you try to clean us up, the stronger we get. And the more potential there is for growth in the future."


SARAH LEE GUTHRIE & JOHNNY IRION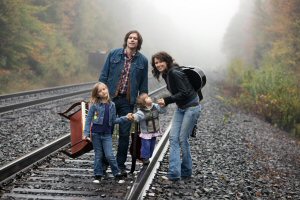 Photograph by David Evans, Courtesy of Smithsonian Folkways
By Paul Freeman (2009)
For husband-and-wife singer/songwriter duo Sarah Lee Guthrie and Johnny Irion, the annual Bay Area "This Land Is Your Land" concert is definitely a family affair. The event honors Woody Guthrie, Sarah Lee's grandfather, and John Steinbeck, Irion's granduncle.
At the most recent gathering, Sarah Lee and Johnny were joined in song by old friends Pete Seeger and his grandson Tao Rodriguez.
"When you put Steinbeck and Woody together, it seems natural, because of who they were, what they stood for, how they felt about the American people," Sarah Lee Guthrie told Pop Culture Classics.
"But when you look at them personally, they were kind opposites. John was such an intellectual and Woody was such a folky hobo. Yet they cared about a lot of the same things. And that's what we're celebrating now."
The "This Land Is Your Land" concert benefited The Woody Guthrie Foundation, The S.F. Food Bank and the Center for Steinbeck Studies at San Jose State University.
Irion described his first visit to the Center for Steinbeck Studies: "I wasn't really expecting the whole visual, virtual kind of reality tour, where you can actually see the truck that John drove around in, traveled with Charley. You feel like you're in Cannery Row. There are visual landmarks within his writing and to see them at the center is really cool, not only for a young kid or teenager, but for the parents, as well."
Sarah Lee added, "The Steinbeck Center is lovely. Some of our favorite books are in there, little scenes from different parts of the books. It's like walking into a book or a movie that you love."
Sarah Lee and Irion fell in love and married in 2000. Irion related, "For the first four or five years, we were sleeping in the car, doing the clubs and paying the dues."
Now they balance promising musical careers with raising two daughters, Olivia, age seven, and Sophia, age two.
Sarah Lee was two years old when she made her singing debut as part of a children's chorus on her father, Arlo Guthrie's, 1981 "Power of Love" album. But it wasn't until she turned 18 that she decided to pursue a music career.
She and Irion will soon embark on a major Guthrie family tour. The duo has a new album (backed by Vetiver) due for 2010 release. Smithsonian Folkways has just releasde "Go Waggaloo," a children's album from Sarah Lee Guthrie & Family. A real treat for the entire family, it's a charming collection of traditional tunes and originals. The participants include Irion, Arlo Guthrie, Pete Seeger and Sarah Lee's daughters.
"There are so many reasons for making music.," Sarah Lee said. "But one of the best is to sit around with your family and sing and play and pass on songs to our kids.
"It's an opportunity to get into our kids' shoes for a little while, instead of them always walking in ours. Kids catch onto melodies so easily. And they don't hold back. At least my kids don't," she laughed.
Three of the songs came from lyrics Woody Guthrie left behind. Sarah Lee set them to music. One is the title track, "Go Waggaloo."
"It's a great sort of summary of his life, in a very fun and childlike way. When you look at his lyrics, it's almost like the melody jumps off the page. You can put yourself in Woody's shoes easily, especially if you've sung his songs for years and you know the man and you've read about him and heard stories about him. It's fun to channel what he would do."
In grown-up music, Irion and Sarah Lee appreciate social relevance. "I'd always been searching for that," Irion said. "But I couldn't find the blueprint. Once you get Woody and Pete, you understand. There's a fine line. You want to reach people without being too preachy. They've done that."
Sarah Lee said, "The older I get, it gets deeper into my bones and I feel it a little more. You grow into it, realizing that the world needs your help, that it's not just this beautiful place that we once thought it was as children. There's a lot that needs to get done. Being a part of this family, people expect you to have a social awareness."
She believes music can change the world. "It's one of the most effective tools ever. We've seen that in history. Songs can give people courage enough to march in the streets. These are songs in our culture and our heritage that we all can grab onto in times that we need them. Music can give you feelings that nothing else can. It crosses generations. It crosses language barriers. It does what love can do. That's the power of music.
"It's like what's written on Pete's banjo, 'This machine surrounds hate and forces it to surrender.'
"I just hope, if I'm as lucky as Pete and my Dad have been, being able to play music their whole lives, that I'll do as much good as they have, having an impact on culture and people, yet still remaining myself. We're positive people. We're optimists. You can hear in that music."
THE ARLO GUTHRIE 2010 TOUR SCHEDULE



04-03-2010  
Albuquerque, NM
The Journal Theater

04-08-2010  
Wickenburg, AZ
Del E Webb Center

04-09-2010  
Tucson, AZ
Centennial Hall

04-10-2010  
Mesa, AZ
The Mesa PAC

04-11-2010  
Flagstaff, AZ
The Orpheum Theater

04-14-2010  
Escondido, CA
California Center for the Arts

04-16-2010  
Los Angeles, CA
Royce Hall

04-17-2010  
Irvine, CA
The Barclay Theater

04-20-2010  
Arroyo Grande, CA
The Clark Center

04-21-2010  
Davis, CA
UCD Mondavi Center for the Performing Arts

04-22-2010  
Davis, CA
UCD Mondavi Center for the Performing Arts

04-23-2010  
Berkeley, CA
Zellerbach Hall

04-24-2010  
Modesto, CA
The Gallo Center

04-28-2010  
Grants Pass, OR
The Rogue Theater

04-29-2010  
Corvallis, OR
La Selles Center

05-01-2010  
Kent, WA
ShoWare Center

05-02-2010  
Bellingham, WA
Mt. Baker Theater

05-04-2010  
Spokane, WA
The Fox Theater

05-15-2010  
Westbury, LI, NY
Westbury Music Fair

06-17-2010  
Boston, MA
Symphony Hall

06-18-2010  
Boston, MA
Symphony Hall

06-26-2010  
Columbia, MD
Columbia Festival of the Arts

07-02-2010  
Germany
Rudolstadt Festival

07-04-2010  
Denmark
Skagen Festival

07-14-2010  
Okemah, OK
Woody Guthrie Folk Festival

07-18-2010  
Lenox, MA
Tanglewood Music Festival

07-29-2010  
Eisnach, *, Germany
Jazz Club

07-30-2010  
Siegen, Germany
TBA

07-31-2010  
Nuremberg, Germany
TBA

08-01-2010  
Karlsruhe, *, Germany
TBA

08-22-2010  
Clapham near Bedford,  UK
The Rhythm Festival

10-22-2010  
Monroe, WI
Monroe High School Performing Arts Center

10-23-2010  
Crystal Lake, IL
Raue Center

10-24-2010  
Oshkosh, WI
Opera House

10-26-2010  
Eau Claire, WI
The State Theater

11-05-2010  
Glenside, PA
The Keswick Theater

11-06-2010  
Ithaca, NY
The State Theater

11-11-2010  
Norfolk, CT
Infinity Hall

11-12-2010  
Norfolk, CT
Infinity Hall

11-13-2010  
Randolph, VT
The Chandler

11-14-2010  
Manchester, NH
The Palace Theater

11-17-2010  
Brownfield, ME
Stone Mountain Arts Center

11-18-2010  
Kents Hill, ME
Kents Hill School

11-19-2010  
Keene, NH
The Colonial Theater

11-20-2010  
Pittsfield, MA
The Colonial Theater

11-27-2010  
New York, NY
Carnegie Hall