AVISHAI COHEN:
Avishai Cohen is more than a trumpeter. More than a composer. Heís a seeker.

Avishai Cohen; photo by Caterina Di Perri

By Paul Freeman [September 2017 Interview]

With the incredible expressiveness and sensitivity of his playing, his purity of tone, as well as the sense of adventure in his music, Cohen pleases audiences.

You can hear in his evocative playing that this is an artist whoís digging deep. In his composing, Cohen draws on profoundly affecting elements from his own life and from the world situation. On last yearís award-winning and intensely personal ďInto The SilenceĒ album, he was grappling with the death of his father. For the new, impressionistic ďCross My Palm with Silver,Ē Cohen was musically responding to tragedies ranging from the Syrian crisis and drowning African refugees to the shootings in Sandy Hook.

Cohen grew up in Tel Aviv and picked up the trumpet at age eight. His siblings have also become acclaimed musicians ó his brother Yuval on saxophone and sister Anat on clarinet.

The conservatory-trained Cohen became first trumpet in the Young Israeli Philharmonic Orchestra. But it was jazz that provided Cohen with the musical liberation he needed. Within the genre, he has earned much recognition. DownBeat Magazine called him ďa jazz visionary of global proportions.Ē In their Critics Poll, for four consecutive years, he was voted a Rising Star ó Trumpet. In 2016, Cohen was named ďBest Foreign ArtistĒ by Jazz Magazine France.

The Israeli-born artist, who lived for years in New York City, recently relocated to India. He first visited there nine years ago.

When Cohen, 39, performs on stage, he takes his compositions into new realms through imaginative improvisation. His music lives and breathes.

POP CULTURE CLASSICS:
You recently returned from India?

AVISHAI COHEN:
Not returned ó I came from India. I live there now.

PCC:
Oh ó what went into the decision to move there?

COHEN:
I went there for the first time eight, nine years ago and ever since, I always thought of that place. The seed was planted back then, like if I ever want a way out of the rat race, it exists. I just have to do it. And my wife loves India and my kids love it there. The last two years, once a year we went. And then we went for a little longer period of four months that ended up to be six months, that ended up to become a decision to move there. The kids are in school there. And we get a little sanity.

PCC:
How old are the children?

COHEN:
Seven and 11.

PCC:
Do you find that the atmosphere there enhances the creation of your music in some ways?

COHEN:
Like I said, I get to really live. And be. And of course, that goes back into the music.

PCC:
ďCross My Palm with SilverĒ is a beautiful album. What was the concept you had in mind with that project? How did it take shape?

COHEN:
It was actually a little challenging, because it came very quickly after the previous album, ďInto the Silence,Ē which was a big success, also commercially, for us. And this album was very private and personal, because it ended up that I had to write it right after the death of my father. So the whole album before that was super personal. And I sat with the music for a long time, but wrote in a few bursts, a few periods.

And shortly after it was released, they already approached me if I want to do another one. And I said, maybe, yes. I just set a date and said I would come up with the music. And I expected it to flow out of me like the previous one did. But it wasnít so simple. And it was a little challenging, after such a personal album. Suddenly I felt like I was writing from a vacuum feeling, like a real empty space and you have to create from there. I was trying to observe what I was feeling. First, I donít just think of a concept and write. I first just write and see ó what is it that Iím dealing with? Same with my dad ó I didnít think, ďOh, this tune is going to be about this. And this is about that.Ē No. First I write about whatever is in my heart, in my head, in my body, everywhere, wherever itís coming from. And then I put a context to it. Or I try to observe and see.

So with this last one, I realized what it was concerned most about was all the things that were going around us in the world at that time and all the wrong-doings and evils, really. And that, combined with the feeling of helplessness, of what the small people can do to change. So the titles are related to the crisis in Syria ó ďWill I Die? Miss? Will I Die?Ē And to refugees in Africa who are drowning every week, in hundreds ó ď340 Down,Ē for instance, is for that. ď50 Years and CountingĒ is 50 years of occupation that is so-called celebrated. ďTheme for Jimmy GreeneĒ is not so current, but itís his own personal disaster that comes from not being able to control an issue here in the States, where his daughter got murdered in Newtown. So that song was for him. That one was for him. I carry his story with me always. Our daughters were the same age. And I think about his personal grief. I dedicated it to him, not his daughter, because he celebrates her life. It was for my friend, who went through the worst. ďShoot Me in the Leg,Ē thatís more difficult to explain, but thatís also part of it.

So anyway, yeah, as I was writing, I noticed that it was what I was dealing with. And then questions of what it means ó What is activism? What are we to do? What are we able to do? What is this little feeling of helplessness? Sometimes we feel like, as small people, how can we change the world? Do you have to go to politics? Do you have to go and volunteer? If you do, how long can you do that? And what are the other activities that people are dealing with today, as far as doing more than posting? And at the same time, self-criticism. Even if I write a song about it, thatís not really whatís going to help the drowning refugees, you know, besides being able to talk about it in interviews, etc.

PCC:
But is it cathartic for you to write that music, inspired by such topics, or to play that music, whether it has come from personal loss or the world situation?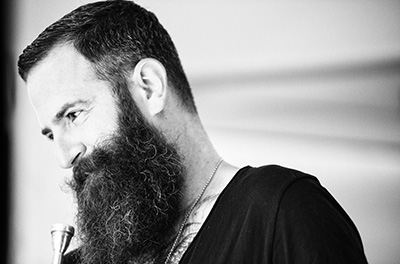 Avishai Cohen; photo by Caterina Di Perri
COHEN:
When I play it live, I donít announce, ďThis one is about this and this one is about that.Ē Yesterday, I said, ďWeíre going to play a tune called ĎLife and Death,í from our previous album. But I donít go into explaining that I wrote it when my father was dying and blah, blah, blah, because it should not interest them. It doesnít matter. I give them the title, from which they can get a sense of what I was dealing with, and each one can take it to his own story. When you listen to music, and itís improvised music, and itís very emotional music, each person can take it to his own place.
PCC:
As far as the composing process, do you try to set aside specific times for the writing, as when you have a new album due? Or are you just constantly hearing new musical ideas in your head, even when youíre just walking down the street or wherever you may be?
COHEN:
Itís a mix. Yeah, I always hear music. And sometimes there are periods where youíre more engaged in writing, composing. Some periods, less. Before that, for Triveni [his group with bassist Omer Avital and drummer Nasheet Waits], for example, it was always bursts of wherever, always different kinds of writing. I did three albums with Triveni and most of the music there is that kind of bursts of whatever comes in any given moment. And with the last two albums, which it was me writing not for a trio, but for a quartet and quintet, with piano, it was different. It was more compositional. I would sit with the compositions. I would think about the big puzzleÖ and building it.
PCC:
With your changing lineups of musicians, how do you maintain the chemistry, the intuitive sense among the players? Does there have to be some sort of innate bond from the beginning?
COHEN:
Everyone has to be in the same state of mind. We know that, without having to even talk about it. We have to all have the state of mind that we are out there for the search. Weíre not out there to be comfortable. Weíre not out there to please anyone. Weíre not even there to please ourselves. But weíre on a certain journey, searching for the now, for the whatever you want to call it, for the truth, for the presentÖ creating. Itís the search for freedom, in a way. And thatís a very tricky search, too. And it doesnít stop. Thereís never going to be an ending to that.
When you do that and other people are in it for the same reasons, are on the same journey, itís not something that you just tell someone ó ďOkay, letís just explore and look for the truth tonight. One, two threeÖĒ [Laughs] It doesnít work like that. You have to be on that journey on your own anyway. So I donít have to tell them. [Yonathan] Avishai, the piano player, Iíve played with him for more than 30 years. Barach [Mori], the bass player, Iíve played with him since high school. So thatís maybe 25 years. Nasheet has been with me for more than a decade.
Again, I choose those people because I know thatís what theyíre interested in. And it has to be an honest search. You have to be really up for it and overcome certain difficulties that can stand in the way. You have to choose at a certain moment to be staying honest or playing something that you know that will be an audience-pleaser, that the audience is going to love. What is going to be your choice?
PCC:
So when you play live, is the composition just a jumping off point, so you can explore from there?
COHEN:
Yeah, it gives us the general shape, so we know where weíre starting and where weíre finishing, but anything can happen during. And itís always going to be different. Itís never the same way. In compositions, tempos can change, the vibe, the feel, the length, where we go, even how we start a tune, how we end it. And the more we play, the more it becomes wilder, I would say, more daring, because once you know the music, at some point I can stop making set lists and we can just jump in and out of tunes, without deciding to finish everything we start. But everyone has to know the music. So thatís why itís harder to do, when you have subs.
PCC:
At what age did you pick up the trumpet?
COHEN:
Eight.
PCC:
What was it about that particular instrument that spoke to you?
COHEN:
I donít know. My brother had a friend who used to come, a great trumpet player by the name of Tomer Levy, who used to be in New York, in the salsa scene. I donít know anymore where he is right now. But he used to come over and play with my brother, play Charlie Parker solos. And I saw it from up close and I thought, ďLooks pretty cool.Ē So I wanted to play.
PCC:
Was there a vibrant jazz scene in Tel Aviv at the time? Or did you learn mostly from records?
COHEN:
Mostly from records, yes.
PCC:
Do you think you were born with the music inside you? Was it something you just had to do?
COHEN:
At one point after I started, I felt like thatís my calling. But I donít think youíre born with it. There are circumstances, too. If my parents wouldnít send me to the conservatory, maybe I would not play. You still have to get introduced to it. Also, my brother and sister were playing, not only playing, but starting and never stopping.
So the idea of ó ďMaybe I can stop and do something else,Ē that never even occurred to me, because thatís what we did. We siblings, we just played. And I think, at one point, too, I realized that it comes to me very naturally. And itís not like I have to work hard to do it. It was fun. It was, like I said, natural.
So there was a certain connection that happened naturally. But I donít think itís necessarily something youíre born withÖ Well, maybe, but not without also the right circumstances, you might be born with it and never know. If it wasnít for my parents, who would drive us to the conservatory three times a week, I wouldnít have been able to continue and find out.
PCC:
With the siblings, growing up, was there a healthy sense of competition amongst you?
COHEN:
There was a healthy type of competition, never trying to put each other down or anything, but when you sit, reading charts together, you donít want to be the one who is fóking up. So we tried to outplay each other. We tried to be the best at sight-reading. But we were always very supportive of one another. On stage, you want everyone else to shine, too. Itís not ó ďIíll take a solo.Ē ďNo, Iíll take it! Itís my feature!Ē To the contrary, itís always ó ďYou got it.Ē ďNo, no, you got it!Ē A lot of love.
PCC:
You still sometimes perform with your brother and sister?
COHEN:
Yeah, not as often anymore, but weíre going to for sure come back. Weíre just all so busy, we have to find the right timing to go back. But itís never going to stop.
PCC:
It must be a unique experience on stage, with that kind of connection.
COHEN:
Yeah,
PCC:
Was it beneficial in childhood to have the trumpet as a means of self-expression?
COHEN:
Yeah, I wouldnít know anything else. I canít even imagine. So, for sure. Definitely.
PCC:
And jazz was always the focus, rather than any other type of music?
COHEN:
It always was the natural choice for me. I did mess around with classical music, too. I played even in the Israeli Young Philharmonic Orchestra and got to play first trumpet there and got to play with great conductors like Kent Nagano and Zubin Mehta, Kurt Masur. But I always felt a little bit out of place to be in that world. It was scary to me. Before anything, before you start, it must be perfect. And only then can you start talking about the music. I felt like itís not for me.
PCC:
So the music should be more about the search rather than going for perfection?
COHEN:
Yeah, I donít even think there is such a thing as perfect anymore. But in classical, the notes you play are very specific and everyone knows them. You must be perfect on the technical side. You mustnít miss a note. Of course, classical music, too, is about emotion. Itís not that itís about the perfection, but to be able to get to the emotion, first you have to be perfect [chuckles]. It definitely wasnít for me.
PCC:
So jazz provided the freedom that you needed.
COHEN:
Yeah. You have to be perfect in a different way, but like I say, itís not really perfect. Thatís not the right word. Thereís no such thing as perfect.
PCC:
Were you always self-disciplined with the practice regimen?
COHEN:
No. I think I was lucky that it was more natural for me. And I always could practice less than other people. Still today, I can sometimes take a break and come back and itís hard, but I can do it. I always went through different periods. I had periods where I practiced eight hours a day and I had periods where I practiced two hours a day. And periods where it was less than that. And it depends.
For me, practicing is just one word for spending time with the music. So anything is practice at this point. Even to sit in my room and just think, or listen to music, or I write. Of course there is the technical thing with the horn, where you have to put in time. You do have to put in time just for the physical reasons. But when it comes to the music, itís all part of the big picture. If you need to sit and not practice, sometimes thatís fine, too. Sometimes you need to just sit in silence.
PCC:
As far as influences, was Miles Davis one of the important ones? People have sometimes compared your playing to his.
COHEN:
Yeah, Miles is a big inspiration for sure. But so are many others. The name of Miles keeps coming up. I have no problem with it, because itís a great compliment to me, even to be mentioned in the same sentence. But there are other influences that are as obvious, as far as trumpet playing.
PCC:
Who are some of your other main influences?
COHEN:
Oh, you know ó Clark Terry and Thad Jones and Chet Baker and Dizzy, Cliff Ford and Lee Morgan and Don Cherry and plenty of others, not to mention other instruments ó Sonny Rollins, Coltrane, Red GarlandÖ
PCC:
I read that, at 10, you were already playing with a big band, standing on a box. Is that true?
COHEN:
[Laughs] Yeah. I was standing on a box. Everyone else was so tall and I was the youngest one. But that was a great experience, because I got exposed to jazz at a very young age. And also to improvisation.
I was talking with my friend earlier about skiing and how scary it can be and how you have to do it as a kid, to overcome that fear. If you donít do it as a kid and then try it as an adult, itís scarier to jump into the unknown, to take chances, to dare. Itís the same with improvisation. If you do it when youíre young, youíre less self-judging and doubting. It just becomes a more natural thing. You just do it. So for me, that was a very crucial part of growing as an improviser.
PCC:
Is it also just a natural thing to develop your own voice on the trumpet? Or is that something you consciously pursued?
COHEN:
I think you develop it eventually through your writing and how the album soundsÖ and yes, your playing, conceptually. But itís not something where you wake up in the morning and think, ďHow can I develop my voice?Ē No. I developed my voice by studying for years all the masters, all the people I mentioned before, and not worrying about my own voice.
On the contrary, just concentrating on being a sponge and taking everything in. And with time, without thinking about it, actually, then the mix of everyone you learned from and transcribed and studied, that becomes your voice.
PCC:
You mentioned that, when you play live, itís all about the search. But what effect do you hope to have on the audience? Where do you want to take them?
COHEN:
I just want them to feel. What they feel, I donít care. I cannot control it anyway. But I want them to feel something. Itís an emotional thing. And I couldnít care less about the intellectual analysis of the music that I do. Itís just, either you feel something or you donít. You donít necessarily have to like it, by the way. But of course, itís better if you like it. Iím not doubting that. But Iím saying that a certain emotion goes through you, when you feel that something is authentic. And thatís true of any style.
You hear someone sing and he sings from his heart, then youíre going to connect to that. You might not like the style. You might not like song. Maybe youíre not going to like the lyrics. Maybe youíre going to love everything. But you can feel when something is real. And I think thatís what Iím going for. Iím trying to make the search as honest as possible. And make it less about the ego and less about the crowd-pleasing moments. And hoping that this will touch people.
PCC:
So when youíre playing, do you try to shut off the thinking mechanism to some degree and let the emotion carry your playing and get lost in the music?
COHEN:
Yeah ó I donít know about getting lost, but definitely try to take all the technical elements out of your head. Thatís for sure. And try to take the ego out of your head. And taking everything youíve learned and get that out of your head. Of course, thatís why I say itís a journey, because itís not always 100 percent success. And you can take care of one thing and fail in the other. And also accept that this is the journey and failing sometimes is part of it. I can be saying all these beautiful things, but, from the stage maybe I am, without realizing, trying to impress the audience or maybe the musicians around me or maybe myself.
And itís important to keep the self-forgiveness, too, and not get too caught up, when you fail. You try again and keep going. And that is the journey. Itís not like itís necessarily going to be the purest thing on stage. But I try. And you donít try once in a concert. Itís every moment you have to direct your awareness to that place. And every time you fail, you simply try again.
PCC:
Having a family, is it a challenge to keep the music from completely absorbing you, to find the balance in life?
COHEN:
No. The opposite. Family teaches me what it is to be real.
PCC:
At this point in the journey, is one of the great rewards of the life in music just the opportunity to continue growing and evolving musically?
COHEN:
Yes, I think so. Also, yesterday, I was in a taxi in Chicago. We passed by a sign for the lottery. The jackpot was like $107 million. The taxi drive was talking about, ďWow, if I win that, I immediately quit my job and never drive a goddamn taxi in my life.Ē And I was thinking to myself, how lucky I am that, if I won that, itís not going to change much. Of course it will change a little bit. You get a nicer house, a nicer car, blah, blah, blah. All that stuff. But it wonít change my job. It wonít change what goes on in my mind. It wonít change my search in music. It wonít change getting up in the morning and practicing the horn. Thatís my calling, regardless of how much money I have in the bank.
So thatís an interesting feeling, to know if I won $100 million now, okay, maybe give up certain gigs or maybe take my family with me on the road. But what Iím saying is that itís a beautiful thing to do this thing, this journey in music. It goes beyond everything.
And this family ó Iím just lucky to have this amazing wife that didnít leave me yet [chuckles]. It isnít easy to live with a traveling musician. And to have two terrific kids that are not complaining too much about their Daddy who is gone a lot. Iím also trying to not go all the time. So it is about keeping that balance, too.
For more on this artist, visit www.avishaicohenmusic.com.