BANGLE THE DRUM SLOWLY
But It's Full Speed Ahead for Debbi Peterson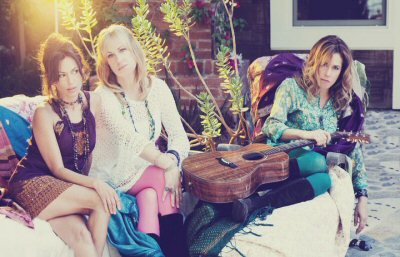 left to right, Susanna Hoffs, Debbi Peterson, Vicki Peterson
Interview by Paul Freeman [October 2011]
The Bangles brightened the '80s by reigniting the folk-rock of the '60s and '70s. In the 21st Century, they're proving that their music is in fact, timeless.
On tour, the band sounds better than ever on such classics as "Manic Monday," Walk Like An Egyptian," "Eternal Flame" and "A Hazy Shade of Winter." Now they have great new songs to add to the repertoire, thanks to the just-released album, "Sweetheart of the Sun." Recorded by Matthew Sweet, original Bangles Susanna Hoffs, Vicki Peterson and her sister Debbi Peterson add 12 captivating songs to the band's ever-growing legacy.
Pop Culture Classics was happy to talk with The Bangles' drummer, Debbi, who also contributes with her vocal, guitar and songwriting efforts.
POP CULTURE CLASSICS:
We saw the band at Lilith Fair and you were amazing. You all seem to have such joy in performing these days. Do you view this second go-round of The Bangles as a bonus?
DEBBI
PETERSON:

Yeah, definitely [Laughs]. It's definitely amazing that we can still go out there and do shows and people, young and old, are so enthusiastic. Some young people are discovering us for the first time. And, of course, older people who knew us in the '80s, are rediscovering us now. It's quite exciting, actually.
PCC:
To what do you attribute the timelessness of the songs?
PETERSON:
I have no idea [Laughs]. I wish I could just cork all that timelessness in a bottle and recycle it all the time. But, you know, it's just basically the love of music that keeps us going. We just love singing and playing and writing songs. That's probably what it is.
PCC:
And the singing, the harmonies sound better than ever. Is that something you focused on, when you reunited?
PETERSON:
Thank you. Actually, yeah. Especially for this latest album, 'Sweetheart of the Sun,' we really did orchestrate the vocals. I mean, we've always done that anyway. It's just this one we really took the time to make them really interesting and very Mamas and Papas and Beach Boys type harmonies. Yeah, we worked on it.
PCC:
It must be great to have new material to mix in with the classics during your live sets.
PETERSON:
Oh, it's great. It's so much fun to play new stuff!
PCC:
Can you see now, a connective thread, thematically, in the album?
PETERSON:
You know, it ended up working out that way. It didn't start that way. We kind of had an idea of, 'Let's think of sunshine,' because, going back to the '60s, we all grew up here in Los Angeles in the '60s and it was always sunny and we'd listen to the songs on the radio, with the windows open. And so we kind of were thinking of that kind of theme. But it's amazing that the songs actually worked out so well together and brought that theme to life. It's funny, because some of the songs were written in like 1993, some in '99. Some of them are pretty old. And some of them were written on the spot, in the studio.
PCC:
And yet it all goes together so well.
PETERSON:
It all goes together, so it worked out brilliantly.
PCC:
And Matthew Sweet, what did he bring to the table?
PETERSON:
We started off doing the tracking at his studio. And he's really amazing to work with. He's a very talented guy. And he really brought some freedom to the recording process, which is very free and relaxed with him. And we were able to experiment with different drum styles and sounds and guitar sounds and all kinds of things.
PCC:
It's great that the songs can stand on their own and yet they fit in with the body of work. Is that something you were conscious of, going into this project?
PETERSON:
Yeah, well, when we're making a record, we always try to pick the best of the bunch, the best of the songs we've got. But it was good, because we had a whole selection of songs. Some of them we hadn't used on 'Doll Revolution.' [Bangles 2003 album] We had them sitting around. I thought, 'Let's bring these out of the closet and do these songs.' It was actually kind of fun, sort of reinventing them.
PCC:
I guess that's kind of a constant thing, reinventing your songs.
PETERSON:
Yeah, it is [Laughs].
PCC:
You must constantly hear about how you've opened up doors for other female rockers. That must be gratifying.
PETERSON:
It's great. It's fantastic. In fact, we were just touring with Antigone Rising, on the East Coast. And they're great. It's really nice to see other female acts out there.
PCC:
There were so few when you were starting out. Were there female inspirations for you?
PETERSON:
Well, like songwriting-wise, like Carole King and Joni Mitchell. We liked Linda Ronstadt. And I liked Karen Carpenter. She had an amazing voice. And she was a drummer. That was very inspirational. But, for me, as a drummer, it was mostly men.
PCC:
Who in particular?
PETERSON:
Well, Ringo Starr. Charlie Watts. Keith Moon, a little bit, because he was crazy, to name a few.
PCC:
Well, to be a drummer, craziness is a requirement.
PETERSON:
I know [Laughs]. We're all loonies.
PCC:
How difficult was it, at the beginning, to be taken seriously, as women in rock? Did you have to deal with prejudice?
PETERSON:
Oh, yeah. Like when Vicki and I started the band and we were playing bars and I was like 16 years old and I had to go upstairs and not be anywhere near the bar. I had to pretend I was 18. And people would come up and say, 'Hey, you guys aren't bad for girls.' And things like that. Sort of derogatory comments. But we just went, 'Hey, whatever. We're going to make it.' We had like tunnel vision, like 'We're going to do this. We're going to make it.'
PCC:
Did you define that concept of taking the fun and the jangly sound of the '60s and modernizing it?
PETERSON:
I think that's just our influences coming out. That's what we grew up listening to and, somehow, it just came out in our sound.
PCC:
During that peak of success, that whirlwind, what were the most difficult aspects to handle?
PETERSON:
Well, a lot of it, we were exhausted, about like '89. We were touring constantly. When we weren't touring, we were making another record. And we were just around each other so much, it was tough, because we all needed some space. And that's basically why we broke up. Everyone needed to do their own thing, go off and work with other people or do their own solo records or whatever. And I think that's just because we were just like living on top of each other constantly. We needed a break.
PCC:
With all that intensity, was there still an opportunity to have fun with your success?
PETERSON:
We still had fun. I mean, there were like awards shows, where we'd get to meet Eric Clapton and people like that. And that was really fun. We got to meet a lot of people. We got to hang out in cool V.I.P. sections of bars or whatever. It was very show biz-y in the latter part of the '80s.
But it was hard. We were all getting stomach aches like at the end there, before we broke up, because there was a lot of pressure. And we weren't communicating like we do now. And having that break was important.
PCC:
The long break, through the '90s, did that allow you to come back together with a whole different perspective?
PETERSON:
Definitely, especially because we all have kids, too, and that gives you a whole different perspective on life. Yeah, it was like starting over again, but starting over with people that you had worked with before and it was very comfortable and we got back into the in-jokes again [Laughs] immediately. Yeah, it was good.
PCC:
Did you actually talk out, what would make it work better this time, in terms of balancing the personalities and communicating more effectively?
PETERSON:
Yeah, definitely. We talked it out. We made sure. In fact, if somebody feels very strongly about not doing something, like a show or TV show or something, we won't do it. If they're really super strongly against it, we won't do it, because we don't want somebody doing something and feeling terrible about it, because we've been there, done that. We learned a lot of lessons in the '80s. You have to learn from these things and move on.
PCC:
Sharing this whole Bangles experience with your sister, has that just enhanced the relationship or also complicated it in some ways?
PETERSON:
Both, really. Sometimes it complicates it. Especially with me being the younger sister, she tends to be a bit Mumsy to me [Laughs]. Or she doesn't take what I do seriously sometimes. But for the most part, it's great. We're very, very close. And we work it out. We've matured, so we know how to work with each other.
PCC:
You mentioned kids, how old are they?
PETERSON:
A 14-year-old and a seven-year-old.
PCC:
What do they think of Mom's music?
PETERSON:
Oh, it's great. We were on 'Dancing With The Stars' last night. La-di-da [Laughs]. It was very goofy. But my son, he set the DVR to record it and watched it last night. It was quite funny. They like it. They get a kick out of it. My son brags about it at school, 'Oh, that's my Mom!' [Laughs]
PCC:
What keeps you energized enough to handle the road?
PETERSON:
Just the music. It's just knowing that we're going to go out there and get to play. It's funny, because we just did this run on the East Coast, several dates, plus we did 'Good Morning America.' And it was tiring. It kind of reminded me of the work we did in the '80s. And, of course, we're a lot older now, so it's tough. But somehow you get this amazing adrenaline rush right before you get on stage and you can do it. It's quite thrilling.
PCC:
The challenges of this kind of lifestyle, are they a lot different now?
PETERSON:
Yeah, they are, because we're balancing the family and the work. So it is challenging. You're constantly dealing with logistics and trying to figure, 'Okay, I have to go for this amount of time and I can't do this, because so-and-so's got a school play or something and we have to get a babysitter for this particular instance.' It's just a little challenge in working all the logistics out. But it's great. It's really nice to be a mother. And it's really nice to have the band, as well.
PCC:
What's the greatest reward, at this point?
PETERSON:
Whatever's happening in the outside world, the music takes you away from all of that. And it's so nice to see people enjoying themselves.
PCC:
Is it as much of a rush as ever, when you're working on music and it starts to click?
PETERSON:
Oh, yeah, big-time. In fact, when we wrote 'Anna Lee,' we wrote that at Matthew's studio and it was like it just flowed out of all of us. And it was really quite a kick to sit there and come up with song immediately.
PCC:
It must have been very satisfying, the fact that this album was such a group effort.
PETERSON:
Yes. It is. Very much a group effort. It's kind of a shame it hasn't been so in the past. It's really satisfying.
PCC:
Any thoughts of a solo album?
PETERSON:
For me? Not at this point. [Laughs]. I'm busy enough with the band and with the kids. The rocking mom thing.
PCC:
Are there still goals you're burning to reach?
PETERSON:
Well, you know, in my crazy little world, I still wish I could write a number one hit song [Laughs].
PCC:
It could happen.
PETERSON:
Maybe someday.
PCC:
Why not?
PETERSON:
Yeah, why not?
PCC:
And the time on stage, still exciting for you?
PETERSON:
Yeah, it is. I mean, there's always the technical aspects. Some shows are better than others, because of a technical issue or something. But overall, it's so great, being on stage and playing.
PCC:
And the music business does it seem in any way a continuation? Or is it just an entirely different world?
PETERSON:
It's a whole different world now, so different. I'm still trying to figure it all out. The record companies haven't figured it out either. But the good thing about it is the fact that you've got things like YouTube, so you can instantly show people your music. They get to see you. They go online and stream you. It's pretty instant, which is amazing, actually.
PCC:
Do you find a lot of artists that excite you these days or do you tend to go back to the music that originally inspired you?
PETERSON:
I'm really into Death Cab For Cutie. They're great. And I really like Adele. But a lot of what's on my iPad, of course, is '60s and '70s [Laughs]
PCC:
And it still inspires you?
PETERSON:
It does still inspire me, yeah.
PCC:
Well, your music continues to inspire, as well.
PETERSON:
I appreciate that.
For the latest news and tour dates, visit www.thebangles.com.