PERLA BATALLA:
The Singer-Songwriter Pays Tribute to Leonard Cohen and Creates Her Own Distinctive Music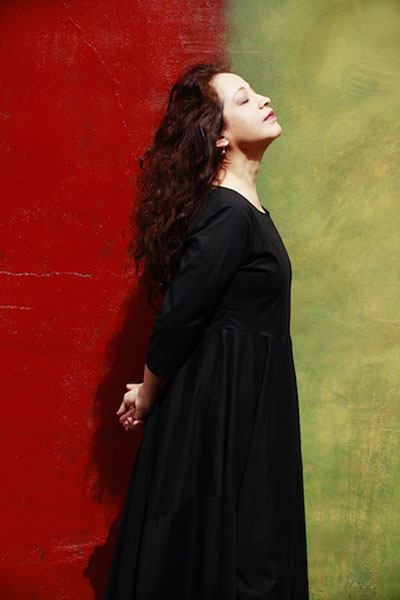 Photo by Guy Webster
By Paul Freeman [September 2017 Interview]
Leonard Cohen is gone. But his music lives on. And Perla Batalla, who sang backup for him for many years, is helping to keep his legacy alive through her "Tribute to Leonard Cohen" concerts.
As you can hear from listening to her 2005 "Bird on the Wire" album, one of several solo releases available on her website, www.perla.com, Batalla's gorgeous voice adds another layer of beauty to Cohen's elegantly crafted songs.
Cohen said of her, "Onstage, offstage, digital or analog, I love Perla Batalla."
As a background singer, Batalla also added a richness to the music of such diverse artists as Iggy Pop, kd lang, Jennifer Warnes, The Gipsy Kings and Was (No Was). She toured and recorded with Cohen from 1988 to 1994.
It was Cohen who encouraged Batalla to take the spotlight as a solo vocalist. She had grown up around music. Her father sang in a mariachi band. Her mother ran the family's Spanish language record store, which became a landmark in the Santa Monica area. But Batalla didn't automatically pursue a music career. She became a successful photographer, working for Norman Lear. In the end, however, singing became her focus.
Once she began recording her own albums, Batalla became more involved in songwriting. Some of her songs paid tribute to the Mexican and Argentinian roots of her father and mother, respectively. Her albums include "Perla Batalla," "Mestiza" and "Gracias a la Vida," as well as a holiday collection, "We Three Kings," and a set of standards — "Love Bigger."
Right now, Batalla is composing a song cycle, "Blue House," about Frida Kahlo and Diego Rivera. She also spends time on youth outreach programs, which have earned her a United Nations Earth Charter Award.
Married to Chef Claud Mann, known for TBS's TV program "Dinner and a Movie," Batalla lives in Ojai, California.
Batalla spoke with Pop Culture Classics about her career.
POP CULTURE CLASSICS:
Your "Tribute to Leonard Cohen" concert — does that include lesser known compositions, as well as his signature tunes?
PERLA BATALLA:
It depends on how hardcore a fan you are, because there are songs that I don't think a lot of North Americans are familiar with. But I'll be doing pretty much selections from his entire body of work, early songs like "Suzanne" and "Sisters of Mercy," and then some of the later ones like "Take This Waltz," inspired by a Federico García Lorca poem. It's really beautiful. Leonard credits Lorca with ruining his life. At 15, he got addicted to his poetry [laughs].
PCC:
What do you hope the audience takeaway is from this tribute concert?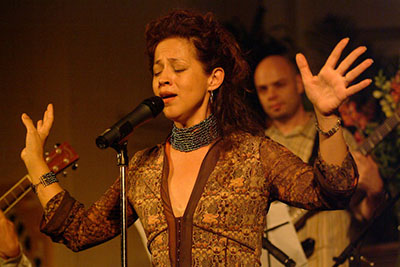 Photo by Sherry Barnett
BATALLA:
I think the takeaway is always, "Wow, this works! It's timely, even pieces he wrote in the 60s. And not only politically, but in terms of the human condition — the condition we're always in. And how he would always be able to be so precise and poetic, just in his choices of words. And since I knew him personally, I know how much he toiled over every lyric. But I love it when people of all ages walk away with, "Wow! That was deep." So it kind of reaches out to everyone. It's quite accessible.
PCC:
How did you first meet him? Was it at your audition?
BATALLA:
Yes, it was an audition. It was not like I knew Leonard's work in any kind of intimate manner. I just had heard of "Suzanne." I knew that Judy Collins had that as a hit sometime in the 60s. So I knew those things. But I never listened closely to the lyric or listened to other things. So that inspired me to do so, before the audition. And I was blown away. Absolutely blown away.
And I thought a lot about what I would wear to this audition, how I would sort of be perceived, what the first impression would be. And so I put on a white dress. Everything I was wearing was white. And then I met Leonard and he was in black from head-to-toe. And it was funny, because he laughed and said, "Darling, this is a match made in heaven!" [laughs].
PCC:
What impressed you most about him as a human being?
BATALLA:
I can't say that there was anything that didn't impress me about Leonard. He was actually so funny… always. Always wanted to make me laugh. And a great storyteller. The things I remember on a daily basis are those things, that he would just love to tell a story, he always would have funny comments. He sent me hilarious texts almost every week. And I'll miss all those things.
PCC:
You mentioned storytelling. That was such an important part of his live performances, making a connection with the audience that way.
BATALLA:
Yes, it was huge.
PCC:
Is that something you utilize in your concerts, as well?
BATALLA:
Yeah, and I don't know if I sort of learned it from him. I don't know, but I do tell a lot of stories. And with Leonard, he is so fascinating and I have so many great memories of our time together, touring together, that, yeah, I tend to tell a story or two… or three [laughs].
PCC:
So those were all wonderful experiences, all those years on stage and recording with him?
BATALLA:
Yeah, I was very lucky, truly. I mean it's rare that anyone gets to work with an icon like Leonard. And the giant frosting on the cake was getting to be friends.
PCC:
So he didn't act like "the legend"?
BATALLA:
No, never. You know, he was so humble. And still lived in a modest home. And lived very simply. So there was no — not that I could see certainly — no ego. And I'm sure there has to be. There has to be, to be Leonard Cohen. But it certainly was not on display.
PCC:
From your perspective, what did make him so exceptional as a songwriter?
BATALLA:
Well, I don't know if everyone knows it, but he worked really hard. He's one of those artists who truly sacrificed everything for his art. And it shows in the work, because it's not just about writing, it's about rewriting. That's something he taught me. And he was inexhaustible. I mean, he worked and worked and worked to get it right. And that's what actually shows in his writing. And that's why it's different and it's classic. It's like a Shakespeare play — you get something different out of it every time you listen to a lyric or sing his songs.
PCC:
His connection with Buddhism, did that make an impression on you, as well?
BATALLA:
It did, actually. I always felt like he was like a Buddha. I mean, he laughed a lot. He wanted to make you laugh. That was the initial desire, was just to be a good host, to take care of his company and his people. So there was a peacefulness about him. I know he suffered from depression and a lot of stress in his life, but he always showed up as very content and cheerful and funny. I mean, that was really 99 percent my experience socially with Leonard.
And at the end of his life, he really switched over to being a devoted Jew. Buddhism was always a huge part of him. But I saw the Judaism take over in the last few years.
PCC:
So did that comfort him at that point?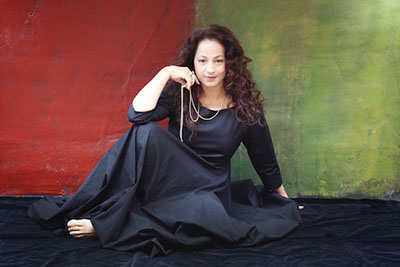 Photo by Guy Webster
BATALLA:
I'm sure, yes.
PCC:
What were some of the other most important things you learned from him?
BATALLA:
I think maybe the most important thing, at the beginning of my career — and Leonard was always very supportive of everything I did — was that, as a performer, you just show up as who you are. There's a certain amount of preparation you do as a performer. But the reason that he was such a terrific storyteller was that he would just show up and be the person he was. And that's what I tend to do. You're just going to show up and, as other people have said, it's not rocket science — you just show up and you're going to present yourself and whatever it is you have to say.
PCC:
So the honesty is what connects with people?
BATALLA:
Absolutely.
PCC:
What would you say his legacy is?
BATALLA:
Oh, my God! Well, the body of work. It's pretty profound. And I'm stunned and so grateful that the world got to see his genius before he departed. Because you know, he kind of went out on the road, because he felt he had to, for financial reasons. But the fact that it sort of sparked this whole excitement and new audience for him — I think he was delighted, delighted by the opportunity to do this. Even though he was older, he was not feeling well, but he still went on the road, preserved his energy, and sold out stadiums around the world.
PCC:
And it must be gratifying to you to still be carrying out his legacy now.
BATALLA:
It is. And you know, I've been singing Leonard since I met him. I feel like part of my mission is to continue singing this music. There's a lot of people doing Leonard now, obviously, because he just passed away and it's kind of recent, the wound of his leaving. But I've been doing it now, performing it live for over 10 years and I'm going to continue. I don't see it ending for me any time soon.
PCC:
And you have that deep connection to the songs.
BATALLA:
These songs are running through my veins.
PCC:
And he encouraged you to embark on a solo career?
BATALLA:
Oh, absolutely. I loved being a backup singer. And especially for that quality of music. I was in heaven singing with Leonard Cohen. And actually, he was the one who said to me one day, for a party he was throwing for his Buddhist teacher, he said, "You know, I'd love it if you could sing 'Bird on the Wire' for Roshi [the senior Zen teacher]. And I thought, "Well, I could sing backup on it. But what do you mean?" He said, "No, no, I want you to sing the song."
And it never occurred to me, 25 years ago, that I would actually be singing a Leonard Cohen song as the lead vocal. And so that was kind of life-changing, because he just kind of had this vision of me doing it before I even had the vision. And so he always encouraged me. He would invite me to the zen-do [a spiritual dojo] to sing for Roshi, to sing to all the Zen monks. And that happened several times and was so much fun. So I would invariably choose Leonard's songs to sing — I would sing his songs to him [laughs].
PCC:
Was that not daunting at all, initially?
BATALLA:
Of course that was daunting! Always. He would always try to throw me, because he would sit right in front. And I would say, "Don't sit right in front. You make me nervous." And he would say, "Okay darling, don't worry. I'll sit in the back." And then he would end up right in front. So he was just teasing and causing all kinds of trouble [laughs].
PCC:
You sang backup with a lot of other artists, a really diverse group, over the years?
BATALLA:
I have. It's just something I enjoy doing and whenever I'm asked… I just recently did a film where we were singing choral background vocals for a documentary about a race called the Baja 1000. It was really fun. I was just doing choral parts, which for me, is where it started. I did choral music, classical music as a kid. And it never leaves you. It was quite fun.
PCC:
And you worked with Iggy Pop at one point?
BATALLA:
Yes, he's amazing. I mean, Iggy Pop and Lou Reed and Laurie Anderson and, oh my God, Rufus Wainwright and Nick Cave — so many wonderful, diverse people who are just soulful, beautiful singers.
PCC:
So is each of those interactions a growing experience in some way for you?
BATALLA:
Every experience is a growing experience. But when you work with legends, there's something that's hugely profound about it. It's not often that you meet a legend and you go, "I don't get why that person's a legend." When you meet them, you know why.
PCC:
But do you have to have a different mindset for each performer, in terms of how they deal with their backing singers?
BATALLA:
That's interesting. That's a good question. I'm very sensitive. I think that's part of being a backing singer — maybe it's just part of being a musician — it's important to have that sensitivity, because it's a collaborative effort. If you're good, you feel everything around you. You feel the vibe. You really search for what it is the music needs. And that's why people hire you, I think, because they know that you have that instinct and ability.
PCC:
Was it a natural transition, embracing a solo career after supporting so many great artists?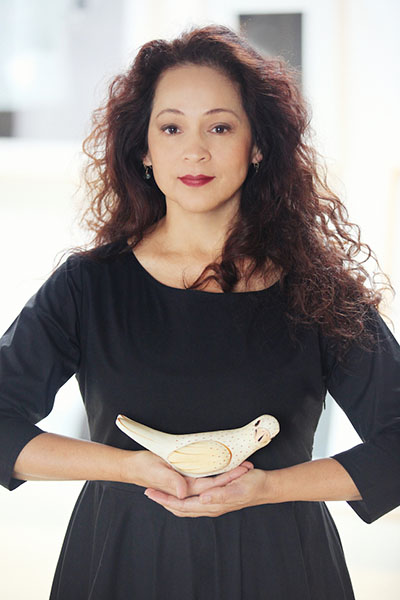 Photo by Guy Webster
BATALLA:
Yes, because I grew up singing. So it wasn't difficult. A lot of backup singers, I think find the solo career daunting. And I think you either can do it or it's hard for you. But for me, it was a very natural thing.
PCC:
Your father was actually a mariachi musician?
BATALLA:
My father was a mariachi singer, yeah.
PCC:
And you family had a record store?
BATALLA:
Yes and NPR did a story about it recently. It was on Lincoln Boulevard, around the Venice/Santa Monica area. And it was one of the first Spanish language record stores in the area. So it was very popular. And I remember it very well from my youth. It was a place where I used to go to work. And I learned a lot about my own music, my family's music, my mother being from Argentina and my father from Mexico.
And that's another thing that Leonard and I really shared was the love of the Spanish language. I had a couple of his songs translated into Spanish for the tribute album that I did for him. And boy, Leonard Cohen in Spanish, I don't think it gets any better than that.
PCC:
So I guess you always knew that music would be your path in life.
BATALLA:
You know, I didn't always know. Because I have a lot of different loves. I was a photographer as a young person. And I had a great career as a photographer. Right out of high school, I worked for Norman Lear and I shot all of his shows. And I was a union photographer at a very young age. I became an executive photo editor. And all the time, I was singing seven nights a week. I mean, it was crazy. So I sing and I like other things a lot, too. But it's like Leonard says, eventually the career chooses you, you don't choose it." So it did choose me. It tends to take up more of my time than anything else.
PCC:
So Norman Lear, he must have been another inspiring person to be around.
BATALLA:
Oh, it was amazing. And never did I think that history would repeat itself in the way it has [laughs]. But Norman was always fighting the bad folks. He was always making a statement politically. And he made a difference.
PCC:
So at one point did music choose you? How did you end up turning onto that path?
BATALLA:
Well, I think it happened pretty quickly after I left photography, after I left that job with Norman. Because he left and a lot of things changed. I just started to get called a lot — I did a lot of jazz and swing in the early days in L.A. And from there, I did the Leonard gig. But I did a lot of things, I did films, I did rock 'n' roll, I did MTV videos. I did everything that all the singers do. But pretty much it's been singing that has sustained me in most of my adult life.
PCC:
What era was this that you were doing all these different kinds of music?
BATALLA:
The 80s. I mean, I went on the road with Leonard in 1988. So literally, I had had a career just singing for just about five years before I met Leonard.
PCC:
And were there other key influences or inspirations, vocally?
BATALLA:
Inspirations — I would say a lot of the great jazz singers inspired me a lot — Nat "King" Cole, Billie Holiday, Ella Fitzgerald, Frank Sinatra, to name a few.
PCC:
On some of your own records, you have been able to explore your cultural roots — South American songs, Mexican songs?
BATALLA:
Oh, absolutely, yeah. I did a couple of records with original songs. My first record was on Warner Brothers. And it was all original music. But they were starting to say, "Oh, yeah! Sing a couple Spanish tunes." But it wasn't the norm yet. It wasn't like widely accepted in the music world to do a bilingual thing. So we were exploring that territory. But after that one, I started my independent label and I decided, for the next one, I'm just going to do what I want. And I wrote a lot of songs about the journey of being someone of mixed blood. But I also did one song of traditional Mexican music, but my own arrangement, which was really fun.
PCC:
And your songwriting, having worked with so many great writers, did that help you along that path?
BATALLA:
Absolutely. You need guidance, if you're new writer and you've really never done much of it. I worked with some fabulous writers. Yeah. And also just knowing Leonard and his process helped me a great deal.
PCC:
What's the latest project?
BATALLA:
Well, I'm working on a song cycle right now. It's all about Frida Kahlo and Diego Rivera.
PCC:
Oh, the "Blue House" project, yes, that sounds fascinating.
BATALLA:
Yes, exactly. My daughter was in Mexico this week. She was in the Blue House when the earthquake hit. She's fine. But I've been working on that and I hope to have that recorded like next year.
PCC:
So the concept is to capture the work and thoughts of these visual artists through music?
BATALLA:
Exactly.
PCC:
That's quite a challenge.
BATALLA:
It is quite a challenge. But it's by accident that this happened, if there are such things as accidents. But I was commissioned by LACMA to write a piece for the exhibit of women in surrealism. And they said choose a woman and write a song and we'll present it. And I kept trying to choose anybody but Frida Kahlo, because I think she has been overexposed in so many ways. But the more I got to read about her and learn about her, I was absolutely flabbergasted. I mean, I've got so much in common with her. I'm sort of a German-Mexican. And she was a German-Mexican. There were a lot of things that we had in common. So I couldn't avoid it. I had to write this piece. And it's been really fun.
PCC:
You're based in Ojai now?
BATALLA:
Yes, Ojai.
PCC:
And your husband is a chef?
BATALLA:
Yes, he's a chef. And he specializes now in baking long rise sourdough bread. He started this new rage in Ojai.
PCC:
Your daughter sings?
BATALLA:
She sings. She's in the Bay Area, getting her masters degree in Public Health and she'll do something great in the world, helping to make good changes, I think. She's 23.
PCC:
You made a tradition of recording holiday songs with her?
BATALLA:
Oh, we recorded something, like her entire life, every year, for the holidays, as a gift to my family. We do that every year. And in my holiday recording, I feature a lot of those recordings, because they were awfully cute. And, of course, now that she's older, I'd love to do a serious recording with her.
PCC:
Do you enjoy taking on other challenges? I noticed you were vocal-coaching Jeremy Piven and you worked with Will Ferrell?
BATALLA:
Yeah, you know, when people call, I do like to mix it up. It's just fun. With somebody like Jeremy Piven, it was so funny, because it was a last-minute thing and he just called me as a result of my having worked on the Will Ferrell movie. Jeremy was doing a movie and he had to sing something and he was really nervous about it. And I said, "Okay, I'll come over and help you record it and coach you through it." And it was just super fun. That kind of stuff — it's really fun to get outside of your norm.
PCC:
And the Will Ferrell "Stepbrothers" gig?
BATALLA:
Well, Will wasn't there when we recorded our scene. Our scene was the famous family in the car singing "Oh, Child of Mine." And so we worked with a brilliant cast that played the family. And that was just so much fun.
PCC:
And now for you, performing on stage, what do you hope to give the audience? And what's the feeling for you, when you're up there?
BATALLA:
Well, the feeling for me is always very emotional, because part of doing this concert, not only to expose the world to Leonard Cohen, it's part of my process of letting go or saying goodbye — I don't think I'll ever let go — but just the grieving process, the dealing with death. So there is something to be said and it's such a healing process to sing and to share with others the stories. And I don't have expectations. I don't say, "Oh, I hope the audience takes this away." I just show up and go, "Here, I'm just sharing this with you. Whatever you take away is just awesome, whatever it is."
PCC:
And something like the United Nations Earth Charter Award, is that an indication that you want to share in other ways, as well?
BATALLA:
Yeah, I'm really interested in helping kids, especially, with outreach, feel a certain sense of pride. These days there's a lot of racism and I'm feeling like it's blatant and it's far-reaching. And the victims of that are usually kids, who don't ever speak about it, but feel it very deeply. But what I do in my outreach programs is I go to schools and jails and whatever and I talk about how there should be a lot of pride in the fact that you speak two languages, that you have this shared culture, that you have all this beauty that comes from the brown in you. So I just really love to spread the word that you're okay and you're worthy and it's important to feel good about who you are.
PCC:
And you also want to uplift people through your music, as well?
BATALLA:
Yes. Music is magical.
PCC:
For you, what is the most rewarding aspect of the life in music?
BATALLA:
It's touching people. It's touching people on a deep level. I'm always so grateful when I can see that someone has felt something.
For the latest on this artist, visit www.perla.com.