BEBEL GILBERTO: BEYOND BOSSA NOVA
PCC's Interview with the Great Singer-Songwriter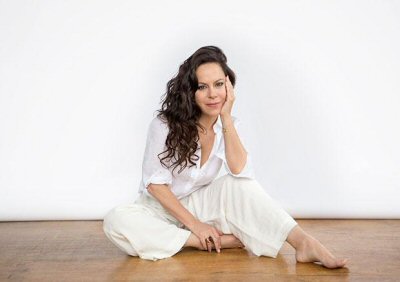 Photo by Harper Smith
By Paul Freeman [June 2016 Interview]
Vocalist Bebel Gilberto may leave Rio, but the essence of Brazil will never leave her.
At the heart of Brazil is music. And her parents are bossa nova legends guitarist/composer Jo"o Gilberto and vocalist Miķcha. But bossa nova is only a jumping off point for Bebel, whose sound is modern and draws from a wide spectrum of influences.
Growing up, her parents, who separated when she was seven, immersed Gilberto in music. At seven, she sang on one of her motherís recordings and at 10, performed with Miķcha and Stan Getz at Carnegie Hall.
She made her solo recording debut in 1986 and has maintained a hectic pace ever since. Gilberto has collaborated with diverse artists, including David Byrne, Thievery Corporation, Kenny G and Arto Lindsay.
Her most recent album, ďTudo,Ē features covers - ranging from Antonio Carlos Jobim (a family friend) to Neil Young - as well as a number of beautiful Gilberto originals. Her title track was nominated for a Latin Grammy in the Best Brazilian Song category. She had taken a rare break prior to making the album. The album sheís working on now will have an electronica direction.
Performing, her lifeís path, has been rewarding for Gilberto.
POP CULTURE CLASSICS:
I love the Tudo album, itís gorgeous. Was that a very personal album for you in some ways?
BEBEL GILBERTO:
Yeah, it talks about different phases in my life. It definitely was very personal. Many of the songs I wrote. So yes, it represents like a little time of my life, letís say like that.
PCC:
Are you thinking about the follow-up yet?
GILBERTO:
Yes, it will be totally different. I am actually already putting together some tracks with my guitar player. And Iíll be working with DJs on this project. And most of the songs are already existing songs. So these songs will kind of be covers, but like remixes, like in a way that they have never been played. So itís a slow process, but itís been fun. And very easy and enjoyable. Itís definitely going to be like a happy album [laughs].
PCC:
So this will be showing a different side of you.
GILBERTO:
Oh, yes, absolutely.
PCC:
It will be more electronica-oriented?
GILBERTO:
Very electronic, yeah. Itís like one hundred percent electronic.
PCC:
Are you dividing your time between New York City and Rio?
GILBERTO:
Yeah, but Iíve been more and more in New York than Rio.
PCC:
In creating your music, are you consciously merging American and Brazilian musical sensibilities? Two sides of your musical self?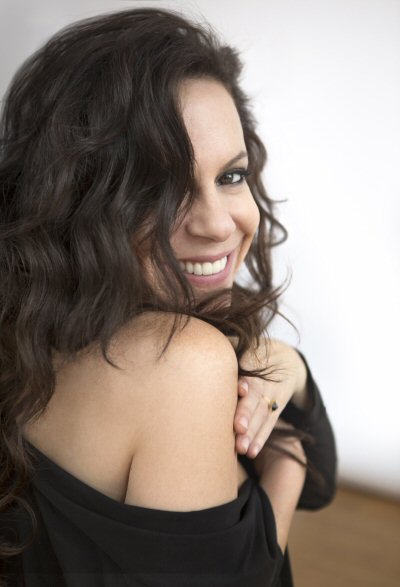 Photo by Harper Smith
GILBERTO:
Yeah, I guess so.
PCC:
Rather than fitting into any particular category, would you say your music is just an honest expression of your emotions, your soul?
GILBERTO:
I try not to classify my music, you know. But I think that my tendencies, in the way that I sing, the way that I act on stage, the way that I take life, I think I have found the balance between being serious, but very much about interpretation and feeling. And there is a bit of an actress inside of me, as well. So I think I capture all together. I love music and I love doing itÖ and I just want that to come through.
PCC:
From your perspective, what is the magic of bossa nova?
GILBERTO:
Well, I think itís a beautiful style of music that has surrounded my music throughout my life, since I was born, so itís very hard to say, ďHey, I have nothing to do with bossa nova. Iím doing my music.Ē But at the same time, I really try to get away a little bit from the field, although everyone calls me a bossa nova singer or says that itís my inspiration or that Iím the daughterÖ or whatever. I try to say, ďHey, I just drink from the bossa nova. But I did find my own music. And absolutely the bossa nova is inspiration. Of course the acoustic guitar, itís always present in my music. But I wouldnít call me a bossa nova singer.
PCC:
Was it difficult to carve out your own identity musically?
GILBERTO:
A little bit, but now I think Iíve found my field.
PCC:
The five years between ďTudo" and previous album, was that primarily because you were ordered to take time off because of exhaustion?
GILBERTO:
Yeah, I was exhausted and was having problems. I was touring non-stop and not taking time to be close with my family and to travel and be at the beach and just like take it easy. So I did that. And it was awesome. And last year I also did a little bit of an escape and after playing in Korea, I took 15 days off in Thailand. And it was amazing. I was just writing new songs and taking care of myself, doing yoga and playing guitar and just like laying on the beach. As a very good Brazilian, I know how to do it, all day [laughs]. It was amazing.
PCC:
The osteoporosis diagnosis, did that move you in the direction of taking better care of yourself?
GILBERTO:
I think when we all go out and have health problems, we all get a little bit more into taking care of ourselves. Yeah, I am really taking good care of myself. And now, as Iím sitting here talking to you, Iím sitting here, getting the last ray of sun, sitting outside of my garden. My garden is just beautiful. And I did it all. Iím so proud. Between lavenders and rosemary and the jasmine.
PCC:
This is in Manhattan?
GILBERTO:
Yeah, yeah. I have a little terrace. Iím very lucky.
PCC:
Does your Brazilian background still play a big part in who you are?
GILBERTO:
I think so. Itís everything. Itís a posture. An attitude. Itís everything. We become ourselves, but there is just something about being Brazilian, about the whole culture, and itís with us wherever we are. Iíve been in Manhattan for 25 years. But Iím still a BrazilianÖ with a Brazilian heart.
PCC:
Does music tend to be more important in everyday life there, than it might be in other countries?
GILBERTO:
I think music is important everywhere. Itís just a question of who cares and who doesnít.
PCC:
What were the most valuable lessons you learned from your parents, regarding music?
GILBERTO:
Well, each of them taught me different things. My Mom was always into like improvising and harmonizing, but she never really wanted me to play an instrument. I donít know why. My Dad was more into like, ďYou have to play an instrument. You have to think that way.Ē And sometimes he would comment on the way that I was singing and would tell me really constructive things.
PCC:
There must have been great musical artists around the house, who made a lasting impression on you?
GILBERTO:
Oh, yeah, absolutely. Chick Corea, Tom Jobim, Vinicius de Moraes. Itís not every kid that has that privilege.
PCC:
Recording your voice on one of your motherís albums, when you were seven, and then performing at Carnegie Hall at 10, with your mom and Stan Getz - what were those experiences like for you?
GILBERTO:
It was funny. It was fun. I had no idea, the importance of any of it. I met Dizzy Gillespie on that night. And all I cared was about how big his cheeks could be [laughs]. So it was amazing. Ultimately, I did a good job. I remember my Mom saying, ďYouíve got to be charming.Ē And I was just blinking my eyes. I didnít really know how to be charming. But I did a good job and I think there was definitely for me the first experience where I felt like, ďI think I can do that.Ē You know what I mean? ďItís not that bad.Ē [Laughs]
PCC:
Was there ever any doubt that your path in life would be music?
GILBERTO:
I did, for some time, do theatre. I did film. I kind of wanted to be an actress instead of singing, because singing was so easy for me. But then I just became a singer. And thatís what I am.
PCC:
Just because thatís more in your blood?
GILBERTO:
I think it is more in my blood, definitely. Yeah.
PCC:
Did you ever wish you had more of a normal childhood, even if it would have been less exciting?
GILBERTO:
I think what my problem is, everything was too loose. But thatís part of the 60s and 70s. I think in todayís age, parents are more aware that they have to give kids some kind of structure and discipline, so, even if the kid is an artist and is extremely talented, the kid needs to study normally, go to school, donít miss classes and stuff like that. I had a horrible education. I went to 300 different schools. There were so many parents - I mean family members.
So I consider my childhood very, very difficult. But when I finally grew up, when I was 24, I moved to New York and I never came back to Rio. And I lived my life here, away from my family, the way that I like it. And Iím happy.
PCC:
Growing up, you were exposed to a lot of different musical styles?
GILBERTO:
Oh, that was a good thing, yes, because then I started going out and listening to different things. And I got into dancing. I had like a huge disco moment in my life. Then it was Michael Jackson. Then Prince. Loved Prince deeply. Prince was like my idol. And then I came to New York and I met Bjork. And many different styles - Sade, Talking Heads. At the same time, I loved Arto Lindsay. And the ambitious, underground bands. I met a lot of interesting people and each of them made a little bit of an influence on me. And then when I worked with people like Marius de Vries (producer), I already knew what I wanted. And that helped me a lot, too.
PCC:
I had read that your favorites span from Gershwin to Carmen Miranda. Thatís quite a range.
GILBERTO:
[Laughs] Yeah, thatís true.
PCC:
You must have a very open ear.
GILBERTO:
I do, yeah. Yeah, but sometimes, if I donít like the music, I donít like it. [Laughs] Itís funny, last night I was in a place and the music started playing and I was like, ďNo, I canít listen to this. Itís just like the highs were too loud, the song was bad. Itís really disturbing. And Iím leaving right now.Ē [Laughs] No, but, when I donít like it, I donít say, because you donít say negative things.
PCC:
Did the songwriting come as naturally to you as singing?
GILBERTO:
Very much. Very much, yeah.
PCC:
Was finding that means of self-expression important to you?
GILBERTO:
Absolutely.
PCC:
What is the role of music in your life at this point?
GILBERTO:
Well, I think now Iím playing these wonderful gigs and Iím very excited. Itís been amazing, because itís a very stripped-down version. Iíve been touring for like over 16 years with a band, always, four-piece at least. And now weíre doing it more simply and itís amazing. Weíre singing some songs that weíll be doing in the future for this new album.
Itís a very interesting moment of my life, because Iím playing without the pressure that you have with a new release. I had the album we released in í14, but you donít feel the pressure anymore, the way that it felt iní14. So weíre playing a lot of new songs and itís amazing how well-received it has been.
Itís always good to sing new songs and see that people love it, especially ďHarvest MoonĒ [the Neil Young classic from her from the ďTudoĒ album] and ďSaudade Vern Correndo" [a Luiz BonfŠ / Maria Helena songí] and ďTudo,Ē the title song [a Bebel Gilberto original]. So letís say that I am in between projects and Iím taking my time to get to play to my fans and enjoy a little bit of the moment.
PCC:
Do you feel youíve made a lot of sacrifices for your career in music?
GILBERTO:
I donít think I did make sacrifices, really. I think my life is very easy, in a very good way. I know how to live well.
PCC:
And what is the most rewarding part of your life in music?
GILBERTO:
I think being able to travel, to meet so many interesting people also in the music business. And also being in touch with so many people, because of the music. Itís like a channel that it can talk to people, touch peopleís hearts. So I think thatís pretty powerful, isnít it?
For the latest news and tour dates, visit www.bebelgilberto.com.