B…LA FLECK: THE ULTIMATE BANJO MAN, NOW A FAMILY MAN, TOO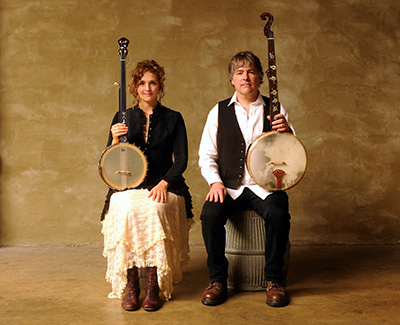 Bťla Fleck and Abigail Washburn, Photo by Jim McGuire
By Paul Freeman [March 2017 Interview]
For most of his 58 years, all Bťla Fleck needed to be happy was a banjo in his band. But now, armed with a talented wife and a precocious child, his life has been enriched immeasurablyÖ and become more balanced.
Fleck is currently performing duo shows with his wife Abigail Washburn, who has earned much acclaim for her own recordings as a singer, songwriter and clawhammer banjo player. The pairís debut release together, ďBťla Fleck and Abigail Washburn,Ē won the 2016 Grammy for Best Folk album.
The two banjo virtuosos became a couple in 2007, having met a few years earlier, at a Nashville square dance. They married in 2010.
The instrumentís dazzling possibilities are showcased on the coupleís most recent EP, ďBanjo, Banjo.Ē Throughout his career, Fleck has been stretching the boundaries of what the banjo can do.
Born in New York City, named for composer Bťla Bartůk, he received a banjo at age 15, a gift from his grandfather. Fleckís influences ranged from Earl Scruggs to The Beatles to Charlie Parker. Eventually he studied with innovative player Tony Trishka. Fleck joined Sam Bush in the New Grass Revival, a group that rejuvenated bluegrass.
In 1988, he formed Bela Fleck and the Flecktones with bassist Victor Wooten. Fleck has collaborated with a wide range of artists over the years, including Asleep at the Wheel, Edgar Meyer and Chick Corea.
Increasingly, Fleck has turned his attention to classical music. This month, Fleck released his new work, ďJuno Concerto.Ē
POP CULTURE CLASSICS:
Your new classical piece, ďJuno Concerto,Ē that was inspired by your son, Juno?
BELA FLECK:
Itís something I wanted to do for him. My whole approach to making music has really changed ever since he came around. Itís a different world, as a parent. And I decided to name it for him. And he liked that idea. And my wife liked that idea. [Laughs]
PCC:
How has fatherhood changed your approach to music?
FLECK:
Well, letís put it this way. Before Juno, there was never anything that would impede me working around the clock on a project or touring to support a project, just being, I guess youíd call it ďType A,Ē or a borderline psychotic [laughs], in my pursuit of musical adventure and development and growth and the excitement I got from making new music. And Iíve done that for a long time. And at this point, when we decided to have a child, my wife and I talked about it and I was the one who felt that I really wanted to find a way to not be an absent father and be part of his life in a big way.
Because, you know, the way this could have gone is I continued to tour and I was gone three-quarters of the time and I was home once in a while in between trips. And, instead, I proposed that Abby and I start touring together and that we take Juno along with us. Abby and I had talked about playing together for many years, but she was always the one that said, ďI donít know. Everyoneís going to think youíre just playing with me, because Iím your girlfriend.Ē And I would always say, ďWell, when they hear you, theyíre going to know why Iím playing with you. [Laughs] And that problem will be solved.Ē She was always very cautious.
But when we decided to have Juno, she opened up to that idea and we started actually doing some shows together and discovered that it was more than a pragmatic touring solution to keep the family together. It was a very special, unique combination and something that had a lot of potential to grow into more. And we found that we had good chemistry on stage. We were funny together. We found that the two banjo styles actually worked together better than we really expected. And the dynamic between her and I - where sheís a wonderful banjo player, but thinks of herself more as an accompanist and old-time player. But sheís a great singer. And then Iím more of the yang, show-offy, technical banjo player - and that those instruments could work really well in that way. I wouldnít want my wife to go on tour and be my accompanist. The truth is that Iím her accompanist for well over half of the stuff.
And we discovered we could put together a really banjo-centric program. And there was nothing like that out there, that showed off just a couple of banjos - a lot of different kinds of banjos, but just a couple of musicians playing together - and sort of showed off in just a couple of banjos, how much sound is there, how much color and tonal possibilities there are. And then we started bringing in the bass banjos, cello banjos, the ukulele banjos, the different tunings, the baritone banjo, trying to make a really diverse offering with just two people and two instruments at a time.
PCC:
Itís amazing how nuanced and diverse, how rich and full the sounds are on the EP ďBanjo Banjo.Ē
FLECK:
Well, thank you. That was what we realized - by taking away a lot of the other instruments that usually play with the banjo, it allows the tones of the banjo to be really heard. But once you add a guitar, itís pretty much of a sonic war between the two. You either have to make one much louder than the other or play in completely different ranges. Otherwise, they tend to wash each other out. And then the banjo needs to be a lot brighter to be heard. And we both sort of celebrate this very rich banjo tone, which is a throwback to the African banjos that you hear, which are usually tuned down a lot lower. And even Earl Scruggs had a very rich banjo sound. Those old Gibsons have a lot of body. Thatís why bluegrass players like them. But they also crack and cut through a bluegrass band.
PCC:
Have the two of you expanded one anotherís musical palettes in some ways?
FLECK:
Absolutely. With her, Iíve helped her to be more technical - although not in a bad way [laughs]. And Iíve taught her positions and different ways to accompany and different ways to play solos and play melodies. And she does it. Itís a fun challenge for me to try to think of a unique technique for her banjo style that will be easy for her to do, but will create some cool voice leading or different things that she hadnít thought about before.
And then, for her, she brings me the opportunity to play beautiful music. Iíve tended to be involved in a lot of - I canít say that I donít think that itís all beautiful, but I havenít gotten to work with a wonderful vocalist and do music thatís slower and deeper and more traditional, in a long, long time. In the 80s, when I was in New Grass Revival, we played everything as loud and fast as we could. It was like part of our trademark. Maybe not as fast as we could, but even a slow song was like a rock ballad. It was hard. Well, with Abby, itís possible to play some really nuanced music. And some of the songs, I just play the banjo and she only sings. And I really enjoy those, too, because thatís a place where I can sort of think of myself as a piano and have all the freedom in the world to follow her vocals and propel her in different directions. And she can follow me very easily vocally, too. So itís a combination of things.
PCC:
What impresses you most about Abby as a musical artist?
FLECK:
I think sheís exceptional. I know that one of the things that amazes me most about her is her ability to connect. So in other words, why do you play music? What do you do it for? In fact, whatís your approach to life? And my approach to life is to do a lot of things and complete a lot of things. Her goal in life is to experience a lot of things and feel a lot of things. And so she brings that to the audience. And in fact, I think the combination of both of our points of view creates a nice show and a nice energy for the audience. Itís not all one way. Itís not like, oh, everything is evocative and everything is about feelings. Thereís also some intense, pushy, aggressive, rockiní stuff. But the way we meet in the middle, is, I think, pretty interesting.
I mean, itís not fair to paint her as being only evocative or doing slow songs. Thatís not true. Sheís a lot of things. But itís one of the areas that sheís super strong in. And it allows me to follow her into those areas. And then I push her to be more technical in certain areas.
PCC:
You touched on finding a balance, with family life, you and Abby, are you always thinking, talking, playing music? Or do you try to take breaks from it, staying away from it at some points?
FLECK:
Well, I donít think we consciously stay away from it, but the truth is, unless we schedule time to work on music, we really donít play music. We talk about music. But we donít sit around and play at the house. Weíre just basically swamped all the time, just keeping everything going forward and having a three-and-three-quarter-year-old kid and doing everything that needs to be done, when weíre home, off the road. And when weíre on tour, we usually get some practice time in the afternoon before sound check and work on new material.
And this last four months at home, we have scheduled recording sessions and writing sessions. And weíve actually been able to spend more time on music than we have since we made the last album. So weíve made a new album. Itís 90 percent done, with a whole bunch of new music that weíve created together, a lot more co-writing this time. And I think weíre both really proud of it. Weíre starting to feather in some of the new pieces on this tour.
PCC:
What are the directions of the new album?
FLECK:
Well, I wonít say itís political, but we didnít shy away from it. Iíll just say that. Everybodyís experience with what was happening in the fall of last year was profound, whatever side you take. And it crept into our music, not in such a way that weíre taking a stand or fighting a fight, but music should reflect the time and place that itís in. And this does. And Iím proud of it. I feel that we found some areas to comment on that arenít really taking a battle stance, but are taking a point of view.
PCC:
You and Abby met at a square dance?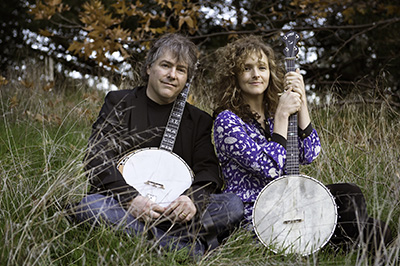 Bťla Fleck and Abigail Washburn, Photo by Jim McGuire
FLECK:
That is absolutely true.
PCC:
So you just both happened to be there - and then jammed afterwards?
FLECK:
No, actually, I only met her there. It was the only square dance that I have ever played at, in Nashville, since I moved to Nashville. But back when I lived in Boston, I used to go to the square dances. I never played at any of them. But I went to all of them. And I loved it. It was the only dancing Iíve ever felt comfortable doing, because someone tells you what to do and nobodyís looking at you.
So anyway, a friend of mine from Boston had moved to Nashville and said, ďIím playing a square dance. Are you around? Would you like to play in the band?Ē So I went. And we played all the New England tunes that I knew from Boston. And I was watching the dancers, like you do, when youíre playing at a square dance. And this girl came out on the floor and was dancing and she just looked so happy. Itís one of the things that Abby does at our shows is she dances. Itís not a lot, maybe a couple of songs. And she just lights up. She is so beautiful, when she dances.
And I just remember seeing her and after the dance, I met her. She was in a different relationship at the time. But I was like, ďThatís an exceptional woman right there.Ē A few years later, we were both in the clear and we started spending some time together and it very quickly became a full-time relationship.
PCC:
And did the musical chemistry and the romance develop side by side?
FLECK:
The music was always on the slow burner, on the back-burner. We never really intended to be performers together. And Abbyís grandmother, when we would visit for Christmas, she would say, ďPlay us a song.Ē And weíd go, ďOkay.Ē And Iíd back Abby up on songs Iíd heard her do. And it was always surprisingly easy to do that together. And then one day her grandmother said, ďYou guys are doing a benefit for me at my church,Ē the Unitarian church in Illinois. And what do you say to her grandma? ďYes.Ē So we did it.
And like a couple days before that show, this was after weíd been together a few years, we were like, ďWhat are we going to do together?Ē And we quickly threw together a set list and we went out on stage and had the time of our lives. It wasnít a stressful gig. It was very low-key. But a lot of people showed up and we had a really fun time. We laughed and joked around a lot.
We were surprisingly comfortable on stage together, both musically and energetically. So we said after that, ďOne of these days, we really need to go out and do that. That would be fun.Ē But we put it on the back burner until quite a while later, when we had Juno and we decided we needed to figure out a way to be together through raising this child.
PCC:
Has Juno picked up a banjo yet?
FLECK:
Oh, heís had his dalliances. For a while he was way more into golf than music, from about two years old on. And then there are times when he gets into it and heíll come strumming. We have a ukulele banjo for him. But heís soaking it up. And he listens to music with an incredible focus. So heíll come to our shows and watch the whole show and never become a problem, just sit and watch and applaud and laugh. After the show, heíll tell us what he thought about it.
Heís a real musical person. And then in school, he sings and everybody is surprised at how quick he picks up songs. Heís got a very beautiful little voice. Heís definitely got musical DNA. And itís in there, when the time is right. Weíre not going to push it on him. But I think heís just naturally going to be a very musical kid.
PCC:
Are you eager to expose him to all the different sorts of music you have loved over the years?
FLECK:
Yeah. In fact, we pulled out all the old LPs that had been hidden somewhere under the house for the last 12 years or longer since I moved there. And I hadnít played them since the 80s. And so Iím pulling out all these things and saying, ďHey Juno, check this out. What do you think about this? What do you think about that?Ē And playing some jazz, some old cool Miles Davis stuff or some Chick Corea. Or Iíll play him some bluegrass stuff, Seldom Scene. Or Iíll play him ďAbbey Road,Ē The Beatles.
Iím pulling out this vinyl and he loves it. We just sit around and listen and play games while we listen. And he asks me questions about it. We talk about the lyrics. He loves bluegrass. He loves The Kentucky Colonels. Thatís a record that he just fell in love with and he kept getting me to play if for him again and again. So itís fun to share all this stuff with him.
PCC:
Becoming a dad at age 55, are the challenges and/or rewards a bit different from what they might have been at an earlier point in your life?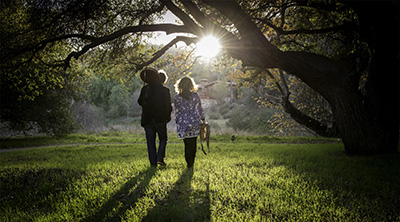 Bťla Fleck and Abigail Washburn, Photo by Jim McGuire
FLECK:
Well, I think that I would have had a much harder time being the kind of father I can be now. I was never the kind of guy who wanted to have a younger girlfriend or wife. Itís not like I look down on it, but it just didnít sound like me. But life will throw curveballs at you and it afforded us the possibility to have a child, the fact that sheís younger than me [Washburn is 39]. I donít think I would have been ready for it in my 30s, maybe not even 40s. I had so much I was trying to do. And I was hellbent on doing it. And Iím sure that could have ruined a good relationship. Or it could have been a much tougher outcome. But, in this case, Iím with them a whole lot. And I really love it. Itís a gift. Itís a great time.
Itís not like Iím trying to make my name. My name has been made, for better or for worse. A lot people know who I am. A lot of people donít know who I am. A certain amount of people show up when I play, if theyíre interested in a particular project Iím doing, maybe more. But basically what I do, the math is kind of made, of what I offer and what I try to do. Iím going to keep on trying to push it, like I did with the ďJuno Concerto.Ē
The thing with the ďJuno ConcertoĒ is, I could do it at night. It was the perfect project for a father, because you do have time, as a father, but itís not five days in a row, 24 hours. Itís two hours here, 40 minutes there, six hours there. And thatís perfect for composing. Composing around the clock doesnít work that well anyway. Youíve got to take breaks and get away from it. And whenever Abby and Juno went to sleep and I was awake, I would just get on my computer and get my banjo and start jotting down ideas, come back to them a couple of days later. It took longer than it might take otherwise, but I got the job done - and at a level Iím proud of. It was really different approach.
Like, for instance, when I did ďThe ImpostorĒ concerto [2011], several years ago, I was not a father then and I could go for two weeks and write on the beach, by myself. I could sequester myself. Iím not going to disappear from my kid for two weeks, and my wife. At this point in my life It doesnít seem fair to any of us. But I can stay up late and work on stuff. And I can get a lot of work done on the bus, when theyíre running around playing during the morning. So itís working out pretty good.
PCC:
But to compose in the classical realm, do you have to put yourself into a different mindset? Or does it all come from the same creative wellspring?
FLECK:
The better Iím doing at it, the more itís the same. The more Iím worrying about it and trying to figure out, to psych myself up to being something that Iím not, the less it works. But if I can just write the music that I like and imagine music for those instruments and without a lot of fear or concern about my failings or my lack in training in classical composition, I can just think of it as a Flecktone record or an Abby/Bela record or an Edgar/Zakir [frequent Fleck collaborators Edgar Meyer and Zakir Hussain] record, you know, all the different things that I do, where I just try to make the best music I can in a situation.
I just try to do the same thing here and try to have it express some musical and some personal point of view, be an expression of me. The more I can do that, the more it sounds like my music, the better Iím doing. If I try to write a classical concerto that sounds like a classical concerto, I donít think it works too well. And thatís usually where it hasnít work so well, in the writing Iíve done so far.
PCC:
When you first picked up the banjo as a teen, did you even then see the instrument as being able to allow you to explore almost any imaginable sort of music, rather than just the genres most commonly associated with it?
FLECK:
I kind of did. I started when I was 15, like you said. And I learned some of the basics. And pretty soon I started listening to what was going on in bluegrass. There was a lot of pretty modern stuff going on, like Tony Trishka was a teacher, my third banjo teacher, by the time I was a senior in high school. And aside from the bluegrass scene, I just grew up listening to The Beatles, from the beginning. I became a big fan of theirs and I watched their music change and grow. Led Zeppelin was around. Miles Davis was doing ďBitchís Brew.Ē Chick Corea and Return to Forever and Mahavishnu Orchestra were playing. There was so much inventive music and musicians redefining themselves, when I was a kid that I thought that was what you were supposed to do.
So when I heard these different kinds of music, I thought, ďWell, how can I figure out how to do this on the banjo?Ē I didnít have the tools. I remember trying to play a Chick Corea piano solo after Iíd been playing for about a year. And I had to give up. I tried the same thing with a Charlie Parker solo. I couldnít do it. I couldnít figure out how to find the notes on a banjo. But at a certain point, I gradually amassed the tools I needed to figure out how to play lots of different kinds of music on the banjo, at the same time that I learned to play bluegrass and all the different offshoots of bluegrass.
And growing up in New York City, I think I had a very different point of view from someone who maybe grew up in North Carolina or Tennessee or Kentucky, where you would expect bluegrass banjo players to come from. Historically, thereís been a lot of great banjo players from the Northeast. They usually tend to bring new ideas to it, like Bill Keith, Tony Trishka, folks like that.
PCC:
What were the unique qualities of the banjo that most intrigued you and made you want to use it to explore all these different styles?
FLECK:
It was like almost impossibly fast and precise. And it had this very earthy, funky sound, especially when you listen to Earl Scruggs. You couldnít even imagine someone could possibly play that way. But anyway, I started to learn to play it and then I started hearing different kinds of music and I thought jazz, I didnít really think you could play it, because I was listening to the wrong kind of jazz. I was listening to what I guess you would call lounge music. And I didnít really see how the banjo would fit into that, although I see how it could now.
But then when I heard Chick Corea and Spain, it had this Latin groove and there was a forward lean to the rhythm. And he was playing that Fender Rhodes or whatever that electric piano that he played on that album ďLight As a Feather.Ē And I thought, wow, the way heís playing, I really could imagine doing that on the banjo. And suddenly it opened my eyes to a whole bunch of possibilities. The same thing with Charlie Parker. He played with this rhythm that was very demanding. It never let up. It just pushed, pushed. His timing was perfect. And he pushed the time forward. And I thought, ďThatís what banjo does!Ē And that kind of jazz I could imagine. Then I was curious about the notes they were playing, where those notes were on the banjo. Itís taken me a long time to get some understanding of that.
PCC:
It seems like you can do anything on the banjo. Have you ever tried to use it in a certain genre or context and decided it just wouldnít work?
FLECK:
Iíve had things that worked better than others. Things with a lot of notes are usually easier. And youíre always dealing with the range. Certain things, like arpeggios are really easy in certain keys, but in other keys, theyíre a disaster, if you donít have the open strings to bounce off on. But I guess Iíve come to the determination that itís not the banjo that canít do some of these kinds of music - itís me, personally who canít, because another musician picking up the banjo might find a way to do it, because he has a different soul than mine, that has an affinity for that music. But I donít see any real reason why it couldnít fit into most music.
PCC:
Are you still constantly learning and growing as a banjo player?
FLECK:
Iím trying. Like with the new Abby/Bela stuff, I feel like we worked really hard to push ourselves and come into some ground that we hadnít plowed before, both separately and together. And I know I played some things that Iím really proud of. But one of the areas that I can really focus that area of learning and growing and creating new ideas is writing classical music. Iím finding that thatís a great outlet for that kind of energy.
Just because Iím playing more of a folk-based music with Abby doesnít mean I donít still have a lot of love and interest in complex music. And I can dream up some pretty convoluted ideas and get them on stage with an orchestra or a string quartet and thatís very fulfilling.
But thereís plenty of areas that I could grow into. Thereís no limit to what can be done. The limit is within a particular person and how much time youíre willing to put in and how committed your are to it. So I think there are times when I have more time to put in and Iíll be able to achieve more. But Iím not slacking off, if I can help it.
PCC:
Do you think in terms of taking risks musically? Or are you just following your instincts and sense of adventure?
FLECK:
I like measured risks, like if something is really beyond me for now and I canít really get there and do it well, I donít want to record that and put that out. If thereís something I can see how it would succeed, I can see how I could fit in and I can visualize what I have to do to get there, then thatís a risk Iím willing to take. You know what I mean? So not just anything. Iím not just looking for anybody to jam with or anybody to record with. But if I see somebody that not only do I think I can learn from, but I think I might have some affinity for that, then Iím excited about it.
There are people whose music I love that I donít really see myself playing with, that I donít see the need to play with them. It either would be too big of a job and it would take too long to get to the point where I thought I could do it well or I donít have the natural love of that, enough energy to go all the way into it.
But thereís a lot to be done. Thereís a whole world of things out there. And when you think about Indian music and the little that Iíve done, itís a natural place for the banjo. It fits like a glove. The sound works. It plays well with those instruments. The balance is good. The volumes of the instruments in Indian music work well. And the math and the speed of it, the soulfulness of it, the learning of the raga, thatís pretty interesting. But again, thatís something that takes a lot of work. You have to have the time to put in. So there might be some things like that that I can manage to get into and make some progress with.
PCC:
Youíve had so many wonderful and diverse collaborations over the years, is that a key part of your musical journey?
FLECK:
Absolutely. What I tend to do is find something Iím really interested in and do it for several years, a year to three or four years, with somebody and then move on to something else that Iím interested in and do the same. But now that Iím getting a little older, Iím discovering that some of these collaborations that Iíve done were so fun, itís nice to come back and do them again. And then my game card gets filled up. So like if Chick Corea wants to go out and tour, the answer is yes. Itís going to be yes. Heís a hero, a formative influence and weíre very close. And I learn so much from him on tour. And we get to play nice places. So I still will find time for that.
And Edgar Meyer and Zakir Hussain are really deep, special friends of mine. And weíre going to go back out in a couple years and do some more music together, because we miss each other. Once I start filling in the little holes, once I can go out without Abby and Juno, out with old friends, itís kind of hard to envision creating a lot of brand new music.
And once again, thatís where this orchestra stuff comes in so handy, because itís a way for me to take that energy and put it into something over the course of years that Iím not involved in creating brand new projects as much. And build some things. Create some repertoire for banjo players maybe in the future that want to interact with classical musicians. I think itís a fun side project for me, basically.
PCC:
So at this point, what are the most rewarding and the most challenging aspects of your life as a musician?
FLECK:
Well, I think itís hard to find the time to do a lot of the things that I want to do. Thatís challenging. And that was part of the ďJuno Concerto.Ē How can I get the commission done, with the amount of time that it takes to be a good parent? Thatís definitely a challenge.
I have certain personal challenges that have always been in my playing, that Iíve always been working on - like I always tend to rush. Itís something thatís taught to us as bluegrass musicians - to stay on the front end of the beat. It doesnít work in all music and there are times that I just listen back to things and I go, ďWow, I am always ahead!Ē
I donít want to be always ahead and thatís something that I want to work on, just sort of musical basics that get away from you, if youíre not paying attention. I want to be in charge of whether Iím ahead or behind or in the center of the beat. And sometimes I think Iím right in the center and Iím almost always way aheadÖ or somewhere ahead. So I want to keep an eye on that. Thatís a lifelong challenge for the banjo player, because we have these short notes and we tend to want to play them fast. Itís kind of a training we have. Things like that.
PCC:
Is one of your great satisfactions the fact that you have expanded peopleís perception of the banjo?
FLECK:
I like that, yeah. Thatís okay with me [chuckles]. I mean, I guess itís part of my mission, if I want to be hoity-toity about it and act all special. One of the things thatís always bothered me about the banjo is the go-to, that itís strictly a white, Southern instrument. Itís hillbilly music. People look down on it. People look down on it because of the way it was part of the ďDueling BanjosĒ movie [ďDeliveranceĒ]. It was part of ďThe Beverly Hillbillies.Ē It was part of ďBonnie and Clyde.Ē And always kind of almost a character in those productions. That played a part in creating an impression in peopleís minds of what the banjo was.
And the more that Iíve learned about the banjo, the more Iíve learned how much more it is than that - that it was part of the early days of jazz. It was basically the guitar in jazz before the guitar came in, that there were banjo orchestras, that the banjo is an African instrument rooted in a lot of different kinds of music, that most American music has roots in banjo playing, in the blues, in rock íní roll. The banjo was here before the guitar. A lot of world music came here through the banjo.
It was played on it and built into American music, into the bedrock of what American music is. And there was classical banjo music back in the late 1800s, early 1900s. You had the banjo orchestras. So I feel like Iím just sort of setting the record straight, kind of getting it back on track for some people that donít know that stuff, that the banjo is a very special part of American culture. And not just not one part of American culture, but actually quite a bridge between different American cultures.
For more on this artist, visit www.belafleck.com.