BETTY BUCKLEY: MAGNIFICENTLY MULTITALENTED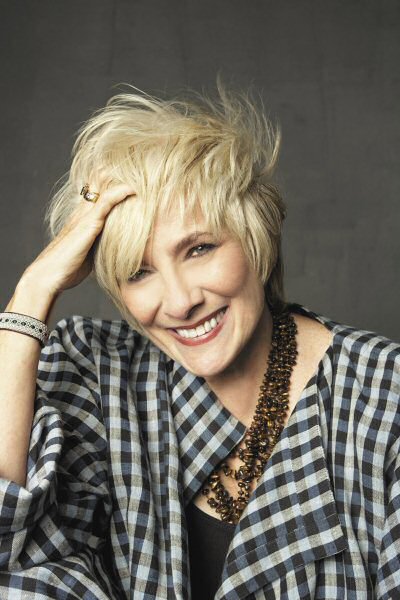 Photo Credit: Scogin Mayo
By Paul Freeman [January 2009]
Some revere Betty Buckley for the thrilling vocals they've heard on such albums as her jazz-oriented "Quintessence" or the new release, "Bootleg: Boardmixes From The Road." Some know her best from Broadway hits like "Sunset Boulevard" and "Cats" (She made the song "Memory" unforgettable).
Others fondly remember Buckley as the mom on TV's "Eight Is Enough" or as the well-meaning, ill-fated high school teacher in the cult film "Carrie."
Everyone who sees her perform live comes away a fervent fan. Buckley plays The Rrazz Room in San Francisco's Hotel Nikko, Oct. 30-Nov. 4, presenting "Ah, Men, The Boys of Broadway." [therrazzroom.com]
Long based in New York, after 9/11, Buckley decided to return home to Texas, where she now lives on a ranch and rides cutting horses competitively.
She was raised in Fort Worth. Her mother was a singer-dancer. A professional performer by her teens, Buckley earned recognition through talent competitions and beauty pageants, as well as musical theatre. She studied at Texas Christian University.
Though her father opposed a show business career, independent thinker Buckley braved a move to New York. On her first day in the city, she landed a plum role in the Broadway musical "1776."
Buckley's memorable film roles include Bruce Beresford's "Tender Mercies" (in which she sang the Oscar-nominated song "Over You"), Woody Allen's "Another Woman" and Roman Polanski's "Frantic."
In addition to playing Abby on "Eight Is Enough," her TV appearances include "Without A Trace," "Law & Order: SVU," "Monk," "Chicago Code" and the Spielberg/Hanks HBO series "The Pacific."
Throughout the years, meditation has enhanced her singing and acting. Teaching song study and scene study, Buckley incorporates not only meditation, but also universal spiritual philosophy.
POP CULTURE CLASSICS:
"Quintessence" is a beautiful album. Is it one of your most jazz-oriented efforts?
BETTY BUCKLEY:
It is. It's really fusion music. All kinds of jazz, one could say. The spirit of jazz, improvisational, expressive, interpretative. I was taught by a lsinger in New York City. I studied with him for 19 years. His name was Paul Gabbert. He died many years ago and I now study with a woman named Joan Leder, in New York.
My great love has always been jazz musicians and jazz, because of the parameters of the creativity and the expression.
I've had, thankfully, a lot of success on Broadway, so people think of me as a Broadway singer. But I'm kind of just a singer singer [Laughs], in reality. My taste in music is very eclectic, from standards of the American Songbook to contemporary singer-songwriters of my own generation and some from the more recent generation, as well. I like country music. It's wherever I find a good song - category doesn't matter to me.
In a world that needs to categorize and label to feel comfortable, it's not always applicable. People ask what kind of music I do. Well, it's music. It's just a bunch of really pretty songs that we have our own expression on. We're like painters. The songs are like paintings about love and relationships.
PCC:
Being in Texas, with your horses, is that a good way to get away from the business for a while and refresh yourself?
BUCKLEY:
It is. I don't feel like it's getting away from the business. I've just changed my base of operations. I lived in New York from when I was 21 until five years ago. I moved back here. After 9/11, I was really driven to move back home and live on a ranch and ride horses. I love cutting horses especially, because they're just brilliant horses, really, really talented, athletic creatures.
I'd always wanted to do that, from the time I was 12 and had neglected following through. After 9/11, I was like, 'Wow, this is part of my dream and I've got to get around to it.'
PCC:
What was the original dream? Was it Broadway or movies or records?
BUCKLEY:
My original love was music. I loved great jazz instrumentalists and great jazz singers, the great lady singers. My mother discovered that I could sing when I was very young. I studied dance from the time I was three, because my aunt was a dance teacher. I just had a great love for all of that. Then my mother introduced me to the musical theatre when I was 11. And I thought that was the coolest thing I'd ever seen. It was the original Bob Fosse choreography of 'The Pajama Game.' It was choreographed and directed by these two guys who had danced with him in several shows in New York.
And, it just so happened, after I had seen that show, that they decided to move back to Fort Worth and open a dance school, after working for a number of years on Broadway. I told my mother that I really, really wanted to learn how to do this song 'Steam Heat' from 'Pajama Game.' So she had seen that these guys had advertised their school, so she called them. So I studied with them. And they were incredible mentors.
My first professional job, I was 15, and I did a number of shows at the regional theatre in Fort Worth. Went to college at TCU and minored in Theatre there and majored in journalism to please my father.
Then, I was signed by an agent when I was a junior in college, a large agency, because I'd sung at the Miss America Pageant, as a guest entertainer. So from there, this agent kept encouraging me to come to New York, which I was kind of afraid to do. It's what I wanted to do, but my father was a very strict guy and was absolutely opposed to my being an actor or a singer.
So I finally had the courage and the belief about my talent. And through this man, this agent and producer, Roger Hess' encouragement, I moved to New York and I got my first Broadway show my first day in the city. That was '1776,' the musical. I played the role of Martha Jefferson in that. So it kind of got out to a rip-roaring start, fortunately. I don't know if I would have had the courage to hang in there, if I had not started working.
PCC:
Was your mother a performer?
BUCKLEY:
She was, yes. She'd been a singer/dancer when she was a young person. That was part of the reason my father fell in love with her. But after they married, he told her she couldn't do it anymore. [Laugh] So she was thrilled when she found out I had talent and she really facilitated that. I tease her that she's a stage mother, like Mama Rose. She denies it. [Laughs]
PCC:
Hopefully more encouraging than demanding?
BUCKLEY:
Well, there was a demand to it, too. I was a child performer. When I was 11, it was my idea. It was what I wanted to do. But then she started getting into the talent show thing and entered me in all these things. And I didn't much care for that kind of competition. I liked competitions with horses. But I didn't like competitions among children.
And then I was kind of recruited to be in the Miss Fort Worth pageant. And I didn't like pageants. I have to say, that each thing I did, prepared me for the next thing. So I'm glad she pushed. And the funny thing about my father, he, as opposed to show business as he was, he didn't mind pageants, which I really didn't understand. I thought, 'This is nuts!' [Laughs] So I was pretty much an independent thinker from an early age, which he had raised me to be. There were things I liked and things I didn't like.
I remember getting really sleepy whenever my mother would want me to go perform. I would do things like wash my hair at the last minute [Laughs]. It would freak her out. I'd be walking out the door with my long, kinky hair, all wet, and I was supposed to perform in an hour. And she was so mad. I didn't have a hair dryer, so I got the vacuum cleaner and we reversed the flow on it, so my hair dried like some kind of alien creature [Laughs]. Little things like that. There was a little conflict in it all, because my father was so one way and my mother was another way. And in between, I was this little girl with talent, who had her own ideas of things. It was kind of a funny thing.
PCC:
It's great that you wound up being so grounded.
BUCKLEY:
[Laughs loudly] It wasn't that easy. I had to work really hard on that. It's a lifetime of work, getting beyond all of that. It's been a lot of commitment and a lot of work.
PCC:
I read that you had actually used meditation to enhance the acting. Is that something that also benefits the music and other areas of your life?
BUCKLEY:
Yeah, absolutely. It creates a center to your life and a capacity for a really deep focus. All good work, basically, is about deep focus. Meditation can teach your mind how to reach that. The obstacle to accomplishing anything is a scattered mind.
I've been a teacher for over 35 years. I teach song interpretation and sometimes scene studies. And I teach my students how to meditate and how to use a universal spiritual philosophy, as a means for making choices, as an actor, a singer, a storyteller.
PCC:
Is that Buddhist-related?
BUCKLEY:
I've studied comparative world religions for a lot of years. In all religions, the core truth is the same. It gets different when it gets into the rules and practices of different religions. But the core truth is always the same, which is interesting and wonderful.
I teach that essential truth, which is basically that we're one being, one consciousness, one humanity. I have a heart that's beating and wants to love and be loved. You have a heart that's beating that wants to love and be loved. That's the point where we're the same. Our experiences, on a personality level, in terms of bodies that we all walk around in, that all appears very diverse and different. But within that, is this unity. When you tell your stories from that level of essence and unity, you can really connect with other people, as opposed to telling the stories from a point of separation.
PCC:
So the performers you're teaching are able to build a more profound rapport with the audience through that sort of belief.
BUCKLEY:
That's correct. But basically, I teach meditation, how to focus the mind, so that they can really concentrate You can't do good work without the ability to concentrate. I teach them, in the first class, to redefine fear. All performance is a high-stress experience. It requires a lot of adrenaline to perform. And a lot of people mistake that adrenaline for what we normally name as fear. It's not necessarily fear. It's just the energy that you need to do the work that you want to do. And lot of young performers get crippled and paralyzed by the notion of how scary it is. And you redefine it and realize that it's not really scary, it's the necessary energy that you've got to have to perform.
Then, if that's the case, if you have that much adrenaline and that much energy coming into play, how do you learn to be still within that and shape that energy? The only means that I've found, so that I can do this with any sense of groundedness and focus, is the meditation. So the meditation enables the focus. Then it's about making the choices. So how do I make the choices for the story, that connect with my audience?
We need to remember this essential place where we all live, where we can all communicate. Problems come when we make issues in our own minds, with the notions of separation and difference. If we remember this essential place where we all live in and just who we really are, then immediately you meet perfect strangers and you know them well. And so that connectedness is immediate. And that's really very wonderful. So I teach them what the essence of communication, how to look people in the eye and remember the truth, as opposed to, most performers are telling audiences what to think about them and it becomes like a self-conscious experience, as opposed to an experience of truth and essence and service. A performer's job is really a service job. We're there to serve the audience's experience.
I think with all good performers, it is that way, whether you go to see singers or dancers or actors. If you have a wonderful time, you've had a really personal experience inside yourself. You've felt the things that are within you and you give the performer credit for that. It's kind of mysterious.
You go to a movie and you get into the story and you just drop your day and drop your stress and you flow with the story. Somehow it becomes a cathartic experience. You think, 'I remember myself, my true self, my feelings and my heart and who I really am' and then you walk out of that movie and you're really refreshed, because you're you again, the real you.
PCC:
So with that perspective, even with all the satisfaction you get from teaching and from working with the horses, are you as fulfilled as ever by performing?
BUCKLEY:
Oh, beyond. I love it. I can't even tell you. The older I get, the more of an absolute precious, blessed treasure it is. It's just incredible.
That's one of the great things about getting older. I always marveled at the great performers who continued to get better and better as they aged. That's an amazing thing. There's such a wealth of knowledge and wisdom that can't be taught. You have to live. You have to live to achieve that ease of being able to just stand there and be able to tell the truth within your song or your story.
PCC:
So does your added life experience enable you to build richer, more nuanced performances?
BUCKLEY:
Yes. Nothing stays the same, that's the other thing. Certain songs don't fit any more. You try them on and they don't fit. And you find songs that really speak to the heart of the matter now. That's always the mission. Some songs grow with you.
'Memory,' for example, just keeps changing and evolving ever so subtly. And that's really an interesting experience, to sing a song, as a character, for all these years. For that character to keep revealing new things to you, that's really fascinating to me.
PCC:
With this amazing, diverse career that you've built, are there particular goals you're still aiming towards?
BUCKLEY:
Yeah, there are bunches of people I'd still like to work with, film directors. And I'd love to do another couple of Broadway shows. It's all about the material and who the collaborators are, I think I've got a couple more of those in me, given the opportunity. And I'd like to create more music, as time goes by.
For the latest on the fabulous Betty Buckley, visit www.bettybuckley.com.