BETTY BUCKLEY:
In Any Medium, a Magnetic Presence, an Electrifying Voice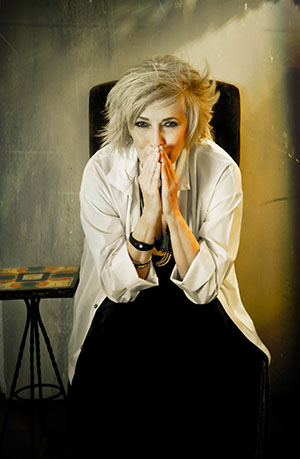 Photo by Victory Tischler-Blue
By Paul Freeman [November 2017 Interview]
Growing up in Fort Worth, Texas, the bright lights of Broadway might have seemed unattainable to most adolescents. But not to Betty Buckley, who has achieved stardom not only on stage and as a concert performer, but in films and television, as well. She knew at age 13 that this was her destiny.
Buckley starred as Grizabella in the original Broadway production of "Cats," stopping the show nightly with her electrifying performance of the song "Memory." She has had other memorable roles in theater, including Norma Desmond in "Sunset Boulevard." In the original production of the musical "1776," she played Martha Jefferson. New York Magazine has hailed the Tony Award winner as "the voice of Broadway."
Her voice has also thrilled concert and cabaret audiences. Her 2015 one-woman show resulted in the riveting live double-album, "Story Songs." It includes material penned by Radiohead, Peter Gabriel, Joni Mitchell, Sting and Emmylou Harris, as well as the Gershwins, Rodgers & Hammerstein, Stephen Schwartz and Stephen Sondheim. Buckley's beautiful and expressive voice dramatically brings out all of the emotional power of this wonderfully eclectic group of songs.
She is a multiple Grammy nominee whose other acclaimed albums include 2001's "Stars and the Moon: Betty Buckley Live at the Donmar," 2008's "Quintessence" (teamed with jazz great Kenny Werner), 2012's "Ah, Men! The Boys of Broadway" and 2014's "Ghostlight," which was produced by T Bone Burnett.
Buckley has given unforgettable performances on screen, as well. Her movie debut came in Brian DePalma's horror classic, "Carrie," playing the troubled teen's sympathetic gym teacher. Other film credits include Bruce Beresford's "Tender Mercies" (in which she movingly sang the Oscar-nominated, Golden Globe winning ballad "Over You"), Lawrence Kasdan's "Wyatt Earp," Roman Polanski's "Frantic" (playing Harrison Ford's wife) and Woody Allen's "Another Woman."
She recently earned raves playing a psychologist in M. Night Shyamalan's thriller "Split." Buckley had previously appeared in Shyamalan's "The Happening."
Buckley has graced many TV shows as a guest star or in recurring roles. She is fondly remembered as the stepmom, Abby Bradford, on the hit series "Eight is Enough" (1977-1981). She has been seen on such acclaimed programs as "Oz," 'Monk," "Law & Order: Special Victims Unit," "Pretty Little Liars" and "The Leftovers." She's doing several episodes of the new "Supergirl" series.
But Buckley relishes the excitement she sparks when she steps on stage in front of a live audience. In 2012, Buckley was inducted into the Theater Hall of Fame.
POP CULTURE CLASSICS:
Your "Story Songs" album is quite powerful. In selecting songs, do you find any connective thread, an emotional connection that makes a song resonate with you?
BETTY BUCKLEY:
Oh, yeah, that's how we pick them. It has to be something I feel I can address in the present moment. We go through lots of material. It takes about six months. My pianist Christian Jacobs and I have been creating new collections of music every year for the past several years. And "Story Songs" is our second CD together. The first one was "Ah, Men! The Boys of Broadway." We just created a new grouping of songs that we debuted at Joe's Pub in October and that's "Story Songs #2." That'll be my next recording, which will be released by Palmetto Records early next year. So we're working on the multitrack recordings of that, that we recorded live at Joe's Pub.
PCC:
Who are some of the songwriters represented in this new set?
BUCKLEY:
Let's see, there'll be a couple of songs by Steely Dan, Lisa Loeb, a standard or two, a new song by Jason Robert Brown called "Hope," and three songs by T Bone Burnett, a song by Joni Mitchell - "Shades of Scarlet Conquering," a song by Mary Chapin Carpenter, Paul Simon. And J.D. Souther.
PCC:
You've worked with T Bone before.
BUCKLEY:
Yeah, he produced my album called "Ghostlight," which was released four years ago.
PCC:
What was that experience like, working with him?
BUCKLEY:
Well, we grew up together in Fort Worth and he recorded the first recording of my voice [in 1967], when we were both 19. And that was released as the "The First Album I Never Had" by Playbill Records and BMG a few years ago. And we sent a copy to T Bone. We've remained friends all these years and had talked casually of making an album.
But when the 1967 album came out, he was really touched by that and a couple years later called me and said, "I have some free time. Let's make a new record." So I flew to L.A. and he picked the band and we went through a lot of songs that we both loved and he selected the repertoire and we recorded. It's a beautiful album. It's called "Ghostlight."
PCC:
On the current "Story Songs" album, does that song "I'm Still Here" reflect your own resilient spirit?
BUCKLEY:
No, not really [laughs]. It was fun playing that character. I love Elaine Stritch and I love her version. So that was so much fun, going and singing at the Royal Albert Hall with a symphony orchestra and getting to do this song that I had been inspired by, through Elaine.
PCC:
When you approach a song, in some ways, is it similar to how you might approach an acting role?

Photo by Scogin Mayo
BUCKLEY:
Yeah, it's the same principles. It's the sense of place and who the character is. My pianist and arranger, Christian, is a great composer. And he scored the film "Sully" for Clint Eastwood last year. And he just composed a score for Clint Eastwood's new film, which is coming out early next year. He just finished that. So sometimes I ask him to score the songs like a scene in a film.
So we work together. We have a really beautiful collaboration, which I'm very grateful for. And we both have to love the song. We both have to want to do it, to make the selection. We both go through tons of material each year, before we decide on the 12, 13, 14 new songs that we want to do.
PCC:
You've had success on stage, TV and movies, but is there something uniquely satisfying about performing in concert, because of the intimacy?
BUCKLEY:
Yeah, it's the connection with the audience. But it's also just being on a stage with glorious musicians, which is just one of my great joys and pleasures in life, to stand on a stage and listen to Christian play or my band. I have a quartet of musicians — piano, bass, drums, guitar — those guys are featured on the "Story Songs" album. Yeah, it's one of my great joys, to hear great musicians play.
PCC:
All the accolades, being referred to as Broadway legend, the Voice of Broadway, that kind of validation, what has that meant to you?
BUCKLEY:
Oh, it means a lot. When I was a kid, I was 11 and I saw my first piece of musical theatre, which was "Pajama Game" with the original Bob Fosse choreography. I knew at that moment what I was going to be doing for the rest of my life. I didn't know exactly what that was, only to discover that was the musical theatre. So I became an ardent, passionate student of the musical theatre. Fortunately my mother had all the cast albums.
But I also started buying world music and all the great jazz instrumentalists. I've always been very touched by their work and world music and Brazilian music. So when I first moved to New York and was singing on Broadway, I went to see the great Sarah Vaughan in concert, at the back of the Philharmonic Hall. And growing up in Texas, I had studied all the great lady singers and I kind of knew at age 13, I had this vision of who I would become as a singer and how my voice would affect people in the Broadway musical theatre.
And it took from age 13 to 35, but when they brought the cast album in for "Cats" and they played "Memory" for me, I flashed on that 13-year-old's vision and realized that that had actually taken place. That original vision and the feelings of what was possible in my life, which I just kind of committed to and followed through and studied with great teachers to learn how to become that artist, took from age 13 to 35.
I started performing regularly from age 11. I studied dance with my aunt and other dance teachers from age three. And my aunt was a great dance teacher. My mother had been a singer-dancer. But I was very, very influenced and moved by jazz musicians and brilliant instrumentalists. And I realized, when I saw Sarah Vaughan in concert, after studying her albums before that, that I wanted to be a concert artist. I wanted to experience standing on a stage with great musicians that I'd worked with for years, like she did. And touching an audience the way she touched the audience that was present that night… and me. I'll never forget the experience of that. So it's a form I really enjoy.
PCC:
You mentioned "Cats" and "Memory," did you realize even before the opening that this had the potential to be a sensation, a perennial?
BUCKLEY:
Well, the song was already a hit. Barbra Streisand had recorded it. And the show was this huge hit in London. So we were the Broadway company. So it was the first time I'd been given the job assignment to stop the show. And it was pretty daunting, because I knew other people knew how to do that with that song. So I had to go through quite a process to learn how to do that. But it was a wonderful experience, getting to work with Andrew Lloyd Webber and Trevor Nunn and Gillian Lynne. It was like being in "Cats" and learning how to sing "Memory" effectively was kind of like my Masters thesis.
And that same year, I did a film with Robert Duvall, written by Horton Foote, a great American playwright, called "Tender Mercies." And I had a great song in that ["Over You"], which was nominated for an Oscar. And actually won the Golden Globe. And Duvall won Best Actor in "Tender Mercies" and Horton Foote won Best Screenplay that year. So that was also an incredible gift — those two projects. So that was my other Masters thesis. So I felt like after that year of "Cats" and "Tender Mercies," that I finally knew how to work and I kind of got my Masters degree, getting to work with those phenomenal artists and coming finally to the doorway of my real potential.
PCC:
So to create that stop-the-show moment, what sort of mindset do you have to get into?
BUCKLEY:
Oh, it's a lot of work [laughs]. It's so much work that goes into it. I followed homeless people around New York City. My brilliant voice teacher, Paul Gavert, in those days, I studied with him for 19-and-a-half years, he really coached me into that particular mindset you speak of. But I was very inspired by the homeless women who crossed my path and created a portrait of them via the director Trevor Nunn.
Actually Trevor wrote the lyrics of "Memory." They had another song that wasn't as effective. And Trevor went home one night during the previews of the London production and wrote the poem that is "Memory" and brought it in. And then Andrew set it to music. And that became the song "Memory" and a great 11 o'clock number for the show.
PCC:
And is it still exhilarating to perform that song?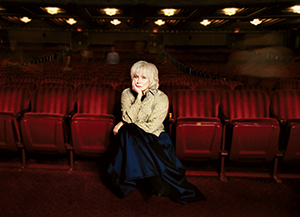 Photo by Myriam Santos
BUCKLEY:
Yeah, it's a place that I always venture to, as soon as I hear the opening chords of the music, I'm there in that same place. And Grizabella is this remarkable being, the character of Grizabella. And I feel like she's one of my great soulmates and one of my great teachers in the world. I've been singing her song since the fall of 1982 and I've sung it God knows how many times — a year-and-a-half on Broadway and then in concerts all over the world, with orchestras, with small ensembles, with just a piano. But it's always the same place. And the character's plight or her situation is the same. The way she perceives that place has kind of evolved over the years.
And the character herself, I think of her as one of my great teachers, one of my soulmates. And she continues to teach me things about life and living. And most importantly, how to see the world around you and appreciate the world, with a great, open heart and an exquisite tenderness. I love her. I love Grizabella.
PCC:
And then you had the opportunity to play another classic role as Norma Desmond in "Sunset Boulevard." How did you approach that? Did you put all thoughts of Gloria Swanson out of your head, so you could bring your own perspective to it?
BUCKLEY:
No, no, no. I watched her over and over. I watched the film over and over again and read biographies of many young silent film stars of that time and watched a ton of silent movies and stole choreography from the silent films that I saw. They were really like dancers, those silent film actresses. Everything was very physical, the way that they expressed themselves. And they were beautiful poets of image in the silent film time. They were also very, very young girls and they became huge stars before they were even grown. And they had immense wealth and were icons of the movies. But they were like children. So that gave me a lot of insight, all that research and study that I did.
And I think that my Norma is an amalgam of several — Norma Desmond as portrayed by Gloria Swanson… and Louise Brooks was another important influence. And another beautiful actress, Clara Bow. But there were other bios that I read that were very influential and helped me understand what happened in the world in that time period and how these girls were treated and who they were and how vulnerable they were and the lives of such great excess that they led. And then as soon as sound came into movies, many of them could not make the transition to being an actress who spoke. So they were kind of left behind and it was very sad.
PCC:
So was that another learning experience — to delve into that sort of character?
BUCKLEY:
Oh, yeah, of course, yeah. In every case, when I work, I work with a great psychologist. For some years, I worked with this wonderful psychologist, who passed away. Now I have a new lady that I consult with on my script. She helped me with the film "Split" for M, Night Shyamalan and the show "Grey Gardens," which I did in Sag Harbor and then last year in Los Angeles. So it can be very helpful to consult with a psychologist.
PCC:
Do you discuss with the director what you get from that sort of consultation?
BUCKLEY:
Not very much. It's really just for me to understand the psychological truth of what the character goes through, like in "Split," I worked with this psychologist on the script for months before we started shooting and then made notes, a lot of careful notes. And then the night before each scene, I would call her. She was very generous with me and talked through the scene, because in that case, I was playing a psychologist who works with patients with Dissociative Identity Disorder.
So I wanted to really know how the character, the woman, Dr. Fletcher, would be actually feeling moment to moment, and what her professional decorum would be relative to those personal feelings and how to manage that in the scenes with James McAvoy, who does incredible work in the film. He deserves every award of the awards season. I think it's one of the greatest performances by any actor I've seen in any medium — film, television, theatre, anywhere. It was a privilege to get to work opposite him and to do my second film for M. Night Shyamalan. He actually wrote that role for me. I did that film "The Happening" with him, as well.
PCC:
2 What is that collaboration with him like for you?
BUCKLEY:
He's a wonderful guy. He's really a very playful individual, mischievous and very joyful. He's just a splendid storyteller. And he has a team of people that he works with consistently, most of them, on his crew, have done most of his films. He shoots in Philadelphia only. And they have this like family of artists that he collaborates with. And I like to call myself part of that family. And so with two films, I think I can say that, at this point [laughs].
PCC:
And even with a film that's so intense, the shooting process can be fun?
BUCKLEY:
Oh, yeah. I mean, as soon as the camera stops rolling, we're all teasing each other, having a great time on the set. That's the way we alleviate the tension. He's a great practical joker, very mischievous. So that's fun.
PCC:
It must have been quite a process, preparing for that complex role.
BUCKLEY:
Yeah, it was. I loved the subject matter. When I was a kid, I was very influenced by "The Three Faces of Eve" and the great Joanne Woodward's performance in that. And then later the book "Sybil" and Sally Field's great performance in that film. And I just found the subject matter so fascinating, about how human beings that have been abused and are in tremendous anguish can create all different personalities to manage different aspects of their life, just to survive — such a creative response to pain and suffering. It's fascinating.
PCC:
You also mentioned Bruce Beresford's film earlier, "Tender Mercies." It seems like Beresford would have been a director who really connected with actors.
BUCKLEY:
I love Bruce Beresford. He's a wonderful director.
PCC:
What was his process like?
BUCKLEY:
He just sets up the environment for you and then lets you do your work. Beautiful. It's very theatrical in that way. Night shoots very theatrically, as well.
PCC:
And "Carrie," your first film, what was your experience like, working with Brian DePalma?
BUCKLEY:
I love DePalma. I think he's a great, great storyteller. That movie was especially fun, because there were like seven of us making our film debuts. And there was a lot of passion and enthusiasm on the set. It was really exciting.
PCC:
The film really transcended the horror genre, tapping into the angst of the outsider.
BUCKLEY:
Yeah, I think it's a very essential story. I think everybody's gone through some version of being bullied and identifies with the feeling of being the outsider, regardless of your circumstance. It's a very universal phenomenon.
PCC:
And then you get the spectacular death scene.
BUCKLEY:
[Laughs] Yes, it was pretty crazy.
PCC:
Was that a nightmare to shoot?
BUCKLEY:
It was fun. It was exciting. But I have to say, the fear was real. I wasn't acting in that scene, because I had not tried that contraption. So they didn't know if it was really going to work [laughs]. So they shot it with four cameras and I think we did four takes of me in the long shot and then they put the stunt lady in to take the hit, which was like a foot of balsa wood which was supposed to break against her body and then stop, not hurt. Fortunately it worked. And then they inserted me, after they shot that scene. They reinserted me into the shot for the closeup and then I was told to mimic her movement.
PCC:
And then "Carrie" the Broadway musical, you had the chance to play Carrie's mother. What was that whole experience like? The production is legendary in some ways.
BUCKLEY:
It was totally groundbreaking. Nobody had ever seen anything like that on Broadway. The show had its issues. It definitely could have used some cutting. And it had a definite style of play problem, like the sections of Linzi Hateley and I, doing the mother and Carrie, were kind of really raw emotionally truthful. And then the high school sequences were played very glibly and superficially. So it had a definite problem of cohesive acting styles. But I'm really proud of the work that Linzi and I did on that show. It was, I think, very groundbreaking in the musical theatre. And I'm really glad I got to do it. And I really loved the score by Michael Gore and Dean Pitchford. And the subject matter. I think it's a great piece. I was they glad got to redo it.
PCC:
And the Woody Allen movie, "Another Woman," a fantastic cast, what was that shoot like?
BUCKLEY:
Oh, it was wonderful. I'm in love with Gene Hackman. I have been for years. I did two films with him — that film and a film called "Wyatt Earp," directed by Lawrence Kasdan. I played Hackman's wife in that and the mother to young Wyatt. So I loved getting to be on the set with Hackman, even though I didn't have any scenes with him in the Woody Allen film. But I got to ride to work every morning with Gena Rowlands, who is one of my great heroes and an icon of film that I'm a devotee of. I just think she's brilliant. And that cast was brilliant. So yeah, that was really exciting. And Woody Allen's really a funny guy.
PCC:
And, as a director, was Woody really hands-off?
BUCKLEY:
Yeah, he just kind of sets up the circumstances, hires the actors and then figures that you'll know what to do [laughs].
PCC:
And then "Frantic," was that a totally different situation, working with Roman Polanski?
BUCKLEY:
Yeah, Polanski is much more detailed and he wants it exactly the way he wants it. And he doesn't want to hear any feedback about that. But he's one of our great filmmakers. And working opposite Harrison Ford was a gift. And plus we were shooting in Paris in the springtime [laughs]. It was amazing.
PCC:
As far as the directors, do you just adapt to their styles, is there a type of director that you prefer?
BUCKLEY:
I think one of the greatest directors in the world is Trevor Nunn. I've certainly done some of my greatest work with him. The other greatest director that I've ever worked with is Michael Wilson. He directed me in "Grey Gardens" and a Horton Foote play called "The Old Friends." And I also did "Camino Real" for him when he was Artistic Director for the Hartford Stage. He's a brilliant person and a brilliant, brilliant actor's director. I'll do anything for him. And Trevor Nunn. But I've been blessed — all the directors I've worked with, from Brian to Woody Allen, Kasdan, Bruce Beresford, Shyamalan — I mean, I love Night. Going to work for Night is just a joy, such a joy. And he makes you feel so appreciated and loved that you feel like you can do anything for him. But they're all different. Everybody's different in the way they approach things and their method. I'm really blessed to have worked with some of the greatest directors in the business. I'm fortunate.
PCC:
And they're fortunate, as well, that they had the opportunity to work with you.
BUCKLEY:
Oh, thank you!
PCC:
And you've also done quite a bit of TV over the years, some great guest shots, a hit series. Can that be just as satisfying as theatre or film, if it's the right project?
BUCKLEY:
It can be. Like I did a wonderful show called "Getting On" and I played opposite those guys — Will Scheffer and Mark Olsen created the show. It was an HBO series that starred Laurie Metcalf. And that team, Will Scheffer and Mark Olsen, the producers and writers, they also did that show with Bill Paxton, "Big Love," that long-running HBO show. They're amazing. And they asked me to do that role and it was great. They shot four cameras. You didn't know where the cameras were. So you had to relinquish all your self-consciousness and just act like you would on stage. So it's very freeing, because you don't know exactly what they're shooting. And I had never done that before on TV. You usually know what the shot is. So that was interesting. And I love working with those guys. They're really brilliant. They're geniuses.
And now I'm doing a recurring role on "Supergirl." Sam or Reign, she's kind of the villain on the show, played by Odette Annabel, beautiful, lovely, I play her adopted mother, Patricia. And my first episode on that show aired November 20th. And then I shoot two more in January. And I'm not sure how many… I think maybe I'll just be in four, I'm not sure how many I'll be doing. I think they said four. But you never know.
PCC:
Is that a fun sort of project to work on?
BUCKLEY:
Yeah. They're super nice. Everyone on that crew is very, very nice. And the team is lovely. They shoot in Vancouver. It's beautiful there. It's a wonderful job.
PCC:
And a successful series, "Eight is Enough," is that sort of steady gig enjoyable? Or does it becoming confining after a few years?
BUCKLEY:
Well, it was shocking to me, because I'd never done a TV series. And it was like I was working in a factory. And the production company, Lorimar, they had had one hit — "The Waltons" — they were some weird guys. They were not so nice. But the team — like Dick Van Patten is a lovely man. And the first two years on that show… I was the stepmother and they had shot six episodes with a wonderful actress named Diana Hyland, as the mother, who passed away shockingly from cancer. So then they auditioned everybody that was conceivable for the part. And I had done this film "Carrie" as the gym teacher, Miss Collins. So the assistant, at the point, Brandon Tartikoff, the assistant to the head of ABC, thought that Miss Collins was the right prototype for the character Abby, to be the stepmother. And he kept pushing them in that direction. So they tested me twice and then I finally got the job.
And I didn't really know anything about the show, so I kind of blithely took the job without being clear about it. And then I got out there, I was in my late 20s, I think I was 29 years old, and had done one film. And they kind of pitched me that the part was going to be this kind of hip teacher working on her doctorate, a traveling tutor, and then once they married the character into the family, they just kind of stuck me in a muumuu and put me in the kitchen [laughs], so I was like, "Wait a minute, this is not what we talked about."
And their mentality about American women at that point was very archaic. It was kind of out of the fifties. So I had to really represent the American women's point of view. Fortunately I did and it created kind of a balance on the show that the show really needed. And light and shade. It was funny, but it was also dramatic. So I felt really grateful that I did the job.
It was like four years in a very intense school of big business show business, like how to negotiate with heavy-duty dudes who were scary. And just how to survive in what was a very difficult work situation. But I learned a lot. And I went to my dailies every day, because I was an okay actress, but I wasn't as good as I wanted to be. And I was still studying acting with Stella Adler, out there in L.A. And so, doing 29 one-hour film episodes a year for four years really gave me a practice place to learn to become a better actress. So by the time I got out of there, I was a fairly decent actress and then, out of that, got "Tender Mercies" and "Cats." So that turned out to be a good thing. It was a great place to study and grow. It wasn't easy. It wasn't easy at all [laughs].
PCC:
Stella Adler, that must have been quite a growing experience, too.
BUCKLEY:
Yeah, she was a great teacher. I never put my work in front of her, because she was too intimidating, but I always sat in the back row and took copious notes. And I learned as much, watching her work with other actors, as I ever would have learned doing my own work. It was fascinating.
PCC:
Are you teaching still?
BUCKLEY:
Yes, I've been teaching for over 45 years. I teach twice a year, sometimes three times a year, at the Terry Schreiber School [in Manhattan]. I just did a workshop for them — song interpretation, monologue workshop — in October. I'll be doing another one in the spring of 2018. And I'll also be teaching an extended workshop, for a couple months, at the Modern Art Museum in Fort Worth Texas. And that culminates in a concert for my students. And then I teach in June every year in Denver. And then at various universities, as I'm asked to teach. It's fun.
PCC:
Is it gratifying to be able to pass along all these things you've learned over the years?
BUCKLEY:
It really is. Everything I do well, I've learned from great teachers. So I feel it's kind of my responsibility to pass on the tools that I've been so blessed to receive, because they're most excellent tools and they really, really work. So I pass them on.
PCC:
And do you feel that you're still learning in some ways?
BUCKLEY:
Always, yeah. Always. If I weren't, I'd give it up [laughs].
PCC:
Do you feel that some of your best work is still ahead of you?
BUCKLEY:
That's my plan. I hope. My feeling, my intuition, from the time I was really young was that I had time to grow and that I didn't have to be urgent about it, because I always knew that my best work was going to be in my later years. So I just kind of woke up over the past two years and realized — these are my later years! [Laughs] So it was kind of a shock to realize that.
PCC:
At this point, what is the most rewarding aspect of your life in acting?
BUCKLEY:
All of it. The most fun is working on a project that you're really excited about with a team of people that you really admire. That's the goal. It's fun when you love your teammates are fascinated by what they do. And then you're just one of the team and it's a great experience.
PCC:
And you always enjoy new challenges?
BUCKLEY:
Yeah, that's part of why I create these new shows every year. It's really fun.
For this latest on this artist, visit www.bettybuckley.com.
And we hope you'll also want to read our earlier interview with Ms. Buckley, which follows below:
---
BETTY BUCKLEY: MAGNIFICENTLY MULTITALENTED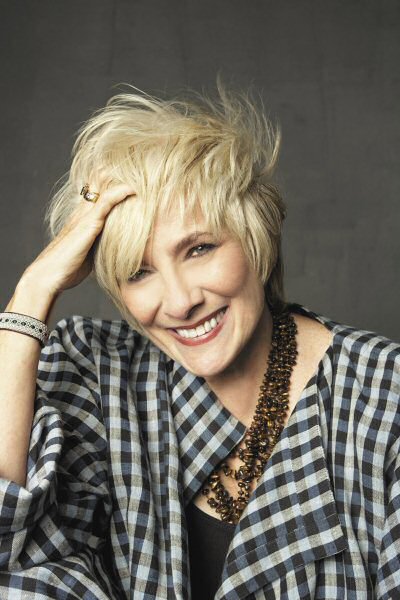 Photo Credit: Scogin Mayo
By Paul Freeman [January 2009]
Some revere Betty Buckley for the thrilling vocals they've heard on such albums as her jazz-oriented "Quintessence" or the new release, "Bootleg: Boardmixes From The Road." Some know her best from Broadway hits like "Sunset Boulevard" and "Cats" (She made the song "Memory" unforgettable).
Others fondly remember Buckley as the mom on TV's "Eight Is Enough" or as the well-meaning, ill-fated high school teacher in the cult film "Carrie."
Everyone who sees her perform live comes away a fervent fan. Buckley plays The Rrazz Room in San Francisco's Hotel Nikko, Oct. 30-Nov. 4, presenting "Ah, Men, The Boys of Broadway." [therrazzroom.com]
Long based in New York, after 9/11, Buckley decided to return home to Texas, where she now lives on a ranch and rides cutting horses competitively.
She was raised in Fort Worth. Her mother was a singer-dancer. A professional performer by her teens, Buckley earned recognition through talent competitions and beauty pageants, as well as musical theatre. She studied at Texas Christian University.
Though her father opposed a show business career, independent thinker Buckley braved a move to New York. On her first day in the city, she landed a plum role in the Broadway musical "1776."
Buckley's memorable film roles include Bruce Beresford's "Tender Mercies" (in which she sang the Oscar-nominated song "Over You"), Woody Allen's "Another Woman" and Roman Polanski's "Frantic."
In addition to playing Abby on "Eight Is Enough," her TV appearances include "Without A Trace," "Law & Order: SVU," "Monk," "Chicago Code" and the Spielberg/Hanks HBO series "The Pacific."
Throughout the years, meditation has enhanced her singing and acting. Teaching song study and scene study, Buckley incorporates not only meditation, but also universal spiritual philosophy.
POP CULTURE CLASSICS:
"Quintessence" is a beautiful album. Is it one of your most jazz-oriented efforts?
BETTY BUCKLEY:
It is. It's really fusion music. All kinds of jazz, one could say. The spirit of jazz, improvisational, expressive, interpretative. I was taught by a lsinger in New York City. I studied with him for 19 years. His name was Paul Gabbert. He died many years ago and I now study with a woman named Joan Leder, in New York.
My great love has always been jazz musicians and jazz, because of the parameters of the creativity and the expression.
I've had, thankfully, a lot of success on Broadway, so people think of me as a Broadway singer. But I'm kind of just a singer singer [Laughs], in reality. My taste in music is very eclectic, from standards of the American Songbook to contemporary singer-songwriters of my own generation and some from the more recent generation, as well. I like country music. It's wherever I find a good song - category doesn't matter to me.
In a world that needs to categorize and label to feel comfortable, it's not always applicable. People ask what kind of music I do. Well, it's music. It's just a bunch of really pretty songs that we have our own expression on. We're like painters. The songs are like paintings about love and relationships.
PCC:
Being in Texas, with your horses, is that a good way to get away from the business for a while and refresh yourself?
BUCKLEY:
It is. I don't feel like it's getting away from the business. I've just changed my base of operations. I lived in New York from when I was 21 until five years ago. I moved back here. After 9/11, I was really driven to move back home and live on a ranch and ride horses. I love cutting horses especially, because they're just brilliant horses, really, really talented, athletic creatures.
I'd always wanted to do that, from the time I was 12 and had neglected following through. After 9/11, I was like, 'Wow, this is part of my dream and I've got to get around to it.'
PCC:
What was the original dream? Was it Broadway or movies or records?
BUCKLEY:
My original love was music. I loved great jazz instrumentalists and great jazz singers, the great lady singers. My mother discovered that I could sing when I was very young. I studied dance from the time I was three, because my aunt was a dance teacher. I just had a great love for all of that. Then my mother introduced me to the musical theatre when I was 11. And I thought that was the coolest thing I'd ever seen. It was the original Bob Fosse choreography of 'The Pajama Game.' It was choreographed and directed by these two guys who had danced with him in several shows in New York.
And, it just so happened, after I had seen that show, that they decided to move back to Fort Worth and open a dance school, after working for a number of years on Broadway. I told my mother that I really, really wanted to learn how to do this song 'Steam Heat' from 'Pajama Game.' So she had seen that these guys had advertised their school, so she called them. So I studied with them. And they were incredible mentors.
My first professional job, I was 15, and I did a number of shows at the regional theatre in Fort Worth. Went to college at TCU and minored in Theatre there and majored in journalism to please my father.
Then, I was signed by an agent when I was a junior in college, a large agency, because I'd sung at the Miss America Pageant, as a guest entertainer. So from there, this agent kept encouraging me to come to New York, which I was kind of afraid to do. It's what I wanted to do, but my father was a very strict guy and was absolutely opposed to my being an actor or a singer.
So I finally had the courage and the belief about my talent. And through this man, this agent and producer, Roger Hess' encouragement, I moved to New York and I got my first Broadway show my first day in the city. That was '1776,' the musical. I played the role of Martha Jefferson in that. So it kind of got out to a rip-roaring start, fortunately. I don't know if I would have had the courage to hang in there, if I had not started working.
PCC:
Was your mother a performer?
BUCKLEY:
She was, yes. She'd been a singer/dancer when she was a young person. That was part of the reason my father fell in love with her. But after they married, he told her she couldn't do it anymore. [Laugh] So she was thrilled when she found out I had talent and she really facilitated that. I tease her that she's a stage mother, like Mama Rose. She denies it. [Laughs]
PCC:
Hopefully more encouraging than demanding?
BUCKLEY:
Well, there was a demand to it, too. I was a child performer. When I was 11, it was my idea. It was what I wanted to do. But then she started getting into the talent show thing and entered me in all these things. And I didn't much care for that kind of competition. I liked competitions with horses. But I didn't like competitions among children.
And then I was kind of recruited to be in the Miss Fort Worth pageant. And I didn't like pageants. I have to say, that each thing I did, prepared me for the next thing. So I'm glad she pushed. And the funny thing about my father, he, as opposed to show business as he was, he didn't mind pageants, which I really didn't understand. I thought, 'This is nuts!' [Laughs] So I was pretty much an independent thinker from an early age, which he had raised me to be. There were things I liked and things I didn't like.
I remember getting really sleepy whenever my mother would want me to go perform. I would do things like wash my hair at the last minute [Laughs]. It would freak her out. I'd be walking out the door with my long, kinky hair, all wet, and I was supposed to perform in an hour. And she was so mad. I didn't have a hair dryer, so I got the vacuum cleaner and we reversed the flow on it, so my hair dried like some kind of alien creature [Laughs]. Little things like that. There was a little conflict in it all, because my father was so one way and my mother was another way. And in between, I was this little girl with talent, who had her own ideas of things. It was kind of a funny thing.
PCC:
It's great that you wound up being so grounded.
BUCKLEY:
[Laughs loudly] It wasn't that easy. I had to work really hard on that. It's a lifetime of work, getting beyond all of that. It's been a lot of commitment and a lot of work.
PCC:
I read that you had actually used meditation to enhance the acting. Is that something that also benefits the music and other areas of your life?
BUCKLEY:
Yeah, absolutely. It creates a center to your life and a capacity for a really deep focus. All good work, basically, is about deep focus. Meditation can teach your mind how to reach that. The obstacle to accomplishing anything is a scattered mind.
I've been a teacher for over 35 years. I teach song interpretation and sometimes scene studies. And I teach my students how to meditate and how to use a universal spiritual philosophy, as a means for making choices, as an actor, a singer, a storyteller.
PCC:
Is that Buddhist-related?
BUCKLEY:
I've studied comparative world religions for a lot of years. In all religions, the core truth is the same. It gets different when it gets into the rules and practices of different religions. But the core truth is always the same, which is interesting and wonderful.
I teach that essential truth, which is basically that we're one being, one consciousness, one humanity. I have a heart that's beating and wants to love and be loved. You have a heart that's beating that wants to love and be loved. That's the point where we're the same. Our experiences, on a personality level, in terms of bodies that we all walk around in, that all appears very diverse and different. But within that, is this unity. When you tell your stories from that level of essence and unity, you can really connect with other people, as opposed to telling the stories from a point of separation.
PCC:
So the performers you're teaching are able to build a more profound rapport with the audience through that sort of belief.
BUCKLEY:
That's correct. But basically, I teach meditation, how to focus the mind, so that they can really concentrate You can't do good work without the ability to concentrate. I teach them, in the first class, to redefine fear. All performance is a high-stress experience. It requires a lot of adrenaline to perform. And a lot of people mistake that adrenaline for what we normally name as fear. It's not necessarily fear. It's just the energy that you need to do the work that you want to do. And lot of young performers get crippled and paralyzed by the notion of how scary it is. And you redefine it and realize that it's not really scary, it's the necessary energy that you've got to have to perform.
Then, if that's the case, if you have that much adrenaline and that much energy coming into play, how do you learn to be still within that and shape that energy? The only means that I've found, so that I can do this with any sense of groundedness and focus, is the meditation. So the meditation enables the focus. Then it's about making the choices. So how do I make the choices for the story, that connect with my audience?
We need to remember this essential place where we all live, where we can all communicate. Problems come when we make issues in our own minds, with the notions of separation and difference. If we remember this essential place where we all live in and just who we really are, then immediately you meet perfect strangers and you know them well. And so that connectedness is immediate. And that's really very wonderful. So I teach them what the essence of communication, how to look people in the eye and remember the truth, as opposed to, most performers are telling audiences what to think about them and it becomes like a self-conscious experience, as opposed to an experience of truth and essence and service. A performer's job is really a service job. We're there to serve the audience's experience.
I think with all good performers, it is that way, whether you go to see singers or dancers or actors. If you have a wonderful time, you've had a really personal experience inside yourself. You've felt the things that are within you and you give the performer credit for that. It's kind of mysterious.
You go to a movie and you get into the story and you just drop your day and drop your stress and you flow with the story. Somehow it becomes a cathartic experience. You think, 'I remember myself, my true self, my feelings and my heart and who I really am' and then you walk out of that movie and you're really refreshed, because you're you again, the real you.
PCC:
So with that perspective, even with all the satisfaction you get from teaching and from working with the horses, are you as fulfilled as ever by performing?
BUCKLEY:
Oh, beyond. I love it. I can't even tell you. The older I get, the more of an absolute precious, blessed treasure it is. It's just incredible.
That's one of the great things about getting older. I always marveled at the great performers who continued to get better and better as they aged. That's an amazing thing. There's such a wealth of knowledge and wisdom that can't be taught. You have to live. You have to live to achieve that ease of being able to just stand there and be able to tell the truth within your song or your story.
PCC:
So does your added life experience enable you to build richer, more nuanced performances?
BUCKLEY:
Yes. Nothing stays the same, that's the other thing. Certain songs don't fit any more. You try them on and they don't fit. And you find songs that really speak to the heart of the matter now. That's always the mission. Some songs grow with you.
'Memory,' for example, just keeps changing and evolving ever so subtly. And that's really an interesting experience, to sing a song, as a character, for all these years. For that character to keep revealing new things to you, that's really fascinating to me.
PCC:
With this amazing, diverse career that you've built, are there particular goals you're still aiming towards?
BUCKLEY:
Yeah, there are bunches of people I'd still like to work with, film directors. And I'd love to do another couple of Broadway shows. It's all about the material and who the collaborators are, I think I've got a couple more of those in me, given the opportunity. And I'd like to create more music, as time goes by.
For the latest on the fabulous Betty Buckley, visit www.bettybuckley.com.