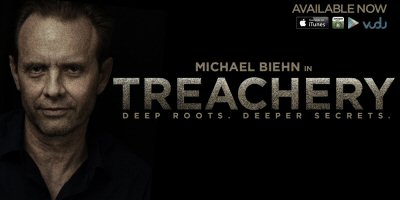 MICHAEL BIEHN:
From "Terminator" to "Treachery," Riveting on Screen

By Paul Freeman [September 2014 Interview]

Classically cool, yet sizzling with white heat, a trace of a sneer, and eyes burning with intensity - that describes Michael Biehn's commanding screen presence, from "The Terminator" to his latest remarkable performance in "Treachery."

Now available on iTunes, Amazon Prime, Amazon Instant Play, Google Play, VUDU, Vimeo on Demand and across Cable VOD, "Treachery" proves to be a compelling, suspenseful drama. The project was assembled by Blanc/Biehn Productions, the company created by Michael Biehn and his wife, Jennifer Blanc-Biehn.

Michael Biehn tells Pop Culture Classics how "Treachery" began. "I believe it all started with Jen - my partner and wife - and Travis [writer-director Travis Romero] watching a recent Roman Polanski film and wanting to work together on something in a closed space with turmoil in relationships. Then of course once they came up with the story and Travis wrote it - Jen was putting it all together."

"Treachery," distributed by Traverse Media, centers around an intimate gathering that includes an alcoholic father (Biehn) and his estranged son (Matthew Ziff). When the participants are trapped inside by a storm, dark,volatile secrets are revealed. A strong sense of foreboding builds.

Biehn did not draw on personal relationships to convincingly portray the father-son friction. "I do keep that separate. But I loved my Dad and I love my boys." [Biehn, 58, has four sons, ranging in age from 11 to 30]

He did find the character to be relatable. "Well, I used to drink, so I understand that part. And I do understand the flaws of being human, as most of us probably do."

The entire ensemble offers effective performances. Sarah Butler (of the "I Spit On Your Grave" remake) is especially arresting as the son's girlfriend, an ingenuous young woman drowning in deception. Blanc-Biehn is engaging as a colorful guest.

But what really makes the film worth seeing is Michael Biehn, as the domineering man who finds himself in a situation that's quickly unraveling, closing in on him. Besides the electricity crackling on the surface, Biehn always hints at a whirlwind of emotions bubbling beneath.

"I like the man in control suddenly having to look and feel cornered, an idea that Travis built here," Biehn says.

Of filmmaker Romero, Biehn says, "He is a wonderful writer, really trying to understand humans. In 'Treachery,' Travis explores the human conflict and the relationship puzzles that exist. He's a wonderful talent, as well as a great friend."

Shooting "Treachery" provided an unusual challenge for Biehn. "We filmed in our home," he says, laughing. "And so the place was redressed and upside-down. And me and Jen stayed at a hotel down the street."

Originally from Alabama, Biehn studied drama at the University of Arizona, before hitting Hollywood. Theatre's attraction? "The girls I could act with as a young boy," he laughs.

After roles in such films as "The Fan" and "Lords of Discipline," Biehn's charismatic presence was one of the big reasons for the cult success of 1984's "The Terminator." "I had no idea at the time, the impact the film would have," he says.

Biehn again worked with director James Cameron on the classic sci-fi actioner "Aliens" and, subsequently, "The Abyss." Of the latter, Biehn says, "It was a demanding shoot for all but Jim, who was there before all of us and still working when we were heading to the hotels to sleep - Jim was always working longer."

Biehn had the memorable role of Johnny Ringo in the well-received Wyatt Earp epic western, "Tombstone." "I loved working out the death scene with Val Kilmer. We spent eight hours the day before filming, working through it together."

He enjoyed starring in the CBS TV series of "The Magnificent Seven." He fits well into the western genre. Maybe one day he'll produce a cowboy film. "Yes, this is a definite possibility," he says.

Biehn, whose film credits also include "The Rock," "The Art of War" and "Clockstoppers," played Sheriff Hague in "Planet Terror," the Robert Rodriguez portion of the "Grindhouse" project. Rodriguez encouraged Biehn to start making his own films.

That message hit home. Biehn wrote, produced, directed and starred in the tense, "The Victim." He counts it as one of his proudest achievements in film, along with "The Terminator," "Tombstone" and "Aliens."

"The Victim" launched Blanc/Biehn Productions. He tells Pop Culture Classics, "We had said that, if 'The Victim' went well, we would continue with a production company."

The company has an exciting slate of films planned. Currently in post-production is a remake of the dark, disturbing 2012 Chilean thriller, "Hidden in the Woods." Biehn says, "It's more Americanized. It's the same subject matter, but more mainstream, with certain aspects eliminated. Jennifer and I are proud of this film."

He's also excited about "Fembot," now in pre-production. "It's the first robot movie I have done since 'The Terminator."

As for his taste in films, Biehn says, "'Taxi Driver' really impacted me. I love a good story."

Through the production company, Biehn hopes to find good stories that will beguile filmgoers for many years to come.

"One of our biggest goals has been giving new and up-and-coming talent opportunities," Biehn says. "The fun part of us making our own films and giving new directors a chance is that we all collaborate."