BILL MUMY:
FROM CORNFIELD WISHES TO LOST SPACESHIPS TO ATOMIC SKULLS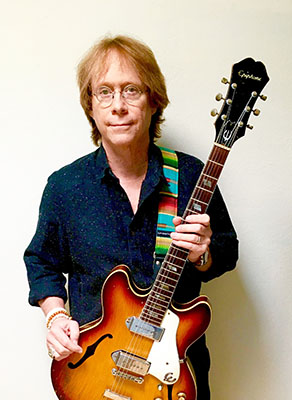 Bill Mumy; photo by Eileen Mumy
In This PCC Interview, Mumy discusses "Twilight Zone," Alfred Hitchcock, Brigitte Bardot, "Lost in Space" and his new rock album
By Paul Freeman [September 2017 Interview]
Yes, you know Bill Mumy as that uncannily effective child actor who made indelible impressions in "The Twilight Zone" and "Lost in Space."
But you should also know him for his music.
Most recently, Bill Mumy (pronounced Moo-Me, by the way) got together with a couple of very talented friends, formed a group called Action Skulls, penned some terrific new tunes and began recording.
For this project Mumy teamed with Vicki Peterson (The Bangles) and her husband John Cowsill (of The Cowsills and touring drummer for The Beach Boys).
When you hear Action Skulls' newly released debut album, "Angels Hear," you'll say, "It's good he did that. It's real good."
From the irresistible Merseybeat feel of the opener, through Bo Diddley beats, folk-rock jangle, tantalizing twang, bluesy slide, rockabilly edge and psychedelic swirls, Action Skulls delivers the goods. Whether on joyful rockers or moodier excursions, the band creates a convincing, distinctive energy. Mumy, Peterson and Cowsill are all exceptionally strong, expressive singers. They harmonize beautifully. And the instrumentation perfectly complements the great songwriting and engaging vocals.
Also heard playing on most of the tracks is longtime Neil Young bassist Rick Rosas, who tragically passed away before the album was completed.
Such diverse songs as "Mainstream," "If I See You in Another World," "Map of the World," "Faith Waltz," "Feed My Hungry Heart," "Standing on a Mountain," "The Beast and the Best" and "The Land of Dreams" all captivate. "Angels Hear" is an album you'll want to listen to over and over again.
As an actor, Mumy has been featured in such memorable movies as "Palm Springs Weekend" (with Robert Conrad, Troy Donahue, Stefanie Powers and Connie Stevens), "Dear Brigitte" (with James Stewart, Brigitte Bardot and Fabian).
In his teens, he made "Bless The Beasts and The Children" (directed by Stanley Kramer, with a hit title song by The Carpenters). And later Mumy appeared in "Papillon (starring Steve McQueen and Dustin Hoffman).
On the small screen, Mumy has the most impressive list of credits imaginable. He's a walking chunk of TV history. He appeared on — to name but a few classic series — "Alfred Hitchcock Presents," "Dr. Kildare," "The Dick Powell Theatre," "Have Gun — Will Travel," "The Jack Benny Program," "Wagon Train," "Perry Mason," "The Fugitive," "Walt Disney's Wonderful World of Color," "The Adventures of Ozzie and Harriet," "The Munsters," "The Virginian," "Ben Casey," "I Dream of Jeannie," "Bewitched," "Here Come the Brides," "Rockford Files," "Matlock," "Star Trek: Deep Space Nine" and "Babylon 5," on which he had a regular role as the alien Lennier (1994-98).
Mumy is fondly remembered for his role as Will Robinson on the 1965-68 series "Lost in Space." Another indelible performance came in one of his three "Twilight Zone" performances, in "It's a Good Life," portraying little Anthony Fremont, who could read minds, transform matter and terrorize everyone around him.
The multitalented Mumy has pursued many creative avenues. He has written episodic television scripts. He has also written comic books and graphic novels for Marvel, DC, Dark Horse Comics and others. He co-created the popular children's TV show "Space Cases." Mumy is currently a consulting producer on the hit television series "Ancient Aliens."
He has an extensive resume in voiceover, including "Rescue Bots," "Ren and Stimpy," "Scooby Doo," Batman: the Animated Series," Steven Spielberg's Animaniacs" and "Buzz Lightyear: Star Command."
And then there's the music. The eternally youthful Mumy (if you didn't look at his early credits and do the math, you'd assume he was at least a couple of decades younger than he is) has been singing, writing songs and playing guitar (as well as numerous other instruments) for much of his life.
Mumy has been in numerous bands. For more than 30 years, he has worked with pop-rock group America — composing, producing and performing.
As half of the clever, offbeat Barnes & Barnes duo, he fashioned numerous albums and videos, including "Fish Heads," which Rolling Stone listed as #57 among the Top 100 Videos of All Time.
Mumy is an Emmy-nominated composer who has contributed countless songs and themes to TV shows and films. In addition, he has released several extraordinary solo albums, the latest being "Velour."
And now there's Action Skulls. Give it a listen… or Mumy might just wish you into the cornfield.
POP CULTURE CLASSICS:
The Action Skulls grew out of the three of you singing together at a party?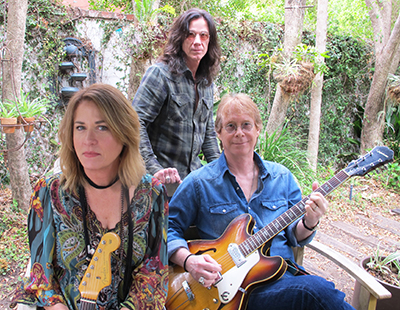 Action Skulls, left to right, Vicki Peterson, John Cowsill, Bill Mumy; photo by Angela Cartwright
BILL MUMY:
Yeah, that actually was the true catalyst for it happening. John Cowsill and I had been talking about doing some kind of project together, whether it was just him playing drums on one of my records or something. We had been talking about that for a while. We have mutual friends. I knew Vicki, but only peripherally, from saying hi at gigs and stuff.
We were all at Peter Leinheiser's, who's a Gibson guitar guy [Senior Director of Entertainment Relations for Gibson Guitar Corp.] He and I used to be in a band together. We were at his Christmas party, which is a few doors down from Angela Cartwright's, who I did "Lost in Space" with and I've been friends with since I was a little kid. And they both have these annual holiday parties, that usually are on the same date.
So my wife and I and John and Vicki were hanging out at Peter's and I said, "Hey, we're going to split. We're going over to Angela's." And John was like, "Angela Cartwright! Ooh!" [Laughs]. I said, "Come on over." He goes, "We can't just crash her party." I said, "Of course you can. You're more than welcome. Come over with us." And so we did. And it's a big party and everybody had a nice, welcoming party hang. But then we sort of slowly drifted over to their upright piano, sat ourselves around it and literally, we probably sang for like four hours, Beatle songs, just classic pop stuff that we all like — The Beatles, Beach Boys, Byrds, The Band — you know, all those "B" bands [laughs].
But there was a really natural and interesting blend between the three of our voices. And all three of us are pretty good harmony singers. So parts kind of fell together quickly without anybody thinking — "Oh, let me find a part." Between that and the egg nog [laughs], we were like, "Wow!" John and I were really excited. Vicki was into it. We were like, "We ought to see what we could do with this, with some original material." John and I were very, very gung-ho. And Vicki was like, "Yeah, yeah, sure" [laughs].
PCC:
And the 60s sensibilities, did they just naturally seep into the original music?
MUMY:
I guess. Nothing was forced. Nothing was like premeditated. But we did agree that night, at like 2:30 in the morning, "Yes, let's see what happens. Maybe we could record or something." I have a studio in my house. And Vicki has a little studio. Anyway, I got really inspired and I started writing songs right away — like a lot of songs. Or a lot of half-finished ideas for songs. Then I would just stick my iPhone in front of the table or whatever, so she could see the chords I was playing and sent them off to her like, "Hey, do you want to finish this one? Hey, do you like this one? What about this?" [Laughs] And I really sent like dozens of songs within a week or so. And I think that they were a little freaked out by how prolific I can be at times [laughs].
And it was all synchronistically falling together, because within a week of that party, I was at a gig and Rick Rosas was there. We didn't really know each other. I was with America. And we were hanging and talking. And I said, "I'm putting together this project with John Cowsill and Vicki Peterson." And Rick was like, "Wow! I know John. I've played with John and he's a great drummer. Do you guys have a bass player?" [Laughs] This is like the best bass player in the world asking me if we have a bass player. "Yeah, it's you! You're in!"
PCC:
And what was he like to work with?
MUMY:
Oh, it was amazing. And he was great. And we left that gig and I was thinking, "Well, that was really flattering. And that was really nice. And that could very easily turn into a "Let's do lunch" kind of a thing. And at about 1:30 that morning, the night of the gig, Rick texted me. He was like, "You know, I'm really serious. I'd love to play with you guys." So it just fell together quite quickly and naturally. And we went into ReadyMix Music recording studio, which is a vintage room that still has a great, vintage vibe and all the modern Pro Tools stuff. And we got these tracks together, live, basic tracks — two guitars, bass and drums — all in the same room, looking at each other. It felt so great. It was really a pleasure, making this music.
PCC:
Do you think that's a key — to not have tons of overdubs and be able to look each other in the eye and have that interaction going?
MUMY:
I think that's a key to a basic foundation. I mean, there's plenty of overdubs [laughs]. But we laid down foundations that way and eventually they were sweetened and layered and I played keyboards. And we went in and did all these pads and percussion and vocals. I mean, it's a produced record. It's not like some live, really raw thing. But the process of laying down the basic foundation, the soul of the music, it wasn't sweetened. It wasn't auto-tuned. It wasn't "Let me cut this all up and put it together." It was pretty rough jangle. It just felt really great. And it was really a trip to be part of a group with all of these wonderful musicians, vocalists.
And it took a while to get the bulk of the record recorded. You know, John is in The Beach Boys. And they play like 200 gigs a year, all over the world. And so if you're gigging 200 nights a year, you're probably traveling 250. I mean, they're always out there. And then that year, Vicki was doing a Bangles thing. I was making a movie and a solo record. And Rick had been drafted into Neil Young's European tour with Crazy Horse. The Crazy Horse bass player had a heart attack or something and Rick had to take his place.
So there was a big hiatus in between getting the basic tracks done… because everybody was off in these other commitments, although we all stayed in touch — texting and email communication. And I had the masters here. So I added some keyboards and things like that and kept everybody in the loop, as I did little bits and pieces. And then Rick did the Meryl Streep film, "Ricki and the Flash." And he died. And it just blew our minds, because we had just been talking. We had eight tracks recorded with Rick. And then he passed away so suddenly. And that really put everything into a frozen mode, suspended animation. It just shut down, because we were stunned and didn't really know how to react to that loss.
Meanwhile, John's making a living in The Beach Boys. Vicki is doing this and I'm doing that. So it took a while before we kind of regathered, the three of us and really started listening to what we had done with Rick and felt, "Wow, it's really good. The spirit that we made these tracks with is so solid and positive. We ought to finish this." So then we got back on the horse and there were three additional songs we recorded after Rick's passing. I played bass on two of them and John's son, Will, played bass on the other. So it's still very much a family kind of affair. And there's only four musicians, well, five, because Will Cowsill plays bass on one song. But that's it. There's nobody else. Nobody else. No ringers [laughs] on the record. And we finished it.
PCC:
Is there a possibility there will be an Action Skulls tour at some point?
MUMY:
There's always a chance. John's the only one who can really answer that. We played a couple of acoustic things. We went out and played four songs the other night, which to take this record down to two acoustic guitars is an interesting challenge. But it sounded good. And it was really fun. But it was musically ambitious [laughs] to try it, to say, "How can we do this with just two guitars?" But we went out and did a few nights and it was a pleasure to harmonize and play live.
I would love to think he would. And I know John would. But it's hard to tell somebody, "Hey man, forget about your day job. I know you're playing the Royal Albert Hall this weekend [laughs], but we could be opening act at the El Rey!" You know what I'm saying? [Laughs] I don't want to encourage somebody to give up his gig so that we can go play a handful of gigs for pizza money. But I think we will play more live together. I think we will have a follow-up. I feel like we're a band even though we're not able to be in a bus together [laughs] heading up and down Hurricane Central, which I'm not sure any of us wants to do anyway.
PCC:
I read that your first musical inspiration was actually The Kingston Trio, rather than a rock artist.
MUMY:
Well, you know, when I was a little kid, I was extremely passionate about L.A. music — Jan & Dean, the early Beach Boys and Ricky Nelson. I mean, I listened to all that stuff. I was going back and forth to studios in the morning and the evening, when I was five, six years old all the time. And the radio was always on. I mean, I was very passionate into that music.
But in 1964, I was still little, but that's when a friend of mine turned me on to the Kingston Trio. And that particular folk music and that particular blend of voices and energy, songs that were telling stories, hit me harder than anything else, hit me harder than "Rama Lama Ding Dong" had. Although I still loved The Beach Boys and Jan & Dean and all that. But folk music, yeah, really hit me like a religion. That was the music that made me want to learn how to play all those songs, so I started studying and became a musician and quickly became a songwriter. And that's kind of the path I've been on since I was 11.
And I find that kind of Kingston Trio formula — I know it sounds a bit ridiculous, but it isn't — I applied that formula to Action Skulls quite a bit. If you think about the Action Skulls record, the majority of those songs have the lead vocals on the verses divvied up. The first verse might be Vicki, then the second verse might be John, then the three of us come in for a three-part harmony on the chorus, and then I'll take the third verse, etc. And that happens quite a lot on the album. And that's really from The Kingston Trio and other bands that have done it over the years… but not that much. Traveling Wilburys did it a little bit. The Band did it a little bit. You'd hear songs that Levon started and Rick Danko or Richard Manuel would take a verse. But The Kingston Trio did it all the time. I have to say that that was the creative catalyst for us divvying up the vocals.
PCC:
Yeah, I thought that was a cool aspect of the album, but I didn't make that connection.
MUMY:
Yeah, I don't think most people would make that connection [laughs]. And it's not really my goal in life to resell The Kingston Trio. And certainly Action Skulls is electric, we call it "Canyon music" [the three live in the L.A. Canyons]. It's got its rough edges. It's not as smooth as a 1958 or 1959 Kingston Trio record. But that is where it came from.
PCC:
And then, growing up, did you segue into the folk-rock? Or did you get into the British Invasion stuff?
MUMY:
Well, who would have not been affected by The Beatles? I mean, I was watching on February 9th, 1964 [their "Ed Sullivan Show" debut], always loved The Beatles. But I was pretty much grounded — I mean I liked all that stuff that was good — but I was pretty much a folkie. That led to Marta Kristen, who was my sister in "Lost in Space" — we started "Lost in Space," January 1st of 1965 — and she turned me on to the first Byrds albums. Those were a big influence on me, because I had already been into Dylan.
Pete Seeger, Bob Dylan, The Kingston Trio, Woody Guthrie — that was really the stuff I was absorbing as a kid. But folk-rock came along — The Byrds, the Lovin' Spoonful, Mamas and Papas, eventually Buffalo Springfield — those were the type of bands that really resonated with me… in a way that they still do. I dug The Doors, Steppenwolf, all those other bands at the time, too. But I think the folk-rock stuff is more in my wheelhouse.
PCC:
Then when you later went on to work with the band America, what did that experience mean to you?
MUMY:
It meant making music with my friends. They were really good friends since the day they came to L.A. I was in a band that was recording at Record Plant, an acoustic trio, for years, called Redwood. And when the [America] guys were playing the Whisky for a week, they came to Record Plant to a couple of Redwood sessions that Mike Stone was engineering and co-producing. And they ended up making their second and third albums with Mike at Record Plant.
My friend was living in this apartment building with most of the band from Three Dog Night and they all — Gerry, Dewey and Dan — all got apartments in that building. And we were very much pals from the very beginning. And I still talk to Gerry and Dewey almost every day. It was almost just making music with your friends, whether I was on stage with them or whether they were singing on a Barnes & Barnes record or we were writing songs for their records, it's just always been a very collaborative, open, friendly, easy thing.
PCC:
You had a lot of success with the Barnes & Barnes thing. Do you hope to revisit that duo at some point?
MUMY:
I'm always open to that. You know, Barnes & Barnes is like doing a television series. It's like a character — Oh, that was a lot of fun to do. I could always go back to that. Barnes & Barnes, I played differently. I approached every instrument kind of differently. It's really acting. And with Barnes & Barnes, you're coming from these unhinged [laughs] kind of unbridled characters, where you can do anything. So what I might be like "My God, why would I even think to do that?" on an America project or a solo project, with Barnes & Barnes, it would have been a natural choice to see what that would lead to. So I would always be happy to return there, if the opportunity presented itself. My partner [Robert Haimer] is a bit more recalcitrant about getting back into the saddle of seeing how crazy he can be.
PCC:
In general, do you get a different sort of satisfaction from making music than you do from acting?
MUMY:
Oh, yeah. Absolutely. I like being an actor. And I'm comfortable after 57 years or so of doing that, that it's a job, it's a hat that I can wear. I can be an actor. I know that, if I'm going to hit my mark and deliver some dialogue to somebody, it'll be believable, because I'll believe it when I'm saying it. And it's not to compare, it's just a fact — that's a job. I don't sit around my house and act. You know what I mean? I don't go over to a friend's house and say, "Let's act."
I play music constantly. And songs just kind of pop out. You're a radio receiver. This frequency just kind of hits you. You might be asleep. You might be driving. You might be swimming, etc. But you just kind of go, "Oh, what's that?" You kind of listen to it and "Oh, it's the muse! Oh, I'm getting a song!" That's a great feeling. Learning an eight-page scene is easy for me, compared to a lot other people. That's just a gift that I've had since I was a little kid. I can memorize dialogue pretty quickly. But that's work [laughs]. "Okay, I'm going to memorize these lines. I'm going to do this, I'm going to do that."
You go to work and you drive to the studio and you sit in a little trailer for a while and then you go on the stage. Somebody tells you how they want you to do it and where they want you to do it. Then you do it. And then the editors and the directors and the producers put it all together the way they want to. And somebody scores it or puts the effects to it. It's not like writing a song and going into a studio and being able to paint that canvas as you feel it should be painted. So I get much more artistic satisfaction out of creating music, but I still think I enjoy the work of being an actor, when I choose to do it. I don't choose to do it very much anymore. But when I do, I have a real good time.
PCC:
But when you were doing it when you were five, even at that point, did it seem like work? Or was it more like play?
MUMY:
It was something I really wanted to do and my parents were smart about the way they investigated the way that might be for me. And I was happy doing it. My dad was a somewhat wealthy guy. He invested all my money for me well. My mother was always there with me on the set. It's not like I was farmed out to a nanny or anything. I never felt like I wasn't having a good time. I mean, out of 400 — maybe 500 now, I don't know, but I know it's way over 400 — out of 400-some television shows, I probably only had a couple of shitty days. People were nice.
When you're on a movie set or a television set, it's such an epitome of a huge orchestra. Everybody's got their little part to play. You might be the guy who's pulling focus on the camera. You might be the star of the show. But if that's camera's not in focus, you've got to do it again. And if you don't remember your lines, you've got to do it again. And if you drop the mic into the shot, you've got to do it again. So everybody pulls together like a well-tuned orchestra. And I always had a good time. But it's an interesting question, because it was always work. But it was work I wanted to do. But you can't be Anthony Fremont in "Twilight Zone" and not understand that "Okay, you're going to do this now and you're going to listen to them. You've got to react. You've got to move over there." It's work. It's good work, but even as a six-year-old, you understand — you can't decide that you don't want to do it at that minute.
PCC:
Was it what you had been watching on TV that made you want to get into it?
MUMY:
Yes. I broke my leg playing Zorro, when I was four. And I lived on a cul-de-sac, in a neighborhood where there were literally like 100 kids. It was like the Little Rascals in the 50s. It was a very different kind of world. And I was in a cast from my thigh to my ankle for like eight, 10 weeks. It was a big deal. I really cracked my leg in half. So I couldn't go out and run around the neighborhood or around the block with all my friends for a couple of months. So what I did do every day was sit in the wheelchair and watch TV. And it was George Reeves as "Superman" and it was Guy Williams as "Zorro" — the caped adventurers [laughs]. And other stuff, too. It was "Spin and Marty" on "The Mickey Mouse Club" or whatever. But it was that stuff. It was the adventurous guys on TV that made me go, "Wow! I want to do that. I could do that. I want to do that!"
And my mother's father, who passed away before I was born, had been a successful agent in the 30s. Boris Karloff was probably his highest profile actor, client. He had gotten him the "Frankenstein" auditions and stuff. My mother had worked at Twentieth Century-Fox for 11 years, as a writer-secretary, before she married my dad. My uncle was an assistant director at Fox for 40 years. Point being, my family wasn't impressed with or intimidated by the concept of show business. We lived in L.A., that was the business of the town. So it didn't weird them out. And really I was pushy and wanted to do it. I was an only child. My parents had me kind of late in life.
So my mom said, "Well, let's put him on 'Romper Room,'" which was a preschool television show that was syndicated in various places around the country where civilian kids would like be in school on "Romper Room." The wisdom in her choice to do that, before anything else, was to see if I would be comfortable under lights, with cameras in my face, and, to a degree, taking a little direction. And I was very comfortable. I loved being on "Romper Room." I mean, you went there for a week, but I stayed for two. So it was smart of her to see how I would react to this environment. I reacted positively, so they got an agent and I started getting the parts. You can't escape your destiny.
PCC:
Did you ever tell Guy Williams about being inspired by his Zorro portrayal?
MUMY:
Oh, of course I did [laughs]. You know, by the time "Lost in Space" came along, I had worked half my life. And I worked with some of the most iconic directors and actors and actors in history. So I wasn't the slightest bit impressed by anybody. I had just come straight off doing a movie with Jimmy Stewart and Brigitte Bardot. And we went straight into "Lost in Space." But of course I told Guy, "You know, hey, if it weren't for you, I'd be sitting in the fifth grade class at Canfield Elementary School right now, trying to learn about geography [laughs]. He was great. Guy taught me how to fence. He was a wonderful man. A wonderful, positive, funny, great, impressive human.
PCC:
I noticed one of your earliest credits was a "June Allyson Show," so you worked with her and Van Johnson. Don Rickles was in that episode, too.
MUMY:
Wow, I didn't even remember I worked with Don Rickles. I don't even remember doing that one. It's on there somewhere, but there are shows that have stayed in my consciousness because they've been running for 50 years or more. Somebody talks to me about a "Twilight Zone" or a Disney thing or "Bewitched," there's a lot of them, the file opens up in my brain and I go, "Oh, yeah."
And then someone will say something like, "Hey, what about that Gene Kelly thing you did, 'Going My Way'?" I know worked with him, but… Or "National Velvet," I know I did that, too. But I haven't seen those in 50-some years, so they're not familiar enough. I totally forgot about June Allyson. And I didn't even know I worked with Don Rickles [laughs].
PCC:
But one of the classics is the Hitchcock episode "Bang! You're Dead." I guess that's one of the few that Alfred Hitchcock actually directed himself. Was he daunting on the set? Was he patient with you?
MUMY:
I didn't like Alfred Hitchcock. He was fine until he wasn't. There are child labor laws. You can only work a kid eight-and-half hours a day and that has to include school and lunch. Well, if you're familiar with that episode, in a nutshell, it's the story of this kid whose uncle comes home from a holiday, tells him he has a present for him. The kid is impatient, goes up to the uncle's suitcase to look for whatever his present is. And he finds a revolver and a box of shells. All the kid's friends are outside playing cops and robbers. So he grabs the gun and he puts a handful of bullets in his pocket, puts a bullet or two in the chambers of the gun, goes out to play with his friends, keeps spinning the chamber around. And eventually, over the course of the episode, he slowly but surely fills up the gun until it's fully loaded. You know the next time this kid pulls the trigger, somebody's going to get killed… or shot.
It's a very dramatic show. It's a strong anti-gun kind of a story. It was really well done. And yes, he directed it. The tension in the show is brilliantly paced. Basically, I was in every shot of the show. That's just the way the script was written. So I'm working from nine in the morning till six or 6:30 every evening for four or five days on this show. And I'm in like every shot. And they wanted to get another closeup of me and it was like 6:20. And the social worker, the teacher, it's her job, she goes up to first assistant director and says, "You know, you're going to lose Billy in 10 minutes." And they go," Oh, God, yeah. Oh, okay. Well, we want to get this last closeup in." So they decide, in their infinite wisdom, that I should stand in for myself while they're lighting this last shot, so that they'll save some time. So they say, "Billy, stand right here and stay. We're lighting it with you."
I'm seven years old. I'm fine being told that they're lighting it with me instead of the little man that is my stand-in. But the reality is, I'm not a stand-in. It's not my job. It's not something I'm trained to do. And I've been working, probably up since seven in the morning, driving out to Universal and blah, blah, blah, blah, blah, blah. So I'm fidgeting around on my mark. I'm moving around. I'm not being the perfect stand-in while they're trying to light me.
So Alfred Hitchcock rises up out of his chair… You have to understand, I'm seven years old. I'm maybe four-foot-three or something. I'm little. Alfred Hitchcock was a very imposing physical man. He was constantly sweating. Constantly. Always sweating. Had jowls that hung over this tight, white shirt with a tie. And he wore a black suit. And he looked like Jabba The Hutt to me — not that I knew what Jabba The Hutt was at the time. — but he was like, "Whoa!"
So he gets up. He lumbers over to me. And I've been working for him for days and doing a really good job. I mean, I'll let the show speak for that. He walks over to me. He bends down. And this is what he says to me, in my ear, no one else could hear him say this but me, and he says [in a spot-on Hitchcock impression, starting with the trademark sucking in of all the air around him] "If you don't stop moving about… I'm going to get a nail… and I'm going to nail your feet to your mark… And blood will come pouring out… like milk… So stop moving!"
Okay? Now he scared the shit out of me. He said this to me with no sense of humor, but with a very kind of serious threatening tone. And those were his exact words. I swear to you. So okay, I'm kind of standing there, frozen. And they get their last closeup. And they wrap me out for the day. And I'm walking to the car with my mother. And I'm saying, "Do you know what he said to me? He said he was going to nail my feet floor! Blood coming out! Milk! He was going to nail my feet!" And my mother goes, "Oh, honey, he's British. They have a different sense of humor."
Here's the other punchline. It's something I've thought about quite a lot. If Alfred Hitchcock had said to me, "Thank you, Billy, I was just teasing you, you know," if he had said that, I probably would have forgotten it in two days. It probably wouldn't have stayed in my mind. I would have just forgotten it. Everything would have been fine. But he didn't. And without any shadow of any doubt, he knew he terrified me. He did. I was terrified. I was really scared. So here's a guy who makes a conscious choice to really scare a little boy who's starring in his show…I just think that's messed up. That's my Hitchcock story. That's all there is to it. I survived. I'm not emotionally scarred by it. But I'm not a fan of Hitchcock.
PCC:
What about Walt Disney? Was that the other end of the spectrum?
MUMY:
Oh, Walt Disney was great. Walt Disney was amazing. And that lot, when Walt Disney was alive, was the most magical, incredible studio lot you could imagine. I hate to tell you you had to be there, but you did [laughs]. I mean, if you can just imagine the Disney lot — there's squirrels running around everywhere. There's little patches of little green parks in it. And everybody's playing ping-pong. And that's the truth [laughs].
The first time I worked for Disney was a movie called "Sammy The Way-Out Seal" and I was eight years old. And I couldn't have had a better time, working with Mike McGreevey and seals… it was just great. And Norman Tokar wrote and directed it and Norman Tokar had directed the first like 100 episodes of "Leave It to Beaver" and he was just wonderful.
And one day I get called into Walt's office. And here's the deal — when I work with someone like, let's say, Claude Rains, I wasn't impressed with Claude Rains. I'd never seen his movies. Right? But when I'm working with Walt Disney, I knew this was Disneyland, this was "The Wonderful World of Disney." This was Walt Disney! So Walt Disney was a different category to me. He was somebody I was like, "Whoa! Walt Disney! I'm going into Walt Disney's office!" [Laughs]
I remember having butterflies about that. And the first time I talked to him, all he wanted to do was say, "I've been watching the dailies, it looks like you're having a great time. And I just really wanted to know — are ya?" And I was like, "Yeah, Mr. Disney." "Call me Uncle Walt." I said, "Uhhhhh… Okay, Uncle Walt?" He said, "That's okay, go on out, I just wanted to know you were having a good time." And that was so cool.
And then one day, Mike McGreevey and I were walking to the commissary for lunch and Walt was walking towards us. And he stopped us and we had a little chat. In the middle of this chat, he said to me, "Hey, you need to get a little more sleep, huh?" "What?" "Yeah, I hear you're falling asleep on the set." I said, "What?" And I looked at Mike. Walt went on about his way. I said, "What?!" And Mike said, "I don't know."
And we found out that the little red-haired British boy [Matthew Garber] who was in "Mary Poppins," they were shooting on the lot at the same time and he fell asleep. [Laughs] And we found this out, Mike McGreevey's mother tracked it down like a Columbo. And the reality was, it was true, this little kid on "Mary Poppins" had fallen asleep a couple of times and Walt — "Here's that redhead kid. Wake up, buddy! Go get a coffee!" [Laughs] He didn't say go get a coffee. I remember thinking, "What did I do? What?" But it all worked out okay. But that lot was just amazing. I mean, it's still a nice place, but it was completely different when Uncle Walt was there. It was really special.
PCC:
Did you ever get mistaken for Ron Howard in those days?
MUMY:
Yeah… yeah, sure. Ron and I were like the guys. He was a little more tied down, longer than me, because he started "The Andy Griffith Show" probably two or three years before I was tied down to "Lost in Space." So basically when he wasn't doing his series, it was either him or me that got the movie or that got the part. He got "The Music Man," I got "Dear Brigitte." He got "The Courtship of Eddie's Father" and I got… whatever, "Palm Springs Weekend" [laughs]. Whatever it might be, Ronnie and I were always friendly competitors. He's one month younger than me. And he's done okay, that lad [laughs]. The kid did alright. He's always been a super nice guy, really straight-ahead, nice, hard-working guy. And his dad was a hard-working guy. And his mother was really sweet. And I worked with his brother a few times. Nice family.
We didn't hang much. We went to a few parties when we were in our early 20s. In fact, I remember I was doing a series at Universal, a short-lived series called "Sunshine." My hair was really long, I had a beard. And Ron was still doing "Happy Days." And we were at a party, Laurette Spang's house. And I remember me saying to him, "You know, I'm going out on a tour with my band and I really think I'm gonna give the music side of this a couple of years of 100 percent," and him saying to me, "Well, I"m going to USC and I'm really going to get behind the camera. I want to direct."
And I remember saying to him that night, "Dude, you could teach that class! You don't need to go that class. You could teach that class." And he went, "No, no, I'm going to go." And I said to him, "You know Ron, directors, you're the first guy on the set and you're the last guy off the set and you're sitting there putting it all together. Are you sure you want to work that hard?" [Laughs] He went, "Yeah, I really want to do that." "Okay." And God love him, he's made some great films. Really nice guy.
PCC:
And then the "Twilight Zones," I guess "Long Distance Call" was your first. And then "In Praise of Pip" that was a great episode for Jack Klugman and it touched on Vietnam.
MUMY:
Yeah, I'm very grateful that I have my "Twilight Zone" alumni jacket. [Laughs] Yeah, I did three of the original ones and I did the cameo in the feature film, which was a personal request from Buck Houghton and Carol Serling. And then I wrote one of the UPN episodes and then got to return to Anthony Fremont with Cloris Leachman and my daughter, Liliana, for a sequel, 40 years later, to "It's a Good Life." So yes, I'm grateful to have been part of "Twilight Zone."
In my opinion, that's probably the best television show ever made. Largely I think that is because you didn't have a regular cast. Every week you had a new cast. So nobody ever got complacent. Or nobody ever had a chance to get fabulous or pull any hotshot stuff, because they were only there for a few days at a time. It was Rod Serling who was the star of that show. What a singular talent, God.
PCC:
Did you get much of a chance to interact with him over the course of those episodes?
MUMY:
Yeah, yeah, he and I went out for margaritas every night when we wrapped. Did I interact with him? Yeah, I interacted with him — "Hi, Mr. Serling." [Laughs] "Hi Billy, you're doing a great job." "Thank you, sir."
I can tell you this much about him — when he came on the set, and he did often, I mean it's not like he was there all the time, but he would come to the sets to do his wrap-arounds. And he would come to the sets to see what was going on. And when he did, everyone in that crew was happy to see him. And everyone in that crew was either anxious to talk to him about something coming up in the next script they were going to be doing or… he was a light presence. When you think of Rod Serling, and you see this kind of… [going into teeth-gritted Serling impression] "And now, I'm a very serious guy…and in this episode, it's very serious." But when he came onto the set, he was really light. It was like a cool hang. And he was very accessible. That's the word, I think that is most applicable. He was very friendly and accessible.
And that's rare for a creative executive producer. When Irwin Allen came on the set of "Lost in Space," and he did every day after lunch, he'd come on the set and he'd look at his watch and he would tap it. He'd tap his watch, meaning to tell the director and the crew, "Time is money. I'm losing money right now, so get your ass in gear." Now I'm not saying that Irwin was unpleasant. He wasn't the greatest guy in the world, but he was okay. Joe Straczynski on "Babylon 5," incredibly talented writer, modeled I think after Rod Serling, as much as I think he could be. Hugely influenced by Rod Serling and "The Twilight Zone." Nice guy… in a way. But when he would come on the set, there was, "Oop, attention! Everybody get… stand to… Joe's here. Attention!" A lot of times, when those people, when executive producers come around, it puts a shift in the energy that isn't always a lighter shift. It's kind of a darker shift. And in the three episodes I did with Rod Serling being around, it was always a lighter, nice shift, an upshift, when he came around.
PCC:
After "It's a Good Life," were you dealing, for years, with people yelling out about wishing somebody into the cornfield or that sort of thing?
MUMY:
I loved that! I mean, Will Robinson, Anthony Fremont, those were the kind of characters that I wished I would ever get to play. I mean, they were superheroes. And Anthony Fremont was the most powerful mutant in the world. And the thing to remember about Anthony Fremont, which I did, was, he was constantly scanning. He was constantly picking up these thoughts. Forget the fact that he could manipulate matter into anything he wanted, forget that. That's beyond awesome, that's just insane, right? I could set that dog on fire. I could turn you into a jack-in-the-box. I could wish you away. I can do all these things. But the big deal of that episode is that everyone is so scared because he's reading your thoughts — "Oh, don't like that one." I mean, that's the thing about this guy that's so super powerful. It was a great character. I loved Anthony Fremont.
And I'll tell you [laughs], for I don't how many years, in traffic, like my mother would be driving home after a day's work at the studio, I would really, in my own head, not that it worked, but I would seriously try to use Anthony Fremont's power to keep the lights green, so we didn't have to stop. And I've sent people to the cornfield, quietly in my mind for 50 years. Great character. A wonderful character. I loved playing him. And being able to return to him, what a treat.
PCC:
And then "Lost in Space," did you realize right away that there was a unique vibe to that show, some special charm that was going to make it work?
MUMY:
Yeah, of course. You could tell right from the beginning that this was a really good cast that connected with that X-factor energy, like a family. Like we really bonded while making the pilot. A couple of early days on that show were two or three days in a row when we were in The Chariot together for all day. And we just bonded, as a group. It was the most expensive pilot in history. And I'll tell you something — Irwin Allen was know for being cheap, but not for his initial assemblages of projects. He spent a lot of money to make things look great. And then he kept recycling them [laughs].
But the Jupiter 2 looked great. And it looked great, when you were standing in it. The Chariot, eventually, of course, the robot, all that stuff, the laser guns — it all looked great. We had music by John Williams. The cinematography of the black-and-white episodes, they're stunningly well shot. They look like the "Frankenstein" movies from Universal. They're beautiful. We had great guest stars — Michael Rennie, Warren Oates — I mean, a lot of people did our show. I am a huge fan of the first 16 or 17 episodes of "Lost in Space." After that, they shifted and became a whole different show. And it becomes a campy fun show. And Will Robinson, I always played it straight. I don't care if I was talking to a carrot or if I was about to shoot a giant Cyclops, I believed the situation that I was in, that he was in.
PCC:
You spoke earlier about Guy Williams, I guess you remained close with the rest of the cast, as well?
MUMY:
Couldn't be closer. Angela Cartwright and I have a book called "Lost (and Found) in Space." I urge you to read it [laughs]. It tells the true stories. And listen, I talked to Angela two hours ago. I had dinner at Marta Kristen's house with Angela and our wives and husbands two weeks ago. I spoke to June [Lockhart], who's 92, on her birthday, June 25th. We had a nice, long conversation. Mark Goddard lives across the country. I saw him a few months ago. I talk to him on the phone somewhat regularly. I love that guy. Yeah, it's a 50-some-year family. Sometimes it's a weird, dysfunctional family [laughs], but for the most part, it's absolutely bonded with real love.
PCC:
And you were close to Jonathan Harris, as well?
MUMY:
I loved Jonathan. I gave the eulogy at his funeral. He and I became very close in adult life. If Jonathan liked you, there was nothing he wouldn't do for you. He and I got to work together quite a bit the last few years of his life. We did several episodes of the "Buzz Lightyear" animated show together. We returned to Dr. Smith and Will Robinson with Bobby May [in the suit] and Dick Tufeld [voice] as the robot in a movie-of-the-week called "Lost in Space Forever," which is being re-released on Blu-ray. We did a lot of personal appearances together. And Jonathan came and did a Barnes & Barnes thing for us. He was just the best. He was [going into a priggish Jonathan Harris voice] a one-of-a-kind, dear boy, and don't forget it. Mind your manners or you'll lose your friends… oh, dear."
He was great. And he was larger than life. And his wife Gertrude, he was married to her for 64 years. And the two of them, just reinvented themselves, when they were teenagers. They came from the Bronx. They talked like this [does a Bronx accent] — "Tirdy-tird and tirdy-fourth street. Look at the dawg." And they reinvented themselves and got married very young and just became these wonderful people. [slipping back into that dandified speech pattern] "We're going to the opera." And I can't say enough good things about Jonathan. He was a real character. I'll tell you. He was kind of like what you see was what you got [laughs]. But if he loved you, he loved you in a big way.
PCC:
And you mentioned having loved Ricky Nelson's music early on, so was it a kick to do "Ozzie & Harriet" later on, for a few episodes?
MUMY:
Oh, yeah, well I did three "Ozzie & Harriets" and in only one of those three did I really have a couple of little beefy scenes with Rick. But when I was there, they did the lip-synching stuff with James Burton and his red Tele. First of all, I'm a huge James Burton fan. Who isn't? But I also love Telecasters. And to watch him sitting there, I think it was "String Along" [sings a few bars]. Anyway, they were great.
And like Disney, that was a completely unique set, unlike any other set I was ever on. Obviously it's all a family. Ozzie was in control of everything and there was his wife, his kids and his brother. One day, on one of the episodes, Ozzie had been a college football player. There was a big game on. I don't know what it was. A big football game. We broke for lunch and Ozzie had a couple of television sets on the set. Everybody was watching the football game. And when lunch was over, the bell rang, it was time to go back to work. Ozzie said, "Uh-uh! We're watching the game!" And the production just stopped until the football game was over. [Laughs] That doesn't happen very often, okay? Trust me, when I say that doesn't happen.
I was working with Lucille Ball on a Desilu show that she owned called "The Greatest Show on Earth," an hour-long dramatic show about the circus, starring Jack Palance of one-arm pushup fame [laughs]. It was a good show. And she was guest-starring in this episode of the series. It was her first television guest-starring role. And it was about me. She was a circus person and my father was killed. She was going to adopt me. And it was about that. I haven't seen it in a while. But we worked together for a good seven or eight days. And over the course of shooting that episode, it was Halloween. And I remember very clearly, about three o'clock, four o'clock on Halloween, Lucy said, "You know what? My kids wanna go trick-or-treating. And I'm sure Billy wants to go trick-or-treating. So we're going to wrap it up now." I thought that was so cool! I gotta say. That was really nice of her. So I really don't have horror stories. The Hitchcock thing wasn't fun, but it wasn't that bad.
PCC:
You mentioned one of the memorable appearances you did was on "Bewitched." Was that because of Elizabeth Montgomery?
MUMY:
Oh, it was fun. But I had huge crush on Elizabeth Montgomery. I gotta tell you something — and this is true, for whatever reasons, this is true — when I worked with Shirley Jones, 1962 [in "A Ticklish Affair"], I fell madly in love with her. She's still a friend. I fell madly in love with Shirley Jones. I mean, I was in love with her. A few months later, I worked with Connie Stevens. I was in love with Connie Stevens. Then I worked with Brigitte Bardot [laughs]. And the communication wall between Brigitte Bardot and I wasn't as comfortable as it was with Connie Stevens and Shirley Jones, because Brigitte Bardot, we were in France and she spoke French and she kind of had an entourage. She was not a diva, but she was in a way…but very friendly and nice and accessible, very sweet to me. I kind of fell in love with her [laughs].
But Elizabeth Montgomery might have been my biggest crush. And I got to play her husband. I got to play Darrin. I did two episodes of "Bewitched." The first was the first Christmas show, which was really a good show. It holds up really well. Cecil Kellaway plays Santa. And they adopted me as like a holiday adoption — Oh, take this boy in for Christmas, poor sad little orphan. But the kid didn't believe in holidays or Christmas, he was a sad kid. So Samantha takes him to meet Santa Claus. And wakes up his love and stuff.
But I did have such a crush on her. And she did teach me, in that first one, how to do the nose twitch. But then the second one, Endora turns Darrin into a kid. It's called "Junior Executive." So a great Trivial Pursuit question is — Name the actors who played Darrin Stevens. Yeah, I'm one of them! So I got to play Darrin. And I got to kiss her and drive her car. It was just, oh, it was so great! [Laughs] One of my very, very, very, very favorite professional experiences was that show.
Her son Bill, I haven't seen him lately, but he's a friend. I've told him that story a million times. And he looks at me like, "Ewww! Dude! That's my mother!"
PCC:
You mentioned Bardot, working with Jimmy Stewart on that picture ["Dear Brigitte"], was he another one — what you see is what you get?
MUMY:
He was the best. If you asked me to name the best person I've ever worked with, it would have been him. Here was inarguably one of the biggest movie stars in the world. And he and I just bonded like father and son. He and I tossed a ball around together, whenever we weren't shooting, for two-and-a-half months. He was always ready when called to the set, as you should be. Didn't matter if you were the craft service guy or the director — he treated everyone with the same amount of respect and positivity. He was always great when the camera was on.
Also, you've got to remember, there's a big difference between me doing three days on a "Twilight Zone" and 10 or 11 weeks on a movie. It's a different experience of bonding with the people. So he really set for me a very clear message of — this is what you want to be like. This is how you want to treat people. This is the guy. And he couldn't have been nicer to me.
Interestingly — and having nothing to do with me getting that gig — but his wife Gloria had been my Sunday school teacher, when I was like four.
PCC:
Working with Stanley Kramer?
MUMY:
I worked with Stanley twice. "Bless The Beasts and the Children" was a really magical time for me, because, yes, I'm still a kid, but I'm a kid with a rifle… and I'm hot-wiring a car. And it was more of an adult role. And we were on location for 11 weeks and really on our own. My best friend, who had just turned 18 like a week before we started shooting the movie, he was appointed my legal guardian [big laugh]. Oh, I could write a television series that would run five seasons on the making of that movie.
Stanley was great. Stanley was a wonderful man, a very dedicated to justice and equality and the right way for humanity to behave. He walked the walked, as well as talking the talk. He was a tough guy, but he was a teddy bear at the same time. And he was a real pleasure to work with.
PCC:
That's a film that really deserves more attention.
MUMY:
It holds a very, very, very special place in my heart, but I did see it, I guess it was about two years ago. I went to a Stanley Kramer centennial thing and talked about it, did a Q&A, and watched the film. My wife had never seen it. So Eileen and I watched it. And the film looks pretty dated to me. I think, in tone, the film, like "Lost in Space," it's not quite sure how it wants to deliver its message to me. That film is one way a lot of the time and then all of a sudden it's like, "Wait a minute, what is this cute montage? What are we in a Disney movie here?" It gets a little silly. But it's a special film to me… with a positive message.
PCC:
And then you worked with all those heavyweights on "Papillon" — Dustin Hoffman, Steve McQueen, Don Gordon…
MUMY:
Yeah, I could tell stories about that forever, too. But I won't. That was a really hard movie. That was a really, really hard film to make. First of all, we shot that movie in sequence. And we shot that movie as Dalton Trumbo wrote the screenplay. Dalton Trumbo was dying of cancer. And we started that film with like 15 pages. So every day you'd get another handful of pages from Dalton Trumbo and they just filmed it. So in the long run, a lot of what I did was cut out. I understand that completely. I get it. They probably ended up with five hours of film and they had to trim it down to what they did. So a lot of Mumy stuff was cut out, which is fine. But that's the first time that that happened to me. I only saw the film once, at a cast and crew screening, and I was like, "What?!" But it was a really hard film.
And the line was drawn really early — the camps. It was like — Here's Dustin and here's Steve. And they were absolutely opposites. Absolute. They were just different — really, really different. And I got along with them, but I have a lot of memories of that film that I won't bore you with. But it was very interesting. And very dramatic. And very physically difficult. I mean, we were out in the jungles of Jamaica, wearing these hot prison wool outfits. And it was like 100 degrees with 100 percent humidity. And the buses were breaking down and we'd be stranded out there. It was a lot of that. Nobody really complained. We all got through it together. But physically, it was like, "Oh, my God! Really?" It was tough.
PCC:
And both of your kids went into acting?
MUMY:
My son, who is now a lawyer, starred in a couple of films when he was really little. He starred in this film "Three Wishes" with Patrick Swayze, which was a Martha Coolidge film, which he was on for 20 weeks. And it's a beautiful film. I'm actually in it, too. But just a little thing. But yeah, it's a great film. And Patrick couldn't have treated my son Seth any better. Everyone treated him wonderful on that. And he had a real good time. Then he did a movie called "Dear God" with Greg Kinnear that was fun. Some other cool people. Jack Klugman was in that. We had a nice reconnecting on that. He did that first DreamWorks film, "Paulie," with a parrot. And then he didn't want to do it anymore. And trust me [chuckles], I wasn't about to be that ex-child star who pushes his son into acting after he said, "I'd rather just play basketball."
His agents would send him something for an audition and he got to the point where he was eight or nine and he would say, "Is it for a superhero?" "No." "Is it for a spy?" "No." Then he'd go, "Well, I don't want to go." And so finally we were like, "Well, look, you can't just say you're only going to be a spy or a superhero [laughs]. So do you want to do this?" "No, I just want to play basketball." So we stopped that.
He wishes we hadn't now, of course, because his sister, Liliana, my daughter she's super good. And really natural at it. She did the "Cheaper By The Dozen" films and the "Santa Clause 2" and "3" films. Quite a lot of guest shots. And she did a series with Benjamin Bratt called "The Cleaner." But since she's been seven she has had at least one animated series going. When she was a little kid, she did "Lilo & Stitch." Now she's got "Loud House" on Nickelodeon and "Bravest Warriors" on Cartoon Network. She's a very prolific and productive voiceover artist.
PCC:
And have you imparted a lot of advice to her over the years?
MUMY:
You know, she's 23. When we did "The Twilight Zone" sequel together, gosh, like 13 years ago now, 2004, I think, she was giving me advice. She was giving me notes [laughs]. She doesn't need any advice. I mean, I've always told her — "Just be honest. If something doesn't feel right, don't say it. Treat everybody great. And go there knowing what you're doing before you get there." That's all there is to it. Nah, she doesn't need any advice from me.
PCC:
But you never became disenchanted with the whole acting world?
MUMY:
Disenchanted with the whole acting world — that's an interesting thought. I never became disenchanted with it. But I don't know if I was ever that enchanted by it in the first place. I liked being different people. I liked being Will Robinson. I liked being on the set. I didn't have a bad time. But it was never really, like people say to me all the time, "Oooh, when you first walked onto the set of the Jupiter 2, and saw The Chariot and the robot, did you think, 'Wow, I'm in space?'" No, I thought I'm on Stage 6. I'm on Stage 11" [laughs]. No, "The set looks good." I was never thinking it was anything other than it was.
No, I never got disenchanted. But I think, after "Babylon 5" — I did "Babylon 5" for five years and I played an alien on that show. And the physical process of putting that character on, which took a couple of hours, and the physical process of taking that character off, which took a good half-hour, while I had two little, little kids at home, and I was a writer and creator of a Nickelodeon series called "Space Cases" at the time, and I was doing voiceovers and I was playing in a band, I think when "Babylon 5" wrapped up, I kind of said, "I don't really want to go out and be the alien of the week on anything anymore."
I'm not saying I hung up my shingle and that I didn't want to act anymore. But between the voiceovers and the music and I've had my SAG card since like 1959. My house is paid for. I don't have the desire to go out and be the killer of the week on "Law & Order." I just don't. I don't mean that it wouldn't happen. But I don't seek that out anymore. I'm not really hungry. And everybody else is. There's a million, gazillion actors that would cut off their toe to be the corpse of the week [laughs]. And it doesn't get me motivated.
PCC:
Is there anything you're working on now?
MUMY:
I'm a producer on the "Ancient Aliens" television series, which I think brings a lot of interesting questions and information to an audience about the history of this planet, about potential realities that don't get much discussion. I'm very happy being a part of that project. It doesn't tell you stuff. It shows you things. The show questions you to question it. But it doesn't really preach. And I think it's a well done series. I'm very happy to be connected to that show. I still do quite a bit of voiceover work. And the new "Lost in Space" is coming from Netflix. And I'm looking forward to that.
PCC:
Will you have an involvement in that?
MUMY:
I'm looking forward to that [laughs].
PCC:
You've had such a diverse career — the acting, the voiceovers, the music, the comic books and graphic novels. Is there anything you always wanted to try, but haven't had a chance yet?
MUMY:
Yeah, I hope to gig with Action Skulls. I mean, the album is something that I'm very happy with. And making music with Vicki and John is something that makes me happy. And I hope people will listen to it. If you're a fan of The Bangles, if you're a fan of The Cowsills or The Beach Boys, if you're a fan of my solo work or Barnes & Barnes or maybe some of my other projects, I think it's worth giving it a listen and I don't think would be too disappointed in what we've created.
PCC:
And another solo album in the works perhaps?
MUMY:
Yeah, I'm always writing and recording. I've got quite a few songs in the can. When the time's right, we'll assemble those, share them with the powers that be [laughs]. It's a different world from what it was in the 80s. People don't really buy CDs as much as they used to. So it's different. But that doesn't stop the muse from visiting. And when it does, I'm — Have guitar, will record.
PCC:
So this life in the arts, what has been the most rewarding aspect for you? And the most challenging?
MUMY:
It's all been rewarding. I've had a really blessed life. My wife Eileen and I have been married for 31 years. My children are healthy and creative and have good hearts. Thanks to my father and my mother and myself, I don't have any debt, which is a blessing for anybody to say.
The most challenging thing, I think has always been trying to be objectively seen or heard in more than one box. If you're a child star, it's hard to be seen as anything other than that in a way. It's hard for people to say, "Okay, I've got x-amount of time in my life, I'm going to devote it to listening to Bill Mumy's music." I understand they could be listening to Bob Dylan. But maybe if they gave me a shot, they'd go, "Oh, yeah, I liked him in 'Twilight Zone,' but this is a good album!"
PCC:
Well, the Action Skulls album is certainly a very good one.
MUMY:
Thank you. I appreciate. You know, we made it for the right reasons. We didn't say, "Hey, let's get together and find 11 songs and make a bunch of money." It was like, "Hey, we sound really good together. And hey, I'm getting all these tunes we can sing." "Hey, I've got a studio! Let's record!" So it was made with the right spirit and I hope the audience checks it out.
PCC:
They'll be glad if they do. Thanks so much for being so generous with your time.
MUMY:
We had a good, long talk, Paul. Strolling down those old memory lanes. Thank God I can still remember it [laughs]!
PCC:
You've had an amazing career.
MUMY:
Well, thank you, man. We do the best we can… and can the best we do.
For the latest news on this artist, videos, photos, autographed memorabilia and more, visit www.billmumy.com.