BLUES TRAVELER: TRAVELING TOWARDS 25TH ANNIVERSARY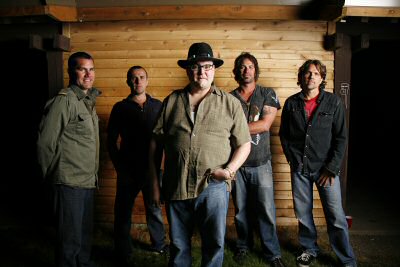 Tad Kinchla, Brendan Hill, John Popper, Chandler Kinchla, Ben Wilson
By Paul Freeman [July 2011 Interview]
Time travels fast. Blues Traveler will soon be celebrating their 25th anniversary. The popular, populist jam band is on the road again.
The lineup includes founding members John Popper (vocals/harmonica), Chan Kinchla (guitar) and Brendan Hill (drums), as well as bassist Tad Kinchla and keyboardist Ben Wilson, both of whom have been in the band for a dozen years.
Kinchla, Popper and Hill began jamming in the high school band rehearsal rooms. Another school friend, Bobby Sheehan, joined on bass. That foursome became kings of the keg parties.
Popper moved to New York and, after graduating, Kinchla joined his buddies there. They earned a following and then a recording contract. The jam band scene mushroomed and Blues Traveler, Spin Doctors, Phish and Widespread Panic expanded their cult foundations
Blues Traveler broke out with such hits as "Run-Around," Billboard's longest-charting radio single of all time, "But Anyway" and "Hook."
The whirlwind of the '90s took its toll. The band was burnt. They took a year off and, in 1999, Sheehan died of an accidental drug overdose. Deciding that their fallen comrade would have wanted the band to go on, the other three persevered, inviting Tad Kinchla and Ben Wilson to join.
The band will release a new album next year for the 25th anniversary, as well as "best of" package.
Guitarist Chan Kinchla took time to talk with Pop Culture Classics.
POP CULTURE CLASSICS:
So you're based in Southern California now?
CHAN KINCHLA:
I'm from Jersey. I've been out here in Los Angeles for 10 years. So I'm actually a traitor. I don't think could go back.
PCC:
Still enjoy hitting the road?
KINCHLA:
Oh, yeah. I love touring. It's all I know. But I've got two kids. So when I'm home, I've got my various projects I'm working on, but I can be Mr. Mom. And then, four or five months when I'm touring, it's nice to get the f--k out of here [Laughs]. When you're playing Mr. Mom, it's nice to get a break.
PCC:
How old are the kids?
KINCHLA:
A 13-year-old and a seven-year-old. Two boys. Boys are awesome. I'm sure a girl would be awesome, too. But she'd have me completely wrapped around her finger. Boys, you can just tell them to stuff it. Girls, from what I gather, that doesn't work.
PCC:
And do you have the boys already strumming and exploring the instruments?
KINCHLA:
My 13-year-old is actually quite a good piano player. And he's really into choir. He always liked music and we have all these instruments around. So he was familiar with it. But then he started taking piano lessons when he was like nine. And when he got into middle school, he really got into choir. Next thing you know, I turn around and he's this badass piano player and he's in this big-time choir doing competitions all over. I'm like, 'Jesus! All of a sudden, you're like a little musician!' It just kind of crept up. I didn't really push it.
With kids, I think your job as a parent is just to make sure you show them a lot of different things, make sure you teach them to be respectful of other people. And make sure they're out there trying things and then, once they get into something, you back that up. Next thing you know, he can sing like a bird and is great piano player.
PCC:
When you were growing was there an atmosphere of creativity?
KINCHLA:
My Dad was a scientist, an experimental psychologist at Princeton. And my Mom was a therapist, psychologist. But they were both hippies, from that whole generation. But they came from poor, working-class backgrounds. They were very academic.
But science, especially on an experimental level, is very much a creative endeavor. You're coming up with cool experiments and trying to think how to prove things. But the best thing about them was, they had just a kick-ass record collection, which I raided. So there was always cool music.
But really, when I was like 10, my best friend, who lived across the street, got a guitar. And I went over to his house - and I'd never even thought twice about playing an instrument, though I played sax in middle school - I picked up his guitar, was messing with it and I was hooked. I started going over to his house every day, not to play with him, but just to play his guitar. And God bless him, two weeks after I was coming over every day, he just gave me the guitar. And I never ever put it down.
I was not and am still not very naturally gifted at it. But I love it so much that I practiced enough to be decent [Chuckles].
PCC:
So you were willing to be patient until it did seem to be a natural expression.
KINCHLA:
It's interesting. All musicians who are good at their instruments, like can really play it, were nerds. Growing up, I was playing Dungeons and Dragons. I'm still very nerdy. Playing any instrument is a very nerdy activity, because you have to enjoy sitting in your room for three hours, just practicing. It's not the result. I actually enjoy just practicing stuff and figuring stuff out, to get good at your instrument. And that's all I ever did. I used to sleep with the thing. And, on occasion, still do.
PCC:
Was it rock music that first attracted you?
KINCHLA:
At the time, I was starting to really get into music. That was back in the golden era, when I'd save up my allowance, save up my 10, 12 bucks to run up to the record store to get the LP for my favorite band, that I knew was coming out. Back then, maybe, if it was a popular band, you might have heard like the single on the radio, but I just remember running up to the store to get an album and running back and putting it on my record player and just exploring the album. Because back then, that was the only way to do it. It was a very visceral kind of thing. I really miss that, to be honest. I don't want to drive to Wal-Mart anymore, so I just get it online, it's so much easier.
PCC:
Once you explored an album, then you would try to play along?
KINCHLA:
Yes, for sure. So you get an album and you listen to it 40 times, 50 times. Guitar is one of those instruments, the learning curve, just to get playable, is really hard. That first year, you can't make anything sound good, because it's just the physical nature of trying to hold down the strings. And so, for the longest time, I couldn't play much of anything. But I kept at it. And, being fairly self-taught, that's what I did. I just figured out all the songs by ear and then just played them alone in my room.
PCC:
So when you were running down to the record store, who were the bands that you were excited about?
KINCHLA:
Back in that day, I was into, which, thank God, because it's a lot easier for guitar, I was really into punk rock and new wave - The Jam, The Clash, and then all those ska bands, English Beat, The Specials, loved Squeeze. The Pretenders. And then that kind of led me to David Bowie, because he was kind of punky, new wave-y, before it was punk, new wave. But the guitar playing on that, Mick Ronson, was much more solos, much more guitar playing. So I started trying to figure that out.
And that led me into, as I got better, into Led Zeppelin and all that cool guitar riff rock. Ten Years After was actually my big epiphany. I was watching PBS, the 'Woodstock' movie, when I was just starting to get decent on guitar. I was like 13, 14. And I saw Alvin Lee of Ten Years After doing 'I'm Goin' Home,' which I love, because it had all the aggression and energy of punk and that whole thing. But he was playing some really intricate licks. But it was all kind of very improv. And I kind of saw where you could go with guitar. I remember seeing that in a dark room with my Mom and just being like, 'Oh, my God! That's what I want to do!'
PCC:
Alvin Lee is quite an inspirational player and quite a showman.
KINCHLA:
Yeah. That performance is one of those kismet moments for them. He was a great guitar player, but I just couldn't believe that sound coming out of a three-piece. I loved the three-piece format. I was very into The Police at the time. Huge influence. I loved how the three-piece was so sparse. But the three of them, playing so sparse, could create such a big sound.
Ten Years After, you had Alvin Lee and then bass and drums basically just keeping down a simple groove and just going nuts on it.
And for many years, Blues Traveler was, other than John's harp playing, which is not necessarily, an accompaniment instrument, we were very much a three-piece, bass, drums and guitar. Obviously with John ripping on harp, but that was much more in a soloist area, with him singing. I love that stripped down thing.
KINCHLA:
Did you travel back from Alvin Lee to the roots, the more traditional blues players?
KINCHLA:
You know, even before Alvin Lee, a lot of my first guitar playing was figuring out Blues Breakers, all that early English blues, Eric Clapton and Jimmy Page, backed when he played with them. And then, yeah, I went back to Elmore James... I got way into the blues and figured out all those riffs, licks, because the pentatonic scale is a good place to start, if you're learning to do improv and soloing.
So, yes, even before Alvin Lee, I was way into all that. And, like I said, my parents had all these records, great records. My Dad was really into jazz, had all that Django Reinhardt. I loved all the great bebop players, Coltrane, Thelonius Monk, Charlie Parker. My parents had that kick-ass record collection. And I wore it out.
PCC:
Is it a revelation once you get the basics down and then realize you can improvise and find your own way?
KINCHLA:
That's a really exciting moment. What that is, is just figuring out all these licks and just practicing and practicing them and then realizing that, if you're in a certain key, you can kind of fit them in and then, all of a sudden, when you start to become comfortable enough with them that they become second nature, you can start emphatically expressing yourself. And that's quite a moment.
The first time I really did that, I was in high school and I was actually tripping on acid. I was playing and all of a sudden started doing all this great stuff and the other people I was with were like, 'Wow! That's awesome!' They couldn't believe it. I'm like, 'Oh, my God! I can do this!'
PCC:
[Laughs] That was me?!
KINCHLA:
[Laughs] Yeah, exactly.
PCC:
So was music your real focus at that point or were you still into athletics, as well?
KINCHLA:
Yes, I played tons of sports, too. And again, sports is another nerd activity, because it requires you obsessing about technique and doing it all the time. To be good in sports, you have to do that.
Rock 'n' roll has this style and attitude to it. And so does sports. Jocks or whatever. Professional athletes, these 20 year=old kids, all they've ever done, their entire lives, is just be in the gym, listen to a coach, be on the field, practice. They're nerds.
PCC:
Did you see that as a possible life path for you?
KINCHLA:
Well, I played football, lacrosse, I played a lot of baseball. I just love sports. I was going to play in college. I'm a really large man, incredibly coordinated for my size [Laughs]. So I was going to play in college, but I never thought of going pro.
And the music was just something that I loved to do... Until I met John and Brendan. Our high school had a great music program But it was more towards big bands. We won all the state and national competitions. I, being self-taught, was in some of the kind of periphery bands that they had. But I didn't know how to read quick enough to play all the hardcore jazz, big band stuff. The great thing they had, they had a whole section of the school that was studios, like a lot of little rehearsal rooms and they had amps. And I always had a guitar with me and I could go in there and just sit in one of those little rooms during the day and skip classes and just practice my guitar.
But John and Brendan were in the big bands. But they saw me in there all the time, practicing. They had a band started before. They were looking for a guitar player and they saw me practicing. In the amp room, me and John used to jam for a while, when we were probably 15.
So I got in the band with them. And immediately, when me, Brendan and John played, something kind of clicked. We just knew we had something cool. And then I was good friends with Bobby, the original bass player. And he was in school, as well. So, after a year of me playing all the time with them, Bobby kind of joined. Once we got that foursome together and we started playing all the keg parties and whatever all around school, when you're that young, you're completely impulsive. It's not like, I thought about it much. It was just like, 'Let's do this. Let's live in New York and be in a band,' all these things that I'd be like, You're crazy.' But when you're 16, 17 that's just what you do.
So living in Princeton, everything is academically based. And everyone goes to good colleges and universities. So that was what I was supposed to do. But John had already moved to New York a year before. So when I was 16, we started playing gigs up there. And then when I graduated, we moved up to New York to give it a year. I put off college for a year. And switched to going to NYU. My first year there, we played 14 gigs in 12 days, right during midterms. i was literally doing papers and homework in like basements of the pubs and bars we were playing at. At that point, I just; realized, 'Pick a lane.'
PCC:
You picked the right lane.
KINCHLA:
Well, you know, John is a very special player and personality, which is very important. And the whole band had that kind of energy. Sometimes just the combination of people makes the difference. But, luckily we were in New York and we played constantly, these little clubs and bars, became like the big shit in New York. And, when you're in New York, all the record people are there, so they started coming to gigs, because everyone was talking about us, so we got a big first record contract, when I was like 19. And then the real work began.
It's funny. It's like, 'How do you get signed?' To get f--kin' signed is easy compared to actually doing something with it.
But we had John, who's a very special kind of player. And the kind of dynamic we had together. We were all very confident it would work. And somehow, it did all work out.
PCC:
And then there was the whole wave of jam bands.
KINCHLA:
That was great. At the time, it was like '87 when we moved to New York. I was 18. And right then, The Grateful Dead were really big. I never was a really huge fan. I loved going to the shows, just 'cause I loved the party and hanging out with hippie chicks. And they were good enough. I loved the whole atmosphere. I was much more of a rock, Led Zeppelin, punk rock kind of guy. But The Grateful Dead were creating their own scene, this big live scene, playing all this improvisational music. It was a big thing for kids our age. Everyone would go to the shows. It was a big cultural thing, as well as musical. So that inspired a lot of the bands you're talking about to say, 'We can just do this. We can make our own world. We don't have to have hit singles, all the rest of it, we can just create this great live thing.'
So we were just up and down the Eastern seaboard, playing colleges. As were Phish and Widespread Panic. And the Spin Doctors were doing the same thing. Chris, the lead singer, still a good friend of mine, he's actually staying here a couple weeks. He was from Princeton, as well. He was actually in Blues Traveler for two weeks [Chuckles]
But in any case, Spin Doctors, Aquarium Rescue Unit and all these bands, we were up and down the Eastern seaboard, because there were so many colleges and everything to play. And it's really populated. So we all met and played different kinds of gigs together way before anyone else really knew about us. That kind of led to H.O.R.D.E. We thought, 'Maybe we can actually play big places, if we team up.' But yeah, we've all known each other from that era.
PCC:
Once you developed a loyal following, like The Dead, did you feel like you had it made, or was there pressure to sustain it.
KINCHLA:
Well, we were young. I just can't believe how young we were. I mean, I've got a 13-year-old now and I think, 'God, four years from where he's at is when I moved to New York to be in a f--kin' rock group, dead broke, fighting over Cheetos behind the bed. And living in a shit-hole, in the f--king worst neighborhood in Brooklyn. But that was a couple years. We got signed when I was 19. By 21, 22, we started to get a more national reputation. But at that age, you're just balls to the wall. We were having a great time, touring around with bands. And everything had worked out so far, so we had no reason to think it wouldn't. So I don't think we stressed about it. We were always working, always touring, always playing, always writing music, always making albums. So we were working. But it wasn't like, 'Oh, we've got to keep this up.' It was more like, 'This is just what's going to happen.' I think, knowing all the guys in Phish and Widespread Panic and Spin Doctors we were all kind of in the same mindset. And it was a good time for that kind of music. We were lucky to be in that kind of atmosphere, where that was cool and that was what the college kids were into, because that music really lends itself to developing a live audience. It's improvisational. It's different all the time. So you can really build up a nice fan base.
More contemporary music is more in the singer-songwriter craft vein, with really good songwriting. But that's not necessarily great for a live show. It works, but it's not the kind of thing that's evolving all the time on stage. So I think it's harder for bands to really build, especially at the kind of media level we're at, to really sustain yourself with live performance, whereas, back then, it worked out great.
PCC:
Was it an added dimension for you when Tad joined?
KINCHLA:
Well, that was great. So the thing was, we had this crazy decade. And somehow, in the midst of the '90s, we got some huge hit singles, which amused us to no end. We'd always put out singles and hoped we'd get some stuff on the radio, but to have such two big, Top 10 hits, 'Run-Around' is the longest charting top single that's been in the Top 100 in the history of music, more than like Beatles songs, more than Elvis, which is crazy. We never expected it to get that big. And the funny thing was, we were like this huge cult band, had our own fan base, we thought that would just keep evolving and we were going to turn into more of the direction of The Grateful Dead. And then right in the middle of that, we got these huge pop hits, which was kind of interesting, because then you had a whole bunch of people coming to the shows that were just there, because the video was on and they liked that song and that kind of messed with these diehard fans we'd had for five years who were coming to see everything.
So that was like a culture shock. And the people who are coming to hear the hits are only going to come once or twice anyway, until you don't have hits anymore, generally. And our other fans are like, ''F--k this! This is pop!' That was the rocky road. But at the same time, it was great, because, being on 'Saturday Night Live,' having some big hits is a fun ride in itself.
But we went hard from like '89 to '97, we were never off the road. So we were kind of burnt and took a year off just to kind of recharge our batteries and see where we were at. And unfortunately, during that year, that's when Bobby passed away.
But, at the time, we were already kind of burnt. Who's to say what would have happened after a year off and where we would have evolved. But we were like, 'Of course, we'll keep going. Bobby would never stop.' But we decided, if we're going to keep going, let's take this opportunity and change it up a little bit and having my brother come in was great, because he'd been around the whole scene, great player. Bobby and him were friends. He's always been around. His band had just broken up at the time, a band called Dowdy Smack, which, around New York, had been doing pretty well. But they had broken up.
More importantly, then we were like, 'If we're going to do this, let's switch it up and add keyboards or something.' We thought we should take the opportunity to make it different. We told both those guys, 'Chart your own path with this thing. Don't try to sound like old Blues Traveler.' Tad's more of a funk, Meters-type player, a little different from Bobby, who's much more of a rolling kind of player. So that kind of changed things.
And then it was like three or four years of trying to figure out what we were. The first three years was kind of tricky. But by like 2005, 2006, we started to really get out legs under us, musically. And right now, I think we play better now than we ever have.
It's different. Back then we were aggressive, in-your-face, just caterwauling into the night. Now we're a little more pocket, a little more laid back. And, for me, as a soloist, having the keyboard, best thing that's ever happened. Finally I have some chordal accompaniment to solo over, which lets me do a lot more than when, before, when it was time for me to solo, the whole sonic middle would drop out and I'd have to solo over basically nothing, just drum and bass, which was cool. But I had to play one way. You have to kind of fill up the space. Or at least I felt like I needed to. And now, I can play things a lot more slowly. It's helped me evolve a lot as a player. And I got a chance to play with my brother. We've got some great stories for the porch, when we're in our sixties.
PCC:
So now this lineup has been together for a number of years.
KINCHLA:
Yeah, just about as long as the original lineup.
PCC:
With all the improvisation you do, is one of the enjoyable challenges to try to spark new ideas amongst yourselves?
KINCHLA:
Well, you know, that's always a challenge. And I think we try to do different things, every record, and every songwriting process
The first record we did with this lineup, 'Bridge,' was very much like older Blues Traveler records. It was kind of the same template. And that was back when record companies would kind of throw money at you anyway. And people did videos. It was a very different era. So 'Bridge' sounded like the old Blues Traveler.
And then, the next two records, and especially 'Bastardos,' we put out in 2007-ish, that was very much a transitional record, between the old Blues Traveler and then finding our legs And the record came out pretty crappy, but it was important for us, because I think we started to find what we were, this new identity. And then, especially live, the last couple years, it's just been a great pleasure to see, musically, where we're at.
Now, we're in the midst of recording a new record, to come out next year. Next year's actually our 25th anniversary of the band. Insanity!
We started in '87, when we were like 16, 17. So people either think we're much younger or much older. It all depends [Chuckles] But we're in the midst of putting together this new album. Plus for our 25th anniversary, we're also doing a Best Of package and all these B-sides.
But this year, we wrote a lot of songs ourselves, but we also brought in a lot of outside writers, just to kind shake things up a little bit and get some different kind of input. Great guy we're working with is Ron Sexsmith. He's just awesome. Another guy, Alejandro Escovedo, he's like a cool, Austin punk-rocky kind of guy. We've also written songs with another guy, Aaron Beavers, who's from the band Shurman. Actually wrote a song with Chris Barron, Spin Doctors. We we brought in some other people, just like you were asking about, to start us off in different directions. When you've been working together so long, you kind of find strengths, but they also become ruts. So it's been really fun to kind of try some different ideas
It's been great for John, too, because he's primarily the main lyric writer, occasionally we'll come up with something, but we're writing all this music and then John's got to come up with lyrics and melody for this one, lyrics and melody for that one. Kind of on a clock. You can only write so much awesome lyrics and melody, before it starts to gets to be like, [Chuckles], 'All right, whatever I can come up with.' So it's enabled him to write for the songs that inspire him or that he has an idea for and then we have a lot of other resources to get lyrics or melody ideas for other songs. So we've got mountains of music now. We've written like 30 songs over the last six months or so. We had a lot of different little recording sessions, on the road, down in Austin, which is kind of like our home away from home. So it's been a cool year. And we're going to be recording in November, December. It's going to be a good record. So far I like a lot of the stuff.
PCC:
And live, to keep things fresh, do you constantly shuffle songs in and out of the set list?
KINCHLA:
Yes, we us the BCTBJ method. That stands for Big Cock Tiny Blow Job. Brendan is Big, I'm Cock. Tad is Tiny. Ben is Blow. And John is definitely Job. But anyway, we rotate. Each of us members goes around and around, each show, a different guy writes the set, which helps switch things up. The set is very different every night. And the songs themselves, you have the kind of skeleton, unless it's a song like 'Run Around' or 'Hook.' But even those, if you listen, there are different kinds of ways to play the pocket. You always want to have a nice skeleton and then have plenty of room to change the way you do it. We can play the first verse quieter. You can finger-pick some chord stuff. Or you can chunk it. There's a million different things you can do. But yes, sets are always different. I'd go nuts otherwise. I can't imagine bands that just play the same set every night. I'm sure it's to perfection. But I'd go crazy.
PCC:
You still make each night's show available on CD after the show?
KINCHLA:
We do. I mean, this year, because we're trying to kind of lay low as much as possible, with next year being a big year, that's when we'll be doing more of our hardcore shows, in theaters and clubs for a couple thousand people, which is more of a Blues Traveler event. So this year we're doing a lot of stuff that just keeps gas in the tank, whether it's a casino or stuff out in the middle of nowhere or state fairs. But those things, you're playing to a very diverse audience. It's a festival set. You play the hits, the songs people are going to be able to find acceptable. And those shows are not conducive to selling the music after the show. So this year we haven't been doing a lot of that stuff. But next year, once we're doing a lot of our own shows, we'll be doing a lot of that for sure.
PCC:
So when you're doing that, it must be even more inspiring to do something different each show.
KINCHLA:
Yeah, that's true. That does keep us honest. There's lot of fans who compare. And we have a great website that's fan-based, bluestraveler.net, which is paired with our bluestraveler.com.And those guys are always on us to do something different. And if we play like a deep cut, they get very excited. So it does keep you from relying on the easy stuff, which is a good thing.
PCC:
And when everything is clicking on stage, is that still a rush like no other?
KINCHLA:
Oh, it's the best! The longer I do this, the more I like it! It's great, just great.
PCC:
Is that the most satisfying aspect of the career in music so far?
KINCHLA:
Yes, playing on stage with some great musicians. That's all I ever wanted to do. So I pinch myself all the time, that I get to do that. I get to play with these great musicians and we come up with some great stuff. Sometimes it's just heaven on a stick.
PCC:
And what's the most challenging aspect of sustaining a career in music?
KINCHLA:
You've just to keep grinding. It seems like, you know, it's rock 'n' roll and you've got to keep it fun and light. But you've got to constantly be working on it, whether it's sitting down writing songs, sitting in the studio for hours and hours, day after day. Pre-show we get together and talk about the set. Practicing all the songs. You've got to keep staying focused on pushing yourself and working on it, because that's what keeps it alive and vibrant.
It would be easy for us to just get a great hour-and-a-half set and just play casinos and just walk up on stage, do it and go home and collect a paycheck, especially at this point, because we've got a well known name. But it's really important that you keep pushing yourself, and trying to do interesting, different things. Sometimes you fail miserably. Sometimes it's exciting. But I think to our fans, and the crowd, that's how you keep something vibrant and alive.
PCC:
Any specific goals yet to be fulfilled?
KINCHLA:
Write a kick-ass album and these days, maybe get a cool song on a commercial. These days, it's crazy. It's a cool thing. The radio, people only listen for a little bit in there car, if that. Everyone creates their own niche and they find their own music that they like. They kind of create their own radio station, which is great. But at the same time, back in the '90s and before, there were only a couple hundred bands on MTV or being played at the radio stations that everyone listened to. So if you got on those stations and you had a good songs, everyone would hear it. Now, no one listens to radio. really. Everyone finds what they like. So it's kind of funny. To get people's ears, you have to be on like a car commercial or be in a movie soundtrack or something like that
But we want to make a great album and write some songs that get on the radio, get on car commercials, that people can get into. And I guess, add a little juice, in the industry parlance, add a little juice to the brand.
You're running a small business. So you've got to look at it like that, as well. You have to look at a lot of financial considerations in how you tour and how you market things. Those are things you have to keep in mind. That'll constantly keep you on your toes.
PCC:
Without ever letting the business side take over.
KINCHLA:
Of course. That's why we always keep the fans in mind. But you have to make an effort to get the songs out there, so people get turned onto the band. And now, it's crazy, because we do all these different festivals and things. And even our own shows, where there are literally 18-year-old kids, in the front row, singing along to all the songs, right next to like a 45-year-old, 50-year-old woman. It just blows our minds. I don't know how these kids heard about us. But it's amazing that they know all the songs And you want to keep adding vitality to the experience. We need their souls.