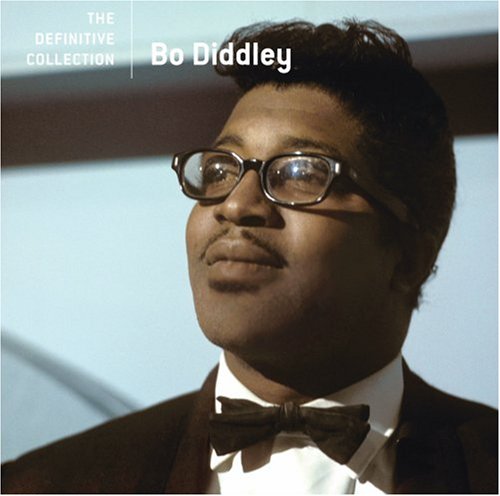 BO DIDDLEY: A RHYTHM THAT ROCKS GENERATIONS
By Paul Freeman [1990 Interview]

Striding a stage with his rectangular guitar, Bo Diddley was an iconic figure, one who helped build the bridge between blues and rock 'n' roll. A Grammy honoree, Diddley was inducted into the Rock and Roll Hall of Fame and received a Lifetime Achievement Award from the Rhythm and Blues Foundation. He died of heart failure in 2008, at age 79. We had an opportunity to talk with him in 1990.

For too many years, young people didn't know Diddley about Bo.

Now, thanks to a series of clever TV commercials selling athletic footwear, Bo Diddley, vocalist, guitarist and songwriter, has won a new wave of fans.

Diddley was born Ellas Bates McDaniel in McComb, Mississippi. When he was a small boy, his family moved to the South Side of Chicago. In grammar school, the kids gave him the nickname Bo Diddley, which he began using as an amateur boxer. At church, he studied trombone and violin.

At 10, Diddley received a guitar and hearing John Lee Hooker inspired him. While working by day as a carpenter and mechanic, he moonlighted, playing on street corners with a band called The Hipsters. By 1951, he had secured a regular spot at the 708 Club, playing tunes made familiar by Hooker, Muddy Waters and Louis Jordan.

In 1955, he was signed by Chess Records. "I went in with a song I wrote called, 'Uncle John,'" Diddley told Pop Culture Classics, his voice barely audible, because he had just undergone dental surgery. "I decided to change the title to my own name. It fit real good."

He used maracas to highlight his distinctive beat. It required 35 takes in the studio to achieve the perfect sound. The effort paid off. "Bo Diddley," with its infectious rhythm, became a huge hit.

He went on to record such memorable Diddley ditties as "I'm A Man" [covered by The Yardbirds, Tom Petty] "Say Man," "You Can't Judge A Book By Its Cover," "Who Do You Love?" [eventually covered by The Grateful Dead, Dion, George Thorogood, The Doors], "Pills" [The New York Dolls], "Road Runner" [covered by The Zombies, The Who, and The Animals], "I Need You Baby" [The Rolling Stones], "Cadillac" [The Kinks], "Before You Accuse Me" [Creedence Clearwater Revival, Eric Clapton], "The Story of Bo Diddley" [Bob Seger], and "Hey, Bo Diddley." Diddley co-wrote the 1957 Mickey & Sylvia smash, "Love Is Strange." Many songs borrowed the Diddley beat, including Buddy Holly's "Not Fade Away," the Johnny Otis hit, "Willie and the Hand Jive," the Elvis record "(Marie's The Name of) His Latest Flame,"and The Strangeloves' "I Want Candy."

The beat and edgy guitar sound made a Diddley record instantly recognizable.

"I don't really know how I developed my own style," he said. "Over the years, it just happened and people liked it. The people are always right."

Diddley wasn't aware of the revolution rock 'n' roll was causing. "I had no idea how much impact the music was having or was going to have. I don't think it's really dawned on me yet how much rock 'n' roll has meant."

It didn't mean much financially in the 50s - at least not to the artists who were creating it. "We got ripped off. We worked and ended up not making no money. We had nowhere to turn," he said.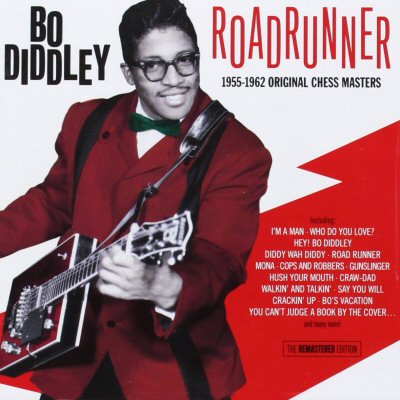 For two-and-a-half years in the 70s, he lived in Los Lunas, New Mexico, where he served as sheriff. He's currently moving back to that city and job from Gainesville, Florida.

"I always wanted to be a policeman. I have always tried to live according to the laws that have been put in front of us.

"I always wanted to be a guy who could talk to kids, the potential drug users, the drug users, the pushers, and tell them that what they were doing was wrong, that they had to find something new to do. That stuff is poison."

Even when he is enforcing the law, Diddley won't stop rocking. His career is again at a peak, thanks to a series of Nike ads. The first, which ran in July 1989, paired him with Bo Jackson and featured the line, "You don't know Diddley." Now the catch phrase "Bo knows" is being used.

The exposure has done wonders for Diddley's popularity. With his thick, tinted glasses, narrow-brimmed hat and box guitar, he tours more extensively than ever.

"It's wonderful," Diddley said. "Now my grandchildren's friends know who I am."