BROOKS ARTHUR: CLEARLY COLOSSAL BEHIND THE GLASS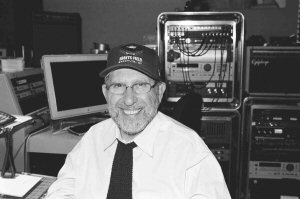 Photo credit: Betsy Hammer.
Courtesy of The Brooks Arthur Archives
By Paul Freeman
No matter how talented singers are, they're not going to make great records without equally gifted songwriters, engineers and producers.
For more than half a century, Brooks Arthur has demonstrated extraordinary abilities in all of those categories. He has definitely earned a place among pop culture classics.
Born Arnold Brodsky, he grew up in Brooklyn. His parents owned a candy store. But Arthur's real treat was always music. He took singing lessons and, for his Bar Mitzvah, received a treasured present from his folks - a tape recorder.
In the mid-'50s, while still in high school, Arthur toiled in the Decca Records mailroom. Then he worked as Michael Kapp's assistant at Kapp Records' in-house studio.
As a singer, he released a couple of singles under the names Art Barrett and Arnie Blaine. He used the name Brooks Arthur in 1960, when he was signed to Aldon Music as a songwriter and demo singer. Aldon was the era's top music publishing company, headed by Al Nevins and Don Kirshner.
Brooks Arthur singles released around that time included "In The Fall," penned by Barry Mann. As a tunesmith, Arthur had songs recorded by such artists as Tony Orlando, Erma Franklin, The Four Coins and Joanie Sommers.
But the smash hit eluded him and Arthur, working at Dick Charles' studio, began focusing on the craft of engineering.
Arthur manned the board for such classics as The Angels' "My Boyfriend's Back" and, as an independent engineer, The Crystals' "I Wonder," The Dixie Cups' "Chapel of Love," The Shangri-Las' "Leader of the Pack" and "Remember (Walking In The Sand)," Little Eva's "The Locomotion" and Janis Ian's "Society's Child."
In 1966, Verve released The Brooks Arthur Ensemble's "Sole Forms" jazz album. But Arthur continued to display his magic touch at the control board. At Phil Ramone's A & R Studios, Arthur engineered such hugely successful records as The Lovin Spoonful's "Darlin' Be Home Soon," Van Morrison's "Brown Eyed Girl" and many tracks by his childhood pal Neil Diamond, including "Kentucky Woman," "Cherry Cherry" and "Solitary Man."
Eventually Arthur opened his own studio, Century Sound. There such landmark albums as Van Morrison's "Astral Weeks" and Diamond's "Brooklyn Roads," as well as the powerful Evie Sands single, "Any Way That You Want Me" were recorded.
In 1969, the second Brooks Arthur Ensemble album, "Traces" was released. In the '70s, Arthur unveiled a new workplace, 914 Studios. Bruce Springsteen recorded his "Greetings From Asbury Park" album there.
Over the years, the long list of artists for whom Arthur engineered includes Gordon Lightfoot, Roger Miller, George Jones, Jerry Lee Lewis, Brook Benton, Gene Pitney, The Grateful Dead, Bobby Darin, The Ronettes, The Shirelles, The Cowsills, Art Garfunkel, Jay and the Americans and Marvin Gaye.
As a producer, Arthur enhanced the sounds of Janis Ian (helming her Grammy-winning "Between The Lines" album), Dusty Springfield, Liza Minnelli, Michael Feinstein, Peter Allen, Carole Bayer Sager, Bernadette Peters and Bette Midler.
Arthur has been involved in many film and Broadway projects. Comedy has been another of his specialties. He has produced albums for John Leguizamo, Norm MacDonald, Pauly Shore, Robin Williams, Jackie Mason and Adam Sandler. Arthur has served as music supervisor on numerous Sandler films and also co-wrote the "Eight Crazy Nights" screenplay.
With his Brooks Arthur Company, he remains busy with an amazing variety of projects. Recent ones include comedian Nick Swardson's "Party" and "Seriously, Who Farted?" albums for Comedy Central Records and "The Jewish Songbook: The Heart and Humor of A People." Performers on the latter include Barbara Streisand, Adam Sandler, Theo Bikel, Lainie Kazan, Paul Shaffer, Richard Belzer, Rob Schneider, Dave Koz, Neil Sedaka, Herb Alpert and The Manhattan Transfer. A portion of the proceeds go to the Jewish Charities of America.
Arthur was kind enough to speak with Pop Culture Classics. The occasion? The release of the long-lost, legendary Peggy Lee album, "Two Shows Nightly."
Collectors Choice has been reissuing Lee's classics. They recently issued "Two Shows Nightly," remastered, bolstered by a dozen bonus tracks. The album had been sought by fans for over 40 years. Recorded during an engagement at New York's Copacabana in 1968, the record was nearly ready to be shipped, when Lee yanked it out of circulation. A trickle of promo copies fetched huge sums on eBay.
In addition to standards such as "Do I Hear A Waltz?," Lee delved into a more contemporary songbook, essaying songs by such writers as Tim Hardin and Jimmy Webb.
Brooks Arthur, prior to becoming a legendary producer, served as engineer for the live recordings.
POP CULTURE CLASSICS:
It must have been tremendously disappointing that the "Two Shows Nightly" album wasn't originally released as planned.
ARTHUR:

There were two albums in my lifetime - and it's a long lifetime, in terms of lifetime in the music industry - that broke my heart, because they never reached the public at a normal release time. They went 40 years out of sequence - Peggy Lee's 'Two Shows Nightly' and 'The Dusty Springfield Collection.'
PCC:
What was the story of the Dusty album?
ARTHUR:
There are other equivalents now. But she was, at the time, the greatest female voice I'd ever heard, for that genre of music.
Unfortunately, I just caught her at a tailspin in her life and it took so long to take what I could get out of her. Suddenly the label, had to, of necessity, pull the plug, because she wasn't delivering and, therefore, I wasn't delivering.
PCC:
Why did Peggy Lee object to the release of her album, 'Two Shows Nightly'?
ARTHUR:
I was their recording engineer. I wasn't privy to the conversations that were going on behind closed doors, between Koppelman-Rubin and Peggy Lee and her label.
But what did surface was, she said that she wasn't happy with some of the sweetening. The producers wanted us to sweeten some of the crowd sounds with applause. Not fake applause, but applause from another spot that could seem like it was part of this spot. She had great ears and detected that and didn't like that.
Also, we tried to fix one or two phrases, vocally. And, as I recall, she protested doing that. She was a purist.
They were ready to master this thing and ship it, get it out, probably in September of '68. And it was never launched, because she pulled it back.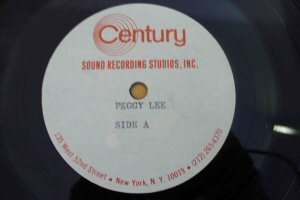 From Peggy Lee's 1968 Acetate
Courtesy of The Brooks Arthur Archives
PCC:
Was she was a perfectionist?
ARTHUR:
She was a perfectionist. She was a great songwriter. She made great records all of her life.
Koppelman-Rubin were very good producers and very good friends and I would never say anything negative about them. But they might have just missed the fact that she was such a purist that she would have felt that anything that resembled quote, 'an artificial fix,' unquote, was not being honest with what her audience saw, especially in this live setting.
I've had a lot of time to think about this. I think, frankly, that she was not quite at home with the new material. It wasn't part of her bones, like the older material. She could phrase beautifully on the older material, because she knew every move, every lyric, every change, every chord. It was much more hand-in-glove to her. This was a little more of a high wire act for her.
Looking back, she might not have protested those fixes, if she were a little more comfortable with the songs. I think she was much more zoning in on her performance, per se, not the overall.
With that being said, she had the best of musicians in the world, but this was newer material to them, as well. And the musicians were pros and they are great. The other songs on the album, they had lived with for 8, 10 years. Suddenly these new kids - these new songs -come along. And the band were a little tentative about how to approach this. They weren't able to add their usual comfort zone to their performance. I think that combination is what Peggy Lee might have felt when she decided to hold up the release of the album... . But as I listen to it now, it's sensational!
PCC:
Was it a thrill for you to work with Peggy Lee?
ARTHUR:
Forty-two years ago, I was a kid. And it was amazing to receive a call from Charles Koppelman and Donald Rubin, asking me to engineer such a great lady of song. I was excited, thrilled. It was like one of the big highlights of my life.
PCC:
Capturing live performances, was that a lot more difficult in those days?
ARTHUR:
It's infinitely easier to do it today, because of the technology, and also, you don't have to lug big equipment into a room anymore. You can park it in a truck outside. We brought our board into the kitchen at the Copa. So we referred to that album as, 'The Kitchen of the Copa.' That was our code name for the tapes.
PCC:
Were you confident you could capture the magic of the Peggy Lee performances?
ARTHUR:
I knew I'd captured it, because we were using analog. Though it's a dinosaur today, it still had a wonderful ambient sound. We had some ribbon microphones that were just sensational. We have mics that can match them today, but at that particular time, we were going with our best guns.
PCC:
There's a warmth to the new release's sound. Would that be because of the analog?
ARTHUR:
I would say it's attributable to the analog on our original recording. I'm sure they remixed it digitally. Those are remixes, but that's my work. The rough mixes were pretty representative of a great album.
PCC:
Any other recollections of Peggy Lee?
ARTHUR:
I had a similar experience with Peggy Lee and Frank Sinatra, when I asked if I could take a photo with them. Frank Sinatra made it so easy to take a photo with him. And at another session, it was so easy with Peggy Lee, who was so warm. This was at my studio, Century Sound. They took the shot and she said, 'Take another one, man, just in case that one didn't work.' She was that cool about it. And from that moment on, I embraced her even more.
I had been a longtime Capitol Peggy Lee fan and I was telling her the story that when I first started out in the music business, I was a mail boy at Decca Records, at West 57th Street in Manhattan. And she was recording during her Decca days and I was delivering mail to Milt Gabler who was producing her then. So I had a glimpse of Peggy Lee in the studio, long before we met. So I was always, somehow, mystically connected in my own mind. Maybe I'm making more of it than it is, but I always felt mystically connected to her.
PCC:
You were in the mail room with intentions of working your way up in the music business?
ARTHUR:
Oh, yeah. I think that everybody who's in the mail room has an idea either of becoming the world's greatest executive, as in David Geffen, or an artist. Everybody thinks that, because they start working in a record company, that they're going to have access to the head of A&R and they can audition and play tapes for them. In those days, it wasn't tapes, it was acetates. Or you hear a vocal that the A&R guy makes and you say, 'Can I try that vocal?' That was a tough row to hoe.
I started in the mail room, because it gave me the record industry savvy. And then Milt Gabler helped me get my feet wet with his staff. And Dick Jacobs and Bob Thiele at Decca. And then I went over to Kapp Records and they really launched me into the career of record producing and engineering. I really learned so much from all those guys.
PCC:
And while you were still in the mail room, you were able to attend an Ella Fitzgerald session?
ARTHUR:
Milt Gabler was in the executive offices up there. I walked into his office and his secretary said, 'Please give that to Mr. Gabler in Studio A.' I went in there very quietly. I heard the music, looked to the right and there were Ella Fitzgerald and Gordon Jenkins, recording a song called, 'I Need.' My jaw dropped... and I'm still having trouble closing it.
Milt Gabler said, ''Man, you look like a deer in the headlights.' I said, 'That's Ella Fitzgerald!' He said, 'Yes.' I said, 'This is what I want to do.' He says, 'Well, come on in. Put the mail down and sit in.'
Then I was signed to a songwriting contract at Aldon Music with Donnie Kirshner and Al Nevins. It couldn't get bigger or better then, with some of my Aldon Music mates, guys who left me in the dust as a writer [Arthur chuckled]
I love the way I write. Actually, I'm pretty arrogant about my writing. I think I'm a pretty great writer. And even a better singer. But it wasn't my era anymore. And my songs were great, but they weren't being attended to, because the publishers, Donnie Kirshner and Al Nevins - and I'm eternally grateful to them for helping launch another aspect of my career - they neglected me for some other writers named, let's see, what were those names? Carole King, Gerry Goffin, Barry Mann, Cynthia Weill, Neil Sedaka, Howard Greenfield, Bobby Darin, Connie Francis, Larry Kolber. It goes on and on and on. Neil Diamond.
PCC:
And some of them were your childhood friends?
ARTHUR:
Neil Diamond was a childhood friend of mine. And Sedaka was a childhood friend of mine.
PCC:
So you all shared the dream?
ARTHUR:
They're just a couple of years younger than me. We shared the dream, but like I wrote in my play, 'Crooners,' the electric guitar and the doo-wop sound were going to drown out my teenage dreams. Because I wanted to be the next Tony Bennett or Eddie Fisher, but it turns out that the world was waiting for Neil Diamond, Neil Sedaka, Bobby Darin and those cats. And they were freakin' great. So I knew I'd better run for cover. But I regret, a little bit, not pursuing the singing. I should have stuck with it. I tucked it away for many years. As I engineered and produced my way through life, I would occasionally unwrap it and do some background singing. Then put it back in the drawer again.
PCC:
So recording other artists, was that frustrating or fulfilling?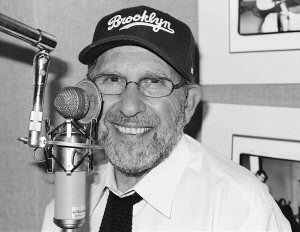 Photo credit: Betsy Hammer.
Courtesy of The Brooks Arthur Archives
ARTHUR:
I was getting a tremendous amount of fulfillment, a tremendous amount of reward. It was satisfying my burning desire and ego. And anybody who says they're devoid of ego is not telling the truth. Also, certainly I wasn't the richest guy in town, but it afforded me and my family a nice lifestyle.
PCC:
The art of engineering, was that something you had to learn through experience. Were there courses you could take?
ARTHUR:
There might have been, but not that I knew of at the time. To my knowledge, it was more a hands-on, daily, coming up through the ranks, mail room version of the recording engineer. That would be like a young assistant engineer who takes out the trash, rethreads the tape machines with fresh, new tape and makes the tape copies, cuts disc in great quantities, so the publishers get it all around to the artists, the managers and the labels. That was my job for a minute.
Then my first job was with Dick Charles Recording Studio, a demo studio at 729 7th Avenue. We cut some great records there. Then I went next door to Associated Studios, 723 7th Avenue, where we cut demos that became masters, like 'My Boyfriend's Back' with The Angels and 'Hang On Sloopy' with The McCoys. So it launched me.
And then Goffin and King asked me to come over to a studio they were working at, called Mirror Sound Studios, because one of their engineers got sick.
PCC:
With a record like 'My Boyfriend's Back,' do you know instantly that there's something magical there?
ARTHUR:
Yes, I knew instantly that it was magical. Why? Because I was listening to the radio a lot, I was hearing a lot records being recorded daily, at various studios, demos and masters. So I knew what was going on and you could walk by a control and say, 'That record's going to be a smash' and not be too far from wrong.
PCC:
'Chapel of Love' was another classic.
ARTHUR:
'Chapel of Love' was one of the great experiences of my life. The minute they started to run it down, I said to Jeff Barry and Ellie Greenwich, Leiber and Stoller, all of us in the control, I said, 'Man, this record is a stone cold smash!'
PCC:
And the Shangri-Las, you engineered their hits, as well?
ARTHUR:
The Shangri-Las stole my heart. They could never do wrong. Shadow Morton brought them in with Jeff Barry. That was love at first sound.
PCC:
Did it depend on who was producing, how much creative input you might have?
ARTHUR:
Wow, what a good question. I didn't really give too much input to those I didn't live with day and night. But I did live with Shadow and I did live with Jeff and Ellie and Leiber-Stoller during those Red Bird days. And I did live with Goffin-King and they welcomed my suggestions, my thoughts. And they welcomed what I might do to a mix to make it as good as good could be.
So I felt I was really more than their engineer... not that I needed that. But it turned out that I was. And it kind of spoiled me for the rest of the way, because when people didn't want to hear my input, it made me a little... I can't say defensive... but it kind of like made me think, 'Wow, man, they don't want to hear what I've got to say? All right. Look what I've done with these other guys. They listened to me and their batting average is sensational. I'm not responsible for their batting average, but I helped to knock it up a tick or two, you know?'
PCC:
So Leiber and Stoller were open to your ideas?
ARTHUR:
Very much so. Most of them were sonic ideas and maybe doubling harmonies or not having a harmony or maybe this should be a build to the second verse. They were very open that way.
PCC:
So that must be really rewarding when you hear the records back and you can hear those ideas you had come to life?
ARTHUR:
Yes. But through all of this, the credit belongs to them, man. I'm not top banana. I was not the producer on those records. I was just an ingredient that they welcomed, allowing me to do what I thought was to make the record better. And they somehow agreed. And guess what? The public agreed.
PCC:
You worked with Phil Spector?
ARTHUR:
I did a couple sessions with Phil Spector and those were pretty great sessions. One song stands out, that really never made it to the top. It was one of my favorite records, called 'I Wonder.'
But, what with Phil being incarcerated these days, I'd really rather put a moratorium on Phil Spector talk, because anything that I say could be misinterpreted. Just say that I felt he was the Beethoven and the Mozart of our time, as a record maker and a songwriter.
PCC:
Working with people like Spector and Leiber & Stoller, were you tucking away information, thinking about the day when you would be producing artists yourself?
ARTHUR:
Well, doesn't the student always take what the teacher did and run with it in his own way? That's what I did with Leiber and Stoller. They taught me. And I told them, 'Hey man, can I run with this idea?' When you make records, you incorporate some of the experiences that you had, rather than the dialogue. You think, 'What would they have done?' and 'What made their records great?' Of course, those guys always came in with the first important ingredient, called 'the song.'
PCC:
Did your experience as engineer benefit you as producer?
ARTHUR:
Since I was engineering, as well as producing, the complete sound and the production were in my hands. So I knew a drum thing or harmonica thing or an acoustic guitar thing that we did or a vocal or multiple vocals - I knew what I was going to do with it down the line, when it came to mixing. So I was set. And I was always moving forward. When you are engineering for someone, you have to obey the traffic lights.
PCC:
When you're producing, do you feel that you're there just to enhance the artist's vision or do you want to add your own imprint?
ARTHUR:
In all fairness, I think what made me a singer-songwriter's producer is the fact that I wanted to help them realize their vision and, along the way, add my shit, to make it sound right, to introduce or reintroduce or recall the Leiber & Stoller, Jeff Barry-Ellie Greenwich, Goffin-King, Neil Diamond, Bert Berns, Jerry Ragovoy vibes. So I'm lucky, man. Look at the names I just mentioned. So I fed off of them. And there's a part of me that has so many parts of them.
To this day, I can tell you in a nanosecond whether I love a song or not, or whether it's a smash. Don't get me wrong, I'm not Clive Davis. I can't pick 'em like that. I've been wrong a lot of times. But, given the opportunity, I can tell you what's a record and what's not a record.
PCC:
So along the way, there were records you thought were amazing, but they never clicked with the public?
ARTHUR:
Oh yeah, there were records that we made, man, that to this day, I'm baffled that they didn't make it. And there are artists that we've worked with, to this day, that we've backed and nurtured, that didn't make it, for a number of reasons.
As I got older, I found that a lot of the young artists that I was producing or trying to groom, wanted so much of their own control that I was essentially moved out of the mix. If they didn't want to have what I think is my valuable input and know-how and style and talent, f--k 'em! [Arthur laughs] I move on. I don't have time for that shit anymore.
PCC:
Any particular records you recall that deserved a better fate?
ARTHUR:
There is one of those records that comes to mind, with the late, great Bobby Bloom, who had a hit record with 'Montego Bay.' He made a record with Vinnie Poncia and Pete Anders, two record producers and songwriters. They cut the record at A&R Studios, called 'Love Don't Let Me Down.' And it was an absolutely unbelievable record that never made it. Of course, his life was cut short. I don't know what happened, but they say it was a shooting accident.
PCC:
It must have been exhilarating to open your own studio.
ARTHUR:
I did a similar thing that I did with the writers and the producers and that is, I worked at two or three studios, partnered at one with Phil Ramone and then, as we moved on down the line, when I built my first studio, Century Sound, with Jeff Barry as my partner, we didn't have all the money in the world, so we made a pretty nifty studio with no money. But we did okay. We cut 'Astral Weeks' at that studio, among other albums.
Then when I built my workshop, up near Nyak, New York, I almost went out of business the first couple weeks, because Paul Anka was going to come in there and do two or three weeks of doing an album. There was a fuel strike and an energy crunch. So Paul decided to cancel his sessions. My studio was dark for two weeks and the meter was running. Then the miracle of miracles, my friend Mike Appel walked in and asked me to join him to see Bruce Springsteen in Asbury Park and the rest of that is history.
And then Janis Ian, we did those albums up there, and Loudon Wainwright. Then Neil Diamond told me to move west, that my career is on the west coast. I took his advice and sold the studio and came here.
PCC:
Those early Springsteen sessions must have been electrifying
ARTHUR:
Oh yeah, those Springsteen sessions were pretty amazing, man. To think that they were born in my studio, those first two albums and the first cut of the third, I don't have the words for it. Some things just happen. I didn't plan on Bruce. But my hard work, I guess, or possibly reputation, or my per project rates [Arthur laughs] were more attractive to Mike Appel than other studios. Here we are, out in the country, sitting next to a diner and across the street from a Carvel's - that's all they needed, you know?
PCC:
Bookings like that must really boost the studio's business.
ARTHUR:
You're always trying to follow the hit. That's a natural music business tendency. You usually go to the studio that has a great sound, because it cut some hits. Do you know how many artists back in the day wanted to go to Motown to record there in Detroit, just to get that sound with those guys? But you could rarely, if ever, book it, because they were booking themselves. They also didn't want their sound being captured on another label.
A lot of producers and engineers' reputations precede them. Other artists go to them and say, 'Man, Brooks did a great job on such-and-such a record. Let's just get him. He's a great yada-yada-yada.'
PCC:
Tell us about producing Janis Ian's landmark 'Between The Lines' album.
ARTHUR:
We had done the 'Stars' album. I actually helped to invest in that first album and nobody would buy it, coast to coast, Clive Davis included. Then when I came back a second time, my friend Charles Koppelman - the same Charles Koppelman who produced Peggy Lee - was running Columbia Records. He asked if I had any artists or material. I said, 'No, nothing.' He said, 'I never knew you not to have something in your attache case. At that time, I was walking around with an attache case of acetates and quarter-inch tapes. I said, 'Clive passed on this, but here - this is Janis Ian.' It was like a seven-inch reel. And he called me the next morning and said, 'What's your deal? Let's sign her. Let's go.'
And then Cher cut 'Stars' and it validated the first album. And then we did the second album and Roberta Flack cut 'Jesse.' And that started to validate the second album before the second album was even born. The first album was validated more than the album to come, called 'Between The Lines,' which was originally called 'Watercolors.' We lucked out. It was a marriage made in heaven. We always had a groove going, because, back in the day, at Mirror Sound Studios, Shadow Morton came in and did 'Society's Child' with the head of Verve/Folkways Records, a wonderful gentleman. He was the one who steered Shadow to me.
So we had 'Society's Child' and some other stuff with Janis, when she was on Capitol Records - 'J. Eddy Fink' and those kinds of records. And then her manager, Jean Powell, was desperately trying to find her a deal and I felt it was time for Janis. So we invested in it, personally, as well as through the studio. And we got it. We captured the gold ring.
As I was watching the Grammys the other night, with Taylor Swift and all rest of the kids, it reminded me of when we were up against Paul Simon, 'Still Crazy After All These Years,' for Album of the Year. Had we only won Album of the Year, it would have meant all the difference in the world. It would have added an extra decade to her career and our career together. We did great. We did win two Grammys. But we could have had the platinum ring.
PCC:
How did you get involved in producing comedy albums?
ARTHUR:
As I recall, there was a guy called Kevin Eggers, who had a label called Tomato Records, distributed through RCA. I was operating Century Sound Studios. So it was around '67, '68. He signed Dick Gregory to his label. And he asked me to go on the road with Dick Gregory and record his talks, which were comedy, but serious business at the same time. And then I was to go back to the studio and edit them any way I wanted. Just make the length however much vinyl could handle at the time - 20 minutes a side, cut it up any way I wanted and let him hear it. He would make one or two suggestions and yada-yada-yada. And there was the beginning of my comedy career.
A lot of the comedians got the word that I was producing or editing comedy, so they started to come to me. Nipsey Russell lived in the hotel where one of our studios was at, so he came to me. Then Neil Bogart came to me to edit Johnny Carson tapes. Then Buddy Mora asked me to check out this new guy, Robin Williams. I went with him. I invited Neil Bogart to check him out with us. We went to the set of 'Mork and Mindy.' Neil Bogart reached into his pocket and said to Buddy, 'I'm signing this check, but it's blank. You fill in any amount you want. We're signing Robin.' Buddy said, 'I don't do business that way. I can't take a blank check. You make an offer, make a contract, make it a little more kosher.' And the rest is history.
And then I met Adam [Sandler]. Mo Austin, the chairman of Warner Brothers Records, and Sandy Werner, Adam's manager, called because I had done Jackie Mason's Broadway album, called 'The World According To Me.' They thought I might be able to capture a comedy vibe with Adam for an album, if I thought the material was there. Of course it was there. I knew it was there before I hung up the phone, because I'd watched him on 'Saturday Night Live.'
PCC:
And you went on to be involved in many of Adam's movies, not only as music supervisor, but in other capacities?
ARTHUR:
Thank God, on a handshake, 15 years later, he's still asking me to do some of his movies. We just finished 'Grown-Ups,' which is coming out in June. He's a wonderful man and a great friend. And he has extended my professional life by a minimum of a decade.