BUFFY SAINTE-MARIE FINDS THE POWER IN THE MUSIC
PCC's Interview with the Legendary Folk-Rock Singer-Songwriter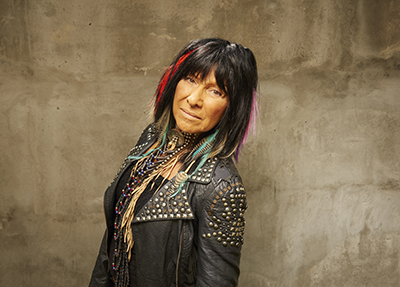 Photo by Matt Barnes

By Paul Freeman [October 2017 Interview]

She's been writing, recording and performing deeply meaningful songs for over half a century. At 76, Buffy Sainte-Marie still delivers that intensely affecting vibrato and that fearless pursuit of justice.

As evidenced by her latest album, the brilliant "Power in the Blood," Sainte-Marie pours her heart into musically diverse, lyrically insightful songs. On the title track, written by British band Alabama 3, Sainte-Marie angrily laments the ills and inequities in our modern society. Her own "Generation" also dives into societal/political issues. Global oneness is touted in her "We Are Circling." Her Native American roots are honored in "Ke Sakihitin Awasis (I Love You Baby)." "Orion" radiates a celestial beauty. Sainte-Marie rediscovers two of her classic tunes, "It's The Way" (and there's a righteous, defiant individuality proclaimed in that one) and "Not The Lovin' Kind," and they still have an emotional impact. She brings the whole album a contemporary edge and it never seems forced. Sainte-Marie's music, as always, is honest, thought-provoking and inspirational. Having emerged from the 60s folk scene, she respects traditions, but boldly embraces unconventional rock influences.

Sainte-Marie's music has stood the test of time. Her songbook includes protest numbers like "Universal Soldier," "Now That The Buffalo's Gone," "My Country 'Tis of Thy People You're Dying" and "Bury My Heart at Wounded Knee." "Cod'ine," a riveting depiction of addiction, was covered by numerous artists, from Janis Joplin to Courtney Love.

Sainte-Marie penned the exquisite love song, "Until It's Time For You to Go," which has been recorded by dozens of legendary artists, including Barbra Streisand and Elvis Presley. No version is more hauntingly lovely and touching than her own.

She co-wrote the Academy Award-winning pop smash "Up Where We Belong," which was featured in "An Officer and a Gentleman," sung by Joe Cocker and Jennifer Warnes.

Sainte-Marie, a Cree from Piapot Reserve, Saskatchewan, Canada, has been a tireless activist, bringing to light the enslavement and genocide of indigenous North Americans. In 1997, she founded the Cradleboard Teaching Project, an educational curriculum designed to better understand Native Americans. She is also the founder of the Nihewan Foundation for American Indian Education.

She has sung for peace, the environment and other vital issues. She is the recipient of Canada's top musical honor, the Polaris Prize. Sainte-Marie, who grew up in challenging surroundings, maintains an innate sense of optimism.

She found out many years after the fact that, in the 60s and 70s, J. Edgar Hoover and elements within the Nixon and Johnson administrations tried to keep this outspoken performer from being heard.

But this is a voice that cannot be stilled. In 1975, Sainte-Marie found a new audience, when she began a five-year run on "Sesame Street."

The folk-rock icon, an artist of unwavering integrity, has a new album, "Medicine Songs," due in November. Sainte-Marie faces the world's wrongs not with anger and bitterness, but with courage and compassion.

Now based in Hawaii, Saint-Marie generously and graciously spoke with Pop Culture Classics.

POP CULTURE CLASSICS:
"Power in the Blood" is a certainly a powerful album. Revisiting a song like "It's My Way," does it hold a different sort of resonance for you now?

BUFFY SAINTE-MARIE:
It's pretty much the same now as it as when I wrote it — describing the ins and outs and ups and downs of my own path but encouraging listeners to discover their own paths, not mine.

PCC:
The long pauses between albums, does that make each one more important to you? In writing, do you tend to wait until songs come to you, rather than telling yourself it's time?

SAINTE-MARIE:
Actually I only record when I want to go on the road supporting the album, and when I have a bunch of songs in the can that excite me! Very different approach from most artists, and definitely not advisable regarding careerists and business. But except when I was contracted in that awful first deal with Vanguard — when I didn't have a lawyer, so they "let me use theirs." Argh! — I only record the songs I love, and hopefully get better and better playing and singing them.

PCC:
Has the social activism always fed the music and vice versa?

SAINTE-MARIE:
Yeah, that's pretty much true, although every album I've made has been really diverse, with love songs following protest songs, country songs, all kinds of stuff. My upcoming album to be released in November will be the first departure from that diversity in that it's all activist songs, both positive and protest.

PCC:
Your songs have often addressed the wrongs around us. Do you think music can change the world?

SAINTE-MARIE:
A song sure can change the perspective of individuals, and sometimes millions of individuals, so I see that we certainly can influence large numbers of people. A three-minute song can do more than a textbook in that it's immediate and replicable, catchy and mutable into all kinds of styles that other artists can give to their own audiences. Songs have always been rather viral in that way. I have six bags of mail regarding "Universal Soldier" from people saying that that song changed their lives for the better, so that's heartening.

PCC:
Growing up, who were the musical artists you first really connected with, either intellectually or emotionally?

SAINTE-MARIE:
My first crush was on Tchaikovsky from age three. Then came 1950s artists like Carl Perkins, Chuck Berry, Fats Domino, LaVerne Baker and the other early R&B artists, whom I saw live on the Alan Freed rock 'n' roll shows — thrilling!!!! And of course Elvis Presley, who was 19 when I was about 12 and really influenced my love of diversity Southern style, combining love songs with blues, rockabilly and looking great onstage.

PCC:
At what point did you decide that music was meant to be your path in life?

SAINTE-MARIE:
Actually, even while I was recording my first album, I had plans to continue my studies in Oriental Philosophy in India. I thought I'd only be around for a few months. The immediate success of "It's My Way" and the songs it contained earned me huge travel rewards and I got hooked. Hard for a girl from the North to say no to tickets to Florida, Mexico and Italy! It's been those travel opportunities as much as the showbiz stuff that keeps me interested. I'm in love with the world, nature, culture, people. What a smoosh I am, eh?

PCC:
Being part of the 60s Greenwich Village scene, with so many great singer-songwriters starting out, did that help fuel your creativity?

SAINTE-MARIE:
Actually it was being around real folk songs and Delta blues that blew me away. Most of the songwriters around sounded pretty vanilla to me, except for Bob Dylan and Phil Ochs. But real folk songs? What an example for a young songwriter in love with learning, to be around 300-year-old folk songs as sung by Ewan MacColl, The Watersons, Joan Baez and Pete Seeger. There were reasons why those songs have lasted so long, and they influenced all the young songwriters I think. They were about universal themes that are true worldwide, like love and courage and betrayal and oppression, and usually had simple but unique melodies. Although a lot of my songs are just pop or just for fun, mostly I loved giving audiences the unique and unforgettable, in tunings they'd never heard of, but about things that affect everybody.

PCC:
Was Dylan one of the first to recognize your talent?

SAINTE-MARIE:
[Laughs] No — but he was there one night in Greenwich Village, when I sang at Gerde's Folk City on open mic night, and he liked "Cod'ine," "Universal Soldier," "Now That The Buffalo's Gone" and other songs I'd written and been singing off campus at U Mass, where I got my first college degrees and had a following. Bob sent me over to talk to Sam Hood at the Gaslight, where Robert Shelton of the New York Times heard me one night a few weeks later and gave me a great review. So Bob was definitely real helpful in that regard. I've always appreciated that and liked him personally. When I helped Joni Mitchell out a few years later, it was like passing the love along.

PCC:
Whether it's First Nations issues, GMOs, fracking, war — you've never been afraid to speak out - is that just inherent in you?

SAINTE-MARIE:
I guess so. I can't figure out why more other songwriters don't speak out, except if it gets trendy and they think it'll make a buck. They certainly have the talent. But maybe they're just smarter than me, afraid of risking their careers... which is a valid point since I apparently was eliminated from the U.S. airwaves by two presidential administrations whose cronies made sure the public did not hear my stronger points of view.

PCC:
Do you sometimes approach songwriting as you might journalism — reporting to the public, to awaken them to what's happening around them?

SAINTE-MARIE:
Yeah, regarding topical songs that's kinda it in a nutshell. But, as a college graduate who had written a lot of theses for professors who didn't like me or my topic, and I still wanted an A+, I learned to do research and check the facts. I still want a topical song to be bulletproof, not just emotional. Wait'll you hear "The War Racket." It's on my upcoming album due in November.

PCC:
When people remain apathetic or too wrapped up in the details of their own lives to get involved in vital issues, is that difficult to accept?

SAINTE-MARIE:
Naw, I understand that. The current system keeps everybody apathetic and working for coins, just to survive; and coins are traditionally the only way Europeans could change their status, by finally having more than the other guy. Business majors run the world at the moment but at other times it has been the churches or the military. This is just a phase I think. Our system needs help. Vote for Bernie!

PCC:
What led to you being blacklisted in the 70s? How did you deal with that pragmatically and emotionally?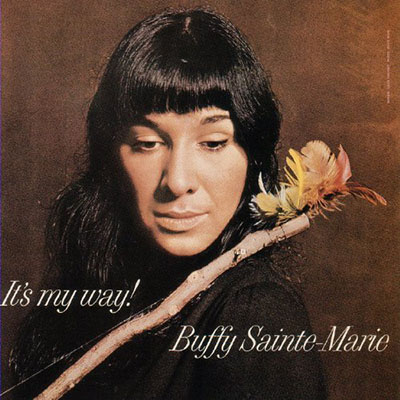 SAINTE-MARIE:
I didn't have to deal with it – I didn't know it was going on until twenty years after it was over. It's not as if somebody tells you you're being blacklisted. Sometimes people ask me if it makes me "hate the US government" — of course not! It's not as if Congress passed an act to suppress me or people like me. It was never "the government." Instead, a couple of guys in two administrations (Johnson's and later Nixon's) go in the back room and make nasty phone calls to their cronies at the networks. And it's over. The public is denied my music. Next time I'm invited onto "The Tonight Show," the producers specify that I shouldn't talk about indigenous anything or alternative conflict resolution, but just stick to celebrity chat. J. Edgar Hoover was a fact and a tool, and he did a lot of damage in keeping indigenous activism and peace geniuses under wraps. Eartha Kitt got it too, so did Taj Mahal, but the public never knew what they were denied.
PCC:
Was it mind-boggling that figures like LBJ, Nixon and Hoover viewed you as a threat?
SAINTE-MARIE:
Yes, it still is. I had just thought singers come and singers go and public taste changes. When radio journalists in the U.S. and Canada years later apologized to me for going along with letters written on White House stationery commending them for suppressing my music which, in their opinions, deserved to be suppressed, I was surprised. My lawyer, Abe Somer, suggested I get my FBI files, and I said there wouldn't be any; I'd never broken the law, and I wasn't that important. But it turned out there were 31 pages on me, much of it blacked out, and none of it incriminating me, although it certainly incriminated the provocateurs and FBI plants they had inserted into the Indian movement.
PCC:
Alternative conflict resolution — do you think society might be more ready to welcome such concepts, in the midst of current chaos?
SAINTE-MARIE:
I sure hope so! Please read John Horgan's impressive little book "The End of War." He points out all the trendy reasons that we list for the existence of war are fallacies. Human nature? No, war is rather a recent invention. Lack of resources? No, the biggest baddest wars have been fought by the richest countries on earth. Greedy bankers? Not unless we support them. Male aggression? No, you can have male aggression without it leading to war, etc. But if we sit back and do nothing, these things can develop into a perfect storm and make certain folks a bundle.
PCC:
How disturbing is it that "Universal Soldier" remains absolutely as relevant now as it was when you wrote it?
SAINTE-MARIE:
Pretty disturbing considering that after World War I, and after World War II, and after Vietnam, people thought the lesson had been learned. But, as I learned on five years of "Sesame Street," there's always a new crop of five-year-olds. I think my own peers just thought that peace was in the bag now, got lazy, bought SUVs and tuned out. But the termites just keep on chewing. Peace demands vigilance, which is what Bernie Sanders seems to understand, while party politicians continue to exploit us.
PCC:
In the 60s, there was such a sense that positive change could be accomplished. Are you optimistic about that today?
SAINTE-MARIE:
I am. Five years ago fewer people had a clear picture of racism, party politics, big business as king etc. than now. That's painful but it is a kind of progress. I say "The good news about the bad news is that more people know about it now."
PCC:
Is the current political situation sparking new song ideas?
SAINTE-MARIE:
Phil Ochs and Bob Dylan used to comb the headlines in hopes of a hit, not me. If it's already in the headlines, you don't need me to tell you. I always try to cover the base nobody else is covering. The big photo ops of the Civil Rights movement attracted all the popular folk singers of the day, but I wasn't there. Yes, I was friends with Muhammad Ali and Dick Gregory and Stokely Carmichael, but they didn't need me to march — by the way, all three of those great African-American heroes did help me —and instead I was trying to spotlight local and national indigenous issues, like with John Trudell at Alcatraz, and AIM folks in South Dakota.
PCC:
Beautiful songs like "Up Where We Belong" and "Until It's Time for You to Go," is there a feeling of fulfillment, knowing that, generations later, people are still being stirred by those songs?
SAINTE-MARIE:
Oh thanks. Yeah, love songs always get me, I'm a sap. One couple told me they had gotten married to" Until It's Time for You to Go," then they got divorced; but it didn't take and they got married again, this time to "Up Where We Belong" [laughs].
PCC:
What was the writing process for those two songs? What was the initial spark for each?
SAINTE-MARIE:
"Until It's Time for You to Go" popped into my guitar when I had a crush on somebody who was leaving. I was playing my guitar and the words and melody were just there. But "Up Where We Belong" was different. Jack Nitzsche, the great film composer, was scoring the movie "An Officer and a Gentleman," and he couldn't come up with a melody. He came to visit me and I played him that hook and melody, and it became the title song and the movie theme, too.
Jack added a little vanilla verse melody, kept my big hook and my complicated bridge; and Taylor Hackford, the director, gave it to the hugely talented songwriter Will Jennings who added words and put it all together. Stewart Levine did that incredible arrangement and Joe Cocker and Jennifer Warnes made it into a number one hit worldwide. I sure got lucky on that one.
PCC:
What did it mean to you to have artists like Elvis and Streisand record "Until It's Time For You To Go"?
SAINTE-MARIE:
[Laughs] At first, when Bobby Darin's musical director skipped the cool chords and vanilla-ed up the title melody, I was disappointed. But then everybody and his sister recorded it in my way as well as in other ways, and I learned that you can't kill a good song.
I'm so grateful to all those artists who liked the song enough to learn it, take it into their own lives, play it for their musician friends and give it to their own audiences in their own styles — people who would never hear it from me. It's really a great honour. It's become a real standard and has made me enough money to afford to be in the music business.
Show business is expensive! And I'm going broke at the moment bringing a band on the road in this economy. All the airlines are gouging, so are the car and instrument rentals, the hotels, the insurance companies. The smart artists stay home at times like these.
PCC:
What drew you to electronic music at such an early stage in its development [as on her 1969 album "Illuminations"]?
SAINTE-MARIE:
Just my same old curiosity. Most kids like to make noise on pots and pans and little xylophones, anything that'll make noise, and I still do. I was lucky to be around New York and L.A. when people like Michael Tchaikovsky, Jill Frazer, Paul Beaver and other early electronic music pioneers were experimenting with matrixes and Aarps and Bouclas and Serges. After my album "Illuminations" — which the folkies hated but art and electronic music students loved — came out there was nowhere to take electronic music — including electronic vocal music which nobody did — except movie scoring.
I'd experimented with stacking overdubbed mouthbows in Mick Jagger's first movie, "Performance," which Jack Nitzsche was scoring. He also hired Ry Cooder and Randy Newman for parts of that movie. So I wasn't the only one fooling with the sound part of sound. But the folkies not so much. Later I got a Synclavier and a Fairlight which I really loved; and in 1984 the Macintosh arrived and I felt right at home. I could do my electronic art and music on the same machine, put a floppy disk into my purse and go on the road and continue working without missing a beat. Herbie Hancock and John Barlow were the only other musicians I was aware of who were using a Mac at the time. It was so exciting.
PCC:
Did you make a conscious decision to not be categorized in terms of lyrical subject matter or musical style? Or did that just happen organically?
SAINTE-MARIE:
Both actually. I sure wasn't a copycat. I figured, there's already a Joan Baez doing that perfectly — why would I try to copy somebody else? That is, I deliberately chose to give my little audiences something they couldn't find anywhere else. I appreciated that in myself, that I was kinda unique, had a weird voice, played my guitars in altered tunings the Brit boys wouldn't discover for years, and had different interests — Indian issues, flamenco dancing and singing, Edith Piaf's passionate love songs — they were natural attractions to me and I just let 'er rip.
PCC:
With your background in education, what did the years on "Sesame Street" mean to you?
SAINTE-MARIE:
Complete respect. The people who started "Sesame Street" were totally there every day for every child, so smart and so tender. They never exploited me and they accepted my script ideas on breast-feeding, sibling rivalry, indigenous culture without a blink. I've always loved them for being truly child-centered, like Mr. Rogers in those days, too. Some of the cast members are still my friends and came to see me and my band in Central Park last month.
PCC:
Has it always been important to you to imbue your music with hope and beauty, as well as honest examinations of our society's flaws?
SAINTE-MARIE:
Thanks for saying that! That double-think thing comes kinda naturally to me. I think it's partly that I'm a woman and a multi-tasker. I just see the potential solution even when it's raining problems. Also, as a teacher you don't want to give people the information in an enema. Mostly, and in most of my songs, I'm aware of the listener and I'm just trying to deliver the information in an engaging, entertaining way they really dig.
Many of my listeners are stone Indian and know all about Indian issues even better than me; but other listeners don't know anything. So I try to hug with both arms. One of the technical things I've learned is that if you have an unfamiliar subject most people don't want to hear about, you wrap it into a simple melody and a driving rock presentation, like in "Bury My Heart at Wounded Knee." People are rocking and dancing before they even know what the song is about. People all learn in their own ways, and good teachers try to keep it engaging.
PCC:
What have been the most rewarding and challenging aspects of your life in music?
SAINTE-MARIE:
The most rewarding has been the airplane tickets to new places and diverse people, all of whom are for the most part very wonderful. That's the big privilege. It's also become the big challenge, since travel has become so difficult. I live in Hawaii and for me just to go to work costs thousands of dollars and days of travel. To play in Europe I have to cross the Pacific, cross the continent, then cross the Atlantic. I arrive with a 12-hour jet lag, so sleep is challenging; and the body aches that come with sleeping upright for days at a time in planes and vans. Anything to declare? Yes — Don't go into showbiz! But I'm 76 and I still love bringing these songs — the classics and the brand new ones — to audiences all over the place, so I don't complain much and I'm surprised that it works as well as it does most days.
Another very rewarding thing I got to do was to push the idea of Indians playing the Indian roles in movies. In 1967, Leo Penn — Sean's father, — and Joel Rogesin were making a movie called "The Virginian" [TV series episode] and they offered me the guest lead role. I asked about the other Indian parts, and they thought it'd be impossible to have them all played by Native American actors. I said, "No Indians, no Buffy." I was friends with Jay Silverheels who played Tonto in the Lone Ranger series, and Lois Red Elk from Montana, who were running the Indian Actors Workshop in Los Angeles at the time. And together we made history, and everybody was happy.
Challenges? Misogyny, predatory businessmen who know only money and stand in the way of great art getting to the people who want it. I love the internet for allowing everybody to publish, even the bozos.
PCC:
You have said that you were always on the periphery of show business. How much of a frustration was that? Was it also, in some ways, an advantage?
SAINTE-MARIE:
I signed with Vanguard in the 1960s as a nobody from nowhere. I didn't have a lawyer so Vanguard said I could use theirs and I was dumb enough to say thank you. I was totally green, and from way out of town, periphery indeed. I'd never known a business man or a lawyer, gave away the rights to "Universal Soldier" for one dollar. Bought it back twenty years later for $25,000.
I had both success and frustration with the crooks in the music business, and in 1968 I gave up on them, started a scholarship foundation for Indian education, and moved to Hawaii, took a powder from the whole thing —the kiss of death for show business. I'd realized that regardless of talent, an artist like me who was just an artist — compared to Paul Simon who was almost a lawyer, or Mick Jagger who went to London School of Economics — didn't have a chance against the big business predators of the time who ran the show.
I continued to write, had my own studio — how wonderful — did occasional shows in Europe, Canada and down under, but not in the U.S. where later I found out Johnson and Nixon and J Edgar Hoover had made me invisible and inaudible. Most Americans figured I'd died or quit or something.
Anyway, I was happy on the periphery. I'd never had a big manager even in folk music times, and payola had never bribed the path for me, so I was a happy, genuine artist with a helluva career in Canada, spending lots of time with relatives and friends in Saskatchewan, which I loved, and singing benefits for U.S. reservations, especially during the time when the American Indian Movement was spotlighting local Indian issues. But most of my work was in Canada.
I was invited to join the cast of "Sesame Street" in 1975, and stayed for five-and-a-half years, and during that time my son was born and he and his dad, Sheldon Wolfchild, became a part of it. When it was time for my son to go to school, we had to choose between living in New York and living in Hawaii, and my son chose Hawaii. I stayed out of show business for sixteen years, doing occasional concerts, but not really tours.
Then in 1989 Nigel Grainge and Chris Hill of Ensign Records in England heard a little demo I'd made at home in my studio. It became the first album to be delivered via the internet, using MIDI and Compuserve, sent from Hawaii to London over the phone lines, and I called it "Coincidence and Likely Stories." Chris Birkett was on the receiving end in London as co-producer, and since that time we've made five albums together, including the one that's about to be released. I wrote some of "Coincidence" during the Iran-Contra affair. It also contained "Bury My Heart at Wounded Knee" and "Starwalker" and some other goodies. I only recorded that album because my son was grown and I felt like going on the road again big time. No sense recording unless you're willing to go on the road.
PCC:
What feedback have you had from the indigenous peoples, in terms of what your work has meant to them?
SAINTE-MARIE:
Pretty much what you'd expect in Canada — they say I'm "our Elvis and our Madonna" [laughs], give me lots of statues and medals and awards. They credit me with being the only one using the word genocide in reference to the Native American holocaust, and sticking up 50 years ago for Truth and Reconciliation which is now finally in place.
But much less in the United States where I'm practically unknown now. Even in the 60s and 70s, most of the edgy Native American entertainers like me and Charlie Hill hardly ever got to play in Indian country in the U.S. The theaters, the radio stations, television and the newspapers were all tied in with the big oil, coal, and gas, and hip Indians with big mouths weren't what they were looking for.
POP CULTURE CLASSICS:
You mentioned that more people have a clear picture about issues, why do you think that is happening?
SAINTE-MARIE:
Just because the bozos are coming out of the woodwork with this present administration. You know, a lot of people were surprised, but many others were not. Because many people just spend their lives in their own hometown. But someone who gets to travel a lot, like me, we tend to be not only in a better position to see the bigger picture, but sometimes we care that much more, because we're exposed to it that much more, beyond the headlines.
I think it's been coming for a long time. And if you travel enough, you see local instances of racism and oppression and just general Bozoism unchecked. And it's just more obvious now. But like I said, the good news about the bad news is that more people know about it. And I think that really is progress.
PCC:
You are still optimistic that something can be done about all of that?
SAINTE-MARIE:
Well, that's a huge question. In my opinion, everybody's ripening, getting better, discovering, finding things out every day of their lives. That's a very big picture look. And I think that more people are able to find ways to help, and care to help, more than ever before in the world. But it's still not enough to overcome the giants of Bozoism, because every now and then, because the rest of us aren't paying attention, they come to power. And I think that's been true for a very long time.
But, on the other hand, I like what the Dalai Lama said. He said, "We carry the most effective tool for peace with us all the time. And that's our smile." So looking at a very big picture and then the picture of an individual, I think that people do great things for each other every day. But it's not celebrated the way that negative news is — if it bleeds, it leads, you know.
I mean, I'm still amazed at the media — I was watching ABC, NBC and CBS this morning [in the wake of Hurricane Harvey] — nobody will use the words "global warming." And finally at least, the progressive comedians are bringing it up. Nobody wants to talk about global warming and climate change in the big, heavily invested corporate media. But now people are noticing. I think maybe a couple of weeks ago, they weren't noticing as much as they are noticing now.
So progress comes in fits and starts and little by little… and locally, as well as globally. Of course, I'm worried about the weather. Al Gore, he had it right in the beginning. And still does. Who knows? I don't know. But I'm a fan of Naomi Klein Did you read her book on disaster capitalism, "The Shock Doctrine"? Oh, God, it's good! She's just a brilliant, brilliant author [and social activist].
Who profits from disasters? Some people profit by it. Whether it's a war or a natural disaster or something that's preventable or something that's caused, there are people whose interests are in showing up and taking advantage. So have a look at Naomi Klein's book. It's been out for a long time, but it's absolutely right on. And you know, there are people who are going to make a lot of money off of both war and natural disaster. They've got it figured out and they've been carrying it out for a long time. And hers is a book that really goes into detail.
PCC:
So doesn't that make it even more difficult to bring about positive change, if there is profit in disaster?
SAINTE-MARIE:
Well, yeah. But isn't it good that we know that this exists? Yeah, it does make it harder. Did you ever see Michael Moore's movie — I'm a fan of his, too — the one about the Bin Laden family and the Bush family ["Farenheit 9/11"]? Once you look at it that way and you see the pictures and you see the interviews, it just makes sense on a different level.
PCC:
There's such an atmosphere of fear in the world today. Do you find aspects of what's happening in the current administration or in global trends, more frightening than what we've previously faced?
SAINTE-MARIE:
Well, kind of… but as a person who is among marginalized people, who are living in true poverty and who haven't got a chance to get into show business, or any other business, from where they graduated high school — people in rural communities and Native American communities, even inner city communities, people who have really very little — this is not news. It's been around for a long time. And the fact that Trump, by personality and choice, tends to capitalize on that — that's what's different is just the cohesion around a leader of that temperament and that ineptitude.
PCC:
For all negative aftermath of Trump being elected, do you take some solace in the fact that Bernie Sanders did receive so much media attention and did gain such a substantial following?
SAINTE-MARIE:
He did have and he does have. A lot of people do not go along with what we see in the headlines. I always have to sort through what I see on the corporate new shows. I mean, I watch them. I even watch Fox News sometimes. But that's not my only source of news. And a lot of people felt that what Bernie Sanders was saying not only made sense about things that they had not thought about, but that he was right on about things that they'd thought about a lot, only did not have the public platform to let you know about it. I still think he's wonderful. And there are a lot of people around him whose names you may not know well, but I think that he does it just really right.
Did you see Michael Moore's last movie, "Where to Invade Next?" Oh, it's funny. And it's loving. And it's uplifting. He goes to all these different countries and he shows how ideas that originated in the Americas are not being followed here, but in the other countries, they are being followed. It's really, really working out very well and very profitably for the nations that are treating their citizens well.
Things like the prison system in Norway. It's not a place where we can send in our sadists to punish the guilty. It's not about how much fun it is to punish people. It's about true rehabilitation. And the school lunch program in Paris is just amazing. And the way employees are treated in Italy and Germany, people who are spending their days happily building things, whether it's pencils or motorcycles or whatever. It's really a wonderful, wonderful movie.
And you know, Paul, since we're talking about this, I've got a little thing that I always say — "Keep your nose on the joy trail." And that's one of the things that I tend to be lucky enough to be able to do, that I tell people about, to survive the average corporate newscast — there's a lot of joy out there to be supporting. We live in very chaotic times right now. But there is a Bernie Sanders. And there are people who supported him and they're still supporting the ideas that we share. Even the Hilary Clinton supporters, who think that she got a lot of things right that the current President is getting wrong, those ideas are still there. We're not trapped, because of this present administration.
I mean, some of us lived through Nixon. And a lot of people have just forgotten — or they never knew in the first place — how crooked and impactful upon the poor that administration was. And I lived through the Johnson administration and nobody knew that artists were being gagged and shut up in those times. But we were. And that's a real shame, because artists, who are not working for the New York Times, sometimes have things to say that the rest of the country is going to miss, if we allow some guy in the back room of a four-year administration to gag outspoken artists. And the public doesn't think about that.
PCC:
But maintaining a degree of optimism, not becoming disillusioned over the years, is that inherent in you? Does it have to do with all you've studied? You mentioned the Dalai Lama before.
SAINTE-MARIE:
Oh, gosh, all of those things. My first major in college was Oriental Philosophy. So I have a degree in Oriental Philosophy before I got my teacher's degree or my PhD in Fine Arts. So I am a biblioholic. If I'm not reading a book, I'm listening to an audio book. And I do, I study a lot, because I like it. I'm just one of those people who, although I hated school and I hated high school and I went to college on a trial basis, I so loved college and all those different courses that you could take about the rest of the world, that it really changed my life. And I'm just a really happy, lifelong learner.
So I have had a lot of formal study and I do listen to a lot of different people — not only people on my own side, but there was a time during the Iran-Contra affair, where I was campaigning for Jesse Jackson, but I was, on alternate weekends, going to Republican meetings about the Iran-Contra affair. And what I realized is that people are not as polarized as we thought they were. Maybe they are now [chuckles], but they weren't then. But the point is that I don't only hang out with my own side. I'm just interested in what other people have to say.
But I do think that I'm kind of a positive person. And I don't know if that's some kind of a genetic, hormone, brain chemical kind of deal. It might be. Although I've had a lot of hard luck. I had a hard childhood. There were predators in the neighborhood. There were predators in my family. And I was real glad to leave my hometown and go off to college. I've had some real hard times in my own life. And yet, I do have a positive spirit. I just plain do. And the incredible privilege of just being an artist, when I was being gagged and when I wasn't being gagged [laughs]. I didn't know I was being gagged, when I was being gagged.
But just the incredible privilege of being an artist and having ideas pop into my head and having a concert stage where I can share those ideas with other people. And having a college degree and teaching in a lot of colleges. I told you my second degree was in Education, so I teach a lot of teacher educators in universities how to teach Aboriginal Studies, in Canada especially.
So I really do have an unusual life in that I have a lot of areas of input and a lot of areas of output. And I just think it keeps me flowing and learning and interested. And, of course, there have been times when the rest of the company was going, "Hee-Haw," [laughs], "Uncork another one." And I would say, "F—ck that! The world is falling apart at this local community level and that one. And on the other hand, when the world seems to be falling apart, in chaos, in times like today, I can look on the bright side.
And in Native American Plains culture, Plains, Cree, Lakota, we have the concept of the contrary. These were people who, when everybody else was partying, they would remind them that winter was coming. And when everybody else was crying because, "We're hungry" and "The sky is falling," they're the ones who remind people of the hope and good things in the world. And I think that's a natural characteristic of a lot of people that Plains Native culture recognized and supported, I think it's a natural thing.
PCC:
So when we see in the news about the white supremacists marching, these terrifying images, do you just take hope from the fact that at least it's out in the open, instead of festering out of sight?
SAINTE-MARIE:
That's one of the things that gives me hope, yeah. I am glad. Because it was going on before, but fewer people knew about it. I mean, think of all the police problems, even before the Trump thing. White people beating up on other people. Just people beating up on people — take the race out of it for a minute. There's a lot of that.
There's a lot of misogyny in the world. You know, human trafficking is all over the place and we don't talk about it. That's my latest area of study. I'm studying the history of the enslavement of indigenous people in the Americas. And it's been going on since the 1400s. And it's still going on. In Canada, the highest number of enslaved people today are indigenous women and girls.
Even before Africans were allowed to be enslaved and sent to the Americas, the letter requesting that from the king and queen of Spain was sent by the son of Christopher Columbus, a generation after Columbus arrived. But Columbus started enslaving people immediately. And although a lot of people will tell you that what got the Indians was the measles and the mumps, uh-uh. That didn't arrive until a generation later either.
And so there was a whole generation of slavery. And I'm not talking about two or three pretty girls. I'm talking about hundreds of thousands of people. Usually they were branded on the face. And there was an existing slavery network. The slavery business was alive and well in Europe. There were investors. They were bankers. There were military people. There were royal people. And entrepreneurs of all kinds running a slave trade, even before African people were imported as slaves. And in many, many times, there were more Native American slaves than Africans in South Carolina even. And long after it became illegal to keep African people as slaves, the indigenous slave trade continued. And even abolitionists thought it was okay to have Indian slaves, because in the Bible it said, "You shall inherit the lands of the heathens." So that's the loophole that they used.
So it's a terrible thing to study. But I was the one who was talking about genocide in the 60s, when nobody dared to use that word. And recently, in Canada, we have what is called Truth and Reconciliation. And it has been proved without a shadow of a doubt. And reparations are ongoing. Reconciliation is being taken very seriously. So sometimes a person in my position —and I would say in your position, too, because you a journalist — sometimes you're in a position to learn more. And to teach more. But people are not going to get it right away.
It's almost as if there has to be a perfect storm of possibilities coming together in order to give the kind of day that we have now, where the climate change deniers make a fortune off disasters. I mean, oil prices are going to go way up. The oil companies are heavily insured. They're not going to have a problem. The people who are going to have a problem are the people who are still driving gas cars, etc.
PCC:
WIth the First Nation peoples, maybe it's different in Canada, but in the U.S., there's still so little common knowledge about that tragic history. Isn't that frustrating, even after all these many years, that it's still not taught in schools?
SAINTE-MARIE:
Yeah, it is, Paul. And every now and then, there's a big Hollywood Indian movie, right? There was "Soldier Blue." And that was ripped out of theatres immediately. It coincided with when the Mai Lai massacre was going on. So I wrote the title theme for that. But then 10 or 15 years go by. And then you get "Cheyenne Autumn" and "Little Big Man." And later on you get "Dances with Wolves." So every now and then, there's a popular interest. And during those times, sometimes for instance, for a while you would find "Bury My Heart at Wounded Knee," which is Dee Brown's incredible book about the 17 and 1800s wars against indigenous people in the U.S., particularly.
So yes, it's frustrating not to have accuracy in the schools. But what frustration does to me is to make me want to provide. And the way that I provide is, of course, in college lectures, especially, to college professors, as well sometimes the student body. But mostly through my songs.
And you don't hear a lot about me in the U.S. I mean, most of my fans from the 60s probably thought I retired or died or got sick of it or something. But in the rest of the world I've kept on. I've had more than a 50-year career. So I've been able to see some of the little things that I've tried to do, I've seen them maximized by someone else, into a big deal.
For instance, in the 1960s, I was a young singer with too much money. And I started a scholarship foundation called The Nihewan Foundation for American Indian Education. And during that time, I gave scholarships to all kinds of Native American people who didn't know how to negotiate the path from reservation high school into college. They just didn't know scholarships. They had no connections. They didn't know how it was done. They didn't have guidance counselors hip to how you did it. So I started a foundation. And I found out about 15 years ago that two of my very early scholarship recipients had gone on to found the American Indian Tribal Colleges Association. They founded two different tribal colleges in their communities, which are still running to this day. And one of them went on to found the American Indian Higher Education Consortium. And if I hadn't given that little scholarship at the right time, that might not have happened.
So you bet I've got a lot of hope. And you bet there's a lot of frustration out there, when you know that something could be done in a more engaging, more accurate way, for instance, the teaching of Native American studies. When you know it could be done and it's not done, it's frustrating. But me, I do something about it. It's kind of a scattershot for me. I mean, I'll do something in my personal life and I'll also try to do things in my professional life. If I get a chance to talk to somebody like you, I kind of spell it out and, hopefully, intrigue them to want to know more and pass on more.
PCC:
In terms of the positive effect you've had, you must also encounter a lot of people who tell you how much it meant to them to watch you on "Sesame Street."
SAINTE-MARIE:
Yeah, I do. I get a lot of that. "Sesame Street" — they were just the best.
PCC:
What you brought to the show was unique and must have opened up a lot of people to ideas they otherwise might not have been introduced to so early in their lives.
SAINTE-MARIE:
Oh, thank you. Yeah, people do say so. They say stuff like that. But what you have to understand about "Sesame Street" is, they were the real deal. It was quite early days. So original producers and directors were there. And they were genuinely child-centered. And that really meant the world to the quality of their show, for their audience — parents, caregivers and little kids.
And the episode on breast-feeding, it keeps showing up on YouTube and then somebody takes it down. Somebody else puts it up. And somebody takes it down [laughs].
But they did incredible things. They never tried to stereotype. They did really good things on sibling rivalry around the birth of my baby. They were just the best. They really effected a lot of people. And, you know, even though I had been blacklisted by two White House administrations. I mean, I didn't know it. But with "Sesame Street," I ended up reaching 72 countries of the world, three times a day — basically with the same hopeful, positive, engaging messages.
PCC:
Tell me a little bit more about the new album you have coming in November.
SAINTE-MARIE:
Well, you know, a protest song, we know what to call it [laughs]. But there's no word for the opposite. You heard "Power in the Blood." So you know the song "Carry It On"? Well, there's not a name for that kind of song. And it's kind of the opposite of protest. So the new album is going to be called "Medicine Songs." It comes out in November. And it's all my activist songs in one album, plus some new ones that nobody's heard yet.
Actually you can look up one song — "You Got To Run" — on YouTube. I recorded it with my friend Tanta Tagaq, who's from the Arctic. She's an Induit throat singer. She's becoming very well known, too. But in different years, we each won the Polaris Prize, which isn't even heard of in the U.S. They give you a $50,000 prize for the best album. And it has nothing to do with genre or how many you've sold or label or any of that. It's an independent body of 200 different judges. Anyway, she won one year and I won one year and then they sponsored our making a video recording of this song that I wrote. And the song "You Got To Run" will be on "Medicine Songs."
Another song on "Medicine Songs," which is just bringing the house down, a lot of people like my song "Universal Soldier," but the new song, which is called "The War Racket," is getting even more attention than "Universal Soldier."
PCC:
So that relates to what you were talking about — those who profit from disaster?
SAINTE-MARIE:
It does. The title says it perfectly - "The War Racket." And it is. War's a racket. Did you ever read the book called "The End of War"? John Horgan. Oh, it's so good. It's just a little teeny, tiny, skinny book. It's about four-by-five inches. And I keep ordering it and sending it to my buddies. It's such a good book. He just nails it.
PCC:
A song like "We Are Circling," with its sense of celebration of life and community, are those qualities you're hoping to bring to the audience in a live concert setting?
SAINTE-MARIE:
Yeah! And you know, a lot of people already feel that way, Paul. Not everybody is totally overwhelmed to a state of paralysis. A lot of people are seeing this as, well, if you want to be nasty about it, some people see it as an "I told you so" moment, because they were talking about it for a long time. Like Bernie Sanders has been talking this way for a long time. He didn't start just after Trump got elected. And there are a lot of people who feel that way.
So this album does have an audience. But another thing I wanted to do with "Medicine Songs," a lot of people say, "Well, where can I find that song 'Now That The Buffalo's Gone'? Or where can I find 'Universal Soldier'?" Or "Where can I find 'Little Wheel Spin and Spin'?" And lots of others of my protest songs. "Where is 'Bury My Heart at Wounded Knee'?" I wanted to put them all on one album, not only for the sake of like legacy or the Buffy library [laughs] at Saskatchewan Indian Federated College. Because a lot of people who are involved in some kind of activism, they find the songs useful. So my reason for making this album is that I'm trying to put the songs to work.
When Bernie Sanders was running, I would have given anything for him to hear "Carry It On." I would have given it to him as a theme song. But there's no way to cut through the gatekeepers between a citizen and somebody running for office. I couldn't get in. I didn't know which door to knock on. I mean, I send money all the time, but you're sending money to a robot, you know? [Laughs] That's the way things are at the moment. So I really am putting these songs out, to put the songs to work.
I'm offering certain songs to people like Bill McGibben at 350.org. To people whose ideas I support, I'm offering them license-free versions, if they want to use the song for something, please do. When you have something that you think people can maximize in a way that you'd love to see it happen, then don't stand there with your hand out, saying, "Yeah, let's make a deal. How much money would you give me?" Some things want to be free.
It's like Tim Berners-Lee. Do you know who he is? He was with CERN. He and the CERN team invented the internet. This is a long time ago. And he could have privatized it. If he had played his cards differently, he could have owned the internet. He could have just become a big, fat honcho. And he said, "No, the information wants to be free. And it always has to be public." So that's the way he built the internet. He's the one who came up with those things like htpp, www, he invented the term "Worldwide Web." He's another one of my heroes, because he knew when it was time not to stand there like a capitalist saying, "Give me your money or you can't have it." But it's a whole attitude, and a lot of people feel that way.
All of us are trapped in the negative sides of capitalism. There is a positive side. But there is a negative side. And when things are working well, there's more positive than negative. At the moment the gobbledeegreeds are out to get it all. They want it all. They want complete control — want all of the resources, all of the land. They make a war over it. Blow things up for it. And while all our champions are off in the war, their final rip-off here at home is on. Mr. Greed I think your time has come. We're gonna sing it, say it and live it and pray it, saying, "No, no, Keshagesh, you can't do that no more." No more gobbledyguts." The word Keshagesh, in my song, "No No Keshagesh," means "greedy guts." [Laughs] That's a name we had for a puppy who ate his own and wanted everybody else's.
PCC:
What would you like your legacy to be?
SAINTE-MARIE:
I wish I could make some money for Idle No More and several other grass roots orgs, but it's pretty hard right now, touring is so expensive, but I'm trying.
Mostly, I'm working on my legacy right this minute — my upcoming album, "Medicine Songs." For the longest time I've wished that my activist songs from all 50 years of my touring and recording could all be on the same album. I've rerecorded "Universal Soldier," "Little Wheel Spin & Spin," "Now that the Buffalo's Gone," "Power in the Blood," etc. Two new songs in particular are lighting people up — the very positive rocker "You Got to Run" — which I recorded with my friend the Inuit throat singer Tanya Tagaq, and which you can see on YouTube —and "The War Racket," totally contemporary and definitely a protest song to stand your hair on end. "Medicine Songs" comes out in November.
For the latest on this artist, visit www.buffysainte-marie.com.