CARL PALMER:
ELP DRUMMER CREATES CLASSIC ROCK WITH HIS OWN TRIO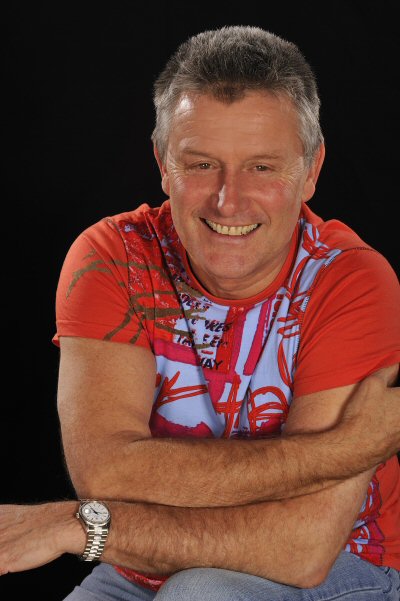 Photo by Michael Inns. Copyright 2013 Carl Kendall-Palmer

By Paul Freeman [November 2015 Interview]

Besides creating inspired rhythms for Emerson Lake & Palmer, he provided the beats for Asia, Atomic Rooster and The Crazy World of Arthur Brown. It's no wonder that Rolling Stone Magazine named Carl Palmer one of the 10 Greatest Drummers of All Time.

He's now completing the multimedia "Rhythm of Light 2015 Tour" with his own power trio, under the monicker Carl Palmer's ELP Legacy. The lineup includes guitarist Paul Bielatowicz and bassist Simon Fitzpatrick. There's no keyboard whiz like Keith Emerson in this format. None needed. The new musical direction creates its own form of excitement.

Carl Frederick Kendall Palmer was born in Birmingham, England, March 20th, 1950. Music was a family tradition. His grandfather played drums, his grandmother was a symphony violinist, his mother played a variety of instruments, and his father sang, danced and played the guitar and drums as a semi-professional entertainer.

Palmer studied violin for a few months, then, at age 11, turned his attention to drums. "The Gene Krupa Story," a biopic starring Sal Mineo, spurred him to pick up sticks.

He studied percussion at the Guildhall School of Music and Royal Academy. At 17, Palmer drummed for The Crazy World of Arthur Brown, a band that hit number one with "Fire." He them formed Atomic Rooster, prior to co-founding the supergroup ELP with Keith Emerson (the Nice) and Greg Lake (King Crimson) in 1970. Blending rock, jazz and classical, ELP sold over 35 million albums.

Following ELP's initial breakup, Palmer formed another supergroup, Asia, in 1979. That band also achieved multi-platinum success. He has continued to tour with Asia over the years. ELP reunited in the 90s for nearly eight more years and played a one-off 40th anniversary concert, headlining the High Voltage Festival event in Victoria Park, London.

In addition to his touring with the Legacy band, Palmer is carrying on with his striking fine art. Capturing the magic of rhythm, it combines motion, color and lighting into exciting images and actually uses drumsticks as part of the process. You can view his collections at carlpalmerart.com. A limited edition book, "The Rhythm of Light," is now available.

The busy Palmer took time to talk with Pop Culture Classics.

POP CULTURE CLASSICS:
With the Legacy band, what went into the decision to take a different musical approach, making it all instrumental and featuring guitar, rather than keyboard?

CARL PALMER:
I just thought it was time to do it. It started way back in 2001. I wanted to see if I could push the music further, but not try and emulate or try and be anything similar to Emerson Lake and Palmer, obviously. So the guitar seemed to be the obvious instrument to use. We would have had a guitar player in ELP, but we couldn't find one that was good enough at the time. But as time has gone by, guitar players have become probably more technically proficient than keyboard players. There are, in fact, probably more great guitar players you can mention than keyboard players. So it seemed a natural path to go down, to me.

There's a certain amount of excitement with guitars, the sort you don't necessarily get with synthesizers. And it's got a freshness to it, as well as a sort of a younger energy, whilst, on a serious musical front, there are certain things which you do miss in terms of harmonies and things you can't always get from using guitar, that you can get from keyboards. But I think that the excitement that you get from guitar probably makes up for that. We have Paul Bielatowicz on lead guitar and Simon Fitzpatrick on bass. And, when we say "bass," he plays a lot of the main themes, along with Paul. He also plays the stick. So you have this large sort of spectrum, coming from two guitars. And that gives it a kind of uniqueness.

So, for me, it just seems to be a fresh way and a new way of just sort of pushing the music forward. And possibly even taking it to a younger audience. So that's the whole sort of motif behind it, as it were. It has seemed to work very well up to now. Obviously more of a delicatessen than a sort of supermarket. You either like prog rock instrumental music or you don't. This is kind of the highest calibre of it, really, with just sensational musicians that I'm very fortunate to have in the band.

PCC:
With such a rich history to draw from, was it challenging to select the material for your current sets?

PALMER:
Yes, it was. It was difficult to choose the material, because I wasn't too sure myself, exactly what could be played on guitar, what was achievable. So I had somebody help me at the very beginning. That was just about 14 years ago now. And they explained to me what could be played on guitar and what couldn't be played. And it just grew from there and then we started putting things together. We play a lot of the ELP original stuff, like "Knife Edge," like "Trilogy," "Tarkus." And some of those big, epic pieces, like "Pictures at an Exhibition," by Mussorgsky - we can play that tune and it's just got a different sort of sound to it, obviously slightly different. But it sounds different, which is the most important thing. And it sounds exciting. So it's been quite a journey. Choosing the material is always sort of difficult. We play for roughly two hours, so we have a lot of music sort of under our belts. And we're on the fourth album right now. We have a couple of DVDs out, two albums. The new album, "Working Live, Vol. 4," will be out next year. So that's sort of a good move. And, as I say, there is a wealth of material still to re-record or to experiment with from the ELP catalog. So I'm very happy with the progression it's made.

PCC:
As far as the drumming, do you find that, even in compositions you've been performing for decades, that you continue to discover nuances, ideas for fills, that you hadn't found before?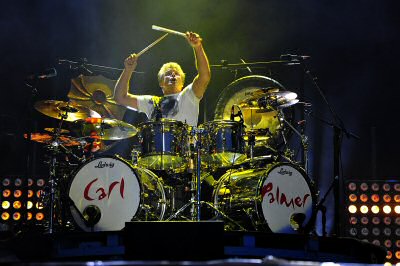 Photo by Michael Inns. Copyright 2013 Carl Kendall-Palmer
PALMER:
Yeah, the whole thing, because, sonically, it sounds so different, it makes you go in different sort of areas and dive into different sorts of ways of playing. Yeah, I'm still improving it all now. I'm always looking to improve. The more time you put in, the better result you'll get out, so yeah, it does change, and I'm thankful for that, because that keeps it very fresh for me. And we really enjoy playing a lot of the original pieces by ELP, such as "Tarkus," because thats like a 15, 17-minute piece. Yeah, it has changed. It's heavier. The guitars have automatically made it heavier, which obviously influences my style. So it's been a really good move.
We also play quite a few classical adaptations, which ELP didn't play, things like "The Fugue in Dm" by Bach, pieces like Carl Orff's "Carmina Burana," that ELP only really ever played when we were jamming in the room, in rehearsals, but I think we very rarely ever played them on stage. And I've carried on with that classical, sort of European, sort of crossover prog, metal, rock type of approach. And it seems to put us in good stead. We've been all over the world, from Japan to Mexico to all over Europe and back here again in the U.S., which I'm really looking forward to.
PCC:
You played violin as a child. Were you always drawn to classical, as well as rock and blues and jazz?
PALMER:
Yeah, I mean, I'm quite eclectic in what I like to listen to. I started on violin, when I was 11, played that for a couple of months. That really didn't bode well with me at all. Before that, when I was about seven years old, I used to play the banjo, sort of secretly, because they didn't think the banjo was a serious instrument. My grandfather was alive at the time and he was a professor of music at the Royal Academy, a harmony teacher. And they thought it was a bit of a joke. But I loved the sound of it [laughs]. So I tried violin, but that wasn't really for me.
And then, my other grandfather was a drummer. My father was a drummer. So I kind of went that way. And I've walked down that path ever since. And that's where we are.
PCC:
Starting out on drums, musical idols like Gene Krupa and Buddy Rich, what was it about their styles that inspired you?
PALMER:
Well, I went to see the film called "The Gene Krupa Story." In actual fact, that's what it's called here, in America. But in the U.K., they referred to it as "Drum Crazy." And they took me to see that film and I was really influenced by that whole Gene Krupa sort of business at the time. He had taken the drum set from the back of the bandstand and brought it to the front, with the Benny Goodman Orchestra. I liked all of that. I think you'd refer to it these days as "a lightbulb moment." And it was for me. I remember coming out of the movie theatre and saying to my Dad, "That's what I'd like to do. That's what I want to do." And the rest is history [chuckles].
PCC:
And both he and Buddy Rich were great showmen, as well as great drummers.
PALMER:
Yeah, I think Buddy was probably more of a great technician. And I think Gene Krupa was a bit more entertaining. And if it wasn't for Gene Krupa, we probably wouldn't have a Buddy Rich. So the one has helped the other, if you know what I mean.
PCC:
When the time came for ELP to form, was it a difficult decision to leave Atomic Rooster?
PALMER:
Yeah, because I formed Atomic Rooster and originally, it was kind of my band. I'd put it together. Vincent Crane was in the band with me, but Vincent wasn't very well at the time and couldn't do too much. So I just sort of took the whole thing over and dealt with everything and got management and this and that. And Atomic Rooster was something I was very proud of, because it was an underground prog rock band and it was being received remarkably well in places like Scandinavia, believe it or not, Germany, as well as England, never having come to America.
So when I got the call to join Keith and Greg, it was a little bit strange, because I was in the middle of recording with Atomic Rooster. And I had already recorded the single, which was called, "Tomorrow Night." And when I did leave Atomic Rooster, this single went to number one for the band and I was sat in a rehearsal room with Greg and Keith, thinking, "Oh, I might have mad a big mistake here." Obviously, they re-recorded it with another drummer. But that's where I was at the time. It was an interesting moment in my life. But, obviously, I'm pleased that we formed ELP.
PCC:
There was an immediate chemistry amongst the three of you in ELP?
PALMER:
Yeah. On the first day. Instantly, there was something there. I think that's what happens. It's how long you can prolong it and how long you can keep that sort of interest and a chemistry going - that's the name of the game. But yeah, it was there on the first day, there's no doubt about that. We all had similar record collections at the time. Keith and I had very similar jazz collections of various artists throughout the years. And Greg and I had similar sort of rock - Beach Boys, Bob Dylan, Beatles-type records. So we were all extremely compatible, musically, from what we'd been listening to prior to forming the band.
PCC:
What impressed you most about Keith and Greg individually?
PALMER:
I think Keith's musicianship, at the time. And I think Greg's tenacity. He was definitely somebody who wanted to do something. That's very important, when you're in a band. You don't need someone who sits on the fence. He never sat on the fence. He always said what he felt. That was always good, because you can always move things forward, when you've got somebody like that.
PCC:
With three such strong musical personalities, was it inevitable that there would be creative conflicts along the way?
PALMER:
Yes. I mean, ELP could argue two years over four bars of music. We'd never argue over the money or women or food or whatever the case may be, but two bars of music - there could be a riot on your hands.
PCC:
Was it difficult facing the high expectations, as the media touted the band as a supergroup from the outset?
PALMER:
No, I don't think the supergroup thing really affected us. I just think you had three different sort of egos and everybody reacted differently to different circumstances. So it was always going to be a roller coaster ride, that's for sure. But it lasted eight years the first time around. And it lasted a good seven-and-a-half, nearly eight again the second time around. Not bad really. I can't complain.
PCC:
The ELP years, were those particularly exciting, adventurous times for you, creatively?
PALMER:
At the very beginning, it was, yeah. The second half wasn't as exciting as the first, that's for sure.
PCC:
Why do you think the ELP catalog has proven to be so timeless?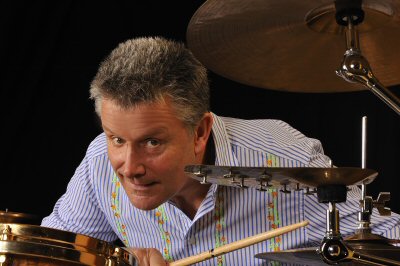 Photo by Michael Inns. Copyright 2013 Carl Kendall-Palmer
PALMER:
I think it's because - I mean, I hate to sort of blow my own trumpet - but I think you're really listening to top-end, absolute quality, not only in the writing or the production, but in the playing. And I think lyrically, it's incredibly strong and still poignant today. I think that it was a unique situation, because it wasn't an out-and-out rock 'n' roll band. It wasn't driven by guitars. It was driven by keyboards. The singer wasn't a blues singer. He had a choirboy voice. We had this classical sort of musical adaptation sort of approach to a certain amount of the material that we were playing. So overall, it had a kind of uniqueness. I think along with that uniqueness came a very high end quality, so I think that's added to the longevity a bit.
PCC:
Was it rewarding for you that you were introducing a lot of young people in the audience to the classical composers, as well?
PALMER:
I think for the younger people, it was a way to get them into classical music. I wouldn't say it was rewarding. It was just nice that we were opening up their ears to - you might as well hear the London Philharmonic version of "Pictures at an Exhibition." Don't listen just to ours, listen to the Berlin Orchestra play it, because all orchestras sound different and they all interpret pieces of music differently. If that helped them cross the bridge, by listening to Emerson Lake and Palmer's "Pictures at an Exhibition," then that was great. So, yes, there is some kind of reward in it. I never really thought of it like that, but yes, there would be.
PCC:
The 2010 ELP reunion, did you go into that with excitement or trepidation or both?
PALMER:
"High Voltage," the prog rock festival in London. I went into it with excitement, until I found out that it was going to take five weeks of rehearsals to get the band up and running, which I was really completely embarrassed by and annoyed with, because I couldn't understand why it would take so long. And then we played the concert and I wasn't totally happy with the way we were. We played okay. We didn't play as well as I would have liked us to have played. I'd have been quite happy, if we could have played to the standard when we last finished, which was at the end of the 90s. But we didn't reach that standard. So whilst it was a great nostalgic moment, it was also a sad moment. I realized that it's probably something I couldn't carry on with anymore. And I didn't. So there was no tour.
PCC:
So you wouldn't want to revisit that again?
PALMER:
I decided the week after that particular concert that it wouldn't be something that I personally would do. And both Greg and Keith were told.
PCC:
Have you found that prog rock in general continues to have a unique kind of global appeal?
PALMER:
Well, you know, it's a bit like your jazz. Jazz is an American sort of art form. Prog rock is an English sort of art form, really. It's where it started. So it's more of a delicatessen, as I said, it's more of a deli, than a supermarket now. It's not for the masses, but it's an art form that will carry on. In some countries, it's stronger than others. Italy - it's incredibly strong. England, it's still very strong. And here, there is a market, because the country's so big. So that's why I keep coming back to the country which is probably the maker of my career, really, and playing prog rock.
PCC:
Do you find that prog rock fans tend to be, generally, maybe a bit more intellectual than other rock audiences?
PALMER:
I would say that they're different, that's for sure. They are looking for more. And they have to be sort of special people, I would think, to want to hear classical prog rock instrumental music, played by a trio. That would define another attitude, a different sort of people who are searching for something different to listen to. So yes, they're people that are out on their own, whether they're more intellectual, I'm not 100 percent sure. But they are people who think a lot more about the music that they want to be entertained by.
PCC:
You've continued with Asia, as well. What are the characteristics of that band that most appeal to you?
PALMER:
Well, Asia, at the moment, is on hiatus, because John Wetten's not very well. But what has really appealed to me, because we all came from a similar area of music in England. You had Yes, you had ELP, King Crimson. Probably the only odd one would be Geoff Downes, who came from The Buggles. So we had an awful lot in common. It's so important, to create new music, original music, you need people who have got similar interests. We had similar interests and came from similar areas, just like ELP did.
PCC:
And the striking artwork you do, how did the concept for that develop, deriving visual art from rhythm?
PALMER:
It started in 1973, when I was experimenting with lightbulbs, taped to the end of drumsticks, with cables going down to a battery on the floor. Obviously I couldn't hit the drums, because the drumsticks would lightbulbs would break. But I got a photographer to take some pictures of me miming playing the drums, the reflections and the shadows and the arcs of light, white light only at the time. It was really tremendous. And it made the second page of the local paper, where I lived at the time, which was quite an important page. And I've always been interested in the connection of light and rhythm. I've just released a book called, "The Rhythm of Light," an art collection. There's also a new book out, as well, at the moment, that's being released, which shows you "The Twist of the Wrist," which was the first collection, the second collection, "The Rhythm of Light." The book's called, "The Art of Rhythm."
And it's something that I've developed with a company called SceneFour in L.A. Twenty years ago, they started making drumsticks that had LED lights already built in at the end of the sticks. And the sticks are self-generating, so you could actually use them, actually hit the drums and play full on. So that's what I use now. The people that I work with use various shutter speeds. Normally two cameras every time, moving into different positions. And I play in a room about 12-square, pitch black. And I'll play rhythmical patterns or pieces, from the ELP catalog - "Tarkus" or "Pictures and an Exhibition" or "Knife Edge" - and we'll see what the actual rhythm looks like in light. So it's always been a fascination of mine, as I say.
PCC:
Do you find that you constantly discover music everywhere in life, not just in music?
PALMER:
Yeah, I do. I hear it in the indicator on the car. It's in the wipers. Everything, you know, has got a pulse, really. Not that I'm totally infatuated by it, but yeah, it's everywhere. That's true.
PCC:
So what else would you like to explore, creatively, in the future?
PALMER:
Well, we have a new album coming out, which I'm quite proud of, which is another live album, "Carl Palmer, ELP Legacy Working Live Volume 4." I think in the future, I'm going to continue with the art. I have another sort of concept, which I'd like to look at, using paint and light, which is another sort of art form. I've already started experimenting with that. And I'm looking at involving a dance group, a ballet, to come and tour with the band, so I can present another added visual effect.
We already have quite a cinematic approach to all the gigs we play, because I run various film and footage on a projector, on a screen at the back of the stage. But I'd like to involve dance and I think I'm going to use the music by Mussorgsky, which was a live album by ELP, called "Pictures at an Exhibition," and get a dance group and a choreographer in and see if we can organize something in that area.
PCC:
Your life in music, to this point, what's been the most rewarding aspect?
PALMER:
Probably still being here today [laughs]. It's all been rewarding. I couldn't siphon off any one particular moment. You have to understand that I've been in four bands that have had number one singles. So for any musician to get a number one single is always the thing that you want to get, because that shows that people are interested in what you're doing. I've been in Atomic Rooster, Asia, ELP and The Crazy World of Arthur Brown, who, in 1968, had the number one single and album here at the same time, with a song called "I Am The God of Hellfire." So I've been incredibly blessed. And I'm still here today, playing. I'm very happy. Extremely happy, in actual fact.
For more on this multi-faceted artist, visit carlpalmer.com and carlpalmerart.com.