CARL PALMER: TRAVELING TO HIS OWN BEAT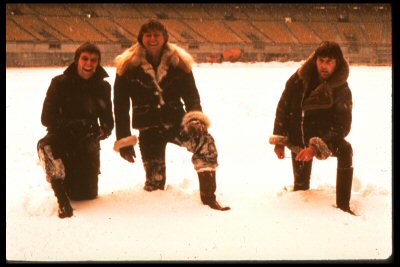 Emerson Lake & Palmer, Montreal 1977, Courtesy ELP
By Paul Freeman (2008 interview)
Being a progressive rock icon, it's appropriate that drummer/percussionist Carl Palmer continues to propel himself forward. A member of the enormously successful bands Emerson Lake & Palmer and Asia, he now tours extensively with his own power trio. (See www.carlpalmer.com for upcoming shows).
Joining him in the Carl Palmer Band, which has earned plaudits around the globe, are guitarist Paul Bielatowicz and bassist Stuart Clayton. Recent product includes "Carl Palmer Working Live," volumes 1 and 2 and 3.
ELP soared on the wings of Keith Emerson's keyboard wizardry. Palmer has taken his new power trio in another direction. "This was the most honest, freshest way to go about it," Palmer says. "I thought it would be more original, rather than feeling like a cover band or whatever. I didn't really want to be compared to what had happened in the past."
As for the repertoire, "The material covers pieces that I've written with people like Joe Walsh, pieces I've written by myself, stuff that ELP had covered, classical adaptations that ELP hadn't done, original pieces by ELP. We play quite an eclectic program, really."
This current group, unlike Palmer's previous bands, doesn't feature vocals. "I think we have to be a bit more skillful to make it entertaining. It is instrumental prog rock. That is something unique within itself. It's quite theatrical music, in many aspects. The musicality is very high in what we've got going. So I think the musical expertise comes across, as well as the excitement that's in the music. "
The show's climax, a rousing rendition of Aaron Copland's "Fanfare for the Common Man," offers a Palmer drum solo.
"Solos should be entertaining, as well as technically impressive. I try to bridge the gap there. I want to do more than interest the drummers who are in the audience. So it crosses over."
Palmer's band is attracting a diverse audience. "Initially, we weren't sure what we were going to draw. No one was really positive who would be coming along, whether it would be old ELP fans or a mixture of ELP and Asia or new fans, younger people. We really had no idea. It's been quite a wide demographic, from young guys to people my age, so I'm very happy at the moment."
Carl Frederick Kendall Palmer was born in Birmingham, England, March 20th, 1950. Music was a family tradition. His grandfather played drums, his grandmother was a symphony violinist, his mother played a variety of instruments, and his father sang, danced and played the guitar and drums as a semi-professional entertainer.
Palmer studied violin for a few months, then, at age 11, turned his attention to drums. "The Gene Krupa Story," a biopic starring Sal Mineo, spurred him to pick up sticks. "That was a big inspiration. It was called 'Drum Crazy' in Europe. A fantastic film. That was one of those things where you get influenced and it stays with you all your life."
He studied percussion at the Guildhall of Music and Royal Academy. At 17, Palmer drummed for Crazy World of Arthur Brown, a band that hit number one with "Fire." He them formed Atomic Rooster, prior to founding the supergroup ELP with Keith Emerson (the Nice) and Greg Lake (King Crimson) in 1970. Blending rock, jazz and classical, ELP sold over 35 million albums.
Following ELP's initial breakup in 1980, Palmer formed another supergroup, Asia, which achieved multi-platinum success.
Of the prog rock phenomenon, Palmer says, "People always talk about it coming back. Nothing ever comes back. It'll find its place in the world of music and that's where it will stay. It might disappear at some stage, who knows? A bit like jazz almost disappeared. You still have jazz festivals around America and Europe. But it's not as popular as what it used to be. All music has its moment in time. Prog rock is still quite big in Europe. In Italy, it's huge. They almost think they own it. It varies throughout the world."
ELP is headlining the 2010 High Voltage Festival in London's Victoria Park, celebrating the group's 40th anniversary. It's a rare reuniting of the three original members.
Palmer recognizes ELP's legacy. "I think It's been incredibly influential, the fact that it was an extremely European sound. It was keyboard-driven, using classical adaptations, which wasn't new when we started it. It had already been used throughout Europe with other artists, such as Jacques Loussier played Bach on the piano with a jazz trio.
"But we introduced a lot of young people to classical music, which they would never even have come in contact with. We weren't trying to educate people. We were always trying to entertain. But obviously there was a crossover in that area."
He hopes to create an impact with his new trio. "It's definitely possible. The format, bass, guitar and drums, just adds a bit more excitement to the general outcome of the music. It sounds younger. That's important. It's attracting younger audiences. And the people who have heard this music by a classical orchestra, heard it being played by ELP, are not put off by what they're hearing, because quality is quality. And that's what we've got here. We've got a certain amount of musicianship, which can't be denied. And that has come through in the framework of the music."
His music grabs listeners on both intellectual and visceral levels. "The more intellectual audience tends to come. That's not to say that other people are stupid or anything like that. But people who know more about music tend to indulge themselves in this niche market of a prog rock instrumental band."
Each year, for a few weeks, Palmer turns his attention from his band to teaching rhythms to both deaf and blind children. "The benefits to the children are enormous. The reward for them -- feeling part of a larger group of people -- is tremendous.
"We're don't really teach them how to drum. We teach them how to enjoy themselves, how to work in a team, how to have fun and be able to concentrate. At the end of a 45-minute session, they've actually achieved something. They might not be able to hear it. They can feel the vibrations through the floor. They can feel the sensation in their hands, from hitting their little drums. They get an inward sense of gratification, too. As a rule, whether they're deaf or blind, it's stimulating for them. And for me, it's incredibly stimulating."