CATHERINE RUSSELL: READY FOR THE SPOTLIGHT

Photo Credit: Stefan Falke
By Paul Freeman [September 2012 Interview]
Before ascending as a much lauded jazz/blues solo artist, Catherine Russell built a reputation as one of the world's top backup singers. The New Yorker has performed, toured or recorded with such luminaries as David Bowie, Madonna, Steely Dan, Al Green, Cyndi Lauper, Paul Simon, Jackson Browne, Rosanne Cash, Isaac Hayes and Michael Feinstein.
Russell says, "All of these experiences are great, because these artists are great. That's why they've been around so long."
Both aspects of her performing career are satisfying, in their own ways. "When I'm singing backup, I'm very happy to be doing that. And when I'm singing lead, I'm very happy to be doing that. It's two different jobs, two different skills, two different lives, really."
Russell's first exposure to music greats came at the moment of birth. Her father (who passed away, when she was seven) was Luis Russell, renowned pianist/bandleader/arranger. Playing piano for silent movies in his native Panama, he won $3,000 in the lottery, allowing him to fulfill his dream of moving to New Orleans. There jazz was rising as an art form. There Luis Russell connected with a young talent named Louis Armstrong, becoming the trumpeter's arranger and, later, during Satchmo's creative prime, music director.
Catherine Russell's mother, Carline Ray, played guitar with The International Sweethearts of Rhythm. The swing ensemble was the first integrated all-women's band in the U.S. Ray was also Mercer Ellington's bassist/vocalist and worked with Mary Lou Williams.
On her latest album, "Strictly Romancin'," Russell includes Williams' "Satchel Mouth Baby," an homage to Armstrong. She also recalls her dad's arrangements for Armstrong with a wistfully wonderful rendition of "I'm In The Mood For Love."
"My father's music was some of the first music I ever heard in my life. I've always felt very connected to his sense of swing and his sense of fun. I'm always trying to connect more with his music and his arrangements, particularly that period in which he worked with Louis Armstrong so closely.
"He didn't write very many vocal tunes, so I pick from tunes that he did with his own orchestra, mixed with the American Songbook era, where they were trying to make Louis Armstrong a crossover artist, where my dad was doing a lot of those arrangements for him. So I try to include something that either he co-wrote or, we just found a few tunes that were demos that he had made that were never recorded. He had intended for Louis Armstrong to record them. So I've added one of those to my repertoire. So it's kind of nice, a kind of new/old tune that nobody's heard before. That was exciting, finding that in the archives in Queens.
"I like different types of material, so I like to have a mix of some swing stuff, old blues stuff. And then I pick songs that I think have great stories, great melodies and fun harmonic structures. But most of all, I like finding hidden gems in whatever genre. Maybe artists who were known in their day, but nobody knows who they are now. I like to hunt. And then there are things that are very well known, but nobody seems to be doing at the moment. Mainly I like to resurrect tunes or find things that nobody knows."
For the new album, she chose the stirring gospel classic, "He's All I Need." Her mother harmonized with her on that one. "I love the simplicity of the lyric," Russell says. "And my mother is a woman of strong faith, so I thought she would really like that. And we really love singing together."
Russell's mother nurtured her love of music. "My mother was always educating me in everything, making me aware of African-American artists and who did this and who did that. When I was younger, jazz was a little harder for me to absorb. There's so many people. And who was in this orchestra and that orchestra.
"Mainly, I absorbed opera and American Songbook, because we listened to 'Make-Believe Ballroom' every morning. She had a little radio in the kitchen, so we listened to William B. Williams, who was the deejay on WNEW-AM. So I got all of that, Frank Sinatra, Eydie Gorme, The Mills Brothers, Bobby Darin, Tony Bennett, Joe Williams, Ella Fitzgerald, Peggy Lee, everybody that was being played at that time."
Of course, Russell's peers were immersed in rock and soul. Her mother was tolerant "She never said, 'Don't listen to this. Shut that off. I hate it.' Never. She let me listen to everything. So I grew up with 'American Bandstand,' with 'Soul Train.' I grew up listening to Led Zeppelin, everything. Thank goodness, because all of that influences what I do. She was very, very tolerant. If I had a kid listening to stuff I didn't like, I don't know what I'd do," Russell says, laughing.
"She was the one who took me to hear Janis Joplin, in 1968, at Forest Hills, at the old tennis stadium. So she was really very supportive of everything, let me go to a lot of rock 'n' roll concerts, even though that was the '60s and there was a lot of stuff going on at that point. But she trusted me and she let me absorb everything that I wanted to. So I'm very thankful for that."
From an early age, Russell was able to sit at the piano and plunk out the melodies she had heard on records. Other instruments followed.
"In junior high school, I met a friend of mine, Bonnie Abrams (today a folk/klezmer musician) and she taught me how to play the guitar. We grew up in a rough neighborhood in the Bronx and music saved us from getting beaten up after school," Russell chuckles. "We used to play for assemblies.
"She introduced me to Paul Simon, Phil Ochs, and these artists, and so we would play those tunes for assemblies. I went to a pretty rough all-girls junior high school."
Choral singing was a passion. "I always loved harmony. I'm good at harmonizing. And it was a way not to be the center of attention. So I didn't really start singing lead or singing by myself or fronting anything until I was in college, because I did not want all the attention on me. When I was in choirs, that took care of all of that. I could harmonize. I learned how to read music. And I could be in a group."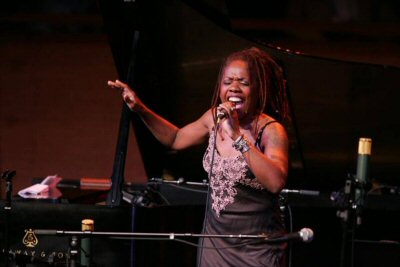 Photo Credit: Joesph A. Rosen
Russell admired the vocal work of Les Double Six, Lambert Hendricks & Ross, Crosby Stills and Nash, and the a cappella group The King Singers. She was also drawn to 16th century and older sacred and secular music.
While attending college in Oakland, Russell joined a gospel choir. "In the '70s, Northern California was a hotbed for this new, emerging modern gospel with the Hawkins singers and the Winans and all of these groups. And Daryl Coley, who was my choir director at that point - he later became a star in the gospel world - he said 'Okay, sing this lead sing.' And I was scared to death my first time. But he was so encouraging to me."
Attending New York's American Academy of Dramatic Arts enhanced her singing, as well. "My mother took me to see 'Bubbling Brown Sugar' on Broadway, which is a black, vaudeville-esque musical, back in the '70s. And I loved it. I thought, 'Oh, these people are having such a good time. How do I get to do that?'
"I was in a few little plays in high school. I was very nervous on stage. I thought, 'How do I overcome this? How do I get more comfortable with myself?' So I learned about the American Academy of Dramatic Arts. I auditioned and was accepted. And even now, I continue to study. I also studied acting improvisation.
"All of that really does save my performances and my being comfortable with myself on stage and really being comfortable with an audience. I was able to learn about that and how to put myself into the story of a song without being self-conscious. All of those things. So the study of acting really did save my life, as far as that goes."
Russell had another ambition. "I also wanted to tour. I was into, how do you get a gig with a rock 'n' roll band or a touring band and travel and see the world and work that way? I had started auditioning for musical theatre at that point and some of the other women that were auditioning for some of these roles were also touring. So, I was like, 'How do you get to do that?'
"So one day, one of the people auditioning came in and said, 'Annie Lennox called me on the phone...' And I just thought, 'How do you get Annie Lennox to call you on the phone?,' she laughs. "How do you get that to happen? So I thought, 'I want that. That's what I want someday.' "
Recording songwriters' demos led to touring with comedian Robert Klein. "I had met his musical director. I did Robert's first HBO special in 1984 and several others in the years since. Before that, I'd had three tours with the gospel-blues singer Carrie Smith, in the '80s, who passed away recently. Going back even further, in 1979, I went over to France to work with one of the sisters of Taj Mahal, who had a great career and who's actually an icon in France now. She passed away several years ago.
"So I started to get a taste of all of these different things. And then I started to make money doing that, so I realized, 'Oh, not only can I work in all these different areas, but I can also pay my bills and have a good time and see different things.' I love to travel. So all of these things sort of happened simultaneously. The network in New York. This person knows that person and so, if you do well in this area, they'll recommend you to somebody else, who'll recommend you to somebody else. That's basically how I've gotten everything, through friends and recommendations."
Russell landed a steady gig at Catch A Rising Star, the comedy club. Tough crowd for a vocalist.
"That was the best training. A drummer, who I was in a wedding band with, he was also in the trio that played at Catch A Rising Star. He said, 'Come on in, I think you'd be good for this gig. They want singers to sing in-between comedians.' I thought, 'Oh, my God!'" She laughs. "The first night I went in and I was just shaking. This was in like 1985. I thought, 'How am I going to do this?' What it was, was everybody had 15-minute slots. What I was supposed to do was called the check spot, which basically meant that, they would hand out the checks during the singer's spot. And so, what I would do was sing louder than the people haggling over what they were going to leave the wait staff," Russell laughs.
"As soon as they announced the singer, everybody would turn away from the stage and start talking. I was singing basically soul and blues. I'd have three tunes. I'd sing a fast soul tune, then sing a slow blues in the middle and then the third tune would be the walk-off tune, 'Good night ladies and gentlemen!' So, hopefully, by the second tune, I would have done well enough that they would listen to me. Then I started to get encores, so I started to have to have a fourth tune ready. So it actually turned out great. And actually, I got a theatrical agent through that gig, which was important when the piano player in that trio recommended me for the Broadway show 'Big River,' which I ended up getting, as a replacement for the original person in the role that I got. So it all kind of blended in together. The people were very supportive at Catch A Rising Star. They were great."
Russell's reputation grew and she began getting calls for tours and recording dates with superstars.
"The touring thing really started in 1989 with Samantha Fox, the dance queen from England. Once again, one tour leads to a recommendation for another tour and so on and so forth. I had been working with Canadian artist Jane Siberry on a show at the Bottom Line here in New York City. Gail Ann Dorsey, who was David Bowie's bass player and back-up singer, was also working with Jane on that same show. The opportunity came up for Gail to recommend somebody to David, and basically, the job description was back-up singer and person who could play simple keyboard parts, which turned into a lot more than that, which was really great. But that's how that happened. And so, I didn't actually audition for David. They said, "David would like to work with you. So you have the job.' I thought, 'Really?!'" She laughs.
"I'd always been a fan of his. 'Rise and Fall of Ziggy Stardust,' I think is one of the best rock 'n' roll albums of all time. So this was amazing. And that was the greatest rock 'n' roll band experience for me. I couldn't believe it, every night, that I was in his band, and getting to play several instruments, not only keyboards, but guitars and percussion and mandolin and all kinds of things. He just let me do everything. He was great.
"He was just amazing to work for. And an incredible person. Very nice. He never just tells you what to do. He always worked everything out with the band. It was a real band experience. Great two tours. And I got to record with him. That was a dream come true. I never thought I'd get that kind of experience. I really loved it. I loved playing loud guitars, spread legs, like the rock 'n' roll stance," Russell laughs. "It was really fun!"
Many other fun collaborations followed. "They're all memorable for different reasons. I can't believe that I get to work with all these great artists. Singing all those harmonies with Jackson Browne, I was in his band for five years. And Steely Dan. I still work with Donald Fagen. We just got through with a Dukes of September tour this summer with Boz Skaggs and Michael McDonald. So I get to work with them and they're great. And sing all those great tunes. And Cyndi Lauper, I worked with her band for four years. We're still friends.
"Madonna, I got to do one session for a tune called 'Rescue Me,' in the studio. She was tough. That was quite an experience. You see why she's been around all these years, because she's very, very clear and focused," Russell laughs. "And knows what she wants. That was a great experience. And all of these artists just give me strength. And Paul Simon, I got to do the theatre in Madison Square Garden with him for a month straight. That was great. I got to learn and experience all of that, singing with him, singing 'Slip Sliding Away,' which was incredible. Through him, I got to do a little work with Edie Brickell back in those days. So all of these experiences are great."
She has backed legends on "Late Show with David Letterman," having met Paul Shaffer through Jimmy Vivino, now of the 'Conan' show. Among those Russell has sung with are Bette Midler, Al Green and Beth Orton. She has also been part of Darlene Love's annual, epic Christmas number.
"I am so inspired by Darlene. I've worked with her now for many years. She is unbelievable. So, if I'm not on stage with her, then I'm in the audience. In addition to being one of the most inspiring vocalists, she's one of the most beautiful human beings, inside and out. So when I'm on stage with her, I have to remember that I'm working, because when she starts singing, it's like, 'How is she doing that? Where is that coming from?' And then to listen to all the stories that she had - working with Elvis and all of the artists that she worked with, Marvin Gaye. Oh, man! So that's so much fun, too. I love Darlene.
"It's rewarding, working with all these great people and hopefully making them feel really comfortable. That's part of the job. We are there for them, so they can do their thing, because they know that they're well supported. They get very nervous, if they don't have that. These stars, they're not all secure. They're trying, just like everybody else. They're continually working at their craft, working at being the best they can be. So the more comfortable that we can make them, the better for everybody."
After decades of honing her craft, developing a sublimely smart, sophisticated and soulful vocal style, Russell finally pondered moving to center stage. As she approached her 50th birthday, her husband/manager was among those encouraging her to take the plunge. In 2006, she released her album debut, "Cat."
"It was very nerve-wracking, the first few gigs. I thought, 'Oh, no! What am I going to do in between the songs? Now I've got to talk to people.' But once again, I got a lot of support. Once I started doing it, people were like, 'Well, what took you so long?' I just really hadn't seen myself being a bandleader, pursuing that, having all the attention.
"But from doing it and doing it, I became comfortable," says Russell, who'll be joined by a quartet of top jazz musicians, when she plays Woodside, California's Jazz at Filoli, 1:30 p.m., Sept. 23, 2012 (www.filoli.org; 650-364-8300, ext. 508). "When people start to come to see you, that's really encouraging. The first shows that sold out, I thought, 'Really? They came to see me? They could have done anything with their evening.' That made me think, 'You'd better take the bull by the horns. You can't get up there not confident, not owning the situation. These people bought tickets, spent the gas money and planned their evening around you.' And, for me, that's a real honor. So I started to have fun with it. Now I look forward to going to work, because I'm not afraid anymore."
For more concert dates, visit www.catherinerussell.net.