REVISITING CREEDENCE CLEARWATER
The PCC Interview with Doug Clifford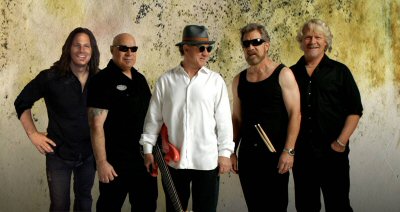 Creedence Clearwater Revisited, Left to right, Kurt Griffey, John Tristao, Stu Cook, Doug "Cosmo" Clifford, Steve Gunner.
By Paul Freeman [May 2012 Interview]

There's no chance of reviving the original Creedence Clearwater Revival. But founding members Doug "Cosmo" Clifford and Stu Cook have been thrilling fans by performing rousing, spot-on renditions of all the hits with their current band, Creedence Clearwater Revisited.

Pop Culture Classics spoke with drummer Clifford prior to a June 8th concert Saratoga's Mountain Winery with another of classic rock's top bands, Three Dog Night. [concerts.mountainwinery.com]
Clifford and bassist Cook, the core of one of the most potent rhythm sections in rock history, met in seventh grade, in El Cerrito. With schoolmate John Fogerty, they formed a band they called The Blue Velvets. Fogerty's older brother Tom, vocalist and rhythm guitarist, enlisted the three to record with him and eventually gracefully relinquished the front man slot to John. Through years of struggle, their dream survived.
Fantasy Records signed the band in 1967. They were briefly - much to their chagrin - known as The Golliwogs, but soon switched to Creedence Clearwater Revival.
As the Bay Area scene moved towards psychedelic and jam music, CCR sizzled with rootsy swamp-rock.
Their single "Susie-Q," a cover of Dale Hawkins' rockabilly tune, reached number 11 and their debut album sold half a million copies. The next album, which included "Proud Mary," established CCR in the top echelon of the rock world.
Creedence delivered hit after hit, played on "The Ed Sullivan Show" and at Woodstock.
Under internal tensions, CCR eventually shattered, but the music lived on. In 1993, they were inducted into the Rock and Roll Hall of Fame. Tom had died three years earlier, but his widow carried his ashes to the event. Cook and Clifford were ready to play on stage. But John Fogerty refused to perform with his bandmates, delivering their classics with an All-Star group.
The snub helped motivate Cook and Clifford to form Creedence Clearwater Revisited in 1995. They found the perfect musicians to help them resurrect the CCR sound - vocalist/rhythm guitarist John Tristao, lead guitarist Kurt Griffey and multi-instrumentalist Steve Gunner.
John Fogerty sued to keep them from using Creedence Clearwater in their name. So they briefly toured as Cosmo's Factory before defeating the lawsuit on appeal.
Revisited had to overcome skepticism when they began. But they have won over the fans. "Recollection," the band's CD of CCR hits, went platinum. The success of this lineup has allowed Clifford, born in Palo Alto and now based in Reno, to regain his place in rock history.
An incredibly fit, young-looking 67, Clifford enjoys playing with his grandchildren and working out, when he's off the road. But he loves playing for the three generations of fans that flock to Revisited shows.
POP CULTURE CLASSICS:
Do you still get the same kind of rush from performing as you did in the early days?
DOUG CLIFFORD:
I do get the same kind of rush. I get adrenaline every time. And when I don't, I'll start working on that golf game that needs a lot of help.
PCC:
The set now, is that comprised solely of hits? Or do you dig into more obscure album tracks, as well?
CLIFFORD:
You know, we've experimented with the more obscure tracks and we lose our audience. People want what they know. Once in a while, we'll slip something in, a cover song, for example, that we had done, so at least it had a history to it. An example would be 'Good Golly, Miss Molly.' We've been putting that in and it seems to go over, because of the uptempo side of it and people do recognize it. So we pretty much stick to what they want. This is our 18th year, so we've certainly had time to massage it.
PCC:
The fact that it's still exciting for the audience, does that keep it exciting for you?
CLIFFORD:
Well, it's great, because we didn't play them for a good 25 years. The Beach Boys have been doing the thing since 1962, non-stop. So we had a quarter-of-century break from it. I never tire of these songs. They're great songs. And they're just a joy to play.
PCC:
Coming back from that break, when you started Revisited, were you fairly sure of what the response would be? Was there trepidation?
CLIFFORD:
There was trepidation, no question about. Stu and I were going to go the private route, probably corporate dates and things of that nature, just low-key it. We just wanted to play. And the first shows that were offered were public dates. We went up into the Pacific Northwest and started there. The response was overwhelming, so we just said, 'Maybe we should plan on getting out in front of the public.' We do privates, five or six this year. But when you put that against doing shows, it's not a large percentage.
PCC:
And that response, so enthusiastic and widespread, that's got to be gratifying.
CLIFFORD:
Well, yeah. We didn't know. In fact, an agency, when we just got started, their senior vice-president took out an ad in Variety and said that we were bums and so on and so forth, said we were a sham and don't go, boycott them. So we called him up and said, 'Have you ever seen the band?' He said, 'Well, no.' We said, 'It's a bit unfair to judge us, without having seen the actual show.' And so he sent one of his young guns to observe and they signed us, the first major agency to sign us. We're now with William Morris, the biggest in the world and they do a good job for us.
PCC:
And this other agency, they just placed this ad out of the blue, having no stake in the situation?.
CLIFFORD:
Just out of the blue.
PCC:
How bizarre.
CLIFFORD:
[Chuckles] That's what we thought. We've always been the underdogs, always will. I kind of like that role, actually. You go out with a little bit of a chip on your shoulder. It's a good mindset for rock 'n' roll and football, I suppose. But we love that role and we have to go prove ourselves every night. It's a little bit different now that we're 18 years into it. We actually have a following now that's specific to this band. So it's not quite the way it had been in the past, in our minds, thinking we really had to watch our steps. We like going out. We love the music. We love the crowds.
The interesting thing, for us, about the crowd is that we have three generations of fans and we have a lot of young people coming to our shows. And they bring a different energy.
PCC:
Do you think it's the unique energy of the band that creates that cross-generational appeal?
CLIFFORD:
I think it's the music. Good songs, well played. Back on the original records, we didn't come out playing psychedelic music in the '60s, which would really sort of date you. When you hear those bands now, you go, 'Oh, there's a '60s band. I forget their name.' But yeah, you can really hear those things that those bands would play, that signature, if you will. But the Creedence music still sounds fresh. I hear it, when I'm out and about, in stores, on the radio, and it holds up quite well.
PCC:
When you and Stu decided to start playing again, were you concerned about finding the right voice for this?
CLIFFORD:
Well, we knew that would be our biggest challenge. We didn't doubt that. We didn't know it would be as easy as it ended up being. We had 10 candidates and we asked each one to send in a cassette with just an acoustic guitar and we gave them five songs to do. That way we had a standard for everyone. Everyone had to do the same songs. And we also had different challenges in different songs, some were uptempo, some not so uptempo, some very high key choices, where they would have to reach down deep and do it without the assistance of electronic enhancements. Just an acoustic guitar and no tricks.
So, of the 10 candidates, we narrowed it down to four, which got them to come and audition with us. And Johnny was the fourth of that group. And when we heard him sing, we said, 'That's our man, John Tristao.' He's still with us. Been with us the entire time on this particular run. He's the man.
PCC:
As far as you and Stu, why do you think you've had this great chemistry through all these years?
CLIFFORD:
It's an interesting arrangement, I'll tell you [laughs]. We've known each other for 54 years, met the first day of school in the seventh grade. And we're exact opposites. I think that's why it works. If we were exactly alike, we would have killed each other a long time ago. Like anybody, we have our moments. But we're best friends and we realize that we have a pretty good thing going and we just marvel at the fact that we're still doing it. We're having fun and that's what it's all about.
PCC:
You say opposites, what are those two polar extremes?
CLIFFORD:
I like to do different things. Stuey is a more serious chap. He's got a business degree, which is cool. We went to San Jose State together. I sort of look out for our crew and band, in terms of keeping things light, as light as they can be. And Stuey makes sure that, when there's a reason for it, when it's necessary, the whip is cracked. So there's a balance. A yin and yang, for sure. And it works.
PCC:
Once Creedence Clearwater Revisited was up and running and you had to change the name to Cosmo's Factory, was that frustrating? Or, by that time, were you just used to having to roll with the flow with those kinds of things?
CLIFFORD:
Well, we were used to having to go with the flow, but that one really got us. We thought that, being injuncted by the judge, he didn't really understand the facts or the law, for that matter. But the ninth circuit court of appeals turned it around and we got the name back and we ended up settling with John... after the lawyers were able to buy new houses. And for pretty much the same thing that we'd offered him to begin with. So that was an interesting period. Again, we had to get into that foxhole and dig deep and stand our ground. And we did.
But honestly, I think we did John a favor, because he wasn't even playing his own songs at that time. And once we were out doing it and being successful, he started playing his songs in his shows. That's the long and short of that one.
PCC:
Even though John Fogerty has been performing his Creedence material again, do you feel that the success of Revisited has allowed you to reclaim your past success, making it clear that these were band hits?
CLIFFORD:
Well, yeah, that's a very good point. And yes, of course. I would never not say that John was a wonderful talent. He was a great talent. Great songwriter, singer, guitar player, all of those things. But we worked as a unit. Every day, we would come in and jam for a couple, three hours and I know songs came out of that. Grooves and things came. Everybody brought something to the table. It wasn't just one guy. And the proof of that pudding is that in that four years, we had 20 hits and, in 40 years as a solo artist, he's had two Top 10 singles. So once he got rid of the guys that were holding him back...what else can I say?
PCC:
Back to the beginning, what was it that inspired you to take up drums?
CLIFFORD:
Well, I loved rock 'n' roll music. I was a record collector, buying those records in those days. My first record was 'Roll With Me Henry,' by Etta James. I was nine years old. It was a 78, not even a 45. Albums hadn't even been invented yet. And I was really enamored with the music. I saw Elvis and I knew that I wanted to participate in the music, rather than just collect it.
And then I saw Gene Krupa on a television special. Of course, he was a big band drummer, but there he was, bigger than life, in his white sport coat and his black, greasy hair, and going off and just pounding away. I just said, 'Wow! I know what I want to do.' And it didn't take long. I started teaching myself to play and then I ran into John in the music room. He was playing piano. I asked him if he wanted to start a band. He said, 'Yes, but, actually, I play guitar. I'm looking for a piano player.' I said, 'I know the guy. His name is Stu Cook. His dad is a big-time lawyer. He's got a big house with a rumpus room with a piano in it. We can practice there.' Well, I hadn't even asked Stu if he wanted to participate and I hadn't asked his parents if we could come in there and play on that piano. [Laughs]. I was never shy. So that's how it all started. And then Tom Fogerty came in and had us back him up in the studio. So we started recording at an early age. Tom was the lead singer, of course, at that time. And we stuck to the dream.
It took us 10 years to get there. But we wanted it real band, enough to hang in for 10 years and starve. At the end of that time, we quit everything else we were doing to be full-time musicians. That part is the great part of the story and the music lives on, the legacy, the most important part. We have, of course, our issues with each other, but it really pales in comparison to the legacy of music that we left.
PCC:
So you did actually believe that stardom was possible even during those early days?
CLIFFORD:
We more than believed it. We knew it was going to happen. That's really what it takes to get through the tough times. You just have to believe. If you don't believe, your conviction is compromised, certainly. And we believed.
PCC:
Did you have to go through the nightmare gigs at the beginning?
CLIFFORD:
Oh, sure [Laughs]. We did. We played five sets a night, six nights a week in the clubs and that sort of thing, played in some pretty rough joints on occasion. A couple of them, we had to run for our lives and then didn't get paid. All the great stories that most people go through. It's a little bit different now, being in the computer age and so forth. You can make a record without even playing an instrument. So I would never trade that for the experiences that we had, some of the nights that we had in some of these clubs. It got us into shape and made us want it even more.
PCC:
With Tom as the front man at the beginning, did he graciously allow John to move into the spotlight?
CLIFFORD:
Well, Tom sure did. He was a gentleman. He brought us along, when we weren't ready. But he stuck with us, because he could tell that we were as serious as he was. We just weren't where we would have liked to have been. But hey, we were kids. It took longer than we thought, but we were willing to put in the time and didn't want to give up that chance to get into the big-time.
PCC:
You mentioned San Jose State. What kind of career were you you aiming at during those years?
CLIFFORD:
Honestly, that was my Plan B. I was going to college just in case we didn't make it. I never gave in. But it's always a good idea to have a Plan B and to kind of cover your bases. I was going to teach History in high school and coach football.
PCC:
So with all that experience as Blue Velvets and Golliwogs, when so many unprepared bands were just being suddenly yanked into the spotlight, were you more ready for the intensity of Creedence's success?
CLIFFORD:
Not really. I think the preparedness was really in the playing, that side of it. Nothing really prepares you... I guess 'American Idol' would [laughs]. They didn't have that back then and it was very impactful... and a whole other world.
PCC:
It was Max Weiss [Fantasy Records co-founder] who came up with the name Golliwogs?
CLIFFORD:
That's true. And I hated it. I hated it even worse with the uniforms he put us in. They were really just ridiculous. We all wore the same thing. Ya-da-ya-da-ya-da. What do you do?
The first thing we did do was fire him and change the name. Right after that was when the success came. I think the timing was ripe for us anyway, bit it would have been really tough for us to go out there in those uniforms with that name and succeed. And more of an uphill climb than we wanted.
PCC:
When you say uniforms, you mean suits?
CLIFFORD:
No, I wish they were. They were patchwork quilt pants, white shirts with red paisleys all over it, green suede vests and furry, white cossack hats.
PCC:
What were the first impressions of Saul Zaentz, when he took over at Fantasy?
CLIFFORD:
Well, he liked us. He worked had worked for Fantasy. He had always kind of kept an eye on us and was friendly to us. And once he bought the company, he said, 'You've got to change the name.' We said, 'No kidding.' So we did. And we started working on an album. We had four tracks and then, when we started getting airplay on the first FM rock station in the world, BIg Daddy Tom Donahue and KMPX, 'Susie-Q' was immediately recognized and started getting some play there. Of course, it didn't really matter at that time. They were only broadcasting about three or four hours a day. But when we finally finished the album, Bill Drake, 'The Hit Picker,' if you will, he had his tip sheet that you could subscribe to. He picked 'Susie-Q' and it went to number 11. So we almost had a Top 10 hit. Sold half a million copies of the album. And then 'Proud Mary' came out on the second album... and all hell broke loose.
PCC:
Coming from the Bay Area, why do you think the band had such affinity for those bayou themes?
CLIFFORD:
Well, that's the music that we liked and we grew up wanting to play. And we worked hard to be able to do that style of music and to keep it simple and basic. When you're young, you want to play a lot of notes. And we thought the Bay Area bands were playing too many notes. And the songs got too long, so there would be a lot of noodling and that sort of thing. And there were some great bands that came out of the Bay Area, don't get me wrong. It just wasn't our style. But we stayed with our style. In fact, those guys laughed and called us 'The Boy Scouts of Rock 'n' Roll,' because we weren't doing drugs when we were on stage and we had a different work ethic than those bands. But they had their style and we had ours. We stuck to what we wanted to do and it paid off.
PCC:
And was it simply that you were doing the music that you loved or did you see yourselves filling a void in terms of real, basic rock?
CLIFFORD:
We were doing what we loved. Plain and simple. We figured, if we had to change to make it, if that was the price to get into the room, that wasn't worth it to us. We wanted to do it on our terms. We loved the music. We were students of it. And we were going to do it our way and fail or do it our way and succeed. Everyone told us that we never had a chance, if we stayed in that genre. We just said, 'Well, okay. You have your opinion. We have ours.' We proved them wrong. We bump into those guys every once in a while and we get a good laugh over it.
PCC:
It did seem like Creedence was a key to keeping real rock 'n' roll roots alive back then. Were you conscious of that at the time?
CLIFFORD:
Not as much as you would think. But we were dedicated to that school, if you will. We didn't realize, certainly prior to the success, how big we were going to be 44 years later. Here we are, still getting tons of airplay and we have three generations of fans. We had no idea any of that was going to happen. We just knew that we were dedicated to the roots of American music and rock 'n' roll, in particular, and that's what captured our imagination way back when, when we were kids and even more so as we got better at playing that music.
PCC:
Were you inspired by the British Invasion music, as well?
CLIFFORD:
Oh, no question about it. That gave us another shot in the arm, when we saw The Beatles on 'Ed Sullivan.' That was at a time when we were getting older. Stu and I were in college. So we were down in San Jose. That was the first real separation of all of us. And we were struggling. Things were starting to fracture a little bit, just because it was tough to literally survive. So it was a big shot in the arm.
And hearing that music from across the pond, we said, 'These guys are playing our music, American music, and doing a good job at it.' And the American bands aren't. So it sort of validated what we were trying to do. And, interestingly enough, it came from England.
PCC:
Even though you had your own niche, was it fun to be part of that whole San Francisco scene, the Fillmore and those venues, where there was so much diversity on the bills?
CLIFFORD:
Oh, yeah, no question about it. And God bless Bill Graham for everything he did. What a great guy. He was good friend to us. He liked us, because we showed up on time, we weren't too drunk or drugged. We had a strong work ethic. And, as you say, very eclectic shows and mixes of different genres. So he was a visionary and I miss him a lot.
PCC:
As John came in with new songs, did they tend to blow you away or was it not until they took shape with the band arrangements that they really had the power.
CLIFFORD:
It took time, I think, to mold them and get them where they were certainly more interesting. Some of them, we didn't even hear the lyrics to, because they weren't completed. We knew what the melody of the song was, so we'd sort of scat along with it. Not all the time, I can't even tell you what the percentage would be, maybe five percent or so, they weren't completed and we didn't hear them until the record was done and then it was, 'Oh, okay, that works pretty cool.'
We worked hard. When we went into the studio, we didn't go in with 15 songs and pick 10. We went in with an album and we left no songs in the vault. That's how organized we were and well prepared we were, when we went into the studio.
PCC:
Doing things like 'The Ed Sullivan Show,' how impressive was that to you, to hit that level?
CLIFFORD:
Well, when you made 'Ed Sullivan,' you knew that you had really made it. It was like the biggest television show, 30 million people watching, live, in our country. My grandma got to see me on TV. It was pretty cool.
PCC:
And what about Woodstock? Was that a surreal experience?
CLIFFORD:
It was surreal, more from a logistics standpoint. It was in chaos. We had a tough time getting there. We had a tougher time getting out, because we had a show the next night. We'd never missed a show. A lot of people said, 'Well, why don't you just hang out?' We had responsibilities. We had another gig. We went from Woodstock to, I think, a 3,500-seater with Nitty Gritty Dirt Band. So, in terms of that, a little bit of a letdown. But we did everything we could to get out and get our stuff out, get our crew out, to make the show the next day.
Nobody knew the historical value of Woodstock. History requires time to pass. For us, it was a real struggle. We didn't get on till three in the morning. We had done filming on Andy Williams' TV special the day before. We were tired. But, looking back now, of course, it's Woodstock. Nobody knows we were there anyway, because we weren't in the film or soundtrack until the 40th reunion and then we were in the bonus tracks or something like that, like three songs. But you could tell when you were there. You could feel the energy. I could actually feel the hair on my arms stand up a couple of times. Everybody was in deplorable conditions, having fun, no violence, being friendly. That was something to see.
PCC:
Was there a logic to not being part of the film and soundtrack originally?
CLIFFORD:
That was John. John didn't think we played well enough. And we fought for 40 years over that. We said, 'Why aren't we in it?' He said, 'We're already number one. We don't have to be in it.' That's some of the thinking that caused a lot of the internal problems.
PCC:
You met Hendrix and Jim Morrison along the way. What were your impressions of them?
CLIFFORD:
Sad. They were so drugged out. Hendrix, they gave him uppers to get him on stage and downers to get him off. And Morrison, we spent an evening with him and his bodyguard and his girlfriend. And it was very disappointing. He was struggling. That's what killed him eventually.
PCC:
And Janis Joplin, you actually knew her well, both being based in the Bay Area?
CLIFFORD:
Janis loved us. Of course, she had the same problem. She loved her Southern Comfort. And ultimately drugs got her, too. But she was different. Just a sort of good ol' country girl. From Texas. And she loved our music, because of the style it was. And whenever she wasn't working and we were at the Fillmore or Winterland or whatever, she would be there, rooting us on.
PCC:
How did you avoid all those excesses, so that you could be one of the survivors?
CLIFFORD:
Because we realized that it didn't help the cause that we worked all those years for, which was to make the best records and have the best performances that you could. And really, these guys were fooling themselves. And seeing people drop dead is a pretty good way to confirm your direction - 'I'm not going to go down that path.' And we didn't.
PCC:
When the incredible string of hits was happening, did you think it would go on forever? Or was there always the sense, in the back of your mind, that the fame could be fleeting?
CLIFFORD:
Well, I thought we were moving too fast. We put out two albums in one year. And that's crazy. And Fogerty's thought on it was, if we're ever off the charts, we'll be forgotten. And this wasn't the case. Everybody else was off the charts for a while, but they were still viable bands and they came back. But we were always on the charts with a single and/or an album. And that just really puts a lot of pressure on everybody.
PCC:
As far as it no longer being fun, was that a gradual thing or was there a sudden rift?
CLIFFORD:
It was gradual. And, at the end, it really wasn't fun at all. But that's what happens. There's a lot of internal pressure. We needed a manager and a mentor. John was the manager. But he doesn't own his songs today and we still have an entry-level recording contract, the same one that we had when we were teenagers, when we walked in the door and nobody knew us.
And there was conflict between the brothers. Tom wanted to be able to sing a song or two and be more involved. And he was not allowed to. And it was his dream that he'd brought us along on. And Stu and I always stood up for him. So that put us in the doghouse. There were a lot of problems.
PCC:
When Tom left, was that a sign that the band was nearing an end?
CLIFFORD:
Yeah, it was. There was a lot of denial. You really didn't want it to end, no matter how crazy things were. I'd been in the band since I was 13, more than half my life. So it was tough.
PCC:
As far as John's control over the band, is it true that he's actually the one who insisted that you and Stu write songs and sing them for the 'Mardi Gras' album?
CLIFFORD:
That's correct. And I think that stemmed from our supporting Tom. Tom wanted to be more involved in the recording process and certainly wanted to sing some songs. And so, that was John's way of showing us he was the boss. It's cutting-off-your-nose-to-spite-your-face leadership. And it all came down. And then, of course, he said that we made him do that. And so we took all the heat for the ending of the band. And that was not true at all. It was an ultimatum. I remember. I'll never forget it. He said, 'If you don't do it, we're over right now.' I wish we would have just said, 'Okay.' But we didn't want the band to end, ever. And that was it.
PCC:
And the misperception goes on even to this day. I think a lot of people still think you and Stu demanded that your songs be used.
CLIFFORD:
Absolutely. No question about it. That's why Stuey and I have always been the underdogs. And that's why, when we began this band without him, we were wondering how it would be accepted or not accepted. And it's been accepted very, very well. We do a great job. We have a great band. We love this music. We do it the way it should be done. And always will.
PCC:
All the years of legal wrangling with Fantasy, was that disillusioning? Frustrating?
CLIFFORD:
Well, the legal wrangling was between John and Fantasy. Not us. We weren't a part of it. The problem was, we saw this wonderful talent, our guy, going crazy, doing business, and signing the contracts that were bad and leaving the good ones on the table. That was so frustrating. As I said, we needed a mentor, an older professional that could help us out and get us through these problems, let us just be musicians while he went to bat for us.
PCC:
And yet you were able to briefly put aside your differences and reunite for a high school reunion performance in '83. Was that fun? Were you able to put the troubles our of your minds?
CLIFFORD:
It was a fun thing, because it was high school. We were there with all the kids who saw us start playing. It was a different environment. We didn't have to be anybody, really. We could just do anything we wanted. And it was a wonderful moment. Then, when we were done, it went right back to where it was. We thought, 'Hey, maybe we can get something done.' But no, the door was closed the day after. But we did have that hour-and-a-half on stage.
PCC:
It seemed like the low point was the Rock and Roll Hall of Fame induction travesty. At what point did you know you weren't going to be able to perform on stage?
CLIFFORD:
The day of the event. It was heartbreaking. Our families were there. It was wrong. The Hall of Fame conspired with John. Lied to us. Went from the highest high to the lowest low in my career. Boom. It was shock. It was stunning. Stunning in an ugly way. It stunned me, I should say. But what can you do?
In the long run, I always look for the positive. I think, we didn't realize it at the time, but I think that's when the seeds for Revisited were planted. Two years later, it started. It left a real burning in my soul, deep inside my heart, and I know Stu's, as well. So it helped fuel the project.
PCC:
And the music is timeless. Songs like 'Fortunate Son' seem as relevant as ever.
CLIFFORD:
It does. The same things are still going on in the world. So all of the songs are relevant. It's crazy. It's a sad commentary on the fact that history is not something that people learn from.
PCC:
Recently, Fogerty seemed to hint that he was open to a reunion and then pulled back again. Have you just come to expect that sort of thing?
CLIFFORD:
That's what he does. It was something to generate some press for himself. He's struggling with his career. We checked it out, called his people and they said, 'No, he has no interest in it.' He never contacted us. So we had thought, 'Same old thing.' And it was. Not unexpected.
PCC:
With all you've achieved, what have been the biggest satisfactions? And are there still goals you're aspiring to reach?
CLIFFORD:
Well, yeah, but they can come later, when we slow down the touring schedule. I think right now, going out with a live band, playing rock 'n' roll for three generations, is pretty satisfying. I'm pretty content with that right now. But there are always things out there that you dream about. You still have your dreams.
I have some songwriting partners and I'd like to do some songwriting with my daughter, actually. She's very talented and she's got some very interesting songs and I'd like to be able to sit down and spend some time writing with her. And she would like to do the same thing. So it's just a matter of getting some time. And heck, maybe we'll just sit down and play with a couple and see how they work out. I think that would a pretty cool thing to do.
To get the latest news, visit creedence-revisited.com.