CHAD & JEREMY: YESTERDAY'S NOT GONE
The PCC Interview with Chad Stuart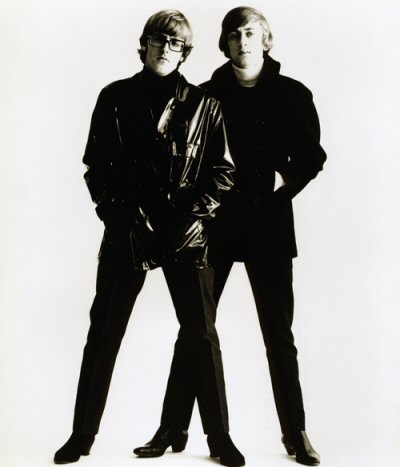 Chad Stuart, left; Jeremy Clyde, right

By Paul Freeman [January 2014]

For many Americans, Chad & Jeremy epitomized the British Invasion. Witty and charming, the duo's honeyed harmonies made memorable such hits as "Yesterday's Gone," "A Summer Song," "Willow Weep For Me," "If I Loved You," "Before and After," "I Don't Want To Lose You Baby" and "Distant Shore."

Having sparked waves of adoring screams themselves, Chad Stuart (born David Stuart Chadwick) and Jeremy Clyde (Michael Thomas Jeremy Clyde) spoofed Beatlemania, portraying The Redcoats, on "The Dick Van Dyke Show." They also acted on "The Patty Duke Show," "Laredo" and "Batman," in addition to performing on music programs like "Hullabaloo."

In 1967, the duo proved that they had more to offer than gently catchy tunes. They released a true masterpiece, the album, "Of Cabbages and Kings." The impressive talents of Chad and Jeremy were augmented by such luminaries as Curt Boettcher, The Firesign Theatre, members of The Millennium and The Wrecking Crew. The great producer Gary Usher helmed the project. The brilliant songwriting and lush orchestration are dazzling, as is the level of creativity. The pair's follow-up album, "The Ark" was another tour de force.

But Clyde left to further his acting career. His recent credits include "Downton Abbey" and the Meryl Streep film "The Iron Lady." Stuart worked extensively as an arranger and record producer.

In the 80s, Chad & Jeremy reunited for an album, a London West End musical and a U.S. tour. In 2003, they teamed up again, this time for a PBS special. Since then they've toured and recorded new albums - "ARK-eology," 2013's "Rien Ne Va Plus" and the live "Reflection."

Stuart has toured solo and released a children's CD, "Don't Argue With An Elephant." His most recent work is the entrancing album "Chad Stuart & The KGB." His daughter Beth and son, prominent actor James Patrick Stuart ("Galactica" "It's Complicated," "Hot In Cleveland," "Castle") added vocals on one of the tracks. Profits from the CD go to stopping the abuse of wild horses.

Chad and Jeremy will be among the special guests at this year's The Fest For Beatles Fans. This huge event will celebrate the 50th anniversary of Fab Four's U.S. arrival. Scheduled for February 7-9, 2014, at New York City's Grand Hyatt Hotel, the weekend will also include appearances by Peter Asher, Donovan, Billy J. Kramer, Mark Hudson, The Smithereens, Cousin Brucie and many other Beatle associates and historians. Fans will enjoy live music, talks, marketplaces, Beatles memorabilia auction, George Harrison guitar exhibit and much more. See www.thefest.com for full details and tickets.

Singer-songwriter-arranger-producer Chad Stuart was kind enough to chat with PCC.

POP CULTURE CLASSICS:
You're about to appear at the Fest For Beatles Fans. What are the Chad & Jeremy connections to The Beatles?

CHAD STUART:
Tenuous at best. No, its hard to explain. The first one we ever did was last August, in Chicago. We always felt they were insane... which they are. But then again, so am I. [Chuckles] I loved it. I thought it was great. All these people sitting all over the Hyatt Hotel, plunking their acoustic guitars and banging their bongos, singing Beatles songs. Very, very sweet. And what made it even more surreal was that Comic-Con was going on at the same hotel, at the same time. And that was a piece of work.
What I really like about the Fest is - I know Im digressing, because thats not the question you asked, but I do that from time to time - is the fact that people go there to have a good time. And they do. That makes it a lot of fun.
PCC:
Are you performing or doing a Q&A?

CHAD STUART:
Whatever they want us to do, really, is what it comes down to. Usually, I jam with the band, because it's kind of fun.

PCC:
And did you have some interactions with The Beatles over the years?

CHAD STUART:
Yeah, I only had one interaction with Paul, who, sadly, I've never met since, which is a pity, because I think he's terrific. But we were invited, right at the beginning, like '62, probably, 1962, '63, and we went to a party for John Mortimer, the famous playwright. And Paul, of course, was pretty plugged in, because he was dating Jane Asher and all that stuff, so he was on the scene. I didn't know he was there. Anyway, so, "Yesterday's Gone" had just come out and they wanted us to do it. And I was going, "Oh, geez, do we have to?" And then a voice behind me said, "Go on, Chadwick, let's get it over with." [Laughs] And it was Paul. It was so neat. And he sang along with it, which blew me away. I mean, how did he know that? But, of course, his is a consummate pro and he pays attention.

I met George, because Jeremy and I were doing a musical called "Pump Boys and Dinettes" and George came to see it and we hung out afterwards. He was terrific, God bless him.

And the most memorable occasion for me, I went to a party in Encino, California, where Jeremy and I used to live, not in the same house, of course, but he rented a house on the hill, which was really a cool, sort of Spanish hacienda type house with a beautiful garden and a private zoo, which, mostly didn't have any animals in it. But anyway, I was there and went to this birthday party for the guitar player in a band I used to play in, and I was out in the garden, kind of feeling like a ghost, haunting a place that used to mean something, but doesn't anymore. And then this lovely, inimitable, Liverpudlian voice kind of shocked me. He came out of the French doors. It was getting dark. And he said, "Chad Stuart, I presume." I can't imitate him. But it was John, actually. He was sweet, because he sensed how I was feeling. I told him that I was haunting the garden. And we sat and talked and it was great. He had this reputation for being acerbic, which, of course, he could be... and I don't blame him.

But anyway, I thought that was it, but then, the next time, the second time, and the last time, sadly, I was sitting, back in the good old days, when you could meet a flight at LAX. There was no security. You could just go and wait. And I was waiting for my sons, because I was divorced from their mother at that point. And she was living in Phoenix. And my sons were coming in on the plane. And I was meeting them and I was just sitting there, on the floor, with my back to the wall. And this bloke comes and sits next to me. And it's John. Nobody knew it was John. He remembered me. And, of course, I remembered him. So we sat and talked about kids and divorce, this and that. It was amazing. And then I never saw him again. And that was it. He was just so cool. I really admired him. And I still do. I mean, Lennon-McCartney are unbeatable. I mean, they're unbeatable writers.

I was just reading Geoff Emerick's [studio engineer] book ["Here, There and Everywhere: My Life Recording The Music of The Beatles"]. It's sort of a technical autobiography. It was fascinating to read about how they grew, musically, in the studio. Fascinating, fascinating book.

PCC:
You and Jeremy met at drama school. Were you aiming at a career in acting?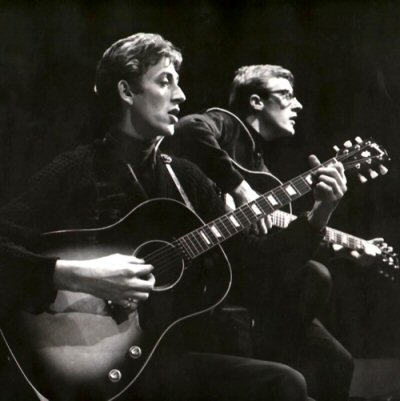 CHAD STUART:
Oh, I was just looking for an excuse to get to London. I came from the north country. I really was a bit confused. I knew I loved music. I knew I was good at music, because I was chorister at Durham Cathedral, so I'd had a pretty good background. I could read music like most folks read English. And I got apprenticed to a wonderful - it's typical of me, I do what I'm not supposed to be doing. So, after school, boarding school, which I hated with a passion, we had a terrible skiffle group there. It wasn't much fun. Well, actually, it was [laughs]. That was the beauty of skiffle. You didn't have to be really good. You could just do it. So I did a year at art school and I acted in a local drama group. We did several plays.

And, then, of course, the minute I got to drama school, I immediately got in a band. Just crazy. But what are you going to do?

PCC:
Was it primarily folk music that had influenced you?

CHAD STUART:
No, no, not at all. I think that the only reason that folk music came up was because Jeremy, we had this rock 'n' roll band called The Jerks, who were pretty terrible, really. What a great name for a band - The Jerks. Anyway, so he left and he joined a Dundee repertory theatre, which is the English equivalent of summer stock, only, in England, it's year-round. He was up in Scotland, Dundee. And then British Actors Equity went on strike. So he couldn't work anymore. So he came back and we sort of got together. The band had obviously long since broken up. I was working as a copyist, trying to work my way up in the music industry, apprenticed to a wonderful arranger called Gordon Franks. And I was really working on that. And the idea of being a pop star, that was just totally remote. I mean, nobody ever thought about it.

So what happened was, he was at a loose end, so we sort of got together and started playing, you know, Josh White songs, and just about anything two acoustic guitars could handle. And we were playing in a little club, Tina's. And somebody dragged John Barry [later a famed film composer - James Bond theme, etc.] to hear us. And he was an A&R man at EMI, which is where he should have stayed, of course. But he didn't. He got seduced away by Ember Records, which was an interesting story. I mean, it was like this little, tiny independent label and Jeffrey Kruger ran it. And he was, I don't know, he was... what's the word? You can't go through life fighting people off, but, let's put it this way, he was not the most straight-arrow of people. And he kind of made monkeys out of Jeremy's father's attorneys.

Jeremy's father was a film producer. He was a partner with Douglas Fairbanks, Jr. in a company called Cavalcade Films. And they said, "Don't worry, we'll have our attorneys do it." But, of course, they hadn't a clue. We had the world's worst record deal ever. And we only just got paid, by the way. We got paid at the end of last year.

PCC:
What were you impressions of John Barry?

CHAD STUART:
I was very grateful to him, because he said, "Well, have you got any songs?" So I coughed up "Yesterday's Gone" and played it and, to my astonishment, he said, "Yeah, that'll work." So I thought, "All right, in for a penny, in for a pound." I said, "Well, look, you may not like it, but I'd appreciate it, if you'd look over my score," because I did scoring for strings and a couple of horns and whatever. And he looked over the score and he said, "Yeah, that'll be okay." So we did it. And so I've always been eternally grateful to him. He's passed away, as have so many people. No, he was cool. He made me change the lyrics, though. I didn't like that. He made me change the lyrics so they were, essentially, meaningless.

PCC:
Was he trying to make them more universal?

CHAD STUART:
Well, he thought mine were too poetic, which was too bad, really. He didn't want poetry. He wanted adolescent bollocks.

PCC:
And I read that he had some input into the style of the vocals. Is that true?

CHAD STUART:
Well, yeah, yeah. That's sort of the stuff of legend now. But it's actually, basically, true. The truth is, if you're both acting students, then you can make loud noises, because you've been taught how to breathe and how to project. And when he heard us go into the booth to overdub the vocals, what he said was, "It sounds like a locker room full of football players.'"[Laughs]. And so, he was appalled, of course. He said, "This isn't going to work." So, in the end, in a fit of exasperation, he said, "Oh, for Chrissake, whisper it!" And that's where that anemic Chad and Jeremy thing was born.

PCC:
[Laughs]
But do you think there was some advantage, having a soft, sweet, romantic sound, in contrast to some of the edgier, bluesier things dominating the charts in those days?

CHAD STUART:
You could argue. You could cynically argue that and say, "Well, you guys carved out a niche." But in retrospect, I think, I mean, it's wimp-rock, isn't it? I mean, it's just pathetic. Anyway, so now we don't do that anymore.

Jeremy is okay, God bless him, but he does have that sort of breathy voice. In other words, he's either doing John Raitt in "South Pacific," sort of bellowing it, or he's whispering it., which is just the way it is. So all I do is, I shadow him and do the best I can. Live, it's not so crucial. So we do what we do live and now it's all about having fun, frankly.

PCC:
Was "Yesterday's Gone" the first song you had written?

CHAD STUART:
Yeah, probably. I was inspired by, when I was in school, I really liked The Four Preps, "Big Man," which had that thumping piano part. And I sort of learned how to play that and I thought that was a lot of fun. And then that sort of gradually led to sort of riffing along, with the "Yesterday's Gone" riff on the piano. And then I came up with a song, with a lyric about the break-up of a romance. But John made me change it. I mean, I didn't have much of a choice, did I? [Laughs] Yes sir, three bags full.

PCC:
You must have had a natural gift for songwriting, if that was your first effort.

CHAD STUART:
Yeah, yeah. I mean, you could argue that's just dumb luck, beginner's luck. I don't know. I really don't know. I was writing other songs. There was this guy Russell Alquist, who was married to Juliet Mills, Hayley Mills' older sister. And we got together and started cranking out songs. That was the time of the jingly rock that Lennon-McCartney basically got us away from, all that sort of Gerry and the Pacemakers stuff. It's just jingle-jangle. I don't like it. Never did.

PCC:
"Willow Weep For Me," was that a song you chose or did the record company bring it to you

CHAD STUART:
I think it was an A&R decision. That was back in the day, if you weren't really strong writers, you would pretty much get shoved around by whoever the A&R man was at the time. We were really just swept up in all that. It all just kind of happened so fast. And once they found out we'd been to drama school, and they stuck us on "The Dick Van Dyke Show," then all hell broke loose and we were on television all the time.

PCC:
Yes, Chad and Jeremy really became the symbols of the British Invasion on American television. What was the experience like, working with Dick Van Dyke and Mary Tyler Moore?

CHAD STUART:
Oh, amazing! I mean, they're the best. Always will be. I mean, humongous! You would think, "Well, okay, we're going to have to sweat bullets and just behave ourselves and do whatever we're told." But no, we sat around on Monday morning, with coffee and donuts, on the long table, read the script, and they were just the sweetest people you could ever meet. Their secret was that everyone had a good time on the set. I mean, Dick Van Dyke is still a prince among men, always was, always will be.

PCC:
And "The Patty Duke Show," was that fun, as well?

CHAD STUART:
Yeah, it sort of was, but it was kind of a strange little story, you know. The story didn't make any sense, really. [Laughs] If you really think about it, it was goofy. I mean, the concept was goofy, of Patty being like this raving little rebel with this snobby sort of twin sister, but they weren't. They were cousins. Well, that doesn't make any sense. You can't have identical twins, when you're cousins. That doesn't work that way.

PCC:
[Laughs]
And yet we bought it.

CHAD STUART:
[Laughs]
I know, everybody bought it.

PCC:
And then you had a chance to be the fish out of water, in a western, "Laredo."

CHAD STUART:
That was huge fun to do, it really was. It was supposed to be a pilot, a spinoff of "Laredo," a pilot for our own series, which would have been terrific to do. But I think, in retrospect, we were a bit young to be credible. We were just too young, really, to play two out-of-work actors adrift in the Old West. It was a fun idea. And the pilot was fun to shoot. And it had a good cast - Peter Graves was the bad guy and all that sort of stuff. Yeah, a lot of fun.

PCC:
And then you got to be part of another cultural phenomenon with "Batman."

CHAD STUART:
Oh, I know [laughs]. Again, we didn't really have to do much. We just stood around and we never really got a chance to act. We just lip-synched and said a couple of lines and that was about it, really.

PCC:
Humor, wit, the personality, was that an important element of Chad & Jeremy's appeal?

CHAD STUART:
Well, I hope so. I think we've improved on it since then. I discovered at some point later in life, much later in life, probably in the last go-round, slowly it started to dawn on me, once I got past 70 years old, I just sort of discovered that I can make people laugh. And this is actually a lot of fun.

PCC:
I guess there wasn't much opportunity for witticisms in the British Invasion era concerts, with all the screaming.

CHAD STUART:
Well, exactly. Of course. Absolutely. Yeah, but what are you going to do?

PCC:
Did you enjoy that mania at all? Was it frustrating sometimes?

CHAD STUART:
think it was kind of getting swept up in it. People have called it roller coaster, but you kind of got caught up in it. There are managers and agents and they keep you working. And you really don't have time to stop and think about it much. You just sort of get on with it.

PCC:
The success was greater for you in the U.S. than the U.K. Is that why you chose to move here early on?

CHAD STUART:
Absolutely. We didn't mean anything over there. What happened over there was that, I think it was the Daily Express, ran a feature about Jeremy, because he, obviously, is connected. When I met him, he was the grandson of the Duke of Wellington, on his mother's side. And then the old Duke died and he moved up to nephew. And then that Duke died and he moved up to cousin. [Laughs] So, anyway, once the British record-buying public learned this - the paper printed a picture of him, as sort of a poncey little kid in golden curls, in velvet, carrying a cushion with his grandfather's coronet - once that got out, we were dead. "Forget them. He's an aristocrat, for crying out loud." That isn't going to fly. And it didn't fly. So we flew to America [laughs].

PCC:
I remember the "Shindig" appearance [a duet with Stuart's then wife Jill], singing "Cruel War," were you much involved with the politics of the 60s?

CHAD STUART:
Yeah, I guess I was, actually. I worked for Robert Kennedy, which was another tragedy, of course. But, yeah, I wanted to do "The Cruel War." And I made the mistake of playing it to Peter Yarrow [Peter, Paul & Mary]. I shouldn't have done that, because he immediately ran off and got somebody to rustle up some strings. And he released it. And the result was neither one of us got a hit. I don't know why he did that. I thought that was very mean-spirited of him.

PCC:
Did you get any flak from the TV people for singing an anti-war song on the air?

CHAD STUART:
No, not at all. I mean, it was an American folk song. So, it wasn't like I wrote something angry or anything like that. And then, there were other songs. I mean, that was the thing. There was the genre of "the protest song," in quotes. And Barry McGuire's infamous "Eve of Destruction."

PCC:
The duo having had such success, did you feel you were taking a risk with "Of Cabbages and Kings"? Or was that just part of the natural artistic evolution?

CHAD STUART:
Part of the evolution, really. I mean, it was getting boring, just sort of doing formula hits. But, of of course, The Beatles had paved the way, as they always did, with "Revolver" and "Sgt. Pepper." It was like, "Well, wait a minute, why are we just not doing anything?" And then, of course, after that, Jeremy wanted to go off and be an actor. I think he got a lot of pressure from his family, that he was doing this pop thing. They'd rather he was an actor, because it had more dignity or something.

PCC:
Was it frustrating that "Cabbages" and "The Ark" weren't big commercial successes at the time? Or does that just add to the satisfaction, when they become cult favorites years later?

CHAD STUART:
I don't know, really. It's been a while now, so I'm having trouble remembering a lot of things... and that's one of them.

PCC:
But it must be great to know that these works are now revered.

CHAD STUART:
Oh, yeah, yeah. The sort of sleeper hit, I think is the technical term for it. But you do it and you move on. That's what I'm doing now. I'm just moving on to other things. I've got my own studio and this and this and this. John and Paul used to make a joke, because they couldn't believe how successful they actually were, and they'd joke about it and say, "Okay, let's write a swimming pool." "Let's write a Rolls Royce." They were joking about the fact that they all made money. But, no, you don't write for money. Well, I suppose you could write for money. But I don't see how that's going to work, honestly.

PCC:
So now you're working on solo projects and Chad & Jeremy projects?

CHAD STUART:
I think that Chad & Jeremy, as a performing entity, could conceivably go on. But he is kind of working on his own thing in England and I'm working on all sorts of projects. Oh, Lord, we just adopted, we rescued a Black Lab. Poor thing, she got hit by a truck and she's got a steel implant. She just walked into the office carrying, my boot.

PCC:
I guess you also have a special feeling for wild horses. You have a solo album raising funds to fight the slaughter that goes on, thanks to legal loopholes in this country and elsewhere.

CHAD STUART:
Absolutely. I mean, we can't allow this to go on. This is so wrong. How can we let them do that? Can't those clowns in Congress pass a law saying, "You can't do this anymore"? It's deeply depressing.

PCC:
You're working on new solo projects in your studio?

CHAD STUART:
Oh, yes. After I wake up in the morning... Of course, it's all torn to bits at the moment, because we had the big fire scare this summer.

PCC:
Where are you based?

CHAD STUART:
Sun Valley, Idaho. We've been up here for a long time. So, anyway, it was kind of scary, because I had to take everything out of the studio, because, if the word came out, "Evacuate! Evacuate!," what would you do then? But, I don't know, it's kind of hard to describe in words. It's like a rebirth, sort of, kind of... or something.

PCC:
Why do think so many members of the younger generations are drawn to the music of the 60s?

CHAD STUART:
I wish I knew. It doesn't make sense to me. I don't understand it at all. So you won't get a coherent answer.

PCC:
Is it more gratifying, performing now, seeing the love that people have for your music?

CHAD STUART:
Well, I think that the people who come are sort of reliving it somehow. It was an important point in their lives. I mean, if I had a nickel for every time anyone's come up to me and said, "We conceived our first child to 'Summer Song'... [laughs] There's a lot of little Chad and Jeremys out there.

PCC:
Do you reflect much about your musical legacy, what your body of work has meant?

CHAD STUART:
Well, actually, no. If you sit around and go, "Well, gee, we did this and we did that..." I don't know, I don't have time for that. And the older you get, the more you realize, well, you'd better get moving, because eventually, you might get to the point where you can't sing anymore. I try to keep the old vocal cords in shape. I sing and play every day. You kind of have to, actually. What is the expression? Use it or lose it.

PCC:
So there's more great Chad Stuart music on the horizon.

CHAD STUART:
Well, let's hope so. I'll drink to that.

For the latest news, as well as some wonderful albums and cool Chad & Jeremy merchandise, visit www.chadandjeremy.net.