KRISTIN CHENOWETH:
Bringing Audiences Glee, the Art of Elegance and Just a Touch of the Wicked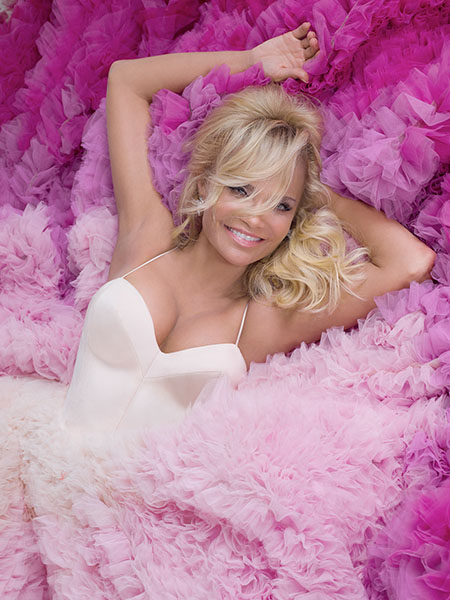 Photo credit: Gian Andrea Di Stefano
By Paul Freeman [March 2017 Interview]
Kristin Chenoweth has displayed a remarkably versatile voice. It can be incredibly cute in animated features, including the roles of the frog Gabi in "Rio 2" and Snoopy's French poodle friend in "The Peanuts Movie." The Tony and Emmy winner's singing voice has dazzled with show tunes, country songs and faith-based recordings.
Chenoweth's latest album, "The Art of Elegance," focuses on the Great American Songbook. It was a passion project for her - putting her own imprint on such standards as "The Very Thought of You," "Someone to Watch Over Me," "I'm a Fool to Want You" and "Skylark."
Chenoweth's concerts, with their ever-varying set lists, display her eclectic tastes. She grew up in Oklahoma, listening to all sorts of sounds. Before gaining fame, Chenoweth often stunned producers at auditions, when the 4'11" performer segued from her energetic, but elfin speaking voice to her thrillingly powerful singing voice.
The classically trained coloratura soprano, Chenoweth won a Tony playing the title character's little sister in "You're a Good Man, Charlie Brown," then became a Broadway icon as Glinda in "Wicked." She has made lasting impressions in such TV hits as "The West Wing" and "Glee." She was featured in NBC's "Hairspray Live!
Chenoweth is definitely at another peak now. She has two animated features awaiting release, playing the mouse in the Christmas story "The Star" and Princess Skystar in "My Little Pony: The Movie."
She's appearing in the new STARZ series "American Gods," from producer Bryan Fuller, who created "Pushing Daisies," for which she won an Emmy. It's adapted from the Neil Gaiman novel.
And Chenoweth is currently shooting a CBS legal drama pilot, "Perfect Citizen," for executive producer Craig Turk, who worked with her on "The Good Wife."
POP CULTURE CLASSICS:
The "Art of Elegance" album - was that a longtime dream of yours, to interpret these classic songs?
KRISTIN CHENOWETH:
Yes, I grew up listening to this music and in college I had a greater love and understanding of some of the best lyrics ever written. I wanted to put my stamp on Hoagie Carmichael, Gershwin, Mercer… the list goes on. It was a tough time trying to figure out what NOT to put on the record. I'm so proud of it. My music producer Steve Tyrell is simply the best.
PCC:
You've displayed an ability to, with authenticity, delve into so many genres- Great American Songbook, country, faith-oriented songs - does that just reflect your eclectic musical tastes?
CHENOWETH:
I grew up listening to all kinds of music and had several main musical influences, like Julie Andrews, Sandi Patty, Dolly Parton and composers like Leonard Bernstein, Kander and Ebb, Stephen Sondheim… it makes sense that I would love a lot of this.
Remember when I was growing up, we'd heard of a new thing called a computer. We played little things called tapes – I actually got "bored" - so what did I do? I listened to music. I took classical piano lessons. I loved ballet. Art imitates life, right? And music reflects who I am.
People ask me what kind of record I want to make next, and I'm lucky enough to even have the conversation because so many artists can't or don't. In some ways, I feel like I'm just getting started.
PCC:
Is there a unique satisfaction in connecting with a concert audience, where you can draw from material from throughout your career?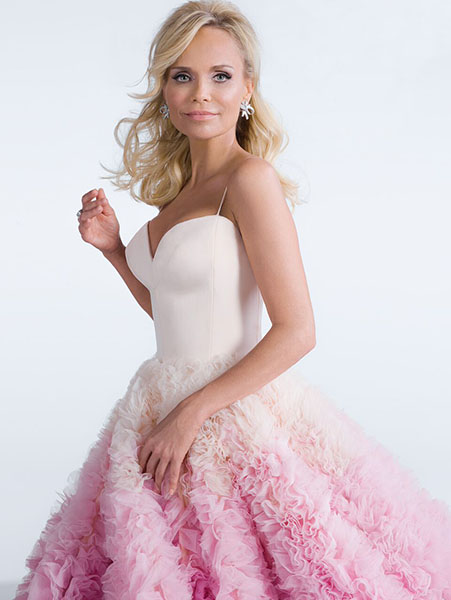 Photo credit: Gian Andrea Di Stefano
CHENOWETH:
Concertizing is the most fun because there are no rules… or I should say the rules in this particular way are set by me. I want to honor my history. I'm 48 years old… I've lived a second. So when you comes to my shows, I might sing something I sang in college or I might sing a song no one has ever heard of by a Broadway composer… or by a composer no one's heard of. I will always sing songs associated with my name. But I'll always continue to push the boundaries for myself as an artist as a collaborator, and as a musician.
PCC:
Coming from the Midwest and a strongly religious family, does that give you a foundation that enables you to weather all the craziness of show business?
CHENOWETH:
My faith is a big part of who I am. I am a Christian. So that's what works for me. I also feel strongly that none of us should judge anyone else for how they believe. For sure, my faith has gotten me through some tough times. I think there's a persona I have that maybe I've never had rough times, but I can assure you that is false. Because if you're human and are living life, there are peaks and valleys. I'm thankful for how I was raised. I wouldn't trade it for anything.
PCC:
Being able to express yourself through music at a young age, how important was that to your overall development as a person?
CHENOWETH:
I've learned a lot about who I am through music. I've healed a lot through music. I've seen a lot of young talent that I mentor. This makes me very happy. I think it's nice coming to a point in your life when you can look at young talent, recognize it, and encourage and support it.
I've always felt close to people who love the arts. I've always felt closer to them and felt more drawn to artists. I think it's just the way I'm wired. My dad is a retired engineer. Obviously, that makes us very different. But I learned so much from his mind. I'm continuing to learn how to be a good business woman, That is an area they don't teach in school, or I just didn't pay attention.
PCC:
Did you always have confidence, did you go through periods of insecurity?
CHENOWETH:
I was just thinking about this the other day. I was thinking how, with more success, I am a little more insecure. It's a tough thing to admit.
PCC:
What was the magic of theatre and music that captivated you, as a youngster?
CHENOWETH:
It was actually the storytelling through the art of ballet that got me hooked. I wanted to be a ballerina. I might have flat feet and I was so petite. I can remember dancing to "Peter and the Wolf"… and wondering who the heck Prokofiev was… and going to a library and looking up all I could about the composer.
So it's all integral - dance, art, music, a beautiful scene. I kind of wish that our young people would go to libraries still and manually look everything up… but I'm also happy for them because they have information at their fingertips. I guess it's a Catch-22.
PCC:
You have such a wonderfully memorable voice - an adorable speaking voice and a magnificent singing voice - before you were well known, at auditions, did this huge singing voice coming out of this petite person surprise people?
CHENOWETH:
The surprise element has always been a surprise for me. But I quickly learned at a young age that it was a good thing. It's all right to be the littlest one in the class. It's all right to have a squeaky voice. It's all right to surprise people. I'm sure those things have prevented me from getting jobs in the past, but they're also the very things that have allowed me to create original work.
So accepting yourself and what you view as a flaw is the key. I still have that talk with myself everyday. I'm probably never going to be the girl that easily slides into a well-known role. I think that's why when you look at my career, I've played very distinct parts. Even in the revival category on Broadway. My biggest successes have been in shows like "The Apple Tree" and "On the Twentieth Century."
PCC:
Thinking back to your first performance on Broadway, "Steel Pier," was that a one-of-a-kind sort of thrill, the fulfillment of a dream?
CHENOWETH:
The first thing I did on Broadway was a play by Moliere called "Scapin." I never saw it coming. I worked with incredibly well known, trained theatre actors. And the great Bill Irwin was our star and director. I didn't think my Broadway debut would be in a play. And that's exactly why we can't put ourselves in a box.
When the Broadway musical debut came, written by Kander and Ebb, called "Steel Pier," I knew then that I was a lucky girl to have John Kander and Fred Ebb write an aria for me in a musical theatre piece when I was 26. It's one of those "pinch me" moments.
Of course we lost Fred Ebb a few years ago. He loved laughing and he loved telling naughty jokes. I think he lived for hearing me say a naughty word. Whenever someone tells a joke, I think, "I wonder if Freddy would have liked that one?"
John Kander just turned 90. I have so much respect for him. I remember when I began to sing for him and he said to me, "If you can sing like that, why wouldn't you go into classical music?" I explained to him that he was writing a classical aria for me in music theatre. Anybody that listens to "Steel Pier" and hears the song they wrote for my character and for my voice, they can easily understand why I say that.
PCC:
Working again with Bryan Fuller on "American Gods," what can you tell us about that project, that role?
CHENOWETH:
First of all, I bow at his feet. He is a creative genius. It's because of him that I have an Emmy. It was in one of the best TV shows of all time, in my humble opinion ["Pushing Daisies"]. Bryan offered me the role of Easter in American Gods… Actually, first he emailed me about it because we always talk about what we're working on. I thought it sounded pretty amazing. Slowly, he brought up the role of Easter.
When you read Neil Gaiman's book, you just know it could be an amazing show. And he's done it here again. Can't wait for the world to see it. It's dark, funny, dramatic, looks amazing. And is incredible smart… a dream for every actor in the show. I just come in at the end and look forward to wearing her hat again.
PCC:
Shooting the new pilot with producer Craig Turk, what's most exciting about this project?
CHENOWETH:
Another incredible writer… with amazing experience. He has created a smart world and with a very topical subject matter. In this world I get to play a strong partner in a law firm. Having to deal with an Ed Snowden type coming in. The cast is lead by Noah Wyle, Brian Stokes Mitchell, Adrienne Warren, Shanley Caswell, Lenny Platt and Stephanie Szostak. This is a group of actors I hope I get to work with for a long time. Getting to work with a collaborator like Craig is another dream for any actress. I'm learning so much.
For the latest on this performer, visit www.officialkristinchenoweth.com.