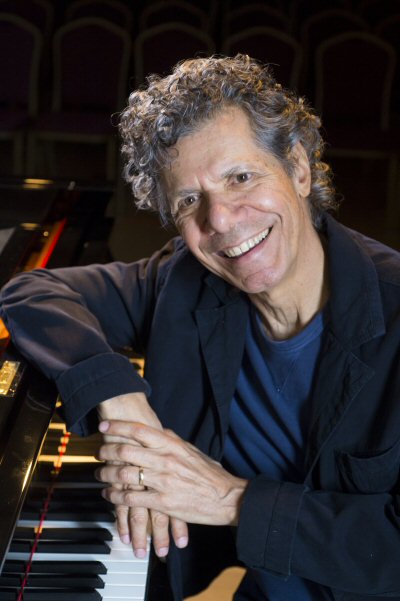 Chick Corea
Photo by Toshi Sakurai
CHICK COREA: COMMUNICATING THROUGH THE PIANO KEYS
By Paul Freeman [July 2014 Interview]

Still a vibrant musician at 73, Corea has been nominated for 61 Grammy Awards, winning 20 of them. An NEA Jazz Master, the pianist/composer has collaborated with many legendary recording artists.

But all he needs to make musical magic is a keyboard. Corea relishes the intimacy of his solo performances.

"I love playing solo piano," Corea says. "It gives me a chance to see how I'm doing with no other influences on stage. I take a good present time assessment of my abilities and then make the adjustments that I'd like - I get to 'practice the piano' every night. I get to communicate with audiences straight on - just me to them and them back to me."

Performing on his own, with a small combo, big band or full symphony orchestra, each situation present its own set of exciting challenges.

"I try to keep a balance of predicability and surprise all the time. Certain things I'd like to control - other things I don't want to know about until they come my way. It keeps life interesting and challenging."

Corea has played with such legendary musicians as Herbie Hancock, Gary Burton, Bobby McFerrin, Michael Brecker, John McLaughlin, Hubert Laws, Mongo Santamaria, Willie Bobo, Stan Getz, Herbie Mann, Roy Haynes, Steve Gadd and Miles Davis. Corea has vivid memories of the uniquely innovative Davis, with whom he recorded the iconic "Bitches Brew" album.

"Miles had so many qualities that I admired and cared to emulate and make my own. He was an individual who never asked for permission to create something he wanted to create with music. He never strayed from that basic integrity. He was true to his own vision and to the way he chose to communicate. He changed his 'style' as often as he thought necessary to accomplish his musical communication. And he always did it at the highest quality. He treated myself and the other musicians in his band with great respect and encouraged individualism and creativity. He never backed off when something new, that he wasn't familiar with, came his way. These are the qualities I saw and still hold important. He really helped me confirm my own beliefs in art."

Corea's most recent album is "Trilogy," a three-CD set, recorded in concerts across the globe. On these brilliantly performed favorites and new tunes, Corea teams with fellow virtuosos Brian Blade (drums) and Christian McBride (bass). With subtlety and nuance, they forge powerful music. Guest artists, such as Jorge Pardo on flute and Nino Josele on guitar, as well as the pianist's wife, Gayle Moran Corea, on vocals, add to the musical enchantment.

Prior to "Trilogy," Corea released "The Vigil," on Concord Jazz. He has been touring with the young group of that name. Such musical interactions rejuvenate him .

"I choose musicians to play with because I can learn something from what they bring to the music - doesn't matter the age. But the 'youngsters' in Vigil are special - all geniuses!

"I have never ever been able to compare the quality or the quantity of influence of the artists I've had the honor to work with. I treat each musician as a universe unto him/herself - unique - in that no one else creates that way. When I make music with other musicians, there is a magical merging of talent and actions that takes place - always unique as exactly what it is. Change out one musician for another, keep the rest, and the whole result changes.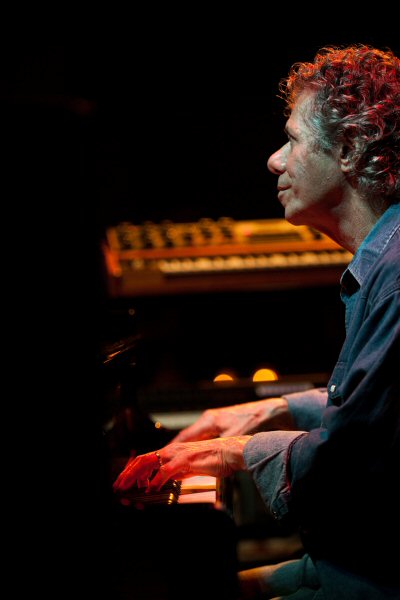 Chick Corea
Photo by Toshi Sakurai

"Of course the smaller the number in the ensemble, the greater the uniqueness when one person leaves and another comes in. For instance, I'm often inspired by babies and toddlers who play a toy piano or bang on some kitchen pan making 'noise.' I might be inspired by the freedom of their action and uninhibited and unrestrained ways. That - all the way up to the ultra sophistication of some of the great artists I've had the pleasure to experience."

Stylistically, Corea has been all over the jazz map and has delved into the classical world, as well.

"I never gave genres much of a thought. Music always seemed like music to me and my tastes always seemed easy to understand - even though they change as I and the world around me changes. I have always thought that creativity is self-generated. If you're not trying to be someone else, it's impossible not to be creative, even though the society around us begs us to agree with the common ways - but this is never the artist's way. The public and p.r. machines create genres. And it's a polite way of referring to music - without getting too deep."

Corea has always been fascinated by the rhythmic, as well as the melodic aspects of the piano. "I never really separated those things out. I know that music is usually taught in terms of melody, harmony and rhythm. I think these are purely arbitrary categories invented to make music seem intellectual or complex. I never heard a melody that didn't have a rhythm or a harmony attached and integral to it. That said, my favorite instruments after the piano, though, are drums and marimba."

Corea's father, a jazz musician, introduced him to piano at age four. "My father Armando was a warm and loving father, a genuinely beautiful guy and a very good trumpet player, arranger and band leader. Everyone loved him - even his six brothers and six sisters - my aunts and uncles. His approach to teaching me was gentle, never forceful and non-authoritarian. He loved that I was truly interested and he let me have my own way with music. He took me to his gigs and I played with his bands. Of course, the guys loved to see five or 7-year-old Chickie playing pretty well. Players that young, even if they can only play a few little things, always get encouraged and noticed by the more sociable elders. It was a great environment for me to grow up in."

Lessons from a concert pianist began when Corea was eight. His classical studies helped stimulate his interest in composing. "I have absolutely no set way of composing music. I have a work ethic though, that says: keep working at it until you've got what you want."

The Massachusetts native moved to New York and briefly studied at both Columbia University and Julliard, but didn't embrace the formal, structured approach. "Creating is the most natural thing any person does. There's no need to think about it - and so I like to keep it that way."

Corea's own son, Thaddeus, is a producer, engineer and composer. Daughter Liana is a skilled pianist.

"With my children, I tried, and still try, to be encouraging of what they want to do - and how they choose to create. I think the worst kind of 'teacher' is one who uses criticism - often called 'constructive criticism' - to pound 'truth' into the student - which, in art, is nothing but the teacher's personal opinion. Not one great artist or musician I've ever met got great through 'schooling.' I believe that you can't teach art. But you certainly can create a friendly and encouraging environment where making art is a joy and is fun. Which are the reasons - if any are needed at all - why anyone loves to play an instrument or paint a picture."

He still views the musical horizons as limitless. "Infinite choice is every person's first right," Corea says. "To stay aware of that is the real challenge. I think I have a pretty good average on keeping that view when I play... Age has nothing to do with making music."

As for the greatest challenges he faces in his life as a musician, Corea says, "Probably staying healthy and relatively sane through the stresses of constant travel - especially through airports. Playing delicately balanced music with 80 musicians in a symphony orchestra that I've never met before. Jumping into a free improvisation having decided to not know what I'm going to play moment to moment - in front of a live audience."

Corea savors the communal nature of making music. "My observation is that life is lived by many - all of us - all together - not just me alone. Life is no fun lived alone. And neither is making music. It's social. Always has been and always will be. Nothing wrong with making music for yourself either. That's not what I'm saying. I like to play for myself - at home. But not on stage in front of people. The greatest joy is to bring pleasure to another person by creating for him something I love, too. That's my goal always. And that's my challenge. Much easier said than done. And always with constantly changing parameters."

For all the latest Chick Corea news and concert dates, visit chickcorea.com.