THE CHIEFTAINS:
AFTER HALF A CENTURY, THE PIPES ARE STILL CALLING
PCC Chats with Paddy Moloney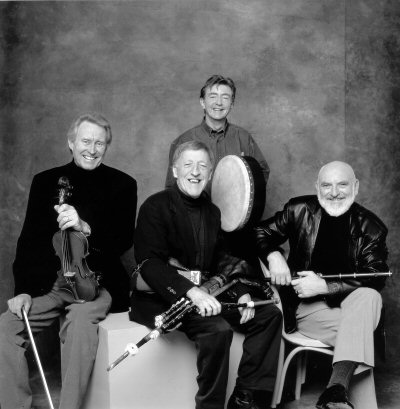 Sean Keane, Paddy Moloney (sitting), Kevin Conneff (standing), Matt Molloy
Photo by Barry McCall
By Paul Freeman [October 2012 Interview]
"I always felt like the Irish music, the traditional music, deserved to be heard," says Paddy Moloney. "I wanted to let people throughout the world know that there was more to Irish music than 'Mother McCree' and 'Did Your Mother Come From Ireland?' and all those tearjerkers. So to spread the gospel of this great folk art was one of my missions."
As founder and leader of The Chieftains, Moloney has been successfully pursuing that mission for 50 years.
"The Irish music, it has such a great variety of rhythms, of stories. These songs, these melodies, they can be anybody's music. You don't have to be Irish to love it."
Moloney, who was born 74 years ago in Donnycarney, a Dublin suburb, has loved Irish music all his life. "As a child, when I was six years of age, my mother bought me a tin whistle for one shilling and nine pence, in the old money. And then I went on to pipes. To me, this music is food for the body and the soul. It's so essential. It's part of me and I could never do without it."
He's currently on The Chieftains' 50th anniversary tour, which has taken them all over the world. Moloney says, "I just came back from Tokyo, to promote the upcoming tour in November, December. It's been a fantastic year, so rewarding and gratifying. Carnegie Hall, we've done it many times, but this year, it's something exceptional. And it was presented by the Carnegie Hall people themselves. They promoted the concert, which had never happened before. And we had a sold-out show. And about 120 people on stage at the end of the concert. All sorts of guests turned up from Europe. I said, 'Bring them on!'"
Moloney has surrounded himself with top-notch musical talents. "To help us out, the voice of angel she has, Alyth McCormack. She's from the island of Lewis, on the coast of Scotland. It's a Scot Gaelic-speaking community. I'm sure they make whiskey, as well, there," he laughs. "She sings in English. And she does a great job. And on harp, Derek Bell, of course, passed away 10 years ago. And now we have Trina Marshall. She is a show-stopper. When she does that harp in a quiet way, everyone is hushed and you hear every note. And it's beautiful. She's terrific.
"And then we have Jon and Nathan Pilatzke who do that style of dancing called the Ottawa Valley style of step dancing . And it's quite wild. And Jon is a maser fiddle player, who'll be playing with us all throughout the concert. He's been with us now for 12 years. And Deanie Richardson is one of the world's greatest bluegrass fiddle players. She's won many awards, including a Grammy with Patty Loveless. And Deanie comes from an Irish music background and so it was easy for her to sit up on stage and do the whole repertoire. And with the mandolin, as well. But when she takes a solo, with Jeff White, who plays guitar, it's just stunning. It's absolutely fantastic. And I'd better not leave out the princess of dance herself, the lovely Tara Butler. Tara's been with us now for 18 years. So there's a great variety of stuff. And the old style of house dancing, where it all started, hundreds of years ago, which I grew up, taking part in playing for - the house set dances. I'd go down to grandmother's every summer and every weekend. There'd be a great hooley [Irish celebration]. So I experienced all of that. And this year, we'll have all this great dancing, the River Dancing, where they all jump around."
The tour's songs include selections from the band's latest album, the much acclaimed "Voice of Ages." It features collaborations with such top young artists as Imelda May, Pistol Annies, Bon Iver, The Civil Wars, Punch Brothers, Paolo Nutini and The Decemberists.
"For 'Voice of Ages,' I was wondering, 'What do I do?' I didn't want to go down the old road with the 'Best Of.' We'd gone down that road already. So I called on my good friends, retired members Sean Potts and Michael Tubridy, who are in their early 80s now, asking if they'd come and do a little solo on it, a kind of an anchor track. So we had this track and it went on for like 15 minutes. I had to cut back a bit on it, because I had the Baby Chiefs, as I call them, as well. They're next generation down of the musicians who are playing with us. So that track gave me inspiration. And where do I go from there?
"I started to listen to - and was most pleasantly surprised - by the new generation of composers, singers, songwriters, and the great melodies they have in their works. And it prompted me to send them songs that I'd love for them to try, that would have an Irish connection," Moloney says.
"The Bon Iver track is called 'Down By The Willow Garden.' The Pistol Annies recorded a version of a song The Carter Family used to sing, 'Come All Ye Fair and Tender Ladies.' And the melody for that was one I sang in school as a child. It was originally from the north of Ireland and Scotland. The Civil Wars composed a new song for us, 'Lily Love,' which is a beautiful song, too. So it was a great joy. And also having Lisa Hannigan and Imelda May, both Irish and doing so well here."
T Bone Burnett co-produced with Moloney. "I said, ' Listen, would you come on board and get me a few of these young musicians?' Most of them had heard of The Chieftains and said they would be honored to do it. So T Bone asked them and sat in on some of the recordings. And left me to be able to select the music. And I did all the production stuff myself, the kind of thing I'm used to doing. T Bone said, 'You know what you're doing. Off you go!'" Moloney laughs.
The most unusual guest artist on the album is astronaut Cady Coleman. "For the new millennium, on New Year's Eve, 2000, we played in the Antarctic, on an old ship. And Art Garfunkel and Diana Krall and Dan Aykroyd were on the same boat, to see the first light of the new generation. And I recorded 'Morning Has Broken,' with them singing. That was for our 40th album.
"So this time we had our good friend, who has known us for many, many years. She plays the flute. She asked Matt Molloy [Moloney's fellow Chieftain] if he had a spare flute, she'd like to bring into space on the International Space Station. And she asked me then for a tin whistle. So I gave her a spare tin whistle and a little piece of music, called 'Fanny Power.' I'd known her, because my son, believe it or not, is a rocket scientist," Moloney says with a chuckle, "and he had worked at NASA and we got to know her through that.
"She sent a message down by the internet, wishing us a happy St. Patrick's Day. And she was in the station, looking out from the front, her hair sticking up, and the whistle and flute floating around in the air. I said, 'Come on, Cady, you're having me on. This isn't real," Moloney says, laughing. "I took her voice and the message, trimmed it down a bit, took the tune she played and put the band on it, when I brought it back to Dublin. And then she came to the Albert Hall in London and presented us back the whistle and flute, in her uniform. The crowd gave her a standing ovation. It was wonderful. So it's just been a fabulous year."
There have been many fabulous years for Moloney and The Chieftains. The multiple Grammy-winning group has lent its stirring sound to diverse artists, from Luciano Pavarotti to Madonna.
As a composer, Moloney has worked on such films as "Braveheart" and "Gangs of New York." He has done session work with Stevie Wonder, Mike Oldfield and The Muppets.
"It's such a wonderful feeling to have people like Paul McCartney in 1972, ask me to do some music for one of his albums, he was doing this album with his brother, Mike McGear. And Mick Jagger's first solo album had the pipes track on it. And Don Henley, from The Eagles, came to Ireland and we recorded some music. Art Garfunkel, as well. So the music we were doing, people recognized and connected with. And this new album, with all of these young musicians and singers, Low Anthem, The Civil Wars actually wrote that song specially for the band and it has overtones of our music. So that, to me, that's the message, the penny dropped. And Roger Daltrey, who would ever think The Who, who were throwing televisions out of windows, would want to come and sing with The Chieftains? It's on our album, 'An Irish Evening.' So who would ever believe that one of the top rock bands would have such admiration for us? And James Galway, Pavarotti. And right down the line. I could go on for a long time, name-dropping. But I won't," Moloney says with a chuckle.
As much as he reveres musical tradition, Moloney has always stretched the boundaries. "I like to explore the beauty of the tunes. There are thousands of them and it's not just a matter of playing one after another. It's digging into the better ones and giving it a new color of arrangement. I got criticized like 50 years ago by the purists, doing what I did, because I wasn't just sitting down, playing one after another. I was combining whistles and whistle harmonies and flutes. But all the time, each member of the band, even to this day, their forte is playing traditional Irish music. No matter what other things we might do, no matter how much we reach out to other different kinds of music. At the end of the day, when you hear us on stage, you're going to hear good, traditional Irish music. And then, of course, we have some of the other music thrown in for good measure."
The Chieftains' "San Patricio" album melded Mexican and Irish sounds. On September 13th, he received Mexico's Ohtli, that nation's highest cultural award.
This fall, The Chieftains will travel to Japan. "We'll be playing with a Japanese symphony orchestra. But as well as that, I will have kodo drummers and some of these wonderful Japanese singers from Okinawa taking part with us. I love exploring and reaching out, making that connection. I love the challenge. And I love to hear what's in their music. And how can I make it work with ours?"
At the end of this month, Moloney has a new album coming out. "It's poetry and music - the poet who gave us our name, The Chieftains, John Montague, he was our poet laureate for many years. John is in his '80s now. But I got him, eventually, into the studio, to read his own poetry. And I put music to it, pipes, whistles. There's about 38 minutes of it. It's as close as I've come to doing a solo album. I've also got a track from The Chieftains. And James Galway, who is from the north of Ireland, which is where John comes from. Sir James himself did a lovely piece. The album is called 'The Wild Dog Rose,' which is one of the poems on it."
Moloney says The Chieftains' 50th year has been their busiest ever. He doesn't plan on slowing down. "There's quite a few ideas now that I've got. This 50th album has done so well. It surprised me. So I have ideas for a few projects down the line. I'm not finished yet. I'm not too young, but...
"My wife was asked, 10 years ago, 'Is he ever going to retire, for heaven's sake?' And she said, 'Well, he's in rehearsal for retirement.'" Moloney chuckles. "I think I'll be going down with the boots on."
For more on Paddy Moloney and the band, visit www.thechieftains.com.