CHRIS BOTTIíS INDELIBLE TRUMPET ďIMPRESSIONSĒ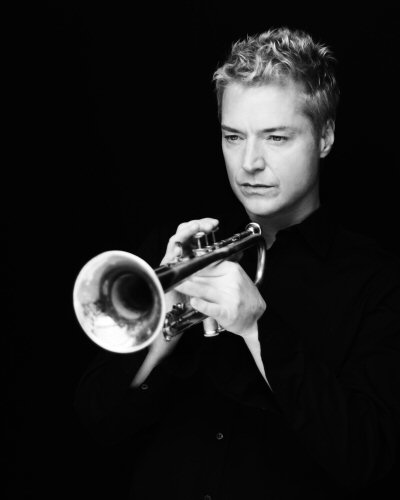 Photo By Fabrizio Ferri
By Paul Freeman [August 2012 Interview]
Trumpeter Chris Botti can coax the most romantic sounds imaginable from his horn. Fans tell him heís filling a void by conjuring up lush soundscapes.
Bottiís latest album, ďImpressions,Ē features material from diverse sources, from Gershwin and Chopin to Harold Arlen to R. Kelly. Among the guests are Vince Gill, Herbie Hancock Andrea Bocelli, David Foster and Mark Knopfler.
Dreaminess is a key to Bottiís recording success. Heís earned several Grammy nominations and reached the jazz album chartís number one spot three times. But live, the trumpeter goes for excitement.
Botti, whose mother was a pianist, knew from early childhood in Oregon that it takes discipline to reach virtuosity.
At age nine, Botti saw Doc Severinsen on ďThe Tonight ShowĒ and wanted to try the trumpet. But it was at 13, listening to Miles Davis, that Botti had the epiphany. Itís not an easy path. It takes time to find oneís voice on the trumpet. Botti left college in his senior year and moved to New York.
Bottiís breakthrough came after he had already recorded a few solo albums. Sting invited him to be a featured player in his band, then to serve as his opening act. Later, Sting agreed to appear on Bottiís own PBS concert.
The trumpeterís ability to pour sensitive, emotional sounds through his instrument have made him immensely popular. Now Botti and his band spend 300 days a year on the road, performing well over 200 concerts.
Pop Culture Classics talked with Botti prior to his August 23rd date at Saratoga, Californiaís intimate Montalvo Arts Center (www.montalvoarts.org). For more tour dates, visit chrisbotti.com.
POP CULTURE CLASSICS:
For the ĎImpressionsí album, did you have the music fully imagined beforehand or did it take shape in the studio?
CHRIS BOTTI:
I think because of the way we make records, you surround yourself with the best, but you donít really know what itís going to sound like until you get in there, which is different from pop music, where you write the songs and have things laid out in demo-land. We never do that. So youíre just sitting there in the days leading up to it, going like, ĎWell, I hope the arrangementís good.í You never know if itís going to have the arc or the kind of sensitivity that you want it to have. And that really is the key to the success or lack of success of a particular song, is how the arrangement is treated.
PCC:
What is that process of finding your own take on even the most familiar tunes?
BOTTI:
You have maybe the seed of an idea, like you want something to maybe feature the guitar or you want it to be piano or you want it to be a certain key or a certain mood. And then youíve got to verbalize it as much as you can - ĎI want not a lot of movement here, some more movement there...í And then let these fantastic kind of people work their sensibilities.
For the 13 songs that are on the album, we missed on seven or eight of them. We recorded 20 songs and only so many make it to the record. So there are some misses. Theyíre not always on it.
PCC:
Thereís such a diversity of guests and material. Do you enjoy placing yourself in different musical contexts?
BOTTI:
Well, if you look at, say, ĎKind of Blue,í Miles Davis, and you add up all the time that he actually plays the trumpet on that album, heís probably playing trumpet 25 percent of the time. The rest, youíre hearing Bill Evans or John Coltrane or whomever. And, if I did that on my record, if Iíd set another saxophone solo or piano solo on every song, it would be much more traditional jazz format. And so we put singers in there, orchestral pieces,to sort of break up hearing the trumpet all the time, basically. And that is the reason that I love working with singers, because you do get a break from that, and also, itís something thatís very relatable. And, if the singerís fantastic, like a Mark Knopfler or Andrea Bocelli, I mean, forget about Vince Gill, whoís got one of the greatest voices Iíve ever heard, then it just makes it much, much easier to draw the listener in.
PCC:
Do you hear from listeners that they feel youíre filling a void, in terms of romantic music, that itís harder to find these days?
BOTTI:
I hope they feel that way. I definitely think that, to make music with a certain kind of sweep in it, a cinematic approach, costs a lot of money. And there are not a lot of record companies that are willing to let a first-time act come out and do that. The music industry is just so handicapped right now, that there isnít these big kind of arc records being made. They donít really have the eyes to do that. They want a little YouTube hit or a hit here and there and they move on. Iíve been lucky enough to build up a rapport with my record company, to the point where they just trust me and let me do whatever I want to do. And itís a really, really, unusual spot to be in.
But I think thatís why you donít hear that much music like that, Bocelli or myself or whomever, because, quite frankly, itís hard to do.
PCC:
Do you feel a challenge to try to grow musically with each album, while still pleasing the core of fans?
BOTTI:
I never really try to please, oddly enough. This probably sounds kind of harsh, but Iíve never really tried to please my fans, just try to make the records I would want to listen to, and then, I just jump to the conclusion that it would be something that the fans would like. In other words, my tastes. Iím not one of these artists thatís into like super-esoteric music, but, for my fans, make romantic music. For me, itís the same. If itís going to be good for me, then I fell like itís going to be good for the people that like my music. So I donít really try to adapt at all. I just kind of try to please myself.
And is it hard to grow? I really feel like sitting there and writing with Herbie Hancock and, a lot of those songs, going into the studio, and a lot of those songs, we did live, in one take, I just feel like Iím a much, much better player now than I was 15 years ago or 10 years ago or five years ago. So I feel like the growth, weíre still on an upward trend. And when that downward trend starts happening, the trumpet will be the first one to let me know [Laughs].
PCC:
As far as your musical background, how much effect did it have, the fact that your mother was a trained musician?
BOTTI:
A little bit. I donít really know, because itís the only life I really knew. I will say that, what she did, maybe even more than teach me about music, is she taught me how to structure a practice session. A lot of kids, especially these days, theyíre scattered so easily and they donít really find joy in repetition of monotonous things. And whether itís golf or trumpet, sports or whatever youíre doing at life, if youíre going to be great at it, you have to love the monotony and the repetition and you have to find joy in that and really spread your wings somehow, in amongst that style of practice, or you will make it in music, period. Unless you want to be a rock star. You can do that rather quickly, if you can come up with a catchy hit and you have a good look, thatís cool. But if youíre going to play a real musical instrument, piano or trumpet or whatever, youíd better get in a practice room and knock it out for many, many years. So my mom got me in that mindset.
PCC:
What was it that drew you to the trumpet at age nine?
BOTTI:
The power of television. There was Doc Severinsen and he was heading the ĎTonight Showí band at the time. And I thought, ĎWow! Thatí guyís cool.í So I went out and got a trumpet. And then, when I was 12 or 13, I heard Miles Davis. And they played trumpet so radically different from one another. Miles played different from everyone. But, you know, Doc or Maynard or those kind of trumpet players had that very brilliant upper register and lots of joy and flash in their playing. And then Miles had this brooding, melancholy, haunting thing that makes you cry. And that really struck me, in hearing Miles Davis for the first time, I thought, ĎI want to be a trumpet player for the rest of my life.í
PCC:
You mentioned how you have to be committed to the practice. With trumpet, it can be a long time before you can get what you hear in your head out through the horn.
BOTTI:
Oh, my God, yeah, like 40 years. Thatís why there arenít a lot of trumpet players out there, quite frankly. Thereís many more guitar players and saxophone players than there are trumpet players, because the instrument is so physical and demanding and frustrating. But I always loved playing the trumpet and I was still practicing when you called, in the bathroom of my hotel. Iím sure the neighbor arenít too happy about that. But thatís just what I do. I just really find meditation in it and joy in trying to make the trumpet sound smooth or trying to iron out the rough edges that a lot of players have.
PCC:
Having some classical background, was that important to the development?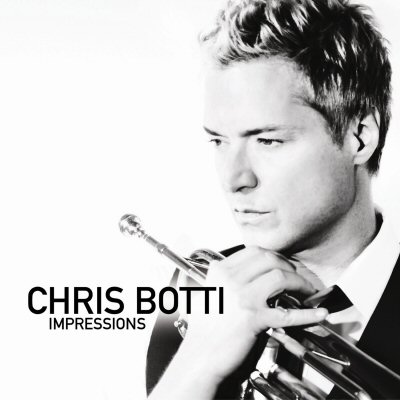 Photo By Fabrizio Ferri
BOTTI:
Yeah. If youíre going to really play trumpet, even if youíre a great jazz musician, it gives you the fundamentals of the instrument. Playing an instrument like the trumpet is a railroad track. Youíve got a track on the right and a track on the left and the things in between that hold everything, right? And if one of those tracks goes off course, then the train derails. So those two tracks are basically assimilated to, or you can link them to one being the physical part of the trumpet and the other track is the music, playing music.
So there are a lot of great technical trumpet players who sound fantastic playing the scale, but they have nothing to say musically. They canít improvise. They only play whatís on the page and theyíre just not very musical. So the track doesnít work. But you canít be super-musical and not have the fundamentals, the classical fundamentals of the trumpet. You just canít, because thereís just too many things that are exactly the same. You have to play all the scales, you have to play all the chromatic scales, you have to know all the arpeggios of the instrument or you wonít be able to make music. It would be like speaking without any knowledge of how to form your mouth or tongue. You learned that from your mom and dad, when you were a kid. So youíve got to have both to work.
PCC:
Once you had the foundation in place, was the classical too confining for your musical personality?
BOTTI:
Yeah, definitely. The people that are expressing themselves in classical music are named Brahms and Beethoven and Shostakovich and Tchaikovsky. The people that sit in an orchestra do not really have a personal expression. Their orchestra has a sound. When youíre playing with a great orchestra like Philadelphia or something, it has a great sound. But the individual musicians donít enjoy a personal identity. Itís more like being on a team. And I recognized, when I was a kid, I didnít want to be on a team. I wanted to be a complete narcissist [Laughs]. But you know what Iím saying. I wanted to stand out in front and be a solo artist.
PCC:
And developing your own style, is that something that just comes naturally or do you have to think consciously about that?
BOTTI:
That comes from just a daily notion that you want to be a solo artist and then you have to figure it out. I donít know really how that happens, how someoneís individual sound becomes identifiable. Thatís kind of luck. Maybe the way I play into the horn... people always come up and say, ĎOh, I recognize your sound right away.í And itís the trumpet. Itís not like an MTV video and youíre singing a song. I get that, but the fact that people can recognize an instrumental sound is amazing to me. And I think thereís a big, fat dose of luck, because without that, I donít really have a real solo career. If you donít have the identifiable thing, then you donít have a solo career. But you donít know if you have it, until much later in life. You donít just wake up and have an identifiable sound. Itís kind of weird that way.
PCC:
Do you remember a point in time when your trumpet seemed like your true voice to you, yourself, even if other people might not have recognized it?
BOTTI:
I thought maybe, when I first started making records, that there was something pleasing about the way my trumpet would sound on a record. Like when I played a solo piece. And at the time, I was doing so much studio work and sitting, playing the themes to every TV show, sports show and blah blah blah. So I was around all sorts of other really well known, fantastic trumpet players. And Iíd hear them warm up and Iíd hear the way that their horn goes down on the microphone and into the studio and onto the tape. And then when I went home and I had my own studio and I started making my own stuff to try to get a record deal, I kind of thought, ĎWow, this sounds a little bit different.í I could kind of recognize that. But I didnít know it would have an effect on the outside world. You canít really ever dream that thatís going to happen. You can dream it, but you canít really be assured, even with practice, that thatís going to happen. Because thatís pure, insane luck.
PCC:
So before the recording success, did you envision a career in music being a difficult road?
BOTTI:
One thing I can say that is a real big blessing, and Iíd say this to any young person, you have to have a huge appetite for being naive. In other words, when I moved to New York, broke, I did terrible gigs in the Bronx that started at three in the morning and they tried to pay you in illegal drugs. I mean, it was crazy. And they would like hijack your car. It was insane. The band members were getting mugged on the way to the gigs. But when I scraped up enough money that first month to pay my rent, I thought Iíd won the Academy Award.
And now, if somebody said, ĎHey Chris, youíve got to go do a gig that starts at three in the morning,í I would be like in complete depression. But what happened was, I just felt a real connection with the instrument and I was real positive, even if I look back at it and say, ĎWell, I had nothing going on,í I didnít feel that way then. It was just an amazing thing to be able to give the landlord my rent money and stand on my own two feet, even thought I was doing crappy gigs in New York.
And then later, as I was able to like join Paul Simonís band and get back on the road and then weed out the crappy gigs and stay in the studio and actually make a living, it was an incredible feeling. And you donít ever really think that youíre going to walk out in front of thousands of people a night and have a real career, because you canít jump that far ahead. You just canít fathom that. A career in music is so self-driven. Itís not like the NBA, when you get out of college, and thereís a structure, thereís a draft day and, if you donít make it, youíre toast. There is no structure to the music industry. I didnít even start making records until I was 35. Really late. My real success happened to me when I was 43. Now, where does that happen in pop music? It doesnít. The odds are stacked up so hard against you, if you actually tried to look at them, youíd just hide under your covers all day.
PCC:
Was it while you were in college that you did some dates with Sinatra and Buddy Rich?
BOTTI:
I left college in the middle of my fourth year. So I never graduated. It was November of my fourth year of college. So I dropped out and flew the next morning, because Iíd gotten an offer to do this Sinatra-Buddy Rich gig.
PCC:
Was that like surreal to be performing with them at that point?
BOTTI:
It was absolutely surreal, because I got there at sound check, I was 21. Iím fairly youthful now, and Iíll be 50 in a couple of months. When I was 21, I looked like Opie. There I was in Hollywood, staying at this unbelievably Gothic hotel, filled with crack addicts. And you get off a plane from Indiana and youíre going, ĎOkay, Iím going to go to sound check now with Frank Sinatraí and Iím walking through this seedy hotel. It was just a bizarre start to my career.
You get to sound check and the first person to check was Sinatra. And it was fantastic. And I went up and tried to talk to him, again, being naive. And then, the second person to check was Buddy Rich. So I went from this haze of beautiful music and then to like the anger and grittiness of Buddy Rich. And that was not a very nice scene. He was not a very nice person. But just to see all this stuff come down on you, your first day out of college, and you dropped out. So youíre sitting there going like, ĎOh, God! How is this going to work?í But it was a great experience.
PCC:
And I guess Sting had a huge, positive impact on you?
BOTTI:
Well, Iíd released about three albums under my own name, at that time. And he had performed on one of them. We were sort of kind of friendly. And I was in London at the time, doing a soundtrack with John Barry, who was a great film composer, and I ran into Sting and he invited me to have a drink with him at his hotel and he said, ĎListen, I had success in the Ď80s, with Branford Marsalis, and he kind of weaved commentary throughout my music and played solo saxophone in my band for a few years. And Iíd like to do that same thing with you. And I think, if I break the sound of your trumpet to the whole world, youíll have fans that donít really know anything about jazz and come to my show and theyíll be your fans forever.í
I was on Verve Records at the time and I said, ĎAbsolutely. Iíd love to do that. Thatíd be great.í And the minute my record company heard that I was going on the road with Sting, they dropped me. So bizarre. They thought I wasnít committed to my own career. And so they dropped me. I was like four or five months into the tour, thinking this is such a great break for me, and I get a call saying, ĎWeíre releasing you from Verve.í And I was like devastated. And I didnít know what to do.
And through my now manager, my friend at the time, Bobby Colomby, who has a long history with Blood, Sweat & Tears, etc., he called up Columbia and got me a deal on Columbia and everything Sting said to this day has rung true.
Subsequently, after I was in his band, he then asked me to be his opening act, and then someone in the audience, when I was the opening act, playing in New York, said, ĎOh, my God, my friend Oprah would love this guy.í And the next thing you know, the week later, weíre on ĎOprah.í Every road that Iíve gone on, it all threads back, in some way, to Sting believing in me. My DVDs, the PBS, none of that happens, without Sting saying ĎIíll be there,í first. So when you have the Boston Pops and Sting who are going to perform with you, all of a sudden, Yo Yo Ma, Steven Tyler, John Mayer, everyone else goes, ĎYeah, Iíll be there, too, no problem.í But you have to have that first big vote of approval from someone else. Thatís just the reality of it.
PCC:
Bobby Colomby, having had such longevity to his career, what sort of advice has he been able to give you?
BOTTI:
Heís like a brother to me. So we give each other advice. My whole career is kind of wrapped up in the two of us doing it together. How do you envision a real touring career? How are you going to surround yourself with the best arrangers, the best musicians? I would never in a million years have had the audacity to approach Herbie Hancock to ask him to do something on my record. I mean, I would just never do that. Itís not my style. But Bobby would [Laughs]. And he and Bobby go way back, so he had no problem asking him and Herbie was gracious enough to say yes. So the things I do really well, like picking songs or picking collaborations, like saying Iíd love to do something with Vince Gill, that sort of thing, I think I know what my strengths are, and I think there are some things that Bobby does that I certainly couldnít do. And itís a great, great relationship that we have. And I would never have thought, five years ago, when we started working together really hardcore, with him as my manager, that it would succeed to this level, concerts all over the world, selling out the Sydney opera house two nights. You just donít think that itís going to come down that way. But it did.
PCC:
And all the discussions of whether something is pop, jazz or smooth jazz, do you find labels to be irrelevant?
BOTTI:
Now I do. Maybe 12 years ago or 15 years ago, it would have gotten under my skin. The reality really comes down to this, everybody in pop music can basically agree that Sade is cool. Bob Dylan is cool in rock. In R&B and love-making music, Sade is cool. Everyone thinks that. If you removed Sadeís voice off of her record and replaced it with an instrument, itís all of a sudden, smooth jazz. And everyone hates it, right?
The basic reality is, if you play any kind of music thatís instrumental, that you have to plug into a wall, in others words thereís maybe an electric guitar, some sort of synthesizer, itís smooth jazz. So youíre either going to be completely traditional, like Wynton Marsalis, or youíre going to be absolutely labeled smooth jazz. So, anything thatís sort of modern, is often called smooth jazz - Diana Krall, Sade, Sting, myself, Pat Metheny, whomever it is. But all I really care about is that the stuff reaches an audience, and what that audience is like.
When I first started out, it was as more of a straight-ahead smooth jazz artist, because those were the kind of gigs I was doing. Then like seven years ago, we sort of just stepped away from all that and made these big kind of conceptual, romantic, orchestral music records. And all of a sudden, everything changed for me. No one was calling me a smooth jazz act anymore and suddenly Iím doing all this different stuff. So it doesnít affect me. I donít care what people call it, as long as people come to the show and have a real open mind about what theyíre about to hear or review.
And thatís where it gets real interesting, because, most of the time, we have these hardcore jazz critics and theyíre walking away saying, ĎWe thought weíd be seeing some light, fluffy, bullshit smooth jazz show. Oh, my God! It was classical music. It was jazz on the highest level. It was entertaining. We had no idea it was going to be like this.í Thatís the best you can hear. Even the most hardcore jazz critics are at least sort of complimentary.
PCC:
When youíre performing live, are you conscious of wanting to take the listeners on a journey?
BOTTI:
The live concerts couldnít be more opposite from the records. We played New York last week and Nate Chen, the great jazz reviewer there said, ĎIf Chris Bottiís records are candlelight, then his gigs are fireworks.í You donít want to have a real, direct representation of my records live, because whatís the point? You can just go and listen to the record. When you go see Josh Bell in concert, people stand up, at the end, when he plays Paganini and just torches down on the violin. And everyone goes, ĎOh, my God! Thatís great!í And they love it. But when they go home, they listen to Chopin nocturnes. They donít want to necessarily sit there in their house and listen to like just visceral technique. And when you sit closer, you want to make sure that you walk away from there going, ĎMy God, that guy was badass!í So I try to pace my show so it flows all over the place and thatís probably, more than anything whatís defined my sound, live shows, and thatís why people coming back to the shows so many years.
PCC:
Are you still playing the same vintage instrument?
BOTTI:
Yeah, my same one that Iíve had for about 12 or 13 years. Itís from 1939.
PCC:
And that one particular instrument just connects with you in a unique way?
BOTTI:
Yeah, one. Not even one particular make. You canít even find that many of them, but if you did... I mean, Iíve been trying to find one other one, but itís just this relationship with this one particular instrument [Chuckles] And God, Iíve tried to find another all over the world, to try to have a backup, but I donít have any backup or anything, just this one.
PCC:
Does it seem like an extension of you?
BOTTI:
Oh, yeah. Itís an amazing fit. Itís got a lot of quirks to it and thatís what gives it its sound and I love the thing. My relationship with it is kind of the only relationship I know [Laughs], so Iím into it.
PCC:
Do you still have an unfulfilled goals?
BOTTI:
Maybe 13 years ago, I did a tour with Paul Simon and we did a double-bill with Bob Dylan. And Iím not a big Bob Dylan fan, musically. But I learned something from watching him that summer. Hereís a guy whoís got everything he wants. Heís got money, heís got fame, heís got critical acclaim. Heís got everything. And he gets off his bus - he looks like hell - but he gets off his bus every night and walks out and plays the show and gets back in his bus and leaves.
And as I become more and more well known and successful, I always go back to that and think thereís something very noble about that life, as opposed to those people who, all of a sudden get big and want to have a perfume line, be an entrepreneur, like a record company, a mogul. Thatís not me. I donít want to do that. I donít want to be in my sixties or seventies, trying to be all that. But I do want to be in my sixties or seventies, walking on stage and doing a show and hopefully entertaining people. And itís very, very simple. But it takes a lot of practice and a lot of care. And thatís really what I want to do. Thatís my little goal.
And along the way, Iíd like to keep working with people that I admire. But lifeís goal, thatís probably the one thing I want to keep doing.
PCC:
You mentioned the landmark birthday coming up in the fall. Do you feel that more years give you more to draw from, as an artist?
BOTTI:
[Laughs] Yeah... I donít know. I donít really look at it that whimsically. Iím probably scared or feel tired... I feel very grateful for everything in 50 years. Probably, when that night hits, Iíll be thinking more about life than my art [Laughs], I suppose.