BLONDIEíS CHRIS STEIN: MUSICAL RAPTURE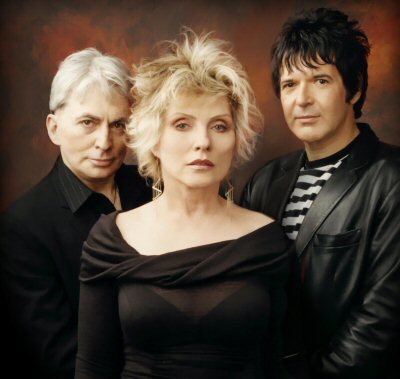 L to R, Chris Stein, Deborah Harry, drummer Clem Burke
By Paul Freeman
Blondieís music goes beyond nostalgia, sounding fresh and relevant to todayís audiences. Real fans know that Blondie is not simply a vocalist. Blondie is a band. And a key component in the group is guitarist/co-founder Chris Stein.
Stein was born in Brooklyn, New York, January 5, 1950. In the early Ď70s, he joined the glam rock group The Stilettos, which featured a lead singer named Deborah Harry. He immediately recognized her charisma.
When The Stilettos could no longer cut it, Stein and Harry formed the punk/New Wave band Blondie.
Blondie became an integral part of the burgeoning New York underground music scene, drawing crowds to such venues as CBGB and Maxís Kansas City.
With the 1978 release of the album ďParallel LinesĒ and the ďHeart of GlassĒ single, Blondie rose from the underground into the spotlight, changing the musical landscape.
Stein wrote "Sunday Girl" and co-wrote such Blondie hits as "Heart of Glass", "Picture This,Ē "Dreaming," "Island of Lost Souls," "Rapture" and "Rip Her to Shreds".
Stein and Harry were a romantic couple for years. In 1982, Blondie dissolved as a band. Drugs, bad management and Steinís serious illness had taken a toll.
He suffered from pemphigus, an often fatal skin disease related to stress. Harry helped nurse him back to health. Stein never lost hope.
Stein and Harry broke up in the Ď90s, but continued to work together. Blondie reunited for a 1997 tour and, in 1999, reached the top of the U.K. charts again with the song ďMaria.Ē They were inducted into the Rock and Roll Hall of Fame in 2006.
Stein is married to actress Barbara Sicuranza. Harry is godmother to their two young children.
Blondie has made the transition from underground figures to mainstream rock stars to classic rockers. It pleases Stein that Blondieís music is reaching new audiences. A new album, ďPanic of Girls,Ē is on the way.
Stein consented to talk with Pop Culture Classics.
POP CULTURE CLASSICS:
What has enabled Blondieís music to go beyond nostalgia, to sound fresh and relevant today?
CHRIS
STEIN:

I donít know. We just keep at it. Itís just regular maintenance, I suppose.
PCC:
How much are you able to subtly rework riffs and bit and pieces to keep it fresh for yourself?
STEIN:
The old stuff? Yeah, thatís always an ongoing thing. Itís probably gotten a little tougher. We do that, but weíre trying to present a lot of new stuff with this bunch.
PCC:
So youíre previewing the new album?
STEIN:
Yes.
PCC:
And what direction is the album taking?
STEIN:
A lot of people think it sounds like some of the earlier stuff. a little more hard-edged. But itís kind of hard to tell, at this point. Weíre still working on it. Itís hard to differentiate one thing from another. Youíll really just have to hear for yourself.
PCC:
Do you let the music take its own course? Are you conscious of trying to move forward while still holding onto what the fans like?
STEIN:
We just play how we would play it. I donít try to sound like artists that I hear. These days I listen to a lot of R&B stuff anyway, so itís not like weíre going to go in that direction. We donít make much effort to try to push it in any direction, really. We just let it take whatever shape itís going to take.
PCC:
Are you constantly writing, jotting down new ideas? Or do you just write when itís time for a new record?
STEIN:
Now Iím working on the next one already.
PCC:
So the flow is always there? Do you ever have to struggle with it?
STEIN:
I donít know. Do I get writerís block? Not quite. I use different kinds of procedures in writing. So I can always kind of move forward with some aspect of it, even if Iím not feeling 100 percent creative. Thereís always something I can do, maybe just having to do with sounds or something like that.
PCC:
In the beginning, being part of that New York scene, CBGB and all of that, how important was that in terms of creating the bandís energy?
STEIN:
It was great to be a part of it. It was really nice to be able to have that long period of working without being under a lot of tremendous scrutiny. And also to not really have to care about being successful for a long time, too. We were just out there doing whatever it was. For about three or four years, it didnít seem like anything was going to materialize. Everybody was just working away without any goal in mind. It was just to do it. That was great experience. I donít know if that exists now. Like in Seattle, certain groups were just jumped on by the media and the whole scene immediately was in the spotlight.
PCC:
In that atmosphere, was there more camaraderie amongst the bands, rather than competition?
STEIN:
Yeah, sure, early on, certainly. It wasnít until the record companies and money concepts started showing up that there was competition.
PCC:
Who were some of the artists who first inspired you to pick up a guitar?
STEIN:
Me? Well, you know, just all the stuff from the Ď60s. I grew up as a teenager in the Ď60s, which was really great. Hendrix, Stones, Beatles, Jefferson Airplane, all that stuff.
PCC:
When you got into The Stilettos, what was it about Debbie Harry that made you realize she could make an impact?
STEIN:
She looked great. She had a really great presence. She was terrific on stage, even in some local bar.
PCC:
And when you founded Blondie, did you define some sort of concept or just let the group find its own path?
STEIN:
It just happened. Some of the other bands around had a much more specific game plan, like The Ramones or The Talking Heads, who had a much more well defined image. I mean, there were parts of it that we pushed in certain directions, like we all got haircuts and started wearing suits and adopted that mod persona. That was a concerted effort. But on the whole, we just let it take its own shape.
PCC:
So were you taken aback when the band changed the whole musical landscape later?
STEIN:
Well, it helped that the whole thing took a while. It as great when we realized that people actually appreciated what we were doing. And later, people started referencing the band. Thatís why we re-formed the band, because we started seeing all these musicians referencing Blondie. Initially, right after we started working, there wasnít a lot of that.
PCC:
At the height of things, was it difficult for some of the band members, seeing the spotlight focusing on Debbie? Did they want to remind people that Blondie was a band, not just a lead singer?
STEIN:
It was always kind of a bone of contention, It was hard for some of the members. Thatís show biz. Maybe The Rolling Stones had that. I donít know.
PCC:
What was the collaboration process like for the songwriting, with you and Debbie, for instance on ĎHeart of Glassí?
STEIN:
It was just every different which way. Thereís never been any specific plan with that either. Itís all different ways. Mostly I come up with a musical idea and give it to Debbie and sheíll do lyrics and work on melodies, stuff like that.
PCC:
On ĎHeart of Glass,í is it true there was originally a slower, reggae version?
STEIN:
A lot of the songs went through all kinds of versions, sure.
PCC:
And was it the producer, Mike Chapman, who changed the rhythm?
STEIN:
That one song was never a reggae song. I heard Chapman saying that. I donít know where the f--k he got that. I donít know exactly what kind of song it was, sort of R&B, funk kind of song. Reggaeís a very specific form. I donít know why he said that. I mean, the original demo is available. Dig it out.
PCC:
Was there a lot of resentment from punk and new wave bands at the time, because that song was such a huge commercial success?
STEIN:
Nah, not really. I mean, people made cracks here and there. But I never felt any real animosity. Dee Dee Ramoneís girlfriend complained. But there wasnít much of anything, really.
PCC:
Going from one phase of career to another, breaking in and then becoming established rock stars and now classic rockers, is it difficult to make the adjustments?
STEIN:
Yes and no. I mean, weíll see what happens in America this time. We had really a lot of young people in the U.K. this time, much more than when we were there last, three years ago. And I think the prior tour was more of a wider spread in age. And this last time, there was really a lot of young people, so weíll see how that works here?
PCC:
Why do you think there were a lot more young people in the audience this time?
STEIN:
Theyíre just coming of age and picking up on stuff thatís been around. I think they recognize what it is. But the U.K. is a different kind of audience than America anyways, because itís not regional. One thing will hit everybody in the country the same way, it seems. Here thereíís all different regional varieties of music, I mean, Southern rock, West Coast, East Coast, all this stuff.
PCC:
As your personal relationship with Debbie has changed over the years, how have you managed to make things work creatively, consistently?
STEIN:
Oh, I donít know. It took me a while to get back into a writing mode. I have two little kids. Getting them stabilized, I wasnít working as much as I am now. But now I try to work on material all the time. With Debbie, weíve always had a back-and-forth dialogue. And itís kind of easy.
PCC:
The band, having had time apart and then getting back together, does that make you appreciate the opportunity that much more this time around?
STEIN:
Definitely. I appreciate getting a second chance. Every time I see ĎJerry Maguire,í I get very emotional. I feel very connected to it, because itís all about him getting a second chance. And thatís kind of a great thing.
PCC:
And even more so, because of the health issues you battled through?
STEIN:
Yeah. Yes and no. I mean, thatís not a major factor in my psychology. But I never thought I wasnít going to get past that. It was just something I had to step over. It was just a f--king block in the way. So I donít know. It was there. It was a pain in the ass, but I always thought I would get around it. PCC; So you remained optimistic and positive throughout the whole ordeal?
STEIN:
I stay optimistic about life in general.
PCC:
With all youíve accomplished, influencing other artists, the Hall of Fame induction, reactions from fans - whatís the greatest source of pride for you?
STEIN:
I hear from kids who say, ĎI was having a tough time being a teenager and the music helped me through it,Ē stuff like that. It means a lot to us.
PCC:
What music are you into these days?
STEIN:
I really like Beirut. Thatís my favorite indie band. But mostly I listen to a lot of R&B. I really avoid like college rock at this point.
PCC:
The satisfaction of making music, has that changed over the years?
STEIN:
Itís just what I do. Itís second nature at this point. I really am enjoying doing the live shows at this point. I think it has to do with the band members, getting a new guitar player, a kid who just has this way of fitting in thatís really great. Iím just enjoying doing the live music more than I have in the past.
PCC:
Is it important to you to continue to challenge yourself musically?
STEIN:
Yeah, sure. Itís just nice to keep working on it, always trying to refine it. Thatís what weíre doing in the shows, too.
PCC:
Any particular goals youíre yearning to accomplish?
STEIN:
Me? Yeah, this and that. Yeah, if we have one more number one in the U.K., weíll be the only band to have a number one in four decades. And thatís not something I think is ever going to happen again. Itíll be like Lance Armstong winning the Tour seven times, you know?
PCC:
With the music scene being trendier than ever, why do you think Blondie has enjoyed such consistent popularity?
STEIN:
Itís hard to say. I guess thereís other bands... We just manage to keep it going. Debbie maintains something special. Sheís still appealing, even at her advanced age. Whatever the heck it is, I canít put my finger on it. I donít think itís any one thing. Thereís a lot of aspects to it.
PCC:
And this life in rock music, do you look back on it as fully gratifying? Any regrets?
STEIN:
Well, no. I mean, thereís a f--cking lot of shit that we would have done differently. But yeah, itís still great. I enjoy it. I wonder now, if I was a kid, if I would be so attracted to it, because itís so mainstream. You know, when I was a kid, it was still very anti-establishment to be in a band. At this point, itís very much not that. So I just wonder... Iíd probably be computer hacker or something. But then again, I still have an emotional connection to music. So itís hard to say.
PCC:
So, if thatís the case, has rock been robbed of some of its essence?
STEIN:
Uh, I think it still affects everybody in their lizard brain kind of the same way. Itís a transcendent thing and itís going to have its effect. A certain rhythm and melody have a certain effect on that thing thatís in your subconscious somewhere. So even though youíre seeing something on a f--king car commercial, it still is having that effect on you.
PCC:
And when you see the effect you have on live audiences, is that still exhilarating, a rush?
STEIN:
Yeah, thatís great. I mean, we played the Isle of Wight Festival. And 60,000 people are going crazy. Itís just great.
PCC:
And photography, is that still an important creative outlet for you?
STEIN:
Yeah, hopefully Iíll get out a couple more books this year. Maybe after the fall, Iíll start working on more of that stuff . All of my friends who are photographers, theyíve all put out a Blondie book lately. So Iím kind of behind on that.