CHRIS YOUNG:
THE VOICE OF "VOICES" CONTINUES COUNTRY HIT STREAK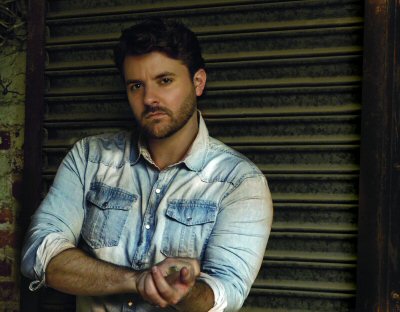 photo credit Sheryl Nields

By Paul Freeman [August 2013 Interview]

For country star Chris Young, the thrill isn't gone. Even after notching five consecutive number one hits, he hasn't gotten blasé.

One of those number ones, "Voices" had been released before. When first issued, in 2008, it barely squeaked into the Top 40 The second time around, it became a chart topper. Young's label, RCA, had remained enthusiastic about the track.

The singer-songwriter has honed his instincts for creating hits. He has reached the top spot with such infectious tunes as the platinum-selling "Tomorrow."

Young always knew he wanted to break into the world of music. By 15, he was writing songs. He worked hard at perfecting the craft. He had formal vocal training to maximize the effectiveness of his rich baritone.

Originally from Murfreesboro, Tennessee, outside of Nashville, Young went to college to study music. He left school to fully pursue his performing career. Winning the talent-hunting TV series "Nashville Star" in 2006 made that pursuit a lot easier.

Today, Young collaborates with many of Nashville's top songwriters. He is enjoying the fruits of his efforts. In November, 2012, People magazine named him "Sexiest Man of the Week."

CMA named him an ambassador for its songwriter's showcases in Belfast, Dublin and London. The series is meant to heighten overseas media attention for country music.

Right now, he is resonating with huge crowds, touring with Brad Paisley [though Young had to interrupt his performance schedule due to hospitalization for a leg infection]. In September, Young, 28, will release his fourth album, "A.M."

He took time out to talk with Pop Culture Classics.

POP CULTURE CLASSICS:
Congratulations on all the successes you've been enjoying. After five straight number ones do you start to get jaded about it? Or is each time equally exciting?

CHRIS YOUNG:
No, man. Every single time that happens, it's pretty dang cool. They don't all go to number one. I had two 37s before I had my first number one. So I've got a healthy appreciation for it.

PCC:
Once you're in the midst of that kind of streak, do you begin to worry about it being snapped?

YOUNG:
No, it was snapped, actually, not too long ago. Bu then we just had the last single went to 3. So streaks are going to stop and start like that. But just being able to say that I've had five number ones - and they were all in a row - is pretty dang cool.

PCC:
From your perspective, what are the key elements that give a song real hit potential?

YOUNG:
You know, I just think it all depends. There are so many different things. But really I think one of the biggest is just the impact of the song. It's got to be one of those that you listen to and identify with, pretty much immediately, one that really resonates with people.

I think that's one of the reasons it takes so long to put together a record. You've got to make sure that you've written those... or that you've found them. You've got to make sure that it's the right group of songs.

PCC:
When you're writing are you thinking about whether other people are going to relate to it? Or are you just writing what works for you and assuming that will also work for listeners?

YOUNG:
You know, I think if you get on the right idea, people will relate to it. Unless you really, really pigeonhole something, I don't think it's going to be an idea that really affects you that much and that no one else can relate to. If you can really tap into something that you've been through, whether that be a relationship or meeting somebody for the first time, or a relationship ending. Or going out and having drinks with friends. If you can tap the core concept of any of that, it's going to make it relatable. It's not necessarily something you think about, going into a song. But it's definitely always in the back of your mind, as a songwriter.

PCC:
Once you have a relatable idea and honest lyrics, how important is it to find the right hook?

YOUNG:
You know, most of the time, not always, but most of the time, I actually start with the hook. That's definitely important. You definitely want the hook line or the main line of the song to be a big payoff. You want people to get to that and go, 'Yeah, okay, I get it.' And that's not always the case, but, like I said, most of the time, I start with the title first.

PCC:
So do you keep writing down little ideas for titles and hook lines?

YOUNG:
Pretty much constantly, yeah.

PCC:
So it could be something you read or somebody says...

YOUNG:
Yeah, I mean, inspiration literally can come from anywhere for songwriting.

PCC:
When the first few singles didn't succeed like the more recent ones, did you begin to worry that it might never happen for you?

YOUNG:
I don't know if 'happen' is the right word. You know, there's a lot of people that would kill to have a record deal in the first place. So I already felt like I'd accomplished something. I just felt like I knew there was a lot more I wanted to accomplish So I just kind of put my head down and kept working at it.

PCC:
The song 'Voices,' being released twice and then having huge success, did that underline the importance of timing?

YOUNG:
Yeah, I think that has something to do with it. I think the biggest thing with that song was not only timing, but it makes a big difference, when you've got some momentum going into a record, too. And I got real lucky that country radio listened to that song and gave it a second chance. That's only ever happened three times, where a song has been rereleased, wasn't a hit the first time, and has gone to number one. Ever. So, yeah, that's definitely a milestone that I'm proud of.

PCC:
Knowing the rarity, you must have had a lot of confidence in the song.

YOUNG:
You know, it was a lot of the people that were at the label. They were like, 'Man, we've got to go back to this song. We love this.' They just really believed in it. I mean, I wrote the thing and I was like, 'Are you sure this is the right idea?' [Laughs] Definitely they had a good finger-on-the-pulse moment of knowing, 'Hey, we need to go back to this.'

PCC:
Which songs and artists inspired you in the beginning?

YOUNG:
Just anything that came on the radio that I listened to a lot, anything from Keith Whitley to Brad Paisley to Tracy Lawrence, Daryle Singletary, and everybody in between.

PCC:
Did you always feel that music was what you were destined to do?

YOUNG:
Yeah, I never really questioned it. I was always one of those kids that knew what I wanted to do.

PCC:
Musical family?

YOUNG:
The only other musician in my family was my grandfather. It was a hobby for him.

PCC:
You've got such a strong voice. Did you have formal vocal training?

YOUNG:
Yeah, I was classically trained for several years, studied jazz and studied a lot of different things, definitely was trained for sure. From jazz to country to classical, pretty good range [laughs].

PCC:
How valuable was the formal training?

YOUNG:
Obviously, I think it's important. It's not something that everybody does. And definitely, to be in a popular sect of music, you don't have to have vocal training. But it definitely helps me out a lot. It keeps me healthy on the road, singing the right way.

PCC:
Studying music in college, at what point did you decide that a practical education would be more beneficial than what you were learning at school?

YOUNG:
Man, college just wasn't for me. [laughs] I was a straight-A kid in high school. But when I got to college, I was spending most of my time passing... and then playing my shows. So there was definitely a point, where I was like, 'You know, I'm just going to do this full time.'

PCC:
You were involved in music early on. At what point did you begin writing?

YOUNG:
I actually didn't get started writing until much later. I think the first time I even tried to write a song, I was like 14 or 15. It's something that happened the latest.

PCC:
And the singing came pretty naturally. What about the songwriting was that something you had to work on and hone? Or did that come fairly naturally as well?

YOUNG:
I mean, both of them, the singing and the songwriting, were things I had to work on, for sure. But I think that's the same thing with anybody. I don't think you just wake up one day and you're like, 'Oh, I know how to write songs.' I wish it could have been that way, instead of writing the terrible songs that I did at first [laughs]. But that's not how it works.

PCC:
'Nashville Star,' how big an impact did that have on your career?

YOUNG:
That definitely got me my record deal. And put a lot of fans in my corner from the get-go. So that obviously had a lot of impact, because I'm still on RCA today.

PCC:
You've done a lot of co-writes, what do you enjoy about the collaborative process?

YOUNG:
Co-writing's my preference, but every now and then I'll write a song on my own. Usually it's if there's nobody else around and I've got an idea I really want to put to paper. So I can do both. But, I don't know, there's just something about co-writing, being in that room with somebody else to bounce ideas off of. And it just makes it a lot easier day, most of the time.

PCC:
During the more struggling days, what you fantasized about stardom, how does that compare with the reality?

YOUNG:
You know what? I'm not in a van and trailer anymore. So I'll rank that as a plus [laughs]. There's a lot of great things about it. Really, the biggest thing for me is just keeping the focus on the music and trying to get better.

PCC:
Is there any downside? Or is it all good at this point?

YOUNG:
I don't know that there's a downside. When I'm at home, I just like to spend some time with my family. So the biggest downside is not being home much lately. But I've got a really cool job. And a lot of my guys on the road, it feels like your family. It's not like it's lonely out there. I've still got a bunch of people that are hangin' with me and enjoying the ride with me.
So it's just real fun right now.

PCC:
Being on the road with Brad Paisley, how has that experience been?

YOUNG:
It's been great. Brad's a fantastic musician and performer and songwriter, pretty much everything. And he's a great guy, as well. So it's fun being out there, being able to watch his show. I paid for tickets to go see him before. So now I get to stand on the side of the stage and watch him for free every night.

PCC:
He's been established for quite a while. Can you learn from being on the road from him?

YOUNG:
Yeah, you can always learn stuff from anybody you're on the road with. If you don't, you're missing a great opportunity. Most of the people that are headlining have been doing it for a while. It's my goal to be doing that pretty much all the time one day. So I might as well learn what I can from osmosis and from watching.

PCC:
In the meantime, what are the keys for a supporting artist to be able to capture the audience and hold them?

YOUNG:
Man, you know, it's just woodshedding and trying to become better at your craft. If you're great, people are going to recognize it, even if they're not necessarily there to see you. That's a great opportunity to win fans. If you're on a tour, opening for somebody, you just go out there and kill it. You're trying to build it up and make it better every day, not only the recorded music, but the live music, as well.

PCC:
People magazine naming you 'Sexy Man of the Week' did you take any ribbing over that?

YOUNG:
[laughs] No, man. That's never a bad thing. You're never going to complain about that.

PCC:
What about being ambassador for CMA, that's about promoting country music overseas?

YOUNG:
Yeah. I've been in the process of building not only a fan base here, but starting to go over in Europe and also Australia. So obviously, this gave me a great opportunity to go over and play in Ireland and play in London. So I jumped at the chance to do it. And it's just pretty amazing, that you can be completely in a different country and people can still know your songs and be into what you do.

PCC:
And people over there relate to the American country music?

YOUNG:
Yeah, really, that's the great thing about most country music is that it's stories about life. So it's not really hard to bridge that gap, even though you're across a giant body of water, somewhere that you've never been before. There's still stuff that's going to resonate with people and stick out with them.

PCC:
The A.M. album coming out, is that more of a continuation, building on where you've been musically? Or are you trying to show how you've grown musically?

YOUNG:
No, I think this album's a little bit different. I've got more tempo on this record than I've ever really had on album before. So this record is a little bit different than the ones that I've done in the past. The first single, no one can really argue, 'Is this a midtempo? What is it?' It's definitely an uptempo. And a lot of double guitars. The production style is a little bit different. It definitely stands out, compared to most of my stuff. Also, there's going to be elements of stuff I've done in the past. There are definitely ballads on this record that I love. But it's the uptempo material that makes it stand out, makes it a little bit different.

PCC:
Generally, at this point, what are the biggest challenges and the biggest rewards of the musician's life for you?

YOUNG:
I guess not having much time at home would be the most challenging. But the rewards are great, being on tour, having the chart success. I'm 28, putting out my fourth album. There's a lot more that I want to do, but so far, I've been really lucky, really blessed.

Are there particular goals? Or do you just take it one step at a time?

YOUNG:
Oh, no, you've got to set goals for yourself. I've got some. I usually keep them to myself. But there's definitely a lot of things that I want to get done, that I haven't done yet.

PCC:
Is there any sense that, with all the success you're having now, you can relax a bit, because you've broken through?

YOUNG:
Yes and no. You can relax a little bit, thinking, yeah, I've got a spot and I feel like I have a fan base, people who will be interested in picking up what I put out next to see what it is. But that doesn't guarantee that they're going to like it. So if you sit back too much, you'll end up getting passed by, by a lot of people, and you'll end up losing a lot of fans. You've got to keep working at it every day.

PCC:
What's the affect you want to have on listeners, generally?

YOUNG:
Man, I just want it to be something that stays with them. If it's a song that you hear and somebody years from now is sitting there, going, 'Oh, man, that's still my favorite song,' then you did something right.

Visit chrisyoungcountry.com.