CHRISTIE LENEE: "MUSIC SAVED MY LIFE"
Guitarist/Singer/Songwriter Makes Music That Inspires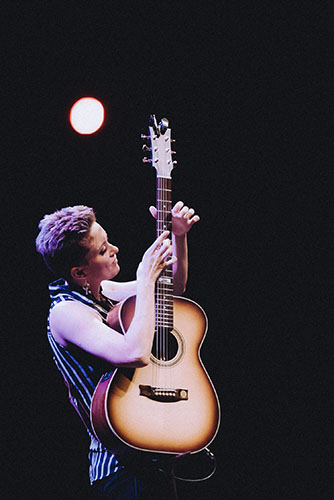 Christie Lenée; photo by Donna Green
By Paul Freeman [October 2017 Interview]
Christie Lenée expresses herself with equal eloquence using her fingers and her voice. Her sincere singing captivates. And her versatile guitar wizardry dazzles.
Music has had a dramatic effect on Lenée's life. And she wants her performances and beautiful original songs to move listeners, as well.
"Many years ago, I decided that I wanted to be an inspirational artist," Lenée says. "And a lot of that really was coming from my experience as a teenager, going through a lot of internal turmoil, due to a variety of things that happened in my life. And music was my anchor. It was the thing that helped me get through it all. It still is.
"Music has saved my life and mental state," she says, laughing. "I had those moments of discovering music in this profound way and seeing that there's a way to channel all of these emotions and feelings into an instrument and have it be a healthy path. It's like a form of therapy."
Lenée, now 32, is able to work wonders on her instrument, whether she's exploring classical, jazz, rock or Americana, Lenée recently won the 2017 International Fingerstyle Guitar Championship.
"I arrived at the competition thinking that I was really prepared. I felt great and then I heard about 50 guitarists, warming up, playing some pretty mean guitar. And I thought, 'Wow, there are a lot of great guitar players here," Lenée says, laughing again.
"So I went in there with the mentality that winning meant just knowing that I did the best that I could and be as prepared as I could be. And that allowed me to work hard, without putting the pressure on myself that I had to get first place. That mentality allowed me to accomplish what I did."
Lenée phoned in for this interview from St. Petersburg, Florida, where she has a lot of family and friends. It was a stop on the All Strung Up Guitar Tour, which features Lenée and two Australian acts - Daniel Champagne and the Hussy Hicks duo. The artists all share the stage throughout the show and perform several songs together, as well as playing individually.
Lenée will serve up songs from "Stay," her current album that features Dave Matthews Band guitarist Tim Reynolds on several tracks.
"Tim Reynolds is just one of my favorite musicians in the world, as well as one of the most incredibly beautiful human beings I've ever met," Lenée says. "It was special having him on there. It was a huge honor to get to work with him."
She is also performing compositions from her all-instrumental album "Chasing Infinity," which was produced by Will Ackerman of Windham Hill fame, plus brand new material.
Of Ackerman, Lenée says, "He was just a beautiful human being to work with. I felt like he was an angel when I first met him. He's got these beautiful blue eyes that are just very peaceful. When I first met him, I felt connected with his soul. And I knew he'd be a really great guy to work with. He has very acute ears. He's aware of the most precise details. He helps you get your best performance across."
For Lenée, instrumentals and vocal numbers can be equally effective in moving audiences. "I've gotten feedback from people saying they don't listen to instrumental music, but there's something about my instrumental music that resonates so strongly with them that they cry, when they listen to certain songs. A lot of people say that about my 'Soaring Over Glacier Bay' instrumental song, from my instrumental album, which was produced by Will Ackerman.
"Sometimes for me as an artist, I feel so much that I can't even find the words. And that's often the times when a song becomes an instrumental piece. And I say it through sound, as opposed to through words. And that, to me, is something that's really powerful, because it's something that's universal and breaks through the barrier of language. That's the power of instrumental music to me — whether you speak English or Chinese or Japanese, you can still translate all of the feelings through frequency.
"I'm also really deep into yoga and have studied a little bit about music therapy and the chakra systems and the different frequencies that effect certain emotions. And a lot of my instrumental music is crafted with an intention towards a specific type of feeling that I want to convey through the key and the frequency. So it goes a bit deeper than I usually share, but I think the reason that a lot of people feel so much when they listen to some of those pieces is because there are specific frequencies and harmonies in there that invoke certain emotions naturally."
Raised in Tampa and now based in Nashville, Lenée's emotional connection to music began early. At age four, she was the youngest member of The Entertainment Revue, which performed at Florida events. She tried piano lessons, but a strict teacher stifled her creativity. At 11, she watched her half-brother shredding on guitar and was entranced. He showed her how to learn songs by dissecting performances on rock 'n' roll records. Lenée studied such artists as Jimi Hendrix, Pink Floyd, Nirvana, Green Day and Alanis Morissette.
Musical theater, however, was her primary goal. Lenée was studying acting at Blake High School for the Performing Arts, when she heard a professor play a modern classical guitar piece in concert. That changed the course of her musical life.
"It was the most incredibly expressive musical performance I'd ever heard," Lenée said. "I never heard a guitar do what he did. The emotion that came through really hit home for me. I changed my major and have dedicated my life to guitar ever since."
She explored not only classical, but also jazz guitar possibilities, including a percussive, tapping style. She can pluck strings with both hands simultaneously, one handling the melody, the other weaving in counterpoint or harmonies or rhythmic patterns. Lenée has also delved into the resonant sounds different tunings can create.
During her senior year of high school, Lenée began writing songs. "At that point, every thing that I'd ever loved in my life became one."
While in college, she worked on combining vocals with her guitar magic. Lenée immersed herself in the music of such singer-songwriters Joni Mitchell, Indigo Girls, Ani diFranco and Dave Matthews. She developed the ability to profoundly express herself in her own songs.
The "Stay" album reflects Lenée's desire to uplift listeners. It is dedicated to a friend of hers who committed suicide.
"Because music had been such a beautiful form of therapy and self-expression for me, when it started to come out in song, they were songs of overcoming, about hope and getting through life's challenges and also just observing a lot of people in my life that left the planet for various reasons, whether it was suicide or drug addition. Seeing all these things happen and internalizing it for years and then it all finally came out in song. It was me saying, 'There is reason for hope. There is a way to get through all of this. I've seen it with my own eyes.' I've seen people not get through it. And I've seen others find their way. And usually the ones who found their way were the ones who hung on to something that they loved and they could put all that energy into it.
"I'm grateful to be an observer. I think a songwriter needs to be the person who experiences things, but also the observer of what other people are going through. Hopefully, I can contribute something to the world, by bringing a smile to someone's face or make them feel good about themselves or help them have some hope. It feels really good in those moments when people share their stories of how, particularly, the song 'Stay' has helped them. It means so much to know that it has helped people, because that whole album was dedicated to my friend, who committed suicide nine years ago.
"The song 'Stay' was intended to be for somebody who is going through that moment where they're just right on the edge, feeling hopeless, feeling like they need to run away from life. I tell people, 'You're not alone. Everybody goes through hard times and has moments where you feel like running away from life or from a relationship or from a job. But just know that there's another way. Just breathe and be where you are and know that you're going to get through it.'"
She's now sharing her music expansively, touring extensively, not only in North America, but Australia and Europe, as well. No two Lenée shows are exactly alike. She gets the audience involved and maximizes her sound using tools like the foot stomp box and the Engle — a sort of drumstick for guitar. "Playing live brings me so much energy and joy."
Lenée maintains a healthy perspective on where she wants her music to take her. "I was reading a book that quoted Ingrid Michaelson's manager, saying if you are making music that you love, and making a living at it, you're successful. And I thought was an interesting quote, because somebody might not feel successful until they were selling out arenas and somebody else might feel successful just because they've been able to play their songs at a coffee house. So there are different tiers of success.
"For me, it's a constant evolution, but I just want to feel successful just knowing that I've accomplished something and that I'm being the best that I can be," Lenée says. "To me, one level of success is finding joy and happiness in doing what I love. Getting a chance to connect with a lot of people feels really special. I love people. There are certainly other levels of it that I strive to reach and I'll keep working hard to do that. I'd love to be selling out arenas as a solo artist, like Ed Sheeran. But I won't be unhappy till I get there, because that wouldn't be a good way to live my life."
For more on this artist, visit www.christielenee.com.