DAME CLEO LAINE: MUSIC ROYALTY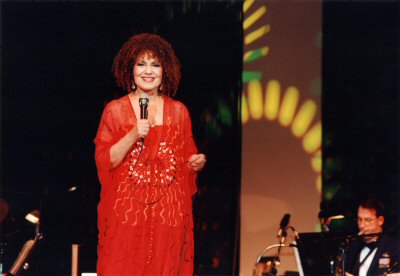 Photo credit: Courtesy of Gurtman & Murtha

By Paul Freeman [October 2010 Interview]

Long before the grateful British nation bestowed the title Dame on Cleo Laine, she had established herself as musical royalty.

Since connecting with brilliant jazz musician and composer John Dankworth in 1951, Laine has carved out a dazzling career.

She and Dankworth (whose myriad accomplishments include penning the theme to TV's "The Avengers") were married in 1958. They remained creative and life partners until his passing, in February, 2010.

Laine, a Grammy and Tony winner, has collaborated with a variety of artists, including Dudley Moore, Count Basie, Duke Ellington, Dizzy Gillespie, James Galway, Ray Charles, and Mel Torme.

Laine's own acclaimed albums include 1964's "Shakespeare and All That Jazz."

Also a gifted actress, Laine has starred in West End and Broadway productions, as well as having played in the world's most prestigious concert venues.

Musically adventurous, she not only delved into jazz and pop, but successfully performed the Kurt Weill opera "Seven Deadly Sins" and Arnold Schoenberg's "Pierrot Lunaire." Laine is the only female performer to be nominated for Grammys in the jazz, popular and classical categories.

Laine and Dankworth built a theatre, The Stables, in Wavendon, England, for performance and musical education.

Their children Jacqui (vocalist) and Alec (bassist) carry on the family tradition. Jacqui will join her mum during the Rrazz Room engagement, at San Francisco's Hotel Nikko, October 19-24 [www.therrazzroom.com]. On the 28th of October, the vivacious vocalist celebrates her 83rd birthday.

We were delighted that Dame Cleo was kind enough to talk with Pop Culture Classics.

POP CULTURE CLASSICS:
You must get a great sense of satisfaction from seeing two of your children pursuing musical careers.

DAME CLEO LAINE:
I certainly do, because, luckily for me, they're both good [Laughs]. If they weren't, I'd be in trouble.

PCC:
And Jacqui is appearing with you at the Rrazz Room?

DAME CLEO:
Yes, she's going to join me. And we've sort of sorted out a program. She's a little more into - how can I put it? - wayer out stuff. [Laughs] Although she loves standards, as well. She does do things that I wouldn't consider.

PCC:
But you certainly have spanned a wide range of material. Is that reflected in the program?

DAME CLEO:
Oh, yes, it certainly is.

PCC:
Did your children know, from early on, watching their parents, that they wanted to be involved in music?

DAME CLEO:
I think they couldn't avoid it. [Laughs] I don't know whether you know, we have a theatre in our back yard, The Stables. And that's a 450-seat theatre, that John and I created. It's a charitable project. So we don't earn money off it. But, from the beginning there, we used to have music courses. And even today, there is a music camp behind The Stables. And when they were very young, they used to go to that music camp. And they went to all the other music courses, as they got older. They were either going to be musicians or doctors.

PCC:
They chose well.

DAME CLEO:
[Chuckles] I think so.

PCC:
It must have been gratifying to watch the Wavendon Foundation grow, to see your passion for music being carried on, perhaps expanding other people's musical horizons.

DAME CLEO:
Oh, well, it has. It's been going now for 40 years. Sadly, we celebrated the 40th anniversary on the day that John died. And that was quite a phenomenal concert, really, because I'd phoned around and got friends and supporters in the business to come and do a wonderful show. John was going to come out of hospital. He was going to be brought in an ambulance and to appear, because he was still playing at least one song in a concert. And, unfortunately, he didn't make it. He died before we got to him, before the concert, on the day of the concert. And so I had to make a decision on whether to tell the audience - and that would have canceled the whole thing, really, if I had told the audience immediately. So I thought, well, I had made this kind of journey, to some and see the last show of the 40th year. And that would have spoiled everything for the audience. I think that, if John had to have made the decision, if it had been me, he would have said, 'Carry on with the show.' So I carried on with the show and didn't tell them until the very end.

PCC:
You must have had to find a reserve of inner strength, in order to do that.

DAME CLEO:
I don't know. I mean, I didn't analyze myself. I just knew that it was the right thing to do.

PCC:
And getting together with John, did you view that as destiny, joining with someone who became not only your soulmate, but also the perfect musical collaborator for you?

DAME CLEO:
Well, I didn't really bite from the very beginning. All I wanted to do was get a job. [Laughs] I'd been auditioning for so long and obviously there was something about me that wasn't frantically commercial, because nobody apart from John wanted me in his band. That was back in 1951, when I auditioned for his group, The Johnny Dankworth Seven.

PCC:
When you say no one else wanted you in their bands, was it a matter of your having strong ideas and not necessarily wanting to take the safest, easiest paths creatively?

DAME CLEO:
No, I think it was because my voice was not currently commercial. I was a contralto. The contraltos today are all the rage. But then, contraltos were not the rage. That tended to be higher, like an alto or soprano or something like that. They were the rage, singing-wise, as far as women were concerned. Of course, I was almost in the male range [Laughs].

PCC:
The collaboration, did the two of you tend to be so in synch, is that why it worked so well?

DAME CLEO:
Well, I think it was. First of all, I loved jazz. And his band was a jazz band, The Johnny Dankworth Seven. They were like The Beatles in those days and adored by all the young girls . Everybody loved that group. But he realized that, to keep going, as a commercial entity, to do dances and things like that, and concerts, that he had to have something that was a little more commercial than the jazz that he was playing. So he had two singers, a male and a female. I was the female [Chuckles]. So that's when I began my professional career, in 1951.

PCC:
There was such an elegance about his work. What made him so unique as both a player and as a composer?

DAME CLEO:
I honestly don't know. He had superb taste, that's for sure. Somebody wrote about him once and said he was couth, rather than uncouth [Laughs].

PCC:
Your father sang. Is that where your love of singing began?

DAME CLEO:
I guess it must have done, yes. I used to watch him shaving in the morning. He used to shave with a cutthroat razor. You know what I mean by that?

PCC:
Straight razor?

DAME CLEO:
Yes. A blade. He used to shave with a blade and sing at the same time. And I used to sit there and watch, not quite alarmed, but wondering whether he was going to end the song any minute, by cutting his throat [Laughs]. You can tell what kind of brain I had. Not very nice.

PCC:
What sort of music was he singing?

DAME CLEO:
Well, he was never a professional singer. He did used to busk in the street, mainly around the train stations, where more people were about, so he got more money. This was during the Depression, at that time. So I guess he was a professional, really, because he was earning money by singing [Laughs]. Not very much. But enough to pay some of the bills.

PCC:
So were these folks songs, arias?

DAME CLEO:
Oh, no. They were generally the current songs of the day. But he was into crossover kind of things, like 'Trees.' He used to sing that a lot. It's probably a bit too old-fashioned for you.

PCC:
There's no such thing as too old-fashioned.

DAME CLEO:
[Laughs]

PCC:
I've read both that your parents arranged singing and dancing lessons for you, but also that you had no formal training.

DAME CLEO:
Not particularly, no. I mean, I had singing lessons, but I don't think they meant anything at that age. I just used to go to dancing classes and singing classes and piano classes, all the things that mothers do to get you out of the house, really, more than anything else.

PCC:
Were there singers who inspired you, whom you wanted to emulate?

DAME CLEO:
Well, I was an avid film musical goer. I loved all those people that were in the films, like I loved Judy Garland. I loved Mickey Rooney. I loved Lena Horne. I loved all these people that were singing and dancing. I used to sit in the dark, thinking, 'One day, I'm going to do that.' And that was basically my ambition. Just to sing, really, because I liked the way they did it. And the dancers. Fred Astaire and Ginger Rogers, I wanted to dance like them. I used to go to this dancing class and she had a shed in the garden. And once I started dancing the shed would shake, because I was quite hefty in those days. The dance mistress said, 'I think you should give up dancing and stick with singing, Cleo.' Actually, it was Clem at the time, not Cleo. It was Clementina.

PCC:
That's a pretty name.

DAME CLEO:
It is a pretty name. But they used to call me Clem. And when I joined John, he thought that sounded a little bit too much like a cowboy. So the Dankworth band came up with Cleo.

PCC:
Having had a bit of dance training, that must have given you a good foundation for when you performed in musical theatre.

DAME CLEO:
Well, it helped me. [Laughs] I could move. And I was always on time.

PCC:
And was that a brighter time for musical theatre? Do you think its magic is still alive and well?

DAME CLEO:
Well, in film, it's died, obviously. There used to be a new musical virtually every week, to go and see, from America, with all the top stars who were singing and dancing and so on. But that's all gone. I think the last one I can think of was 'Sweeney Todd.' And that's rather gloomy and doomy.

PCC:
But what about the West End and Broadway, they stage a lot of revivals.

DAME CLEO:
Oh, sure, they're all going. But I don't go to see them.

PCC:
Your focus on jazz singing, was it the freedom that attracted you?

DAME CLEO:
I think so. I think it is. And the style of singing, obviously. I'm not very keen on the let-it-all-hang-out bawling that happens in musical theatre today. There's very little subtlety in singing.

PCC:
That seems to have spilled over into shows like 'American Idol' or 'Britain's Got Talent.'

DAME CLEO:
Oh, sure, yeah. Hate them. They're not my favorite television edification. [Laughs]

PCC:
So are we losing that genuine, honesty of emotions in vocalizing?

DAME CLEO:
Oh, no. I don't think so. Nothing ever dies completely. There's always someone that is carrying on the torch. There are certainly a few very good jazz singers in Great Britain at the moment and certainly in America. I've never ever dismissed the art.

PCC:
And have you always viewed the art as one you can hone forever, that can't be totally mastered?

DAME CLEO:
I think, in jazz, it's an art that's probably never mastered, because you have to sort of be musically on top of everything. And that's probably why it's not as popular as the pop scene or whatever, because people have to be aware of the chord structures and the beauty of the composition, really. And the words.

PCC:
Do you try not to intellectualize about the vocals too much, to allow room for instinct?

DAME CLEO:
I do that anyway, because I'm not a schooled musician. So, whatever I do, it has to be felt, first of all. Of course, the more you know of the technical side of it all, the freer you become to do whatever you want to do.

PCC:
Your magnificent range, I've read that it's three octaves, four octaves. Is it somewhere in between?

DAME CLEO:
Well, originally I had four. As I get older, I'm afraid, I'm losing the top range. But then, that was always acquired. It wasn't a range that was natural for me.

PCC:
So you were able to build it beyond your natural range?

DAME CLEO:
Oh, sure. You can work at it, which I did. John used to write things for me and I'd say, 'I can't do that. I haven't got it.' He'd say, 'Go and practice.' [Chuckles]. So there you go, you see. You know the old adage, surely, how to get to Carnegie Hall. That's what I had to do.

PCC:
Did you have to develop a regimen to maintain and pamper the voice?

DAME CLEO:
No. Well, the best way of maintaining is not to bellow and sort of muck up your voice at an early age. I was never that type of singer. I could do it. But I couldn't do it night after night and hope to have a voice at the end of the tour, or even when I was in musicals, which I have been. I didn't like it when I had to bellow. So they hired me, because I didn't bellow. [Laughs]

PCC:
From the beginning, did you consider music to be more of a way of life than as simply a career?

DAME CLEO:
Well, it was part of my life. I didn't sort of going around saying, 'Oh, this is my life, this is my life.' It was there. And there wasn't much I could do about it. In the same way that my children couldn't do very much about it. It was there. And they either dismissed it or embraced it. And thank goodness they embraced it. And, I think, thank goodness I did, too.

PCC:
Did you try to give them advice along the way?

DAME CLEO:
Never, ever [Laughs]. That's the worst thing you could ever do with your children is to advise them to do something. I think they had good examples. And, I think, if they needed advice, they went to John, who was the oracle in the family, if you like.

PCC:
While you're singing, do you tend to just internalize or do you think about the effect you want to have on the listener?

DAME CLEO:
It's a combination, really. I always say that every song is a little drama. And each song is a play. And that's, I guess, why I became an actress, too, because I felt that way, that each song was a little drama. And you have to be aware of those words. Occasionally, when I do a master class or, at one time I used to do singing courses for The Stables, that is what I used to impress on the young singers, that they should read and learn those lyrics, before they even started to sing them, because they were very, very important. And they had to understand what they were singing. And a lot of singers don't. [Laughs]

PCC:
You've had a lot of other wonderful collaborations over the years. The duet albums with Ray Charles and Mel Torme, were those experiences special to you?

DAME CLEO:
With Mel, it was a master class every night, because we toured. And he was a phenomenal singer and such a knowledgeable man about music of all kinds. And with Ray, it was a joy and wonderful. Sadly, we didn't go on tour. But we did the recording, of course, which was important in my life. And then he came over to England and we did a television show of all the things that we'd done, which I enjoy every now and again watching still. But I think musicians have been more important in my career than singers, apart from Mel, because Mel was very wonderful in the tour that I did with him. But John Williams, the classical guitarist, I did an album with. And also James Galway, the flute player, the flautist. These have been very important steps in my life. Along with J.D., of course, as we used to call him.

PCC:
Important because they give you a new perspective on vocals by hearing what they do instrumentally?

DAME CLEO:
Absolutely. Long before John started writing for me, I used to listen to a record and learn what they were improvising. So I learned quite a lot of Clark Terry's and Stan Getz's ad-libs.

PCC:
And you had that stint in London, performing with Frank Sinatra. That must have been exciting.

DAME CLEO:
That was quite a thrilling week in my life. We performed at the Royal Albert Hall. He was to the point where he had to have monitors to read lyrics, even though he'd been singing those songs for a hell of a long time. But I know darn well now why he did, because I was doing a concert in England, somewhere, and I had a song to sing that I'd been doing for donkey's years. And I started to sing and not a word came into my head. So I had to sing what I call, 'my Hungarian.' It's a load of rubbish. [Laughs]. So I was trying to rhyme. And I was rhyming. And singing all this rubbish. And I was on the other side of the stage and got over to John, who, in general, knew all of the lyrics that I was going to sing. I sang to him, 'Can you help me out with this song?' And he said, 'Nope.' [Laughs] So that was it. I had to battle on.

PCC:
You just have to make it work, regardless of what happens.

DAME CLEO:
Absolutely. That could happen to anybody at any time. But as you get older, it's more likely to happen. [Laughs]

PCC:
I've heard that Sinatra could be daunting by reputation, but when you worked with him, he put people at ease quickly.

DAME CLEO:
Oh, yeah. Absolutely. He was quite wonderful. He came into my dressing room before we started and he said, 'Well, are you ready for this?' I said, 'Yes.' And he said, 'Well, I'm not.' [Laughs] I said, 'Well it's all right for you, all you've got to do is just go out there and stand and they'll get up on their feet.' And that was it. So I think that maybe made him feel better.

PCC:
[Laughs] But as you know, it's not always easy being a living legend.

DAME CLEO:
It is not. A living legend is daunting for people like him, because they feel that they've got to keep on keeping it up. But he kept his voice and his stature, right up till the end. A couple of notes were lower. But I don't think that much mattered. It was him, really.

PCC:
But you're certainly also musical royalty. When you go on stage these days, are you always in the moment or do you sometimes think about cementing the musical legacy?

DAME CLEO:
Oh, I don't think of anything but getting out there and singing and entertaining that audience, nothing about legacies or anything like that. Those sorts of things don't really matter. You just go out and do it. I don't think artists should go on singing, if they can't deliver. I mean, at the moment, touch wood, I'm touching my head, and at the moment, I do not have a wobble. And once I start getting a wobble, that's when I'll say, 'Ta-da, everybody. I can't control it anymore.'

PCC:
But can you imagine life without performing?

DAME CLEO:
Well, if I'm not singing well, yeah. I would only go out and sing, if I were singing well. If I couldn't sing well anymore, I would happily not want to go out there and sing rotten.

PCC:
But it would seem that music actually keeps you young.

DAME CLEO:
Oh, yeah. And also working with young musicians is another one. The stage is wonderful, too. We call it 'Dr. Stage.' John and I used to call it Dr. Stage, because, whatever's wrong with you, once you got on the stage, you got better [Laughs]. And you dropped a few years at the same time.

PCC:
How significant was that 1985 jazz Grammy you won? It must have meant a lot to Britain.

DAME CLEO:
I quite honestly don't think Britain noticed. It was very important to me, in that I'd been nominated about seven times before I got it. And the wonderful thing was that I got a telegram from Ella [Fitzgerald] saying, 'Congratulations, girl. It's about time.' And a couple of dozen roses to boot.

PCC:
I would imagine that the bestowing of the Damehood must have been the ultimate validation.

DAME CLEO:
Absolutely, but that was given, I say, because I spent four years as a public servant, I suppose, on the Lottery Board. I don't know whether you know a lot about our Lottery Board in Great Britain. It's something that was started to give money to the arts. There was a committee of people who talked and gave the money away. It was given to sport, to heritage, like old houses, and to the arts in general. And that's been a great boost to theatre, building theatres and maintaining theatres that were dying, things like that.

PCC:
That must have felt gratifying to be able to give back in that way.

DAME CLEO:
Yeah, that was quite wonderful. We had to battle from time to time, because it was dealing with the arts council, which is part of the government. They dish out the lolly.

PCC:
Over the course of this illustrious career in music, what have been the greatest satisfactions for you?

DAME CLEO:
Well, the first great satisfaction was getting the job with John Dankworthy in 1951, because it was the start of my professional career. And after that, there are so many places, things that happened, it's difficult to say, 'This was better than that' or 'That was better than this.' They were all wonderful. Appearing at Carnegie Hall, for a start. And appearing before the Queen. And doing great concerts in Great Britain, like the Royal Albert Hall with Sinatra. That was a memorable week. And what more can you say? There were lots of moments like that.

PCC:
But generally, does the greatest satisfaction tend to be inner, knowing that you've nailed a performance or is it from the respect of your peers or the response from audiences?

DAME CLEO:
It's a combination of all that. There are lots of things that I've been offered and, for the life of me, when it was offered, I didn't know how the hell I was going to do it, but I said yes anyway, and then went away and did what John told me to do - go practice.

PCC:
I guess the opera was one of those instances.

DAME CLEO:
Well, 'The Seven Deadly Sins,' yes, that was a challenge, having to learn that very quickly. And then there's 'Pierrot Lunaire,' the Schoenberg piece that I recorded. Most people bought that thinking it was going to be pop music [Laughs]. RCA said it's highest-selling 'Pierrot Lunaire' ever.

PCC:
Again, it's an opportunity to listeners to expand their horizons.

DAME CLEO:
Absolutely.

PCC:
With all you've accomplished, any dreams left unfulfilled?

DAME CLEO:
I never dream less. Let's put it that way. I know that things are going to pop up and I'll have to make the decision, 'Should I do this? And go practice?' Or should I just say, 'Oh, enough already'?

PCC:
Well, your fans can never get enough of your glorious voice.

DAME CLEO:
Thank you very much.

PCC:
And thank you for taking time for this chat.

DAME CLEO:
My pleasure. Lovely talking with you.