CLORIS LEACHMAN: NEVER-ENDING DANCE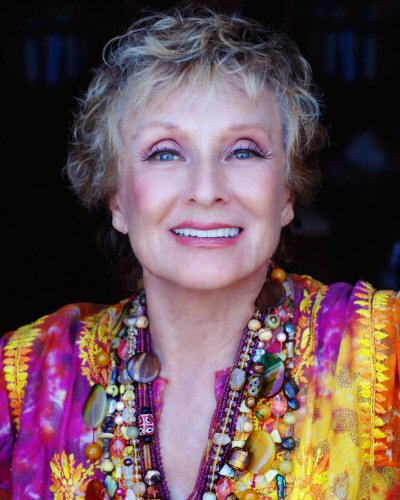 Photo credit: Gor Megaera
By Paul Freeman (May, 2010)
Cloris Leachman is one of America's finest actresses. And she's got the hardware to prove it.
Leachman earned an Academy Award for her performance in "The Last Picture Show." She also owns a record eight Primetime Emmy Awards, as well as a Daytime Emmy.
She has appeared in tons of episodic TV, including "Lassie," "Mannix," "Dr. Kildare," "Big Valley," "The Defenders," "Rawhide," "Alfred Hitchcock Presents" and "77 Sunset Strip."
She's fondly remembered as Mary Richards' intrusive landlady on "The Mary Tyler Moore Show" and in the spinoff, "Phyllis." Leachman was also a regular on "Facts of Life" and "Malcolm In the Middle."
Notable films include a terrific trio for Mel Brooks - "Young Frankenstein," "High Anxiety" and "History of the World, Part 1."
Leachman's 2006 performance with Annette Bening and Sir Ben Kingsley in HBO's "Mrs. Harris" brought her Emmy and SAG nominations.
Her colorful 2008 appearances as a "Dancing With The Stars" contestant expanded the public's ongoing fascination with the venerable actress.
In 2009, "Cloris: My Autobiography" was published and Leachman launched her own line of clothing.
The vivacious and versatile Ms. Leachman has also garnered acclaim for her one-woman show. She was gracious enough to chat with Pop Culture Classics prior to her June 1-6 engagement at The Rrazz Room at Hotel Nikko (222 Mason St., San Francisco, 415-394-1189, www.therrazzroom.com)
POP CULTURE CLASSICS:
What does the one-woman show encompass?
CLORIS LEACHMAN:
It's my life, my career, a little piano playing, a little singing, some clips. It's very enjoyable and entertaining and I think people will just love it. I'm excited about it.
PCC:
It was directed by your ex-husband [producer George Englund]?
CLORIS:
Written and directed.
PCC:
And he also helped with your autobiography?
CLORIS:
Yes
PCC:
That's great that you have such a positive relationship. How difficult was it to maintain that?
CLORIS:
Oh, it's always been the same. The part that doesn't work, doesn't work still and the part that does work is amazing.
PCC:
So the good parts make it all worthwhile.
CLORIS:
Oh, yeah. he's the funniest man alive. We just laugh. [She laughs].
PCC:
When you go out and perform, do you find that you've developed a whole new generation of fans? Especially after 'Dancing With The Stars'?
CLORIS:
Oh, sure. I have different kinds of fans. I have a lot of black fans from being on 'The Facts of Life,' because of Toody. And I have a lot of Spanish fans from 'Spanglish.' And I have a lot of gay fans from 'High Anxiety.' And children fans from 'Young Frankenstein.' They all know it by heart. And 'Malcolm in the Middle.' And, well, everybody, from 'Last Picture Show' and 'Mary Tyler Moore.' But the 'Dancing With The Stars,' everybody in the world has seen that. And they all laugh and we laugh together.
PCC:
Did you anticipate 'Dancing' being such a good showcase for you?
CLORIS:
No, I had no idea what it was at all. I'd only seen about eight minutes of it in passing.
PCC:
Did there end up being any scary moments along the way, with all that athleticism?
CLORIS:
Oh, my God! Terror! I talk about it in my show [Laughs].
PCC:
Where did your fascination with acting begin?
CLORIS:
I started with the piano at age seven. My mother, every once in a while, someone would come to a house, a young woman, and mama would sit on the love seat in the living room and this woman would stand there and do some acting. And I would sit on the floor and watch quietly. And then mama got me a little reading, a little monologue. It was a little boy who'd been left home by his mother, to take care of things. And when she comes home, he tells her what happened. 'And that ain't all,' he keeps saying. So I did that several times, with great success. And little by little things kept progressing. So I learned about acting. And I just moved music into it
PCC:
In terms of rhythm and that sort of thing?
CLORIS:
Everything - voicings, lows and highs, slows and fasts. Just like Nijinksy. He would leap in the air and pause a moment... and then complete it.
PCC:
So you were analytical about it even early on?
CLORIS:
Not alt all. It just happened. I wasn't analytical at all. No.
PCC:
And the Miss America pageant, did you see that as a platform for gaining more attention as an actress?
CLORIS:
Oh, I was just laughing the whole time. It was so stupid that I would be in a beauty contest. I didn't enter it. This guy, who was with an advertising agency in Chicago, used to come up to Northwestern to get a couple of girls for ads and things. He used me several times. And without my knowing it, he sent my picture in. Well, first I heard was a telegram, saying 'Congratulations, you're one of the participants for the finalists for the Miss WGN Contest.' That was the preliminary contest for Miss Chicago, which was the preliminary contest for Miss America. I had no idea about it. I wasn't even going to do this. I was so stupid.
PCC:
So did the pageant open any doors for you?
CLORIS:
I think maybe it did. I went to New York the next day on the train, after the contest, I had a contact list from the Miss America Contest, from the tea the day before. I went to the phones, cost a nickel, called several people. Nobody answered. Finally one man answered - Joe Russell. He was a press agent. He said, 'Well, come on over. I'll see if I can help.' And so I walked from Grand Central Station over to Broadway and 45th Street, to a building that the press agents had bought, I found out. Everybody would go there - Walter Winchell, Sammy Fain, Buddy Rich, a lot of people. It was a wonderful place.
Anyway, he got me a job as an extra, that afternoon, in a movie they were shooting, called 'Carnegie Hall.' William Prince was in it. Four years later, I was starring opposite Katherine Hepburn and William Prince, in 'As You Like It,' on Broadway.
PCC:
From extra to co-star, quite a leap.
CLORIS:
It is. And three months after I got there, I read for Rodgers & Hammerstein and I got the ingenue lead in a comedy they were producing. So that got me started. But I think the contest helped me do little jobs while I was trying to act.
PCC:
And you replaced Mary Martin in 'South Pacific' on Broadway?
CLORIS:
I didn't replace Mary Martin. She had already left and this other girl was playing it. It was fantastic. Dick Rodgers said, 'This is for you.' They arranged for me to sing it for four weeks on Broadway with the lead in 'South Pacific.' That was later, after I'd studied singing with my money from the Miss America contest. I'd never sung in my life. Can you imagine? The only song I knew the lyrics to was 'Rockabye baby, on the tree top.' I'd always just sung harmonies before with la-di-da's or humming and never learned any words. Isn't that funny? I studied for two years with Mary Martin's teacher. And then I auditioned for Rodgers and Hammerstein and they had me play the lead in 'South Pacific.' Can you imagine? I'd never sung in my life [Laughs].
PCC:
So at what point did you study at the Actors Studio?
CLORIS:
Let's see. The year after I got there, I got into the Actors Studio. I read for Elia Kazan in the first group and then, a year later, I started the voice lessons.
PCC:
Did Kazan become a mentor?
CLORIS:
He was our teacher. Hollywood was calling. He wanted to talk to me about that. Well, we went somewhere on 59th Street and I was there from about one to five. And with all the white wine, I had to keep canceling appointments. He wanted me to go to a hotel with him and I said no. And he never talked to me again. He didn't remember that, later, when I mentioned it to him. Then he left the Studio anyway.
PCC:
At the studio, were there a lot of classmates who made an impression on you?
CLORIS:
Yes. Annie Jackson did. We had one improv where we were supposed to get five minutes with our husband and he was in prison. We could only see him once a year for five minutes. Well, I just got up there and just cried for five minutes. Annie Jackson went in there and kissed her husband and started right in on a list she'd made of things they would talk about. And then she looked at him again and gave him a big hug and a kiss. And I learned to repeat something. You don't have to just hug him and that's the end of it. You can do it again. It's freer. She was free. And that was a big lesson to me.
Also, one time, Charlie Chaplin came there looking for a girl for a movie. He ended up using Claire Bloom. And I didn't know all this and somebody said, 'Why don't you go out and talk to Charlie Chaplin for a few minutes and just be nice to him?' So I went out there. I didn't know what to say. We chatted a little bit. I finally said, 'Do Charlie Chaplin for me.' He said,' Oh, no, I'm not going to... ' I said, 'Oh, come on, do Charlie Chaplin.' He said, 'No, you do it.' I said, 'I can't do it. I don't know how.' I don't know what in God's name possessed me, but I found myself up there, pretending I had a cane and walking splay-footed. Something tripped me and I kept going. And I was kind of proud of myself. And I looked at him and he was shaking his head. I said, 'What?' And he got up and he did Charlie Chaplin. Same thing I did. One exception. Something tripped him. He didn't keep going. He stopped and looked to see what had done it, what had tripped him. [Chuckles] That's was a big lesson for me. Moment-to-moment acting. Great.
PCC:
I read that you were adamant about not changing your name or your look. You must have had a lot of strength of character to hold your ground that way and not be molded into something you weren't.
CLORIS:
Well, they wanted me to change my name and get a nose job. I weighed 106, all my life, and I think my nose was longer than it should have been for that weight. But I've gained a little bit of weight since then. I think I look better than I did then. More balanced.
PCC:
But you did understand the importance of maintaining your individuality?
CLORIS:
Well, you grow into yourself, if you allow yourself to and you encourage yourself to. You have to dig deeper and think deeper and be more loving to yourself, I think.
PCC:
You did a lot of early TV. Was that mostly live?
CLORIS:
Oh, my God, all of it! It was the most wonderful training I could have had. It was like doing summer stock. Every week, I'd have a new part in something different. They were always rehiring me on 'Suspense.' Bob Stevens was the director. And he always hired me, every week. And one week, he said, 'Cloris, I'm awfully sorry, but I can't use you next week.' I said, 'Why?' He said,' Well, it's a Chinese girl.' I said, 'Well, I can be a Chinese girl.' [Laughs] I'd never been a Chinese girl in my life. But they put some eyelids on me and I was a Chinese girl.
PCC:
Any harrowing moments in those live days?
CLORIS:
No. Although he came to me very secretly and told me, 'I'm going to tell you something, but if you tell anybody, I'll never work again.' I said, 'What?' He said, 'You are on the gray list.' You know the blacklist? I was on the gray list, that meant certain sponsors wouldn't allow me to be on shows, because I was in 'The Crucible' and the author, Arthur Miller, was being called a communist. And I was in his play. Isn't that wild?
PCC:
That's all it took?
CLORIS:
Yes, that was enough. Borden's milk, it was. So I never said a word. And he kept working.
PCC:
And you worked in tons of episodic stuff , including 'Wanted: Dead or Alive.' Did Steve McQueen make a strong impression?
CLORIS:
Well, my former husband had hired him for his first role, one summer, in a drawing room comedy. Oh, my God [Laughs]. He had shown up with a rifle over his shoulder and a blonde by his side. It didn't work too well. But we all became great friends. And all my little boys - had four little boys - used to go motorcycling. He taught them all how to motorcycle. He got back from shooting 'Sand Pebbles' in Asia. He was exhausted and George was exhausted. So we rented a boat and went to Catalina for the weekend. And we had drinks on the deck that night and George said he was just going to take a nap before dinner. He woke up three days later, spread-eagle on the master bed. And poor Steve was in a side cabin with his wife. I think he was all banged up, trying to make love in a little tiny cabin [Laugh].
PCC:
And Brando was another friend of yours and your husband's?
CLORIS:
Yes, my husband just wrote a wonderful book. He wrote one already, about Brando. It's wonderful. It's called, 'The Way It's Never Been Done Before: My Friendship with Marlon,' by George Englund. But he just wrote another one that needs to get published. Excellent!
PCC:
You did an episode of 'Johnny Staccato.' Did you know John Cassavetes from the Studio?
CLORIS:
Not from the Studio. I don't remember how we had met. But I knew him and loved him. I was proud of that show, actually.
PCC:
Another one of the classic episodes you did was 'It's a Good Life," from 'Twilight Zone.'
CLORIS:
Oh, yeah, [She laughs]. Wonderful fun. You know, I've had nothing but wonderful fun in my whole life.
PCC:
Has your approach to acting changed over the years?
CLORIS:
No, I always want to be as real as I can, as authentic, in whatever I'm doing, even 'High Anxiety.'
PCC:
You did three films with Mel Brooks, was that like constant laughter on the set?
CLORIS:
Well, Gene [Wilder] would laugh. I would turn to him every time on the set, 'Follow me, please.' And then I'd say, [in her accent] 'Stay close to the candles, the staircase can be treacherous.' I'd look at him and his face would be in two parts, just laughing [She laughs]. And we did it again and again and again. I don't know if you'll ever see my best timing, because he was laughing all the time.
PCC:
Classic script.
CLORIS:
Wasn't it? I don't know who wrote what. Mel and Gene could never remember who wrote which lines. They both wrote it. I would love to know who wrote, 'Yes, he was my boyfriend,' and a lot of lines.
PCC:
On 'The Last Picture Show,' was it Peter Bogdanovich's touch that helped make your performance so special?
CLORIS:
I give a lot of credit to Polly Platt [the film's production designer and Bogdanovich's wife at the time]. She had a long row of clothes that she found and I picked mine out from that. Everything that I picked out was Ruth Popper's [Leachman's character, the coach's wife]. It was so clear and evident and right. And Peter was flawless. I think that's a perfect film.
I remember Polly Platt gluing a piece of my hair on my cheek, for one scene.
PCC:
So attention to detail is important.
CLORIS:
Yeah, oh, my God. Yes, yes, yes.
PCC:
I had almost forgotten you were in 'Butch Cassidy and the Sundance Kid.'
CLORIS:
Oh, that was funny. I was one of the lovelies of the evening, downstairs. And Paul comes downstairs and picks me out. So I went to the wig department and said, 'I want a beautiful wig. That's why he picks me out, my beautiful golden hair.' They found a wig that went down below my knees. And then I decided I had to be on top of him on the bed, to show off my wig. And then I wanted to sing to him, because he had blues eyes and I thought his fans would love it, if I sang, [She sings] 'Sweetest little fellow, with eyes of shiny blue...' But I sang it an octave higher, as high as I could possibly sing. And it was really funny and wonderful. But in the movie, it sounded as if I were mewing. You couldn't tell what I was doing. We didn't redo it. But it was funny at the time.
PCC:
You recently filmed a scene for Tarantino's 'Inglourious Basterds' that wound up being cut. Was that still a worthwhile experience?
CLORIS:
Oh, absolutely. And he said he's going to write the prequel to the movie and he'll put my scene in that one. That would fit perfectly. He and I were two feet from each other, talking, the first meeting we had, and then an earthquake happened. And I thought, 'This must mean something. Something important.' [Laughs]
PCC:
'The Mary Tyler Moore Show' is so timeless. Is that a rarity to have an ensemble with that kind of chemistry?
CLORIS:
I don't know if it's a rarity. We certainly had a wonderful time. Each person filled in his role and we just loved each other. Wonderful.
PCC:
Did you know instantly that the show was going to be something special?
CLORIS:
Well, we loved what we were doing. I wasn't in on all of that. I just expected it to go well... and it did. I heard though, that the first year was tricky. But I didn't experience that.
PCC:
It's hard to imagine the public not instantly embracing the show. I guess it's just a matter of exposure.
CLORIS:
I've done two or three or four pilots that I thought were just wonderful. And they weren't picked up. Heartbreaking. I have no idea why not.
PCC:
What about 'Phyllis,' did you have mixed feelings about leaving 'Mary' to start the spinoff?
CLORIS:
No, I thought that's the way things should be. And they were. I even asked them to let me go and do other things. So they let me do that. They were kind. No, it all worked out perfectly, I think.
PCC:
You had other successful series. You worked with George Clooney on 'Facts of Life'?
CLORIS:
Yeah, uh-huh. He was a darling guy. I didn't see him very much. But he was a sweet, nice man.
PCC:
And 'Malcolm In The Middle,' that had quite a fervent following, as well.
CLORIS:
[Laughing] Oh, God. So evil.
PCC:
Must have been fun to play.
CLORIS:
It was. Oh, my God. I think one of the funniest things of all, I was going to marry a Chinese man. And I had drugged the whole family and him, to get him to do it. And he sobered up in the middle of the ceremony and started to run away from me and I was chasing him, screaming, 'Don't go! Don't go!' And finally, I was on the ground, screaming after him, 'I'm pregnant!' [Laughs again]
PCC:
You seem to have an endless source of energy.
CLORIS:
I'm eighty-f**king-four. I have to go back to bed after I do anything! Home, get me home, hurry. [Laughs]. I pull out my hot water bottle and my two pillows and away I go.
PCC:
Well, it works, whatever you're doing.
CLORIS:
Thank you.
PCC:
I loved that gown you wore for PETA's vegetarianism campaign, made of lettuce and cabbage.
CLORIS:
Wasn't that gorgeous? [Laughs].
PCC:
And a great cause.
CLORIS:
Absolutely.
PCC:
What's next for you?
CLORIS:
I just got news from my agents that Fox has picked up the situation comedy that I love so much. It's hysterically funny and it's called 'Keep Hope Alive.' Hope is a little baby.
PCC:
What's your role?
CLORIS:
I'm a practically, almost Alzheimer's. My son would call it 'Some-of-the-timers' or 'Most-of-the-timers.' And the man who created it, created 'My Name Is Earl,' Greg Garcia. I'm thrilled. It's just really so funny you can't stand it.
PCC:
So that will air in fall 2010?
CLORIS:
Yes, we'll start shooting in July or August. We're very excited.
PCC:
I noticed you had a number of films completed, as well. Any of those excite you?
CLORIS:
I did one I'm just thrilled, thrilled about. It's called 'The Fields.' We shot that in Kunkletown, Pennsylvania, in a wonderful little old house. It's a psychological thriller. Very exciting. Tara [Reid] was excellent, wonderful in it.
PCC:
You've tackled such diverse roles. Is there one that comes closest to the real Cloris?
CLORIS:
Oh, gosh. I don't know who the real me is. I remember I went to London to 'The Muppet Show.' And the week before me, Peter Sellers was on. And he wanted a woman's corset and two horns on his head, like the opera, and two chickens under his arms. And he's singing a song about having played so many roles, he doesn't know who he is. So that's kind of where I am. [Laughs] No, but I have my family. That's how I know who I am. 'Grandma, grandma, grandma, grandma!,' one of my grandsons always says. There's always been somebody to keep me grounded.
PCC:
Well, it's great that you have so many projects in the works.
CLORIS:
It looks like I'm going to do a reality show, too. Two networks are fighting and we'll find out shortly. It'll be my granddaughter Skye and I. Beautiful brunette. Darling.
PCC:
Is she an actress?
CLORIS:
Yes.
PCC:
So that'll be another adventure. You've had a remarkably adventurous life and career.
CLORIS:
I certainly have. From a little girl from Des Moines, Iowa, out in the country, imagine, all by myself. No friends. There wasn't anybody else out there. That's why I learned to play the piano so well, because nobody bothered me. The piano was my best friend.
PCC:
Do you continue to play?
CLORIS:
I didn't play for 40 years. Then I started playing 'Rhapsody in Blue.' And I really went at it. And it was so good, I thought I should start booking myself across the country in orchestras. And just then I went past the radio and Andre Previn was playing 'Rhapsody in Blue,' but, my God, it was so much faster than I played it and so brilliant. And I never played it again. If you've ever heard Gershwin, he plays it 90 miles an hour.
PCC:
So many awards and honors, what have been the greatest career satisfactions for you?
CLORIS:
My life is just magical. I'm privileged beyond words. I'm here. I'm there. I'm doing things. No matter what's been planned, it always develops and enlarges itself. It has surprises, unexpected things and you just can't believe it. My mother used to say, 'Oh, I could just pinch myself!' [Laughs].
PCC:
It must be gratifying, having people approach you, telling you how they remember some of your great roles.
CLORIS:
Oh, yeah. I had a wonderful time doing it and they had a wonderful time seeing it. And we get to share that. And I get to talk to all kinds of people. Women will come up and just start sobbing. Then another one will start laughing. And then another one will drop down to her knees and hug my legs. It's amazing. You just walk toward each other and hug. And we know. We just know.
PCC:
With all you've accomplished, any roles you regret not having had an opportunity to play?
CLORIS:
Well, Mary Martin did 'Peter Pan.' I would like to have done that.
PCC:
Any goals left to achieve?
CLORIS:
Well, once I'd done 'Dancing With The Stars,' my son asked me what I wanted to do and I said, 'American Idol.' Then we found out you have to be under 28 years old. So then he thought we should hire Gloria Allred to represent me and sue them for age discrimination [Laughs].