CONNIE FRANCIS: SONGSTRESS AND SURVIVOR EXTRAORDINAIRE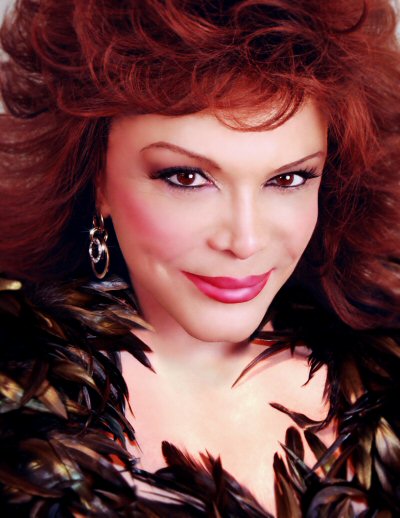 Photo by Gor Megeara

By Paul Freeman [October 2010 Interview]

Pop sensation Connie Francis inspires not only with her soaring voice, but with her incredible resilience. After rising to spectacular popularity, she was plunged into the abyss. But she courageously returned, sharing her music and her newfound insights with the world.

Born Concetta Rosa Maria Franconero, she was performing publicly by age four. Her father George whisked her to radio and TV auditions.

By 1952, at age 13, Francis had gained national attention, appearing on the TV talent shows of Arthur Godfrey and Ted Mack. In her teens, she was turned down by one record label after another, until MGM finally gave her a shot, signing her for 10 singles. The first nine created barely a ripple. On her last try, heeding her father's advice, she recorded "Who's Sorry Now?"

Performing the song on Dick Clark's "American Bandstand," in 1958, Francis shot to superstardom. The New Jersey native recorded other enduring hits, such as "Who's Sorry Now?," "Lipstick on Your Collar," "Where The Boys Are," "Stupid Cupid," "Everybody's Somebody's Fool," "Mama" and "My Heart Has a Mind of Its Own." Francis also had great success recording albums of Italian, Spanish and Jewish favorites.

She had overdubbed Tuesday Weld's vocals in the 1956 flick "Rock, Rock, Rock." In the '60s, Francis appeared on screen in "Where The Boys Are," "Follow The Boys," "Looking For Love" and "When The Boys Meet The Girls."

Her remarkable voice brimming with emotion, she earned greater chart success than any other female singer of the '50s and '60s.

It's not only her vocal artistry that has made Francis so admirable. She survived traumas and tragedies. During a 1974 Westbury Music Fair engagement, she was raped at a Howard Johnson's. She did not perform again for seven years. An adopted son, Joey, provided the one ray of sunshine during that dark time.

Francis was married and divorced four times. Her aunt and her brother were murdered in separate crimes. She has had to battle mental illness, eventually being diagnosed with bipolar disorder.

But Francis has bounced back. becoming an activist for victims' rights. Teaming with Mental Health America, she is launching a new campaign called S.T.A.R. of Mine (for Stress, Treatment, Awareness, Recovery).

Francis continues to tour, singing her classic tunes to her extraordinarily devoted fans. The Rrazz Room Concert Series at the Historic Castro Theatre, San Francisco, presents the legendary Ms. Connie Francis with 21-piece orchestra , 8 p.m., Saturday, October 16, ($49-$99); For tickets, phone 415-392-4400. More information at www.therrazzroom.com.

POP CULTURE CLASSICS:
At what age did you realize you could have this magical effect with your voice?

CONNIE FRANCIS:
When I was four. I was four years old when I did my first concert at an amusement park. I played the accordion. That was supposed to be my father's big dream in life, for me to have my own accordion school of music. Sorry I messed up your big plans, Daddy.

PCC:
Did he nudge you towards the performing career? Or did you have your own passion that drove you.

CONNIE:
No, he loved music. That was his whole life. When I showed an avid interest in music, when I was three, he told my mother to take me around the corner to an accordion school of music. And the teacher said, 'Oh, she's three years old. She'll never be able to read music. Just leave her for a few minutes with me.' My mother went out shopping. When she came back in an hour, the teacher said, 'She's a natural. She could be in our show in six months.' That was the show at the amusement park, which we did.

PCC:
So did you think that music was something you were born to do?

CONNIE:
Yes, never any doubt about that.

PCC:
Who were some of the singers you looked up to, as a youngster?

CONNIE:
Well, I grew up listening to all the pop stars of the day, Kay Starr, Joni James, Jo Stafford, Kitty Kallen and Teresa Brewer and Johnnie Ray, so many, all of them. Frank Sinatra was my idol. All of them. I just listened to the radio every waking hour.

PCC:
Your own distinctive style, did that just develop on its own or did you work that?

CONNIE:
No, I didn't work at it. Actually, when I used to make demo records for publishers, they always wanted me to sound like the big stars of the day. So, at one session, they'd go, 'Come on, Connie, give us some of that great Rosemary Clooney sound. Next they'd say, 'Give us some of that great Kay Starr sound.' Or that Patti Page sound. And I sounded like everybody else, but myself.

And on the record that my father convinced me finally to record, the song 'Who's Sorry Now?,' I didn't care. I hated the song so much. I just didn't care. It was the first time I sounded like myself.

PCC:
So even when you were making demos for yourself, to try to land a recording contract, your own style hadn't clicked in?

CONNIE:
No, it hadn't.

PCC:
Wasn't it crushing, when all the record companies initially turned you down?

CONNIE:
Of course it was. Mitch Miller, at Columbia, told my manager, when he brought in my demo, he said, 'She sounds like 50,000 other girl singers. Save your money.' And every label, it was the same song and dance. And it was true - it was discouraging.

PCC:
So how did you keep the optimism going and still believe you could make it?

CONNIE:
Actually, the last record company we went to was MGM and the president of the company signed me to a two-year recording contract, at the age of 17, for 20 sides, 10 records.

PCC:
Is it true that the signing had something to do with the fact that one of the demos you had was for a song titled "Freddy"?

CONNIE:
[Laughs] Yes, one of the executives, his nephew was named Freddy. I lucked out.

PCC:
Was it a strange experience to watch 'Rock, Rock, Rock' and hear your singing voice coming out of Tuesday Weld's mouth?

CONNIE:
It was depressing.

PCC:
You must have wondered why you weren't up there?

CONNIE:
When I auditioned for the part in 'Rock, Rock, Rock,' that Tuesday Weld eventually got, it suddenly occurred to me, on the way to this audition, in order to get this part, I had to be able to act. [Laughs] And as an actress, I always made a very good daughter, you know? So I said, 'Nah, I'm not going to get this part.' And I didn't.

PCC:
And was it actually Arthur Godfrey who suggested you change your name, after you performed on his talent show?

CONNIE:
Yes, I was 13 when I did 'Arthur Godfrey's Talent Scouts.' Every week, they would put on adult performers, professional performers. And, at Christmastime, they had little children. And he made all the kids win. And I was one of the little kids. So it was there at the studio, at rehearsal and he says, 'Little girl, how do you pronounce your name again?' So I go, like I'm teaching him a foreign language, 'Franc-o-nero.' He says, 'Ooh, that's a toughie. Can't we give you a good, old, easy-to-pronounce Irish name?' And he thought about it for a while and then he said, 'Francis. We'll make you Connie Francis.' And I said, 'Please, Mr. Godfrey, just for tonight, can't I be Connie Franconero? And tomorrow I'll be Connie Francis?'

I actually have a recording of that Arthur Godfrey show, where he called me Connie Franconero. I also have a recording of when I was 11, on 'The Ted Mack Amateur Hour,' singing 'St. Louis Blues,' and playing my accordion.

PCC:
When the early MGM singles didn't break through, were you really thinking of going into medicine?

CONNIE:
Well, I received a four-year scholarship to NYU, when I graduated high school. I didn't take pre-med, but I was hoping to eventually do that. I wanted to be either in research or I wanted to be a psychiatrist, which would have come in very handy in show business.

PCC:
Being close to Bobby Darin, were you able to share experiences of trying to establish yourselves in the music business? Was that helpful?

CONNIE:
It was, because he was encouraging. He believed absolutely that we would be the number one male and female singers in the country. He told me that a hundred times. And it turned out that, in the same year, in 1959, we were. And it was amazing to me, of all the tens of thousands of singers in the world, we both would go to number one in the same year. He never had any doubt about it. I did. I mean, I had serious doubts about whether I was ever going to be successful. But I knew it was all out there, waiting for Bobby.

PCC:
What do you think made him so extraordinary, as an artist and as a human being?

CONNIE:
Well, he innately was extremely talented. He could do everything. One day, he sat down at a xylophone and he just started playing vibes. He had never taken a lesson. And he would play the trumpet or the drums or the piano and just did it. He was a natural. And impersonations.

He would listen all the time to three singers and he would go line by line, listening to them and singing with them - Jackie Wilson, James Brown and Ray Charles. He always used to say, 'I'm half negro down here somewhere.' He always used to say that.

And he predicted, in 1957, he said, 'Someday the blues are going to be pop music.' He said, 'The real thing is waiting in the wings.' He had great foresight. He was way ahead of his time in everything. It would be interesting to see what he would be doing right now, if he were alive.

PCC:
And you actually had planned to be married at one point?

CONNIE:
Well, yeah. He did. I was scared to death of my father. There was an aborted elopement. He chased Bobby at a rehearsal of 'The Jackie Gleason Show.' This was before either of us had made it. He had a gun in his pocket and he chased Bobby through the aisles of this big rehearsal studio. And Bobby escaped through a men's room window. And good thing he was on the first floor.

PCC:
Do you think your father was just trying to scare him?

CONNIE:
Trying to scare him? Well, that was the end of our relationship. It took something that dramatic to break us up. I expect that my father fully intended to obliterate Bobby from my life, one way or another. He had this pathological hatred of him, from the minute he set eyes on him.

PCC:
Was that just because Bobby had a powerful effect on you?

CONNIE:
He felt that, first of all, Bobby might be the first person to mess with my precious virginity. And also, I came to realize in later years, he really felt that Bobby was the one person who could replace him in my heart.

PCC:
Did there tend to always be a conflict between his role as manager and his role as father?

CONNIE:
Well, it was never a conflict for him, because managing - he didn't manage me, I had a manager, but he did manage my musical career - and that wasn't a conflict for him, because that always came first.

PCC:
The music?

CONNIE:
Yes. Because his two passions in life were his daughter and music. And in his mind, they were one and the same.

PCC:
That must have been difficult for you to sort out.

CONNIE:
It wasn't until I started analyzing it several years later. I never realized it at the time.

PCC:
You mentioned it was his idea for you to record 'Who's Sorry Now?' You were resistant to that?

CONNIE:
Oh,yeah. I didn't want to do it. I said, 'It was written in 1923. It's so square. The kids will laugh me off 'American Bandstand.' I didn't want to do it. Then he did his famous line. He said, 'If you don't do this song, sister, the only way you'll ever get on 'American Bandstand' is to sit on top of the television!'

So I did it, but reluctantly. I made it third on that session. I figured, if I dragged the session out, I'd get only two songs in. And I had 15 minutes left in the session. I said, 'That's it, fellas. We don't have time to do 'Who's Sorry Now?'' My father said, 'If I have to strangle you, you're going to get through this song.'

And 'Who's Sorry Now' wasn't the only thing he chose for me. He chose many, many hits for me and also was responsible for me recording in Nashville, the first pop artist to record in Nashville. The first pop artist that was on the charts to record in Spanish, Italian, German, Jewish. All of those things were his idea. He had a great, great sense of what was right and wrong for me.

PCC:
Do you think having that kind of variety helped your career longevity?

CONNIE:
Oh, yes, without a doubt. It definitely helped, especially in the foreign markets.

PCC:
In Nashville, as a pop artist, were you welcomed? Or were they wary?

CONNIE:
It was really funny, Paul, because, in New York, London, anywhere else, everything is timed to the split second. If a session is four hours long and you go over one minute, you've got to pay for the next four hours. That's the way it is.

So when I walked into Nashville for the session, two o'clock session, everybody was on the floor, eating foot-long hot dogs, drinking beer. Lying on the floor! I walked in with my little legal pad under my arm and my attaché case. I said, 'Hey, boys, I'm Connie Francis.' He said, 'Miss Francis, relax. We got to get your mind right.' I said, 'What are you doing, sitting on the floor? This session was supposed to begin two minutes ago.'

All of these were top people, like Floyd Cramer, Boots Randolph, all big stars, great musicians. And they said, 'We're waitin' on Grady. His wife's feelin' poorly.' [Laughs]. It was like a whole different thing down there. And you didn't need arrangements down there. They played everything off the top of their heads. They had like a number system. None of them read music. Even with the strings and the background voices there was no music. It was amazing! My first album I did there was 'Never On Sunday.' We did it in two days.

PCC:
You had such success while you were still so young. Was it difficult to handle all of that?

CONNIE:
At the time, you don't realize it, because it was such a merry-go-round. You think of those kinds of whirlwind experiences only in retrospect, many years later. When I look at the chronology of my events during those peak years, I think, 'God, how did I do all of that?' Where did I find the energy?'

PCC:
In searching for a follow-up hit, you got material from Neil Sedaka and Howie Greenfield? Were you immediately impressed with their work?

CONNIE:
Well, they came into my house one day. It was right after 'Who's Sorry Now?' We were in a very poor houses, exposed radiators, no carpeting on the floor. It was a terrible, dilapidated place that we were living in. And Neil nudged Howie in the ribs, as if to say, 'Look at this place!' I said, 'What did you expect? Tara?' [Laughs]

So they started playing me ballad after beautiful ballad. They had been writing together since the age of 13. Howie was working for a music publisher as a gofer. Neil was a student at Julliard on a scholarship. And they played me one beautiful ballad after another. I mean, for hours. And my mother came in said, 'What are you making these kids play all of these songs for? Just pick out a song and sing it.' She knew from nothing about the business.

And so, at one point, I was so exhausted, I threw myself on the couch and I started writing in my diary. Neil said, 'What are you doing?' I said, 'Don't worry, fellas, I'm listening to every note you wrote. Just keep playing.' I said, 'I'm writing in my diary.' For a year, Neil had been signed to RCA-Victor and they hadn't been able to come up with a hit for Neil.

So they finally played me, after much cajoling on Howie's part - Howie said, 'Play her that song we wrote for a girl group.' And Neil said, 'Not that song, she's a classy singer. She'll be insulted.' And he finally played me 'Stupid Cupid,' because I was so bored from listening to all the ballads. And I started jumping up and down and said, 'You guys have got my next hit record! That title, 'Stupid Cupid,' what a smash!'

That night, not only did they have their first hit record, Neil's first recorded song, but they went home and they wrote 'The Diary,' 'How I'd like to look into that little book, the one that has the lock and key...' which became Neil's first hit single.

PCC:
So you inspired another hit.

CONNIE:
Right, I inspired Neil's first hit.

PCC:
It must have been great being part of that 'American Bandstand' world of the '50s. That was a unique environment.

CONNIE:
It really was. It was just great. All these guys. There were no females on the charts at that time, until Brenda came along a couple of years later. There was just Bobby and Frankie and Fabian and Bobby Vee. And they were all my buddies. And it was a fabulous time.

PCC:
And Dick Clark, I guess he was a tremendous supporter of yours, all the way through?

CONNIE:
Always. He was there for every crisis of my life. And without Dick, there would have been no career, because, had he not played 'Who's Sorry Now?' on that fateful day, January 1st, 1958, I was ready to go back to college. I was not going to spend any more years in show business. I accumulated $500 in 14 years. I figured the math, you know? Where was I going?'

I gave my $500 to my manager [George Scheck], because he had invested $17,000 in me. He was the producer of a kiddie show I was on for four years. And I said, 'That's it. I'm quitting the business.' To my father, it was like patricide. I would have had no career.

PCC:
But even that 'Bandstand' years, Clark was still so caring. Do you think he viewed you as a kid sister?

CONNIE:
We were always very, very close. Dick was my friend. And I consider him, to this day, the best friend I've ever had in this business.

PCC:
You must have done some of his Caravan of Stars tours along the way?

CONNIE:
Oh, yes. I did that. Sure I did.

PCC:
What was that like? The camaraderie, the adventures?

CONNIE:
Fantastic! The first rock 'n' roll tour I did was on a bus, in Florida. And on this show there was Jerry Lee Lewis, Chuck Berry, the Big Bopper. And it was fantastic.

PCC:
Must have been some pretty wild times with those guys.

CONNIE:
Yeah, it was... well, it wasn't that wild. My mother was with me always. Until I got my first secretary, my mother was with me all the time.

PCC:
Another great thing about that time, was that rock 'n' roll audiences welcomed a variety of styles.

CONNIE:
Yeah, I guess so. But it was all the same kind of music, except for me. It was all rock 'n' roll. It was great. I guess they considered 'Who's Sorry Now?' rock 'n' roll, although it really wasn't. But it had rock 'n' roll triplets behind it. And that was my father's idea. He said, 'Look, the song has already been established as a hit in a traditional arrangement. You put the rock 'n' roll beat behind it. And it was the first time a standard was ever taken with a rock 'n' roll beat behind it.

PCC:
So he really understood the nuances and details of music.

CONNIE:
Yes. He was this poor roofer. But he had this incredible, innate sense for music.

PCC:
Frank Sinatra became a good friend of yours, along the way?

CONNIE:
Yes. Frank wanted to sign me to Reprise, after my contract ran out. He made me a fabulous offer - one movie a year with him, one TV special a year with him, two albums and two singles, plus my own records. And my father turned him down. He didn't want me around the Rat Pack.

PCC:
He thought they would be a bad influence?

CONNIE:
Absolutely. He said, 'You ain't gonna be no card-carrying member of the Rat Pack. I can tell you that.' And he turned Frank Sinatra down. He wouldn't even let me go to the meeting when they discussed the contract. It was my manager and my father. They were both five-foot-one. And when they walked in, Frank said, 'Okay, which one is the real George? You're both so tall. I can't tell the difference.' And my father said, 'I'm Connie's father.' Frank said, 'Oh, so you're the tough guy.' He'd already heard about him. He said, 'Where's Connie?' My father said,'Oh, she had an interview to do,' because he wouldn't let me come to the meeting.

Frank took the tablecloth, which was all set for lunch, beautifully set, and he threw everything all around the room, helter skelter. Everything went flying around the room. [Laughs] And then my father and my manager were on their way out. Knowing Frank later, with his temper, I don't know how he managed it, but he apologized and said,'Okay, let's talk turkey.' And that's when he made the offer. And my father handed him the MGM contract and said we wanted recoupment of session costs. Frank said, 'We can't do that.' My father said, 'Well, that's it. Thanks for lunch.' And left.

PCC:
And did you just think, well, father knows best? Or did you question it?

CONNIE:
Of course, I questioned him. We had a big, big confrontation about it. But he wasn't going to budge. He had just felt that, he had heard all the Sinatra stories and wild parties and the whole thing. I said, 'What, do you think, Sinatra and I are going to make out in between takes?' He said, 'He's a very charming man, Connie.'

PCC:
But you and Frank did become friends after that?

CONNIE:
We became good friends, despite that horrendous initial meeting. Frank never held it against me. But we never recorded together.

I remember one night, it was 1967. We had done an Italian Anti-Defamation League rally at Madison Square Garden. And afterwards, we all went to Joey's, Frank's friend's place. And I was there with Mom and Pop Sinatra, who were very close to me, his parents. And my mother and father. And we were waiting outside in the rain for our limos. And my father said to Frank, 'Hey, Frank, maybe you and Connie should put some sides together.' And I whispered to my father, 'What chutzpah you have!' And Frank just looked at him and said, 'You had your chance, George.'

PCC:
What a shame. It would have been historic to hear those two iconic voices together.

CONNIE:
I have to say, it was the biggest career blunder ever made, in history.

PCC:
Did Frank offer you career advice?

CONNIE:
As a matter of fact, I offered him some career advice. I said, 'I think you should cut an Italian album, Frank.' I said, 'The Italian people worship you. And what a legacy you would leave.' And he wouldn't hear of it. He said, 'I'm not an Italian singer. I'd be embarrassed.'

PCC:
That does seem like a natural.

CONNIE:
Yeah, but he wouldn't do it. He said, 'I would be embarrassed.' I said, 'I could teach it to you.' I brought him a whole bunch of music and sheet music and said, 'I could teach it to you line by line.' I said, 'When I recorded my first Italian album, I couldn't speak a word of Italian either.' I said, 'I'll teach it to you.' 'No,' he said. I said, 'It's simple.' 'Simple for you. No, thank you.'

PCC:
And you had some success in movies, as well. 'Where The Boys Are' was a hit.

CONNIE:
That was my 'Gone With The Wind' and then it was downhill for the rest of the time. [Laughs]

PCC:
Did you toy with the idea of emphasizing film work?

CONNIE:
No, I could have cared less. As a matter of fact, when MGM wanted to sign me for three more pictures, I begged my lawyer to get me off the hook. I didn't want anything to do with movies. And my father felt the same way.

PCC:
You just weren't comfortable?

CONNIE:
I couldn't stand it. You sit there and get two minutes of film, every day, eight hours a day. I've had spilkes [a Yiddish word for restlessness]. I could not stand it. I did the three movies. But I did everything I could to get out of doing them.

PCC:
But you did get some great music out of them.

CONNIE:
Not out of the movies, not really.

PCC:
The title track to 'Where The Boys Are.'

CONNIE:
Well, that was it, the only one. I was a one-trick pony. That's what I told MGM. I said, 'Look, you made a fortune with 'Where The Boys Are.' But I'm a one-trick pony. Let me out of this!'

PCC:
Speaking of one-trick ponies, you must have seen a lot of the performers who came through 'Bandstand,' one-hit wonders or others who quickly vanished from the scene. Did you wonder whether you could achieve longevity in the business?

CONNIE:
Sure, I did. I was reluctant to spend money on my first gown. I was going to star at the London Palladium and my manager said, 'You look like a shlump. You've got to go shopping with Eleanor.' That was his wife. 'You've got to go out shopping for a gown. You look like a shlump. It's embarrassing already. Everybody's talking about it.' I said, 'No.' I said, 'Where are these royalties I'm supposed to get? What, are they coming by way of Australia?' He said, 'You'll get your royalties. You've got to spend money on a gown.'

And when I went into the store, the woman said $500 for the dress - I mean, she didn't even bother with $499 - I was thunderstruck! I said, 'Let's get out of this place!' I said, 'You've heard those words flash in the pan. I didn't make them up.' I was really reluctant. I said, 'I've had one-and-a-half hits. I don't even know if I'm going to be in this business six months from now.'

PCC:
And you managed to stay down to Earth.

CONNIE:
Oh, yeah. Well, sure. With my parents, it was easy. They kept my feet on the ground. The biggest night of my career to date was the night I introduced 'Mama' on 'The Perry Como Show.' There was overwhelming audience applause. Perry couldn't move on to his next song. It was really a moment in television history. And I got home and went to write in my diary about that night. And my mother came in and said, 'What are you doing? Writing in your diary?' I said, 'Yeah.' She said, 'What have you got to write about that's so important? You write like your life is important or something.' [Laughs] And my brother was the same way. They were my balance.

PCC:
Dick Clark had actually advised against releasing 'Mama' as a single?

CONNIE:
Yeah, he felt that it wasn't 'Bandstand' material, just as he advised Bobby Darin not to do 'Mack The Knife' as a single. He felt that it was not 'Bandstand' kind of material.

PCC:
And yet 'Mama' really helped to solidify you with the adult audience.

CONNIE:
It was the turning point for me. 'Mama' and the Italian album. Because before that, I was considered a rock 'n' roll singer. My father said, 'If you want to play the Brooklyn Paramount with Alan Freed forever, keep making these bubble gum songs. But if you want to play Vegas and The Copa, you'll record an Italian album... and a Jewish album.'

PCC:
Over the years, you've had to overcome so much adversity. Where have you found the inner strength?

CONNIE:
To me, it's not important how many times you fall down. It's just important that you get up. I think that every adversity has a built-in, bigger benefit on the other side. If you get through it, you're stronger for it.

And you learn a lot of lessons in life. I've learned, at this point in my life, to let go of all the pointless drama... and the people who create it. And to just surround myself with good people. I'm a very, very happy person.

PCC:
But it took a lot of self-analysis to get to that point?

CONNIE:
Seventeen commitments in mental hospitals... for nine years.

PCC:
Did you always believe that, somehow, you were going to come out the other side and find that happier, more serene self?

CONNIE:
Yeah, I always believed that.

PCC:
During the seven years away from performing, were you really thinking that you would never return to the stage?

CONNIE:
Oh, yeah. I thought that I would never return to the stage. I'd had a couple of near-death experiences. I came so close to death. And now I'm a healthy person. And there has to be some reason why God made this happen. There has to be some purpose for me, in life, some reason. That's why I became so involved with victims' rights, in '81, when I went back to work. I became very involved with crime victims. And I had a hand in a lot of different laws changing. I had a crime victims bill of rights passed by the police department. And now I'm trying to do the same thing with Mental Health America. I've just been named spokesperson for Mental Health America, for their trauma campaign.

PCC:
You must hear from a lot of people who appreciate your speaking out on these issues. It must make them feel more comfortable stepping into the light.

CONNIE:
Sure. Particularly rape victims. And people who have suffered mental illness. You don't want to talk about it. They want to just forget about it. I want to use my experience to help other people, because I've been given so much, that I have to give something back.

PCC:
I had read that you still were unable to stay alone in a hotel room. Is that still the case?

CONNIE:
Yeah, it's still the case.

PCC:
So it's still a battle to get past all of that.

CONNIE:
I don't think a victim ever really does, especially when it's violent... and it's by a stranger. I don't think it's something you ever get over.

PCC:
But what you've been able to do as an advocate for victims' rights, having a positive come out of the negative, that must help you deal with the whole thing.

CONNIE:
For seven years, I received thousands of letters from victims of crime, rape and all other kinds of violent crime. And I was powerless to do anything about it, because I was such a basket case myself.

But after my brother was murdered, my brother resurrected me, because I could no longer afford to wallow in self-pity. I had three families to take care of - my parents, my brother's family, and my child. And I became very angry. And anger is often a good catalyst, if you're healthy. And that's what prompted me to become involved with victims. I wanted to do something all those years and was unable to.

PCC:
And actually, your son just came into your life right after you were victimized, didn't he?

CONNIE:
Exactly.

PCC:
So that must have helped, being able to turn your attention to him.

CONNIE:
It was the only bright spot in my life for years. For seven years, he was the only light of my life.

PCC:
Once you did resume your career, it must have seemed like a rebirth.

CONNIE:
It was. That night when I went back to work at Westbury, the same place where I had been raped, it was a rebirth. I had chills up and down my spine for three days. It was an amazing experience. Many in the press called it the most publicized and sensational comeback in the business... ever. And it was. And for me, it was just amazing. People came from all over the world. Press came from all over the world. It was such an amazing experience.

PCC:
It took a lot of courage.

CONNIE:
I forgot all of the words. My opening song was 'I Will Survive' and I didn't survive the song. I forgot every word. But it didn't matter. It didn't matter to the audience or to me

PCC:
And you really are a survivor.

CONNIE:
I think that it probably is my greatest accomplishment, that I survived it.

PCC:
Do you feel that you were born a survivor? Or is that something everyone has in them, if they can just reach down and find it?

CONNIE:
If they can reach down and find it, yeah, I think everyone can be a survivor.

PCC:
And before you got on stage and felt all that love, did you wonder if people would still remember and care?

CONNIE:
Yes, I did. Not so much at that point, but when I did Dick Clark's 'Wednesday Night Live' show. It was the only appearance I did in those seven years. It was in 1978, in November. Dick convinced me to go on his show. And I had lost my voice. Nasal surgery. I had lost my voice for four years. I couldn't sing. I said, 'Dick, I can't sing.' He said, 'It's all in your head.' I said, 'No, it's not. I'll show you the doctor's report.' He wouldn't believe it. 'I said I'll show you doctor's reports from all over the world.' I was in London, Switzerland, California, everywhere. Everybody said I would never sing again.

So, when I did that show, I lip-synched it. I did only like one line at a time. Like a hundred takes before I got even a reasonable facsimile of my performance. I still wasn't singing. And that night, when I got on stage, the audience reaction was so amazing. That was another moment in television history. There were only two - Perry Como and that night with Dick Clark. Dick broke down and cried. And it was just amazing. And then I knew that people hadn't forgotten.

PCC:
So once that was reaffirmed and subsequent surgeries brought your voice back to full strength, did it seem like you could go on forever?

CONNIE:
Yeah. I mean, I want to die when I'm 95... on the stage.

PCC:
For several years, there was talk of a Connie Francis biopic. Might that be revived with different producers?

CONNIE:
Yeah, we're in plans for that right now, but I'm not free to talk about it yet.

PCC:
And so, you still get a lot of satisfaction from performing, connecting with the fans?

CONNIE:
That's the best part of my life... that and my son.

PCC:
You must constantly hear from people how much your music has meant in their lives and how they're inspired by your life and career.

CONNIE:
Yeah, I do. There was a book written, called 'Among My Souvenirs,' which was written by fans from all over the world - Australia, New Zealand, England, Germany. And they wrote about their experiences with me and their lives and what I had meant to them. And when I read the book last year, I started to cry, because I could not believe that I had been such a part of so many people's lives. I couldn't believe it. I still have that book.

And I'm writing my book now. I'm almost finished. As a matter of fact, when you called, I was working on the last chapter. It's 800 pages long. It's my second autobiography. The first one stunk. I mean, I wrote it on the run. I wrote it in a very short period of time. It had no substance to it. But this one does. It really is a very in-depth and honest account of my life.

PCC:
So we can watch for that in the coming year?

CONNIE:
Yes, in the coming year, that will be out. Upon that, the movie will be based.

PCC:
So there's a lot of excitement ahead.

CONNIE:
Yeah, especially the mental health thing. I'm doing public service announcements for them tomorrow, to let people know that there's a parity law now. Under the new Obama law, you can get as much money for mental illness and drug and alcohol addiction as you can for physical illness. People don't know that.

PCC:
Is there still a significant stigma attached or are we past that?

CONNIE:
That's what I want to try to eliminate. I think, at some point in our lives, everyone suffers from a mental disorder. Some people call it depression. I mean, there are 32 million people in this country suffering from depression. That's quite a percentage of the population, who are on pills, antidepressants.

You know, life is very difficult today. In my parents' day, you paid your bills. There were no credit cards. No forms to fill out. Life is very, very complicated today. And kids have a very big problem with addiction. I don't know what they're escaping from, but they're escaping from something. And I want to address that, the addiction among kids. And also the post-traumatic stress disorder that so many of our veterans are experiencing.

I still get letters from Vietnam veterans. I visited Vietnam. I performed there. And I still get letters from people who are still suffering from that, till today. And it hasn't been addressed fully. Or at all, really. Even, often, by the people who are suffering from it themselves.

PCC:
So, with all you've accomplished in music, are these sorts of public awareness issues where you most want to focus now?

CONNIE:
To help people. What else is there to do, when you've been given so much?

For the latest on Connie Francis, visit www.conniefrancis.com.