COURT YARD HOUNDS: TWO CHICKS HATCH BEAUTIFUL NEW SOUNDS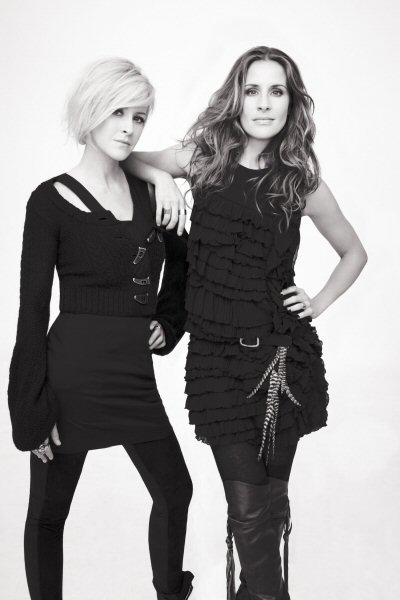 Court Yard Hounds, left Martie Maguire, right Emily Robison
By Paul Freeman [June 2010]
Even shorn of their Maines, Martie Maguire and Emily Robison sound gorgeous and have much to say, musically. The sisters, two-thirds of The Dixie Chicks, have launched an eminently satisfying new project, Court Yard Hounds. The self-titled album is packed with moving songs and electrifying harmonies.
They're on tour and you can peruse the latest dates at www.courtyardhounds.com. Court Yard Hounds are also playing some dates with Lilith Fair.
The Dixie Chicks, as courageous and inspiring as human being as they are as musical talents, won album, record and song of the year Grammys for 2006's "Taking The Long Way" and its unflinching single, "Not Ready To Make Nice." Despite the triumph, The Chicks realized not everyone was thrilled about their ongoing success.
The Chicks' lead singer, Natalie Maines, sought an extended break from life under the magnifying glass. Eventually, the sisters began craving an artistic outlet.
Maguire began working on an instrumental bluegrass album and asked Robison if she'd like to participate. Robison played her some new songs she'd written and Maguire realized that these poignant compositions needed to be heard.
They took the name Court Yard Hounds from the David Benioff novel, "City of Thieves." In addition to Robison's compelling compositions, the new album features the beautiful "Gracefully." On this one, which she wrote, Maguire stands front and center as lead singer. Maguire was involved in penning such Chicks favorites as "Cowboy Take Me Away," "You Were Mine," and "White Trash Wedding." All touch on very personal subjects.
Based in Austin, Maguire and her husband are raising three young daughters. She's open about the fact that these sources of pride and joy were conceived through invitro fertilization (IVF). The fraternal twins, Eva Ruth and Katie Emilie Maguire are six years old. Harper Rosie is about to turn two.
Maguire works hard at balancing family life and her musical pursuits. The Dixie Chicks recently reassembled to play a few stadium dates with The Eagles and Keith Urban. The trio hadn't performed together in four years.
As a Chick, Hound or solo artist, Maguire has lots of heartfelt music yet to express. She talked with Pop Culture Classics about the challenges and satisfactions of her career.
POP CULTURE CLASSICS:
You and Emily have been singing together all your lives. You must be excited about finding a new format for that.
MARTIE MAGUIRE:
I'm actually kind of surprised we didn't do this earlier, in some form or fashion.
PCC:
Is it something you'd toyed with over the years and this was just the right time?
MARTIE MAGUIRE:
Nope, never. I was doing an instrumental record, which was still in the can and I invited Emily to be a part of that and she was just kind of writing songs at that time and didn't want to be a part of that. But that was the first time that I thought, 'You know, we should do like a banjo-fiddle record or something.'
So then, when she sent me these songs, I thought, 'Well, wow, these songs are great. Why don't we do this instead?' So I'm just glad we finally did do it. But it does seem strange that we've always been in bands together, but hadn't ever done this.
And I think, in a way, bands think they can't do side projects. I guess we really never had time to do a side project until now, anyway. The Chicks were so full-on, for so many years.
PCC:
What about doing a solo album? 'Gracefully' is certainly one of the highlights of the Court Yard Hounds record.
MARTIE MAGUIRE:
[Laughs] No, I'm totally happy being in a band with one or two other people. No, that was like pulling teeth. I really like harmonizing a lot more than I like that.
PCC:
The name Court Yard Hounds, that came from a book? What made that phrase significant to you both?
MARTIE MAGUIRE:
Emily told me about the book 'City of Thieves' and it has nothing to do with us [ Laughs]. It's a real heavy book. But she had read this passage and she sent me this passage from the book and it really hit her in a very emotional way. It was about talent being a fanatical mistress and coming at odd hours and having no regard for the rest of your lives and one day you see her on the arm of another man and she pretends not to recognize you.
I think we kind translated it more into inspiration is a fanatical mistress that leaves you one day. We felt like we were sitting idly by. It's a tough thing when you have to have all three - myself, Emily and Natalie- have to decide to do something to even get out the door to do it. We would rarely go out and do things on our own. We were always The Dixie Chicks. So when Natalie didn't want to work we were at home and bored and wondering what we wanted to do. And what if she never wanted to go back to work? What am I qualified to do? I didn't finish college [ Laughs].
I was at that whole point in life, I was turning 40, and thinking, 'If you feel inspired, don't let it pass you by. Find something to do. It doesn't have to be the thing you were doing before. It doesn't have to be the same level of success. It's okay. I think so many artists fall into that trap, too. If they've had some success, they think, 'Oh, I can't do anything that doesn't equal or surpass what I've done before.' I think that's nonsense. You've got to be comfortable enough in yourself, in your skin, to go and take a chance. And when you have had success, it's even harder to do that. I guess your ego tries to go against that [Laughs].
PCC:
But when you did have this time away from performing, was there any sense of being lost? Was there a void there? Or did life seem complete without it?
MARTIE MAGUIRE:
Emily and I definitely were raised differently than Natalie. We were raised, you practice every day and you try to create every day. And even if you don't get anything that's a keeper, you go through the exercise and that's really embracing whatever art form you're taking. My mother was a teacher. My father was a teacher. So it was 'Practice, practice, practice.' And you're not going to be successful every day, but at least you're honing that skill and going through the motions and you will find the love of that.
I remember practicing and hating it and I remember my mother said, 'One day, you'll find the love in it. You just have to do your craft every day and it will come to you.' And I think I do love it. And I missed it. I got to that point where, I loved it so much, when it wasn't there every day, I felt an emptiness.
PCC:
The Dixie Chicks were so under the magnifying glass, being placed into political and social contexts, instead of just musical ones, was it a relief to be away from that for a while?
MARTIE MAGUIRE:
Yeah. I think for sure. And especially for Natalie. She wanted anything but the spotlight. Even when we would get together for Christmas and New Year's and different things, because our families are kind of intertwined, now that I married her sister's husband's brother, we'd be together and all I'd want to do is jam. Yeah, bring your guitar! Joe Ely would come over and bring his guitar. Bob Schneider would come over and bring his guitar. My house was just a big jam headquarters [Laughs].
We're having a jam. And Natalie would just stay so far away. She would find something else to do at the party, so that she wouldn't have to jam or sing. And I think that's the difference between how the controversy affected us, individually and how we are as people. So I think it hit or pretty hard. And she wanted to do anything, but be in the spotlight and be under scrutiny. And she's really been able to disappear and I'm so grateful for that, because I think she's needed that.
PCC:
You mentioned turning 40. I understand you went to see Cher in Vegas for your 40th birthday and there was a conversation that had an impact on you?
MARTIE MAGUIRE:
[Laughs] Yeah. Well, I've always loved her. I love her so much and her music and who she is and how she's been able to do so many different things. So that's what I wanted for my 40th birthday was to go see her. And, of course, CAA is our agent, and they got us back to meet her. And I was very melancholy that day. Her show was really inspiring. But I was very melancholy with turning 40. And she said, 'Who's turning 40?' I said, 'Me.' And I kind of looked down. And she said, 'Come here, I've got to tell you something.'
And she took me back in the hallway, outside her dressing room, and told me about how 40 was the best year of her life. She felt she had like feeling that this was going to be the best year of my life. She was just this, girl-to-girl, woman-to-woman, 'I know what you're going through and I just feel like you're going to get through it.' Really neat moment for me.
PCC:
You must hear from women who tell you that you've inspired them and made them feel empowered.
MARTIE MAGUIRE:
We do hear that sometimes. And that feels really great. And being out of the music circles for a while, I'd forgotten what that feels like, when someone comes up and says, 'You know, I picked up the fiddle, because of you' or 'I sing 'Wide Open Spaces' all the time.' I'd forgotten what that was like. And when Emily and I started going back out again and playing little clubs and showcases, it really touched me more than I realized. It was more emotional, having just that one person. And usually it's a woman or a girl, who just says, 'I'm coming to all of your concerts this summer. I just love you guys!' And I just thought, 'Wow, that feeling is still there.'
And I remember that feeling from going to hear artists. I was lucky enough to have my parents take us to hear live music all the time. And I remember thinking, 'What am I going to say, if I ever meet so-and-so? How am I going to get across how much they've meant to me?' All that just sticks with you.
PCC:
Anyone in particular that made that kind of impact on you?
MARTIE MAGUIRE:
Oh, I think when I met Dolly Parton. I didn't even know what to say [Laughs]. You just feel like you're going to laugh and scream and cry and giggle all at the same time. Emmylou Harris, same way. Gosh, even Alison Krauss, who's probably younger than me. I felt that way meeting her.
PCC:
And for you, up to this point, what have been the greatest rewards from music?
MARTIE MAGUIRE:
The greatest reward, I think, has just been getting to do it for so long and not having to have a day job. I remember being in college and playing in bands and feeling like I had to wait tables, study and gig. And that was so much. There was always a ball being dropped [Laughs]. And I look at other bands, in this climate right now, with touring the way it is and record sales, downloads, the record companies, just everything, I haven't decided whether it's super-hard to be a band in this climate, a new band. Or if it's easy, in a way, because there's so much access to people, listeners, with the internet, YouTube. And you almost don't need a record label anymore. So I'm kind of on the fence about that. But I just feel lucky, in general, that I've gotten to do the love of my life, my whole life so far.
PCC:
The Grammy win in 2007, was that an important form of validation for you? Or was there still a sense of some alienation and resentment from some quarters?
MARTIE MAGUIRE:
I still feel a little bit of alienation. It's a really uncomfortable spot. You walk into a room and it depends who's in the room, whether you feel really loved or really hated [Laughs]. And my whole life, I'm a very passionate person, and I've just always kind of wanted to be good with everybody. Like I've never wanted to owe anybody any money or have anybody think I was rude. I kind of like that balance of everybody's happy, kind of thing.
So that's a little strange, when you don't know who is looking at you, thinking, 'Wow, they were so brave; and who's thinking, 'Wow, they have big mouths and they're so irresponsible.' And now that I'm older, I don't really care or think about it. But that night, a lot of people were asking, 'Do you feel vindicated?' And I felt like that was such a strong, negative word. We didn't feel anything like that.
I think we just felt supported, in a way, like maybe we wouldn't have won all those awards without what has happened to us. So, in a way, it was so much bigger than the music, for us. And that was fine. I do think something like the Grammys needs to be all about the music, but there are times, in those situations, I think, where public opinion and somebody really rooting for the underdog seems to win over a lot of other factors. And, for us, that was perfect timing.
PCC:
Do you think this extended hiatus from The Dixie Chicks will help the band in the long run, making it all fresh again, when you get back into it?
MARTIE MAGUIRE:
I don't think we knew what we wanted to sing about. And I still don't feel like we know what we want to sing about. That was a pretty cathartic record, a pretty heavy record. When the band goes through something like that, it's really hard to figure out what's next. We try to write our own stuff. We didn't always do that. As the band progressed, we felt it was important. And you can't really go back. Once you start singing about your personal experiences, it's hard to go back and take outside songs or just sing about something that doesn't mean something to you.
So until we're all in that place where we know what to sing about, I don't think anybody's going to hear any music. And that's a bummer on a lot of levels, but it's the way we've done it and it's the only way we can see doing it.
PCC:
It's the passion that really connects with people.
MARTIE MAGUIRE:
Yeah... and we probably won't have that much passion again. That was a huge deal that I hope we'll never have to go through again. But it sure makes for some good, powerful music.
And that's why I was touched by Emily's songwriting. I knew what she was going through on a personal level with her husband her breakup. And sometimes she would send me these songs and I would just sob. One, she's my sister and two, I'd been through a divorce. And three, I could just hear the pain in what she was writing. I react to other artists, when they're singing about something real. Sometimes it can be a happy subject, like love. I love a great love song. But I definitely was drawn to Emily's songs, because I knew what she was going through.
PCC:
Fans must feel like they know you and relate to you, because of the music. But you also must have reached a lot of women by talking about IVF, making those with similar issues feel less alone.
MARTIE MAGUIRE:
We did. And I didn't want it to be a secret. When you're going through it, you feel like, 'Oh, I don't want everybody to know.' You feel like less of a woman. Your husband feels like less of a man. It's very stressful.
And then I thought, I really do want to connect to people, and also want the message to be out there, that you can't just wait and can't just think, 'This is a given.' Because I really thought it was a given. So I want woman to be proactive and think, 'You know what? I should probably start thinking about having kids earlier. I should think about what's in my environment and what I'm putting in my body.' I don't know what different choices I would have made. But I do think it's an important issue to talk about.
PCC:
You just did a few dates with The Eagles and Keith Urban, your first Dixie Chicks shows in four years. Is the thrill you get from harmonizing together as strong as ever?
MARTIE MAGUIRE:
Oh, yeah. We just had so much fun. And I'm hoping it's going to make Natalie want to do more shows, because she seemed so happy and I was happy and Emily was so happy. I think the Court Yard Hounds project has taken a lot of pressure off of Natalie. She knows we're out there giving and working and having a great time. She asks us a lot of questions, like 'Oh, what was Telluride like?'
There's a lot about the past that we miss, the good old days. And I know she's not quite ready to take that step and go on the road full time, but we had a great time. The chemistry was definitely back.
PCC:
Are there goals left to be fulfilled?
MARTIE MAGUIRE:
We never kind of look for the next goal to achieve. When you do get to that next thing, it's all exciting and everything, but... not really. We've always said we want longevity. We wanted to be relevant and be able to shift and move and change and reinvent ourselves, like some of those artists that I talked about. Even Cher. She kept reinventing herself, instead of just pushing home the same old thing, where the audience doesn't relate to you anymore.
And the same thing for my children. I want to stay current in music, not maybe the music that I'm making, but just knowing about what's out there, so I can relate to my kids, as they get older.
PCC:
Are the two older daughters starting to show an inclination towards music yet?
MARTIE MAGUIRE:
Yeah. And I'm kind of on the fence about whether to push them or not. They go to a school called Waldorf School and they really resist any kind of formal musical training until they're a little older. There's a whole reasoning behind it. So I understand that reasoning, but I also see them pretty excited and inspired about music. I think I want to develop their ear for music first and then let the technical aspects of music come later. I know a lot of people think the opposite, start them with traditional piano, learning to read music. I don't know, I just don't want to kill that natural interest and imagination and ear for music.
They come down to my studio a lot and play with different instruments and they love their Aunt Emily and Emily got them banjos for their birthday in April. So the banjos are still in the box. I'm looking for a banjo teacher, which is a hard find [Laughs].
PCC:
Are they trying to harmonize yet?
MARTIE MAGUIRE:
Yeah, they harmonize. We harmonize together. We do sing a lot. One of the twins, especially, can pick up the high harmony really easily. She'll just follow any melody. And she's only six. I think she's showing a lot of talent at a young age.
PCC:
It must be hard for you to even imagine life without music.
MARTIE MAGUIRE:
I know, I know. I want them to love it. It's a huge part of our family. And then, I just think it seeps in and they want to do it. I was forced a little too hard, I think. I went through a long period of time where I resisted it. So I'm trying to find that balance.
PCC:
What about the challenges of a career in music? Have there been drawbacks? Or do you just see it all in a positive light?
MARTIE MAGUIRE:
I think it's hardest now that I have kids. And it's the balance of trying to do everything well. But I don't feel like that's unique to me. I don't think that's unique to any career, woman or man.
So I don't know if there are any drawbacks. I don't even mind the lack of privacy. I feel like we've all three been able to decide to be private and therefore we are private. I live in Austin. And people who come to visit me, they're friends that think like I'm recognized everywhere. They're like, 'Wow, nobody even looks at you twice!' [Laughs]. I'm like, 'I know, I'm not hassled at all.' Sometimes even the three of us are together and we just move very seamlessly from place to place, restaurant to restaurant.
I see these artists, these actors and different people, in the magazines all the time. And you've just got to think, 'Are you putting yourself in that position all the time?' I don't know. I feel sorry for them, too, because I know the paparazzi hounds people. But I feel very fortunate that that does not bother me. It's never been a negative.
You know, during the controversy, it was hard to be so scrutinized. But I have a pretty thick skin in that way. It's hard when you have kids, trying to balance everything and take them on the road. And what happens now, they're in first grade. Are they going to want to come on the road with me? Am I going to have to go days and days without seeing them? That's tough.
"But it's been a great career. I would want it for my girls, for sure."