CRAIG FERGUSON: LATE LATE BLOOMER



by Paul Freeman [2008 Interview]

ďThe Late, Late ShowĒ host Craig Ferguson is a natural as a chat show presenter. The inspired wit displays Johnny Carsonís sophistication, Jack Paarís emotional honesty, Merv Griffinís enjoyment of people, Steve Allenís zaniness and Grouchoís ability to embrace both the high and low brow. He has reinvigorated the late night TV scene.

But talk show host wasnít exactly Fergusonís lifelong ambition. The Glasgow native has been a punk rocker, stand-up comic, actor, director, screenwriter and novelist.

A supporting player for years on ďThe Drew Carey Show,Ē Ferguson scored strongly as a guest on various talk shows, but never imagined himself behind the hostís desk. After a parade of entertainers engaged in on-air auditions, he landed the gig as Craig Kilbornís successor on ďThe Late, Late ShowĒ in 2005.

ďI wasnít interested in it all until I did it,Ē Ferguson said prior to a San Francisco stand-up gig. ďTalk shows were just something you did when you had a movie or something to plug. But when I did it, I just kind of fell in love with it right away. It got me early. I fell in love with it before it fell in love with me, I think,Ē he laughs. ďIt took a while for it to settle. It was a couple of months before we started really flying, I think.Ē

His boss David Letterman and Regis Philbin were helpful at the outset. But the greatest sage turned out to be none other than Howard Stern. ďHe gave me a very pertinent piece of advice - you have to, as soon as you can, make it your own. You cannot listen to what anyone else is telling you about what you should or shouldnít do.

ďThat actually turned out to be the clearest and most positive advice I got. He was right. You just have to throw out all preconceived notions about it and just own it. Own your mistakes. Own your imperfections. And do it your way.Ē

Ferguson loves the spontaneity of the format. ďYou have an idea in the morning, itís done and on TV by the evening and you donít have to talk to 25 development executives about - does the guy have a dog or a girlfriend? You just do it and itís done.Ē

His interviews are delightfully unpredictable. He doesnít let guests get away with their usual canned hype.

Like Steve Allen, Ferguson welcomes regulars, ďa loose repertory company,Ē as he calls them. Frequent visitors include Henry Winkler, Betty White, Dave Foley and Tim Meadows. They offer comic commentaries, feigning expertise on a panorama of timely topics.

ďThatís been fairly organic. It tends to be people I have a good time with when they turn up. Like Henry Winkler turned up to do a bit and then he had such a good time, heís become a regular on the show. Dave Foley the same. Dominic Monaghan, as well.Ē

Ferguson plays a number of colorful characters, including Prince Charles, J.K, Rowling, Angela Lansburyís detective Jessica Fletcher, Bono, Sean Connery and Michael Caine. Caine enjoys Fergusonís caricature of him.

ďIt was a revelation to me that he saw it. He said to me, Iíd better be careful, because Conneryís sense of humor isnít as good as his. But itís very gratifying when people like that see it. You forget that super-famous people have TVs... but they do.Ē

Ferguson has toyed with the idea of portraying these characters in his stage shows. ďIím wondering if, at some point, I might do that. But that gets a little more involved, with people and costumes, traveling. And thatís a bit of a logistical nightmare. With stand-up, I just show up in town and do it. With the other stuff, it can get a little bit tricky.Ē

The opening monologue lasts about nine minutes. A lot of that is Ferguson winging it, sailing off on terrific tangents. ďThat makes it exciting for everybody, including the censors.Ē

In the beginning, he read one-liners, but soon transformed the monologue segment, utilizing his own unique madcap sense of irony. ďThat was part of the growing pains, I guess. You start doing it the way other people have done it and then you say, ĎWell, thatís enough.í Thatís really what happened. It wasnít that long, only a couple of months before the mold started to break for me. They used to be very long, though. I used to do like 15 minutes, which is too long.Ē

Much of it comes off the top of his head. ďSome nights, itís maybe only 50 percent or less, the amount of material thatís prepared before the cameras start. A lot of it is just made up. Some days, when Iím tired, then Iíve prepared most of it beforehand. It varies from night to night. But itís certainly all been that day and all been within the last couple of hours. And most nights, Iíd say 25 to 30 percent of it happens when it happens.Ē

On the road doing stand-up, he can perform a full set with no one looking over his shoulder.

ďThat helps a great deal, actually. Although sometimes itís fun to try and negotiate censorship,Ē says the master of the double entendre. ďIt can make you more inventive. But itís relaxing to go and do stand-up. Thereís a loose structure and I riff around various subjects. Itís not a new act every night... but itís not the same act every night either. Lines come and go, subjects come and go, but the shape tends to remain the same... until I throw all of it out and do a new one.

ďI do love doing it. There are certain parts of the world where I especially love doing it and San Franciscoís one of them. Itís easy to get to and itís fun and itís foggy all the time, so itís like Scotland. Iím looking forward to it.Ē

Though no censor monitors him on stage, Ferguson, wherever heís performing, sets some limits. He garnered much positive reaction when he announced on his show that he wasnít going to mock the head-shaving, rehabbing Britney Spears.

ďThat was sort of a sea change in my own professional life, when I thought, ĎYou know what? There is a line.í And itís a personal line for me. Iím not advocating censorship for any late night comedian.

ďMy favorite stand-up comedian working at the moment is a guy called Dave Attell. Dave is absolutely horrendous, but heís the guy who makes me laugh more than anybody else. He would show no mercy towards anyone. But I have stuff that I wonít do. Itís just not for me to do. I keep an eye on that.Ē

When Ferguson mocks public figures, itís good-naturedly, not out of cruelty. With Brittany Spearsí erratic behavior again in the headlines, Ferguson broached the subject. But he poked fun at Dr. Phil, who had intruded on the scene, rather than at Spears herself.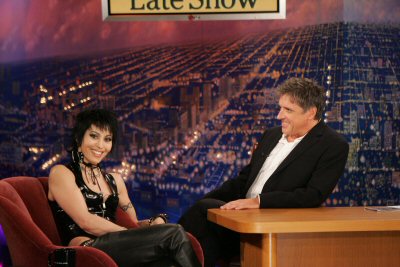 Craig Ferguson chats with Joan Jett on "The Late, Late Show."
ďIn that situation, the obvious target to me is Phil McGraw, partly because I know Phil can handle himself. Heís been on the show half a dozen times and if he doesnít like what I say, heíll call me up and tell me. Thatís a lot easier for me to deal with than picking on some bipolar, clearly unstable woman. Thatís just not right.Ē
Ferguson mines humor in his own personal travails, including divorce and overcoming alcoholism. But he doesnít find fun in the pain of others.
ďIím not going to be any part of that. Itís not from a pious standpoint, at least I hope itís not. Iíve been there. Iíve wrecked that train. And that just ainít fun. It might look fun to people or for people.
ďIt smacks of Bedlam to me - you know the English lunatic asylum? In the 1700ís, people would go and laugh at the lunatics, because they didnít know any better. Thatís what that shit looks like to me. Iím like, ĎOh, no, man, Iím not going to be a part of that. I canít be a part of that.Ē
He insists heís not anxious to be part of the movie world again [Though he voiced the character Gobber in 2010ís animated ďHow To Train Your DragonĒ]. Thatís a great loss for filmgoers. Ferguson wrote, produced and starred in ďThe Big TeaseĒ and ďSaving Grace.Ē He directed, wrote and starred in ďIíll Be There.Ē All three are very funny, charming, feel-good films.
ďIím not missing that. Movies are great to do, when you actually get to shooting them. But itís the five years of talking bullshit to utter morons who are trying to get the Afghani television rights or the Canadian internet rights sorted out so you can raise enough money to shoot the damn thing. I just couldnít take it anymore.Ē
Though he has set ratings records in his time slot and earned an Emmy nomination, Ferguson doesnít foresee the sort of decades-long run that Letterman and Carson managed.
ďI canít see doing anything for that amount of time. Iíll do it for a while. I like doing this. Iíve always said, when it stops being fun, Iíll quit. Itís not fun every day - no job is. But when it consistently stops being fun, Iíll quit and figure out whatís next at that point.
ďI feel my trump card in this late night game is that I didnít start doing it until I was 42. I made a living before that and Iíll make a living after it. Iíll do it for as long as I feel that I can contribute something and that Iím doing something that I love doing. But Iím not just going to show up just to show up... because thereís other things to do.Ē