THE CRYSTAL METHOD: MULTIFACETED ELECTRONIC SOUNDS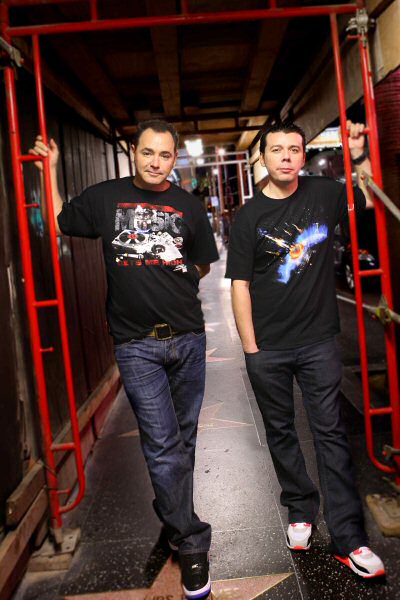 The Crystal Method, left, Ken Jordan, right Scott Kirkland
Photo by Maura Lanahan
By Paul Freeman [May 2012 Interview]
Pioneering electronic music duo The Crystal Method, Scott Kirkland and Ken Jordan, began DJing in their hometown, Las Vegas. Jordan relocated to Los Angeles to work as a recording engineer and Kirkland soon followed. In 1993, they formed The Crystal Method. Their best-selling album "Vegas," earned platinum status. Their music has been used in games, movies, commercials and TV, most prominently in the series "Bones."
The duo has collaborated with diverse artists, including New Order's Peter Hook, Matisyahu, Metric's Emily Haines, Scott Weiland, Filter's Richard Patrick, and, most recently, Motown legend Martha Reeves, for the "Re: Generation" music project documentary.
Kirkland, who's married with two young children, is eager to explore new musical territory. He put the music momentarily on pause to talk with Pop Culture Classics, prior to Memorial Day weekend "I Love This City" festivals in Northern and Southern California, where they would help transform amphitheatres into the world's biggest nightclubs.
POP CULTURE CLASSICS:
What are the challenges of playing the festivals?
SCOTT
KIRKLAND:

Well, There's lots of drawbacks, dealing with limited production time, as far as set-up, and there's lots of chaos, and lots of competition, you've got two or three or four stages going at the same time. But San Diego and San Francisco are two cities that we love to play. And we had a great time up at Shoreline this past summer. We were on the Identity Festival. And we've played that venue at different radio shows. And San Francisco is one of the most beautiful cities and one of our favorite places to play. Lot of big fans up there. So everything is pointing towards an awesome night.
PCC:
With so many artists on board in those situations, is it mainly camaraderie or is there a sense of wanting to top one another?
KIRKLAND:
I think you want to raise your game, because you're around all these talented artists and DJs. But what is cool is that there is a lot of unity to it and an appreciation for the fans, which is what we're all there for. We all just want to see everybody have a great time and great shows. There's always a lot of great energy.
There's always prima donnas and situations where you don't necessarily make a connection, but usually there's so much going on, everybody ends up having a great time.
PCC:
Your sets, do they encompass the whole career now?
KIRKLAND:
"We always want to break down any perceived barriers between us and the crowd. Whether it's a DJ set or a larger, live show, whether it's a security wall, whether it's the amount of gear that we had on stage in front of us. We always like to set up where people could come up and see what the hell we were doing. And so the DJ environment makes that a little difficult. I would assume now that 75 percent of the people there don't give a shit what the hell we're doing. They're just hearing some great music and they're happy.
PCC:
All the success you've had with music for games, TV, commercials, films, was that something you aimed at consciously? Or did it just fall into place?
KIRKLAND:
Well, there's just something in our music that works well in those worlds. Not a lot of lyrics. Pretty dynamic and big, punchy tracks. So movie trailers, movies, video games, it did just seem to fall into place. But we definitely embraced that, especially after there weren't a lot of national radio opportunities for music that was slightly different from the normal Top 40 pop or urban flavors. There's no Radio 1 [BBC] here, a national station where a DJ can play something at club the night before and it can be heard by everybody. So we embraced those worlds, because it allowed our music to be out there.
Especially at the time we were part of when people were spending hundreds of thousands of dollars making a video that eventually would sit on a shelf and never be played like videos were when I was growing up. So when a movie company said they wanted to do a 45-second mini-trailer with our track in it, the best parts of the movie, and it's all going to be cut up to look cool. Yeah. Awesome [Laughs]
There were some things, like commercials, where we were very lucky to have some opportunities, going back to like '98, where we had like the Gap and some other like car commercials. When we were growing up, the commercials, in the '70s and '80s, were horrible, like the Calgon one, all these others. Sugar-coated, no soul, no edge to it. Everything was very insulated from anything resembling cool.
So when all the companies tried to start keeping up with the MTVs and hiring creative people, they started making commercials that were better, better-looking, more interesting, sometimes still horrible commercials, but there are a lot more opportunities, not only for electronic artists, like ourselves, but really great bands, where you go, 'Oh, what the hell is that track?' Apple's been doing it successfully with their campaigns and all the other big corporations have been licensing some great music. So I never felt that it was a sell-out. We made music for our album, it went out there and somebody just took it from there.
PCC:
Plus you get to reach segments of the population that might otherwise not hear your music.
KIRKLAND:
Yeah. I've never composed anything for a commercial. We've done specific things for like the TV show 'Bones' and some video games and stuff. But I'm not saying we would turn something like that down, if it was creatively inspiring or cool in any way.
We've been doing this for a little while. When our first single came out in '94, it was like, 'Wow! Three thousand people bought our 12-inch? That's f--ckin' awesome!' We were not motivated by making money, especially when you're putting out dance music in the mid-'90s, when basically, it was ridiculously out, at that point, in the States. But we just kept chugging along, doing what we do and things just fell into place around us and so we're just happy to still have a career and get to do what we do. So we try to have fun. Whether it's in a 200-capacity club in Birmingham or Mississippi or Vancouver or a festival at the Shoreline Amphitheatre, where 25,000 people are going to be there for one event, it's all based on people just checking their drama at the door and coming in and having a good time. And growing up in Vegas, like we did, we weren't exposed to a lot of that. You'd go to a bar and bump into some jock on accident and he'd want to fight you. [Laughs] None of that stuff has been a part of the scene. I think that's really a positive thing.
PCC:
Meeting while working at a grocery store in Vegas and starting to DJ, was it just a fun thing? Or did you dream about making a career out of this?
KIRKLAND:
When we started, Ken was working with a singer and I came in with a couple tracks after we met at the grocery store. And that singer didn't pan out. So Ken came to L.A. to work with a record producer, as like a second engineer. I would come out and we were always thinking we were going to be producers. We had an appreciation for producers like Rick Rubin, Shep Pittibone, Arthur Baker, Daniel Lanois, just all these great producers. That's where we thought we were going. That was the idea. We would maybe do some remixes, produce some artists and hopefully, build our career like that.
And then we started really getting into this great scene of the late '80s and early '90s in L.A. We'd go out and come back to our studio and we started getting tired of working with shitty rappers and singers [chuckles]. So we thought, 'Wouldn't it be great, if we didn't have to worry about working with a vocalist, didn't have to worry about a bunch of other bandmates?' We had a difficult enough time, getting along, the two of us. We were great friends, but there was lots of tension, just because we were working so hard on many things at once. So it was like, 'This is cool. Let's follow this.' So that's basically how that happened.
PCC:
Where did the fascination with electronic music begin for you?
KIRKLAND:
When I was growing up, my Dad would always play great rock bands, like Emerson Lake & Palmer, he had all the 'Switched On Bach, he had all the weird, alternative rock albums of the time. And he'd play them and they'd have these big, monster synths. And I always had an appreciation for that sound. Then I loved the different strings and the scores from different movies. So I understood all of that side of it. And then I was into heavy metal and rock. And then I listened to Depeche Mode's 'Black Celebration' one day. And that was it for me. I was blown away by the depth and just the sort of size of the sounds that were coming out. They weren't small, little trinkety synth sounds like some of the other stuff. This was roomy and massive. And it sounded like all of my favorite big, heavy metal things that I liked. So then I just delved into that a lot more and that led us through New Order and then house music from Chicago and then there were great DJs like Frankie Bones and MIchael Cook. Some of the events going on in L.A. were just ridiculously cool. Moby's great track 'Go,' was a ground-breaking record. The early Chem stuff, 808 State, LMFAO, Orbital, all led us to where we are today.
PCC:
And finding your own niche, your own style, was that a conscious pursuit? Or just a natural evolution?
KIRKLAND:
We'd get frustrated when we'd go out to a club and, for many reasons, the club was great sound, crazy lights, and then you'd hear a track and the track would just be going off. And you'd f--king love that track. Then you'd go down to the store and go to buy the same track and you'd go, 'What?!' The track would go from a seven-minute track, when the DJ played it, to a two-and-a-half minute track. Growing up in the rock world, songs were three-and-a-half, four minutes long. Maybe you'd have some prog rock extensions and things. But they had a pace and structure. And that's one thing that we wanted to try to build in, even if we didn't have a typical verse, chorus, vocal lead, we would try to create that with melody and the synths and stuff. And also it was loving distortion and that gritty funk and swing. Our sound was always based on big, live, organic drums and distortion and synths and stuff. So from then on, it just developed and we found our way.
PCC:
All the collaborations, does that keep it exciting, to work with so many different artists, like Martha Reeves?
KIRKLAND:
We've done so many things that are sort of out of our comfort zone, whether it be playing shows, festivals with all rock bands when we were breaking through in radio, the early years in Vegas. And having the chance to work with people that we've never thought we would work with in a million years. I mean, Martha Reeves was definitely not on our radar [chuckles]. I love her catalogue. 'Nowhere To Run' is, I think, one of the greatest tracks of that whole run of amazing music on Motown.
But we have this sort of, 'Well, let's just do it. We'll just get in there and make it work.' We love Stevie Wonder. We love all that Stax, Memphis, gritty funk. I personally have spent a great deal of time, investing in all the old CDs and vinyl to get at the hidden gems. So it was an effort to create a track that sounded like it could be a cover, but was something that we configured.
The great thing about that track, 'I'm Not Leaving,' we brought the background singers in and we had worked with a few of them before, on the album 'Tweekend.' They came in and Louis, the gentleman who sings the main section in the drop from the build, we talked to him. He's been singing in the business for a long time. He knows Martha. He has sung with The Temptations. He's a really great talent. After listening to the song a couple of times, he said, 'Man, I'm trying to remember, who did that song originally?' He actually thought it was a cover. And we said, 'No, no, we wrote this song.' '"What?!' So that was a really great moment for us. Someone from that world thought that we had done something of that world. So that was cool.
PCC:
After all these years, do the inspirations come as readily? Do the possibilities seem as infinite?
KIRKLAND:
You know, I wish I could be as open to all that as I want to be. Sometimes, when you get locked into your own world for a while, or you have kids and all these other distractions, you forget to grow a little bit. I think the great thing about somebody like Dave Grohl and Jack White and all these guys, they're not just staying in their band and staying in their world. They go out and they do other things. They work with other artists.
We've done a lot of that with the collaborations, but I'd like to do a little bit more of that getting outside of what we normally do, because that's part of growing as an artist. I still don't know anything, really, about what I'm supposed to be doing or what I could be doing. We have some stuff here in the studio and we do what we do. But there's always a different way. Someone could come in and suggest something. Or we could learn from being around people who are open or by being open ourselves. It's something that I need to do a little bit more, so we've been talking about different collaborations and doing an outside project, Ken and I working with a couple of other people and doing an album. So hopefully we'll do that. We've got out own studio here in California, L.A. area and I have the foundation, so we'd like to get out there and mix it up with the youngsters. So we're having a good time and just looking forward to the next couple of years.
PCC:
At this point in your career, what are the biggest challenges and the biggest rewards?
KIRKLAND:
The most challenging, I think would be getting out of the comfort zone and doing things that... they're maybe not a challenge when you actually do it. They challenge is doing it, making the effort, if it's not right in front of you, to make it happen. So that's a great part of playing all these festivals - you get a chance to meet a lot of people and hopefully get a chance to expand our minds a little bit, to get beyond what we're used to doing in the studio.
The most rewarding is having someone tell you that your song or your track or your album or your performance was something that they were inspired by."
For all the latest on The Crystal Method, visit thecrystalmethod.com.