DANIEL SILVA: FROM CNN TO THRILLER NOVELS PCC Talks With The Bestselling Author of the Gabriel Allon Spy Novel Series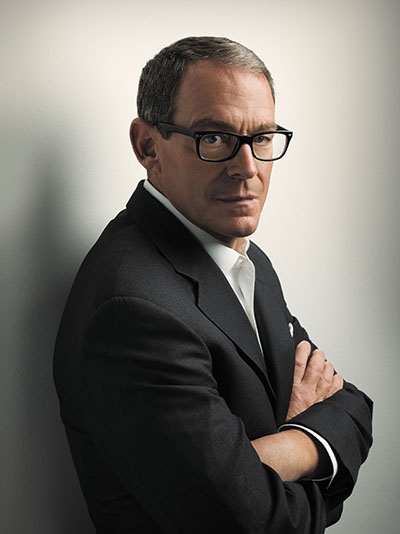 Author Daniel Silva; photo by Marco Grob
By Paul Freeman [June 2017 Interview]
"House of Spies" is author Daniel Silva's 17th novel to feature Israeli art restorer/spy/assassin Gabriel Allon. That's 16 more than Silva expected to write for this complex and compelling protagonist.
"House of Spies" sends Allon and his associates in Israeli intelligence and Britain's MI6 on a hunt for the mysterious ISIS mastermind known as Saladin.
Silva often seems prescient in his writing. He envisioned ISIS attacks taking place in Europe and the U.K. before they actually happened. The U.K. is the primary setting for "House of Spies."
Silva toiled in the Middle East as a foreign correspondent for United Press International, before working for CNN. At that news network, he served as executive producer of its talk show unit, producing such programs as "Crossfire," "Capitol Gang" and "Reliable Sources."
He left all that behind, when he made his 1997 debut as a novelist with the riveting "The Unlikely Spy." Since then, all of his books have been New York Times and international bestsellers. They have been translated into more than 30 languages and published around the world.
Born in Michigan and raised in Merced, California, Silva now lives in Florida with his wife, CNN special correspondent Jamie Gangel. They met when they were both covering the Iran-Iraq war. They have grown twins - son and daughter - who recently graduated from university.
MGM Television, with Silva's participation, is creating a series featuring Gabriel Allon. This secret agent could become a household name. The fan base for the convincing, complicated character - already huge - is about to explode.
POP CULTURE CLASSICS:
Beyond entertaining the readers, what do you hope they take away from the book?
DANIEL SILVA:
I by and large deal with real world issues. Most of us who write in - I'm not really comfortable with the term, but - spy thriller genre, we're dealing with the world as it is. This book is part of a two-book mini-cycle, twin works dealing with the rise and - I hope - the fall of ISIS. And I want people to take away the importance of getting rid of ISIS as quickly as possible, which is something I believe we need to do. That would be the underlying message of the book.
PCC:
As we feel helpless, powerless, in the face of the ISIS threat, do you think there's comfort to be had in readers experiencing even fictional characters making a dent in the terrorists' armor?
SILVA:
That's a really good point, That is one of the reasons why people like this kind of book. They feel frustration and they'd like to do what my character and the characters around him do. I wrote a book last year called "The Black Widow" and it predicted that ISIS was going to carry out attacks in Europe. It was really after the attacks in Paris and Brussels that the West really got serious and started ramping up the fight against ISIS. I hope that we're not, as you put it, totally powerless in the face of ISIS. But look, the British sure feel that way right now in their inability to prevent these attacks.
PCC:
So how important is it to you that you remain well versed in all relevant areas, so you can anticipate where the world events might be going?
SILVA:
You know what? I take it very seriously and I devote a lot of time and effort into following these issues and talking to people. One of the reasons that I picked the United Kingdom as the backdrop for this novel, I was convinced an attack was coming there, that ISIS had quite literally painted a bullseye on the United Kingdom. Yes, it was happy to strike in France and Belgium and Germany, but it really, really wanted to attack the United Kingdom. It put a lot of time and effort into doing that. The British were able to foil about 13 plots. And their luck ran out, unfortunately.
PCC:
Why was the U.K. such an inviting target?
SILVA:
Because the United Kingdom had been involved in the anti-ISIS coalition from the beginning. The United Kingdom is one of the two great targets in the mind of the global Jihadist movement. The United States obviously being target number one. ISIS definitely wanted to stake its claim to the United Kingdom. There's just no question about that.
PCC:
Over the years, you must feel as if you've gotten to know Gabriel as you might a close friend.
SILVA:
As I say to my wife, I spend more time in his world that I do this world. I'm working eight to 10 hours a day. And even when I'm not working, the book that I'm writing is running through my subconscious. So yeah, I definitely have gotten to know him quite well over the years.
PCC:
It must be enjoyable, in the series format, to be able to flesh out some of the supporting characters.
SILVA:
Yeah. I think that they are incredibly important to the series. Gabriel has two very distinct halves - art restorer and professional intelligence officer. He moves through very different worlds. These are not traditional spy stories. So I really, along the way, collected quite an eclectic assortment of characters. I've got about five or six characters within the series thaI I feel like I could pluck out of the series and write books where they are the hero or the heroine. And I think that that is really the strength, that he does have a wonderful and divergent supporting cast.
PCC:
Making your protagonist an art restorer, had you always been fascinated by that sort of work?
SILVA:
It was really, I must say, a bolt from the blue, one of those wonderful, serendipitous things that happen, where I was doing the original character sketches for Gabriel and my wife and I were taking a walk along a Georgetown street and my wife said to me, "Don't forget we have dinner with David tonight." I stopped in my tracks and said, "That's it! Gabriel Allon is an art restorer."
Now who is David? He is David Bull. He is a dear friend of mine who really is one of the world's finest art restorers. I went this dinner party that night and pulled David aside and said, "Listen, David, I've got this crazy idea - I want to turn this Israeli assassin into an Italian art restorer. Will you help me?" He said, "Yes, of course."
The very next day I went into the conservation lab at the National Gallery of Art in Washington and saw all these people working on these paintings - Titian, Monet, Rembrandt. And I just became absolutely fascinated with the craft of restoration. And really the more I studied the craft of restoration, it seemed like it had lots of things in common with the craft of assassination. And then I actually structured my first Gabriel Allon book, which was an assassination story, as if it were a restoration. And it's been quite a journey. And I wish I could say I planned it from the beginning. But it did come to me in sort of a bolt out of the blue.
PCC:
So the similarity between the two, is it in terms of attention to detail, the methodical nature?
SILVA:
The detail. The way you approach the target. The one thing I learned from my friend and advisor David Bull is the amount of research that is done before you ever touch a painting. And then the amount of observations and surveillance, we'll call it [chuckles] on the painting, before touching the painting. And if you look at my first Gabriel Allon book, you'll see that I took the phases of restoration and applied those phases to an assassination operation.
PCC:
Making the hero Israel does that become even more important, in a time when we're seeing another resurgence of anti-Semitism and anti-Israel rhetoric?
SILVA:
The thing that I should say from the beginning is that he was never supposed to be a continuing character. He was supposed to appear in one book and one book only. And I actually had to be talked into even writing a second book, because I just didn't think the marketplace would accept an Israeli as a leading man, a continuing hero. I thought there was too much anti-Israeli sentiment in the world and, frankly, too much anti-Semitism for it to ever work in a truly mass market way.
And so I think it's fair to say that no one's more surprised by the fact that Gabriel Allon is a number one New York Times bestseller than the person who created him, because I definitely did not think that it would work and he was only supposed to appear in one book.
PCC:
But is it that much more satisfying, knowing that it is running counter to that sentiment?
SILVA:
I don't know if satisfying is the right word. But I think it speaks to the quality of the character and the stories and the writing themselves, because, look, there are some headwinds out there. I think it's fair to say that there's a large percentage of readers, many overseas, but in this country as well, who will not pick up a book that has an Israeli character in it. And that's just something that I have to deal with.
PCC:
So what do you think are the characteristics Gabriel embodies that have brought readers back through 17 novels? What resonates most with them?
SILVA:
I think it is his humanity really. I think it is the fact that there are two distinct sides to his character, the fact that I write espionage stories in a way that makes them appeal to people who might not necessarily pick up an espionage novel, that I spend a lot of time just in the personal, the interior lives of these characters. And they're universal. There are wives and children and loved ones. And the journey that he's taken. His own personal restoration, has been a very compelling one.
When I first created this guy, he was a morose, grieving character, a hermit-like character, a recluse living at the end of the world, basically, in Cornwall, England. And readers have gone on a remarkable journey with him. He has repaired and restored himself to the best of his ability and is now the chief of the Israeli secret intelligence service. And people ask me all the time - "Well, did you plan it like this from the beginning?" No, quite obviously, I did not.
PCC:
Giving him that promotion, did that present new opportunities, new challenges?
SILVA:
You know what? I think he's sort of been in this role for three or four books now, where he's been on the verge. And I very carefully created a scenario by which he was going to be, as I refer to him, an operational chief. And so, yes, he's the chief, but by and large, it's going to feel like exactly the same character he's been for the last three or four books. And that is a guy who's working on a single case.
He's got a trusted assistant director, basically, who keeps the home fires burning while he's away. I had reached the point where he had to become the chief, but I didn't want the series to change too much, so I arranged the pieces in such a way that I can make the books feel pretty much the same way.
PCC:
Allon's personal connections to the Holocaust, does that color his approach to his work in intelligence?
SILVA:
Absolutely. And that is drawn from real life. This country and this intelligence service emerged from the ashes of the Holocaust. The previous director of the Mossad, Meir Dagan, on the wall in his office, kept a photograph of I believe it was his uncle in the instant before he was shot in the Holocaust. And operatives who were getting ready to depart for missions would come in and he would make them look at the photograph. And the point was - this is why we do what we do. This is the world in which we live. Now go out and do your job.
And the experience with the Holocaust is a constant reminder to the Mossad - I never call my service the Mossad. But it's there in the background. And I think this is one of the reasons the series is so successful - this is deadly business for the Israelis. They are on a thin line there in the Middle East. They have enemies all around them. And the stakes are very, very high. And it comes across in the novels. It makes them burn, I think, a little hotter.
PCC:
When you began the series, what was the process of uncovering as many useful details as possible about Israeli intelligence and then MI6, as well? They're such secretive organizations.
SILVA:
I do a tremendous amount of book research. I talk to people in the business, I will say. I talk to journalists who cover people in the business. I get information in lots of different ways. And, that said, I never go to them and say, "Well, how would you do this?" I have a sense of the basic ground rules of how they operate. And I like to devise my own operations. It's fun to be an operational planner. So I do as much research as I can. But I always leave myself plenty of freedom and give myself plenty of license to do what I need to do to make my stories as compelling, as readable, as entertaining as possible.
PCC:
Now when you read about global events, do you tend to see them from the perspective of a member of the intelligence community?
SILVA:
Oh, absolutely. I'm not a black helicopters guy, but I do believe that about 40 percent of history is classified top-secret and that intelligence services and spies do play a tremendous role in shaping world events. But I also have this affliction where I literally cannot read the newspaper in the morning - I'm a New York Times iPad reader - without emailing or saving these stories and saying, "That's a novel!" I just can't read the paper without sort of seeing through the story, what might be happening behind the scenes and then automatically starting to think about writing a book about it. I have more ideas for stories than I'll ever be able to write, I think.
PCC:
Did you grow up reading the genre novels?
SILVA:
You know, I really did. I'm a pretty serious reader. Most of my reading is literary fiction. But I love, love, love thrillers. And I grew up reading adventure stories and thrillers. As a Californian, I read my Jack London stories in school. And Steinbeck, as well. And it's really had a profound influence on me. And I think that my books are sort of a blend of literary and thriller. I think that I write my thrillers a little bit differently.
PCC:
While you were in Middle East as a journalist, were you already toying with the idea of turning these settings and situations into fictional form at some point?
SILVA:
I became a journalist, so I could become a novelist. I mean, if you look at whether it's Graham Greene or Hemingway, there's a long tradition of journalists becoming novelists. And it seemed to me to be the best way to do it. And I became foreign correspondent and then I became a novelist.
PCC:
So once the first novel was published and was well received, was it an easy decision to leave CNN?
SILVA:
[Laughs] It was. But I tell you, it was a pretty hard adjustment to go from that really crazy newsroom atmosphere to silence [laughs]. But the flip side was that I had young children. I was able to spend a lot of time with them, pick my kids up from school. From preschool to high school, I picked them up every day at school. So I was very, very fortunate in that way.
PCC:
Your wife, having the same sort of journalistic background as you, does she serve as a sounding board?
SILVA:
Absolutely. She is my partner in this endeavor. She's my editor. She's really just an invaluable part of what I do.
PCC:
At this point, does it look like a film or TV adaptation of Gabriel Allon is imminent?
SILVA:
It's soon to be coming to a television screen near you. I just signed a big deal with MGM Television to turn it into series. So we've gone to work on that. But I debated a long time whether to do it or not to do it, whether I should leave him on the page. And then when the television landscape changed with Amazon and Netflix and Hulu all starting up, it really seemed to me that he was just tailor-made for that format, given the amount of material that I've written and the amount of story and backstory that's there. And the situation that happened after the last book - I had numerous offers to do it and looked them all over very carefully and settled on MGM Television.
PCC:
Will you have creative involvement? It seems like it would be difficult to let go of a character you've nurtured for so many years.
SILVA:
I definitely have creative involvement. I have encouraged them though, to make real adaptations, to make sure that it is, first and foremost, a compelling television program, that it fits in the mode that we are used to watching now.
PCC:
Having such a successful series, is there any downside, in terms of perhaps feeling confined by it?
SILVA:
You know, I don't know if that's a downside. But does everyone who writes a long-running series feel like they would want to write something else? I'm sure that's the case. There are some writers who say they would not like to write anything else. I certainly do. I certainly will. At this point, I've written more Gabriel Allon novels than Fleming ever wrote Bond novels or Tom Clancy ever wrote Jack Ryan novels. Seventeen is a big number. So I will write something else at some point. And I think I'm at the halfway point of my career. So it's a question of when and under what circumstances. Now that I've got a television show about to come on the air, there's going to be even more pressure to keep it going. But these are good problems to have, right?
PCC:
Over the course of this journey, what has been the most rewarding aspect of life as a novelist?
SILVA:
Well, I guess that I was able to do exactly what I wanted to do. I never lose sight of that, because I come across people in life all the time who aren't doing what they want to do. And aren't necessarily fulfilled by their work. And I'm talking about people in business or Wall Street or whatever, who make a very, very good living, but wish that they had pursued what they really wanted to do.
And it's not always easy. It's sometimes scary to really pursue your dreams. But that I was able to do what I set out to do and to do it at a high level, that I had the drive to do it and that I had, frankly, some God-given gifts, I feel very, very fortunate to have been able to do that.
For more on this author, visit www.danielsilvabooks.com.