A VERY WORTHY KOZ
PCC TALKS WITH SAXOPHONE GREAT DAVE KOZ

By Paul Freeman [April 2015 Interview]
Itís been a remarkably creative and productive quarter of a century for the superlative saxophonist Dave Koz.
2015 marks Kozís 25th year as a recording artist. His mellifluous sound has earned him nine Grammy nominations. Among his many hits are ďCastle of Dreams,Ē ďCanít Let You Go,Ē ďYou Make Me Smile,Ē ďFaces of the Heart,Ē ďTogether Again,Ē ďHoney-Dipped,Ē ďLife In The Fast LaneĒ and ďAll I See Is You.Ē
And the platinum-selling sax player, originally from Encino, California, has become a musical staple of the holidays. Once we near December each year, itís all about Santa Claus and Kristmas Koz. Kozís holiday albums and tours have proven to be enormously popular, as have his annual ďSummer HornsĒ tours.
Dave Koz & Friends At Sea brings other top smooth jazz artists on board for much in-demand cruises. In addition, Koz hosts radio shows that showcase the music he loves.
He also works, as global ambassador, to support the Starlight Childrenís Foundation. His line of KOZ wines is one method of raising funds for the organization.
He has played with a wide array of musical talents, including Ray Charles, U2, Celine Dion and Michael McDonald.
Koz is currently on tour, opening for Barry Manilowís ďOne Last TimeĒ extravaganza. He took time to chat with PCC.
POP CULTURE CLASSICS:
Youíre celebrating 25 years as a recording artist. Congratulations. Has your approach to music evolved over those years?
DAVE KOZ:
I would imagine so. It would have had to, especially because of the way our business runs over the last 25 years. Itís fairly unrecognizable today compared with the way it was when I first started out. But thatís good, too. Itís been challenging and also interesting to find new creative outlets and ways to challenge yourself and bring the audience with you. So itís been amazing. Itís been kind of a head-scratcher. - ďHow did I get here?Ē [Laughs] It all seems like a big dream. It doesnít seem like 25 years. Thatís for sure.
PCC:
And what about the approach to the music itself, in terms of playing and interacting with other musicians, has that also changed or grown?
KOZ:
Well, the thing for me, thatís always been at the core of what I like best is collaborations. And it sort of started out that way, way back when. Thatís how I kind of grew up playing music, too, really. My first gig was playing with other musicians at a wedding - going way back now. I was 15 years old. And thatís kind of been the constant throughout and what I really like best. Actually, weíre making a record thatís going to come out in the summertime, which is sort of a celebration of collaborations over the years. And going not to the biggest hits that Iíve made before, but going back to some of the great collab-orators Iíve had the privilege of working with, one of whom is Barry Manilow, who Iím currently on tour with, opening up for his show. And people like Stevie Nicks and Luther Vandross and Rod Stewart, Stevie Wonder - people Iíve gotten a chance to make music with over the years. Still, to this day, I look at their names and go, ďHow did that hap-pen?!Ē [Laughs]
PCC:
All those great collaborations over the years, as well as being fun, do they stimulate you creatively, help you expand your musical horizons?
KOZ:
Yeah. Itís what I end up learning from, mostly. If I was left to my own devices, making my records in my own studio without any outside input or sharing the stage with other artists, I think I would end up spinning my wheels, making the same music. So collaboration is sort of a way to stimulate growth by just being in the same room with someone. Now of course, you have to find that common ground. It doesnít always work. But if you get people who are, generally speaking, creative, and their egos are broad enough to listen and collaborate in that way, you can come up with things that I would never in a million years be able to come up with on my own.
PCC:
You mentioned Barry Manilow. What has impressed you about him as an artist over the years?
KOZ:
Well, people donít realize how great a musician he is. They know the big things - the singing, the songwriting, the showman. But at the absolute core of all that is this very intensive, amazing musical genius. He really knows the in and the out, every little nook and cranny of what heís doing, because he approaches it from a musical perspective. He is always interested in trying to come at the same music from a different perspective, to keep himself and his audience intrigued. Itís very musical. And thatís the thing that impresses me most, which most people donít necessarily know. But heís a brilliant piano player and heís an amazing arranger. Thatís where he started, in that area of music. And then the way he puts together shows.. I think the one thing that for me as an artist Iíve taken away from him is his commitment to his audience. He lives and breathes the audience experience. And he knows exactly, without selling out, itís never like that, itís just this empathy for what the audience really is feeling and wants to hear. And he goes out there and fine-tunes it every night and delivers on his commitment. And look at him - heís 71 years old and heís selling out arenas. Thatís very inspiring to me.
PCC:
And heís a newlywed.
KOZ:
And heís a newlywed, yeah!
PCC:
With your own tours, with your musician friends on board, it seems like youíre bringing a party to town, with the audience as welcomed guests.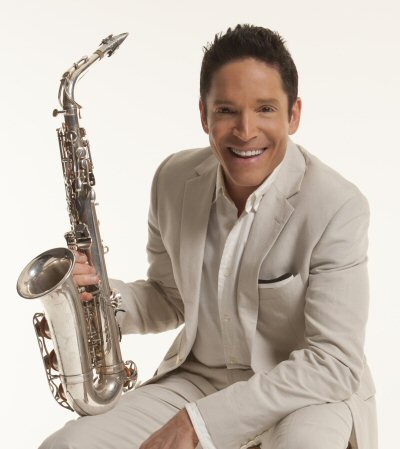 KOZ:
Well, the bands and the groups that I started out with, that put the music blueprint to-gether for me, way back when, were all bands that were - it wasnít just you go to a show, you sit down and watch musicians playing. It was very interactive. Like the first show I can really remember going to was at the Forum in Los Angeles, seeing Earth, Wind & Fire. And that was - you want to talk about a party - that was explosions and Spandex and platform shoes and it was a visual, interactive experience. And thatís kind of what I grew up loving and wanting to do. Not that youíre going to see a lot of Spandex in my show - not yet - but I do love that whole idea of a full experience, involving the audience as much as possible. And jazz musicians get a bad rap for doing things that are entertaining. And Iíve never bought into any of that. I just feel like thereís a million different places that people can be and the fact that they would choose to come to my show and spend money and take time out from whatever else theyíre doing, thatís like a mini-miracle. And I want them to have an amazing time. So Iíll do whatever I can to make that happen.
PCC:
I had read that one of your early inspirations, influences, on sax, was David Sanborn. What was it about his playing that made such a strong impression on you?
KOZ:
I think it was lyricism and the sound. For musicians that play the instrument, we donít sing. So the sound of the instrument is really our voice. And up until that point, the first time that I heard David Sanborn, Iíd never heard the alto saxophone sound like that, not even close. He was a total trailblazer. And he wrote great songs. They were produced so well. And then there was this miraculous playing on top. So I worshipped the guy. I do remember the first time I met him, which was backstage at one of his concerts in L.A. Somehow I had a friend who knew him and got me backstage. It was kind of weird, because it was before his show. And now I know, before a show, your headís elsewhere. But he was very nice. But it was just not what I expected. And years later I joked with him about that, because I had to twist his arm for so many years to come as a guest on one of our cruises. Heís not a typical cruiser. He didnít like to do that whole thing. And finally, I twisted his arm, he came on the cruise. And now he does it every year. He has his own cruise that he does every year. The first time he ever did it was on our cruise. That was a really great, full circle moment, to be able to host him, this was my sax idol, host him on our cruise. And he said, ďIs anybody going to know me? Are these people really going to know who I am?Ē And I said, ďUh, theyíre going to know who you are.Ē And he was lifted up on that week at sea to such heights. I think he had the most incredible time. And he ends up doing cruises every year. So it seemed to work.
PCC:
When you first picked up the sax, did it really speak to you instantly? Did you get a sense that you were going to be able to speak through it?
KOZ:
Well, I think, for me, the saxophone, I picked it up fairly late. This was after playing other instruments for quite some time. I started on piano. Basically sucked on piano [laughs]. Then rebelled against my parents and took up the drums. I was even worse on the drums. It wasnít until I went into seventh grade - I was 13 at the time - and I picked up the saxophone. And itís not like it was great, but I do remember a different feel, like this instrument had a different texture, for me, than other instruments in my past. I was a very mixed up kid, dealing with a lot of stuff, growing up as a gay kid without an-ybody to talk to. And the saxophone became my best friend, when I couldnít talk with anybody else. Not to get all heavy, but it always reminds me of the power of music and the ability of music to be there, when words or other things canít. And, in many ways, that friendship with the instrument really transformed my life, because I just transformed all that energy into the saxophone. And look what itís given me over these years. Iíve been playing it for almost 40 years and it has brought me so many amazing blessings. So Iím grateful.
PCC:
You were really able to express yourself and channel your emotions through the instru-ment.
KOZ:
Yes. And not to get on my soapbox, but to think that there are kids out there who wonít necessarily have that experience, because of budget issues. Iím a product of the public school system music program. And so that was made available to me, when I was a kid. And that was like the whole land of opportunity available, at my fingertips. And to think that that might not be possible for certain people growing up now - thatís one big change that I feel is something that we need to work on for the next generation of musicians.
PCC:
Going to UCLA, graduating, was the thought, ďIíll give this music thing a whirl, if it doesnít work out, Iíll take a civilian jobĒ?
KOZ:
[Laughs] Thatís exactly it. I was a Communications major. And that was exactly my thought - If I donít do this now, at least try, then Iíll end up kicking myself. And I had par-ents that were pretty understanding at the time. They were like, ďOkay, go for it.Ē So I gave music a six-month window, to see what I could drum up, what I could come up with. And two weeks after I graduated, I got a gig with a guy called Bobby Caldwell, who was doing very high-profile shows at that very time. And it was like the perfect entrťe. People saw me out of the blue and I started getting calls. I was off to the races. Never looked back.
PCC:
Spending several years as a sideman, was that an education in itself?
KOZ:
Yes - the good parts and the bad parts. I had some rough patches working with other artists and then great patches. All of it served a purpose. I didnít know at the time, be-cause I didnít really know at the time where this was all going. But it all served as great experience for me, so that I could just take from that column and a little from this column to build what kind of artist, musician that I wanted to be. I had great people around me always. Itís one of the greatest things I can look at. Iíve built a nice career over the last many years. But Iíve had a lot of help - amazing management, amazing people around me that have totally believed. You break it down, I play through a piece of metal. Itís like Iím a plumber. And Iíve taken this thing, with a lot of help and a lot of passion, to a lot of places around the world.
Coming up, we have a three-week Asian trip, which will start in Japan, which I go to quite a bit. But Iíve never been to China. So we have seven shows across China for the very first time, which Iím very excited about. And then weíll be in Indonesia after that. So those are the experiences, I love being able to have new experiences, taking the in-strument around the world, seeing what kind of trouble I can get myself into.
PCC:
Becoming a solo artist, was it perfect timing with the explosion of popularity in smooth jazz.
KOZ:
Yeah, that time period was a very good one. 1990 was when my first album came out and that was right around the time when all these radio stations were starting to really populate the major cities of America. It was not called ďsmooth jazzĒ at the time. I think it was called New Adult Contemporary. And then they changed the monicker to Smooth Jazz. So then pretty much every city had a station playing it. It was exploding. The music was so popular. And this was right when I was started coming up. And it wasnít as if I was making music for the format, specifically. It was just sort of parallel tracks that complemented each other. And the next thing I knew, I was being invited to these par-ticular cities, working with the great radio stations.
PCC:
The Starlight Childrenís Foundation, that must be gratifying to be able to make a differ-ence in that way.
KOZ:
Yeah, itís been almost 20 years working with them. And they do an amazing thing for kids. Iíve seen it first-hand so many times - the little bit of relief that they give to these children that are facing serious diseases, chronic diseases and are in the hospital for long periods of time. And their families, as well. So we have a variety of different things that we do to raise awareness and raise money to keep them doing their great stuff. And weíve raised hundreds of thousands of dollars over the years, due to very generous fans. And now thereís a line of wine that you can find at Whole Foods and also, starting in June, on the menu at California Pizza Kitchen locations nationwide. And any time you buy some of the wine at either of those places, the money goes towards the Starlight Foundation.
PCC:
So overall, at this point, what are the most rewarding and the most challenging aspects of your life in music?
KOZ:
Good question. Iíll start with the challenging. I think the challenging thing for me is trying to keep relevant [laughs]. And the target is constantly moving. You cannot ever just take a minute to rest on your laurels, especially with the explosion of all the media thatís around. Thatís probably the most challenging part for me. Itís just so new for me. Itís just not my generation. And yet, if people my age donít partake in whatever - Instagram, Twitter, Facebook or now Periscope, it seems like every day thereís another App you have to get involved in; now it takes up quite a bit of time, just keeping up on your social media profile - But if you donít, youíre sort of relegated to that position where itís like, ďEh, well, I guess heís not part of the future.Ē [Laughs]
Iíve really learned a lot. Iíve experienced amazing things in how you can push out infor-mation to a large group of people immediately. And thatís something that we didnít have, when we started. We had to work with record companies to craft marketing programs. It took a long time to make an impact. And now we have all these tools at our disposal to give everybody a chance to really get their work out there. So thatís been a great blessing, but also a challenge for me, because my brain doesnít think that way.
And the good part is still getting a chance to make music - just plain and simple, just like that. Very few people who have tried this can say that, after 25 years, theyíre still going strong and having new experiences. And in many ways, I feel like my best years are still ahead of me. And thatís a great blessing, to feel that way.
For the latest news on this artist, visit davekoz.com.