DAVE MASON: TRAFFICKING IN CLASSIC ROCK

Photo by Chris Jensen

By Paul Freeman [December 2015 Interview]

Usually a traffic jam is something to avoid. But Dave Mason's Traffic Jam is a musical experience worth rushing out to see. In the multimedia show, Mason and his top-notch musicians pay tribute to the legendary 1960s band he co-founded - Traffic.

Mason and drummer Jim Capaldi grew up 11 miles apart, in Worcestershire county, England, and were in a couple of bands together. They were fans of The Spencer Davis Group and met Steve Winwood, that band's wunderkind vocalist/organist, at an after-hours club in nearby Birmingham. Joined by saxophonist/flutist Chris Wood, also of the Davis Group, the four young men hung around together for a year, before forming Traffic in 1967. The band's memorable songs including "Dear Mr. Fantasy," "Low Spark of High-Heeled Boys" and Mason's "Hole In My Shoe" and "Feelin' Alright."

Still in his teens when the band began, the success overwhelmed Mason. He and his Traffic mates eventually parted company. His subsequent acceptance without them was anything but automatic. Traffic eventually was viewed as an iconic band and was inducted into the Rock and Roll Hall of Fame. But the band had not yet broken through to America at that point. Mason had a long ways to go to establish himself in the States in the 1970s.

As a solo artist, Mason enjoyed great success with songs such as his own "Only You Know and I Know" and "World in Changes," as well as "We Just Disagree," a number penned for him by his guitarist for 17 years, Jim Krueger.

With a very different take on the song, Joe Cocker had a massive hit with Mason's "'Feeling Alright."

Throughout his career, Mason enjoyed many cool collaborations, including Derek and the Dominos, Delaney and Bonnie, Stevie Wonder, Michael Jackson and a stint with Fleetwood Mac. There were also sessions with Jimi Hendrix.

Mason, whose father served in the first World War and his brother in World War II, has co-founded a charity called Rock Our Vets [www.rockourvets.org].

POP CULTURE CLASSICS:
In the Traffic Jam show, you tell about the times, as well as revisit your musical landmarks?

DAVE MASON:
Well, we started doing the show in 2013. Basically it was just revisiting some of the stuff we did with Traffic. But essentially, the show has kind of turned into, I suppose, more of a two-hour musical biography of my life, musically, from Traffic up to, pretty much, the present day, with some visual kind of stuff and some stories. So it's kind of turned into that, more than anything.

PCC:
The process of putting the show together, did that put your career in a different perspective for you?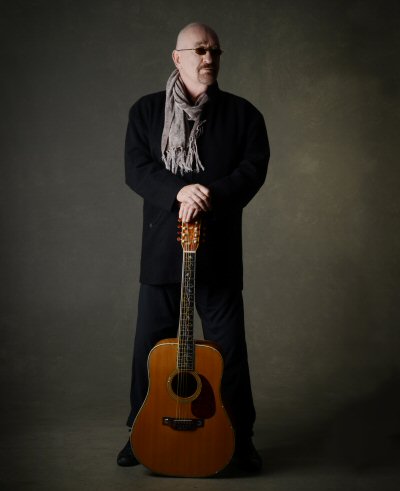 Photo by Chris Jensen
MASON:
For me? No, not really. I mean, for me, I know what the hell I've done [chuckles]. Probably for the audience it does that a little bit more, give a condensed picture of my career, the people I've played with, a lot of different stuff.
PCC:
Does the Traffic Jam band give you an opportunity to bring new colors and textures to the Traffic songs, as well as your own hits?
MASON:
As far as the Traffic songs that I've been doing, I have a different version of "Dear Mr. Fantasy," that I've put together, which is the same melody, just with different chord sequences. And then I took "Low Spark of High-Heeled Boys," and turned that into a slow blues. So some of them are close to the record and some are not. Some are my version of them, basically. It sort of updates it. And then, a big part of the show is all my solo stuff.
PCC:
The satisfactions you get performing, have they changed over the years?
MASON:
No, I love playing. I'm a working musician. Always have been. It's what I do. And I like doing it.
PCC:
How did the members of Traffic originally come together in the 60s? Were you already friends?
MASON:
Well, Jim Capaldi and I, we lived 11 miles apart. And Jim and I had a couple of bands together, long before Traffic. Then we were fans of The Spencer Davis Group and we met up with Steve in Birmingham, which is 35 miles from where we grew up. So we met there, at some after-hours club. And we were just four young guys, who had kind of diverse, but similar musical tastes. And we were all just hanging around together, when we could, for a year. And it just eventually became Traffic.
PCC:
What most impressed you about Steve Winwood at that early age?
MASON:
That he was just such a naturally gifted musician. The Spencer Davis Group had their first hit with a John Lee Hooker song called, "Dimples." Steve was 15 years old. He carried around with him that tag of being the young Ray Charles for a long time.
PCC:
From your point of view, what made Traffic such an enduring, distinctive band?
MASON:
We were, as I say, a lot of diverse musical tastes. I think Traffic was one of the original alternative bands. And we were a jam band, way before it was fashionable. The term "jam bands" came into use recently, but we were doing that back in the 60s. And the music itself, there were a lot of influences - pop, jazz, blues, gospel. That's why it's lasted so long.
PCC:
Putting so many different influences into the music, was there a lot of experimentation in the studio?
MASON:
Oh, always. Those were the days for doing all of that, trying to invent something in the studio. Now you have ProTools and plug-ins and God knows what. In those days, we had to invent stuff, create ways to do it.
PCC:
"Hole In My Shoe" - how did that song come about?
MASON:
[Chuckles] "Hole In My Shoe" is the first song I ever wrote. It's basically a nursery rhyme and came out of playing the sitar. It was my first attempt at writing. I quickly moved away from that sort of thing. But it became a big hit record for Traffic and unfortunately became the impetus for me not being in the band, eventually.
PCC:
Why was that?
MASON:
They didn't really care for what I was writing at the time. Although, on the second album, there were definitely some changes in my writing. Obviously, "Feelin' Alright" was on the second album. That song just never stops.
PCC:
And actually "Hole In My Shoe," didn't that go on to be a hit again via TV's "The Young Ones"?
MASON:
I don't know. I think some Monty Python-ish group did do a version of it at some point. But I don't really know. Those songs, the early stuff, for me, are kind of… I mean, that song was a big hit, but it was kind of a novelty record, I suppose, in a way. But it was the first thing I ever wrote. The first thing I ever wrote became a big hit, went to number two in England.
PCC:
"Here We Go Round The Mulberry Bush" - was it fun being part of a movie soundtrack?
MASON:
It was. That was great. I mean, it was fine. Basically we just wrote that song, trying to come up with something for this particular thing. It still would be nice to really get involved with a movie on a different level than just having to write something like that. But back then, yeah, sure, absolutely.
PCC:
Footage of the band doing that song was filmed for The Beatles' "Magical Mystery Tour"? [which can actually now be seen in the deleted scenes of the Blu-Ray release]
MASON:
Well, they wanted us to be in it. I don't know what happened with that. They invited us to be in that one thing that they did, but I don't think it ever really came about. It was so long ago, I just don't remember what the deal was..,., [laughs]… If you can remember the 60s, you weren't there.
PCC:
You were still in your teens, when Traffic started. Having success at such an early age, was that overwhelming?
MASON:
Well, for me it was. That's why I left after the first album. I actually quit, because it was too much for me. I was just sort of a country boy and it was too much, too soon. So I did leave the band after the first, initial, big album. Then I came back for the second album, because they only had five songs. They were cutting the second album. They had five tunes and I had five tunes. One of them, of course, was "Feelin' Alright." And so it was, "Hey, cool, you're back in the band. Let's go!"
And I have somewhat of a pop sensibility, I suppose, songwriting-wise. So my stuff always got picked as the singles, which I think became a problem.
PCC:
So it was maybe jealousy more than musical differences that caused the split, ultimately?
MASON:
You know what? It could be that. It was never a question of - here's why. [Chuckles] It was just, "You don't fit here anymore."
PCC:
You've had so many high-profile collaborations over the years. What are your recollections of Jimi Hendrix, as a man, as a musician?
MASON:
Well, there are a lot of great guitar players, really good guitar players. But there are no more Jimi Hendrixes. He was just very innovative. Bottom line. Yeah, very innovative. There's just no more Jimi Hendrixes [chuckles]. He was just great.
Yeah, I was lucky enough to spend time with him and record with him - a couple things ended up on "Electric Ladyland," playing acoustic guitar on his version of "All Along The Watchtower," singing on "Crosstown Traffic." And there are some other things I did with him, but I have no idea what happened to them.
PCC:
Working with Mike McGear [Paul McCartney's younger brother] in Scaffold, was that fun?
MASON:
Yeah, that was kind of cool. I got to know him, because I new McCartney. And I did a couple of little things with them. That was fun. [Laughs]. I have a very diverse list of collaborations, from Cass Elliot to Michael Jackson, a whole bunch.
PCC:
What was your experience like with Cass, a special talent?
MASON:
Well, Cass, basically, I got to know her, spent time there, because it turned out there was a couple at her house, I knew really well from England. And I hadn't known they were there. So I would visit them a lot. And slowly, because it was her house, I got to know Cass. And that little collaboration more or less just came out of just sitting around one afternoon, going, "Hey, maybe… why not? Let's record something [chuckles] and see what happens."
PCC:
She seemed to be a special person.
MASON:
I always regarded Cass as a contemporary - I don't know if you, or most people, would know who this was - as a contemporary Sophie Tucker. She had just a wicked sense of humour. She would have been great these days in a show. She had a great sense of humour.
PCC:
You mentioned McCartney earlier. You were around, at Abbey Road, for some of the "Sgt. Pepper's" sessions?
MASON:
I went to the studios three or four times, just to hang out. Yeah, I was basically there. It wasn't unusual for people to drop by other people's sessions, back then, in London. There weren't that many studios, in the first place.
PCC:
Were you there enough to sense that something revolutionary was going on in the making of that album?
MASON:
Well, that was true of anything The Beatles were doing [laughs]. I first heard the finished album at George Harrison's house in Esher. Just me and him were there. It was like, "The album's finished. Do you want to hear the new album?" "Well, yeah, sure! [Laughs] Put it on. Let's hear it." So I heard it with George. And it was like, "Okay, here's a game-changer."
PCC:
And you recorded with George, as well.
MASON:
Well, I didn't record a lot with him. I played on a couple of the things on "All Things Must Pass" and I couldn't for the life of me, off the top of my head, tell you what I played on.
PCC:
You played with Derek & The Dominos, as well?
MASON:
Yeah, I had known all those guys before Eric. I knew them all from Delaney & Bonnie.
PCC:
You recorded with Stevie Wonder?
MASON:
Yes, Stevie was recording an album down the hall and was kind enough to say yes to coming in and playing harmonica on a song called "The Lonely One."
PCC:
What was it, do you think, about that era, the 60s, that resulted in the creation of so much enduring music?
MASON:
Well, I don't really know. It was the times. I mean, rock 'n' roll, which started with rockabilly, came out of the 50s. So you're really talking a generation or so after that, that it exploded. And, of course, it came along with the new age and drugs. LSD and all the rest of it came onto the planet… or spread around it. It was like throwing gasoline on a fire.
PCC:
What lessons did you learn during your time with Traffic, that you were able to put to use, when you went solo?
MASON:
I don't know, in the Traffic thing, I was just doing what I was doing, anyway. And when I went solo, I was still doing the same thing, just not with those guys. I mean, had I still been a part of it, all those songs that went on my first solo album, "Alone Together," would have been on the next Traffic album.
PCC:
The fact that you'd had success with Traffic, did that give you confidence that you would make an impact as a solo artist?
MASON:
There was nobody knew who the hell I was. Nobody really knew who Traffic was. Traffic was just kind of known over here. Nobody had a clue who I was. I just came here on a wing and a prayer.
PCC:
So it must have been hugely validating, when you did have the solo hits.
MASON:
Well, yeah, it was great… It was kind of frightening. I wasn't ready to be a solo artist.
PCC:
What did you have to do, to get up to speed?
MASON:
Just do it. Just get on the horse and ride l[laughs].
PCC:
The song "Let It Go, Let It Flow," how did that one come to be?
MASON:
I don't know. How did any of them come to be? I just write them. If they sound kind of good, I finish them.
PCC:
Has the process changed over the years?
MASON:
No. And I don't write that much anyway. I never really did. I'm not that prolific. But I have written one or two things that have lasted a long time. But in my writing, I try to write something that is somewhat timeless.
PCC:
And what do you think a song has to do, to achieve that? What makes a song timeless?
MASON:
What makes it timeless? Well, you write about human feelings and thoughts, needs, wants, because those never change. And you put it in a great melody. Those are some of the keys to making a song timeless.
PCC:
And you wait for inspiration to come, rather than forcing yourself to sit down and try to write something?
MASON:
Well, it can happen in any number of ways. Sometimes I hear somebody say something in a way I haven't heard it said before. And I go, "Ah, that's cool! That would make a great song."
PCC:
Are you still involved with Work Vessels for Veterans?
MASON:
Actually, myself and my dear friend Ted Knapp, we have now started our own charity - Rock Our Vets [www.rockourvets.org]. "Our goal is basically to do whatever is needed - could be helping with clothing, could be giving them laptop computers. We'd like to help people start their own businesses. We have just started. And there are a number of other musicians involved in it, too.
PCC:
What's coming up for you musically?
MASON:
Musically? There's a summer tour that starts in May, with Journey, The Doobie Brothers and myself.
PCC:
What are the most challenging and the most rewarding aspects of your life in music, at this point?
MASON:
Since I'm about five months away from being 70 years old, just getting up in the morning can be challenging.
PCC:
And the most rewarding part?
MASON:
Getting off the stage upright [laughs].
PCC:
It's got to be great to know what your music has meant to people.
MASON:
It is. I don't think about it too much, to be honest with you. But it is, yes, absolutely.
For more on this artist, visit www.davemasonmusic.com.
---
And our previous Dave Mason interview:
DAVE MASON: FEELIN' MORE THAN JUST ALRIGHT
By Paul Freeman [ March 2014 Interview]
As a founding member of Traffic, Dave Mason has been inducted into the Rock and Roll Hall of Fame. Now he's touring with his new band, Traffic Jam. In addition to Traffic hits he wrote, such as "Feelin' Alright" and "Hole In My Shoe," Mason performs his solo classic hits, like "Only You Know and I Know" and "We Just Disagree."
A native of Worcester, England and now based near Santa Barbara, California, Mason formed Traffic with Steve Winwood, Jim Capaldi and Chris Wood in 1967.
Over the years, he sat in on sessions with such friends as Jimi Hendrix, Paul McCartney, George Harrison and The Rolling Stones. He toured with Delaney & Bonnie and, for a short time, was a member of Fleetwood Mac.
In addition to touring, Mason continues to write and record. In May, he'll release a vibrant new album, "Future's Past." It revisits classics like "Dear Mr. Fantasy," "World In Changes" and "As Sad and As Deep As You," and presents outstanding new tunes, as well. Graham Nash created the cover art.
Mason took time to chat with Pop Culture Classics.
POP CULTURE CLASSICS:
The opportunity to revisit some of the classic tunes, add some new colors, is that something you relish?
DAVE MASON:
Well, yeah, if it works [laughs]. Doing remakes, it's kind of hard, because the original is so associated with that song. But sometimes, occasionally, you come up with something that gives a fresh slant to the song, but still makes the song cool. And a lot of it, for me, is that I tend to either write about, or if I'm doing somebody else's music, I tend to lean towards timeless themes.
PCC:
Yes, so many of your songs have stood the test of time and sound as vital as ever. Is that something you're conscious of during the writing process?
MASON:
Well, yeah, actually, especially lyrically.
PCC:
The new material on the album fits in nicely with the classic tunes. Is that something you're also conscious of? Or is that your style just having a consistency.
MASON:
It's just what I do.
PCC:
And Graham Nash doing the cover art, how did that come about?
MASON:
Well, Graham, he does art. He's been doing it a while, a lot of photographic art, where he's taken old photographs, paints on them, he's been out doing art shows, San Francisco was one, with his work. And his publicist sent me some of the stuff and that picture of me was in there, 1970-something, when I was visiting him in Kauai. So he used that as one of his projects. So I called him and said, "This is cool. What's the chance of me using this as an album cover, because it would fit in with the title that I'm trying to come up with?" And he goes, "Yeah, Absolutely. Go ahead. Use it.'"
PCC:
It's striking. Now tell me a bit about the concept for the Traffic Jam shows.
MASON:
Well, Traffic Jam is something I've had on my mind for a number of years and finally decided to start it this year. We started it January. It's a two-hour show with an intermission. Basically the first part is Traffic songs from when I was there, at the beginning, when we formed, the first two albums. And most of the material, frankly, that I do in the first part of the show, is not even my material. It's just some cool songs, Traffic songs, that are basically fun to do. And the second half of the show is Dave. It's the stuff of my solo career.
PCC:
But even the songs like "Dear Mr. Fantasy," it seems like you've really been able to make them your own.
MASON:
Well, I have. That one, musically, I put it in a minor key. It was originally written in a major key. Basically, through the whole song, there's three chords, except for the middle part that I rewrote and put in more changes. I was doing it as an experiment and it started to sound good. When I recorded it, it sounded even better.
PCC:
You were so young, when Traffic formed. Did you already realize that music was going to be a lifelong pursuit for you?
MASON:
[Laughs] I'm not sure that I knew I'd still be doing it at this age.
PCC:
What do you think was the special magic of Traffic, from your perspective?
MASON:
Well, the magic was the differences. Usually that tends to be the case in any situation.
PCC:
Who had been the artists who originally inspired you to pick up an instrument?
MASON:
Oh, gosh, lots. My first thing was guitar, wanting to play guitar. So early on, it was The Ventures, The Shadows. And then, from there, got into all styles, everybody - jazz, flamenco, listened to all kinds of stuff.
PCC:
You've always spanned a wide territory musically. Were you always trying to expand your palette? Do you just have eclectic tastes?
MASON:
Well, yes, all of those things, plus, I'm song-driven. In other words, I've got to have a song first, before I put any music to it. And sometimes a song dictates a certain style and way of doing it. And it's sort of been one of my banes, but one of my strengths, too, I think. It's difficult for the media, because they can't hang a tag, like "Dave Mason's new blues album" or "Dave Mason's new rock album." I kind of cover it all. But it all stems, for me, from the song.
PCC:
The writing, did it come as a means of self-expression as soon as you picked up the guitar?
MASON:
No, I didn't start writing until we formed Traffic.
PCC:
So did it come easily? You were writing great songs even early on.
MASON:
Well, I don't know. The first song I ever wrote was their biggest hit single in England. It's kind of a fantasy sort of song, for the time, called "A Hole In My Shoe."
PCC:
A song idea like, "Feelin' Alright," does that start with getting the title, or a riff, or a chorus idea?
MASON:
It probably started with just some lyrics,which were very nursery rhyme lyrics. And at the time, I was playing sitar, experimenting around with it, playing it, so it came out of all that.
PCC:
Joe Cocker's version is so different from yours. Was it strange, hearing someone else interpreting your song that way?
MASON:
Well, 'Feeling Alright,' the original title is "Feelin' Alright?" with a question mark. It's about "not feeling too good myself." That's how I wrote it. The great thing is, Joe Cocker turned it into feeling alright. I love his version. The first time they ever played it to me, I was like, "Jesus! That's f-ckin' great!" Sometimes the writer is not the best interpreter.
PCC:
Do you find that, as years go by, you kind of reinterpret your own songs, as part of the natural process?
MASON:
Yes, that's exactly what's happening.
PCC:
What were the origins of "Only You Know and I Know"
MASON:
Nothing specifically, lyrically, just in general. Musically, it was a new way for me to do something. I'd learned a couple of new tunings on guitar and I was playing around. Sometimes that's how it'll happen, goofing around, just trying anything. I wrote it, actually, at Cass Elliott's house.
PCC:
And how did you come across the song "We Just Disagree"?
MASON:
That song, my guitarist, Jim Krueger, who was with me for like 17 years, wrote it for me.
PCC:
Playing on Jimi Hendrix's version of "All Along The Watchtower," how did that come about?
MASON:
We were at somebody's apartment and she had a copy of the new Bob Dylan album, the "John Wesley Harding" album. We were listening to that album. And then, Jimi heard that song and immediately wanted to go do his version of it. I happened to be with him and I happened to be on the record.
PCC:
That acoustic rhythm part you played, that seems quite challenging. Was it just fun to play or was it difficult to master?
MASON:
Well, yeah, it was for me, because his timing was just... I mean, I play guitar, this guy was beyond playing. He was doing other shit. [Chuckles] I'm very fortunate that I got to be that close and work with him. He was truly unique.
PCC:
Was it the imagination that most impressed you? Or the technical virtuosity?
MASON:
Well, all of it. It was just him.
PCC:
What do you remember from participating in the "Beggars Banquet" Rolling Stones' session.
MASON:
Ah, just sitting around the floor, banging some drums with Charlie and Keith. And just being there. [Laughs] That's what I was doing on "Street Fighting Man."
PCC:
Was that a unique time, in terms of a lot of creativity happening, musically?
MASON:
Well, the thing about back then, was that, unlike America, there was really only one place everybody finished up and that was in London, as opposed to here in the U.S., where there were a number of musical centers around the country - Philadelphia, Atlanta, Nashville, Los Angeles, Chicago, New York. England, everybody finished up in London. Everybody was basically using the same studios and going to the same late night clubs. So you would invariably - you couldn't help it - just run into people, everybody, all the time.
PCC:
How did Michael Jackson end up singing on one of your tracks ["Save Me"]?
MASON:
I was doing an album called "Old Crest On A New Wave." And he was in the same studio, in the other room. He was actually working on "Thriller." He was on a break and I needed somebody to sing a high part on a song. So I was like, 'Shit, I'll go ask Michael. He can sing high." [Laughs] I just went up to him and said, "Excuse me, man, but would you be up for coming and singing this part for me on this track I'm working on?" And he looked at me and said, "You know, when I was 12 years old, I did this special with Diana Ross and, at the end of the show, she and I did a song called 'Feelin' Alright.' Absolutely. I'll be right there." That's how that happened.
PCC:
The stint with Fleetwood Mac, was that an enjoyable experience for you?
MASON:
That would be a yes and no answer [chuckles].
PCC:
In what way yes, in what way no?
MASON:
Well, it was fun, but it was a bit of a drama. The stint made me understand the advantages of being solo. [Laughs]
PCC:
Have you found that you're more comfortable solo, where you have complete control, creatively?
MASON:
Yeah, I mean, I like working with people, don't get me wrong. But I guess I'm more of a solitary guy. I do appreciate collaboration. When I'm recording, for instance, with musicians, it's "Well, here's the song. Here's the structure. But I want to hear you guys just play and come up with something." So I always try to give room in there for other people's input, because they're going to invariably come up with something I would never have come up with. And it's going to add to the track, the song, in a great way. So I'm up for that.
PCC:
After all the years of performing, are the joys of being on stage the same?
MASON:
Yeah, I love performing. Everybody who's on that stage with me, that's what they want to do. That's what they live for. Let's put it this way, the hard part is not the two hours on stage. It's the getting there, especially these days. So we make it fun, because that's what we're doing out there. It's not easy living the life of a gypsy. When you're young, it's great. But yeah, we still have to make it fun, make it fun for ourselves. We want to walk off stage and hear, "Great show. Great licks. I love what you played in that one part there tonight." So absolutely. If we don't enjoy it, we would just be going through the motions out there. And the audience would know it. So if it's not fun, I would stop doing it... and have, in the past
PCC:
Are some of the satisfactions you get from music different after all the years?
MASON:
No... I think trying to maintain the same passion you had when you started is... You know everybody goes through life. And life throws you curveballs. Beats the crap out of you sometimes. [Chuckles] Everybody has that somewhere in their life. So I suppose music, for me, is my refuge, my little space. It's been my little magic carpet, taking me places that I would never have gone otherwise.
PCC:
You've been involved in helping a lot of non-profits. Where's your focus in that regard these days?
MASON:
I'm very actively involved with my Work Vessels For Veterans.
PCC:
What made that particular cause the one you wanted to concentrate on?
MASON:
Well, my father was in the first World War, the 1914-18 war. And my brother was driving tanks in the second World War. So I always have had, and have, great respect for people that put on the uniform to defend our way of life, basically. And they're somewhat swept under the carpet, when they come back. So it's really not a thing to think about, for me, I'm just supportive. What we basically do is, we help them start their own businesses.
PCC:
Are there still unfulfilled goals, creatively?
MASON:
I don't know, probably a lot. Right now it's very cool. It's great, because I'm doing it and I'm totally present and not off somewhere else. And it's a great band. And I'm still able to get out there and do it, thank God.
For the latest tour dates and more, visit www.davemasonmusic.com.