DAVEY PATTISON: ROCKER BUILDS ON BLUES FOUNDATION
PCC Chats with the Great GAMMA and Robin Trower Vocalist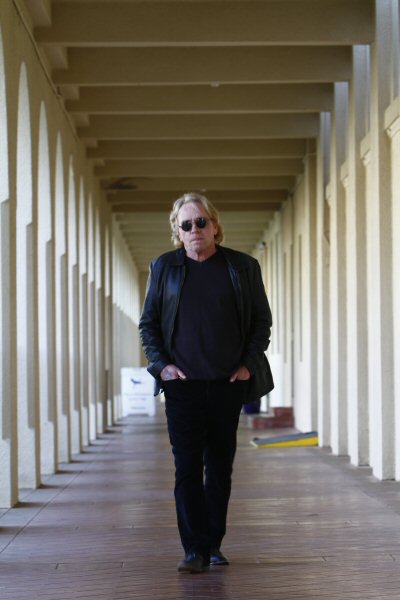 Photo Credit to Dave Chin

By Paul Freeman [November 2013 Interview]

For Davey Pattison, the epiphany came when he was growing up in Scotland. "I was taken to this rock 'n' roll show, when I was 12 or so. And I saw Little Richard and I was mesmerized. I thought to myself, 'Well, I don't know what he's doing... but I want to do that.'

"I realized later, not at the time, but looking back, that what he was doing was taking the audience to church. And then I heard Ray Charles. And it was all over," he says, laughing. "I heard 'What'd I Say.' Oh, my God!"

Pattison has a famously powerful, penetrating blues-rock voice of his own. When Pattison and his band tour now, they perform the dynamic songs he recorded with Gamma and Robin Trower.

He knew at an early age that he had a special vocal gift. "When I was five or six years old, I was in the choir for church services and I was the little guy that they put out front for the solos. So I knew I could sing. And then I heard rock 'n' roll and I thought, 'Oh, wow, yeah, okay.' And I played in bands all through my teenage years.

"People say to me, 'You're from Scotland, why do you sound American, when you sing?' Well, most British singers do. When you grow up, you're just copying what you hear. I was listening to the American blues and soul artists. Eventually, you do find your own style. I've sung many kinds of music - rock, jazz, country, pop. But blues has always been at the foundation for me. It's the depth of that music. I listened to Bobby Bland, Curtis Mayfield, James Brown, Muddy Waters, Howlin' Wolf."

Pattison developed a reputation as a top talent in the U.K. In 1979, Bill Graham invited him to come to the U.S., to sing lead with Gamma, a new band being formed by Bay Area guitar great, Ronnie Montrose.

Pattison co-wrote such Gamma hits as "Thunder and Lightning," "No Tears," "Razor King" and "Voyager."

"Some of the songs that became Gamma songs, I had already written the lyrics before I got here. There was a whole big notebook full of lyrics. We just went through those. There was never any invitation to join the band," he says, chuckling. "It was just taken for granted. We got together and it was like, bang! We were writing songs from day one, really.

"We'd sit down with two acoustic guitars and Ronnie would come up with an idea and then I'd go look at the lyrics and I'd come up with a melody line that suited those lyrics. It was actually quite simple, really. There was no stress involved in doing it. It just seemed to come kind of natural to us."

Pattison says of Montrose, who died in 2012, at home in Millbrae, Ca., a suicide, following a long battle with cancer, "He was a great musician. A wonderful guitar player. For me, he had that touch of the blues thing in his playing. He could have used more, in my opinion. But he had that soul thing going, too, which is what appealed to me."

The group had tremendous success, packing huge venues. Pattison says, "I was like a fish out of water for a while. The biggest gigs, at that point, I'd played, would be theatres, two or three thousand people. But all of a sudden, you're singing to 20,000 people. It's a whole different planet."

Following 1982's "Gamma 3," the band Pattison had formed with Montrose began to come apart.

"The band just kind of fizzled. I was never too thrilled with 'Gamma 3,' to be honest with you, the third one. To me, it was deviating away from what Gamma was. It was more key-board-oriented. It reminded me of Flock of Seagulls," Pattison says, laughing. "I just felt, 'That's not what we are.' Then Denny [drummer Denny Carmassi] got offered a job with Heart. So he was gone. It just wasn't the same anymore. Most bands kind of have their day and they kind of fizzle out. And then I was asked to join Robin."

Pattison began singing with guitar legend Robin Trower in 1986. They've recorded several albums together.

"I've always enjoyed working with Robin, because, again, it's that blues influence, that passion, the soul that goes along with that kind of music. I just naturally gravitated towards that. And he knew that, too. I don't know what the plan is, at the moment, for any more tours with him. He's had some family illnesses, so that's why we haven't been touring. I'm hoping that there's something happening in the summer of next year, maybe. We'll see.

"Robin is so deep. Such a talented man. If you look at his library of songs. I mean, it's unbelievable. Even now, I'm sure he'll be settin' at home in England, still writing songs. That's what he does. A brilliant musician. There's only one Robin Trower."

Pattison worked with another famed guitarist, hard rocker Michael Schenker, in the Schenker Pattison Summit.

"I'm friends with Michael Varney, who owned that Shrapnel Records. I've done a lot of work with him over the years. And he called me and asked me if I'd be interested in doing something with Michael and I said, 'Sure.' It was a whole lot of fun, that. I got to play with my old friend Aynsley Dunbar. He played drums on it. And Tim Bogert on bass, from Jeff Beck. So good musicians. It was very simple to do. It was just a whole bunch of cover songs and we just kind of revamped them. It was two albums, actually. I haven't heard from Michael in a while. I don't know what he's doing. Somebody told me he's back in Germany. I know he was living in Arizona. He was living in Phoenix, when I was working with him. Those two albums were great fun."

Of successful collaboration, Pattison says, "For me, I've always gravitated towards people, and I guess other musicians have gravitated towards me, because of the blues, because that's my approach. At the end of the day, it all really comes from the blues. And it's really about one word. The word is compromise. Empathy, bringing out the best in people, pushing them, when you have to. And leaning back, when you don't. A lot of it's experience, I think, especially in the studio. Yeah, I been doing this a long time now."

Like a fine wine or a great blues singer, Pattison improves with age. "I don't listen to my old stuff. When I finish a recording project, I listen to it once and then I may never hear it again. But people are telling me I'm singing better and better all the time. And that comes from people I trust musically. They're telling me that, so I guess I'm doing something right," Pattison says, laughing.

Pattison, 68, divorced, has been living in Marin County since 1979. He's currently based in Novato. "I've always thought, if you're going to the United States, live in the Bay Area. I've seen more of America than 95 percent of Americans, I would think. There are places in America that are just wonderful, but the Bay Area, I just love it here. The weather's perfect. Look at today. It's the middle of November. It's 75 degrees out there. Unbelievable. Where I come from, it's minus-four." Pattison laughs. "To hell with that! No more of that shit!"

He didn't feel instantly at home in America. "The American culture took me a while to get used to, because it's a whole different way of life from the way I was raised. I talk now about it with my own children [two grown daughters]. They were brought up with swimming pools and palm trees and hot tubs and the Marin County lifestyle, so to speak. I came from the slums. I've tried to explain that to people from here. And they just don't comprehend that."

Pattison's gritty roots inform his music. "I remember doing a radio interview years ago and the DJ asked me, 'Why do you think you have the right, as a Scottish guy, to be singing the blues?' I go, 'Well, being brought up in post-war Scotland will give you the blues,'" he says, laughing. "All you hear about in the history books is the Blitz in London. But what happened in Glasgow was even worse, because Glasgow was building all the ships. So they flattened that city. It got a lot of attention from the Germans, the Luftwaffe, bombing the shipyards.

"The years after the war were pretty tough for most of the people. There was rationing, food rationing, living in slums. That's the way we were all brought up. There's a lot of Scottish singers from that era who have done quite a bit. To me, Glasgow was every bit as bleak as Harlem, if not more so. Or Mississippi.

"We were all listening to the same stuff, blues music and Ray Charles and Little Richard and soul music, Aretha, Donny Hathaway, eventually, who's a huge influence on me. John Lee Hooker, who I got to know quite well, when I got here."

What did Pattison learn from Hooker? "Humility. He was a very humble man. I miss him."

Like Hooker, Pattison has retained his lifelong fervor for music. "I still love it. There's a lot of people who've been doing this a long time who are kind of burnt out on it, but just do it because that's what they do. But I've still got the fire for it. And if I lost that, I don't think I would do it, because if the passion goes, it goes, so why do it? If you're not loving every minute of it, why do it?"

He loves every minute of performing, but that doesn't mean a career in music doesn't present challenges. "The business has changed an awful lot over the years. There are no record deals anymore, unless you're 19 years old and you've got a troupe of dancers and blah, blah, blah. At least through the major labels.

"Most people who play music, they can make records in their living room, with a computer now. So there's a whole lot of crap out there. I'm sure you know this as well as I do. And there's no radio out there. That's the other thing. It doesn't matter who you are. You can't go on the radio anymore with new material. And I know who's to blame for that. I'm sure you do, too. Clear Channel. I mean, they own most of the radio stations in America. And a lot of the venues, too. And they don't promote new music at all. So to try to get new music out there is difficult. Somebody told a while back there that every single thing I've recorded in my life, is on the internet for free. Every single thing. Every song... is out there for free. There's something not right about that. So the business end of it's changed a whole lot. It's definitely tougher... because there's a whole lot of crap out there. Even with a bit of a reputation, it's difficult."

As for the satisfactions that balance out those difficulties, Pattison says, "Just being able to keep doing it and loving it. That's enough reward. I don't need to be a millionaire. I'm quite happy plodding along and making a living at it. I know a lot of people that are very wealthy in this business. And I've also met many really talented people who are not that wealthy. And they vastly outnumber the wealthy ones."

Pattison has released solo albums, including "Mississippi Nights" and "Pictures," and has penned a number of new tunes. But he hasn't recorded them as yet.

As for unfulfilled musical ambitions, Pattison says, "Well, I got kind of frustrated, when I heard Rod Stewart doing classics, the standards. I got kind of frustrated by that, because, one, he's not very good at it, and he shouldn't really do it, but this is part of the business and those albums go triple-platinum. There's something not right with that," he says, laughing, "because they're awful. And I've done a bit of that, in my time. My favorite all-time singer's Nat King Cole. Even now, I listen to Sinatra, Al Martino, the classic singers of the 30s and the 40s. And to me, that was proper music. Those songs were properly written music. So yeah, I would like to do that at some point. But probably it'll never happen, because you need an orchestra to do it properly, unless you do it with a trio, which wouldn't be the same. Yeah, I don't know. There isn't much that I still want to do, that I haven't done. I've done most of it."

In fact, Pattison's reality has exceeded his dreams. "I mean, I'd never have thought, when I was 20 years old, that I'd be living in California, having toured the world and played arenas and stadiums. No, I would never have dreamt of that."

For more information on Pattison, as well as the latest tour dates, visit www.daveypattison.com.