DAVID MCCULLOUGH: AUTHOR RETRACES THE WRIGHT PATH



By Paul Freeman [June 2015 Interview]

Wilbur and Orville Wright had no college education, no financial backers. What they did have was boundless daring, focus and perseverance. And that was enough for them to achieve what so many, for so long, across the globe, had attempted - to take flight.

Their remarkable story is told in incredibly detailed, fascinating style in the new book "The Wright Brothers," [Simon and Schuster] by David McCullough. The Presidential Medal of Freedom honoree as a gift for making history come to life. He has won two Pulitzer Prizes, for his biographies of Harry Truman and John Adams.

McCullough had not had a lifelong fascination with the Wright brothers. "I had been interested in flight." he tells Pop Culture Classics, "but I really knew very little about them, not much more than most everybody knows, that they were bicycle mechanics from Ohio."

When he was doing his research for his previous book, "The Greater Journey," about Americans in Paris in the 19th Century, he ventured in his reading into the 20th century.

"Lo and behold, there were Orville and Wilbur Wright and their sister Katharine in France. I thought, 'What in the world were they doing here?' When I found out how important their time in France was and how much it revealed about the extraordinary ranges of their interests, I right away wanted to know more. The next thing I knew, I was on the hunt and eager to get working on a book about them."

Endless hours of research never become tedious to McCullough. It's a process of constant revelation.

"The more you know, the more you want to know. I've never undertaken a book for which I didn't discover something new, that nobody had turned up before. And that's always a powerful motivation."

In the Library of Congress collection, McCullough was able to pore over 1,000 of the brothers' professional letters, correspondence with a variety of people with whom they dealt or shared insights. But he says it was the 1,000 private letters that held the heart and soul of this story.

"They are so revealing of their humor, their intelligence, their affection for the family and their worries and their disappointments, sometimes their anger at one thing or another. It's all beautifully laid out."

Part of the gratification for McCullough is sharing this acquired knowledge, so his subjects become, to the readers, not just names in a history book, but fully dimensional human beings.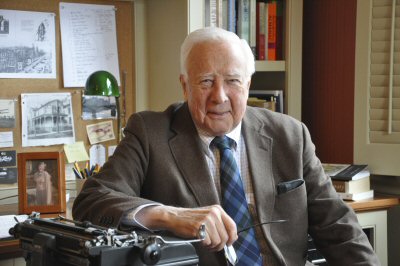 Photo by William B. McCullough

"History should never be boring, because it's about people. 'When in the course of human events,' as our founding document begins. And 'human' is the operative word there."

Like the author, readers come away from "The Wright Brothers" having a great affection and admiration for Wilbur and Orville.

The brothers amassed knowledge by reading the vast and diverse library their father maintained at home.

McCullough says, "Their self-generated, self-achieved education was in effect, a full liberal arts education. And yet they would achieve one of the most miraculous technical accomplishments of all-time. To diminish the importance of liberal arts in our present day education, particularly among people who want to go into technology or science, is to really take a leap in the wrong direction."

There was brilliance in the brothers' inventions. But work ethic and determination were just as important.

"They would not give up," McCullough says. "They could get knocked down, they could get set back, they could get ridiculed, but it didn't stop them. They had purpose. And there's something to be learned from that. They had high purpose, great aspiration to achieve something of value.

"Like Harry Truman, their lives illustrate that much good can come out of adversity. At the very beginning of the book, I use a line from Wilbur's notes, where he writes, 'No bird ever soared in a calm.' The winds of fate or luck or public opinion in your face, running against you, that's often exactly what will lift you to the place you want to go. They never whined, blamed other people or lapsed into self-pity. Yes, Orville had his peculiar spells. And yes, when Wilbur had his upper teeth knocked out by a hockey stick, he went into a self-imposed seclusion at home. His life took a tremendous swerve. It was that swerve, that adversity that turned out to set him on the path that would eventually change history… change the world."

The bond between the brothers strengthened them. "It was very powerful," McCullough says. "Wilbur was always the big brother, the leader. Orville was very innovative mechanically. They both were extremely courageous. Each of them knew every time they went up on a test flight, they stood a very good chance of getting killed, which is why they would never go up together, because if one got killed, they wanted one still alive, pursuing the mission."

Despite the great fame that followed their Kitty Hawk breakthrough, the brothers didn't let it go to their heads.

"They had been raised - you don't get too big for your britches," McCullough says. "They had no desire for the limelight, were happy to avoid it. They were never in it for the money or material possessions."

One of the elements of the book that most pleases McCullough is revealing the role that unsung heroine Katharine Wright played in her brothers' lives. "Credit was long overdue for her. Women just weren't given the attention. I'd also emphasize the huge importance of their father, the faith he had in them and the trust he had in their potential.

"This story of worthy accomplishment is part of the American spirit. And very little of consequence in life is accomplished alone. It's a joint effort. That's the kind of thing that people in Washington need to remember more than they seem to."

It took McCullough four years to write "The Wright Brothers." Other books have taken him longer. He draws inspiration from the great historical figures he studies.

"You get to know them very well, in some ways better than people you know in real life, because you can go into the privacy of their correspondence, their diaries, their wish lists, if you will. It's like having that person for your roommate, because you're with them every day. And yes, they have their flaws, their idiosyncrasies, their less-than-admirable moments. That's part of being human.

"If I had known all about the Wright Brothers, I would not have wanted to write the book. It's the process, the cracking of the case, being on the hunt, that's my motivating force. It's like going to a continent you've never set foot in. That makes every day all the more interesting."

For more on this author, visit: http://www.simonandschusterpublishing.com/davidmccullough/