DEF LEPPARD IS ON THE PROWL AGAIN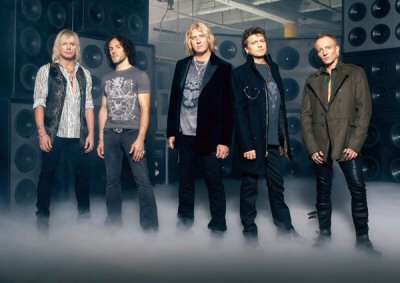 Photo By: Andrew MacPherson
By Paul Freeman (2002 Interview)
"X" marks the Leppard's spot: The 1980s big-hair band is back on tour.
The band has released its 10th studio album, full of the same sort of fist-pumping pop-rock numbers the band has made its staple for 25 years.
"On this record, it was totally about pleasing ourselves," says Phil Collen, longtime Def Leppard guitarist/vocalist.
"With previous albums, especially with 'Euphoria,' we were like, 'OK, we're going to make a record for the fans. We're going to make it sound like a pastiche of the Def Leppard career.' With this one, we felt that it was more about us."
Without Lange
The band had to work without famed producer Mutt Lange, who helped create the band's sound. "We'd always like his input. We'd play him stuff over the phone. He has the most busy, grueling schedule. He works harder than anyone I've ever met in my life. So, unfortunately, on this record, we didn't get a chance to directly work together, but he's always part of the whole thing."
Once Def Leppard exploded out of Sheffield, England, in 1977 and established its sound around the world, other bands borrowed liberally from it. And not just metal bands. Alternative band the Offspring used a bit of "Rock of Ages" for the "Pretty Fly (For a White Guy)" intro.
"When we heard the Offspring thing, that was great, really cool. They asked if they could use that," Collen says. "But in the '80s and post-'80s, when a lot of the bands were lifting stuff off 'Hysteria,' even 'Pyromania' stuff, it just sounded kind of cheap. If you steal from another genre and make it your own, then it's cool. But if you're blatantly trying to get something to sound like something, it's not flattering, it's just unoriginal."
Def Leppard's sound has often been categorized as metal. Collen says the label is more inappropriate than ever.
"The definitions of metal have completely changed. You have new genres, Linkin Park and P.O.D, for example, which are real heavy bands. I love both of those bands. That defines the new kind of sound. When you play something like that against us, you say, 'Def Leppard's just a pop band.' We're a pop-rock band, I guess. But we're not even slightly metal."
Tempered by adversity
Over the years, Def Leppard has overcome obstacles that would have disintegrated lesser bands. In '84, drummer Rick Allen lost an arm in a car crash. In '91, guitarist Steve Clark died of a drug/alcohol overdose.
"All that's made us stronger -- as a band, as people as well. We treat each other with great respect and dignity, which is really nice. You know each other's idiosyncrasies. You know when not to push buttons. ... We experience all these things together -- birth, death, accidents, marriages, divorces. After a while, you have a lot in common and you can relate to each other. We've grown a lot, I do believe."
Collen doesn't view Def Leppard's history as unusually tragic. "If you take anyone's personal life experiences, not even just in this band, over a 20- year period, nasty diseases, people passing, relationship split-ups, just horrendous things happen to everyone. A band of musicians that have been together for the same time period will experience the same kind of stuff. So we don't look at it as being cursed or having bad luck or anything like that."
Collen says the band's original concept was to form a hybrid, encompassing the full breadth of rock music. "When I joined the band, I knew (singer Joe) Elliott, who had a very similar record collection to me. He liked the idea of blending everything from T-Rex to David Bowie to Led Zeppelin. That always appealed to me. The idea was to make it across the board, so a lot of people could enjoy it. We were a band that liked both Sex Pistols and Supertramp. We never paid attention to any peer pressure thing of what we should listen to or like. I think that's one of the big things that helped our success.
"On the 'Pyromania' and 'Hysteria' albums, Mutt Lange was so desperately trying to create a pop-rock hybrid. And he really succeeded. He then made the country-pop crossover (with Shania Twain). I honestly believe he brought country music to most people's homes, made it Top 40-accessible."
'Not just a stereotype'
VH1's "Behind the Music" brought the Def Leppard story to a new generation. "That's been really important to us. It shows that we're not just a stereotype. Of course, we now get so many people going, 'Oh, so you guys were just having complete orgies under the stage.' It wasn't really like that at all. If anything, some girls would flash us under there. That's about as seedy as it got.
"But the VH1 thing was great for showing that it wasn't just about image and getting drunk all the time. There was some substance there as well. We were trying really hard to make music that people would enjoy."
The band has just returned from a triumphant tour of Japan and is embarking on its first U.S. tour in more than three years. They feature several tunes from "X," as well as classic Leppard material. Collen, who keeps fit with kickboxing, relishes his onstage interchanges with fellow guitarist Vivian Campbell.
"All of the rest of the stuff, all the promo, making records, even writing songs to a degree, which can be fun at some points, becomes hard work. There is some stuff that is quite chorelike. But the live thing is never like that. The live thing is really the payoff."
For news, visit www.philcollenpc1.com or www.defleppard.com.