DEJA RE-VU
Pop Culture Classics' Recommended CDs, DVDs and Books
By Paul Freeman


DVDs


"CHILDREN SHOULDN'T PLAY WITH DEAD THINGS"
This 1972 cult-horror/comedy classic has finally been brought to Blu-Ray, courtesy of VCI. A nasty director (Alan Ormsby) and his acting troupe, vacation on an isolated island. The only attraction is a graveyard bursting with criminals. The actors dig up a corpse called Orville. These jokesters decide to perform a hokey seance to resurrect good ol' Orville. Surprise! Zombie mayhem ensues. Bob Clark may be best known for directing the sweet, perennial holiday favorite, "A Christmas Story." Some prefer the raunchy humor of his "Porky's." But he's quite at home in horror, as well. "Black Christmas" is a spine-tingler. Clark brought his knack for both scares and laughs to the terrifically off-beat "Children." The newly restored edition, 2K with DTS audio, looks and sound better than ever (keeping the low-budget source material in mind). And there are tons of groovy bonuses, including an alternate U.K. version, tribute to Clark, music videos, commentaries, trailer, radio spots, interviews and more. With zombie film fever running at its hottest, it's an ideal time to rediscover this campy, lively foray into Clark's undead "Children."
"CHASING SHADOWS"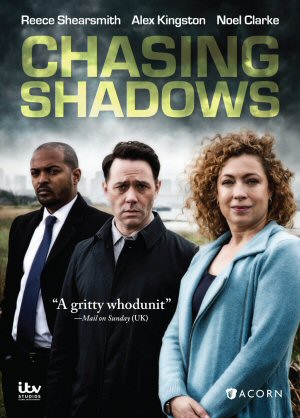 Acorn Media has made the first season of this outstanding British police drama available. Consisting of two cases, four episodes, it will leave you hungry for more. The series offers rare intelligence and wit, as well as wonderfully unique and intriguing characters. Reece Shearsmith gives a fascinating portrayal of DS Sean Stone, who's a genius at detecting, but whose lack of social skills, bordering on autism, makes him impossibly challenging to co-workers. Having infuriated the homicide department, despite his murder-solving magic, he's shunted off to a missing persons unit. There he's greeted by warm, welcoming, Ruth Hattersley (the enchanting Alex Kingston, beloved by "Doctor Who" fans as River Song). Ruth is sensitive and patient, but even she grows frustrated by Stone's utter lack of consideration and cooperation. He's the ultimate loner. He has no time for politeness. But he does have an uncanny knack for uncovering serial killers or, as Stone calls them, "multiple murderers." Brutal honesty is his way. But Ruth might just have a positive effect on him, as does his caring housekeeper (beautifully played by Myriam Acharki). Don Warrington and Noel Clarke add strength as the exasperated, by-the-book police superintendent and detective, respectively, to whom Stone must answer. The criminal cases here, like the cast, prove to be enthralling.

'A PLACE IN HEAVEN"
SISU Home Entertainment has made available a compelling, thought-provoking film, "A Place In Heaven." Nominated for 10 Israeli Academy Awards, it opens with a placid, reflective moment that suddenly turns into a ruthless murder. We flash back to experience the life of the victim, a highly decorated general, a secular Zionist who, hungry and unthinking, sold his place in heaven to an assistant army cook/rabbi for a meal. It's an obscure, ancient custom whose consequences, in this case, will cast a lifelong shadow. In the lead role, Israeli film icon Alon Aboutboul gives a fascinating performance, spanning decades. The film explores the officer's attempts to reconcile his role as uncompromising warrior in the Israeli/Palestinian war with his background of religious traditions. It introduces us to the women in his life and his quest, as time passes, to contribute to his community in a more peaceful way. It also depicts his challenging relationship with his religious, estranged son. The bond of blood and love is there, but the two generations have difficulty understanding and accepting one another. The film wrestles with the burden of guilt and the debate over what entitles us to a place in heaven. Aboutboul's powerful portrayal of a complicated man gives the work a tremendous resonance.

THE VINCENT PRICE COLLECTION III: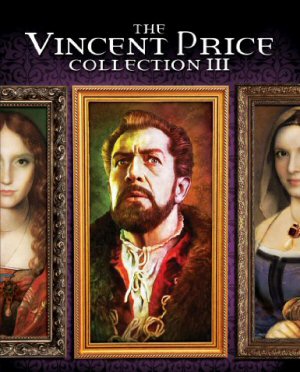 Scream Factory has favored horror fans with another box set featuring the incomparable Vincent Price. These four Blu-Ray discs present five memorable Price performances. 1961's "Master of the World" is more of a period sci-fi, directed by Tarantino fave William Witney, screenplay by the great Richard Matheson, based on a couple of Jules Verne stories. Price plays a Nemo-like scientist who's convinced that world peace can be achieved by dropping bombs from his airship. Price takes on the evil machinations of King Richard III in 1962's "The Tower of London," a Roger Corman picture. 1963's "Diary of a Madman" allows Price to entertainingly chew the scenery as a maniacal magistrate, possessed by a demonic spirit. "An Evening of Edgar Allan Poe," from 1970, is kind of a one-man show, in which Price reads four Poe classics. 1970's "Cry of the Banshee" is wild fun, filled with witches, witch hunters, eerie atmosphere and plenty of dark humour. The discs provide terrific extras, including commentaries, rare TV episodes and interviews, including informative ones with Corman and Matheson.

"THE BOLD ONES: THE NEW DOCTORS"
"The New Doctors" was an engrossing drama, airing as part of NBC's "The Bold Ones" wheel of series, 1969-73. It's the only rotating element to last all four seasons. Timeless Media Group has released the entire series, 45 episodes (including the second part of an "Ironsides" crossover), in an eight-disc set. The show stars E.G. Marshall, David Hartman and John Saxon (who left after three seasons, replaced by Robert Walden). Lloyd Bochner is also featured. Subject matter includes abortion, embryo transplant, genetic counseling, radiation poisoning, the experimental treatment of heart disease, the health problems of the first black astronaut and a new heart procedure - coronary bypass. Oh, and there's the episode in which a teen boy learns that his father is a homosexual and believes it is hereditary. Don't worry, the New Doctors treat his trauma with a strong dose of truth, coated in compassion. The list of guest stars is impressive, including Karen Valentine, Cameron Mitchell, Jane Wyman, Carl Reiner, Frank Converse, Shirley Knight, Richard Anderson, Jack Klugman, Ida Lupino, William Shatner, Della Reese, Carol Lynley, Dorothy Malone, Louis Gossett, Jr., Julie Adams, Tom Drake, Carl Betz, Clu Gulager, Tisha Sterling, Milton Berle, Michael Constantine, Don Johnson, Mike Farrell, Loretta Swit, McLean Stevens, and Richard Dreyfuss. Among the episode directors are such notables as Richard Donner, John Newland, John Badham, Marvin J. Chomsky, Jeffrey Hayden (read the PCC interview: http://popcultureclassics.com/jeffrey_hayden.html), Jeremy Kagan, Frank Pierson, Darryl Duke, and Jerry Lewis (yes, that Jerry Lewis.). It makes for consistently absorbing television.

"THE TRIALS OF JIMMY ROSE"
Ray Winstone and Amanda Redman, who starred together in the film "Sexy Beast," reunited for this ITV crime mini-series. Winstone plays an ex-con, who returns home after 12 years in prison. The family dynamic has changed dramatically during his long incarceration. He tries to go straight, determined to win them back. But his granddaughter's descent into the drug world complicates things. Winstone is magnificent, capturing the character's intensity and complexity. Redman and the rest of the cast are just as believable and compelling. The three-episode drama is filled with tension, resulting from troubled relationships, external forces and characters' inner struggles. Once you've watched the first episode, you'll desperately want to view the other two immediately. It's that riveting.

"ELVIS COSTELLO: DETOUR LIVE AT LIVERPOOL PHILHARMONIC HALL FEATURING LARKIN POE'
Costello's solo "Detour" tour enabled fans to hear many of their favorites, as well as deeper album cuts, from years past, enhanced by the artist's warm, witty, insightful anecdotes. His hometown Liverpool performance is now available on DVD, Blu-Ray and digital, from Eagle Rock Entertainment. Among the classics are "I Can't Stand Up For Falling Down," "(The Angels Wanna Wear My) Red Shoes," "Accidents Will Happen," "Watching The Detectives," "Alison" and "Peace Love and Understanding." Also included in the set are more recent standouts, such as "Jimmie Standing in the Rain." Rebecca and Megan Lovell of the Larkin Poe group accompany him on some of the numbers, adding lovely harmonies. But all Costello needs are his acoustic guitar (or electric guitar or piano), his distinctive voice and his brilliant songs to rivet the audience.

"MAUDE: THE COMPLETE FOURTH SEASON"
Yes, she was Vera Charles in "Mame." She was Golden Girl Dorothy Zbornak. But Bea Arthur's defining role was that of Maude Findlay. Edith Bunker's husky-voiced, left-wing, indomitable cousin. The character, created for "All In The Family," spurred one of the most acclaimed and successful spin-offs in TV history, "Maude." Shout Factory! has released season four of the classic Norman Lear sitcom. By that point, the show was firing on all cylinders. These 24 episodes offer tons of hearty laughs, as well as many though-provoking themes and occasional touching moments. Inspired plots include such situations as Maude hiring an ex-con as a housekeeper, Maude's daughter facing gender inequality in the workplace, and Maude deciding that Henry Fonda must be elected President. Arthur is a force to be reckoned with, every moment she is on screen. She gives Maude great depth… and a wicked way with sarcasm. The extraordinary supporting cast includes Bill Macy, Adrienne Barbeau, Conrad Bain, Rue McClanahan and Hermione Baddeley.

"THE BIBLE STORIES: ABRAHAM"
From "The Bible Stories" series, Abraham (Richard Harris) is a shepherd who holds a tremendous faith in God. That is sorely tested over the course of this drama. Abraham and his wife Sarah (Barbara Hershey) must set out on a difficult journey, filled with obstacles. But the ultimate test comes when the Lord commands that the shepherd sacrifice his beloved son, Isaac. The story turns out to be uplifting and life-affirming. Charismatic Harris brings power and intensity to the lead role. Maximilian Schell and Vittorio Gassman are also featured. Directed by Joseph Sargent, this version proves to be thoroughly absorbing.

RHYTHM 'N' BAYOUS: A ROAD MAP TO LOUISIANA MUSIC
Acclaimed documentarian Robert Mugge's exploration of the Pelican State's contributions to music is a real ear-opener. It's now available on DVD, courtesy of Music Video Distributors. From Shreveport's historic Municipal Auditorium, where the famed country TV program "Louisiana Hayride" took place, to a New Orleans restaurant to a backyard gathering, we get to experience the region's rich musical traditions, including gospel, rock 'n roll, Cajun, Zydeco, gospel, blues, jazz and country. The traditions extend from big cities to remote, rural areas. Once Mugge introduces you to many of these diverse artists, you'll want to explore their music further. This is a marvelous, musical travelogue.

CDs



WES MONTGOMERY - "ONE NIGHT IN INDY"
Resonance Records has gifted jazz aficionados with another must-have, previously lost set from the wonderful Wes. This 1959 live club set features Montgomery teamed with pianist Eddie Higgins' trio, which includes drummer Walter Perkins and an uncredited bassist. They display instant chemistry as they tastefully and imaginatively jam. Montgomery's silky work on the guitar strings is consistently winning. Though he hadn't yet hit the big time, it was already evident that his talent was immense. The delightful tunes include "Give Me The Simple Life" and "You'd Be So Nice To Come Home To," as well as a toe-tapping "Stompin' at The Savoy." You'll be glad you time-traveled back to the 50s for this glorious musical night.

SARAH VAUGHAN - "LIVE AT ROSY'S"
This two-CD set from Resonance Records is a true treasure. Recording in 1978 at a New Orleans jazz club, these tracks show Vaughan, then in her fifties, still at the peak of her vocal powers. One of the most distinctive voices in jazz/pop history, Vaughan could caress a lyric, massage a melody into deeply personal and moving expressions. Vaughan finds new and exciting accents on a swingin' "A Lot of Livin' To Do." "I Fall In Love Too Easily" has a honeyed melancholy. With "Time After Time," Vaughan wraps the listener in a wonderful warmth. The ache in "I Got It Bad" (And That Ain't Good)" reaches out and touches your soul. And you'll fall in love with "My Funny Valentine." Uptempo or ballad, Vaughan gets the maximum from every number. Whether it's a vintage treat, like "A-Tisket, A-Tasket" or something a bit more modern, like "Send in the Clowns," she makes every song something uniquely Sarah. Onstage patter and audience reactions add to the spontaneous feel and the thrill in being part of this magical musical moment.

THE JEZEBELS - "SYNTHIA"
This, The Jezebels' third album, is their finest so far. A fiery, unfettered feminism helps fuel the simmering synth-pop appeal of the Australia band's latest. The musicians - vocalist Hayley Mary, keyboardist Heather Shannon, guitarist Sam Lockwood and drummer Nik Kaloper - mesh brilliantly into a swelling, swirling, sensual sound. The lyrics are strong and compelling. The melodies and arrangements bring dramatic, atmospheric power to the tracks. Memorable songs include "Stand and Deliver," "Pleasure Drive," "Smile" and "Flowers in the Attic." You'll want to dance with wild abandon to "If Ya Want Me." And "Stamina" and "A Message From My Mothers Passed" will move you in a more profound manner. Mary's righteous vocals honestly portray a wide range of emotions. And the sound she rides is haunting. The Sydney-based group recently had to cancel a scheduled world tour, because of the Shannon's health. She has been battling ovarian cancer for three years. Let's hope The Jezebels, with Shannon on board again, will soon be able to serve up live versions of these amazing songs.

BARB JUNGR - "SHELTER FROM THE STORM"
The British vocalist returns with "Shelter From The Storm," subtitled "Songs for Troubled Times." Blessed with an extraordinary voice and a keen understanding of lyrics, Jungr interprets greats songs with a rare sensitivity and originality. Here she offers her own distinctive, jazz-oriented versions of diverse material, including Rodgers & Hammerstein's "Bali Hai," Bob Dylan's "Shelter From The Storm," a combo of Dylan's "All Along The Watchtower" and Peter Gabriel's "In Your Eyes," David Bowie's "Life on Mars" conjoined with "Space Oddity," Joni Mitchell's "Woodstock and Leonard Cohen's "Sisters of Mercy." There are also beautiful originals, penned by Jungr and her Grammy-winning arranger/accompanist, pianist Laurence Hobgood - "Stars Lazy, But Shining," "Hymn to Nina" and "Venus Rising." Every number radiates Jungr's moving vocal magic.

NATALIE DOUGLAS - "HUMAN HEART"
The album showcases not only Douglas's glorious singing voice, but also her social and political passions. She opens with Abbey Lincoln's powerful "Wholly Earth." Douglas includes another great Lincoln tune, "Throw It Away." The Douglas optimism is expressed in the Cy Coleman/Carolyn Leigh classic "The Best Is Yet To Come." She works wonders with a pair of Nina Simone numbers, "I Hold No Grudge" and the incendiary "Mississippi Goddam." The latter, despite a jaunty, show tune feel, was written in the wake of civil rights activist Medgar Evers murder. Racism is also at the root of "Strange Fruit," a number most associated with Billie Holiday. Douglas also works wonders with another tune recorded by Holiday, Jimmy McHugh's "I Must Have That Man." A slow, tender version of Jerry Jeff Walker's "Mr. Bojangles" is another highlight, as is the Douglas delivery of "Can't Help Loving That Man" from "Show Boat." She makes each performance genuinely affecting.

HIROMI - "SPARK"


Pianist/composer extraordinaire Hiromi, teaming with elegant contrabass guitarist Anthony Jackson and inventive drummer Simon Phillips, continues to create astonishingly adventurous music. The way Hiromi plays, there's meaning in each and every note. Her keyboards effortlessly flow from jazz to rock to classical flavors on the new album. "All's Well" delivers funk fun. "Wake Up and Dream" is gorgeous and reflective. Taking the rapt listener in many different directions within a single composition, this trio manages to be both daring and completely absorbing throughout.

MONICAL PASQUAL & THE HANDSOME BRUNETTES - "IS FORTUNE A WHEEL"
Pasqual, the award-winning indie artist, known for her years as member of Bay Area favorites Blame Sally, delivers a luminously beautiful new solo album. Pasqual's lovely voice eloquently expresses every poetic line of wonderful songs like "Is Fortune A Wheel." There's a rare elegance and subtle drama to her lyrics. The melodies sway and soar, haunting in one moment, majestic in the next. "Swann's Way" is a supple, silken ballad. "Golden Cuff" brims with emotion. "1969" explores an era when we believed that the impossible was possible. "The Color Blue Is Everywhere" is the shimmering, spellbinding closing number. Every track is a gem. Pasqual is very special artist, exploring love, loss and life in profoundly moving ways. To know her music is to love it. Far more people should get to know it.

SARI KESSLER - "DO RIGHT"
Kessler's velvety, vivacious jazz vocals make each of the tunes on this new album sparkle. The top-notch backing musicians give her room to shine. She brings a fresh, vibrant feel to Bacharach/David's "Walk On By." "After You've Gone," "Too Close For Comfort" and "Why Don't You Do Right?" gently swing. There's a torchy feel to "The Gal From Joe's." A touch of whimsy enlivens "The Frim Fram Sauce." Kessler reaches deep down for emotional power on "Feeling Good" and "My Empty Bed Blues." And her version of "Sunny" is terrific. Right on, Ms. Kessler!

LORETTA LYNN - "FULL CIRCLE"


At 83, Loretta Lynn does indeed come full circle with this magnificent new album. She returns to her roots, revisiting Appalachian folk, gospel and country standards. The traditional tune "In The Pines" is moving, thanks to Lynn's still powerful voice, brimming with honest emotion. "Black Jack David" has been recorded by many artists, including The Carter Family and The Incredible String Band. But Lynn has now made it her own, as with "I Never Will Marry." There's a captivating new rendition of "Whispering Sea," the first song Lynn ever wrote. She breathes new life into some Lynn classics, including the feisty "Fist City" and the fervent "Everybody Wants to Go to Heaven." Lynn delivers a poignant interpretation of the pop great "Secret Love." There's a tear-stained "You Were Always On My Mind." Lynn sings "Everything It Takes" with Elvis Costello. And the closing number, "Lay Me Down," is a tender, touching duet with Willie Nelson. Produced by Patsy Lynn Russell and John Carter Cash, the album, Lynn's first in more than a decade, is a glowing reminder of what a timeless treasure she is.

"GETZ/GILBERTO '76"
Brazilian singer/guitarist Joao Gilberto and American saxophone legend Stan Getz rarely performed live together. This new Resonance Records release captures a 1976 concert at San Francisco's Keystone Korner club. It's a historic pairing and the result is an evening of sigh-inducing, breezily beautiful music. Among the highlights are Antonio Carlos Jobim's "Aquas de Marco" and Gilberto's own "Um Abraco No Bonfa" and "Joao Marcelo."

GYPSY SOUL - "TRUE"
Any discussion of today's finest female vocalists must include Cilette Swann. And no one who has heard any of the brilliant Gypsy Soul's entrancing albums would disagree. If you're unfamiliar with this dynamic musical duo, the new album, "True," is truly the perfect place to begin. Swann's voice dazzles from the opening notes onward. She's a revelation. Versatile and often acrobatic, without ever seeming forced or disingenuous, she will keep you enthralled throughout. She can convincingly deliver her poetically crafted lyrics with powerful passion or sensuous subtlety. When she suddenly floats into the uppermost regions of her remarkable range, she'll take your breath away. The twosome weaves touching sounds, reflecting pop, jazz, blues and Americana flavors. "Your Kind" is delicate, disarming and delicious. "Gotta Be Real" starts with a rock edge and, in the middle, soars with horns and harmonies that come as exhilarating surprises. "Mirabelle" is another gem. The intricate melodies achieve emotional resonance. The duo's interpretations of "Hallelujah" and "Amazing Grace" are astonishingly fresh and filled with poignancy. Arrangements and instrumentation, guided with the insights of Swann's intuitive and talented partner, composer/multi-instrumentalist Roman Morykit, are beautifully understated and impeccably complementary, allowing the vocals to hold their much deserved place in the spotlight.

BROTHERS BROWN - "DUSTY ROAD"
The band is fronted by not one, but two guys named Paul Brown - one an L.A. guitarist/vocalist, the other a Nashville keyboardist. They're both gifted songwriters. Adding David Santos on bass and Peter Young on drums, they have put together an outstanding album that melds blues, funk, R&B, country, rock and jazz. Top tracks include "Cup of Tea," "Can't Outrun The Blues" and "This Old Heart." They might remind you of The Allman Brothers one minute and Boz Scaggs the next, perhaps even The Band, on a number like "The River." But the soulful Brothers Brown quickly carve out their own musical territory. This is a debut worthy of widespread notice.

"BUZZCOCKS - BRITISH LIVE PERFORMANCE SERIES"
There are many amazing vintage British TV performances Rainman Records are making available on CD. This one, from pioneering punk band Buzzcocks, definitely rank among the best of those. The set, shown on Central TV's "Bedrock" show in 1989, is from the group's 80s-era reunion.The group was part of the late 70s eruption caused by The Sex Pistols. Brash and sneering, Buzzcocks, also knew their way around a pop hook and a simple melody that would stick with the listener. Like The Ramones, they conveyed a sense of joy in the act of rocking out. More than a decade after their launch, they hadn't lost any of their propulsive edge. Terrific tracks include "Nothing Left," "Autonomy," "Why Can't I Touch It," "Everybody's Happy Nowadays" and "I Believe." Their hit "Ever Fallen In Love (With Someone You Shouldn't Have)" is here, too. The band, which served as an inspiration to Green Day and Nirvana, is touring again this year. Here's a chance to experience them in their prime.

"TEN YEARS AFTER - BRITISH LIVE PERFORMANCE SERIES"
Another in the series features the blazing guitar and vocal work of the late, great Alvin Lee and Ten Years After. They appeared in Central Studios for a concert performance on "Live Legends." Joined by bassist Leo Lyons, keyboardist Chick Churchill and drummer Ric Lee, Alvin Lee could rock up a storm or pour his soul into a potent blues number. Here he injects plenty of juice into rock 'n' roll classics like "Good Morning Little Schoolgirl," "Johnny B. Good" and "Sweet Little Sixteen." His signature number "I'm Going Home," gets a rousing treatment here. "Slow Blues in C" simmers soulfully. Other top tracks include "Let's Shake It Up," "Love Like A Man" and "I Can't Keep From Crying Sometimes." Lee is one of the British rock-blues guitarists who never seems to receive his due. He ranks among the most exciting of his time.

EMITT RHODES - "RAINBOW ENDS"
Formerly a member of the band The Merry Go Round, with his eponymous 1971 debut solo album, Rhodes dazzled critics and listeners. Writing, singing, playing the instruments and producing, he called to mind Paul McCartney at the peak of the Beatle's solo creative powers. He became a cult figure to power pop connoisseurs. But contract problems led to a career stall for Rhodes. After a 1973 album, he never recorded another full-length project. Until now. Miraculously, Rhodes has not only returned with a new album, but's it's a majestic, masterful work. Opening with "Dog On A Chain," Rhodes reveals the soul-crushing anguish of a marriage ending. He explores the pain, confusion, loneliness and sense of betrayal in startlingly honest lyrics, wrapped in beautifully composed and arranged melodies. Regret fills "If I Knew Then." A wistfulness and longing infuses "Isn't It So." Rhodes wishes for open, frank communication in "This Wall Between Us." Suspicion, humiliation and the discovery of lies beset the eloquently eligiac "Someone Else." Feeling the fool, he says he must learn to love the pain. And Rhodes delves into his feelings further on "I Can't Tell My Heart" and "What's A Man To Do." The relationship has careened in a tragic direction. He wishes there could be another chance, another choice, another way. Left empty, numb, yearning for his shattered dreams to be mended, he sings of "Rainbow's End," dreaming of being loved again, truly, solely, unendingly. Guests include Aimee Mann, Susanna Hoffs, Jon Brion and members of Wilco, Jellyfish and Brian Wilson's band. But they're only present to garnish Rhodes' superb vocals and heartbreakingly authentic songwriting. His melancholy has resulted in a musical marvel.

SHANNON HAYDEN - "YOU SEE THE WORLD"
The Chicago-based composer/cellist/vocalist takes us on a trippy, tantalizing, immersive neoclassical journey. Her soundscapes will sear their way into your minds, hearts and souls. Hayden sculpts layers, undercurrents and echoes, using electronica, loops, breathily entrancing vocals, and cello lines exquisite enough to make you weep or unsettling enough to set you on edge. Opening with "Vanished" and "Same," Shannon takes the listener to other worlds, beautiful, yet sometimes ominous. The off-center "Baggage" playfully wafts airborne, but sings of being weighed down. Following a foreboding "Interlude," she glides into a lolling, lush, lovely "Starshine." A beehive of musical energy launches "Accelerator." A throbbing cello riff drives the eerie closing number, "Silver Superstar." Hayden's brilliant, spellbinding work will envelop and thrill you. She seductively lures the listener into another dimension, surreal and sensuous. It's as if you had been exposed to only black-and-white sounds and suddenly you're hearing in full color. "You See The World" is a breathtaking revelation.

LILY & MADELEINE - "KEEP IT TOGETHER"
The Indiana-based sisters have created a beguiling album (their third) of elegant pop-folk. Melodically complex and lyrically thoughtful and intelligent, the duo's songs resonate on a profound level. The harmonies are gorgeous. Among the enticing tracks are "Not Gonna," "For The Weak," "Chicago," "Hourglass," "Smoke Tricks" and "Small Talk." The superb closer is "Nothing." But Lily and Madeline's new album is definitely something - something special. Delight in the dreaminess. They're on tour in May.

CHUCK JOHNSON AND CHARLYHORSE - "BARB WIRE"
The North Carolina country-rock band displays a lot of bite with "Barb Wire." The album offers authenticity, energy and diversity. It begins with a rousing "Birmingham." But the band can smoothly handle a delicate ballad like "Elaina" or "The Effort," as well. The title track has a strong rock feel. The Civil War-themed "Gray Coat" has a bluegrass kind of spirited drive. "Raylean," "Sway" and "Tao of Betsy" are country charmers. You'll find yourself singing along to "Eight Feet of Water (Katrina)." "Sugarcane" provides another high point. "Buddha" is a honky-tonkin' tune with a spiritual side. It's an impressive Americana debut.

CELTIC THUNDER: "LEGACY, VOLUME ONE"
Since forming in Dublin, in 2007, the group has earned tremendous worldwide popularity. Legacy Recordings has released a live show on DVD, Blu-ray, CD and vinyl. This collection puts together many fan favorites, spanning many genres, including traditional Celtic tunes, pop and classical crossover. Robust voices and a versatile backing band make the evening memorable. They deliver a lovely version of "Falling Slowly" from the film "Once." "Black Velvet Band" is a poignant Irish story-song. "Buchaille on Eirne" is another traditional gem. Steve Earle's "Galway Girl" is a spirited ditty. Dougie MacLean's Scottish ballad "Caledonia" suits Celtic Thunder perfectly. "Ride On" is a sentimental beauty. And Celtic Thunder ends with the stirring "Ireland's Call." These live performances make clear why this exceptional ensemble is enjoying lasting popularity.

"THE COMPLETE THEM - 1964-1967"
During the British Invasion, it was an Irish band that exploded with a ferocious blues-based rock 'n' roll sound even more raw, even grittier than that of The Stones or The Animals. It was Them. Van Morrison, before he polished off his rough edges, spat out the lead vocals. A few hit singles remain well known. But there were so many other potent tracks. Now Legacy has gifted us with the complete recorded output of the band. In addition to their only two studio albums - "The Angry Young Them" (1965) and "Them Again" (1966) - the three-disc, 69-track box set includes demos, alternate versions and live performances. There's a sense of angry, intense rebellion in the Belfast band's attack, even on more pop-oriented songs like Bert Berns' "Here Comes The Night." The addictive urgency of Them's iconic "Gloria" stands out, as do "Mystic Eyes" and the Joe Williams blues standard "Baby Please Don't Go." But there are lesser known recordings that will also burn their way into your memory. Them had their own brash versions of tunes like "I Put A Spell On You" (with a sassy sax complementing Morrison's soulful singing), "I Got A Woman," "Hey Girl," "I Like It Like That," "Baby What You Want Me To Do," "Route 66," "Richard Cory" and "It's All Over Now, Baby Blue." Other top tracks include "Could You, Would You," "Call My Name," "Mr. Lonely Sad Eyes" and "I Can Only Give You Everything." Morrison's "Friday's Child" hints at what his future musical evolution would bring. But the scruffy roots of Them provide plenty of gutsy, unadorned pleasures.

BONNIE RAITT - "DIG IN DEEP"
Raitt fans are definitely going to dig this new album. Her voice, honey coated with just the right amount of rasp, sounds as stirring as ever. And the mix of material here serves her well. She's at home on the bluesy "What You're Doin' To Me" and the Los Lobos song "Shakin' Shakin' Shakes." More surprising is how effective Raitt is, delivering an undulating, sizzling, sexy version of INXS's "Need You Tonight." She rocks in simmering fashion on "Gypsy In Me." Ballads like "You've Changed My Mind," "Undone," "I Knew," "All Alone With Something To Say" and "The Ones We Couldn't Be" will melt your heart, as Raitt finds nuances of meaning and emotion. Every note Raitt sings, whether of love, desire, pain, regret or hope, is honest, powerful and moving. And her 20th album stands among her best.

SUSIE ARIOLI - "SPRING"
Juno-winning Montreal artist Arioli has brightened the season with "Spring," the latest of her endlessly engaging albums. Soul seasons the jazz on this one. Whether she's swing or swaying, Susie knows how to make every song enticing. She opens with a winning original tune, the finger-popper "Loverboy." She beautifully reinvigorates the classic "Mean To Me." Arioli gives a pulsating, syncopated drive to Bo Diddley's "Dearest Darling." There's a soft, country swing feel to "Can't Say No." She delves into the blues with a powerful "Those Lonely, Lonely Nights." "Me, Myself and I" bubbles with energy, as does "After You've Gone." The title track is fresh and endearing. "Travelin' Light" has an appealing wistfulness. And Arioli's pretty "Someone Else" has a subtle samba touch. Her fabulous band provides ideal backing for Arioli's enchanting vocals throughout this irresistible album.

MIRANDA LEE RICHARDS - "ECHOES OF THE DREAMTIME"
For 15 years, Richards has been creating astonishingly captivating pop-folk-country albums. Her latest definitely ranks among her best. With an extraordinarily pretty voice, Richards imbues each track with the sort of dreaminess that will awaken a panorama of thoughts and feelings. Disarming melodies enhance well-crafted lyrics. Richards lures the listener with a lovely opening track, "7th Ray," an introduction to a welcoming sound. "Tokyo's Dancing" is a charmer, but one that, just below the winsome surface, takes note of the thorns beneath the roses. A sitar adds a psychedelic swirl to "Julian." Twelve-string electric guitar and soothing harmonies bring a 60s folk-rock vibe to "Colours So Fine." The warmth of the sonic atmosphere takes a turn, with the cooling, bluesy edge of "First Light of Winter." In "It Was Given," Richards exposes the darkness that can envelope innocence. There's a spirituality that glows in Richard's special aural aura. Purity and sweetness - never bordering on cloying - make this an album to embrace.

FRANCES ENGLAND - "EXPLORER OF THE WORLD"
With her impossible-to-resist, girlish vocals and fun, imaginative, uplifting songs, England makes music that will delight all ages. She finds magic all around her. You don't have to travel to experience great wonders. You just have to open your eyes and appreciate the treasures that surround you. That's what England points out in this endlessly enjoyable album. She celebrates sights and sounds in "All The Things I've Found." "City of Hills" is an homage to her home base, San Francisco. Other charming tracks include "Street Life," "Ballad For A Beatboxer," "Little By Little" and the title track. The whole family will be singing these wonderful songs with their clever lyrics and winsome melodies.

DION - "NEW YORK IS MY HOME"


Dion DiMucci is definitely a wonderment. At age 76, the pioneering rock 'n' roll/doo-wop/folk idol has come up with a vibrant, winning new album. The Rock and Roll Hall of Famer penned the 10 top-notch tracks here (the affectionate title tune co-written with Paul Simon). The emphasis is on rootsy, bluesy rock. Top tracks including "Can't Go Back To Memphis," with its saucy slide guitar, the rollicking "The Apollo King," a swaggering "I'm Your Gangster of Love" and a rip-roaring "Ride With You." "Aces Up Your Sleeve" has a Santana-like vibe. The gentler "Visionary Heart" springs from the artist's shining idealism. Throughout, Dion's vocals are utterly convincing. He influenced countless artists, including Springsteen, The Rascals and Southside Johnny. And Dion remains the real deal.

CHEAP TRICK - "BANG ZOOM CRAZY…HELLO"
It's been a long wait for a new Cheap Trick album - seven years to be exact. But the new Rock and Roll Hall of Fame inductees haven't missed a beat. Their return is a dazzling success, brimming with terrific songs and dynamic performances. Robin Zander's throaty vocals and Rick Nielsen's crisp guitar leads continue to propel the band. Top Trick tracks include "The Sun Never Sets," "No Direction Home," "Sing My Blues Away" and a Bowie-esque "When I Wake Up Tomorrow." There's a fun, juiced-up cover of the 60s Dobie Gray hit "The In Crowd." Cheap Trick continues to make timeless music.

GOLDEN STATE - LONE STAR BLUES REVUE"
Harp heavyweight Mark Hummel has assembled a blues supergroup and the 14 titanic tracks here, recorded at Kid Andersen's Greaseland Studio in San Jose, Ca., will knock your socks off. Joining Hummel for these invigorating performances are guitar greats Anson Funderburgh and Little Charlie Baty, plus drummer Wes Starr and bassist R.W. Grigsby. Romping through a variety of blues styles, there's joy and exuberance in every measure. Outstanding tracks include "Here's My Picture," "Pepper Mama," "Detroit Blues," "Take A Chance," "Georgia Slop," "Dim Lights" and "Lucky Kewpie Doll." Pure gold.

ELVIS PRESLEY - "THE ALBUM COLLECTION"
Legacy Records has just released "Elvis Presley - The Album Collection," the King's full, massive body of work - 60 CDs. It's a royal package, indeed. You get the restored versions of all 57 Elvis albums released by RCA from 1956 to 1977. Also included are three discs of rarities. It's fascinating to explore the entire collection, experiencing Presley's complete career (minus the Sun recordings), from rockabilly god to spiritual singer to smooth Hollywood idol. The music goes from electrifying to fun to tame, then tantalizing again in his comeback period, with his epic melding of rock, pop and country. He begins to taper off a bit as the energy fades and the end nears. But the amount of classic music is astonishing, as are the artist's dynamism and versatility. The Elvis influence is evident in all the rock music of yesterday, today and tomorrow. The box set includes a handsome 300-page, illuminating, illustrated hardcover book. But all you really need to know about the King can be heard in every performance on these 50 discs.

BOOKS



LEONARD: MY FIFTY-YEAR FRIENDSHIP WITH A REMARKABLE MAN
By William Shatner with David Fisher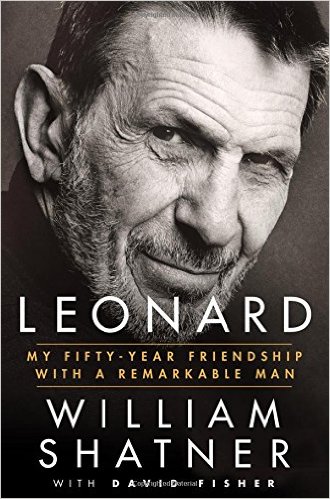 Shatner's affection and respect for his departed comrade glows from every page. He documents how the two, descended from Jewish immigrants, led parallel and sometimes intersecting lives as struggling actors. They journeyed from artists scraping along, role to role, to the attainment of stardom. Shatner acknowledges his moments of jealousy and sense of rivalry, when Nimoy became a sensation on "Star Trek," when Captain Kirk was originally supposed to be the series' primary hero. But Shatner expresses tremendous respect for the way Nimoy, a character actor, managed to turn Spock into such a complex, multilayered creation. Shatner says Nimoy's attention to detail was incredible. It was after the series' cancellation, when the crew reunited for film versions and conventions, that the real friendship blossomed. And they became very close, having dinners with their wives and even attending synagogue together. When Shatner's alcoholic spouse died tragically, Nimoy, who himself had successfully battled the bottle, comforted him. Shatner credits his friend for helping him through that devastating period and describes their relationship as that of brothers, sometimes in conflict, but always loving. Honest about his own blemishes on their bond, Shatner describes his heartbreak over the fact that Nimoy, in the last few years, fighting terminal chronic obstructive pulmonary disease, broke off contact with his old friend. Shatner insists that whatever caused the estrangement, however he may have offended Nimoy, remains a mystery to him. But Shatner is grateful for the many memories of the adventures, creative pursuits and laughter they shared. He doesn't shy away from Nimoy's flaws, but devotes the book to venerating his friend's virtues as an exceptional actor, director, writer, photographer and human being. It's a warm recollection of a multifaceted, meaningful, inspiring life, as well as an extraordinary friendship.

LET'S GO TO HELL: SCATTERED MEMORIES OF THE BUTTHOLE SURFERS
By James Burns
This exhaustively-researched book offers incredible insights into the legendary, but never-before-well-documented hardcore punk band. Formed in San Antonio in 1981, The Butthole Surfers influenced countless musicians and developed a fervent fan base. The group's punk sound eventually absorbed elements of industrial, psychedelic, grunge and even electronica. The drug-fueled band's live shows walked the edge of insanity, enhanced by bizarre humor and no shortage of daring. Things often threatened to careen out of control at their shows, both on stage and in the crowd. The band has never been averse to weirdness. After all, founding members Gibby Haynes and Paul Leary, who met at Trinity University, once published the magazine "Strange V.D.," a comedic look at medical abnormalities. Cult figures for their first decade, they gained mainstream recognition in the 90s. The author goes into great detail on the band's unorthodox approach to music and life. And Burns has uncovered a wealth of sensational photographs to accompany his informative text.

ABOVE THE LINE: MY WILD OATS ADVENTURE
By Shirley MacLaine


Long one of Hollywood's most original and candid stars, MacLaine, now an octogenarian, still has plenty of intriguing tales to tell. Much of the book is devoted to a highly entertaining look at the difficult making of her latest movie, "Wild Oats." Recalcitrant investors and an inept production team make filming a constant challenge, despite a strong script, determined director and talented cast. With great wit and frankness, MacLaine recounts her adventures in the Canary Islands, dealing with the financing shenanigans, the chemistry with co-stars, including Jessica Lange and Billy Connolly, and her newfound fondness for the local caipirinha cocktails. She also contemplates the drastic changes in her industry over the course of her career. Because the film's location is said to be the site of the lost civilization of Atlantis, the book also gives the often-reincarnated MacLaine an opportunity to reflect on her previous life in that ancient society and how its destruction, following an obsession with materialism, might be portent of our own decline and fall. It's not often you have a chance to read a first-person, factual account of Atlantis! In the last portion of the book, MacLaine, exploring alternative treatments for chronic pain, allows her mind to expand to the outer regions, contemplating star creatures and the creation of our planet and its life forms. This marvelous memoir will make you laugh, think and expand your consciousness.