DEJA RE-VU
Pop Culture Classics' Recommended CDs, DVDs and Books
By Paul Freeman

DVDs
"SUZANNE VEGA LIVE: SOLITUDE STANDING"
This compelling performance, recorded at Rome Auditorium in 2003, is a fascinating glimpse into Vega's full artistic soul. Backed only by a bassist, Vega instantly creates a beautifully intimate atmosphere in which to unveil her intriguing song-stories. In addition to performing many of her riveting songs, she recites several poems, which are translated into Italian by fellow singer-songwriter Valerio Piccolo. A bonus feature presents a conversation between Vega and Piccolo. Musical highlights include "Marlene On The Wall," the eloquently sensual "Small Blue Thing," the deeply moving "Penitent," a delicate "Gypsy." "Luka," of course, provides another emotionally powerful moment. Her vocals are soft, sensitive and supple. Whether expressing herself through song or poetry, there is never an untrue moment in Vega's work. Her compositions will haunt you.

"TORMENT"
In this 2013 horror film, when a wilderness vacation goes terribly wrong, a resilient couple (Katharine Isabelle, of "Ginger Snaps" fame, and Robin Dunne) tries to rescue the husband's seven-year-old son (Peter DaCunha) from a family of sadistic maniacs. Veteran character actor Stephen McHattie can be seen briefly in a supporting role. Director Jordan Barker has adeptly elicited convincing performances from the entire cast throughout this fast-moving, nail-biting, 90-minute suspense flick.

"FOR THE LOVE OF THE MUSIC: THE CLUB 47 FOLK REVIVAL"
In the wake of "Inside Llewyn Davis," there should be renewed interest in the rise of 50s and 60s folk music. This fascinating documentary focuses on one of the genre's hotbeds, Cambridge Massachusetts' Club 47, 1958-68. With narration by Peter Coyote, the film tells how this university town's little coffeehouse made a lasting impact on the nation's music scene. While struggling to survive financially, Club 47 introduced many major artists and became a home for young civil rights and anti-war activists. Offering insightful anecdotes are such Club 47 performers as Judy Collins, Joan Baez, Taj Mahal, Jim Kweskin, Geoff and Maria Muldaur, Peter Rowan and Tom Rush, as well as author Joyce Chopra, who was one of the founders of the club during her college student days. A sense of family was created at Club 47. People played for the love of the music. And they learned from blues legends and bluegrass greats. We travel through the evolution from trad folk to the singer-songwriter era. The doc includes audio of two unreleased Bob Dylan performances, which had been recorded live at the Club. In conjunction with the DVD/Blu-Ray release (which includes bonus interviews), a CD with music from the movie has also been issued. Among the featured artists are Tom Rush, Jim Rooney and Rowan. Additional recordings "in the spirit of Club 47," are included. Tracks by contemporary artists Meg Hutchinson and Antje Duvekot, Tripping Lily, teen Hayley Reardon and Red Heart The Ticker prove that folk music is still alive and well, thank you very much. One of the highlights of the documentary comes when the older artists perform with some of these modern counterparts. Downloads of the film and CD are available, as well. Visit www.loveofthemusic.com.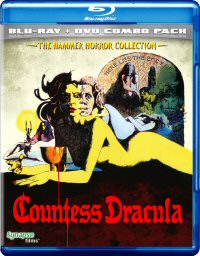 "COUNTESS DRACULA"
The fountain of youth? Perhaps the eternal search ends at the jugular of beautiful young women. Countess Dracula finds it to be quite a tasty rejuvenation solution. Milk baths are excellent for the skin. But blood baths? Sensational! Unfortunately, the ancient anti-aging formula works only briefly. Afterwards, the user winds up looking like an even older, uglier crone. Fortunately for gothic horror fans, the Countess is responsible for buckets of blood and ample, bouncing bare breasts along the way. Shockingly, the story is based on a real-life Medieval villainess, Hungarian Countess Elizabeth Bathory. The sensuously sordid proceedings benefit from sumptuous and stately sets and costumes). The 1971 Hammer picture looks great in its new Blu Ray release from Synapse Films. The luscious Ingrid Pitt ("The Wicker Man," "Where Eagles Dare," "Vampire Lovers") stars at the lustful, evil Countess. It's a tour-de-force performance (though her dialogue was unnecessarily dubbed to eliminate her accent). The exquisite Lesley Anne-Down, in one of her earliest screen appearances, plays the Countess' ingenuous daughter. Director Peter Sasdy draws uniformly capable performances from his cast, which includes the notable Nigel Green. Pitt figures prominently in the interesting extras, including a fascinating featurette on her life and career, an audio interview and commentary track (with Sasdy and the screenwriter also participating). The set comes with a DVD disc of the film, as well.

"LOST EMPIRE"
The long-lost 1983 futuristic fantasy adventure movie launched director Jim Wynorski's prolific B-movie (to be generous) career. His directorial debut came after a mentorship from "King of the B's," Roger Corman. "Lost Empire" is cheesy fun, as Wynorski's imaginative filmmaking compensates for the meager budget. Dr. Sin Do (Angus Scrimm, of "Phantasm" infamy) has made a deal with the devil and now just needs to hunt down ancient magical jewels, the Eyes of Avatar, and he will hold supremely destructive power. Battling the demonic doctor are such beauteous babes as Melanie Vincz and Raven de la Croix. Such attractions as catfights, ninjas, robot spiders and plenty of skin will distract viewers from the increasingly ridiculous plot and cornball dialogue. It's colossally camp. Don't miss Wynorski's entertaining commentary track. MVD Entertainment has also just released another of Jim Wynorski's cult classics, "Gila!" It's a take-off on the 1959 "Giant Gila Monster."

"CIVIL WAR 360"
Aired as a Smithsonian Channel miniseries, "Civil War 360" offers fresh, personal perspectives on the conflict. The first episode in the newly released DVD package focuses on the Union side. It's hosted by Ashley Judd, whose Kentucky ancestors donned blue uniforms. Episode two moves to the Confederacy and country star Trace Adkins recounts what his people might have been feeling as they marched into battle for the South. In the third episode, Dennis Haysbert explores those who were enslaved in the deep South during those horrendous times. Throughout, viewers have an opportunity to examine a remarkable array of artifacts from the era, housed at the Smithsonian Institute. The DVD also includes a bonus episode, "Lincoln's Washington at War."

"TRIALS OF KATE McCALL"
Kate Beckinsale turns in a magnificent, multifaceted performance as a once elite attorney, now a recovering alcoholic, who, to be able to reestablish her practice, agrees to handle, pro bono, the appeal of a desperate mother wrongfully convicted of murder. The hardened lawyer, who's trying to reconnect with her own estranged husband and daughter, finds herself becoming increasingly emotionally involved in the originally botched case. And the facts turn out to be far more complex and disturbing than Beckinsale had expected. The plot takes dark twists and turns. Nick Nolte contributes a fine portrayal of her ponytailed, blustery, but good-hearted associate. Excellent support also comes from James Cromwell as the judge, Kathy Baker as a therapist, Deborah Van Valkenburgh as a Justice, Jay Thomas as an amoral law firm bigwig and Taye Diggs as an angry piece of Beckinsale's past. Anna Anissimova gives a heart-rending portrait of the imprisoned victim. This is a well-written, engrossing drama that deserves to be discovered, now that it's available on DVD.

"THE GREAT BEAR"
Vertical Entertainment has just released this enthralling animated feature from Denmark (in English). Directed and co-written by Esben Toft Jacobsen, it's an adventure story inspired by a Scandinavian myth. Jonathan and his little sister Sophie trek into a forbidden forest, by their grandfather's house. They run into a fearsome, gigantic, ancient bear. But Sophie is able to make friends with the creature. A vengeance-seeking hunter is on the bear's trail and he's the real source of danger. Cute birdies provide comic relief. The movie's visuals are striking. The proceedings are too intense and violent for children under five. But otherwise, this is a film that can spark a valuable family discussion about nature.

CDs
ERIC JOHNSON - "EUROPE LIVE"
Grammy-winner Eric Johnson is one of the finest guitarists of his generation, able to seamlessly draw from numerous genres. He can really make the electric guitar sing. He knows when to project power, when to rely on subtlety and nuance. This new release was recorded across Europe (primarily in Amsterdam). The performances are dazzling. His playing is incredibly fluid. Johnson gives his most familiar tunes, such as "Zap" and "Cliffs of Dover," a freshness and vigor. More recent tunes, such as "Fatdaddy" and "Evinrude Fever," are equally impressive. A lengthy excursion into John Coltrane's "Mr. P.C." displays Johnson's musical inventiveness. On numbers such as "Forty Mile Town and "Austin," he serves up winning vocals, as well. This is an outstanding live album by an artist at the top of his game.

FIREKEEPER - "TO WAKE THE LIVING"
We were shamefully late in catching up with this album, released in 2013, but it has quickly become one of our favorites. Firekeeper, the San Francisco electro-folk duo, comprised of Becky White (producer/vocalist/guitarist) and Nathan Pundt (drummer/designer), take a spare, earnest, experimental approach to Americana music. From the instantly engaging opener, "Great Unknown," to the lovely "Waiting For The Queen" to the yearning "Farthest Shore" to the quietly, hauntingly epic title track that closes the album, you'll be under the duo's spell. With literate lyrics and compelling vocals, Firekeeper keeps the alt-folk flame burning bright.

BEE GEES - "THE WARNER BROS. YEARS: 1987-1991"
Particularly in the U.S., these Warner Bros years produced some of the least known Bee Gees music. But the three albums they released are filled with musical gems, brimming heavenly harmonies and delectable dance beats, well worth rediscovering. Thanks to the new Rhino five-CD box set, we can revel in these sumptuous sounds. All three siblings get a chance to shine on lead vocals, though Barry earns the majority. The first WB LP, 1987's "E.S.P.," came after a long gap, following the commercially unsuccessful record "Living Eyes." "E.S.P." reunited the group with legendary R&B producer Arif Mardin. They meticulously crafted a more modern, synth-pop sound. The single, "You Win Again," proved to be a global hit, though it went relatively unnoticed in America. 1989's "One" was dedicated to the trio's younger brother, Andy, who had tragically passed away during production. Among the highlights on this album are "Ordinary Lives," Wish You Were Here" and the title track, "One," which is included in remix, club and dance versions, as well as the original mix. The next LP, "High Civilization" went deeper into the electronic direction. The lead single, "Secret Love," hit big in Britain and Germany. In addition to the box set's addition of demos, singles edits and remixes, it presents, for the first time in its entirety, the Bee Gees' "One For All" concert. The live set spans the group's full career, featuring such classics as "To Love Somebody," "Words," "Massachusetts, "How Deep Is Your Love," "How Can You Mend A Broken Heart," "I Started A Joke," "Nights On Broadway," Jive Talkin'," "Stayin' Alive" and "You Should Be Dancing." With Barry Gibb's Mythology Tour garnering raves, it's a perfect time to remember the magic he created, blending with brothers Maurice and Robin. This box set provides that opportunity.

"JERSEY BOYS"
This soundtrack album gives you the best of all three worlds - Clint Eastwood's "Jersey Boys" motion picture, the smash Broadway musical, plus original Frankie Valli & The Four Seasons tracks. The film's stars emulate Frankie and crew to great effect on "Cry For Me" and "Sherry"/"December 1963 (Oh What A Night)." It's uncanny the way John Lloyd Young channels Frankie's famed falsetto, both on stage and on screen. But it's also great to hear the venerable Valli boy himself on numbers like the sentimental "My Mother's Eyes." Other classics include "Dawn" (Go Away)," "Sherry," "Can't Take My Eyes Off You," "Who Loves You," "C'mon Marianne," "My Eyes Adored You," "Rag Doll," Walk Like A Man," Big Girls Don't Cry" and "Working My Way Back To You." In all, 25 timeless tracks are presented here. It's a beautiful blast from the past... and present.

PAUL CARRACK - "RAIN OR SHINE"
The U.K vocalist (formerly singer with Ace, as well as Mike and The Mechanics) knows how to drench a song in honeyed soul. And his phrasing is inspired. His latest solo album is a winner, featuring top-notch Carrack originals, as well as covers of such classics as "You Don't Know Me," "(If Loving You Is Wrong) I Don't Want To Be Right" and "Come Rain or Shine." The production is excellent, blending in just the right amount of strings and horns, while allowing Carrack's powerful voice to hold the spotlight.

HANNAH ALDRIDGE - "RAZOR WIRE"
Hannah Aldridge (whose father Walt is a veteran country songwriter) delivers her own deliciously distinctive brand of edgy Americana. The Muscle Shoals native displays a great gift for penning memorable songs. Lyrically and melodically, they're exceptional. And her voice cuts right to the heart. She's equally electrifying on the vulnerable "Black and White," "Strand of Pearls" and "Lie Like You Love Me," the searingly bluesy "Howlin' Bones," the emotional power ballad 'Save Yourself" and the feisty rocker "You Ain't Worth The Fight." This is an artist ready for greatness.

JANIVA MAGNESS - "ORIGINAL"
Magness ranks among our finest blues-rock artists and this new album proves it beyond a shadow of a doubt. Her voice is consistently moving, passionate and utterly convincing She had a hand in writing most of these potent original tunes. There are plenty of instant classics among them. And vocally, she's a revelation. Whether the number leans towards soul, R&B, roots rock, gospel or traditional blues, Magness delivers every ounce of emotion. Among the high points are a searingly urgent "I Need A Man," the gutsy "Badass" the spirited "Who Am I" and the poignant "Standing" and "When You Were My King." Producer Dave Darling helps Magness soar to amazing heights.

"MARGIE BAKER SINGS WITH SO MANY STARS"
Musical ability sometimes ages like fine wine, as a performer can draw on a wealth of life experience to convey the full gamut of honest emotions. Such is the case with the Bay Area's Margie Baker. After a 50-year teaching career, in her seventies, the vibrant vocalist and great-grandmother decided to devote herself to performing. Her latest album displays her warm, natural, knowing voice and a gift for phrasing that maximizes the impact of every lyric. Baker puts her imprint on 20 classic tunes. Among the highlights are a swinging "Deed I Do," a soulful "Round Midnight," the swaying Latin feel of "Senor Blues," a resplendent "Nightingale" and the lush "Come Sunday." Backed by wonderful musicians, Baker moves listeners with each and every performance.

JOHNNY CASH - "OUT AMONG THE STARS"
Though it's not as well known, the body of work Cash created between his 50s' raw, Sun roots and his 90s' dark and haunting comeback albums produced by Rick Rubin, is well worth experiencing. Cash recorded the "Out Among The Stars" album in the early 80s. Long lost, the record has just been released by Columbia Legacy. Producer Billy Sherill, Nashville's hottest at the time, helped the country legend assemble a strong mix of material. The title track suits Cash's rugged desperado mold. Fellow outlaw Waylon Jennings joins Cash for a lively rendition of Hank Williams' "I'm Movin' On." Wife June Carter Cash duets with Johnny on the good-natured "Baby Ride Easy" and "Don't You Think It's Come Our Time." "Tennessee" is traditional-sounding and homey. The rough-hewn Cash grows tender and loving on "After All." "Rock and Roll Shoes" could easily stand alongside his early rockabilly classics. Cash himself penned two of the tunes - "Call Your Mother" and the touching "I Came To Believe." The superb backing musicians include a young Marty Stuart. Even when the charts ignored him, Cash was still making great music.

JENNY GILLESPIE - "CHAMMA"
Gillespie's new record is an enchanting excursion into folktronica. The imaginative songwriter sings with an ethereal beauty. Part of the inspiration for the "Chamma" album came from experimentation with found sounds and field recordings on her iPhone. The title tune, a mesmerizing gem, has an otherworldy magic to it. Other extraordinary tracks include "Dirty Gold Parasol," "Epiphanee," "Evil Eye" and "Child of the Universe." Instrumentation is interesting throughout. Gillespie is joined by percussionist Joseph Adamik (Iron and Wine) and guitarist Emmett Kelly (The Cairo Gang). Cello, viola, harp and trumpet are also woven into the subtly textured arrangements. Close your eyes and let Jenny Gillespie take you on an astonishing musical journey.

HARRY DEAN STANTON - "PARTLY FICTION"
Sophie Huber has directed an acclaimed new documentary on veteran character actor Harry Dean Stanton ("Cool Hand Luke," "Pat Garrett and Billy The Kid," "Pretty In Pink," "Escape From New York," "Alien"). The soundtrack to the film has been released and it's a treasure. Disarming and intimate, it was recorded in Stanton's living room and consists mostly of him simply singing, conveying the rich emotions of some of his favorite songs. Guitarist Jamie James (The Kingbees, DQ and the Sharks, and Steppenwolf) accompanies him. Don Was sits in for a couple of tunes. Harry Dean blows a mournful harp on "Blue Eyes Crying In The Rain." Other charming tracks here include "Blue Bayou," "Everybody's Talkin'," "She Thinks I Still Care," "He'll Have To Go," "Tennessee Whiskey", a rollicking 'Promised Land" and his buddy Kris Kristofferson's "Help Me Make It Through The Night." The gentleness and authenticity of Stanton's unadorned vocals make this Americana record something special. He's been playing forever, strumming, singing and wailing on harmonica. He just hadn't paused to allow it to be recorded before. About to celebrate his 88th birthday, with this winsome debut album, he might just have a whole new career.

HIROMI - "ALIVE"
The Japanese pianist/composer, who was mentored by Ahmad Jamal and inspired by Frank Zappa, has created an exhilarating new album, "Alive." This adventurous new work boldly spans a wide range of styles and moods. Her partners in this inventive trip are contrabass guitarist Anthony Jackson (Steely Dan, The O'Jays, Chick Corea) and drummer Simon Phillips (Toto, The Who, David Gilmour, Jack Bruce). Cool tracks include the jaunty "Wanderer," the more pensive "Dreamer," the wistful "Firefly" and a surprise-filled "Warrior." Hiromi is not bound by traditions. Her music is informed by funk, prog rock and classical. But she fashions sounds that are completely original.

"THE LOUDERMILKS"
Brothers Alan and Chad Edwards decided to name their band The Loudermilks, as a tribute to the original last name of The Louvin Brothers. Buoyed by the tight-knit sibling harmonies, Loudermilks deliver an engaging set of Flying Burrito Brothers-like country-rock. Among the most appealing tunes are "The Plan," "Everybody Knows You" and "Georgia Pines." The group, which hails from Charlotte, North Carolina, is the real deal.

MICHELLE JOHNSON - "POPULAR"
The actress ("Blame It On Rio," "Death Becomes Her," "Far and Away," "Dallas: War of the Ewings") demonstrates her talents as singer and songwriter on her debut album, "Popular." It reverberates with infectious pop/hip-hop/dance sounds. Such tracks as the explosive "Party In The Ashes," the clever, hard-hitting "Locked and Loaded," the saucy "Soho Busy" and the lustful "I Like 'em (B.D.C.)" will be instantly ingrained in your brain. "Giddy Up Girl" uses a mid-tempo approach with a funk feel to get feet moving. Johnson really knows how to ride a groove. Her voice shines on the pretty ballad "Promises of Love" and the beautifully crafted, less adorned "It's Not You."

CLAIRE - "THE GREAT ESCAPE"
The Munich-based synth-pop band, with clever beats enhanced by Josie-Claire Buerkle's breathy vocals, can quickly fill a dance floor. It's difficult to resist such tracks as the pulsating "Pioneers" "Overdrive," and the title track, as well as the atmospheric "Hallowed Ground" and "Neon Love."

OASIS - "DEFINITELY MAYBE (REMASTERED)"
The Gallagher brothers, masters of post -Beatle Britpop bravado, stormed to stardom with their debut, "Definitely Maybe." Filled with razor-sharp guitar riffs, snarled vocals and often contemptuous attitude, the album relied on guts and hooks, not gimmickry, to conquer the charts. Oasis could charm with an acoustic ballad, as well as blast you against the wall with a penetrating rocker. Big Brother Recordings has made the newly remastered album available as a standard CD, 3-disc deluxe CD, vinyl LP (with digital download bundle containing the bonus material) and a deluxe box set. The discs of demos and live tracks provides further evidence of the band's natural power. The three-disc collection proves that 20 years later, the music definitely stands the test of time. No maybe about it. Oasis may have imploded due to ego and excess, but they made some amazing music before the crash.

WHITE SEA - "IN COLD BLOOD"
Morgan Kibby, vocalist/keyboardist of M83 (the French band), delivers a lushly produced solo album of electro-pop. Harkening back to the sounds of the 70s and 80s, "In Cold Blood" manages to add a contemporary edge. Kibby lets her penetratingly beautiful vocal carry the day in the quieter moment, "Small December." There's a dream-like quality to "Flash." Other top tracks include "It Will End In Disaster," "Prague," and the soaring "They Don't Know."

MARK SEBASTIAN - "THE REAL STORY"
The name Mark Sebastian might not immediately ring a bell. But Pop Culture Classics readers will certainly know a song he co-wrote in the 60s, while still in his teens - "Summer in The City." Yes, Mark is the younger sibling of the Lovin' Spoonful's John Sebastian. Mark's new album is an exceptionally pleasing experience, from the 40s film noir movie poster style cover to the disarming performances of some marvelous songs. The title track makes an eloquent opener. "Wild About My Lovin'" gets an irresistibly fun folk feel (with brother John on harmonica). Mark Sebastian goes breezy and jazzy on "A Time For Lovers" And "Invincible." There's a soulful R&B flavor to "A Fork In The Road." "Howlin'" is a finger-popper. Sebastian adds grit to the earthy blues of "Indigent Woman." His warm, soothing, expressive voice brings charm to pretty tunes like "Carol Ann" and "All of Her." A gifted singer and songwriter, Mark Sebastian has created an album to be treasured.

ANONYMOUS 4 - "MARIE ET MARION"
Can 13th century French polyphony move listeners today? Absolutely! With only their four breathtaking voices, Anonymous 4 stirs the human spirit as few musical experiences can. Whether singing in unison or harmony, the quartet summons an amazingly richly textured sound. After 28 years of making musical magic, The fab 4 has announced that 2015-2016 will be their farewell season. But recordings like "Marie et Marion" will ring in our memories forever.

NAZARETH - "ROCK 'N' ROLL TELEPHONE"
After more than 40 years of headbanging, Nazareth can still deliver the goods. The stalwart Scotsmen get hot and heavy on numbers like "Boom Bang Bang," "One Set of Bones," "Punch A Hole In The Sky," and "Not Today." But they're also effective on softer, more melodic tunes like "Winter Sunlight." Gravel-voiced Dan McCafferty has announced that he'll be leaving the band, for health reasons. So there's a bittersweet note to this album's release. But it's a fitting farewell.

ZIGGY MARLEY - "FLY RASTA"
Like his father, Ziggy Marley offers music brimming with optimism and enlightenment, even in the face of an ever more foreboding world. The upbeat tunes on Ziggy's latest album include "Moving Forward," "Sunshine" and the resilient reggae anthem "I Get Up." He goes futuristic with the funk-rock of "I Don't Wanna Live On Mars." Powerful emotions fuel "You." There's a softer, folk-pop feel to the lovely "Lighthouse." "You're My Yoko" is an amusing, sweet, quirky ditty. Expanding the boundaries of reggae, Marley serves up a celebratory album that's truly uplifting.

JOHN MAYALL - "A SPECIAL LIFE"
A new album from the Godfather of British Blues is an offer we can't refuse. In the 60s, his Bluesbreakers launched the careers of such greats as Eric Clapton, Jack Bruce, Peter Green, Mick Taylor and Aynsley Dunbar. On the latest record, backed by his current, sizzling four-piece band and guest accordionist C.J. Chenier, Mayall brings us a very special set of blues rock on "A Special Life." The excitement starts with the opener, "Why Did You Go Last Night," which was written by C.J.'s father, Zydeco legend Clifton Chenier. Next comes the red-hot "Speak of the Devil," which was penned by Mayall's former bandmate Sonny Landreth. Mayall delivers some timely socio-political messages on his own "World Gone Crazy." Among the other high points are "I Just Got To Know," Albert King's "Floodin' In California," and the tender "Heartache." When you listen to Mayall, you hear a full lifetime of the blues.

JOHNNY CLEGG - AT THE BASTER THEATRE, CAPE TOWN, BEST, LIVE & UNPLUGGED
The South African superstar is electrifying in an unplugged concert. The vivacious vocalist plays guitar, melodica and concertina on the album. A top-notch band supports him. Clegg mixes pop, folk and rock sensibilities with world music flavors, particularly African. The results are remarkably engaging. Such popular Clegg tunes as "Cruel Crazy Beautiful World," "Impi," "African Sky Blue" and "The Crossing" are included here. The sublime closing number, "Asimbonanga," is Clegg's moving tribute to Nelson Mandela. This album is sure to make your spirits rise.

COLLEEN RENNISON - "SEE THE SKY ABOUT TO RAIN"
Vancouver native Colleen Rennison is an impressive blues-rock-country-folk singer in the Joss Stone/Bonnie Raitt vein. She has put together a very cool mix of songs here, drawing from such classic songwriters as Booker T., Neil Young, Robbie Robertson, Townes Van Zandt, Joni Mitchell, Bobbie Gentry, Billy Cowsill and Leonard Cohen. Knowing when to belt and when to opt for subtler expressions, Rennison puts her own indelible stamp on such numbers as "Coyote," "All La Gory, "Why Don't You Try" and Sarah Harmer's "Oleander," where she's backed by the beautiful harmonies of the McCrary Sisters. Bluegrass icon Tim O'Brien joins her on "White Freightliner." Though she's only 25, Rennison displays a deep understanding of the timeless material.

MICK HARVEY - "INTOXICATED MAN/PINK ELEPHANTS"
The Australian singer-songwriter-multi-instrumentalist, known for his work as a founding member of The Birthday Party and Nick Cave & The Bad Seeds, released "Intoxicated Man" and "Pink Elephants" in the mid-90s. These reissues give us an opportunity to rediscover Harvey's sensational reinterpretations of the works of Serge Gainsbourg. The French singer-songwriter had recently passed when Harvey became enthralled with his compositions. Creating English language versions became a compulsion for Harvey. The translations manage to fully convey the wit, pain, poetry and personality of Gainsbourg. With his own perfectly gruff vocals, Harvey adds his own colorful textures, while retaining Gainsbourg's essence. Anita Lane occasionally steps in to add a female voice, in place of Gainsbourg's muses, Jane Birkin and Brigitte Bardot. Harvey finds just the right touch for every evocative song. Sometimes that means a searing guitar line. In other passages, it's a sensuous string section. Included are many of Gainsbourg's best known songs, such as "Bonnie and Clyde," "The Ballad of Melody Nelson," "Comic Strip," "Harley Davidson," as well as more obscure numbers. One of the perviously unreleased tracks, "Dr. Jeckyll," is delectably unnerving. The albums' atmosphere seems to be steeped in the booze, cigarette smoke and sex of the wee hours. These tributes are a credit to both Harvey and the man he honors, Gainsbourg.

KEITH JARRETT AND CHARLIE HADEN - "LAST DANCE"
These two jazz greats have been collaborating for decades. The new album, "Last Dance," like the previous "Jasmine," was recorded at Jarrett's home studio, over four days, in 2007. Haden's peerlessly elegant bass lines provide a foundation for Jarrett to build inspired piano improvisations. The two musicians are both thoughtful and intuitive in their approach. The pair finds fresh musical ideas in such standards as "It Might As Well Be Spring," "Round Midnight" and "Where Can I Go Without You."

THE GOASTT (THE GHOST OF A SABER TOOTH TIGER) - "MIDNIGHT SUN"
Sixties psychedelic rock sounds are brought rocketing into the 21st century, courtesy of The GOASTT band and its front-people, Sean Lennon and Charlotte Kemp Muhl. And yes, the ghost of John Lennon seems to be dancing transcendently over this project. But what GOASTT comes up with is all their own, wonderfully weird, exotically hypnotic, totally immersive. The lyrics tend towards trippiness. For all of the strangeness, there are ample melodic and and instrumental hooks. There's a dream-pop element, as well. Their lyrics are intelligent, provocative, sometimes topical and occasionally humorous. The most memorable tracks include "Don't Look Back Orpheus," "Too Deep," "Animals" and an astonishing transformation of Peggy Lee's "Golden Earring." The beginning of the ethereal "Moth To A Flame," recalls The Beatles "Because," from the "Abbey Road" LP. Throughout, Sean Lennon's keen vocals balance nicely with Muhl's gentler, sweeter voice. The GOASTT has created a wondrously venturesome listening experience.

LOUIS PRIMA JR. - "BLOW"
It's feel-good music of the highest order. Prima Jr. takes the robust, swinging jump-blues style of his father, legendary Louis Prima, and drives it up a notch with a contemporary energy of his own. In addition to Prima Jr.'s vigorous vocals, singer Leslie Spencer adds spice to some of the tracks. She torches it up on "Someday." There's a genuine joy to the performances on such tracks as "Blow," "Go, Let's Go" and "Fame and Glory." The whole album is a real romp. Snappy drums and power-paced horn section juice up the sound. On "That's My Home," Jr. is able to duet with his Dad, thanks to Sr.'s 1959 vocal and trumpet tracks. Jr. brings this party to a close with the gentler swinging "Those Million Things." Spin this disc and have a blast!

POLLY O'KEARY & THE RHYTHM METHOD - "COMPASS"
The Pacific Northwest's outstanding blues-rock singer/bassist/songwriter has found a powerhouse direction with "Compass," her third studio album. Her vocals burn with emotion. O'Keary expresses torment on "I've Got None" and the anguish of "Losing You Again." There's a funk fire to "You Get Me High." O'Keary simmers on the slow blues of "Let Me Be Kind." Seattle Slim's guitar work is terrific throughout. Wah-wah pedal puts some extra punch in the opener, "Fool's Gold." "Nothing Left To Say" is an instant classic, enhanced by reverb-drenched guitar licks. O'Keary and company have delivered a really rousing set here.

NEIL YOUNG - "A LETTER HOME"
Recorded in Jack White's 1947 Voice-o-Graph vinyl recording booth in Nashville, Young's new album sounds like a recently uncovered treasure from the past. On this simple, spare and honest record, backed just by his acoustic guitar and an occasional piano, Young offers renditions of some of the songs, penned by others, that have meant the most to him. The memorable Young performances include Phil Ochs' "Changes," Tim Hardin's "Reason To Believe," Dylan's "Girl of the North Country," Ivory Joe Hunter's "Since I Met You Baby," Willie Nelson's "Crazy," the Everly Brothers' classic "I Wonder If I Care As Much" (with White on harmony vocal) and Bert Jansch's despairing "Needle of Death." Young sweetly renders fellow Canadian Gordon Lightfoot's "Early Morning Rain" and "If You Could Read My Mind." Young's spoken messages to his mom add to the tenderness and sentimentality of the record. Sometimes a great deal can be learned about a songwriter by the tunes he chooses to cover.

BARB JUNGR - "HARD RAIN: THE SONGS OF BOB DYLAN AND LEONARD COHEN"
The British cabaret artist is known for her extraordinary interpretations of Bob Dylan's oeuvre. On her latest album, in addition to six Dylan numbers, she performs five written by Leonard Cohen. Her ravishing voice is incredibly expressive. Jungr finds previously undiscovered depth in Dylan's "It's Alright Ma." She also adds rich new colors to "Chimes of Freedom," "Masters of War," "Blowin In The Wind," "Gotta Serve Somebody" and "Hard Rain." But her performances of Cohen's songs ascend to even loftier heights. She finds all the drama and intensity of "Everybody Knows," "Who By Fire," "First We Take Manhattan" "1000 Kisses Deep" and "Land of Plenty." We get an entirely new perspective on the emotions, politics and philosophies of these two iconic songwriters through Jungr's stunning musical insights.

ANDREA BALDUCCI - "BLOOM"
The satiny-voiced Italian singer recalls the smooth crooners of the 50s, 60s and 70s. He should appeal to fans of such artists as Jamie Cullum and Michael Buble. He takes a polished, Sinatra-like, swingin' approach to such unexpected choices as The Box Tops' "The Letter" and the First Edition's "I Just Dropped In." It all works surprisingly well. His rhythmic phrasing is spot-on for "Spooky." Balducci offers a marvelously mellow version of "Hurt So Bad," then includes a swing version. A sweet "The Meaning of Love" is another highlight, as is a sophisticated "Big City."

KATHLEEN GRACE - "NO PLACE TO FALL"
Despite a jazz background, Grace takes a folk-country-rock path on this record. And the results are impressive. The sensitive production by Grammy winner Sheldon Gomberg permits her dulcet voice to sparkle. The diverse material blends beautifully through Grace's thoughtful interpretations. A lovely, lilting rendition of Duke Ellington's "Mood Indigo" shimmers. An exquisite offering of Tom Waits' "The Briar and the Rose" is especially memorable. Her version of the Meat Puppets' "Plateau" will send chills up your spine. And she delicately explores the sad, weary beauty of Townes Van Zandt's "No Place To Fall." There is, indeed, an amazing grace, to this singer's performances.

BRUCE ROBISON & KELLY WILLIS - "OUR YEAR"
There have been many great male-female duos in traditional country music over the years. Bruce Robison and Kelly Willis have definitely joined those ranks. Their voices entwine in perfect harmony. Swathed in languid pedal steel, "Carousel" ( a lovely Robison tune) and T Bone Burnett's "Shake Yourself Loose" become memorable, pretty ballads. "Lonely For You" (written by WIllis with Paul Kennerley) recalls rockabilly charms of Buddy Holly and the Crickets. Robison and WIllis ably cover The Statler Brothers' "I'll Go To My Grave Loving You" and the Tom T. Hall tune, made famous by Jeannie C. Riley, "Harper Valley PTA." With the banjo-plucking prominent, you'll be surprised to realize that "This Will Be Our Year" originated as a rock number cut by The Zombies. Other great numbers include "Motor City Man" and "Departing Louisiana," which was written by Robison's youngest sister, Robyn Ludwick. Robison and Willis - a musical marriage made in country heaven.

HANK WILLIAMS - "THE GARDEN SPOT PROGRAMS, 1950"
Omnivore Records has released a rare treat for fans of genuine country classics. These are radio show performances by Williams that haven't been heard for 64 years. The music has been restored and mastered, from original transcription discs, by Grammy-winning engineer Michael Graves. And these tracks sound fantastic! Among the must-hear performances are "Mind Your Own Business," "Farther Along," "Wedding Bells," "I Don't Care (If Tomorrow Never Comes)" and "Lovesick Blues." Between songs, Williams reveals a homespun charm and humor. Still three years away from his tragic death at age 29, Williams is in top vocal form. There are 24 tracks, including radio jingles. The discovery of these vintage shows is a true treasure trove.

SONNY ROLLINS - "ROAD SHOW, VOLUME 3
This release gives the listener all the thrills of a live Sonny Rollins performance. With Rollins, the tenor sax legend, every song is a journey. Every melodic root can blossom into a mind-blowing improvisation. The spontaneity adds to the excitement. But he makes every note count. A track simply titled "Solo Sonny" contains bits and pieces of many familiar tunes, creating a mystical musical mosaic. Rollins is backed by superb musicians and the interplay is remarkable, especially on the 23-minute "Why Was I Born." The six tracks run 72 minutes. And every second of Rollins' explorations are spellbinding.

"BLONDIE 4(0)-EVER: GREATEST HITS DELUXE REDUX" AND "GHOSTS OF DOWNLOAD"
In celebration of their 40th anniversary, Blondie came up a very cool concept. They've rerecorded their greatest hits and packaged that with a studio album of new material. The hits still have all their glittering, pulsating irresistibility. Debbie Harry's voice may have changed a bit over the years, but in some ways, is better - more expressive- than ever. You have to be confident in your new stuff to put it side by side with such classics as "Heart of Glass," "The Tide Is High," "Dreaming" and "Call Me." But much of the new CD holds its own beside the late 70s hits. Among the best cuts on the new CD are the rhythmic, catchy "Sugar On The Side," "Rave," "Winter," "Take Me In The Night," "Take It Back" and the change-of-pace "Relax." The wave may no longer be new... but Blondie keeps it cresting.

MINDI ABAIR - WILD HEART
Mindi likes it rough! The sizzling saxophonist may often be categorized as a smooth jazz artist. But her new album is a walk on the wild side. Abair knows how to rock. Trombone Shorty joins Abair for the exuberant "Amazing Game." "Kick Ass," with guest Joe Perry, lives up to its title. The boisterous "The Shakedown," with Max Weinberg and Waddy Wachtel, is another scorcher, as is the unstoppable "Train." "Addicted To You" is an undulating, soulful brew featuring Booker T. Jones, wailing on Hammond B3. Keb' Mo' guests on "I'll Be Your Home." The blues ballad "Just Say When," featuring Gregg Allman, closes this momentous album. Through the album, Abair shows that her sweet/sultry vocals can be almost as impressive as her torrid sax work.

DAVE KELLER - "SOUL CHANGES"
Though he hails from New England, Dave Keller sounds like he just emerged from 60s Memphis. With his soulful vocals, piping hot horns and blistering guitar licks, Keller makes his songs memorable. "17 Years," an impassioned number about the disintegration of his marriage, displays his ample songwriting ability. His renditions of The O'Jays' "It's Too Strong" and The Temptations "Don't Look Back" are worthy, respectful covers. Part of the album was recorded in Memphis, the rest in Brooklyn. All of it rings true.

THE SLAMBOVIAN CIRCUS OF DREAMS - "A BOX OF EVERYTHING"
The Slambovian Circus of Dreams (previously known as Gandalf Murphy & The Slambovian Circus of Dreams, as well as "The Grand Slambovians) makes music that may seem reminiscent of Dylan, Donovan, Cat Stevens and Eric Andersen, with a pinch of the mind-altering eccentricities of Dream Theater, Jethro Tull and Pink Floyd. The band is fronted by singer/songwriter/guitarist/harmonica player Joziah Longo. He's added and abetted by his classically trained wife, Tink Lloyd, who has been known to play everything from keyboards, accordion, melodica, ukulele and theremin to the flute. Their twin sons are among the other musicians contributing to the uniquely captivating sound. "A Box of Everything" presents highlights from the group's four studio albums, 1998-201. Among the alt-folk-rock gems are "Rocket," "The Trans-Slambovian Bipolar Express," "Lost Highway," "Good Thief," "Light A Way," "Talkin' To The Buddha" and the jauntily odd "A Very Unusual Head."