DEJA RE-VU
Pop Culture Classics' Recommended CDs, DVDs and Books
By Paul Freeman

DVDs
JACK BRUCE - "ROCKPALAST: THE 50TH BIRTHDAY CONCERTS
We recently lost Jack Bruce, one of rock's most versatile, inventive and inspiring bassists, singers and songwriters. But we still have his musical legacy to enjoy and to learn from. And MVD has given us this amazing artifact, Bruce in 1993, still in his prime, after 30 years of making fantastic music. For two nights in Cologne, Germany, Bruce gathered many of his musician friends on stage to mark his 50th birthday. Among them were Cream-mate Ginger Baker, guitarists Clem Clempson and Gary Moore, saxophonist Dick Heckstall-Smith and keyboardist Bernie Worrell. Of course, the sets included such Cream classics as "Sitting on Top of the World," "Politician" and "White Room" and Albert King's "Born Under a Bad Sign," which the British trio gave new life. The concerts also featured highlights from Bruce's solo catalogue, including "Never Tell Your Mother She's Out Of Tune," from his solo debut, "Songs For A Tailor." It sounds great with Bruce on piano and horn section adornments. The concerts are available in three different versions: Special Edition box set with 3 DVDs (two show discs plus a documentary) and a Bonus CD; DVD Edition Box set with two DVDs; and an Extended Edition with two DVDs and a CD in CD-Digi format. Whichever you choose, you'll discover an abundance of musical treasures.

"THE SEARCH FOR SIMON"
In 1979, seven-year-old Simon Jones vanished without a trace. His older brother David has devoted the following three decades to searching for him. David doesn't reject any theory, including the notion that Simon may have been kidnapped by space pirates. Martin Gooch, the eccentric British film's writer, producer and director, also stars as the dedicated David. Carol Cleveland (a Monty Python veteran) plays his mum and she and Simon Jones ("Hitchhikers Guide") and Sophie Aldred ("Doctor Who") fit the movie's oddball sense of humour perfectly. Throughout, this quirky story is strangely compelling, doleful yet delightful. The MVD release brims with interesting and unusual extras.

"MY NAME IS A - BY ANONYMOUS
This is one of the most disturbing... and important films you will ever see. Murder, incest, self-destruction - inspired by a true crime. Brilliantly written, directed and edited by Shane Ryan, it depicts four young female friends whose crippling emotional wounds lead them on a monstrously tragic path. Alyssa (Katie Marsh) and "Sidekick" (Demi Baumann) are into cutting. The Angst" (Alex Damiano is wasting away from bulimia. "The Performer" (Teona Dolnikova) dreams of pop stardom, while absorbing her father's abuse. In all four, anger, resentment and frustration boil over. This results in their victimizing a nine-year-old neighbor (Kaliya Skye). But the real blame falls on the shoulders of society, which has allowed these teens to fester into twisted, scarred remnants of human beings. Ryan shoots in a raw way, using jarring camera techniques that heighten the sense of realism. And the performances are painfully believable. This is a film you may wish you could forget... but you won't be able to. Extras include alternate cuts of the film, deleted and alternate scenes, Ryan's short films, and a music video featuring Dolnikova.

"UHF"
With "Weird Al" Yankovic enjoying his first number one album, it's an ideal time to rediscover his wildly weird 1989 movie comedy, "UHF." Yes, the title alone - remember when TV was divided into UHF and VHF stations? - should be an indication that some of the humor is dated. There are spoofs of "Rambo" and "Indiana Jones." But the movie explodes with more than enough moments of ageless hilarity to qualify it as far more than a demented chunk of nostalgia. When Al programs a cheapie TV station, insanity is bound to ensue. And viewers will love the programming disasters, though animal lovers will definitely want to skip the "Teaching Poodles How To Fly" bit. Al zeroes in on a wide array of targets, including Conan the Barbarian, Dire Straits, mortuaries and Gandhi. Veteran actor Kevin McCarthy ("Invasion of the Body Snatchers") plays the owner of a rival TV station. Anthony Geary also appears. The supporting cast of offbeat comic talents includes Fran Drescher, Michael Richards, Victoria Jackson, Gedde Watanabe, Billy Barty and Emo Phillips. Shout! Factory has just released a 25th Anniversary Edition on Blu-Ray and DVD. Special features include commentary track, deleted scenes, a retrospective panel from the 2014 Comic-Con and, of course, a music video.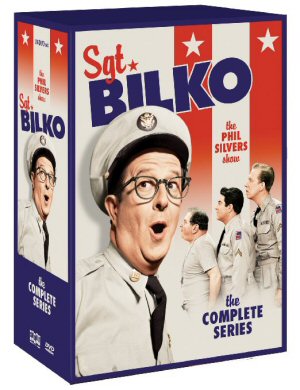 "SGT. BILKO - THE COMPLETE SERIES"
Let's salute Shout! Factory for making available the complete 50s series "Sgt. Bilko," also known as "The Phil Silvers Show," also known as "You'll Never Get Rich." As fans of classic TV know, whatever the title, this was one of the funniest series ever made. Phil Silvers' Bilko is as iconic and timelessly hilarious as Jackie Gleason's Ralph Kramden. Years of honing his craft in vaudeville, film and Broadway performances, made Silvers a master of both physical and verbal comedy by the time he found his perfect TV showcase. As the aptly named Bilko, he bilks friend and foe alike. Yet deep down, the character has a heart of gold. But he finds joy in gambling and scamming. For this ultimate con man, the army is his own private casino. Sarge's pals include a colorful, comic gang of terrific characters actors, including Harvey Lembeck, Allan Melvin, Joe E. Ross, Herbie Faye, Paul Ford and Ned Glass. Also popping up are such recognizable faces as Dick Van Dyke, Charlotte Rae, Larry Storch, George Kennedy, Fred Gwynne, Al Lewis, Murray Hamilton, Yogi Berra, Whitey Ford and Rocky Graziano. But the energetic, acerbic Silvers is always of center of attention. With razor-sharp Nat Hiken as creator and main writer, gags rarely fail and jokes fly fast and furious. There are treasures aplenty among the extras, including a pilot kinescope with Jack Warden as one of Bilko's cronies; clips from Emmy awards; Silvers previewing the character in a skit on "The Ed Sullivan Show;" a campy car commercial with Silvers; and some wonderful interviews, including a sensational appearance by Silvers and Jack Benny on "The Jack Benny Show" and Silvers' last interview, with Sonny Fox, in 1985. This box set should grace the shelf of every classic TV buff.

"THE DOCTOR AND THE DEVILS"
Long difficult to find, Shout! Factory has released this atmospheric, cult Gothic thriller on Blu-Ray. It's a classic, oft-used plot, but this film provides the most thought-provoking look at murderer/body snatchers serving a dedicated, but under-stocked 19th century anatomy professor. An amazing array of talent is on board for this dark ride. Produced by Mel Brooks' company Brooksfilms ("Elephant Man," "The Fly"), the script was written by Ronald Harwood ("The Dresser"), based on an unproduced Dylan Thomas (yes, the great Welsh poet) screenplay. Freddie Francis, known for his many Hammer Films successes, directed. The film stars Timothy Dalton, Jonathan Pryce and Stephen Rea. Each turns in a memorable performance. The dazzling supporting cast includes Patrick Stewart, Sian Phillips ("I, Claudius"), Julian Sands and Twiggy. It's an enthralling horror tale, well told. The film looks and sounds terrific in this new release. Extras include new interviews with Mel Brooks and his fellow producers.

"M SQUAD" (THE COMPLETE SERIES - SPECIAL EDITION)
They didn't come any tougher than Lt. Frank Ballinger. And Lee Marvin, who went on to win an Oscar, played to perfection this fearsome force of Chicago's M-Squad. This cool cop has the glint of danger in his eye. All 117 hard-hitting, half-hour episodes are here in all their noirish glory. Fighting crime, via the M-Squad, a special detail of the Chicago police, Marvin is a charismatic powerhouse. He and his short fuse had the Windy City's murderer's quaking in their boots. And plenty of notable actors pop up in guest shots, early in their careers, including Charles Bronson, James Coburn, Burt Reynolds, Luana Anders, Angie Dickinson (who later co-starred with Lee Marvin in "The Killers" and "Point Blank"), Jack Elam, DeForest Kelley and Leonard Nimoy. Some fine directors also worked on the series, among them, William Witney, Earl Bellamy and John Brahm. And the classic, jazzy theme music adds to the impact of this memorable series. Boxed handsomely by Timeless Media Group, "M Squad" is ready to start punching again. And the set includes the great bonus of several of Lee Marvin's 60s television dramatic guest appearances.

"THE RED SKELTON SHOW: THE EARLY YEARS - 1951 - 1955"
Containing a whopping 90 episodes, many never before available on DVD, this set from Timeless Media Group, is jammed-packed with giggles and guffaws. The ever- lovable Skelton and his roster of colorful characters - Clem Kadiddlehopper, Freddie The Freeloader, Willie Lump Lump and Cauliflower McPugg - were at their freshest and funniest in these early episodes. And some fabulous guest stars show up, such as Milton Berle, Bob Hope, George Raft, Lillian Roth, Martin & Lewis, Anna Maria Alberghetti, Peter Lorre, Sheree North, Johnny Carson, John Wayne, Jackie Gleason, Ann Sothern and the trio of Bela Lugosi, Lon Chaney, Jr. and Vampira! Bonuses include dress rehearsal and bonus episode, the Look Magazine Movie Awards (Red honors such greats as Walt Disney, Judy Garland and Bing Crosby) and "America's Clown," an affectionate Skelton biography.

"MONKEY SHINES"
The most sinister of simians is back! And this time in Blu-Ray! With this psychological thriller, king of the living dead George A. Romero, explores a different style of horror. The writer/director tells the tale of an athlete, Allan Mann, whose life changes in an instant, as an accident leaves him paralyzed. A friend, who happens to be a scientist, gives him a super-intelligent monkey as a helper. Eventually, the monkey, who can sense Allan's deepest emotions, acts out the quadriplegic's most vengeful, violent urges. Though pacing is deliberately on the slow side, the film builds suspense quite well. And it grows ever creepier. Romero draws strong performances from Jason Behe, John Pankow and Kate McNeil. From Shout! Factor's Scream Factory subdivision, the extras include featurette, Romero commentary, alternate ending, deleted scenes and more.

"TONY PALMER'S 1973 FILM ABOUT HUGH HEFNER"
MVD Entertainment Group has brought award-winning producer/director Tony Palmer's 53-minute documentary to DVD. Originally titled "The World of Hugh Hefner," it was one of several celebrity biographies Palmer filmed. This is no exposé. This is Hefner as he wanted to be seen - dapper, debonaire and successful beyond imagination. He sees himself as a pipe-smoking revolutionary who changed the world's notion not only of playboys, but of play itself, not to mention pleasure. It was the era of key clubs, in addition to the popular men's magazine. Hefner proudly says he built his Playboy empire from an investment of $600, all borrowed. Hef opens the doors to his mansion, "DIsneyland for adults," where topless Playmates prance and swim. He revels in luxuries like his private screening room and his own jet, the Big Bunny. Though Hefner's contributions to mankind are highly debate, this look at his extravagant lifestyle is definitely entertaining.

THIS IS GARY McFARLAND: THE JAZZ LEGEND WHO SHOULD HAVE BEEN A POP STAR"
If you don't know the life and work of Gary McFarland, you should. And now, you can discover this tragically under-appreciated artist, thanks to the tremendous documentary from filmmaker Kristian St. Clair. Though he collaborated with such legends as Bill Evans, Lena Horne, Antonio Carlos Jobim, Gabor Szabo, Gerry Mulligan, Stan Getz and Cal Tjader, McFarland fell short of fame, despite the fact that he stood tall, in terms of talent and imagination. Esteemed by his peers, he made great jazz albums, but rankled purists, because he ventured into rock and pop territory before it was fashionable. Too hip for the room? An artist ahead of his time, he died in 1971, at age 38, under mysterious circumstances. But his genius as a composer, arranger and vibraphonist can still be heard, by those who seek out his incredible recordings, such as his masterpiece, the epic musical exploration of a troubled society, "America The Beautiful." St. Clair's fascinating film brings to light McFarland's astonishing creativity. Interviews include Evans, Getz, Airto, Phil Woods, Clark Terry, Grady Tate and Wendy and Bonnie (McFarland produced their cult classic psych folk-pop-jazz album "Genesis," shortly before his death), as well as numerous friends, family and musical peers. The DVD comes with a wonderful CD, McFarland's brilliant 1965 live Seattle performance with his quintet. Get to know Gary McFarland. You'll be very glad you did.

"MY COMA DREAMS"
Jazz pianist and multi-Grammy-nominated composer Fred Hersch lapsed into near-fatal septic shock. He had to be placed in a medically induced coma. For two months, he existed in a vivid dream world, while his life partner dealt with the demands of the medical care and tried to connect to his unconscious loved one. Based on eight of Hersch's dreams, the result is this riveting, multimedia jazz/theatre piece, performed by actor/singer Michael Winter and Fred Hersch with ensemble. The music is brilliantly original, moving and beautiful, sometimes dissonant and disconcerting. Well worth experiencing. The DVD includes interviews with Hersch and writer/director Herschel Garfein, as well as a physician/educator. Proceeds from the DVD benefit Treatment Action Group.
www.treatmentactiongroup.org/mcd

"SANTA'S MAGIC TOY BAG"
Voice artist/puppeteer/producer Paul Fusco, fondly remembered for his award-winning 80s NBC creation "ALF," also devised this enchanting Christmas special (which originally aired on Showtime in 1983). It's finally available on DVD. Families will enjoy this enchanting, well-told tale. It's not easy being an apprentice elf. Just ask Sherman. He wants to please Santa and Mrs. Claus, but everything the well-meaning little elf does seems to go wrong, much to the amusement of viewers. To build Sherman's confidence, Santa assigns him to guard the Magic Toy Bag - big responsibility. Naturally, Sherman washes the bag, thus shrinking it. Will Christmas be ruined? Not in this merry, animated classic!

THE BEST OF THE DANNY KAYE SHOW"
Danny Kaye was one of the most talented and versatile performers of his generation - comedian, actor, musical artist. He was still at his peak, when "The Danny Kaye Show" was launched on CBS in 1963. MVD has released a two-DVD set that features six complete episodes from the Emmy-winning series. The shows are brimming with warm, nostalgic fun. You'll hear some extraordinary music, as guests include Ella Fitzgerald, Liza Minnelli, Gene Kelly, Nana Mouskouri, Buddy Greco, John Gary, Michelle Lee and Harry Belafonte. There are laughs aplenty, as well, when visitors Art Carney, Jackie Cooper and Alan Young come calling. A "Twilight Zone" parody with Rod Serling himself is classic skit. And Kaye's charm shines throughout.

"THE KILLER SHREWS"
Yes, it's a favorite "Mystery Science Theatre 3000" episode. But this campy 1959 sci-fi/horror low-budget classic is also a lot of fun to watch without all the wisecracks. Film Chest has released a digitally remastered DVD. On a remote island, a group of research scientists find themselves under siege, when, as a hurricane howls, poisonous, mutated, man-eating shrews attack. The cast includes James Best (""The Dukes of Hazzard" series), Ken Curtis ("The Searchers," TV's "Gunsmoke"), 1956 Miss Sweden Ingrid Goude and Baruch Lumet, father of legendary, Academy Award-nominated director Sidney Lumet. "Shrews" is not going to win any awards, but it's good 50s, bizarre B-movie fun.

"BIG STAR - LIVE IN MEMPHIS"
They should have been big stars in the rock world, as this 1994 live concert proves. But they had to settle for cult status. Co-founder Chris Bell died in 1978, so this sterling lineup features original band members Alex Chilton and Jody Stephens, joined by two other revered pop-rockers - Jon Auer and Ken Stringfellow, both of The Posies. Omnivore Recordings has made the concert available on DVD (it's the only known pro-shot Big Star show), CD, digital and double -LP (with download card). The Memphis hometown crowd's enthusiasm is well deserved, as this is a fantastic set. There are Big Star classics like "September Gurls, "Daisy Glaze," "Way Out West," "The Ballad of El Goodo" and "In The Street." There are also come cool covers: "The Kinks' "Till The End of the Day," Todd Rundgren's "Slut" and - surprise - "The Girl From Ipanema"! Glorious vocals, chiming, entwined guitars and powerful rhythm section make this a night to remember. This release can only add to a great band's legacy.

"LOOKING FOR JOHNNY THUNDERS: THE LEGEND OF JOHNNY THUNDERS"
An air of mystery surrounded The New York Dolls' incredible guitarist/songwriter Johnny Thunders. This documentary brings us closer to knowing this innovative maverick artist. With the Dolls and Heartbreakers, Thunders helped forge a new music scene in the 70s. He influenced countless punk and glam-metal performers. The charismatic, but self-destructive Thunders died in 1991, at age 38. Director Danny Garcia ("The Rise & Fall of The Clash") traveled across the U.S. and Europe to film interviews with those who best knew and loved Thunders. The ample music and previously unseen footage of his bands remind viewers that Thunders could shoot amplified lightning through his guitar strings.

"THE DOORS - FEAST OF FRIENDS'
Long sought-after as a grainy bootleg, The Doors' documentary is now available on Blu-Ray, color-corrected and mastered in high def. The original soundtrack has been completely remixed and remastered by long-time Doors producer/engineer Bruce Botnick. There's fascinating footage of the revolutionary band on stage, backstage and off-stage. The extras alone are worth the price of admission - the featurette "Feast of Friends Encore," with a half-hour of outtakes; the 1968 British documentary "The Doors Are Open" and an awesome Doors "The End" performance segment from a Canadian TV special "The Rock Scene: Like It Is." There are also short interviews with band members Robbie Krieger, Ray Manzarek and John Densmore, as well as manager Danny Sugarman.

"YES - SONGS FROM TSONGAS"
If you appreciate classic prog-rock, it doesn't get any better than the Yes performances you'll find on this new CD/DVD/Blu-Ray release. The DVD offers two concerts. Recorded in 2004 at Lowell, Massachusetts' Tsongas Arena and Estival in Lugano, Switzerland, the sets includes a wide variety of the band's best material. Soaring throughout are Jon Anderson's beautifully airy vocals, Rick Wakeman's swirling keyboards and Steve Howe's wondrous work on guitar and an array of other stringed instruments. Anderson can add a raspy edge, when the song calls for it. The great songs still sound fresh during this, the group's 35th anniversary tour. The outdoor show rocks harder. The Tsongas show offers more acoustic gems within the set. Highlights include "Sweet Dreams," "Starship Trooper" and, of course, "Roundabout." Extras include a bonus track, "Ritual," and an interview with Roger Dean, who designed the psychedelic set.

"VERY EXTREMELY DANGEROUS"
Filmmakers Paul Duane and Robert Gordon uncovered the dramatic motherlode, when they tracked down Jerry McGill, rockabilly singer, songwriter and guitarist. Then 69, he had just been diagnosed with lung cancer. Four years later, he died. But not before the filmmakers captured his jaw-dropping story. McGill recorded for Sun Records. He co-wrote songs with Waylon Jennings. But crime, drugs and rage derailed McGill. He was an outlaw, but not the cool, fun kind we've come to know and love in country music. This bad bandit self-destructed. Self-ruination killed his music. During the filming, he was trying to carve out a comeback. His talent was already in tatters. But there's enough left to make the viewer lament the loss. The documentary is heartbreaking, shocking, insightful, offensive and often quite funny. It's also, from start to finish, completely compelling.

CDs
KRISTIN CHENOWETH - "COMING HOME"
The petite performer with the powerhouse voice a stirring 15-song set, recorded in her hometown, Broken Arrow, Oklahoma. On this, her first live album, Chenoweth is backed by an 11-piece band, a vocal trio and the high school chorus. She makes standards like "Over The Rainbow" and "I Could Have Danced All Night" her own. Among the highlights are a riveting "Maybe This Time," her lovely version of Dolly Parton's "Little Sparrow" and the sentimental "Fathers and Daughters," dedicated to her Dad, who's in the audience. Chenoweth brings ample spirit to the contemporary spiritual "Upon This Rock." She reaches back to the 19th century for the moving Stephen Foster number, "Hard Times Come No More." And Chenoweth's showstoppers, "Popular" and "For Good" from her triumphant Broadway run in "Wicked" are here, as are numbers from "Les Miserables" and "Phantom of the Opera."

"CHRISTMAS AT DOWNTON ABBEY"
Whether you are more comfortable upstairs or downstairs, if you love traditional Christmas hymns and carols, you'll feel right at home with this warm, wonderful two-disc, 45-track holiday collection. It's refined and sumptuous enough to do the residents of Downton Abbey proud. Dulcet-toned Elizabeth McGovern (who portrays Cora Crawley, Countess of Grantham on the series and moonlights as a singer with the folk band Sadie and the Hotheads) enchants with "It Came Upon A Midnight Clear." She also joins Julian Ovenden (Charles Blake) in a lovely duet of "The First Noel." Ovenden, who has a rich, theatrical voice, solos beautifully on such numbers as "O Holy Night," "The Sussex Carol" and SIlent Night." Jim Carter (Charlie Carson) charms with his recitation of "Twas The Night Before Christmas." Dame Kiri Te Kanawa, the renowned New Zealand-born soprano (who guested on "Downton" as a famed Australian opera singer) contributes her inspirational voice on several tracks. John Lunn, who scores the TV series, composed a seasonal suite based on the show's theme music, recorded by The Budapest City Orchestra and The Budapest Choral Voices. From Warner Music classics' archive come many other cherished carols, some performed by the Choir of Kings College, Cambridge. You'll want to make this collection part of your family's holiday tradition.

GENE CLARK - "TWO SIDES TO EVERY STORY"
The true musical genius of The Byrds, Gene Clark recorded a number of brilliant solo albums. Unfortunately, he was self-destructive career-wise, as well as personally. So much of that amazing material went sadly ignored or at least, under-appreciated. But many of the singer-songwriter's country-folk-rock treasures have been rediscovered in recent years. High Moon Records has reissued a handsome, two-CD version of his seldom heard, but magical "Two Sides To Every Story" album. Clark recorded the album in 1977 with producer Thomas Jefferson Kaye, who had helmed the belatedly revered "No Other." Such superlative musicians as Emmylou Harris, John Hartford, Al Perkins, Jeff Baxter and Doug Dillard help Clark bring his creations to life. Dillard's banjo fuels "Home Run King," the quirky, uptempo, opening number of "Two Sides." Southern rock sass sends "Kansas City Southern" hurtling down the road. But it's the gorgeous ballads that separate Clark from other singer-songwriters. With his powerfully plaintive vocals, Clark reaches deep in the listeners' souls on tracks like "Lonely Saturday," "Give My Love To Marie," Hear The Wind," "Past Addresses" and "Silent Crusade." His poetic lyrics, poignantly expressed by his sensitive voice, will never be silenced. Packaged in a deluxe, hardbound Eco-book, the CD comes with a download card that allows you to listen to such rarities as 20 live tracks and a Clark interview. No doubt about it - "Two Sides" is classic Clark.

DENNY BERTHIAUME & CATHERINE SEIDEL - "CALLING YOU"
A musical duo can make a big emotional impact, as is the case with this beautiful album. Denny Berthiaume's sensitive piano playing thoughtfully accompanies Catherine Seidel's impeccable, nuanced vocals. The two team to take the listener on a rich emotional journey. Among the gorgeous tracks are Edward Elgar's "Touch Her Soft Lips and Part," Stephen Foster's "Hard Times Come Again No More" and Adam Guettel's "The Allure of Silence."

WILLIE NELSON AND SISTER BOBBIE - "DECEMBER DAY"
"December Day" is a warm song collection, affectionately delivered by timeless Willie and his keyboardist sister Bobbie. Willie puts his own distinctive vocal and guitar stamp on such standards as "Alexander's Ragtime Band," "Mona Lisa," "What'll I Do" and "Always." In addition to the standards, there are plenty of Nelson's familiar originals, like "My Old Peculiar Way" and "Who'll Buy My Memories." Eighty-one-year-old Nelson also offers a witty new ditty, "I Don't Know Where I Am Today."

ANCIENT FUTURE - "YEARNING FOR THE WIND"
This is the first audio/video release for Ancient Future. You might have to experience the enhanced CD single multiple times before fully appreciating the visual, because the music itself will make you close your eyes, sigh and travel cosmically. Based on an Indian raga, the wistful composition wends its way along a peaceful path. Matthew Monfort subtly coaxes remarkably flowing lines from his scalloped fretboard guitar. And Indian tabla virtuoso Vishal Nagar intuitively places incredibly intricate rhythmic patterns into the piece. Ancient Future has been making wonderful world fusion music for three decades. The possibilities remain infinite.

"CHICAGO" - CHICAGO XXXVI
The CD's cover art is eye-popping and its music will definitely perk up the ears. After 47 years, the horn-driven band can still create new pop-rock-jazz that's at an elite level. The songs and performances, vocals and instrumentation are strong and vibrant. Whether softly seductive, ferociously funky or wonderfully winsome, this album is packed with winning tunes. The band builds on their tried-and-true trademark sound and makes it feel fresh and contemporary. Top tracks include the socially relevant "America" the tender "Love Lives On" and, with a sizzling Middle Eastern flavor, "Naked in the Garden of Allah." When it comes to tasty things that have emerged from the Windy City, the band Chicago tops even deep dish pizza!

"OZZIE AND HARRIET WITH RICKY NELSON"
The fun release brings a rare Ozzie & Harriet 1957 LP to CD, adding loads of bonus material. Ozzie Nelson began his career as a top bandleader in the 30s. He and his orchestra actually had a number one hit in 1935. By the time "The Adventures of Ozzie and Harriet," already a radio hit, began airing as a family television series in 1952, Ozzie's focus had shifted to writing, directing, acting and producing. When son Ricky became a rock 'n' roll sensation a few years later, Ozzie had plenty of input, helping to choose and arrange songs for the early recordings. And the 1957 Ozzie & Harriet LP demonstrates that Ozzie fancied himself a bit of an aging rocker himself. Of course, he couldn't tackle the raw, real rockabilly sound that Ricky felt so passionately. But the more pop-oriented wholesome numbers with a male chorus eagerly singing in support, now that suited Ozzie quite well. You can hear that on such numbers as "Baby Keep Cuddlin' Me" on this CD. Ozzie has a pleasant voice and a good sense of rhythm. He smoothly croons "All of Me." Twangy guitar licks, cool piano parts, thumping bass and snappy drums give the songs a youthful backdrop. The spiritual "If You Believe It" is right in Ozzie's clean-cut wheelhouse. Harriet was the main singer with his orchestra in the old days and Ozzie places the spotlight on her for some of the tunes here, including the cute-sounding, bouncy, rocked-up "Goody Goody." Ozzie and Harriet pleasingly sing together on standards like "Blue Skies" and "Catch A Falling Star." The many Ricky tracks here have been culled from his Easy Listening side, rather than his truly rockin' numbers. Thus, they fit in neatly with the Ozzie and Harriet numbers. But Rick's more mellow, melodious side can be quite endearing. Among the most enticing are "I'm Not Afraid," "That's All' and "It's All in the Game." Also included are two of Rick's early 60s smashes - "Travelin' Man" and "Young World." Baby boomers will be delighted by this nostalgic release.

HANK MARVIN - "DJANGO'S CASTLE"
Though Hank Marvin (The Shadows) is one of the most influential pop-rock guitarists to emerge from England in the 60s, his latest album explores another musical world, that of legendary guitarist Django Reinhardt. The swinging Gypsy jazz is endlessly exhilarating. Marvin plays it as though it's the only sound he's been perfecting his entire life. Melodically and rhythmically, the tunes and performances are sophisticated and sublime. Among the tantalizing tracks are "Honeysuckle Rose," "Micro," "Si Ti Savais" and "Coquette." Equaling Marvin on this musical adventure is accordionist Nunzio Mondia. Also contributing are rhythm guitarist Gary Taylor, double bassist Pete Jeavons and guest bassists Robbie Pisano and Matt Willis. This hot club jazz manouche style, which erupted in the 30s, hasn't lost even one bit of its sizzle. If Django is king of the "Castle," Hank Marvin is a worthy prince.

BILL EVANS - "THE COMPLETE VILLAGE VANGUARD RECORDINGS, 1961"
This fantastic collection of digitally remastered original recordings is available in a 3-CD set, but the ultimate way to savor Evans' masterful piano stylings is on vinyl. Every bit of texture, every ounce of warmth, can be embraced and fully appreciated. The Concord Music Group has handsomely packaged its four-LP, 180-gram vinyl box set. It comes with 12-page booklet with new and original liner notes, reproductions of session annotations and photo proof sheets from the Evans performances. There's also a striking black-and-metallic poster of the cover art, the pianist, at the keyboard, hands poised, head bowed, lost in the music. And listeners today will lose themselves in this intimate, reflective jazz. Though he had already played with Miles Davis by the time these Greenwich Village shows took place, Evans was not yet very well known. However, he was reaching the top of his game. When two of Evans' popular albums, "At The Village Vanguard" and "Waltz For Debby" were released in '61, they were overly edited. Now we can experience the music just as if we were in the audience for these historic performances... and react in wonder. With inventive harmonies, chording and selections of rhythms, Evans could make a composition adventurous, while holding onto their melodic essence. He was a genius, when it came to counterpoint. On these dates, the legendary pianist was playing with, arguably, his finest trio, which included bassist Scott LaFaro and drummer Paul Motian. The three extraordinarily gifted musicians meshed miraculously. They prodded each other to dizzying heights. These recordings captured a fleeting, magical point in time. Days later, LaFaro died in a car crash. But the trio's dramatic impact and influence has never diminished. And the new box set properly honors them. Whether you choose CD or vinyl, you will be deeply moved by this marvelous music.

KEN HUSBANDS TRIO - "KEEPIN' IT GOING"
Originally from Massachusetts, based in Paris for several years and now residing in Oakland, guitarist Ken Husbands is going strong. His latest album, "Keepin' It Going" is a triumph for him and his outstanding trio. They're not afraid to season their jazz with the spices of other genres. Top tracks include the title tune, "Lucky Seven," "Almost Eleven" and the softly swinging "But I Don't." Throughout, Husbands' guitar is fluid, rhythmic and elegant. Bassist Aaron Germain and drummer Otto Huber perfectly complement his musical treks.

"THE ONLY FOLK COLLECTION YOU'LL EVER NEED"
This two-disc, 30-song set from Shout! Factory is an excellent compilation. It's Folk Music 101 in the most entertaining form imaginable. It spans the breadth of the genre. You'll hear traditional roots, such as country's Carter Family harmonizing on "Can The Circle Be Unbroken." That version dates back to 1936. Huddie "Lead Belly" Ledbetter's "Rock Island Line" has a gospelish fire. Also included are Dave Van Ronk's "He Was A Friend of Mine," The Stanley Brothers' "I'm A Man of Constant Sorrow," The Weavers' "Goodnight Irene" and Sonny Terry and Brownie McGhee's "John Henry." The populism of Woody Guthrie rings through "This Land Is Your Land." From the early 60s "Hootenanny" era comes the collegiate folk sound of The Kingston Trio with "Tom Dooley." A little later in the decade, political and social unrest blew in winds of change. The collection presents Peter, Paul & Mary singing Bob Dylan's "Blowin In The Wind," Dylan singing his own "The Times They Are A-Changin'" and Pete Seeger' offers an earnest "If I Had A Hammer." "I Shall Not Be Moved" dates back to the slave era. But Mississippi John Hurt's adamant performance gives a new relevance. Phil Ochs' "I Ain't Marching Anymore" became an anthem of the anti-war movement. Folk met rock, when the Byrds recorded their spine-tingling interpretation of Dylan's "Mr. Tambourine Man." The track list includes a generous helping from the singer-songwriter era, including tunes by Tim Hardin, Eric Andersen, Tom Paxton, Fred Neil, Donovan, Tom Rush and Gordon Lightfoot. There are also performances from Odetta, John Prine, Fairport Convention, Joan Baez, The Springfields, Judy Collins, Doc Watson and Ramblin' Jack Elliott. "The Only Folk Collection You'll Ever Need" is appropriately titled

ANGELA MOYRA - "FICKLE ISLAND"
The sweet-voiced Dutch singer-songwriter blends pop, jazz and island elements. Such songs as the ukulele -driven "Sand In My Mouth" and "Your Name/My Name" will gently carry you away. Moyra can entrance with rhythmic numbers like "Poppin'" and charm with ballads such as "Who Knows Tomorrow." She makes sunny, breezy music that's hard to resist.

DEANNA WITKOWSKI - "RAINDROP: IMPROVISATIONS WITH CHOPIN"
This lovely new album, from the sensitive and inventive pianist reimagines Chopin, flavored with jazz and Brazilian flavors. For instance, she melds Chopin's Prelude in C Minor with Antonio Carlos Jobim's "Olha Maria." Witkowski's excursions always make perfect sense, musically and emotionally. Witkowski also intersperses her own elegant compositions into the album. They fit in seamlessly.

"THE HELLO STRANGERS"
Sisters Larissa Chace Smith and Brechyn Chace, with beautiful blood harmonies and finely honed country songs, make a marvelous eponymous debut. Their voices also work well in unison passages. Among their sparkling original numbers are "The World Knows Far Better," "Holy Unholy," "Never Roam Again" and the poignant "Runaway." Only two covers are included. Jim Lauderdale guests on "What You Don't Know," which he co-wrote with John Leaventhal. The sisters also sing a stirring "Que Sera, Sera," in honor of their grandfather, Ronald Chace, who sang with Doris Day in the 40s. The siblings are on their way to stardom of their own. Hello ladies!

"LEONARD COHEN - LIVE IN DUBLIN"
Even if you own previously released Cohen concerts, this is the set you must have. It's the first one shot in HD. It's available digitally, as well as in a 3-CD/plus-DVD package. Nearing 80, Cohen delivers his musical poetry as effectively as ever. And the musicians and background singers provide sophisticated support. In addition to Cohen classics like "Suzanne" and "Hallelujah," more recent material, such as "Come Healing" and "Amen" are included. He even brings his own distinctive touch to "Save The Last Dance For Me." The CDs contain the full three hours of Cohen performing at Dublin's 02 Arena in 2013. The DVD has not only that performance, but adds bonus songs from shows in Canada that year. The music is exceptional. The patter between songs is charming. A songwriter of rare intelligence and perception, a performer of unique approach and personality, Cohen makes every performance one to cherish.

BARBARA HIGBIE - "SCENES FROM LIFE"
The Grammy nominated composer/pianist/violinist returns with a new album. And that's certainly cause for celebration. Higbie has recorded with many top artists, including Carlos Santana. She hadn't released a full-length studio project since she gave birth to a daughter, 12 years ago. The listener is drawn in immediately by "Irreducible Mind." There's a reflective, cinematic quality to "Variations on a Happy Ending." "Ewe Tune" has a sort of Vince Guaraldi jaunty feel. "Michael's Song" offers emotional depth. Kronos Quartet cellist Joan Jeanrenaud adds another special musical texture. "Lena's Dream" is another of the most moving numbers. "VW Bug" chugs merrily along. The project was initially inspired by an assignment for Higbie to score a film based on Tucker Malarkey's historical novel "Resurrection." The movie has yet to be made, but the composition of that title has a power all its own. And we have an immersive album that tells its own dramatic story.

CHRIS SMITHER - "STILL ON THE LEVEE"
Whether you're an old fan or new to singer-songwriter Chris Smither's music, this album has much to offer. He has re-recorded 25 of his classic tunes. His expressive voice, literate lyrics and engaging melodies make for a memorable listening experience. Among the unforgettable songs here are "Song For Susan," "Slow Surprise" and "Love You Like A Man," which became one of Bonnie Raitt's most crowd-pleasing numbers. Joining Smithers on the record are Allen Toussaint, Loudon Wainwright II, Rusty Belle, and members of the band Morphine, as well as his own sister and fiddle-playing adopted daughter. Some of the songs have a different feel from the original versions, others are quite similar. All are performed with a compelling honesty.

LISA O'NEILL 'SAME CLOTH OR NOT"
With meaningful vocals over her finger-picked acoustic guitar, the Irish singer/songwriter weaves captivating musical stories. After earning attention with her 2009 debut release, O'Neill returns with an entrancing new album. Such songs as "No Train to Cavan," "Come Sit Sing," "Darkest Winter" and "Dreaming" cast a lasting spell. The effectively arranged instrumentation underlines the intensity and melancholy of O'Neill's distinctive voice.

"MICHAEL STANLEY: THE SOLO YEARS, 1995-2014"
The Michael Stanley Band developed a fervent following. They powered out of Cleveland, generating heartland rock. With their dynamic sound, they could have reached Bob Seger or John Mellencamp heights. But that never quite happened for them. Michael Stanley went solo and, produced by good friend Bill Szymcyzyk, (The Eagles), made tons of great music. The highlights of those 20 years are here - anthemic rockers and tender ballads. Stanley's soulful voice and exceptional songwriting skills shine on numbers like "My Brand New Day," "Just Another Night in America," and "Home Tonight." The set includes some excellent covers, including "Eleanor Rigby," The Bee Gees' "To Love Somebody" and Emmylou Harris' "Raise The Dead." These 45 digitally remastered tracks prove that Stanley deserves a much bigger spotlight.

MATT TURK - "COLD REVIVAL"
Rock, pop, folk, country and island influences, as well as a wide variety of instruments, are effortlessly woven through Turk's new album. This gives him a very fresh sort of Americana sound. The music is engaging and Turk's lyrics are smart. On the Kurt Weill-ish "Battle Song," he sings, "I used to dream about you. Now I just want to kill you." Turk knows how to tell a story of love and loss. The title track includes the line, "I know we are broken and in need of repair." Heightened drama surges through "Say You'll Live." The album was astutely produced by movie director David Dobkin ("Wedding Crashers")

RAINBOW BEAST & THE ROCK BAND LAND ROCKERS - "TALES FROM THE MONSTROSITY SCROLLS"
Kids music enters a darker, more fantastical punky rock realm courtesy of San Francisco group Rainbow Beast. The psychedelic cover was created by children's author Lemony Snicket. There's a Flaming Lips-like sense of strange glee wafting through the tracks here. Though not necessarily an album you want to use to babysit your preschoolers, older kids (and their parents) will love it. And there's enough musical diversity to hold even those with short attention spans. Among the songs are "Lola vs. The Giant Shrimp," "The Truth About Polar Bears," "Party Killer," and "Happy Clouds." Kiddies' voices chiming in make the songs even more wonderfully bizarre, instead of syrupy, which is so often the case in other children's music. When your young'uns are ready for something completely different, unleash the Rainbow Beast!

BROOKE FRASER - "BRUTAL ROMANTIC"
Striking soundscapes blast Brooke Fraser beyond the realm of folk-pop on this, her fourth album. The new tracks will shake you out of your doldrums. They have a Florence and the Machine or Lorde sort of appeal. You know from the mesmerizing opening track, "Psychosocial," that Fraser is traipsing down a darker path. And it suits her. As does the synthy pop of "Kings and Queens." The title track showcases the beauty and poignancy of her voice, as well as poetic elegance of her lyrics. The album is a bold step forward for this gifted Kiwi singer-songwriter.

"HAERTS"
German-born, Brooklyn-based lead singer Nina Fabi's truly fab vocals propel the band Haerts' self-titled debut to thrilling heights. Some of the numbers have the feel of a synth-pop Stevie Nicks. The band's songs sweetly explode through the ear and into the brain, just like Pop Rocks candy would in your mouth. Among the most grabbing tunes are "Heart," "Wings" and "No One Needs to Know." "Giving Up" will have you up and dancing. Fabi and company are also effective when they tone things down a bit for "Lights Out" and "Be The One." "All The Days" surges powerfully. "Hope" closes the album in uplifting fashion.

YUSUF: "TELL 'EM I'M GONE"
He may be calling himself Yusuf these days, but it's still the same plaintive voice we knew from the 70s - Cat Stevens. Though nothing here rivals the majesty of "Peace Train" or "Morning Has Broken," Yusuf delivers engaging melodies and earnest messages in songs like "I Was Raised in Babylon," "Doors" and "Gold Digger." He also effectively covers Jimmy Reed's "Big Boss Man," Procol Harum's "The Devil Came From Kansas" and, especially, Edgar Winter's "Dying To Live." With Rick Rubin as co-producer and Richard Thompson as a guest, Yusuf brings a new bluesiness to his music. He sound creatively liberated as he sings about freedom and chains - literal and figurative. And his faith fuels his fire.

"JOHN COLTRANE - THE PRESTIGE RECORDINGS"
This reissued box set is a fabulous find for 'Trane aficionados. These 16 discs cover material recorded between 1956 and 1958. Other top players collaborating with Coltrane here include Sonny Rollins, Zoot Sims, Gene Ammons, Freddie Hubbard and Red Garland. An excellent 32-page booklet helps put the music in context. In honor of Prestige's 65th anniversary, also now available is an eight-disc Miles Davis set (and he's joined by such greats as Charlie Parker, Thelonious Monk and Charles Mingus), drawing from 17 recording sessions between 1951 and 1956. That one comes with a 64-page booklet that includes rare photos.

"ERIC VLOEIMAN'S OLIVER'S CINEMA"
The Dutch trumpeter likes to venture into diverse musical settings. This combo (whose name is an anagram for Eric Vloeiman's) is particularly engaging. There's a unique charm to the longing sound of the trumpet gliding over Jor Brinkmann's cello and Tuur Florizoone's accordion. All three musicians are versatile virtuosos and they create a sigh-inducing atmosphere on compositions like "Imagining," "Cinema Paradiso" and "Fellini's Waltz." The carefree "Aladdin" is another highlight of this amiably airy album.

THE MOODY BLUES' POLYDOR YEARS 1986-1992
Encompassing all of the band's content for the Polydor label in those years, this lavish set includes 6 CDs and 2 DVDs. The remastered sound is brilliant. "The Other Side of Life," "Sur La Mer" and "Keys of the Kingdom" are all albums well worth rediscovering. You'll find loads of previously unreleased and bonus tracks. One of the CDs provides a live show recorded in Cleveland in 1986. The DVDs present the Red Rocks concert with the Colorado Symphony Orchestra, as well as a documentary about that memorable show. The box set's special treats include a 64-page hardbound book and a blue vinyl single of "Al Fin Voy A Encontrate," the rare Spanish version of "I Know You're Out There Somewhere."

LLOYD COLE - "STANDARDS"
The British singer-songwriter Cole began his career with The Commotions, in Scotland, in 1982. Three decades later, Cole is still going strong. His 15th solo album, Standards," is a crisp, cohesive, killer record, bursting with indelible songs and incandescent sounds. The opener, "California Earthquake" will rock your world. He takes that song penned by country-folk great John Hartford and thoroughly galvanizes it. There are plenty of clever, perfectly crafted Cole originals, as well, including "Women's Studies, "Period Piece," "Myrtle and Rose" and "Silver Lake." Though Cole can work wonders with an acoustic folk type of sound, he leans more towards rock-pop, jangly electric elements here. His persuasive vocals maximize the impact. Superlative support is provided by Matthew Sweet on bass and Fred Maher on drums. Additional musicians enriching the sound include former Commotions keyboardist Blair Cowan, pianist Joan Wasser and Cole's son Will on guitar. With this album, Cole sets very high standards indeed.

KIKI EBSEN - "SCARECROW SESSIONS"
Ebsen's sultry, sensual, supple voice, as well as exceptionally discerning phrasing, enables her to make even the most familiar songs undeniably her own. She embraces the listener with the opening track, "You Don't Know What Love Is" and never lets go. This album is an homage to her dad, Buddy Ebsen. Before he starred on hit TV shows like "Beverly Hillbillies" and "Barnaby Jones," he was a renowned song-and-dance man. Daughter Kiki performs "If I Only Had A Brain" and "Somewhere Over The Rainbow" (Buddy was first cast as the Scarecrow, then, instead, became the original Tin Man In "Wizard of Oz," but had to be replaced after a makeup mishap nearly killed him). There's a finger-popping "St. Louis Blues," from Buddy's film debut in the Joel McCrea/Barbara Stanwyck starrer "Banjo On My Knee." Buddy tapped-danced with Shirley Temple in "Captain January" and from that picture comes an adorable, jazzy "At The Codfish Ball." Buddy played Doc, the older husband Audrey Hepburn deserted in "Breakfast at Tiffany's," So Kiki offers a transcendent rendition of "Moon River." She unearths another classic film theme in "Laura." A surprise comes when Kiki performs "Missing You," a gorgeous ballad actually written by her father. But you certainly don't have to know film history to appreciate the exceptional beauty of this album. Subtle instrumentation and tasteful arrangements allow Kiki Ebsen's velvety vocals to bring out each song's emotional power.

NIKKI YANOFSKY
The 20-year-old's debut studio album was executive produced by Quincy Jones, so that tells you Canada's Yanofsky is an extraordinary talent. The pop dance beats are infectious, but sophisticated arrangements, incorporating big band jazz elements, make this record stand out, along with Yanofsky's tour de force vocals. The youngest headliner in the history of the Montreal International Jazz Festival at age 12, the sensational Yanofsky is ready to make a smooth segue from jazz artist to pop star. This album serves as a beautiful bridge.

LARKIN POE - "KIN"
Sisters Rebecca and Megan Lovell come from Americana roots. They blend that background perfectly with Southern rock and pop flavors, creating an irresistible sound. The lead vocals are compelling and the harmonies soar. Songs like "Jailbreak," "Dandelion," "Sugar High" and "We Intertwine" make lasting impressions. The closing number, "Overachiever," is a stunner. The Lovells trace their ancestry back to Edgar Allan Poe. And that final song is a dramatic, painful excursion. It's a striking contrast to some of the more upbeat, infectious tunes that entertain earlier on the record. Exuding light or darkness, these siblings are riveting musical talents.

JENNY LEWIS - "THE VOYAGER"
Produced primarily by Ryan Adams, the latest Jenny Lewis album is absorbing self-reflection, skillfully cloaked in incredibly appealing indie pop-rock-country. The songs are accessible and often toe-tapping, laden with potent hooks, but there's ample evidence of Lewis' ongoing maturation as an artist. Wry humor, honesty and emotional openness make the former Riko Kiley frontwoman's songs a cut above the usual fare. And her vocals never fail to delight. Guests include The Watson Twins (with their heavenly harmonies), Beck and Benmont Tench. Especially winning are "Head Underwater," You Can't Outrun 'Em," "She's Not Me," "Late Bloomer" and the prettily pop "The New You," a rocking "Love U Forever" and the sumptuous title track. Even though she deals with some somber subjects, Lewis never wallows. Despite the inclusion of downbeat themes, the music is pure joy.

THE NEW BASEMENT TAPES - "LOST ON THE RIVER"
This outstanding collaboration teams Elvis Costello, Rhiannon Giddens (Carolina Chocolate Drops), Taylor Goldsmith (Dawes), Jim James (My Morning Jacket), Marcus Mumford (Mumford & Sons) and producer T Bone Burnett, on a mission to write and record music for recently discovered lyrics penned in 1967 by Bob Dylan. It's sort of a companion piece to Dylan's own "Basement Tapes." They've provided some first-rate melodies to complement the wordsmith. And Burnett finds just the right instrumentation for each track. Dylan in this period was this prolific, poetic and revelatory best. Jim James' lead vocal on "Down On The Bottom" gets the album off to a strong start. Mumford brings a heartfelt yearning to "Kansas City." And, of course, Costello's biting vocals make his leads sound like Dylan penned the lyrics specifically for him. These artists have brought diversity to the tunes, making the project even more intriguing.

"DAVE KOZ - "THE 25TH OF DECEMBER"
Another Koz Christmas album is in itself a cause for celebration. His tender trumpet begins with a touching "The First Noel." Then come an array of all-star guests, starting with Johnny Mathis on "It's The Most Wonderful Time of the Year." Kenny G helps Koz create big band swing on "Let It Snow! Let It Snow! Let It Snow!" Gloria Estefan brings her rhythmic Latin love to "Do You Hear What I Hear?" Jonathan Butler finds the soulfulness in "O Holy Night," as BeBe Winans does on the title track. Fantasia emotively sings a medley of religious favorites. Other guests include Stevie Wonder, Richard Marx, Trombone Shorty and Eric Benet. And Koz enhances each track with his stellar sax work.

EARTH WIND & FIRE - "HOLIDAY"
With the right measures of respect and soul, the group adds its own distinctive feel to carols like "What Child Is This?," "Away in the Manger," The First Noel,"Joy To The World" and "O Come All Ye Faithful." Snap your fingers to a hip "Everyday is Christmas." There's funkiness galore on secular seasonal standards like "Sleigh Ride" and "WInter Wonderland." "Snow," a traditional Japanese winter song, gets a Family Stone type treatment. "Jingle Bell Rock" is nostalgic fun. The album comes to a close with an invigorating "December" (based on "September").

JAMES LEE STANLEY - "THE APOCALOPTIMIST"
Singer/songwriter/guitarist Stanley returns with some excellent original numbers. "Living The Party Life" will have you gently bobbing your head. Seductive bass runs help "Gypsies in the Hallway" to captivate the listener. "Last Call" is a mellow marvel. "Here We Have My Father" is a lovely, finger-picked ballad that recalls some of Jim Croce's finest tunes. "Lasts All Night" is another beauty. "Highway 23 - Mobiustrip" is a pleasing soft-rock ride. Stanley also good-naturedly cruises through The Beatles' "Drive My Car." He says goodnight with his exquisite "Lullabye (For Chloe)."

STEVIE RAY VAUGHAN AND DOUBLE TROUBLE - "THE COMPLETE EPIC RECORDINGS COLLECTION"
If blues-rock excites you, double your pleasure, double your fun, with Double Trouble, fronted by the one and only Stevie Ray Vaughan. Legacy Recordings/Epic Records has released the group's total output for Epic. And it's epic, indeed. The package of 12 CDs includes all nine of Vaughan' albums of that era on 10 discs (one, "Live at Montreux" was a double-disc album), plus two CDs of outtakes, alternate takes and other rarities. There's tons of live material. And that's the stuff that will make your jaws drop furthest, as Vaughan unleashes his uncanny guitar wizardry. One of the albums, "A Legend in the Making: Live at the El Mocambo," is making its CD debut in this set. Listening through the entire package is a great reminder of how Vaughan grew over the years, incorporating other elements into his music. We can only imagine what he might have accomplished, had he not died in a helicopter crash at age 35.

RENAISSANCE - "SYMPHONY OF LIGHT"
Since 1969, Renaissance, with various lineups, has been artfully combining classical, folk, rock and jazz influences. If you hadn't caught up with the English prog-rock band's 2012 album, "Grandine Il Vento," give a cheer to Red River Entertainment, which has now released this gem worldwide, under the title "Symphony of Light." That's the name of a graceful, intricate composition penned in tribute to Leonardo da Vinci. It's a mini-symphony of maximum beauty. It's Annie Haslam's five-octave voice that most dazzles throughout. The operatic "The Mystic and The Muse" takes the listener's breath away. Ian Anderson (Jethro Tull) adds his flute to "Cry to the World." Nature sounds add to the atmosphere of "Waterfall," a song inspired by Brazil's rainforests. One of the three bonus tracks added for the Red Rock version of the album is "Renaissance Man," which Haslam and keyboardist Rave Tesar wrote in honor of the band's guitarist/songwriter Michael Dunford, who died from a cerebral hemorrhage in 2012. The band continues to make its own very special musical blend, lush, lovely, intelligent and sophisticated.

TIM BENTON - "SCENES FROM A WELL-SPENT YOUTH"
Subtitled "Exploring the Songs of 1965-1975," this unusual and unusually entertaining album allows us to experience the pop hits of that era as re-imagined by an opera/musical theater vocalist. Born in New Zealand, now based in the U.K., Benton has a beautiful, powerful, emotive voice. Working with producer/arranger SImon Wallace (Barb Jungr, TV's "Absolutely Fabulous"), he needs only solid piano accompaniment to make each song fulfill its potential. Benton finds the drama in such songs as Dylan's "The Times They Are A-Changing," Goffin & King's "Goin' Back," made famous by The Byrds, and Paul Simon's "America." The combination of "Aquarius/San Francisco" naturally suits Benton's robust voice. Gene Pitney himself had a voice of operatic strength, so "24 Hours From Tulsa" works well for Benton. Other top selections include The Fortunes' "You've Got Your Troubles," The Hollies "Bus Stop," Three Dog Night's "Out in the Country" and Joni Mitchell's "Chelsea Morning." Classic rock/pop tunes sound just fine with a legit voice to interpret them.

MAYA ANGELOU - 'CAGED BIRD SONGS"
Prior to her passing at age 86, Dr. Maya Angelou gave her blessing to this project. Conceived by Shawn Rivera of the R&B group Az Yet, the album combines Angelou's insightful commentary on social issues with hip-hop, R&B, funk and jazz backdrops. The results are certainly intriguing. These tracks bring her poetry, prose and social activism into a fresh, new context, hopefully attracting a new, young audience to her work.

OLD 97's - "HITCHHIKE TO RHOME"
Fans of alt-country should be rushing out to get the Omnivore Recordings reissue of Old 97's' debut album, "Hitchhike to Rhome." It's available in double-CD and double-LP versions. "Leaf Clover" ranks with rockabilly classics. "Drowning in the Days" is another top track. "Doreen" is a rousing bluegrass-style number. There's wry humor in following the semi-autobiographical country-rocker "Mama Tried" - written by that Okie from Muskogee himself, Merle Haggard - with "Stoned" ( lyrics to that one are the source of the "Hitchhike to Rhome" title). Bonus cuts include eight tunes from the "Rhome" sessions that had never been released, as well as the band's four-song demo cassette. Twenty years after Old 97's' emergence, listening to their musical romps is just as much fun as ever.

KIRA WILLEY "HOW TO BE A CLOUD: YOGA SONGS FOR KIDS VOL. 3"
Sweet-voiced Kira Wiley will enchant audiences of all ages with this album. "Bloom" is a pleasing pop tune. "How To Be A Cloud," the title track, has a wistful loveliness. Upbeat numbers like "Gotta Lotta Happy," Great Big Starry Sky" and "Dancing With My Daddy" will have the little listeners movin' and groovin'. "Jazzy," ironically, has a country-pop flair. "Cookie Jar" is funk-flavored fun. "I Will Be Here" is a reassuring declaration. "Wings on a String" truly takes flight. "When You Sleep" is dreamily delightful. The album includes bonus tracks that gives kids spoken instruction on how to practice yoga poses that suit the songs.

THE NOT-ITS! - "RAISE YOUR HAND"
The Seattle-based kindie rock-pop band serves up catchy tunes bubbling with driving guitars and engaging lead vocals, including those of Sarah Shannon, formerly of Sub Pop band Velocity Girl. The harmonies are great, too. Cheery songs include the title track, "Haircut," "We're Gonna Hike," "Great Day," "Bee's Knees," "Mosquito Eater," "Flannel Jammies, " "Funniest Cat Videos" and "Motorcycle Mom." The pretty "Echo" is worth hearing again and again. Kids will relate to the boo-boo anthem, "When I Fell (The Scab Song)." Imbedded in many of the beat-laden creations are positive messages. Parents will enjoy the songs, too, especially the clever nostalgia of "Hey 80's."

KEY WILDE & MR. CLARK - ANIMAL TALES"
Any animal-loving child will love the new album by this clever duo. With an eclectic style based in Americana and pop, Wilde and Clark charm listeners with such witty ditties as "Frog Fiesta," "Platypus," "Katy Caterpillar," "Bombardier Beetle," "Hippo Dance," "Larry The Lobster," "Alligator Get-Together " and, with its south-of-the-border energy, "Armando Armadillo."

JESSICA HERNANDEZ & THE DELTAS - "SECRET EVIL"
With a debut album as strong as "Secret Evil," Hernandez, who hails from Detroit, won't be a secret to the rest of the world much longer. She demonstrates a voice that's dynamic and expressive. She can sizzle in a variety of styles, incorporating traces of country, punk, rockabilly, ska, Latin and cabaret. In some moments, she even sounds a bit like Adele. The band can sound garagey one moment, slick the next. So the album is brimming with musical surprises. Top tracks include the insistent "No Place Left To Hide" and the sassy "Sorry I Stole Your Man," "Cry Cry Cry" is a gripping number about the emotional pain of a love triangle. "Lovers First" is a lovely ballad. "Caught Up" will hook you And "Downtown Man" is hard to resist, as well. Expect to hear much more about Jessica Hernandez.

"HALEY & MICHAELS"
The five-song EP is a winning effort from the duo. "Just Another Love Song" is a rousing, catchy country-rocker. The mid-tempo "One More Night to Break" gives the harmonies of Shannon Haley and Ryan Michaels an opportunity to fully glisten , as does the soaring ballad "We'll Always Have Mexico." They also get a lot of musical mileage out of The Proclaimers' hit "500 Miles."

NEIL DIAMOND - "MELODY ROAD"
For his first studio album in six years, Diamond chose hit-making producers Don Was and Jacknife. And the results are impressive. At 73, Diamond's voice still has a charismatic, dramatic power. And he can still skillfully shape songs that reach the heart and the mind. One of the most memorable tunes is the love story of "Seongah and Jimmy," a guy from Long Island and a girl from Korea. "Alone at the Ball" is compelling and passionate. "Nothing But A Heartache" shows emotional depth, as do "In Better Days" and "The Art of Love." And then there are the "Song Sung Blue"-like sway-alongs like "Marry Me Now" and "Something Blue." And the sound, throughout, is timeless. Diamond's latest displays enough sparkle to thrill long-time fans.

CHRISTMAS JUG BAND - JUGOLOGY: GREATEST NEAR MISSES (BEST OF...)
Spanning various Jug lineups, this new album offers 17 of the band's zestfully hilarious, saucy holiday tunes. Among the titles are "Santa Lost A Ho," "Rudolf The Bald Headed Reindeer" and "Under The Mistletoe." In addition, two new songs have been added to this release - "Santa Claus Is My Main Man" and "I'm Dreamin' Of a Wet Christmas." With amusing lyrics and spirited jug band sounds, the album will enliven any holiday party.

ROGER TAYLOR - "BEST"
There was more to Queen than just Freddie Mercury and Brian May. Roger Taylor, the bands' drummer, also happens to be a fine singer, gifted songwriter and multi-instrumentalist. This new album collects some of the most memorable tracks from his long and fruitful solo career. He delivers a strong, Don Henley-like vocal on the power ballad "Where Are You Now?" He can rock hard, too, as on "No More Fun" and "A Nation of Haircuts." From his most recent album, "Fun On Earth," comes "The Unblinking Eye (Everything Is Broken)," a song that underlines Taylor's social conscience. This "Best" album is a reminder of a great artist who's too often obscured by the shadow of other great artists.

LEIGHTON MEESTER - "HEARTSTRINGS"
Meester is well known from her role on "Gossip Girl," but if this album is any indication, she may eventually be best known for her music. Put aside the usual skepticism that plagues any actress who also sings. This is a terrific pop album from a singer-songwriter worth getting to know. Meester has a wonderfully winsome voice. And it's effective in expressing an array of moods and emotions. Whether flavored with country, California surf or vintage R&B, Meester shines. "Good For One Thing" has a girl group kind of appeal. Dreamy guitar passages help make "Dreaming" ethereal. Other top tracks include "On My Side," "Run Away" and "Blue Afternoon." With ballads, Meester can tug on your heartstrings, but she can also playfully bring the fun to uptempo numbers. She's not acting the role of vocalist. She's the real deal.

LOW SOCIETY - "CAN'T KEEP A GOOD WOMAN DOWN"
Mandy Lemons knows how to squeeze every last ounce of soul out of each and every song. She's a belter who knows how to use vocal dynamics to her best advantage. And guitarist/producer Sturgis Nikides (formerly with John Cale of Velvet Underground fame) provides his own fire, raising the temperature even higher on this scorching rock-blues. There's plenty of slide sizzle. "No Money Down" provides a change of direction, sauntering down a country path. Lemons injects "El Diablo" with vulnerability and pain." The album comes to a blazing conclusion with "Should've Known Better." Other outstanding tracks include "Crammed & Jammed," "Let Me Ride," "Voodoo Woman" and the title track.

EAST INDIA YOUTH - "TOTAL STRIFE FOREVER" - EXPANDED
U.K. artist William Doyle, aka East India Youth, has released a double-disc set, an extended version of his Mercury Prize-nominated "Total Strife Forever" album, plus, on the bonus disc, an immersive score he has composed for the 1916 silent film "20,000 Leagues Under The Sea." As Doyle ''s music is very cinematic, soundtracks seem like a natural road for him to explore. And he's big on exploration. On "Total Strife Forever," he paints soundscapes with adventurous sonic experimentation. Yes, there are familiar elements - electronica, pop, rock, dance, techno, neo-classical. But you never know where he's going, musically, and that's exciting for the listener. Remarkable tracks include "Glitter Recession," a mesmerizing "Looking For Someone," the subtly unnerving "Hinterland" and "Drippin Down," with Doyle's delicate vocal. East India Youth offers a trip that will haunt you.

"SIMON & GARFUNKEL - THE COMPLETE ALBUM COLLECTION"
They didn't just sing to a generation. In some ways, they spoke for a generation. Simon & Garfunkel could be romantic, reflective and refined. They could also be pensively political. For Baby Boomers, a flood of memories come from hearing songs like "Sounds of Silence," "Mrs. Robinson," "Feelin' Groovy," "Scarborough Fair," "Homeward Bound," "America" and "I Am A Rock." But this fantastic 12-CD box set - with original cover art and liner notes - also gives fans an opportunity to rediscover some of the duo's lesser known treasures, such as "Kathy's Song," "Silent Night" ("7 O'Clock News/Silent Night"), "April Come She Will," "Benedictus" and "Fakin' It." Concert albums demonstrate that S&G could deliver the goods, live, as well. Listening through these albums, their evolution as artists is clear. They grew from their simple folk/pop roots to create far more elaborate, sophisticated works. But the harmonies were always breathtakingly intricate. And that's why, though Paul Simon was the songwriter, Art Garfunkel deserves equal credit. His vocal arrangements and pristine harmonies were just as important in establishing the S&G sound. And his lead vocal on "Bridge Over Troubled Water" is a classic. Few artists can look back on a body of work so meaningful, so rich in breadth and beauty.

FRANK SINATRA - "THE CLASSIC CHRISTMAS ALBUM"
Ol' Blue Eyes fits your holiday atmosphere as perfectly as mistletoe and generously spiked eggnog (presumably with Jack Daniels). The smooth-voiced Chairman of the Board beautifully performs songs like "Silent Night" and "It Came Upon A Midnight Clear" with reverence, dignity, delicacy and beauty. "Have Yourself A Merry Little Christmas" is a heart-tugging gem. And nobody can touch Frankie, when comes to swing' breezily through lighthearted tunes like "Santa Claus Is Coming To Town." This release includes the previously unissued "Baby, It's Cold Outside," a cool duet with Dorothy Kirsten, as well as an alternate version of "Let It Snow! Let It Snow! Let It Snow!" Sure, you can find these songs recorded by hundreds of different artists. But there's only one Frank Sinatra, right pally? Legacy Recordings' Classic Christmas Album series this year also includes Barbra Streisand, Il Divo, Perry Como, Johnny Mathis, plus compilations of hard rock, country and pop Christmas classics.

BOOKS
"NASHVILLE SONGWRITER: THE INSIDE STORIES BEHIND COUNTRY MUSIC'S GREATEST HITS"
By Jake Brown
This is a highly informative look at how Music City's most successful songwriters come up with country hits. The writers themselves impart to author Jake Brown their wisdom and anecdotes. It's not just about inspiration and technique. Work ethic counts, too. Among those who reveal their creative process and secrets are The Crickets' Sonny Curtis and John Rich (of Big & Rich). You'll learn the scoop on how such memorable songs as Willie Nelson's "Always On My Mind," "Rascal Flatts's "Fast Cars and Freedom," George Strait's "Ocean Front Property," The Oak Ridge Boys' "American Made," Brad Paisley's "Mud on the Tires," Carrie Underwood's "Jesus Take the Wheel," Tim McGraw's "Live Like You Were Dying," George Jones' "Tennessee Whiskey" and Luke Bryan's "Play It Again" were written. It's an inside look that will appeal to country music fans, as well as aspiring and experienced tunesmiths.

"DANCING WITH MYSELF"
By Billy Idol
Yes, there's an astonishing amount of sex and drugs. But mostly, it's a tale about rock 'n' roll. William Broad, as an adolescent, was a rebel yell waiting to erupt. Bands like The Sex Pistols and The Clash lit the fuse and Broad exploded into a wildly charismatic performer, embracing the punk attitude and lifestyle. He made his mark with the group Generation X, then seized the full spotlight himself, playing to the hilt his new persona, Billy Idol. In a literate and engrossing style, Idol tells his own story, detailing the blemishes, as well as the triumphs. Excesses eventually destroy his relationship with his soulmate/mother of his children. But nothing can prevent Idol from making his music, his way - not even a terrible motorcycle accident. He expands beyond the raw punk roots, but never loses his edge... or that trademark sneer. His 30-year-old hits remain fresh and exciting... and so does his narrative.

"ON THE ROAD WITH JANIS JOPLIN"
By John Byrne Cooke
Janis Joplin's road manager, John Byrne Cooke, provides an affectionate, but honest portrait of the blues-rock great. It takes readers from her triumph at Monterey Pop with Big Brother & The Holding Company through her tours with the Kozmik Blues and Full Tilt Boogie bands. The joy came out of her passion for music. Even as stardom enveloped her, Joplin couldn't escape her insecurities. Booze, drugs and sex could push them aside momentarily. But eventually they became more of a problem than an answer. The cruel rejections she endured during her Texas adolescence never stopped haunting her. This intimate memoir lets us clearly see not only the persona Janis created as a protective shield - that of a blowsy, bawdy, boozy broad - but also the inner Janis - reflective, intelligent, vulnerable, wounded, the lost little girl. It's a fun, wild ride, until the bitter, tragic end. Of course, we know it's coming. But to experience it through the eyes of one who cared about her deeply, her early demise is profoundly moving. Along the way, there are encounters with other legends, gratifying ones with folks like Kris Kristofferson, as well as distressing ones with Jim Morrison and Jerry Lee Lewis. It's all here - Woodstock, the recording sessions, the partying, the pondering. The author, himself a musician, and son of "Masterpiece Theatre" host Alistair Cooke, contributes to Joplin's legacy with this engrossing new book.

"JAZZ IN THE NEW MILLENNIUM: LIVE AND WELL"
By Rick Mitchell
Mitchell's book offers profiles of many of contemporary jazz's finest artists, divided into three categories - Living Masters, Prime Time Players and Rising Stars. Among those included are Roy Haynes, Charles Lloyd, Wayne Shorter, Regina Carter, Joshua Redman, Ravi Coltrane, Dianne Reeves, Kurt Elling, Hiromi, Anat Cohen, Tierney Sutton and Esperanza Spalding - 57 altogether. Mitchell offers fresh insights into each of these distinctive artists. Selected discographies and Pin Lim's color photos enhance the reading experience. It's a must-read for both aficionados and casual jazz listeners

"THE NEXT ELVIS: SEARCHING FOR STARDOM AT SUN RECORDS"
By Barbara Barnes Sims
This remarkably detailed book allows the reader to become a fly on the wall at Sun Records in the late 50s. Elvis had already departed, his contract sold to RCA. But such dynamos as Jerry Lee Lewis, Johnny Cash, Roy Orbison and Carl Perkins continued to make world-shaking music at the Memphis studio. The music business was a man's world. But author Sims, in her twenties, became the right-hand woman of charismatic, enigmatic label owner Sam Phillips, himself a true rock 'n' roll pioneer and visionary. When Sims, this rather ingenuous jazz buff, finds herself smack dab in the middle of rockabilly craziness, it's tremendous fun for the reader. The book offers a rare opportunity to experience exactly what it was like inside that dingy, unpretentious little office/studio where colorful, larger-than-life personalities helped lay the foundation of an exhilarating, burgeoning new genre. It's also a glimpse into the music industry of the era, and into the society, particularly in the South.

"WHO KILLED MISTER MOONLIGHT? BAUHAUS, BLACK MAGICK AND BENEDICTION"
by David J. Haskins
In the late 70s and early 80s, Bauhaus was the cream of the Goth crop in the U.K. In the U.S., they were relegated to cult status. The classic lineup included Peter Murphy, Daniel Ash and brothers Kevin Haskins and David J. They were best known for the song "Bela Lugosi's Dead." And, of course, for the tumult that scarred their original run and reunions. Ash and the Haskins siblings later formed Love and Rockets, who hit big with "So Alive" in '89. And David J impressed in solo work. But he has more than music on his mind in this intriguing book. His fascination with the occult makes this a unique rock memoir. And the outlandish supporting cast includes William S. Burroughs, Rick Rubin, Iggy Pop and Nico. Throughout, David J's peculiar sense of humor leavens his celebration of darkness. It's a compelling read.