DEJA RE-VU
Pop Culture Classics' Recommended CDs, DVDs and Books
By Paul Freeman

DVDs
"A HAUNTING AT PRESTON CASTLE"
In time for your Halloween viewing comes this movie, on DVD and VOD (from Inception Media Group). "Inspired by true events," the story revolves around three friends who set out on a light-hearted adventure and plummet into darkness. Traipsing around an abandoned boy's correctional institution, they encounter echoes of the place's horrific past. They're trapped as the evil closes in on them. The movie offers ample suspense and shocks. With an appealing young cast and savvy direction by Martin Rosenberg, "Preston Castle" provides nightmarish thrills for scream fans.

"ZZ TOP: LIVE AT MONTREUX"
Montreux might be known as one of the world's great jazz festivals, but on this night in 2013, it was one of the rockingest spots on the map. Those bearded wonders, ZZ Top, delivered a rip-roaring set. Now available on DVD and Blu-Ray, the concert is captured in crystal clarity, all its excitement intact. One powerhouse track follows another. Highlights include "Gimme All Your Lovin'," "La Grange," "Pincushion" and all the oomph of "Tush." The disc includes interviews.

"WORM"
The indie film opens with a special report on the fact that people no longer dream. For the past 30 years, the world has instead been trapped in dark nights, the population exploding with tension, paranoia and violence. Now, from the laboratory into a store near you, come Fantasites, little worms that crawl through your ear and dissolve into your brain, creating a dream state. Users wake up refreshed and renewed... or so the sales pitch goes. How can you resist living out your fantasies? A shy, friendless young maintenance man [John Ferguson], starved for love and excitement, finds the possibility of escaping his mundane reality increasingly tempting. Imagine a romanticized life where you are liked by the people who have been avoiding you, where the sun always shines, and you can ride adorable giant puppies! Or where you win an old-fashioned boxing match against your nemesis. Unfortunately, as side effects become evident, the government regulates, then bans the product and those addicted to it will do anything to score some illicit worms. Directed by Doug Malette, "Worm" is clever, inventive and intriguing. It also works on the level of cautionary allegory. An engaging cast improvises dialogue, believably painting the emotional landscape and finding the humor and sadness in the situation. Malette achieves a poetic melancholy. The genre-bending movie, a film festival favorite, encompasses entertaining elements of sci-fi, fantasy, horror, suspense and character study; tragedy and comedy. Special features on this Synapse Films release include commentary, trailers, deleted scenes and the original short that inspired the feature.

"FRENCH FOR KIDS: OU VA JOUER"
This delightful new entry in the award-winning French For Kids series will soon have your youngsters shouting, "Ou va jouer! (Let's play!)" The DVD engagingly uses animation, colorful characters, live action, music, humor and interactive skits to provide the ideal blend of education and entertainment. Introducing your children to a new language at an early age will definitely broaden their horizons in a myriad of ways. With this series, they'll enjoy the whole process. And so will the grown-ups in the house!

CHARLES LLOYD: ARROWS INTO INFINITY
Jazz aficionados will be enthralled by this documentary on Lloyd, a master of sax and flute. Jeffrey Morse, who produced and directed in collaboration with Dorothy Marr, Lloyd's wife/manager, has assembled illuminating interviews and plenty of terrific live footage to tell the story of this remarkable musician's long, varied, inventive and distinguished career. Among the luminaries seen singing Lloyd's praises are Herbie Hancock, John Densmore, Jack DeJohnette, Don Was, Jim Keltner, Ornette Coleman and Robbie Robertson. The archival clips span 1964 to 2010. Lloyd has been hugely influential on the jazz, blues and rock scenes. So it's fitting that his life and career are celebrated in this must-see film, which delves skillfully and sensitively into his personal and professional ups and downs. The Blu-Ray offers Dolby Digital 2.0 sound. Video is excellent, as well.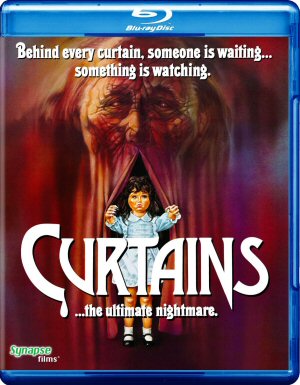 "CURTAINS"
For the role of a lifetime, some actresses will do anything... including murder. In this previously rarely seen thriller, Samantha Sherwood (Samantha Eggar), assured the part is hers, commits herself to a mental asylum to prepare for a bit of method acting. But the egomaniacal stage director [John Vernon] named Stryker betrays her, summoning other actresses to his wintry, remote house for a bizarre, complex auditioning process. The casting couch and a plethora of mind games are key to Stryker's sadistic amusement, as well as his selection system. Psychological warfare ensues. But one of the movie's characters is not just jealous and competitive, but psychotic. Terrifying incidents further complicate the process, keeping the actresses - and viewers - unnerved. For whom will it next be curtains? An old doll and the killer's rubber crone mask add to the general creepiness. Despite a fired director, re-shoots and re-edits, the movie holds together surprisingly well. Shot in Canada, "Curtains" provides plenty of suspense, some genuinely horrifying moments and several erotic scenes. What separates this 1983 film from others in the slasher genre - and "Curtains" is much more than a slasher flick - is its extraordinary cast. Like Vincent Price, Basil Rathbone, Boris Karloff, Peter Cushing and Christopher Lee, Canadian-born John Vernon ["Animal House, " "The Outlaw Jersey Wales"] is a natural for horror films, with his rich, classically trained voice and a gift for making theatrical ham quite delicious. Samantha Eggar ["The Collector," "The Brood"] is gorgeous and very convincing. The other women do a fine job, as well - Linda Thorson (TV's "The Avengers"), Annie Ditchburn ("Slow Dancing in the Big City"), Lynne Griffin ("Black Christmas"), Sandra Warren ("Terror Train") and Lesleh Donaldson ("Happy Birthday To Me"). The soundtrack includes a Burton Cummings number, "Save My Soul." The score by Paul Zaza is effective. The visuals are stunning on Blu-Ray. And Synapse, for this release, has created a new 5.1 DTS-HD surround remix. Purists can opt for the original two-channel mono version. But why? The enhanced audio adds to the tension. Among the extras, you really have to see "The Ultimate Nightmare: The Making of Curtains," in which participants explain the ordeals they encountered. And the commentary track is truly entertaining. "Curtains" was certainly deserving of the superior encore Synapse has provided.

"AT WAR WITH THE ARMY"
Film Chest has released this 1950 Martin and Lewis musical comedy classic. Based on a Broadway hit, it was the first starring vehicle the duo filmed. In the midst of this military merriment, Jerry is at his lean, zany, monkey boy best. He raises mugging to an art form as the private who's desperate to finagle a pass, so he can visit his pregnant wife before heading overseas. He earns viewer guffaws by trying to learn self-defense, which he turns into a dance routine, or dressing in drag, or, with a song, courting a drunken soldier. Dino is the lover boy - bumbling Jerry's badgering Sarge. Of course, Mr. Smoothie gets chances to display his crooning charm. The movie introduces, in a too-brief performance, the glamorous and gifted Polly Bergen, who recently passed away. Mike Kellin, who appeared in the play, is a dynamic and fun presence. This "Army" earns a salute for laughs aplenty.

"DETOUR"
Film Chest has also released director Edgar G. Ulmer's 1945 low-budget film noir masterpiece, "Detour." A cynical, broke, born-to-lose New York piano player (Tom Neal) hitchhikes across the country to reconnect with his fame-seeking girlfriend in Hollywood. One wrong ride. One dead body. One blackmailing femme fatale. And Neal finds himself trapped in a living hell. No escape. Neal's remarkably haunting performance makes the film impossible to forget. Ann Savage also makes an indelible impression as the sexy, embittered conniver who tries to use him. It a dark and disturbing tale.

"THE DANCE OF REALITY"
Surrender to the illusion. Allow writer/director/producer Alejandro Jodorowsky to sweep you up in his brilliant, wildly imaginative representation of his childhood. Renowned for such cult films as "El Topo" and "The Holy Mountain," with his new film, Jodorowsky uses his cinematic paintbox to splash haunting imagery, from the opening frames through the ending. He poses the question "What is reality?" His answer is - reality is what you make it. And that's true of your memories, as well. Jodorowsky, the boy, growing up in a coastal Chilean town, can use his daydreams to escape his true prison - life under the thumb of an abusive father. As always, Jodorowsky revels in the bizarre, but in this "Dance," incorporates that element into thought-provoking themes. With his first film in 24 years, Jodorowsky creates an ingenious, startlingly colorful, splendidly surreal work. As with a strange dream, you'll feel compelled to unravel its meaning. Blu-Ray is the perfect way to experience the poetic film - again and again. There are several fascinating extras, including "The Art of The Costumes"

"THE FINAL TERROR"
Beware of the backwoods! In this blood-drenched thriller, a band of young campers is eager to enjoy the wonders of nature. Unfortunately they're definitely in the wrong place at the wrong time. Their intrusion awakens unspeakable evil. Splish splash, the villain's about to slash! Not that this one is all about gore. It prefers to establish an eerie atmosphere and then build up the suspense. Kudos to Shout! Factory for making this 1983 chiller available as a Blu-Ray/DVD package. Directed by Andrew Davis, who went on to helm much bigger budget pictures, like "The Fugitive" and "Under Siege," the frightener features a fine young cast - including Daryl Hannah, Rachel Ward, Adrian Zmed and Joe Pantoliano - who went on to have notable careers. This was the king B-movie producer Samuel Z. Arkoff's first indie endeavor, after he left the company he founded, American International Pictures. The script was co-written by Ronald Shusett ("Alien," "Total Recall"). Extras include interviews, audio commentary and the theatrical trailer.

"MY LITTLE PONY IS MAGIC: THE KEYS OF FRIENDSHIP"
There's an abundance of magic and joy in Ponyville and your children are welcome to share in the fun. This new DVD contains colorful adventures starring Twinkle Sparkle and her adorable pony pals as they learn that the strongest magic of all is friendship. The sights, sounds and positive themes will please kids, while winning the approval of parents. Your wee ones will enjoy participating in the sing-along of "Generosity," as well.

"GINGER SNAPS"
To fulfill a class assignment - depicting life in their mundane, suburban hometown - two outcast teen sisters, Brigitte (Emily Perkins) and Ginger (Katharine Isabelle) stage and photograph their own gruesome mock suicides. With that macabre opening, coupled with a dog mutilation, it's clear that real horror is looming for the girls. They're obsessed with death... and are about to become far too well acquainted with it. Puberty is all about change. But there's a more worrisome transformation taking place in the quiet town of Bailey Downs - lycanthropy, to be exact. Yes, after a vicious attack, Ginger becomes a werewolf. This makes her moodier than ever, not to mention a hell of a lot more dangerous, honing her natural edge to razor sharpness. The two lead young actresses are perfect as the alienated adolescents, maintaining a sense of reality amidst the wild supernatural happenings. Mimi Rogers is a delight as their clueless mother. Director John Fawcett ("Orphan Black") displays an admirable command of the horror genre, wielding shocks and stirring tensions. His use of macabre humor adds to the dark fun. Shout! Factory's Blu-Ray release looks great and sounds even better (with 5.1 DTS-HD Master Audio). Some cool surround sound effects pop up to keep viewers happily rattled. The many interesting extras include commentary tracks, documentary, featurette, deleted scenes, cast auditions and rehearsals, trailers, a look at the effects involved with the werewolf's creation, and a discussion of puberty in horror films. "Ginger Snaps" ranks right up there with "Carrie" as a top high school horror flick. This is a smart, cannily made cult film that deserves to enlarge its cult. This new release should accomplish that.

CDs
JOHANNA SAMUELS - "DOUBLE BIND"
Brooklyn-based Samuels makes a stunning debut. She may recall Regina Spektor or Fiona Apple, but Samuels proves herself to be an original. She knows how to craft an intriguing pop melody, but isn't afraid to probe the darker sides of life in her penetrating lyrics. The contrast between jaunty or honeyed tunes and somber, disturbing themes can create a riveting tension. She knows how to etch memorable characters without flinching at their painful flaws. Top tracks include the title track, "Real Tragedies," "Please Say Some Good," "From Above You" and "Chanson."

THE JUNIOR LEAGUE - "YOU SHOULD BE HAPPY"
If you aren't aware of this band yet, find out what you've been missing! The Louisiana-based The Junior League is definitely ready for the bigs. Front man Joe Adragna and company deliver an immensely pleasing brand of power-pop. Adragna, a wonderful songwriter, creates fresh-sounding, endlessly appealing tunes, wrapped around elegantly crafted lyrics. The sound echoes such artists as Brian Wilson, the British Invasion bands, The Monkees, Jackson Browne and Big Star. "Keep It Home" gets things off to a driving start. The title track glows with an irresistible energy. "Kaleidoscopes" is a wistful, acoustic gem. "Charming" is equally endearing. "Samantha Smile" captivates. The legendary Susan Cowsill adds spot-on harmonies on a couple of numbers. There isn't a wasted track among the 11 beauties here. Whether sunshiney or bittersweet, these songs are memorable. This is an album you'll want to experience again and again.

MADELEINE PEYROUX - "KEEP ME IN YOU HEART FOR A WHILE: THE BEST OF MADELEINE PEYROUX"
This marvelous compilation from Rounder Records, underlines the timelessness of Madeleine Peyroux's silky, soulful sound. Whether she's interpreting vintage classics like "La Vie En Rose" and "Smile" or a reflective, more modern composition from the Elliott Smith or Leonard Cohen songbooks, she puts her own impeccable, always honest imprint on the material. Her extraordinary vocals are supple, sensitive and sensuous. On numbers like "Between The Bars" and "(Getting Some) Fun Out of Life," she conjures some of the heart-melting Billie Holiday magic. Peyroux partisans will applaud the inclusion of the previously unreleased title track, "Keep Me In Your Heart," penned by Warren Zevon. Genuinely touching, it was heard in the 2011 indie film "Union Square." This is a collection to be cherished.

FLOWERS - "DO WHAT YOU WANT TO, IT'S WHAT YOU SHOULD DO"
The London trio's indie pop glides appealingly, riding gentle melodies and bassist Rachel Kennedy's winsome, willowy voice. There's a fine fragility to many of the songs, which will endear them to listeners. The dreamy delicacy works well, whether surrounded by spare or lush accompaniment. Biting electric guitar riffs sometimes provide very effective juxtaposition against Kennedy's soft sweet voice. There's a disarming ingenuousness to the material, particularly when Kennedy is singing about the nature of youth. Most memorable tracks include "Comfort" and "Forget The Fall."

THE LAST INTERNATIONALE - "WE WILL REIGN"
New York's The Last Internationale will rock you to your core. Delila Paz's fiery, fervent vocals will wake you, shake you and penetrate deep into your soul. And she has important messages to convey, as on the ferocious opener, "Life, Liberty and the Pursuit of Indian Blood." When the tempo slows a bit, as on "I'll Be Alright" and "Devil's Dust," she's just as powerful. There's a bluesy punch to "Killing Fields." The title track resonates with an anthemic impact. Paz channels Smith's Gayle McCormick for a knock-you-on-your-ass cover of the classic "Baby It's You." Edgey Pires' guitar work packs a wallop, as well. With a social conscience and a searing sound, Last Internationale demands attention.

JENN GRINELS - "LIVE AT THE RUTLEDGE"
Jenn Grinels, a Northern California native now based in Nashville, presents vibrant live versions of some of the enchanting songs from her first two albums. Her amiable patter adds to the charm. Stylistically, the gifted songwriter seamlessly weaves together pop, rock, country, blues, jazz and folk threads. Among the highlights are "Pegged or Played," the witty "Don't Wanna Be Happy." a driving "No Better" and the touching "Right From The Start." Grinels also serves up a sizzling version of the Aretha Franklin classic "I Never Loved A Man." Her voice is sweet, soulful, penetrating and versatile. She has an impressive command of vocal dynamics. Whether communicating softly or belting out a lyric, she's always utterly convincing.

KATRINA LESKANICH - "BLISLAND"
The new solo album from the former lead singer of Katrina and the Waves is a captivating collection of beautifully performed pop material. The title track is a breezily wistful declaration that home is where the heart is. "Sun Coming Upper" speaks of coping, looking for the rush of a new dawn. There's even a cleverly re-imagined, bluesy version of Katrina's smash "Walking on Sunshine."

MIDGE URE - "FRAGILE"
Ure has just released his first new solo album in a dozen years. It was well worth the wait. The Scottish singer-songwriter, known for his sterling work with Thin Lizzy and Ultravox, delivers a riveting collection of personal, powerful songs. Ure combines elegant melodies, eloquent lyrics and pure, exceptionally expressive vocals, all enhanced by lush and imaginative production. He explores a wide range of moods on such numbers as "Dark, Dark Night," "Star Crossed" and For All You Know." His creations, complex, yet completely engaging, will haunt you.

BETH CUSTER - "RESPECT AS A RELIGION"
The wondrously and diversely talented Bay Area artist Beth Custer has just re-released her album, "Respect as a Religion," long an underground favorite. If you've been hunting for this out-of-print, avant-garde fusion gem, you can now celebrate it's reemergence. Written in the wake of the 2003 Iraq invasion, it's as timely as ever, with its indictment of imperialistic policies. The funked-up track "Empire of the United States," grabbed well deserved attention. "The General of Godeus" is suitably jarring. "Condoleeza's on the Phone" finds an alluring groove. Other top numbers include the quirky, energetic "Swim!," the surging "Breakneck" and the undulating title track. Many of the area's top musicians joined Custer in creating this invigorating, provocative, eclectic music.

JOANNA GRUESOME - "WEIRD SISTER"
The Cardiff, Wales-based noise pop band makes an indelible impression with its first album. Appealing melodies soar over the buzzy, edgy guitars. There's fun amidst the fury and feedback. Vocalist Alanna McArdle can soothe or screech with the best of them. Among the irrepressible tracks are "Anti-Parent Cowboy Killers," "Sugarcrush," "Lemonade Grrrl" and "Candy."

REBELUTION - "COUNT ME IN"
Hailing from Santa Barbara, the band returns with its sunny reggae-pop sound. Thanks to Eric Rachmany's easygoing vocals, infectious rhythms, upbeat lyrics and mellow vibe, Rebelution is hard to resist. On "Roots Reggae Music," original Black Uhuru singer Don Carlos makes a guest appearance. The gentle "Fade Away" provides another memorable moment. Rebelution is a crowd-pleaser.

AUDREY MARTIN - "LIVING ROOM"
"Living Room" is the culmination of a dream for Chicago-born, East Bay-based Audrey Martin. A family therapist, when she turned 40, Martin decided to reconnect with her musical passion. She honed her vocal skills at Berkeley's Jazzschool. The effort has paid off handsomely. With sophistication and warmth, she intelligently interprets standards such as "My Favorite Things," "Better Than Anything," "WIld Is The Wind" and "April in Paris." She puts her own imprint on them, displaying a great feel for melody, rhythm, phrasing and lyrical content. Martin finds the genuine emotion in each number. Her voice is disarming and delightful. Top musicians back her, including guitarist Jeff Buenz and pianist Larry Dunlap.

JEFF LARSON - "CLOSE CIRCLE"
Larson can always be relied on to serve up delicious California folk-pop sounds. That's certainly the case on this, his newest release. He demonstrates an unerring songwriting gift. Beauteous tunes like "Rescue," "Following The Echoes" and "Always The Mystery" will become favorites the first time you hear them. Larson's warm, mellow voice is again perfectly complemented by the mellifluous harmonies of America's Gerry Beckley and Dewey Bunnell. "How Long Running" has an early Eagles-ish magnetism. There's a Stone Canyon Band-era, Rick Nelson-like charm to "The Lay of The Land." After hearing this record, you'll want to join Larson's close circle of friends.

ADULT JAZZ - "GIST IS"
There's a prog rock sense of adventure to Adult Jazz's unique musical excursions. And the British group also embraces jazz's no-boundaries, no-fear approach. The compositions are complex, yet grabbing. Instrumentation is experimental, yet to the point. And lead singer Harry Burgess uses his voice like another versatile instrument. The band will coax you with a lovely melody, then jar you with dissonance. Unpredictability makes the project all the more absorbing The music is lively, literate and challenging. Intoxicating tracks include "Hum," "Am Gone" and "Donne Tongue." Sounds like pop still has room for originality and innovation. Music for grown-ups. Thank you Adult Jazz!

IAN ANDERSON - "HOMO ERRATICUS"
Storyteller Ian Anderson returns and so does his "Thick Is As A Brick" character, Gerald Bostock. This time Bostock is exploring a manuscript left by an old British soldier. The 32-page booklet that comes with the CD will help you follow the musical adventure. With intelligent lyrics and inspired prog-folk-rock melodies, Anderson, still a winning songwriter, vocalist, flute player and multi-instrumentalist, will beguile you with "Homo Erraticus." From beginning to end, you'll enjoy this tall Tull tale. It's a sophisticated and thoroughly enjoyable journey. The concept album is alive and well!

BRIAN SETZER - "ROCKABILLY RIOT: ALL ORIGINAL"
The raw, raucous rockabilly that artist like Elvis, Jerry Lee Lewis, Carl Perkins and Ricky Nelson brought to life in the 50s remains exhilarating, energizing and fun, thanks to Brian Setzer. His fire for the genre hasn't waned since he regenerated it with Stray Cats in the the early 80s. Here he rips it up with such electrifying rockers as "Let's Shake," "Rockabilly Blues," "Cock-a-Doodle Don't" and "Stiletto Cool." Setzer slows it down very effectively on "The Girl With The Blues In Her Eyes," which is reminiscent of early Lennon-McCartney (The Beatles were much influenced by 50s rockabilly, too.) On "Blue Lights, Big City," Setzer veers in a country direction and it's a first-rate change of pace. His vocals are earthy and urgent. And his sizzling guitar-playing pays homage to greats like James Burton and Scotty Moore. Setzer's riotous rockabilly sounds hotter than ever!

STELLA PEACH - "WISDOM TEETH"
Raised in Montana and now an Oakland, Ca. resident, singer-songwriter Stella Peach uses voice, violin, looping pedal and percussion to create her uniquely entrancing pop-folk-chamber music. Her debut album, "Wisdom Teeth," debuts October 28. The opening track, the single, "Ah! So This Is How It Feels" will instantly charm listeners. The wistful "Ships in the Night" is sigh-inducing. Peach goes experimental on tracks like "Diamonds." The primal edge to "Paralysis" calls to mind an Americana Yoko Ono. Rhythmic elements fuel "The Fool" and the piano-driven "Good News." "People Ain't Perfect" has a sittin'-on-the-porch bluesy touch, given Peach's own little twist. From start to the ideal finish, "Be Like The Water," the smarts, creativity and quirkiness of "Wisdom Teeth" will keep you involved.

STANLEY CLARKE - "UP"
The bass virtuoso, a rhythmic wonder, delivers an album that will definitely uplift listeners. On "Up," he funks it up ferociously on tracks like the title tune and "Pop Virgil." The album offers both his electric and acoustic playing. He makes a more inward trek on the reflective "Bass Folk Song #13: Mingus." "School Days" sizzles. "Trust (Dedicated to Nana)" honoring his daughter, is a lovely composition, as is the final piece, "La Cancion de Sofia." The versatile musician's influences here include rock, world, classical and soul, as well as jazz. Clarke's illustrious friends making guest appearances on the album include Joe Walsh, Stewart Copeland, Chick Corea, Lenny Castro and the Harlem String Quartet.

MARCIA BALL - "THE TATTOOED LADY AND THE ALLIGATOR MAN"
The new Marcia Ball album is one of the veteran blues piano player/vocalist's best. It's packed with a dozen delicious performances. Ball boogies animatedly on the title tune and gets sassy on "Get You A Woman" and "Clean My House." "Hot Springs" sizzles. Ball squeezes every bit of soul from "Just Keep Holding On," "The Last To Know" and the gospelish "Human Kindness." She gives the timely lyrics of "The Squeeze Is On" a Zydeco propulsion. The rousing "Like There's No Tomorrow" is another highlight.

SALLIE FORD -"SLAP BACK"
Ford's new all-girl indie rock band out of Portland, Oregon, displays fun, intensity, wit and tons of energy. Ford finds fresh perspectives on relationships, placing them, in entertaining fashion, in contexts containing garage, punk, psychedelic, surf, alt-country, blues and funk elements. The single "Coulda Been" gets things off to a rip-roaring start, as it tells a tale of a romance's bad timing. "Dive In" has a Joan Jett-like snarl to it. There's sexy sass aplenty in "Workin' The Job." Edge and attitude add to the impact throughout. The album was produced by Chris Funk of the Decemberists.


KATHRYN WILLIAMS - "CROWN ELECTRIC"
The first time you hear these songs, you'll be disarmed, enchanted. Each time you cozy up to this album again, you'll fall more deeply in love with Williams' magical music. Such beauty in pain. Such yearning, such wistfulness. And ultimately so uplifting. This folk-pop artist needs only her voice and guitar to take your breath away. But there are some exquisitely arranged strings to complement emotional passages, when appropriate. Williams' vocals can mesmerize in her gentlest whispers. When a sudden burst of Bjork-like raw passion bursts forth, it's that much more dramatic. Her lyrics are honestly and eloquently expressed. In "Out of Time," Williams asks poignantly, "How you supposed to know you're in your prime... until it's behind you?" Or the clever line in "Count" - "I'm going to make these hours count... these hours count themselves. " In the profound "The Known," she ponders, "Why do you hang your hat... in this random town... where you happened to be born?" She sings sagaciously of misguided priorities, worship of the superficial, emotional uncertainty and the sweet oblivion of numbness. Williams harmonizes with Ed Harcourt on "Darkness Twilight." Another sparkling song is the lush and lovely "Heart-Shaped Stone," sure to make you sigh. The album's title track, "Crown Electric", references the power company that hired Elvis as a truck driver, before he was declared the king of rock 'n' roll. The song shows Williams' canny grasp of fame and its smoke and mirrors. I first learned of Williams through her dreamy rendition of "Beyond The Sea," the opening theme of the charming U.K. series "The Cafe." She's not as well known in the U.S., though this is Williams' 10th studio album. But make an effort to discover her music for yourself. You'll be very glad you did.

ELVIN BISHOP - "CAN'T EVEN DO WRONG RIGHT"
Elvin Bishop displays good timing. As his new down-home romp "Can't Even Do Wrong Right" is released by Alligator Records, Bishop's 1975 smash, "Fooled Around and Fell in Love" is back on the charts. It's included in the "Guardians of the Galaxy" soundtrack. Bishop, a blues-rock superhero, again teams with Mickey Thomas here on the track "Let Your Woman Have Her Way." Bishop's potent slide guitar passages mesh perfectly with Thomas' emotive vocal. Other top tracks include the clever title track, a raucous, Waylon-like "Blues With Feeling," Singer-songwriter-guitarist-vocalist BIshop proves that he's still among the best at serving up a set of feel-good blues tunes. As he sings on the wry "Everybody's In The Same Boat," "I'm 71 and I'm still having fun."

THE KATHY KALLICK BAND - "TIME"
If you haven't yet caught up with Kathy Kallick Band's most recent album, Time," their 17th, you're missing a wonderful mix of bluegrass classics and originals. Strong harmonies complement convincing lead vocals and the instrumentation is top-notch. The title track, penned by Kallick, is an irresistible toe-tapper. Bill Monroe's "Lord Protect My Soul" is another highlight.

PETER MULVEY - "SILVER LADDER"
Funded by Kickstarter and produced by Chuck Prophet, MIlwaukee-born Peter Mulvey's new alt-folk-rock album impresses. Mulvey is an exceptionally literate, thought-provoking songwriter. His introspection is expressed in diverse styles and moods. Top tunes include the tender "Trempealeau" and the uptempo "Back In The Wind." "Sara Watkins adds harmony to "Remember The Milkman?" and Anita Suhanin pretties up "Where Did You Go?"

"THE WILD FEATHERS "
Now's the time to discover The Wild Feathers' exhilarating album. It brings back echoes of The Eagles and Tom Petty and The Heartbreakers at their rootsiest best. The Nashville-based rock-folk-country quintet soars on such rousing tunes as "Backwoods Company," "The Ceiling" and "American." On their website, view the new video for "Left My Woman," which has traces of "Take It To The LImit." Vocal harmonies are a big part of the band's appeal.

SHAKEY GRAVES - "AND THE WAR CAME"
Now based in Austin, the alt-country-rock-folk singer-songwriter (whose real name is Alejandro Rose-Garcia) demonstrates strong, heartfelt vocal and guitar work. Even his edgier, more electric numbers have an intimate feel. Memorable songs include "Family and Genus" and the first single "Dearly Departed."

ERASURE - "THE VIOLET FLAME"
The British synth-pop pioneers are back with an engaging new album. It opens with a throbbing "Dead of Night." "Reason" bubbles along with an I-dare-you-not-to-dance rhythm. The melodic magic of Andy Bell and Vince Clarke is also evident on songs like "Elevation" and "Under The Wave." Vocalist Bell achieves dramatic heights with the theatrical "Smoke and Mirrors." Fans will celebrate the duo's ability to still create alluring sounds.

LAURIE ANTONIOLI - "SONGS OF SHADOW, SONGS OF LIGHT"
Effectively interpreting the songs of Joni Mitchell is a great challenge. Bay Area native Laurie Antonioli is more than up to the task. After starting out in the singer-songwriter-vein, she became an accomplished jazz singer. Now Antonioli triumphantly returns to her roots for this gorgeous exploration of Mitchell's fascinatingly complex songs. Antonioli displays a tremendous range. She can use her vocal power, but also knows how to rely on nuance and shadings to fully illuminate a lyric. Antonioli brings Mitchell's songs to life with a depth and beauty few artists can attain. Many of these compositions are rarely covered. In addition to such popular numbers as "Both Sides Now" and "River" (which she makes her own), Antonioli captures Mitchell's essence on gems like "People's Parties" and "I Don't Know Where I Stand." Throughout, the instrumental accompaniment impeccably complements Antonioli's glorious voice.

GERALD ALBRIGHT - "SLAM DUNK"
Albright, the sensational saxophonist, has been touring as part of Dave Koz and Friends' Summer Horns. But he has released a new album of his own, "Slam Dunk" - and it scores big-time! This studio album, his 14th studio, is the follow-up to 2010's Grammy-nominated "Pushing The Envelope." The new one's title track has a subtly funky flavor. Subtlety is a key to Albright's smooth style. Top tracks include soulful numbers like "It's A Man's Man's World" (the James Brown show-stopper) and "The Duke." Peabo Bryson stops by to add a velvety vocal to "Where Did We Go Wrong?" On this album, Albright plays bass, as well, and his melodic, rhythmic riffs add to the textures on this satisfying record.

RAVEONETTES - "PE'AHI"
Named for a Hawaiian surf beach, the band's new album does, in fact, invoke elements of 60s surf-and-sun records. But it also goes dark on fuzz guitar-drenched numbers like "Killer in the Streets" and the rage-fueled "Kill!"The album kicks of with "Endless Sleeper," which sounds like 22nd century rockabilly. The echo-laden vocals take on an eerily dreamy quality for "Sisters." "Summer Ends" sound like The Beach Boys switched from acid and weed to meth. But it's a beauty. Sharin Foo's serene voice balances guitarist Sune Rose Wagner's seething guitar lines. The record's schizophrenic quality keeps the listener on edge - in a good way. "Pe'Ahi" is one of the Danish duo's most intriguing works.

BILLY JOE SHAVER - "LONG IN THE TOOTH"
The 74-year-old Shaver may be long in the tooth, but he's not short on great songs. The grizzled singer-songwriter knows how to tell a tale in ingratiating style. Some of Shaver's legendary friends show up on the record, including Willie Nelson, Leon Russell and Tony Joe White. The album has plenty of catchy numbers, like "Last Call For Alcohol," "American Me" and "The Git Go." Shaver offers his two cents worth on the state of country radio with the sarcastic "Hard To Be An Outlaw" (which features Nelson). "I'm In Love" is a sweet ballad. A couple of decades ago, "I"ll Love You As Much As I Can" would probably have become a country standard. Shaver's subject matter goes beyond love, music and aging. Topics range from war and politics to Jesus and the Garden of Eden. The world-weariness of Shaver's voice only adds to the authenticity. He's the real deal. Always has been.

AMY McCARLEY - "JET ENGINES"
Alt-country's Amy McCarley has a moving ache in her voice and a batch of strong, diverse songs. Highlights range from the sorrowful "Everybody Wants To" to the toe-tapper
Radio On" to the poppier "Hands Tied" to the saucy "Woods On Fire." The Alabama resident pens material listeners can relate to, filled with honest emotion. She's got a great band backing her, led by Kenny Vaughan, guitarist with Marty Stuart's Fabulous Superlatives. Vaughan produced the album. McCarley has a lot to say. And she says it from the heart.

VARIOUS ARTISTS - "LOOK AGAIN TO THE WIND: JOHNNY CASH'S BITTER TEARS REVISITED"
The Man in Black consistently used his rugged music to battle injustice. He often spoke for those who had been wronged, people who had no forum themselves. "Bitter Tears" Ballads of the American Indian" was a monumental album, released in 1964 over the objections of Cash's label, who feared it would damage his commercial appeal. The songs have been newly recorded by a number of outstanding Americana artists. Kris Kristofferson captures the drama and pathos of "The Ballad of Ira Hayes." Steve Earle relates the story of "Custer." Gillian Welch and David Rawlings deliver a lovely version of "As Long As The Grass Shall Grow." Emmylou Harris and The Milk Carton Kids team for an eloquent "Apache Tears." Rhiannon Giddens'' lead is stirring on "The Vanishing Race." The eminent American Indian artist Bill Miller brings a spiritual quality to the plaintive "Look Again To The Wind," a song that was left off Cash's original album. These songs are as touching and timely as ever.

ELIANA CUEVAS - "ESPEJO"
The Venezuelan-born, Toronto-based Cuevas melds pop, jazz and South American folk music into an exceptionally enticing sound. There's diversity in the first-class tracks on this, her fourth album. Each number has its own unique style and appeal. Among the breathtaking performances are the rhythmic "Estrellita" and "Llego," and the exquisite ballads "En Un Pedacito De Tu Corazon" and "Nacera." "El Tucusito" with its breakneck pace, is a vocal thrill ride. Cuevas can break your heart on "Lamento" and "Melancolia," then lift you up again with "Antito." A warmth and wonderment courses through the album. Curevas wrote nine of the 10 songs. This is an exceptional artist in her prime.

MISS TESS & THE TALKBACKS - "THE LOVE I HAVE FOR YOU"
Seven is your lucky number! You're going to love the seven tunes on this winning Americana EP. Rousing country-rockers like "Sorry You're Sick" will quickly make you a fan of Brooklyn-based Miss Tess and her Talkbacks. Tess' plaintive vocals are riveting on the title track (the album's one original and just as good as any of the covers) and "The Alabama Waltz." Her version of Willie Nelson's "Night Life" is a boozy, bluesy classic. Her arrangement of Randy Newman's "Bet No One Ever Hurt This Bad," once covered by Linda Ronstadt, is another standout. Bonnie Raitt's "Give It Up or Let Me Go" is a rollicking rockabilly number here. Neil Young's "Hold Back The Tears" rings down the curtain on this very satisfying collection.

STEVE EARLE - "LIVE IN NASHVILLE 1995"
At the Polk Theatre, backed by the Train Band, featuring Peter Rowan, Roy Huskey, Jr. and Norman Blake, Steve Earle delivers an exhilarating set. There isn't a weak moment in the 14 tunes here. Earle is at his most dynamic and expressive in this concert, performing such songs as "The Devil's Right Hand," "I"m Looking Through You" and "Copperhead Road." Bill Monroe shares the stage on "Walls of Time." And the sweet voice of Emmylou Harris blends beautifully with Earle's on three tunes, including a stirring "Rivers of Babylon." If you're an Earle aficionado, you simply must have this record. If you're not yet a fan, after hearing this album, you will be. This is Earle at his best.
DAVINA AND THE VAGABONDS - SUNSHINE
When you play this peachy record, you'll feel as if you've uncovered one of the world's great treasure troves of long-lost 78s. This album is the bee's knees! Singer/piano player Davina Sowers serves up a dozen old-fashioned musical goodies - nine new tunes and three covers, including a splendid version of Fats Waller's "You Must Be Losing Your Mind." Whether the number is swing or tango, bluesy, torchy or Tin Pan Alley style, Davina and company know how to maximize its entertainment value. "Heavenly Day" is an affecting song, as is "Away From Me." Delightful ditties include the title track, "Fizzle Out," "I Try To Be Good" and "Red Shoes."

PATTI PARKS - CHEATIN' MAN
This tantalizing blues singer can use her spirited voice to effectively sell an array of material. She seductively swings up a storm on "Baby Don't You Know." Parks goes torchy on "Happy You're Mine," then gets feisty on "Back Off." She simmers on the slow blues "It Ain't Right." "Mama" is more of a pop ballad and Parks delivers it in utterly convincing style. She uses an intuitive sense of dynamics on "Everyday." There's an undercurrent of throbbing urgency in "Whatcha Gonna Do." She's accompanied by a powerhouse band. Parks has a big, expressive voice and knows how to use it to wow listeners.

KATE ROSS - "PEOPLE MAKE THE WORLD GO ROUND"
Yes, people make the world go round. And it's people like Kate Ross who make the world a better place. Thirty years ago, Ross was diagnosed with Degenerative Disc Disease. Her condition led to chronic pain and two broken neck injuries. Nonetheless, as a single mom, she put two children through college. Through it all, Ross continued to pursue her musical dreams. On this album, an uplifting, optimistic quality shines through. Her vocal style is expressive and heartwarming. You don't have to know her inspirational story to appreciate her delightful jazz-soul performances. Her take on the Stylistics hit, "People Make The World Go Round" is breezily beautiful. Other standouts include the compelling "Kate's Song," a welcoming "Home To Me" and an uplifting rendition of "Without A Song." Ross is not just a survivor, but a thriver.

CARSIE BLANTON - "NOT OLD, NOT NEW"
New Orleans-based singer-songwriter Blanton beautifully breathes new life into jazz classics in this entirely engaging album. A fine Americana songwriter, she caresses tunes from the Great American Songbook with her soothingly sexy voice. The winking "Don't Come Too Soon" is pleasingly playful. She makes Gershwin's "Laziest Gal in Town" sound like it was written for her. "Heavenly Thing" is heavenly indeed. Blanton offers a relaxed, disarming version of Hoagy Carmichael's "Two Sleepy People." She softly swings her way through "What Is This Thing Called Love?" Blanton fills "Do You Know What It Means To Miss New Orleans" with longing. She knows how to relate a story in her own special, sultry way. And the elegant arrangements complement her approach perfectly. Blanton will make you feel as if you've stumbled into a time tunnel that's taken you to golden musical era.

ROY ORBISON - "MYSTERY GIRL"
Whether for your own collection or as a gift, the 25th anniversary CD/DVD deluxe edition of the Big O's "Mystery Girl" is sure to impress. The DVD features a detailed examination of the making of the great posthumous album. Interviews with Jeff Lynne, Tom Petty, Steve Cropper, Bono, Orbison's three sons and late widow illuminate the the entire process. Also included are promo music videos, including a previously unreleased version of "She's A Mystery To Me," directed by David Fincher. The album itself is magnificent. Orbison passed shortly after recording it, but his voice remains a divine instrument. Who else could have similarly mastered the soaring ballad "A Love So Beautiful"? Other highlights include "You Got It," "In The Real World," "She's A Mystery To Me" and "The Only One." The album stands as one of the pinnacles of a legendary career. There are many bonus tracks, including the song "The Way Is Love" and numerous demo versions of other tunes. This lavish release from Sony Legacy is the ideal way to celebrate the career of one of rock's greatest artists.

TODD MILLER - BRING IT HOME
The Houston-based tenor/conductor brings a spiritual element to his classical pop. Miller's robust, yet sensitive voice finds the deeper meanings in songs like "I Stand, I Fall" and "Down Where The Willows Weep." "This Is My Song" soars. The album comes to a tender close with the uplifting "Lean Away." The warmth and sincerity of Miller's graceful vocals could enable him to appeal to fans of Josh Groban.

EZRA WEISS - "BEFORE YOU KNOW IT (LIVE IN PORTLAND)"
Pianist/composer/arranger Weiss offers a brilliant performance, on this, his first live recording. Based in Portland, Oregon, the polished, inventive jazz artist's evocative compositions take the listener on a journey. And his touch on the keyboard is magical. He gives plenty of room for his fellow players to shine - Farnell Newton, trumpet; John Nastos, alto sax; Devin Phillips, tenor sax; Jon Shaw, bass; and Christopher Brown, drums. Play Weiss' music and, before you know it, you'll want to play it again.

THE HOLLIES - "50 AT FIFTY"
It's been half a century since Manchester's The Hollies released their debut album. Parlophone honors the occasion with a 3-CD package that presents 50 of the band's best tracks. The Everly Brothers were a primary inspiration for founders Alan Clarke and Graham Nash - two of pop's most wondrous voices - but it was adding a third vocal part, courtesy of Tony Hicks, that gave the pioneering group its uniquely thrilling sound. The collection begins with raw early covers like "(Ain't That) Just Like Me," "Just One Look" and "Stay." Then come such electrifying Hollies tracks as "I'm Alive," "Look Through Any Window," "I Can't Let go" and "Pay You Back With Interest." All the huge hits are here, including "Bus Stop" "On A Carousel," Carrie Anne, "He Ain't Heavy" and "Long Cool Woman." You'll hear sophisticated later 60s compositions like "King Midas in Reverse." The fabulous 50 also offers far lesser known gems, traveling through the entire history of the Rock and Roll Hall of Fame group. Also included is a new song, "Skylarks," recorded by the current Hollies lineup, which features long-time members Hicks and Bobby Elliot. Fifty years of Hollies magic is definitely worthy of celebration.


HENRY MANCINI "MUSIC FROM PETER GUNN"
Mancini's "Peter Gunn" - hands-down, best theme song ever written for a TV series. From the instantly unforgettable guitar riff to the insistent undercurrent of drums and bass, to the soaring horns, it's utterly irresistible. You can just picture ultra-cool private eye Craig Stevens reach for his rod, as sultry Lola Albright slinks by. The soundtrack album offers the hip, late 50s, West Coast jazz sound, spanning many moods, smoothly segueing from powerful to playful, pensive to poignant. Mancini knows when to swing, when to sway, when to simmer. And there's plenty of sizzle in these tracks. The wild closing track, ends the album is scorching style. Colossal cats played on Mancini's sessions. Many of them appeared on camera over the course of the Blake Edwards-created series. Boomers will get a nostalgic kick out of the album. But even if you're never heard of "Peter Gunn," you'll be knocked out by the melding of a great composer with some of the era's finest players.

MURALI CORYELL - "RESTLESS MIND"
Blues-rocker Murali Coryell expresses himself eloquently whether writing potent songs, singing or ardently playing guitar. The soulfully rhythmic "I Can't Give You Up" will have you snapping your fingers. The insistent "I Need Someone to Love" is another top track. And the title track will definitely stick in your mind. Coryell feels comfortable in his R&B shoes as he ends the album with Marvin Gaye's "Let's Get It On." Throughout, his vocals are convincing and the electric guitar solos flow with liquid fire.

ERIC HARLAND'S VOYAGER - "VIPASSANA"
The multi-Grammy nominated jazz drummer has performed with such luminaries as Charles Lloyd, Joshua Redman and Les Claypool, but with his own group, Voyager, he creates entrancing, eclectic music. That's the case on this new album, named for Buddhist meditation. His original tunes take the exceptionally talented band in dazzling directions. There are, indeed, meditative tracks, such as the serene "Greene," but also hip-hop-infused and neo-soul excursions. "Maiden Voyage," is a ravishing rendition of Herbie Hancock's post-bop classic. Joining Harland on this mind-expanding, ear-opening voyage are saxophonist Walter Smith III, pianist Taylor Eigsti, guitarists Julian Lage and Nir Felder, singer Chris Turner and bassist Hamish Raghavan.

HERB ALPERT - "IN THE MOOD"
Talk about a classic! Herb Alpert emerged as a million-selling artist in the 60s, backed by his all-star studio musicians, The Tijuana Brass. But the titanic trumpeter never rested on his laurels, His new music is, at once, his most personal and most universal. His playing displays a rare sensitivity, warmth and intimacy. The new album updates standards in delightful fashion. "Blue Moon" swings gently. Alpert has fun giving "Chattanooga Choo Choo" a contemporary dance vibe. "Beguine The Beguine" will make listeners sway to its loveliness. Alpert finds all the poignancy in The Everly Brothers' hits "Let It Be Me" and "All I Have To Do Is Dream." "When Sunny Gets Blue" is exquisite in Alpert's sure hands. His take on "Spanish Harlem" is as powerful as it is beautiful. There are also pleasing newer songs, such as "5 a.m." and "Morning." Over the course of the record, some passages expand Alpert's jazz/pop horizons with subtle hip-hop, electronic and R&B inflections. Alpert's wife, the vibrant Lani Hall, enhances several tracks with her vocal magic. Amazon.com's deluxe edition contains two extra tracks - "Ol' Man River" and "Conversation." The album closes upliftingly with "American The Beautiful," widened in scope by an array of world percussion. Alpert won a 2013 Grammy for his "Steppin' Out." The new one should find equal acclaim. Now 79, Alpert making the best music of his life.

ISABEL ROSE - "TROUBLE IN PARADISE"
Inspired by the swingin' 60s, Isabel Rose's new album is cause for exultation. The versatile and vivacious Rose channels her inner Ann-Margret when she opens with a lively "Got A Lot of Livin' To Do." She works wonders with 10cc's "Things We Do For Love" and Captain & Tennille's "Love Will Keep Us Together" (penned by Neil Sedaka and Howard Greenfield). Rose seduces listeners as she sings "I Want A Little Sugar in My Bowl," then goes all girl group with The Supremes' "Reflections." She delivers a moving "Miracle." Rose finds the pathos of broken dreams in "Trouble In Paradise." "That's All" has been covered by everyone from Sarah Vaughan to Sam Cooke to Judy Garland to Ricky Nelson. But Rose's version is especially elegant and alluring. "Never Satisfied" is another very satisfying number. Producer Bob Rock (Michael Buble, Cher, Bon Jovi, Aerosmith) has provided Rose with a sensationally sumptuous musical backdrop. He can go from surf rock guitar to lush orchestra atmosphere and make it all fit neatly together. And Rose is the talented connective thread. A theatre performer, as well as a vocalist, Rose makes every lyric count. And she knows how to make every song her own.

CABARET VOLTAIRE - "#7885 ELECTROPUNK TO TECHNOPOP"
The band from Sheffield, England, formed in 1973, grew from their Dadaism-inspired performance art roots to become pioneers in melding pop, electronica, dub, house and industrial dance sounds. Available as CD, double vinyl and digital download, this Mute label release offers choice material from two distinctive periods of the artists' work - 1978-81 (originally issued on Rough Trade) and 1983-85 (Some Bizarre/Virgin recordings). The two phases were the subject of much debate amongst hardcore fans. Some preferred the more avant-garde, anti-establishment, daring, early efforts. Others appreciated the group's natural evolution. This collection demonstrates that, though styles and approaches may have changed, all of the work was inventive and rich in merit. Richard H. Kirk - co-founder and now sole active Cabaret Voltaire member - contributed to the liner notes.

RUTHIE FOSTER - "PROMISE OF A BRAND NEW DAY"
Ruthie Foster possesses as soulful a voice as you're ever likely to hear, the kind of voice that sends chills up the spine. Sounds like she has gospel roots. Every note resonates with truth and emotion, as she wends her way through tunes that have blues, rock, folk and spiritual ingredients. And Foster delivers some stirring messages along the way. She begins with the R&B-flavored "SInging The Blues." The rousing, churning blues-rocker "Let Me Know" features guest guitar wizard Doyle Bramhall II. Foster returns to her church roots for the holy harmonies of the Staples Singers' "The Ghetto." Foster finds the socially conscious urgency in Willie King's hand-clapper "Second Coming." "Brand New Day," a capella, save for a tambourine, allows us to fully savor the vocal work. That's one of the seven numbers written or co-written by Foster. Another is "Complicated Love," which is simply beautiful. She hones in on the Stax feel for "It Might Not Be Right," a writing collaboration with the one and only William Bell. On her own composition "New," Toshi Reagon joins Foster. Produced by Meshell Ndegeocello, this album serves as an ideal vehicle for Foster's enormous vocal talent. Previously a Best Blues Album Grammy nominee, Foster shows with this record that she draw the soul essence from a variety of musical styles. She deserves the kind of crossover success Bonnie Raitt enjoys. Give Foster a home in your CD or MP3 player.

BOOKS
"GLOW - THE AUTOBIOGRAPHY OF RICK JAMES"
BY RICK JAMES WITH DAVID RITZ
Rick James was a superstar. Unfortunately, he was extraordinarily talented not only in singing, songwriting and record-producing, but in self-destruction, as well. He declared that his life would end in triumph. But his final act was a tragedy. James just couldn't outrun his demons. His 56 years on this planet were packed with excitement, danger and fantastic music. The book reads like unadorned autobiography, fully capturing James' voice. Author David Ritz, drawing from his interviews with James, as well as the performer's own written remembrances, delivers a compelling read that's, in turns, entertaining and harrowing. After a troubled childhood, James leaves Buffalo's ghettos for the greener pastures of Canada. There he forms a band with Neil Young and Bruce Palmer, later of Buffalo Springfield. But, on the verge of a breakthrough, James' problems with the law derail him. That is to become a pattern. Eventually the soul-rocker's creativity and showmanship, along with a fierce drive, make him a household name. Smash hits include "You and I," "Mary Jane" and "Super Freak." But his drug habits - not only using, but dealing - keep him on the edge of disaster. And sex is another addiction. He can, in an instant, place women on a pedestal, then just as quickly, violently knock them down. Only his love for his endlessly supportive mother remains pure. This is a cautionary tale of a wild life, fueled by equal measures of pain and pleasure. And you won't be able to stop turning the pages.

"SOUL REBEL: AN PORTRAIT OF BOB MARLEY IN JAMAICA AND BEYOND"
BY DAVID BURNETT (PHOTOGRAPHER), CHRIS MURRAY (INTRODUCTION), CHRIS SALEWICZ (FOREWORD)
One of the truly great photojournalists, Burnett has captured unforgettable images for such publications as Time, Life, Rolling Stone and The New Yorker. On assignment, Burnett visited Marley at his Jamaican home and then amassed more shots of the reggae king on the Marley and Wailers' "Exodus" European tour. Only a few of Burnett's magnificent pictures saw the light of day. Now you can experience over 200 of them. Each absorbing photograph offers new insights into the soul of this timeless musician/activist. Burnett, an exceptional artist himself, allows us to travel through Marley's eyes, right into his deepest essence. We can appreciate fully the intensity, caring, power and rebelliousness of this musical force. You'll definitely know the man far more intimately after studying these haunting images. You'll also see other genre legends, such as Peter Tosh, Lee Scratch Perry and Burning Spear. This beautiful volume from Insight Editions is a must-have for any music fan.

"QUEEN OF HEARTS (A ROYAL SPYNESS MYSTERY)"
BY RHYS BOWEN
This new mystery novel from Ms. Bowen proves to be eminently engaging, sort of a blend of Agatha Christie and "Downton Abbey." The breezy read stars Lady Georgiana, who's 35th in line to the English throne, but struggles to make ends meet during the Great Depression. She agrees to accompany her delightfully self-centered mum, Clare, on an adventure to California. Unexpectedly, they become enmeshed with Hollywood royalty. Bowen's fictional favorites mingle with real, reel personalities like Errol Flynn and Charlie Chaplin. An ocean voyage is spiced up by the presence of an infamous thief. A jaunt to the Xanadu-like estate of a movie mogul winds up in murder and clever Georgie, with an assist from her handsome boyfriend/detective Darcy, sets about to solve the crime. It's great fun to share the adventures of charming Georgie, colorful Clare, and a sassy maid who ingenuously refuses to behave in a manner appropriate to her station. This latest in the "Spyness" series is royally entertaining.

"I SAID YES TO EVERYTHING: A MEMOIR"
BY LEE GRANT
Lee Grant bravely reveals not only the facts of her fascinating life, but also her innermost thought and emotions. Growing up, she tries to meet the grand artistic expectations her mother has for her. Her own ambition and vanity battle profound insecurities. That's complicated by the struggle of this gifted young woman, as she's stifled under the thumb of a domineering older husband, playwright Arnold Manoff. But she gradually learns how to unshackle the full force of her acting talents. Just as she's showered with acclaim for her stage and 1951 screen triumph in "The Detective Story," the spouse's left-wing activities bring Grant under the scrutiny of the House of Un-American Activities bullies. For 12 oppressive years, she's blacklisted and shunned by television and Hollywood films. Stage work sustains her, barely, through years as a single mother. Then comes redemption. Grant wins the 1966 Emmy for her featured role in the TV sensation "Peyton Place." Her movie credits mount and include "Valley of the Dolls" and "In The Heat of The Night," culminating in an Academy Award for her performance in "Shampoo." The book brims with juicy tidbits about the fabulous array of luminaries she encounters along the way - among them, John Garfield, Shelley Winters, Mia Farrow, Billy Rose, Lenny Bruce, Burt Lancaster, Sharon Tate and Warren Beatty. But most importantly, Grant allows us to explore her own psyche, just as she does during the writing process. There are glimpses of how writing her autobiography affects Grant in the moment - a new perspective, a clearer understanding, a feeling that can only come in the wake of reflection. For Grant and the reader, it's a compelling journey, experiencing her evolution - as an artist... and as a woman.