DEJA RE-VU
Pop Culture Classics' Recommended CDs, DVDs and Books
By Paul Freeman


DVDs

"MYSTERY SCIENCE THEATER 3000 - XXXII"
Another four episodes of one of the funniest series in TV history! "Space Travelers" is better known by its original title, "Marooned." Unlike the usual MST fare, it's actually a half-decent film. (It won an Oscar for its special effects.) The cast includes Gregory Peck, James Franciscus, Gene Hackman, Richard Crenna, Lee Grant and David Janssen. Released in 1969, it presents a dramatic crisis involving a trio of astronauts on the brink of tragedy. As show regular Frank Coniff (Dr. Forrester's assistant) points out in one of the disc's extras, that's not the best sort of subject for riffing. Regardless, there are a number of hilarious bits, many involving Crow's excellent Peck impression. 1958's "Hercules," starring pec-packed, baritone-dubbed Steve Reeves, proves to be far more fitting fare for our crew of funsters. Joel Hodson and his bot pals find tons of mock-worthy moments. It's Mike Nelson's turn to join the robots in satirizing "San Francisco International," a 1970 NBC made-for-TV movie and pilot. Despite a cast that includes Van Johnson, Pernell Roberts, Clu Gulager, Tab Hunter, David Hartman and Nancy Malone, this "Airport" wannabe is ideally dull and dated, making it definitely deserving of lampooning by our beloved residents of the Satellite of Love. Over the course of the MST series, some of the most riotous gags came from short subjects. And this package includes a railroad safety film called "Last Clear Chance. It's a chance for Nelson and company to land a lot of zesty zingers. That's followed by the 1950 low-budget Lippert (yes, that's redundant) flick "Radar Secret Service," in which G-men hunt for stolen uranium. B-players John Howard, Adele Jergens, Tom Neal and Sid Melton struggle through the ridiculous dialogue. And the MST crew races through rib-tickling riffs: As cars file into a cemetery in the opening shot - "Jack Kervorkian's tailgating party!" Among the new set's diverting extras are a piece on Joseph E. Levine's early films and "MST-UK" with Trace and Frank.
"MIDSOMER MURDERS" - SERIES 12 & 13
Midsomer County is such a quaint, scenic English spot. It's a shame it's so riddled with homicides. Well, a shame for the residents. A tremendous pleasure for viewers of this enduring TV series. Fortunately, stalwart DCI Tom Barnaby (John Nettles), aided by Detective Sergeant Ben Jones (Jason Hughes), manage to uncover even the most complex cover-ups. In Series 12, the cases involve such intriguing elements as a miniature village, a cat burglar, golf course murders, Cold War spying, an art scam and victims killed by a giant claw. Series 13's eight episodes' settings include seaside holiday homes, a feudal estate, a spa, a boxing ring and a village with a Wild West show. Besides the fun of trying to unravel the mystery before the big reveal, a great deal of enjoyment comes from observing these characters we've come to know and love. Nettles and Hughes give wonderful performances - richly textured, compelling, honest and seasoned with just the right amount of humour. Nettles bids adieu at the end of Series 13, so fans will embrace this opportunity to fully appreciate his work. The outstanding cast also includes Jane Wymark, who is delightful as Barnaby's devoted wife. The list of guest stars is quite impressive and includes Peter Davison, Olivia Colman, Alice Krige and Jenny Agutter, And they all relish their juicy roles. Murder is seldom so entertaining! Extras include cast interviews, an alternate ending to one of the episodes, and "Saying Goodbye to Barnaby."
"LOVEJOY" - SERIES 4
Ian McShane's Lovejoy is one of TV's truly great characters. He's quite a character in the colorful sense, as well - roguish, canny and winning. Who would have guessed that an antique dealer could be so earthy, eccentric and fascinating? His misadventures in this British comedy-drama are always entertaining. And the fourth series, issued on DVD by Acorn Media, is no exception. This is the 1993 Ian McShane of the cool sideburns and wavy mullet. As Lovejoy, his distinctive charm never wavers. And no one breaks the fourth wall with more disarming magnetism. His supporting case, especially Dudley Sutton (as Tinker Dill) and Phyllis Logan (Lady Jane Felsham), are fun to watch, as well. In addition to the lucky 13 episodes, the package includes a bonus of the Christmas Special "The Prague Sun," in which a supposedly dead war veteran returns after 50 years to reclaim buried diamonds. In all of these tales, "Lovejoy" proves to be a witty, stylish series worth revisiting.
"A HORSEMAN RIDING BY"
The British mini-series, set in pastoral Devon, at the dawning of the 20th century, provides a wealth of nostalgic warmth and charm. Lt. Paul Craddock (Nigel Havers) returns from the Boer War with a limp and enough inheritance to purchase a rural valley estate. Though he has ample charm and goodwill, Craddock's modern ideas and democratic leanings rankle the haughty noblemen. The posh set prefer to cling to traditions while keeping the lower classes in their place. The property's manager (Glyn Houston) helps Craddock find his bearings. Feisty suffragette Grace Lovell (Fiona Gaunt) and sweet, sensitive country girl Claire Derwent (Prunella Ransome) spark Craddock's romantic fires. The tale spans the years 1902-1917. Period costumes and sets, as well as the scenery, add to the show's appeal. Based on the novels by R. F. Delderfield, this engaging story is told beautifully. The performances are uniformly engaging. Havers is a standout, consistently disarming and likable. The mini-series is now available in a four-disc, 13-episode set released by Acorn Media.
PEE-WEE'S PLAYHOUSE - SEASONS 1 & 2 SPECIAL EDITION
It's been nearly 20 years since "Pee-Wee's Playhouse" premiered. And the show remains just as entertaining as ever - for kids AND their parents! Wacky, wildly imaginative and colossally colorful, it's a program that celebrates creativity. Paul Reubens and pals - including Jambi, Chairry, Cowboy Curtis, Miss Yvonne, Pterri, Chicky Baby and the Puppet Band - will have fans old and new jumping with joy. Who knows what will pop up on the Magic Screen next? The fast-paced show incorporates skits, claymation, vintage cartoons, puppetry and games into the zaniness. And music! Musicians contributing to the lively sounds include Danny Elfman, Mark Mothersbaugh, The Residents, Todd Rundgren, Mitchell Froom, Van Dyke Parks, George S. Clinton and Dweezil Zappa. In addition to the endlessly effervescent Reubens, the cast includes Phil Hartman, Laurence Fishburne and Natasha Lyonne. Remastered for the Shout! Factory release, the 23 episodes look fantastic. The secret word is "splendiferous." Bonus interviews with cast and crew add insights. See you in the Playhouse! Mecca lecca hi, mekka hiney ho!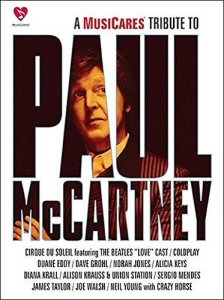 "A MUSICARES TRIBUTE TO PAUL McCARTNEY"
Sir Paul was honored as Person of the Year at MusiCares' 2012 gala. It celebrated the beauty and breadth of McCartney's body of work. It was a fab all-star evening, one to remember. And with the new Shout! Factory Blu-Ray concert video, you'll be dazzled by the sights and sounds. After a festive opening by Cirque du Soleil's Beatles "Love," Sir Paulie himself takes the stage and delivers rockin' renditions of "Magical Mystery Tour" and "Junior's Farm." Then Alicia Keys sits at the piano and performs a gorgeous, soulful "Blackbird." Alison Krauss & Union Station (with Jerry Douglas) give a whole new, homey feel to "No More Lonely Nights." One of the more surprising delights is twangy guitar legend Duane Eddy's take on "And I Love Her." Coldplay serves up a warm, gentle "We Can Work It Out." Diana Krall, joined by James Taylor, captures the delicate loveliness of "For No One." Also performing are Norah Jones, Neil Young & Crazy Horse and Sergio Mendes. McCartney returns for the ballad, "My Valentine," then brings the night to a climax with "Nineteen Hundred and Eighty-Five," followed by a medley of "Golden Slumbers," Carry The Weight" and "The End," with blazing guitar contributions from Joe Walsh and Dave Grohl. Thankfully, there's not much chit-chat in the course of the proceedings. It's all about the music. And the music is amazing! Audio (5.1) and video quality are superb. You'll feel as if you were there. The audience includes David Crosby, Stevie Van Zandt, Rita Wilson, Don Was. Randy Jackson… and now, you, too! Proceeds from Blu-Ray/DVD sales benefit MusiCares, which supports music people in need of financial, medical and personal help.
"PET SHOP PALS - LITTLEST PET SHOP"
Your tots will be entranced by the nearly two hours of pet power here. In addition to five episodes of the popular series, there's a sing-along in this Shout! Kids Factory release. Blythe and her big-eyed animal friends offer good-natured fun, laden with positive messages. The brightly colored, sight gag-filled animation, created in a cool, UPA cartoon-sort of style, jumps off the screen. The pleasing pets include a skunk, mongoose, monkey, bunny, panda, tortoise, orangutan and more. Kids will surely want to hug these cuddly, cheery pals.
"MR. BEAN: THE WHOLE BEAN" - REMASTERED 25TH ANNIVERSARY COLLECTION
The new Shout! Factory release celebrates the 25th anniversary of the timeless series, here digitally remastered. As Bean, Atkinson miraculously manages to react in ways that show him to be both totally alien and, at the same time, truly an everyman. A master of delivering sardonic and sarcastic lines, as in the "Blackadder" series, Atkinson is also a genius when it comes to physical comedy. His work as Bean rivals the silent greats like Chaplin, Keaton and Lloyd. Whether he's trying to stay awake in church, greet the Queen in a dignified manner, order at a posh restaurant, help in a medical emergency, repair his beloved Teddy, fill in for a hair stylist or rearrange a nativity scene, Bean is sure to create a side-splitting disaster. In addition to every exquisitely hilarious episode of the series, this four-disc set features not-to-be-missed extras including: numerous additional scenes (including a couple that never even aired in the U.K.), the 40-minute "The Story of Mr. Bean," a trailer for "Mr. Bean: The Animated Series," and a 72-minute clip show, "The Best Bits of Mr. Bean."

CDs

SUSANNE SUNDFOR - "TEN LOVE SONGS"
The title might not suggest something extraordinary. But prepared to be dazzled. Sundfor's latest album will leave you awestruck. With the Norwegian's glorious vocals and sumptuous, atmospheric production, her electro-pop soars. In a heartbeat, Sundfor can glide from girlish to operatic. The soundscapes encompass many moods. The feel can be urgent, reflective or otherworldly. It's like Sarah Brightman on a particularly potent ecstasy tab. This music will overwhelm you with its passion. The cinematic album awakens gently with "Darlings," then churns with "Accelerate." "Fade Away" sounds like Fleetwood Mac and ABBA had a musical baby. The exquisite "Silencer" will haunt you. "Delirious" opens with a heavy, psychedelic, "A Day In The Life" vibe. "Kamikaze," "Memorial" "Slowly" and "Trust Me" all carve out their own indelible niches. The closing track, "Insects," is a rhythmic wonderment. Some moments may remind you of Maria McKee's masterpiece, "High Dive." Sundfor also seems to have been inspired by inventive composers like Philip Glass. But Susanne Sundfor is a truly unique artist. This album is epic.
ALEXANDER MELNIKOV - "HINDEMITH: SONATAS FOR"
Russian pianist Melnikov sensitively interprets five sonatas composed by Paul Hindemith in the 30s and 40s. Enhancing Melnikov's piano work are Isabelle Faust (violin), Gerard Costes (trombone), Teunis van der Zaart (althorn), Jeroen Berwaerts (trumpet) and Alexander Rudin (cello). Melnikov's intersection with Faust is particularly moving. The selections underscore the invention and modernism of Hindemith's style. At one point, the recitation of a Hindemith poem, borne of the era's upheaval in his German homeland, helps put the music in context. This chamber music deftly segues from warm to intense to challenging. And it's consistently intriguing.
CAMPER VAN BEETHOVEN - "NEW ROMAN TIMES"
Once again, it's Omnivore Recordings to the rescue. Having emerged as one of the 80s more adventurous bands, merging punk/ska/surf rock and alt-country, the reunited Camper Van Beethoven released "New Roman Times" in 2004. At that time it was their first new release of original material in 15 years. A concept album, it takes the listener to an embattled parallel world, divided into the religious right and the progressive idealists. It serves up thought-provoking glimpses at the dangerous fragmentation of our society. Of course, lead vocalist David Lowery [Cracker] and company also occasionally allow their quirky humor to pop up. Top tunes on this ambitious album include "Might Makes Right," "The Long Plastic Hallway," "Hippy Chix," "The Poppies of Balmorhea" and "Hey Brother." It's engaging rock music, as well as sharp political commentary. The Omnivore reissue features four previously unreleased tracks, plus liner notes by Lowery.
JOANNE TATHAM - "OUT OF MY DREAMS"
Originally a musical comedy performer, Tatham segued into jazz vocals a couple of decades ago and her latest album reveals extraordinary polish, personality and imagination. Among the highlights are Antonio Carlos Jobim's "Vivo Sonhando," McCoy Tyner's "You Taught My Heart To Sing" and Harry Nilsson's "Without Him" (originally "Without Her"), which gets a Latin treatment. Tatham brings out the dark drama of "Detour Ahead" and rediscovers "Cool" from "West Side Story." Her voice is elegant and expressive throughout. With fresh-sounding arrangements and impeccable instrumentation, Tathan has a winner with this dreamy new album.
"BEE GEES - 1974-1979"
After their Beatle-y 60s beginnings, the Bee Gees moved into the 70s determined to reinvent themselves. This new five-disc box set allows us to hear their gradual evolution. In Miami, with legendary producer Arif Mardin, they thrived with a new R&B edge. Not that they were an instant commercial success in their new mode. The "Mr. Natural" album wasn't a smash. But as evidenced here, it's actually a terrific, diverse album. Among the memorable numbers are "Charade," "Had A Lot of Love Last Night" and "I Can't Let You Go." Despite lukewarm reaction, the brothers Gibb soldiered on, found their groove and recorded "Main Course." Besides their disco-inflamed hits like "Jive Talkin'" and "Nights on Broadway," the album includes such beauties as "Come On Over," "Baby As You Turn Away" and "Songbird." The brothers' harmonies sound glorious on the self-produced "Children of the World" album, which yielded such treasures as "You Should Be Dancing" and "Love So Right." Next came the real explosion - the "Saturday Night Fever" soundtrack. The indelible hits from that film are included on the "Miami Years" bonus disc in this set. Following that up must have been a daunting task, but the lads were up to the challenge. "Spirits Having Flown" offers such instant classics as "Tragedy," "Too Much Heaven" and "Love You Inside You." Decades later, the music definitely retains its magic. Rare B-sides and outtakes make this new release a must for Bee Gees fans. The package even includes replications of the album covers, including the lyric inner sleeves!
AVISHAI COHEN'S TRIVENI - "DARK NIGHTS"
There is indeed a darkness in these extraordinary tracks. But there's also the illumination of Cohen's touching, tender, textured, tantalizing trumpet lines. Cohen's own compositions are marvelously moody. And there are brilliant interpretations of Charles Mingus' "Goodybe Pork Pie Hat," Billy Strayhorn's "Lush Life" and the Sammy Cahn/Jule Styne gem "I Fall In Love Too Easily." On that last number, complementing Keren Ann's vocal, Cohen elegantly echoes Chet Baker. Joining Cohen in Triveni are bassist Omer Avital and drummer Nasheet Waits. Cohen's sister Anat sits in on clarinet for the bluesy scorcher "Betray." Gerald Clayton's electric piano enhances "Old Soul." Israeli-born Cohen has painted "Nights" to remember.
HANNAH COHEN - "PLEASURE BOY"
Both as singer and songwriter, Cohen is an artist full of surprises and unexpected pleasures. Every one of these eight supple, sensuous tracks leaves a lasting impression. The heartache is palpable throughout, as is the profound yearning. The gems include "Lilacs," "Watching You Fall" and "Claremont." Cohen's silky, remarkably nuanced vocals consistently captivate. The lush production never overwhelms Cohen's exquisite voice, instead, adding alluring layers of emotion and atmosphere.
JENNA MAMMINA & ROLF STURM - "SPARK"
San Francisco-based jazz-pop vocalist Mammina and acclaimed guitarist Sturm team for this incandescent "Spark." A gentle joy sparkles through this endearing album. They open with a sophisticatedly sensuous version of the Stylistics' hit "Betcha, By Golly Wow." Mammina's vocals are magical, subtly sensational. And Sturm's delicate touch on the guitar strings adds extra intoxication. They bring their own grace to "The Girl From Ipanema, "Long Ago and Far Away" and the breezily bluesy "Route 66." Other especially engaging tracks include "Talk To Me" "and "Dream." Turn the lights down low and let "Spark" add a glow to your evening.
TRANSLATOR - "SOMETIMES PEOPLE FORGET"
This exciting Omnivore Recordings release presents 22 rare Translator tracks, 20 of which had previously never seen the light of day. These demos were recorded between 1979 and 1985. The San Francisco-based, college radio darlings of the 80s had one hit with "Everywhere That I'm Not." But the band deserves lasting attention. At the outset, they were bursting with a raw Stones, Them, Pistols, Clash-like energy. Among the high-octane tunes here are "Fiendish Thingy" and "Eraser." The band grew into fine work like "Everything Is Falling" "These Old Days," "My Restless Heart," "Inside My Mind," "Friends of the Future," "I'll Be Your Summer" and the gentle "Winter Crying." There's more of a Ray Davies or Ron Elliott (Beau Brummels) feel to their later material. The album's title comes from the edgy song "Optimism." Compiled with the band's participation (vocalist Steve Barton co-produced and provided liner notes), it's an appealing document of the group's history. Translator reunites on occasion and released a brand new album, "Big Green Lawn," in 2012. They definitely should not be forgotten.
TOM PAXTON - "REDEMPTION ROAD"
One of the first folk artists to emerge with original material, rather than just traditional songs, Paxton was part of the early 60s Greenwich Village scene. He continues to make thoughtful, involving music half a century later. Here we have compelling new songs, ranging in subject matter from whimsical to romantic to politically pertinent. Paxton is at once nostalgic and relevant. His voice still sounds genial and genuine. Another great singer-songwriter, Janis Ian, joins him on the title track. Among the other memorable performances include "If The Poor Don't Matter," "Virginia Morning," "Come On Holy," "Central Square" and "Time to Spare." In addition to his own 13 new, engaging tunes, Paxton includes the traditional Celtic song "The Parting Glass," which, appropriately, closes this warm and wonderful album. The Grammy Lifetime Achievement Award winner raised funds for this project on Kickstarter. Paxton remains a man of the people, an artist of integrity.
NADINE SHAH - "FAST FOOD"
From start to finish, this extraordinary album - Nadine Shah's second - will grip you in its spell. Shah's husky, hungering voice exudes an urgency and a dramatic power that's utterly enthralling. And this is certainly not fast food music. It's not formulaic. It's inventive, dangerous and distinctive. There's a bit of the edgy, exotic theatricality that calls to mind a 21st century Siouxsie & The Banshees. The mesmerizing songs include "Nothing Else To Do," "Washed Up," "The Gin One," "Living" and "Fool." Shah's "Fast Food" is a music gourmet's delight.
VANILLA FUDGE - "SPIRIT OF '67"
In 1967, the concept of a heavy psychedelic rock band covering an early Supremes smash seemed like a crazy notion. But Vanilla Fudge's powerhouse rendition of "You Keep Me Hangin' On" sent chills up the spine. It absolutely knocked the fudge out of listeners. A mere 48 years later, three of the four original members are back with a new album that, shockingly, packs just as much of a punch. Carmen Appice's potent drumming helps fuel the band. Lead singer Vince Martell can wail. Lead singer/keyboardist Mark Stein still has the soul essence. And he wrote the very 60s, but very timely album closer - "Let's Pray For Peace." It's an uplifting number. The rest of the 11 tunes are remakes of classics of the groovy, go-go era. And Vanilla Fudge gives them their own tasty flavor. Among the best tracks are blues-based, such as "The Letter," "Break On Through (To The Other Side)" "Tracks of My Tears," "Gimme Some Lovin'" and "Whiter Shade of Pale." Fudge's take on "I'm A Believer" is less Monkees and more Argent. They give Stephen Stills' "For What It's Worth" real drama and urgency. After splitting up in 1970, the band has reunited several times over the years. They're back again and you gotta love their "Spirit"!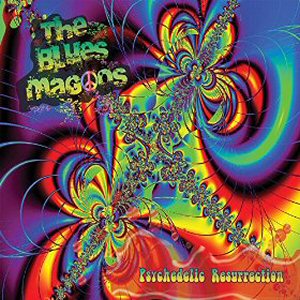 THE BLUES MAGOOS - "PSYCHEDELIC RESURRECTION"

The album cover art alone will give you an acid flashback. The Bronx-born Blues Magoos trip was launched in 1966, with the album "Psychedelic Lollipop." It was a pre-metal, rip-roaring, garagey, trippy treat. Resurrected for this new album, their first in 40 years, are new recordings of some of the influential band's classic tracks, such as "(We Ain't Got) Nothin' Yet," "Tobacco Road" and drug anthem "Pipe Dream." Showing they've got a sense of humour, the Magoos reflect the fact that Boomers have graduated from LSD and mescaline to Tums and Zantac with the paean to heartburn, "D Stinko Me Tummies on the Blinko." Other winners include "I'm Still Playing," "Gotta Get Away" and "Psyche-Delight." Featuring original members lead vocalist/keyboardist Ralph Scala, vocalist/guitarist Peppy Castro, and drummer Geoff Daking, The Blues Magoos combine these old and new rock tunes to generate a ton of fun.

SHAUN MURPHY - "LORETTA"

Shaun Murphy joined Little Feat in 1993. Sixteen years later, she left to record solo albums in the blues vein. "Loretta," the sixth Murphy record, is another sizzling venture into blues-rock territory. Her vocals throb with authentic emotion. She really heats it up on tracks like "Should Be Hard to Love You," "Go Away" and "Big Train Stops at Memphis." Murphy knows how to belt out a tune, but there's also great depth and understanding in her singing. With every note, she keeps it real.

KANSAS - "MIRACLES OUT OF NOWHERE"

All they are is "Dust in the Wind"? No, the band Kansas is much, much more. That's clearly revealed in the new documentary DVD and retrospective CD package from Epic/Legacy that's just been released. The discs are filled with great music and great anecdotes, including a jaw-dropper about Steven Tyler. Fans will enjoy hearing the Kansas story, which travels from Topeka to worldwide rock stardom. The band members are genial and unassuming in their off-stage segments. Interviews with admiring peers, ranging from Garth Brooks to Queen's Brian May show the band's broad and lasting impact. The music includes deep album cuts, as well as the big hits. Carry on, oh wayward sons of the Sunflower State!

"THE SOUND OF MUSIC"

The 1965 film, starring Julie Andrews and Christopher Plummer, continues to capture the hearts of new generations. So the 50th anniversary edition of the soundtrack will be greeted with open arms. And Lady Gaga's Oscar show medley probably heightened interest. Even as the shadow of the Nazis looms, the Austrian von Trapp family and their nun-in-training governess are brimming with love and song. The Rodgers and Hammerstein numbers, which have become standards, include "Edelweiss", "My Favorite Things", "Climb Ev'ry Mountain", "Do-Re-Mi", "Sixteen Going on Seventeen" and, of course, the title tune. A Broadway smash in 1965, the movie version of the musical became iconic, as well. The golden celebration package includes extended and previously unissued tracks. Julie Andrews herself contributes to the liner notes. Ah, yes, the hills are still alive with the sound of this stirring music.

"DUCHESS"

Three richly royal voices - Amy Cervini, Hilary Gardner and Melissa Stylianou - team to form Duchess. It's an album bubbling with high spirits, as well as high notes. The listener can't help but smile through such delightful ditties as "A Little Jive Is good For You" and "A Doodlin' Song." When three lead singers entwine for Boswell Sisters- style harmonies, it's heavenly. Other highlights include the swingin' "Hummin To Myself" and "Love Being Here With You," as well as two gorgeous numbers - "P.S. I Love You" and "I'll Be Seeing You." They work wonders with the old Fred Fisher tune "There Ain't No Sweet Man That's Worth The Salt of My Tears," that dates back to Bing Crosby in his Paul Whiteman days. And the trio breathes new life into "Que Sera, Sera." We bow to you, Duchess.

IAN SIMS & DIVERGENT PATHS - "CONUNDRUM"

The Baltimore-based saxophonist makes an impressive debut. It's both adventurous and accessible modern jazz. In the coming years, Sims may well be regarded as one of the titans of the tenor. His band is top-notch - Alex Norris, trumpet/flugelhorn, Paul Bollenback, guitar, Ed Howard, bass and EJ Strickland, drums. They can smoothly veer from swing to blues to reflective to complex sounds. Sim's original compositions are strong and memorable. Top tracks include "The Eleventh Hour," Cork Street Blues" and "Solitude." Sims seems to be on the path to wider recognition.

JOSH NELSON - "EXPLORING MARS"

Having explored the works of Jules Verne and H.G. Wells on his previous album, "Discoveries," pianist Nelson heads for the Red Planet on this new outing. Harkening back to 50s jazz and sci-fi, Nelson reads an excerpt from "Martian Chronicles" over his appropriate jazz composition "Bradbury's Spirit." He's joined by guitarist Larry Koonse on that track, a perfect opening for the record. Koonse also enlivens "Memnonia Quadrangle." Nelson pays musical tribute to our robotic rovers on "Sojourner," "Opportunity," Curiosity" and "Spirit." "How You Loved Me On Mars," which Nelson co-wrote with guest vocalist Kathleen Grace, is a stunning beauty. There's suspense and drama in "Solis Lacus, The Eye of Mars," which drummer Dan Schnelle helps to build. In addition to the original numbers, Nelson offers his interpretation of Gustav Holst's "Mars, The Bringer of War," from the classical work "The Planets." On several tracks, including "Syrtis Major, The Hourglass Sea," John Daversa's EVI (Electronic Valve Instrument ) creates wondrously strange, alien sounds that give the album an out-of-this-world sensation. Nelson's "Mars" is a trek you should take.

LUCIA COMNES --"LOVE, HOPE AND TYRANNY"

Wow! Comnes, a San Francisco-based singer, songwriter, fiddler and guitarist, dazzles on her new album. Her vocals pack a powerful, penetrating emotional wallop. Instrumentation is impeccably textured, perfectly complementing Comnes' vibrant voice and artful songwriting. Elements of rock, country, bluegrass, folk and Celtic music mesh in marvelous style. She's riveting on rip-it-up numbers like the searing opener, "No Place To Hide." But Comnes is equally compelling on tender tunes like "Lie With You Tonight" and the heart-wrenching "The Day Love Dies." Brilliant co-production by Jeffery Wood (Penelope Houston, Luka Bloom) and the great Bay Area guitarist Gawain Mathews accentuates Comnes' tremendous strengths.

EMILY HEARN -- "HOURGLASS"

The theme of this new album is time. And it signals that it's time for Hearn to enter the spotlight in a big way. Pop-folk-country singer-songwriter Hearn, who hails from Athens, Ga., examines how the passage of time affects us and our relationships. She opens with the breezy fun of "Waking Up Again." Other upbeat winners include "Can't Help Myself," "Save Me" and "The Oak Tree." Gentle but powerful emotion infuses "Long Summer" and "Worth Fighting For." Sweetness and sincerity add to the allure of these finely crafted songs.

DANA FUCHS -- "SONGS FROM THE ROAD"

On this CD/DVD package, Fuchs delivers earthy blues-rock that will grab you from the opening notes and hold on right to the fierce finish. The first track, "Bliss Avenue," establishes her knockout vocal punch. She can smooth the gravel in her voice to touch the heart on "Tell Me I'm Not Drinking." "Sad Salvation" and "Vagabond Wind" bring out her poignant side. Her cover of The Beatles' "Don't Let Me Down" sizzles. Other top tracks include "Set It On Fire," "Keep on On Walkin'" and "Long Long Game." The scorching vocalist will call to mind Janis Joplin, but Fuchs has an energy all her own.

SNOWAPPLE -- "ILLUSION"

The Amsterdam folk-pop-jazz trio entrances with this exhilarating new album. Their sound is fresh and lovely. Their voices blend in beguiling fashion. The harmonies chime sublimely. The three extraordinarily gifted women -- Laura, Laurien and Una -- are multi-instrumentalists and imaginatively diverse instrumentation helps make the soundscapes ethereal, eerie or playful. Among the captivating tracks are "Small Stone," "Sleep" and "Wolves." The entire album is trippy, transportative and transcendent.

LAURIE BERKNER -- "THE ULTIMATE LAURIE BERKNER BAND COLLECTION"

Toddlers and their parents adore Berkner and a listen to this bouncy collection will show you why. The album draws from six of her popular albums. There are three bonus tracks, including "One Seed," the last of the 22 tunes, and that one hasn't been offered on any previous CD. Her performances are fun, energetic and catchy. She can bring a sense of wonder to the simplest subjects, such as "Telephone" and "Bottle Caps." The wee ones will love wiggling to movement-oriented numbers like "My Energy" and "Shake Your Body Down." The imagination runs wild on ditties like "The Cookie Bakers of the Night." The album is the ultimate in family musical entertainment!

RACHEL GARLIN -- "WINK AT JULY"

Garlin, who grew up in Berkeley and now lives in San Francisco with her wife and two young boys, has impressively made the transition from teacher to troubadour. The singer-songwriter's new album is warm and wonderful. Poetic lyrics and pleasing melodies, combined with Garlin's appealing vocals, make this album difficult to resist. She paints vivid pictures and tells intriguing stories. Highlights include the rhythmic "This Winding Road" and "Spin," as well as the winsome "Flying Together." "Wink at July" will be released on iTunes April 21.

MACY BLACKMAN AND THE MIGHTY FINES -- "FRISKIN' THE WHISKERS"

The Bay Area favorites sound mighty fine, indeed, as they fire up vintage New Orleans-style R&B/boogie. The new album is bursting with vim and vigor. Boasting Blackman's rollicking piano and cornet, plus Bing Nathan on bass, Larry Vann on drums, Ken "Snakebite" on bari sax and Nancy Wright on tenor sax. Wright sounds super saucy, singing on numbers like "You Can Have My Husband." Blackman's own bluesy voice rings out robustly on numerous numbers like "Roll With Me Baby." "Friskin'" is an instant party. You can't sit still when Blackman and company start ripping through tunes like "Shark Rattle and Roll," "Honey Hush" and "Sea Cruise." This band cooks with hot sauce.

CATHEDRALS -- "BLUSH" REMIX

The San Francisco duo has released a collection of remixes, creating new sonic atmospheres for the tracks from their debut EP. Brodie Jenkins' sensational voice and Johnny Hwin's masterful production are making the tantalizing twosome darlings of the indie electro-pop scene. Remixes by Borns and Tommy English, NICITA, Clock Opera and TastyTreat add new textures to terrific songs. There's a lush R&B feel to "Want My Love" and an undulating seduction to "OOO AAA." "Harlem" bristles with an urban urgency and "In The Dark" carries a sense of dreamily ominous eroticism. You'll find a free download of the EP on their website.

STEVE HOWE: "ANTHOLOGY"

Great guitarist? And how! Steve Howe's guitar work helped propel the bands Yes and Asia to tremendous heights. But the 33 tracks he has chosen for the double-CD "Anthology," draw primarily from his solo albums, between 1975 and 2011. It's a diverse, dramatic and dynamic collection. Howe excels at everything from hard rock, psychedelic and prog to jazz, calypso and classical. He has proven himself to be a gifted songwriter and effective vocalist, as well as being a master guitarist. Among the impressive numbers are "The Collector," "Curls & Swirls," "King's Ransom," "Devon Blue," "Diary of a Man Who Vanished," "Westwinds" and "Maiden Voyage." There's even a searing cover of The Ventures' "Walk Don't Run" and a charming rendition of Bob Dylan's "Just Like A Woman." Howe's son (named Dylan) plays drums on many of the tracks. But the guitarist's impact extends far beyond his own family. Howe has influenced generations of rockers. This new package from Rhino is a welcome reminder of the artist's flair and versatility.

ORLA GARTLAND -- "LONELY PEOPLE"

The Irish pop singer-songwriter's EP will win hearts, thanks to her exquisite vocals, enhanced by infectious beats and layered production. "Lonely People" and "Whispers" are beauties. 'There's a wistfulness to "Souvenirs." And you'll sway to the sigh-inducing "Get Back." Boosted by YouTube popularity, Gartland is on the rise.

SOKO -- "MY DREAMS DICTATE MY REALITY"

The French vocalist/multi-instrumentalist Soko returns with an entrancing second album. Her reverb-drenched synth-pop-punk has a rebellious edge. She draws the listener in with "Who Wears The Pants?" which brims with stirring audacity. The emotional echoes of the intricate "Monster Love" (with Ariel Pink) prove hypnotic. In stark contrast, "Keaton's Song" needs only sparse instrumentation to achieve melancholic splendor.

BOOKS

PUNK USA: "THE RISE AND FALL OF LOOKOUT! RECORDS"
by Kevin Prested [Microcosm Publishing]

In the 80s and 90s, little Lookout! Records, became a key player in the emergence of pop punk. Discovering exciting artists in Berkeley and San Francisco, the Northern California label launched Green Day, Operation Ivy, The Queers and many more. Lookout! folded in 2012. It's time to look back with this informative new book. It's packed with interesting quotes from label employees and band members. Lookout! wasn't just a business, especially in the early years. It was an attitude. It was a community. And those who appreciate punk will appreciate Prested's earnest history of an important label.

"WILLIE DIXON: PREACHER OF THE BLUES"
by Mitsutoshi Inaba [Rowman & Littlefield Publishers, Paperback]

This scholarly work provides a thoroughly enthralling examination of the life, career and legacy of blues legend Willie Dixon. Born in Mississippi and later a Chicago denizen, Dixon was a singer, songwriter, guitarist, bassist and producer. But he was also a man on a mission, dedicated to spreading the gospel of the blues. He wanted to make sure the great American genre survived and thrived. And it has… And a good chunk of the credit for that must go to Dixon. He was a key creative force at the Chess label. His songs were performed not only by fellow 50s blues greats like Muddy Waters, Howlin' Wolf, Little Walter and Bo Diddley, but also by iconic 60s rock idols such as Cream, The Doors, Led Zeppelin, The Rolling Stones, Jeff Beck and Bob Dylan. Among his timeless tunes are "My Babe," "Little Red Rooster," "I Just Want to Make Love to You," "Wang Dang Doodle," "You Can't Judge A Book By The Cover" and "Hoochie Coochie Man." Dixon has had a profound and lasting impact and influence. Inaba places Dixon's work in the context of his religious beliefs and the surrounding societal and cultural issues. The book offers perceptive looks at the evolution of Dixon's songwriting. It's a very insightful, compelling analysis, a must-have for anyone interested in the blues.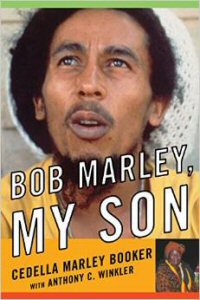 BOB MARLEY, MY SON
by Cedella Marley Booker, Anthony C. Winkler [Taylor Trade Publishing, Paperback]

There are many books about Marley. But none communicate with the level of intimacy, sentiment and understanding that this book is able to attain. Told by Marley's mother, Cedella Marley Booker, it's a tale of triumph and tragedy, told through a parent's loving eyes. Cedella was just 16, when she gave birth. The father, Captain Marley, was a white man in his 50s. Bob barely knew him. Despite this and the Jamaican environment of poverty, Bob found positive paths. All he received from his father were two copper pennies and the first name Nesta, which means "Messenger." But he inherited his mother's spirituality and indomitability. His charismatic nature was evident even in childhood. And by his teens, his gift for music shone forth. Cedella delivers a full portrait of her son, including the Rastafarianism, the ganja, the array of women, the global reggae superstardom, the social impact. She reveals the light that poured through him and his music, and, ultimately, the cancer that extinguished it far too early. She nursed him through those final, painful months. He died in 1981, at age 36. But his music - classic songs like "Get Up, Stand Up," "Buffalo Soldier," "No Woman, No Cry," Stir It Up," and "One Love" - continue to uplift the world. And his devoted mother has given us a deeper knowledge of this extraordinary man.