DEJA RE-VU
Pop Culture Classics' Recommended CDs, DVDs and Books
By Paul Freeman


DVDs


"THE BIG T.N.T SHOW"
Sort of a companion piece to "The T.A.M.I. Show," which was released two years earlier, 1966's "The Big T.N.T. Show" features the full span of the era's magical pop music - folkies like Joan Baez and Donovan; folk-rockers like The Byrds, Lovin' Spoonful and The Modern Folk Quartet; soul sensations like Ray Charles, Bo Diddley, The Ronettes and Ike and Tina Turner; country performer Roger Miller and British pop idol Petula Clark. Despite only having time for two or three songs each, all of the artists make lasting impressions. As credits roll, showing the all-star lineup, music director Phil Spector's catchy song "This Could Be The Night" surges forth. The show begins as David McCallum, at the height of his "Man From U.N.C.L.E." excitement, enters through the crowd and teen girls maul him. A classical musician, he takes a spot in front of the orchestra and conducts an instrumental rendition of The Stones' "Satisfaction," then introduces Ray Charles who romps through "What'd I Say." For those who saw countless lip-sync versions of hits on TV variety shows of the day, it's thrilling to hear live performances, with variations from the record. Clark's "Downtown," with a slightly slower tempo, has a different but just as dramatic impact. The Spoonful has a false start on "Do You Believe in Magic?" and after the laughs die down, they deliver the musical goods. The rawness of The Byrds' "Turn, Turn, Turn" only adds to the intensely moving nature of the song. And it's great to hear the voices of Gene Clark, Roger McGuinn and David Crosby blending in unison and harmony on that tune, "Mr. Tambourine Man" and "Bells of Rhimney." Bo Diddley turns up the voltage with his vintage rock 'n' roll showmanship. Then Baez silences the rowdy crowd with a poignant, unadorned "500 Miles." She returns later to sit at the piano with Spector and unleashes a potent "You've Lost That Lovin' Feeling" as the orchestra soars. It's an unexpected pleasure. Spector's wife Ronnie, with The Ronettes, demonstrates her usual effervescence. Tina Turner is a gyrating powerhouse. Throughout, an innocent energy abounds. But Donovan's rendition of "Universal Soldier" provides a sobering reminder that the cloud of the Vietnam War was hanging over the fresh-faced youngsters in the audience. The new Shout! Factory release contains a wonderful bonus feature - new interviews with Pet Clark, John Sebastian and legendary rock photographer Henry Diltz. The DVD is an important historical event. And, more importantly, an amazingly entertaining musical trip. These songs are still vibrant, fun and unforgettable.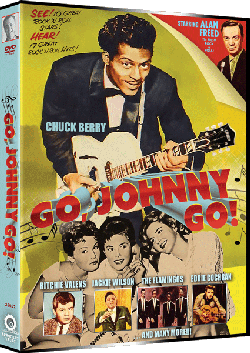 "GO, JOHNNY, GO!"
All of the excitement of early rock 'n' roll bursts forth in "Go, Johnny, Go!" The title definitely earns its exclamation point. The new release from Sprocket Vault sparkles. The restored version (thanks to the last-minute discovery of mislabeled film cans containing the original camera negative) must look just as good as the first pristine 35mm prints to hit theatre screens in 1959. The film stars male ingenue Jimmy Clanton (best known for his 1958 smash "Just A Dream"). He plays an orphan/choir boy who looks to rock 'n' roll to provide the love he craves. DJ Alan Freed, playing himself (he produced the movie), is a promoter who hears the lad's potential, but must track him down. Chuck Berry is around to offer sage advice. Pop singer Sandy Stewart provides romance for Clanton. But don't expect much plot. The story is just an excuse for showcasing some of the day's top musical performers. Other recording artists on hand include Jackie Wilson, Ritchie Valens (who died in a plane crash before the film was released), The Cadillacs and Eddie Cochran. This new DVD presents an illuminating commentary track, which provides many insights into the era's music industry, including its darker side.
JOHNETTE NAPOLITANO - "THE NAKED SHOW"
A starkly and intensely beautiful concert experience. Napolitano, best known for her years of memorable music with Concrete Blonde, recently released a darkly brilliant solo album, "Naked." This DVD, which was crowd-funded, benefits from a rare degree of intimacy. Napolitano, a powerful poet and profoundly moving songwriter, sits alone on a small lounge stage, near her isolated home in California's high desert. A little table holds a bottle of red wine. With headphones on, she holds her blue, amplified acoustic guitar and sings, conjuring vocals that range from ethereal to primal, touching on a myriad of emotions. Her strumming is vibrant, brimming with tone and highly rhythmic. Napolitano's melodies will grab your soul. Her lyrics are thought-provoking and rich in vivid imagery. The riveting performances here include some of the "Naked" album's most stunning tracks, such as "All About Eve," "Lady Day," "The Highway" and "Memory Go." At various points. Napolitano puts on her glasses and reads from her book "Rough Mix." Whether contemplating the music world, creativity, drugs or ghosts, she is endlessly fascinating. Interspersed are deliciously off-beat, black-and-white segments, depicting Napolitano lying on a couch, spilling the details of her colorful existence to her psychoanalyst, who happens to be a skeleton. But it's in her songs that Napolitano is the most revealing. This DVD allows us all to experience a truly unique and extraordinary artist.
"MAN OF THE WORLD: THE PETER GREEN STORY"
He should be a household name. Peter Green is among the most influential guitar wizards. And this absorbing documentary, now available courtesy of MVD Entertainment Group, tells his story in detail. Green gained attention in the 60s, when he replaced Eric Clapton in John Mayall's Bluesbreakers. He then formed Fleetwood Mac with John McVie and Mick Fleetwood. Green's inventive, bluesy rock guitar inspired such future superstars as Aerosmith's Joe Perry. In addition to rare live and studio performances, the film offers in-depth interviews with not only Green, but McVie, Fleetwood, Mayall, Carlos Santana and Noel Gallagher of Oasis.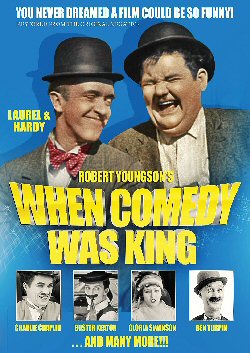 "WHEN COMEDY WAS KING"
Robert Youngson helped audiences to rediscover the magic of silent pictures. A collector and fan of the earliest film eras, he paved the way for subsequent uncovering, preserving and restoring efforts. His 1960 compilation, "When Comedy Was King," brought to light shorts by legends such as Laurel & Hardy, Charlie Chaplin, Fatty Arbuckle and Buster Keaton, which hadn't been seen by the public in ages. And it unearthed the talents of many talents who had long since been forgotten - Mabel Normand, Harry Langdon, Charley Chase and Chester Conklin among them. Now Kit Parker's The Sprocket Vault has restored Youngson's entertaining film, remastering it in high definition from the original 35mm negative and returning it to its theatrical aspect ratio. So the quality is superb. Instead of just cobbling together random clips, Academy Award-winning documentarian Youngson's preference here was to select representative classics shorts, then shorten them, still giving us a sense of what the full experience would be. The narrator provides background info, as well as plot points, taking the place of title cards. He alludes to the fact, though some of the stars succumbed to early death, scandal or, in Chaplin's case, McCarthyism, the work stands on its own, timelessly hilarious. An unexpected treat is a film with villain Wallace Beery, long before his stardom, and lovely newcomer Gloria Swanson. At one point a real-life married couple, he chains her to the railroad tracks in this one. Comedy genius abounds, when Chaplin and Keaton take the screen. The works of producers Hal Roach and Mack Sennett are celebrated. The Sprocket Vault disc offers an informative commentary track by historian Richard M. Roberts, which not only offers educational tidbits about the comedy greats, but also about Youngson, his life, times and career. And Roberts brought on board three rare bonus shorts, which you won't want to miss. The comedy is silent throughout the feature film, but you'll be laughing loudly.
"SAD VACATION: THE LAST DAYS OF SID AND NANCY"
If you're a punk rock buff, especially if you're a Sex Pistols fan, you may think you know all there is to know about the ill-fated Sid Vicious and his girlfriend/manager Nancy Spugen. After all, there have been books, biopics and documentaries. But director Danny Garcia's documentary, "Sad Vacation: The Last Days of Sid and Nancy," provides plenty of fresh insights. It focuses on the couple's final few months, before tragedy engulfed them. Garcia delves deep, interviewing many who had not been previously interviewed - friends, musicians and the strange souls who haunted the halls of Manhattan's infamous Chelsea Hotel, where Sid and Nancy lived. You may come away with some different ideas about Sid's character and Nancy's still-unsolved murder. The MVD Video release includes bonus features, such as trailers, additional interviews and a music video.
'50 YEARS WITH PETER, PAUL & MARY"
The trio was more than a musical mainstay for half a century. Peter Yarrow, Noel Paul Stookey and Mary travers were part of the social consciousness… and the social conscience. This documentary, now available through MVD, brings back all the warmth of their music and the fire of their activism. The great songs include, to name just a few, "Blowin' in the Wind," "Leaving on a Jet Plane," "There But For Fortune," Where Have All The Flowers Gone?" "Puff the Magic Dragon," "If I Had a Hammer" and "Early Mornin' Rain." This DVD gives us not only stirring performances, but also historical footage of the civil rights and peace movements, putting the music into context. There are also extensive interviews with the trio, friends and family. PP&M were always at the forefront of the drive for equality and brotherhood. They celebrated harmony - in song and in life.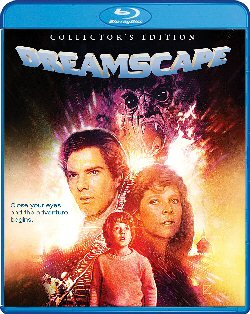 "DREAMSCAPE"
Originally released to theatres in 1984, the thriller has an appropriate conspiracy theme. But it was ahead of its time in many ways. It's packed with suspense and surprises. Dennis Quaid stars as a psychic wasting his gift on horse races. His former mentor, Max von Sydow, recruits him into a government-funded research project. Von Sydow's assistant is the beautiful Kate Capshaw. They enable Quaid to project himself into the subconscious of others during REM sleep. The noble goal is to treat disorders, nightmares in particular. But it gradually becomes clear that darker forces are at work. A writer, played by the affable George Wendt, helps Quaid to uncover a dire plot, involving government agent Christopher Plummer. Blending science-fiction and horror, the film - directed by - Joseph Ruben, with screenplay by David Loughery, Russell and Ruben - has just the right amount of humor to leaven the abundant scares. Quaid's encounters with the "Snakeman," in the alternate reality, are truly terrifying. The new Shout! Factory Collector's Edition, courtesy of a new 2K scan, looks fantastic. And the 5.1 DTS-HD audio sounds terrific. Tons of extras - including interviews, commentary and featurettes - are provided, illuminating the making of this extraordinarily imaginative picture. "Dreamscapes and Dreammakers" is a brand new featurette, running over an hour, in which Ruben, Russell and visual effects designer Peter Kuran discuss the evolution of the script and the details of how the remarkable special effects were achieved. You'll re-watch the film with an even greater admiration for the technical skills that went into its creation.
"TALKING STICKS"
This is a marvelous musical journey. It follows the gifted vibraphone/marimba player Arthur Lipner as he travels through Ghana, Mexico, Brazil, Iceland and Norway, exploring each culture's creative environment. There are fascinating glimpses into the variety of traditional instruments, how they're played and how they're made. Engaging concert performances are included, as well as interviews with such acclaimed musicians as Gary Burton and Mike Mainieri. And Lipner brings to light his own personal path, which led to a life in music. Music aficionados, and percussionists in particular, will be enthralled by this tantalizing trip.

CDs


SNOWAPPLE - "TRACKS"
This amazingly imaginative female trio from Amsterdam serves up another sensational set of folk-pop-jazz. Their harmonies are absolutely sublime. And timeless. The music defies categorization and demands close listening. The group isn't afraid to experiment. As the album moves through many moods and styles, trains provide the connective theme. And these tracks will delight any adventurous listener. "Businessmen" chugs along to open up the set. "Choo Choo Train," "There Becomes Here," "Going My Way" and "Any Way" are distinctive beauties. "Rolling Away" is a jaunty tune. "Isabelle," sung in French, is breezily winning, with a trumpet sweeping in and out. "Track 22" will haunt you. The instrumentation is sparse and eclectic. It complements the dazzling vocal work.
JUNIE B. JONES: THE MUSICAL CAST ALBUM
Adapting the popular Junie B. Jones books by Barbara Parks into a musical was a wonderful idea. As you'll hear on this musical cast album, catchy melodies (by Zina Goldrich), clever lyrics (courtesy of Marcy Heisler) and exuberant performances are ready to lift the spirits of not only kids, but parents, as well. For first-grader Junie B., getting new glasses, a new lunch box or a journal can be mighty exciting stuff. And believe me, you'll relate! The tunes are uplifting and will provide plenty of chuckles along the way. "Gladys Gutzman, Queen of Snacks" is a perfect paen to the lunch lady. And the closing number, "Writing Down the Story of My Life," will inspire youngsters. Lori Casteel brings ample energy to the voice of Junie B. You'll be singing along as you enjoy repeated listenings.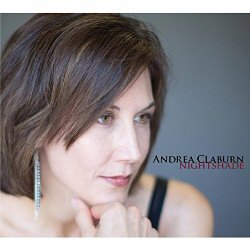 ANDREA CLABURN - "NIGHTSHADE"
The San Francisco-based vocalist makes a stunning debut with this album. Her voice displays rich textures, a caressing warmth and a distinctive flair for shaping a song through her elegant melodic, rhythmic and lyrical sense. Whether performing her well-crafted originals, familiar classics or lesser known vintage numbers, Claburn impresses. Among the memorable tracks here are a sprightly "Bird on a Wire," the vibrant "My Favorite Flavor," the undulating "Infinite Wisdom (Echoes of Harlem)," the gently swaying "Colors of Light," lovely versions of "Turn Out the Stars" and "Skylark," and a haunting "Steal Away." These performances will leave you eager to hear more from this gifted artist.
BRIGITTE DeMEYER & WILL KIMBROUGH - "MOCKINGBIRD SOUL"
These two stirring, Nashville-based individual artists have often collaborated in the past. And now they've teamed for a delightful duo album. With nuanced acoustic guitar and soulful vocals, they create an understated, disarming collection of songs drawn from folk, bluegrass, pop and country-blues sensibilities. Their material is well crafted and appealing. Both artists have expressive voices and the harmonies here are as pleasing as the leads. Their voices mesh exquisitely on "Little Easy." On this record, DeMeyer often sounds like a subtler version of Bonnie Raitt. The title track is a bluesy beauty. "Until Then" offers one of her finest vocals. "Honey Bee" buzzes with an old-timey charm. Kimbrough's "I Can Hear Your Voice" is another lovely number. The album's one cover, Incredible String Band's "October Song," is another highlight on this outstanding release.
VIVIAN COOK - "THE LONG SHOT"
"The Long Shot" proves to be real winner. Cook, originally from Palo Alto, has an appealing voice and writes irresistible, compelling rock-pop songs. Top tracks include "Know-it-All," "Train Conversations" and "Farewell L.A." Producer R. Walt Vincent (Pete Yorn, Liz Phair, Tommy Keene) helps Cook fulfill the potential of each of these strong, infectious tunes, each of which carves out an identity of its own. Expect to hear much more from this talented new artist.
"BEST OF RAFFI"
For 40 years, Canadian artist Raffi has been making musical magic for children. So his original fans will be eager to grab this new Rounder Records release to share with their kids… or grandkids. Today's kids entertainers often rely heavily on synthesizers, loops and special visual effects. Raffi is old school. All he needs is his acoustic guitar and pleasing voice to hold a young one's attention. So accompaniment on his recordings is kept to the simple and complementary. There's nothing to get in the way of children quickly singing along. His positivity makes tots feel good about themselves and the world around them. Among the 16 numbers here are such Raffi classics as "Baby Beluga" and "Bananaphone." He brings his own brand of charm to such kiddie favorites as "Wheels on the Bus" and "If You're Happy and You Know It." Kids and parents alike will be happy with this album.
"ART PEPPER PRESENTS WEST COAST SESSIONS!"
Omnivore Recordings has issued the saxophone great's 1980 all-star sessions in two titanic volumes. They reverently recapture the classic sound of 50s West Coast jazz. Yet these tracks are not mired in nostalgia. They vibrate with excitement and spontaneity. Pepper, who had been away from the scene due to drugs and a prison stint, sounds revitalized here. On the two-disc volume one, from his "Groovin' High" LP, Pepper teams with another sax sensation, Sonny Stitt, and they sizzle on numbers such as "Bernie's Tune," "Atlas Blues," "My Funny Valentine" and "Lover Man." Volume two brings back the "Strike Up The Band" album and features Pepper's spicy interactions with pianist Pete Jolly, including the arresting "You Go To My Head" and "Everything Happens to Me." Bonus tracks include previously unreleased takes.
REBA McENTIRE- "SING IT NOW: SONGS OF FAITH & HOPE"
Reba has always had a gift for raising the spirits of her listeners. So this uplifting, double-disc project is a natural. Her faith shines through traditional hymns, before her attention turns to contemporary songs of hope. A soulful "Oh Happy Day" and a countrified "Amazing Grace" are among the high points. "The spirited spiritual "I'll Fly Away" is another soaring experience. "In The Garden/Wonderful Peace," featuring The Isaacs, is a gospel gem. "Swing Low Sweet Chariot" rouses, while "How Great Thou Art" offers one of Reba's most sensitive performances. On "Softly and Tenderly," she's joined by Kelly Clarkson and Trisha Yearwood. Reba also works her wonders with such moving material as "Say A Prayer," "From The Inside Out" and "I Need to Talk to You." Fans will bask in the gorgeous gospel glow of this new release.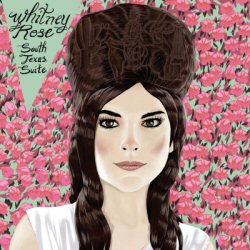 WHITNEY ROSE - "SOUTH TEXAS SUITE"
This six-song EP will leave you hankering for more from the Canadian-born, Texas-based artist. The sound is traditional country - Rose's voice has the emotional impact of a Patsy Cline or Kitty Wells - but she doesn't shy away from a modern sensibility. The clever "My Boots" celebrates the feisty, free-spirited woman. "Bluebonnets for My Baby" reveals Rose's tender, romantic side. "Lookin' Back on Luckenbach" shows that she's right at home in her adopted state. The record closes with a rousing instrumental, "How 'Bout a Hand for the Band" and Rose's band is absolutely terrific. So is she. Rose penned four of the songs, including "Three Minute Love Affair," which sounds like a classic jukebox ballad. Impeccably produced by Raul Malo (The Mavericks), this release is a crowd-pleaser, from start to finish.
CYNTHIA HILTS - "LYRIC FURY"
The Brooklyn-based pianist/composer/singer teams with the octet Lyric Fury and the resultant exploration, which fuses classical and jazz, is exhilarating. Riveting tracks include "Those Basinites" and "Blues for the Bronchs," An appealing wistfulness wends its way through "Teacher," "Three Wishes" and "Dog in a Red Pick-Up." "Please, Mercy" is moving. "Jam & Toast" is casually cool. Hilts' activism is reflected in "Peace Now," with its uplifting lyrics and heartfelt vocal performance. Throughout, her compelling voice and inspired piano playing are taken to tremendous heights by the supportive horns, cello, bass and drums.
"PRETTY FILTHY" The Original Cast Recording
A musical about porn, based on interviews with members (you should pardon the expression) of the adult entertainment industry, would seem highly unlikely. But this is smart and fun, as well as lovingly lewd. Yes, many of the songs, words and music by Michael Friedman (known for such works as "Love's Labour's Lost" and "Fortress of Solitude") are gloriously and brazenly explicit (be forewarned), but they're also wildly witty and quite catchy. Among the numbers that pop out are "Waiting for Wood," "Porn Capitalism," "Impossible Girls," "What If I Like It?" and "Pretty/Filthy." There are even touching moments, as in "Beautiful," The cast is uniformly fabulous. Alyse Alan Louis and Luba Mason deliver some of the most memorable vocals. This album will definitely provide plenty of chuckles and ample musical high points. It may even make you rethink your views on porn.
"THE APPRENTICESHIP OF DUDDY KRAVITZ - THE MUSICAL"
The 1974 Canadian comedy-drama film, based on the great novel by Mordecai Richler, is an under-appreciated classic, directed by Ted Kotcheff and starring Richard Dreyfuss. It's a coming-of-age morality tale about a working-class, young Jewish man in 50s Montreal. Ambition clashes with conscience, friendship and love. Tony and Oscar-winning composer Alan Menken first got involved in adapting this piece to musical theatre in the 80s. A revamped version, with lyrics and libretto by David Spencer, was unveiled in 2015. It earned rave reviews. Now Ghostlight has released the original cast album. The rich characterizations shine through in these well-crafted songs. Ken James Stewart reveals the driven Duddy in numbers like "A Man Without Land." Marie-Pierre de Brienne, as his girlfriend, Yvette, displays an exquisite voice on tunes such as "How Could I Not?" George Masswohl is commanding as Duddy's father. And Howard Jerome has powerful moments as the grandfather who tries to pull the budding hustler back to the right path. This important story is very effectively told through song here.
CAROL ROBBINS - "TAYLOR STREET"
The inspired jazz harpist has assembled a superb supporting cast of musicians, including Billy Childs on keyboards. These artists team with Robbins on her venturesome compositions. "The Flight" gently soars. "Deep Canyon" turns contemplative. "Trekker" boldly goes in unexpected directions. There's a subtle touch of funk in the title track. A silkiness runs through "Smooth Ride." Saxophonist Bob Sheppard is featured on a cool number called "The Chill." Robbins' harp swirls gorgeously around the horns in "Full Circle." And it's the sound of the harp entwined with more traditional jazz instruments that makes this album so unusual… and so unusually captivating.
LEIGH PILZER - "STRUNKIN'"
If you like the sound of the baritone sax (and if not, why not?!), you'll love this new release from the D.C.-based Ms. Pilzer. She and her quintet recorded it at the Washington Women in Jazz Festival. Her sax can smoothly segue from cool to warm to out-and-out hot."Thaddish" is a soulful excursion. Other outstanding tracks include "Blue Moo," "Miss Ally in Allyworld" and "Look Before You Leap." Pilzer proves herself to be as brilliant a composer as she is an instrumentalist.

BOOKS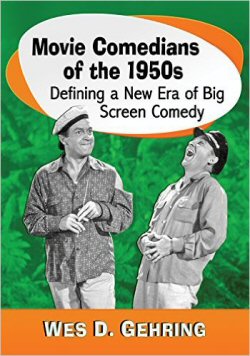 MOVIE COMEDIANS OF THE 1950s
By Wes D. Gehring [McFarland; www.mcfarland.com; 800-253-2187]
Gehring, professor of film at Ball State University and associate media editor of USA Today magazine, has penned 36 film-related books. His latest work gives us a far better understanding of the popular film comedians of the 50s. He explores, in detail, a dozen of the classic movies of the era. In the course of this,Gehring examines the life, careers, influences and comedic styles of Judy Holliday, Martin & Lewis, Bob Hope, Charlie Chaplin, Marilyn Monroe, Jack Lemmon, Tony Randall and Danny Kaye. He also touches on several of the behind-the-scenes talents, such as director Frank Tashlin. Gehring provides a cultural and historical context, as well, reflecting on how McCarthyism, the rise of television and the madness of "Mad Men"-style Madison Avenue affected the filmmakers and their creations. It's a fascinating study.