DEJA RE-VU
Pop Culture Classics' Recommended CDs, DVDs and Books
By Paul Freeman


DVDs


"FRANCESCA"
Courtesy of Unearthed Films and MVD Visual, "Francesca" is now available on Blu-Ray. An homage to vintage Italian horror films, giallo, specifically, it's darkly delicious. Troubled Francesca, daughter of a renowned writer, has been missing for 15 years. Now the community is being preyed upon by psychopath. The Argentinian filmmakers - visually arresting brothers Luciano and Nicolas Onetti - imbue the murder mystery with gore, weirdness and a spooky synth score. They also give the proceedings a suitably garish 70s look. Fans of Dario Argenta and Mario Bava will get an extra kick out of this macabre slasher film. Bonuses include a DVD copy, as well as a CD soundtrack; alternate beginning; hidden scene; interview with the Onetti brothers; behind the scenes; and more.
"RODGERS & HAMMERSTEIN'S CINDERELLA"
This holiday season, or anytime, for that matter, invites a rediscovery of Rodgers and Hammerstein's enchanting musical version of "Cinderella." Shout Factory has released a digitally restored 50th Anniversary Edition. Lovely Lesley Ann Warren is captivating in the star-making title role and displays an appealing, girlish singing voice. She was just 18 when this 1965 made-for-television movie was shot. Ginger Rogers, Walter Pidgeon (as royal future in-laws) and Celeste Holm (as the fairy godmother) contribute to the stylishness. Jo Van Fleet ("Rebel Without a Cause") is well cast as the stepmother. Stuart Damon is the sturdy prince. The Rodgers and Hammerstein songs bring abundant charm to the classic fairy tale. The Retrospective Featurette will add to your family's enjoyment.
"ALL THINGS MUST PASS: THE RISE AND FALL OF TOWER RECORDS"
This fascinating documentary about the rise and fall of Tower Records isn't just about a retail chain's history. It illuminates the arc of the music business. Well directed by Colin Hanks, the doc includes interviews with Dave Grohl, Bruce Springsteen and Elton John, as well as Tower founder Russ Solomon and many employees. For four decades, a visit to a Tower location became a ritual for record lovers. Tower went from billions to bankruptcy, as streaming revolutionized the delivery of music. The documentary is affectionate, wistful, insightful and cautionary. The MVD release has plenty of interesting extras.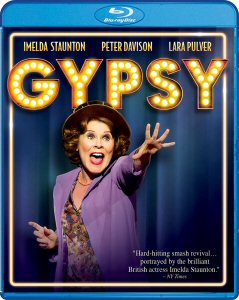 "GYPSY"
"Let me entertain you," the cast members sing. And entertain us, they do, admirably so. This new Blu-Ray release from Shout! Factory is a filmed version of a live performance of the 2015 revival in London's West End. It's a terrific production of the classic musical, loosely based on stripper Gypsy Rose Lee's memoir. And we're comfortable ensconced in Orchestra seats, first row center, in the heart of all the song and dance, comedy and drama. Picture and audio are superb. And so is Imelda Staunton ("Vera Drake"), in a tour-de-force performance as Mama Rose, the ultimate stage mother. She's bursting with energy. And beneath Rose's bravado, Staunton plants seeds of fury, as she obsessively pursues stardom for her daughters. Even when the dream appears shattered, Rose declares, "Everyone needs something impossible to hope for." Staunton has a surprisingly powerful voice. On the climactic number, "Everything's Coming Up Roses," she pulls out all the stops, adding a heart-wrenching element to the character. Lara Pulver (Irene Adler on BBC's "Sherlock") is also outstanding as Gypsy, who's thrust into the spotlight in burlesque, when vaudeville and the family's act wane. In the course of the "Let Me Entertain You" number, which quickly chronicles Gypsy's rise to notoriety, Pulver transforms from a shy, awkward, hesitant girl to a confident, sexy woman who has found her identity. Peter Davison (the fifth "Doctor Who") is wonderful as Herbie, the act's long-suffering manager, who wants nothing more than a civilian married life with Rose. But show biz is Rose's lifeblood. Davison as the kind, frustrated, submissive Herbie is more believable and sympathetic than brawny Karl Malden was in the film. It's a sparkling production and thank goodness it has been preserved.
"CARRIE" (COLLECTOR'S EDITION)
Scream Factory has released a 40th anniversary Collector's Edition Blu-Ray of one of Screamdom's screamiest classics, "Carrie." It is arguably, the best screen adaptation of a Stephen King work. Hell hath no fury like a teen girl scorned… especially if she has supernatural telekinetic powers. Sissy Spacek is terrific in the title role, going from insecure, introverted and innocent to demonic avenger. It's a fantasy any adolescent outsider can savor. Piper Laurie gives an equally masterful performance as her demented, cruel, religious fanatic mother. Amy Irving, as the sympathetic classmate, Betty Buckley as the well-meaning teacher, Nancy Allen as the mean girl, P.J. Soles as her impish cohort and William Katt as the dream boy are all perfect. Plus John Travolta plays a sort of evil twin version of Vinnie Barbarino. Director's Brian dePalma's garish, Grand Guignol cinematic flair wrings every drop of horror and suspense from the material. This new edition is the ultimate edition of "Carrie." An earlier MGM release of the film on Blu-Ray left much to be desired. This one is fantastic, with the image looking as did as it did on movie screens in 1976. A 4K scan of the original negative was used. And the 5.1 surround sound mix is killer, maximizing the fright factor (and yes, the original 2.0 mono track is available here, if you prefer). And the bonus features are mind-blowing, including new interviews with the film's writer, editor, casting director, director of photography, composer and cast members Piper Laurie, P.J. Soles, Nancy Allen, Betty Buckley, William Katt and Edie McClurg, plus archival interviews with De Palma, Spacek and actress Priscilla Pointer (cast member and Irving's mother). Another interesting extra is a featurette revisitng the film's locations, showing how they look today. There are trailers, TV spots and radio spots and even a look at the ill-fated stage extravaganza, "Carrie: The Musical." You will be attending the bloody prom, won't you?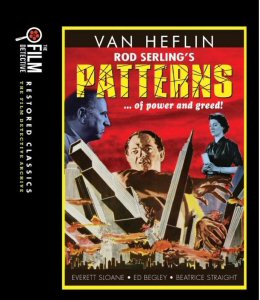 "PATTERNS"
Film Detective has released a restored, Blu-Ray version of this classic 1956 drama. With a powerful, incisive teleplay by the great Rod Serling, "Patterns" originally aired as a Kraft Television Theatre episode. Brought to the big screen, it lost none of its emotional and intellectual impact. Fred Staples (Van Heflin) is recruited onto the board of a huge New York corporation. He learns he'll be taking the place of an older man who had devoted his life to the company and is now being cast aside. Staples is torn between conscience and ambition. Serling searingly reveals the cold, cruel nature of the corporate world. And a superb cast brings out all the bite in his thought-provoking dialogue. Heflin is remarkably effective, as are such featured players as Everett Sloane, Ed Begley, Beatrice Straight, Elizabeth Wilson and Andrew Duggan. The new Film Detective version, restored from original 35 mm film elements, looks great in its 1.66.1 aspect ratio. And the sound is crisp in DTS-HD.
"CANDIDE"
Voltaire's sharp social satire, in this tale of an innocent being rudely introduced to the world's dark side, has proven to be timeless. All's for the best in this, the best of all possible worlds. Or is it? The work's brilliance shines in Leonard Bernstein's adaptation of "Candide" as a comic operetta. It debuted on Broadway in 1956 and the new Shout! Factory Blu-Ray is from the 2004 revival at New York's Lincoln Center. There's an abundance of energy and it's accentuated in this semi-staged concert performance. Conductor Marin Alsop brings out the liveliness of the score. And stage director Lonny Price contemporizes the proceedings and broadens the humor. There are colorful costumes and sly visual gags, like a "West Side Story" soundtrack album being one of the treasures Candide packs in his suitcase, along with a baseball mitt and a frisbee. And Donald Trump pops up (reading his own get-rich-quick book) as the Grand Inquisitor. As the narrator cleverly points out, "It's important for you all to understand that, in Voltaire's time, Europe was hotbed of nationalistic sentiment with territorial armies swarming hither and yon, hacking each other to bits over nothing more important than a slight difference in religion or ancestry. I know that's hard for you to understand today." The cast is excellent. Paul Groves is suitably wide-eyed as the ingenuous title character. Kristin Chenoweth, as his beloved, Cunegonde, maximizes the comedic moments and gloriously sings "Glitter and Be Gay." Patti Lupone, Sir Thomas Allen and Janine LaManna are also outstanding soloists. The music's emotional impact is heightened by the New York Philharmonic and The Westminster Symphonic Choir. Other catchy numbers include "Life Is Happiness Indeed," It Must Be So," "Make Our Garden Grow," "We Are Women" and "You Were Dead, You Know." Bernstein's compositions are diverse and delightful. Contributing to the lyrics were such witty souls as Dorothy Parker, Lillian Hellman, Stephen Sondheim, Richard Wilbur and John La Touche. DTS-HD Master Audio 2.0 sound is clear and rich. The Blu-Ray image is just as crisp and pleasing. The concert offers memorable songs, thought-provoking philosophy and many chuckles along the way.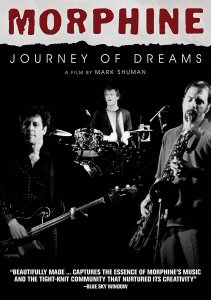 "MORPHINE - JOURNEY OF DREAMS"
There are few true originals in the music world. The Boston trio Morphine stands among them. They emerged from the local scene in 1989, surging forth with a unique "low-rock." noirish blend of vocals, two-string slide bass, sax and drums. The continued to grow and flow until front man/singer/songwriter/bassist Mark Sandman's untimely death. He suffered a fatal heart attack, on stage, in 1999 at age 46. But the recordings live on. Sandman's Beat-influenced lyrics are as haunting as the group's atmospheric music. His resonant, soulful baritone voice was another key element. But it was the swirling baritone sax lines entwined with the spine-chilling bass runs that hypnotized listeners. Filmmaker Mark Shuman ably presents the adventurous band's gripping tale in "Journey of Dreams." He delves into the musicians' creative environment and the intrusions and pressures of the industry. Surviving band members saxophonist Dana Colley and the drummers, Jerome Dupree and Billy Conway (who filled in for Dupree, for a couple of stints), as well as Sandman's girlfriend Sabine Hrechdakian, provide details. Henry Rollins, Joe Strummer and Steve Berlin of Los Lobos appear to add context. Live performance footage conveys the excitement and daring the trio conjured. Morphine's sensual, bluesy sound was transcendent and so is their story. MVD Entertainment Group has made the documentary available on DVD, including 40 minutes of extras.
"SUDDENLY"
This 1954 film noir classic eerily presages the JFK assassination, which is one of the reasons it was rarely seen for many years. It features one of Frank Sinatra's best, and most surprising, performances. Sinatra (a pal of the Kennedy clan at one point) plays a psychopath. And it's a complex, layered portrayal. He heads a gang masquerading as federal agents, who take a family hostage, hunker down in their home, and prepare to take the perfect rifle shot, when the President pulls into the conveniently situated train station. This taut thriller will have you on the edge of your seat. Film Detective has now released a Blu-Ray version, digitally restored from original 35mm film elements and in the proper 1.75.1 aspect ratio. The movie probably hasn't looked this good since its original theatrical release. And the sound is impressive in 2.0 DTS-HD.
"MY WAY"
When as aspiring vocalist, from a small town in Western Pennsylvania, makes the trek to L.A. to shoot her first video (featuring porn legend Ron Jeremy), an enthralling documentary results. It's the story of singer Rebekah Starr, who aspires to rock stardom. She's willing to make sacrifices to pursue the impossible dream. In fact, as the pursuit progresses, it breaks up Starr's marriage. But she's determined to overcome skepticism, sexism and long odds to grab the spotlight. She does, in fact, get her band together and play the Sunset Strip, attaining that goal. That's still a long ways from stardom, but the inspiring Starr is not one to give up. She's certainly a star presence in this documentary, as she holds to her belief in taking a chance in life. Filmmakers Vinny Sisson and Dominique Mollee, in addition to illuminating Starr's drive and struggle, rounded up Rikki Rockett (Poison) and Steven Adler (Guns N' Roses) to offer their insights into the rocky rock 'n' roll road to fame and fortune. The film is fun and heartening. The MVD release includes interviews, the music videos and theatrical trailer.

CDs


ROY ORBISON - "THE ULTIMATE COLLECTION"
Roy Orbison certainly ranks among the ultimate vocalists in rock and pop history. And this collection, assembled by his sons and released by Legacy Recordings, presents 26 classic tracks from his vast body of work. Each is a pure gem. Orbison could rock it up or deliver a ballad like no one else. Every note soars with heartrending emotion. This new 26-song set, available as one CD or a double vinyl LP, goes from his fun Sun rockabilly roots ("Ooby Dooby") through such great tunes as "Oh, Pretty Woman," "Crying," "Dream Baby," "Mean Woman Blues," "Running Scared" and "It's Over," on to later, Jeff-Lynne-produced hits like "You Got It" and the Bono/Edge-penned "She's A Mystery to Me." Even a couple of his numbers with Traveling Wilburys are included. And Orbison's songwriting genius, as well as his heavenly voice, are evident in such numbers as "Blue Bayou" and "Crying." No one in rock has ever created more dramatic, powerful musical moments than Orbison.
"PETER CASE"
With decades in the rear-view mirror, Peter Case's 1986 self-titled solo debut seems even more impressive. The former lead singer of The Plimsouls (and earlier a member of The Nerves) served up a feast of fabulous folk-blues-rock. And it sounds just as fresh and appealing today. And why not? Super producers T Bone Burnett and Mitchell Froom were overseeing the recording. And guest artists included Mike Campbell (Heartbreakers), John Hiatt, Jim Keltner, Roger McGuinn, Jerry Moratta (renowned drummer), Van Dyke Parks, Jerry Scheff (The Elvis TCB band), and Victoria Williams. The sound is primarily acoustic, but definitely packs a punch. Case is a skilled songwriter with a convincing voice. The song "Old Blue Car" received a Grammy nomination. The cover of The Pogues' "Pair of Brown Eyes," with 12-string ringing guitar courtesy of McGuinn, is as arresting as Case's originals. The album earned rave reviews, but didn't garner the commercial success it deserved. Omnivore Recordings has released a 30th anniversary edition that adds seven bonus tracks to the original 12 songs. Two are from a 1986 promo EP and five from previously unreleased recordings. The question that will reverberate after listening - "Why isn't this guy a bigger star?"
JOHN HAMMOND - "MIRRORS"
John Hammond Jr. may be white, but he sings the blues with inarguable authenticity. "Mirrors" is a reissue of his 1967 release, which consisted of outtakes from three other albums. But these are essential tracks, blues classics performed with emotion and urgency. Among the highlights are the traditional tune "Rock Me Mama," "Stones in My Passway" (one of several Robert Johnson compositions here) and Blind Boy Fuller's "When You Are Gone." There are also classics penned by T-Bone Walker, Mose Allison, Big Bill Broonzy, Blind Willie McTell and Blind Willie Johnson. On many of the performances Hammond needs only his acoustic guitar to accompany his earnest vocals. On others, he's joined by such luminaries as Mike Bloomfield, Charlie Musselwhite and three members of The Band - Robby Robertson (as he's billed here, usually Robbie), Levon Helm and "Eric" Hudson (better known as Garth). Solo or with star backing, Hammond delivers. This is definitely an album worth rediscovering.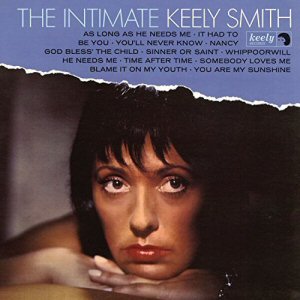 "THE INTIMATE KEELY SMITH"
Keely's smoky, sultry, velvety voice will entrance you in this intimate set of timeless torch tunes. She's seductively warm and breathtakingly cool. This 1965 Reprise album came after her personal and professional break from bandleader Louis Prima. An aching loneliness and vulnerability coat the tracks, giving each song a disarming quality. Keely's heartfelt interpretations bring new textures to both melody and lyric. Among the gems here are Gershwin's 20s number "Somebody Loves Me," as well as "As Long As He Needs Me," "Time After Time" and "It Had to Be You." Keely's a cappella rendition of Billie Holiday's "God Bless The Child" is absolutely stunning. She makes every number sound as if no one else had ever - or could ever - sing it. The new Expanded Edition from Real Gone Music includes a duet with Frank Sinatra, "Twin Soliloquies," and the rare pop track "No One Ever Tells You," a Goffin-King-Spector song arranged by Jack Nitszche. But Keely Smith needs no help to make a lasting impression. Her voice establishes an exquisite intimacy and an honesty that will melt you.
SYLVIA - "IT'S ALL IN THE FAMILY"
Country artist Sylvia returns with her first album in 14 years and her voice sounds better than ever. And her songwriting is impressive, telling personal stories, from her childhood in rural Indiana through adult experiences. Styles range from classic country to bluegrass to Celtic to tunes with a bit of a pop-folk flavor. The former ACM "Female Vocalist of the Year" stirs the listeners emotions with such songs as "Every Time a Train Goes By," "All in the Family," "Somebody's Daughter," "Leave The Past in the Past," "Immigrant Shoes," "Cumberland Rose," "Hope's Too Hard" and "Do Not Cry For Me." It all adds up to a warm and wonderful journey.
LEX GREY AND THE URBAN PIONEERS - "HEAL MY SOUL"
Grey, a power-packed blues-rock vocalist serves up 10 sizzling originals on this, the Brooklyn band's sixth CD. Grey can fire things up with wild abandon, as on the blazing "Lightnin' (In a Jar)" and "Ghost." She can also simmer with the best of them on slower numbers like "Blues All Around," "Black Stallion" and the title track. "Junkman" displays a more whimsical side. The funk-flavored "Factory" is another winner. There's a tasty country flavor to "Hobo Soup." Grey stirs plenty of soul into all of the songs. They heal, because they're the real deal!
LISA LOEB - "FEEL WHAT U FEEL"
Lisa Loeb has quickly evolved into one of our most appealing children's music artists. The new album opens with the pleasingly playful "Moon Star Pie (It's Gonna Be Alright)." "Say Hello" stands out amongst the cheery tunes. Loeb buoyantly sings,"This can be the best day, a better than the rest day." Also rosy and reassuring are "You Have It In You" and "Wanna Do Day." The wistfully pretty "I Was Here" is another highlight. Craig Robinson joins Loeb for the hip-hop fun of the title track. He returns for the emotion-validating "It's All Right to Cry." The album closes with a sweet lullaby version of "You Can Count on Me." This is a collection that will put on smiles on the faces of not only the kids, but the parents, as well.
SARA WATKINS - "YOUNG IN ALL THE WRONG WAYS"
Sara Watkins returns with a compelling new record that deals with the aftermath of a relationship's demise and the quest to find a fresh path. The sensitive "Invisible" radiates pain. The title track packs a wallop, as does the midtempo ballad "Move Me." You'll be moved by such beautiful and gentle tunes as "The Love That Got Away" "New Year's Day," "Without a Word" and "Tenderhearted." There's a classic country feel to numbers like "One Last Time" and "The Truth Won't Set Us Free." Watkins' sweet voice, tinged with wistfulness and yearning, anger and, ultimately, hope, is touching and sigh-inducing.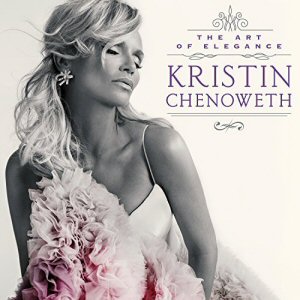 KRISTIN CHENOWETH - "THE ART OF ELEGANCE"
Kristin Chenoweth is a vocalist who can impeccably handle just about any style imaginable. Delving into standards here, she seems right at home. Her approach is elegant indeed. The selections include classics penned by the Gershwins, Rodgers & Hart, Hoagy Carmichael & Johnnie Mercer, Harold Arlen, Bacharach & David and Charlie Chaplin. Chenoweth not only displays impressive technique, but also an ability to find and express the deepest emotional contexts of each song. Among the highlights are "The Very Thought of You" (with guest Dave Koz), "A House Is Not a Home," "Skylark" and "I'm a Fool to Want You." She adds producer Steve Tyrell's ballad "My Saving Grace" as the album's closer. Whether the production on a particular song is simple or lavish, Chenoweth vocals dazzle. Intimate, warm, nostalgic and romantic, the album charms.
"ERROLL GARNER: READY TAKE ONE"
This 14-song collection consists of previously unreleased Garner material recorded between 1969 and 1979, now brought to light by Legacy Recordings. It's yet further evidence of the pianist-composer's genius. While his trademark elegance is evident throughout, this album showcases his ability to also play more forcefully, adding snappy rhythms, often with Latin accents. What makes this an especially exciting find for jazz aficionados is the fact that six of the tracks are never-before-released Garner originals. These long-buried treasures prove to be glittering gems. Garner puts his distinctive interpretive mark on classics like "Stella By Starlight," "I Want to Be Happy," "I'm Confessin' (That I Love You)," Cole Porter's "Night and Day," Bobby Hebb's "Sunny" and Duke Ellington's "Caravan and "Satin Doll." But it's his own compositions that really stand out, among them "High Wire," "Wild Music," "Back To You," "Chase Me" and the lively "Latin Digs." The album closes with a lushly played version of his masterpiece, "Misty." If you appreciate top-notch piano-based jazz, you're going to love this new release.
JIMI HENDRIX - "MACHINE GUN: FILLMORE EAST FIRST SHOW 12/31/69"
With Band of Gypsys, Hendrix blew people's minds at Fillmore East, December 31, 1969 and January 1, 1970. Now, thanks to Sony Legacy Recordings and the Hendrix Family, we can revel in the glory of the full, first set. With bassist Billy Cox and drummer Buddy Miles helping to fuel his fire, Hendrix unleashed thrilling new songs (which had never been released on disc) and they're all here. The Fillmore audience shared in a sense of discovery as the trio tore through one killer performance after another. Now you can experience the excitement on CD, 2-LP 180 Gram Vinyl, Hi-Res SACD and digital. This set has never been previously available in its entirety and many of the tracks had not been heard prior to this release, newly mixed from the original one-inch, eight-track master tapes. Feel "Power of Soul, " "Lover Man, " "Hear My Train A Comin', " "Changes, " "Izabella, " "Machine Gun, " "Stop, " "Ezy Rider, " "Bleeding Heart, " "Earth Blues" and "Burning Desire," all in their original electric, kinetic explosiveness.
EMILY JANE WHITE - "THEY MOVED IN SHADOW ALL TOGETHER"
As Oakland artist Emily Jane White plumbs the psyche and digs bravely into the darkness, there's brilliance and beauty in every eloquent, touching note, every graceful, poetic word. The journey is melancholic, but ultimately exquisite, thanks to White's moving vocals and lovely harmonies. Her guitar and keyboards are used subtly, as are backing instruments, including cello, bass and percussion. It's all wrapped into elegantly eerie soundscapes. Every track eases its way into the mind and soul. Among the mesmerizing songs are "Frozen Gardens, "Hands," "The Black Dove," "Antechamber," "Womankind" and "Behind The Glass." White sees the ills of this world, but the splendor of her music transcends them. Marvelously moody, the album may effect the listener profoundly. It's certain to haunt you.
MELISSA ETHERIDGE - "MEMPHIS ROCK AND SOUL"
Etheridge revives all of the Stax/Memphis excitement on this powerhouse new album. There are familiar numbers like "Hold On, I'm Coming" and "Born Under a Bad Sign." But Etheridge fuels them with a new fire. She injects contemporary lyrics into the uplifting Staples Singers number "Respect Yourself (People Stand Up)." Included are some songs you probably won't recognize, but deserve attention, such as William Bell's "Any Other Way" and Barbara Stephens' "Wait a Minute." Etheridge's closing rendition, backed by gospel voices, of Otis Redding's potent ballad "I've Got Dreams to Remember" will send chills up your spine. Etheridge has enlisted some of the original musicians from the Stax heyday to play on the record and John Mayer makes a strong guest appearance. But it's Etheridge's own searingly soulful voice, wailing harmonica and driving guitar riffs that give this album its persuasiveness.
CARRIE NEWCOMER - "THE BEAUTIFUL NOT YET"
With Newcomer's rich, supple vocals and original songs that radiate spirituality, her new album (the 16th of her extraordinary career) offers a remarkably uplifting experience. Amidst soothing sounds, she encourages, as on "You Can Do This Hard Thing." On "Help in Hard Times," Newcomer reminds us to accept the inevitability of life's obstacles and to find the strength to move forward. Moira Smiley lends an exquisite harmony to "A Shovel is a Prayer." "Lean in Toward the Light" is another highlight, as is the reverential "Sanctuary." "Haunted" and "Where The Light Comes Down" are equally lovely. Light pours forth from this record. Newcomer's latest work is not only beautiful, but genuinely inspiring.
THE VENTURES' CHRISTMAS ALBUM"
How do you like your twang? On Real Gone Music's new release of the 60s guitar band's holiday album, all dozen songs are offered in both mono (never before on CD) and stereo versions. There's a wonderful, nostalgic rock 'n' roll energy to The Ventures instrumental take on such favorites as "Sleigh Ride," "Santa Claus Is Comin' to Town" "Jingle Bells," "We Wish You A Merry Christmas" and "Blue Christmas." "Rudoph The Red-Nosed Reindeer" lights up with the Beatles' "I Feel Fine" guitar riff in the middle. There are also tastes of Chuck Berry and "Chaquita" mingled in with the holiday magic. "Silver Bells" and "White Christmas" get gentler, prettier performances. It all adds up to a lot of novel holiday fun.
"SUPERHUMAN" - MARTIN TILLMAN
The Swiss-born, California-based cellist/composer Tillman's new album is dedicated to his wife Lisa, who has been battling MS for the past eight years. The entrancing tracks here emit a sense of wonder. It's a tribute to courage exhibited in the face of ordeals and obstacles. Beautiful, uplifting, cinematic and reflective, Tillman's compositions draw from classical, classic rock and electronica. Among the most spellbinding tracks are "Celluloid Spaces," "Cracked Diamonds," "Translated to Beauty" and "The Invisible Shield of Strings and Bows." Tillman has recorded in sessions with superstars like Sting and Elton John, as well as performing for Hans Zimmer on many blockbuster movies. But here, on his own exhilarating album, he takes listeners to new musical worlds.
"HIMSELF AND NORA"
Billed as "the greatest love story never told," this 2016 Off-Broadway cast recording depicts the iconic Irish poet/novelist James Joyce, ailing and looking back on his life and his love/muse, the fiery Nora Barnacle. The couple's tensions and struggles, as well as their passions, are revealed. Jonathan Brielle wrote the book, music and lyrics. The songs blend romance, lust, witty repartee, joy and sadness. The Emerald Isle is celebrated on such numbers as "River Liffey." Celtic musical influences pop up in several of the numbers. Memorable songs include "Without a Man," which showcases the strong, expressive voices of Matt Bogart (Joyce) and Whitney Bashor (Nora). They each get to shine individually, Bogart on "Always in Love" and Bashor on "What Better Thing to Do" and "Stand Fast." Bogart's renditions hint at Joyce's inner conflicts. And Bashor summons an endearing earthiness. There's fine vocal support from Michael McCormick and Lianne Marie Dobbs, who play Joyce's parents. Recorded live in the theatre, instead of in a studio, the Ghostlight Recordings release brims with the unique energy of the stage. The soundtrack's appeal will make you want to see the musical on stage and may even lead you back to Joyce's works, seeking to further understand his complex personality. The CD comes with a booklet containing color production photos.
AMY LEE - "DREAM TOO MUCH"
Known for her work with the band Evanescence, Amy Lee, inspired by motherhood, has created an album that will appeal to children and parents. She gave birth to her son Jack in 2014. In 2016, she gives birth to "Dream Too Much," (an Amazon Music Original) which is filled with seven new Lee songs and five covers. There's a zesty rendition of The Beatles' "Hello, Goodbye." She reaches back to the 50s for "Goodnight My Love" and to 1960 for an impassioned "Stand By Me." Tots will have fun with "Bee and Duck" and "The Donkey and the Chicken." "Little Bird" is a wistful little ditty. "Alice" is a fanciful winner. "The End of the Book" contains a favorite plea - "Read It Again!" And Lee visits children's insistent bedtime declaration - "I'm Not Tired." The title track is a lovely power ballad. "If You're a Star" is one of Lee's prettiest vocals and melodies. There are a dozen delights on Lee's engaging album.
"THE JACK JONES CHRISTMAS ALBUM"
One of the most gorgeous pop voices of the 60s generation belonged to Jack Jones. Now Real Gone Music presents a new stereo edition of his 1964 holiday album, remastered from original tape sources. Jones opens with an uptempo, energetic, swingin' version of "Sleigh Ride." He takes a similar approach on "My Favorite Things." His dreamy vocal "White Christmas," amidst lush strings, will make you sigh, as you sip your eggnog. The heart will swell again for "I'll Be Home For Christmas." His rendition of Mel Torme's much recorded "The Christmas Song" ranks among the finest. "The Village of St. Bernadette" is a touching gem. Jones is equally effective on secular favorites and sacred numbers like "Silent Night," "God Rest Ye Merry Gentlemen" and "Come All Ye Faithful." He imbues each with a special resonance. Marvelous arrangements by conductor Marty Manning complement Jones' vocals, which are both impeccable and deeply moving. There's a purity about his singing that's perfect for the holiday tunes.
NANCY WRIGHT - "PLAYDATE"
This is musical playdate not to be missed. Nancy Wright, a dynamic Bay Area saxophonist/vocalist presents a crowd-funded album that's definitely a crowd-pleaser. There are raucous blues, R&B, rock 'n' roll and swing sounds aplenty. Top tracks include "Trampled," "There Is Something On Your Mind," Willie Dixon's "I Got What It Takes," the gospelish "Satisfied" and Wright's hot original instrumental, "Soul Blue." Guests include such Bay Area favorites as Tommy Castro, Elvin Bishop, Joe Louis Walker, Wee Willie Walker, Mike Schermer, Chris Cain and Terrie Odabi. Wright's sweetly soulful voice and sizzling sax impress throughout.
STEVE BUSCEMI & ELLIOTT SHARP - "RUB OUT THE WORD"
Cool. Very, very cool. Actor/director Steve Buscemi ("Boardwalk Empire," "Reservoir Dogs") and avant-garde multi-instrumentalist/composer Elliott Sharp teamed up on April 21, 2014, at Issue Project Room, to mark the 100th birthday of iconic writer William S. Burroughs' birth. This new CD, from experimental New York label Infrequent Seams, draws from recordings of that memorable evening. Reading from Burroughs' texts, Buscemi finds the rhythms in the author's lines. Subjects include writing, sex, drugs, forms of control and the virus that is language. And using guitar and electronics, Sharp creates evocative, often eerie sounds to complement the recited words. Together these two imaginative artists conjure the atmosphere of a jazzers' coffee house in the Beat poet era.
JOSH WHITE: "JOSH AT MIDNIGHT"
On the 60th anniversary of its original release, Ramseur Records has reissued a remastered edition of "Josh at Midnight" on vinyl. The pioneering White earned his first recording contract in 1928, at age 14. At the forefront of the civil rights movement, during FDR's tenure, White became the first African-American to give a White House Command Performance. In the 50s, his activism made him the target of McCarthy-era blacklisting. Nonetheless, Jack Holzman, head of Elektra Records, recorded the "Josh at Midnight" album with him, in just two evening sessions. It's resounding folk-blues with tinges of jazz and gospel. With a thumping bass behind him, White's rhythmic guitar and robust vocals make a lasting impression. Among the striking numbers are "St. James Infirmary," "Jesus Gonna Make Up My Dyin' Bed," "One Meat Ball," "Joshua Fit The Battle of Jericho," "Number Twelve Train" and "Takin' Names." White is an artist who influenced generations of musicians. This album is of historic importance, but it also still surges with a sense of immediacy and honesty that will grab listeners on an emotional level.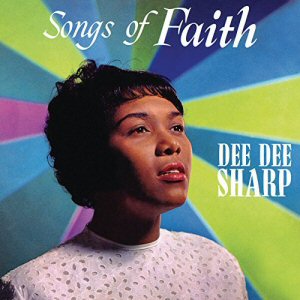 DEE DEE SHARP - "SONGS OF FAITH"
Best known for her good-time pop/R&B hits like "Mashed Potato Time," Dee Dee Sharp's music roots can be tracked back to the church. And in 1962, she recorded an album of inspirational music, "Songs of Faith." Now ABKCO Music and Records has made this treasure available on CD and digital. Recorded live, without overdubbing, the tracks display a compelling immediacy. The production allows Sharp's sweet, pure voice to shine through. Each of the dozen songs here proves to be stirring in its own way. Sharp brings genuine, heartfelt soul to such numbers as the dramatic and emotional "Peace in the Valley," "I Believe," "You'll Never Walk Alone," "Climb Every Mountain" and "Heavenly Father." "He's Got The Whole World in His Hands" and "Up Hill" will have you clapping and sing along joyfully. With every note, it's clear that Sharp feels the spirit. You'll feel it, too, as you listen.
PRETENDERS - "ALONE"
You won't be alone in thinking that the first album to go out under the Pretenders name in eight years is well worth the wait. On this one, Chrissie Hynde teams with producer Dan Auerbach (The Black Keys) and the results both revive and reinvent the classic Pretenders sound. There are some soul and R&B undertones to some of the material. And it works surprisingly well. The other surviving original Pretender, drummer Martin Chambers is AWOL again, so Hynde must sustain the group's fiery spirit all by herself. Of course, she's more than strong enough to do so. The apt opening track, "Alone," defiantly independent, recalls the uber-cool talk-singing style of Lou Reed. "Roadie Man" cruises on a rough, bluesy path. The gritty "Gotta Wait" rocks hard. "Never Be Together" is a memorable tune, made even more so by the contributions of legendary King of Twang guitarist Duane Eddy. And "Let's Get Lost" is a haunting, beautiful number that Hynde really nails. "Blue Eyed Sky" and "The Man You Are" are also pretty tracks, evocatively sung. "I Hate Myself" is a top-notch Hynde-Auerbach co-write. "One More Day" has a bit of a playful bossa nova rhythm. There's a vintage rock verve to the closing number, "Holy Commotion." At 65, Hynde has more true rock 'n' roll energy than most artists a third of her age. Tough or tender, her vocals and her songwriting are as striking as ever.
LORETTA LYNN - "WHITE CHRISTMAS BLUE"
If you'd like to bask in the warm sounds of a country Christmas, the legendary Loretta Lynn serves up a homey set sure to please. These holiday-themed performances were recording during the same sessions that resulted in her outstanding "Full Circle" album. This one was also ably produced by Patsy Lynn Russell and John Carter Cash. Lynn, who still has a compelling voice, penned a few originals for this album, including the title track, the perky "Country Christmas" and the sassy "To Heck With Ole Santa Claus." She also puts the lively Loretta stamp on secular favorites like "Winter Wonderland," "Frosty The Snowman," "White Christmas," "Blue Christmas" and "Frosty The Snowman," as well as reverent renditions of "Away in a Manger," "Oh, Come All Ye Faithful" and "Silent Night." She closes with a heartfelt recitation of "Twas the Night Before Christmas." The Coal Miner's Daughter exudes genuine Yuletide spirit.
CASSIE AND MAGGIE MacDONALD - "THE WILLOW COLLECTION"
Cassie and Maggie MacDonald, siblings from Nova Scotia, Canada, know how to vocalize in powerfully affecting ways. Individually, the sisters' voices are enchanting. Together, harmonizing, there's a passionate perfection. Their singing is wonderfully willowy. The willow tree, a symbol of deep emotion, including grief, in many musical traditions, serves a connective thread on this remarkable album. It recurs in Celtic lore. And Celtic music is at the core of the MacDonalds' exhilarating sound. The duo also draws from folk, country and bluegrass. Their fresh and engaging renditions of traditional songs include "Hangman," "Let No Man Steal Your Thyme," "Blue Willow" and the vibrant "Nobleman's Wedding" and the dainty "Down in the Willow Garden." They're lovely and lively. The sisters penned the sweet and soothing "Willow Lullaby." And there's a touching tenderness to the final number, "Turn Me Gentle When I'm Dying." The MacDonalds also display skill and energy on their instruments - Cassie on fiddle, Maggie on guitar and piano. They utilize foot percussion, as well. The MacDonalds put every ounce of their beings into their music.
REBECCA DUMAINE WITH THE DAVE MILLER TRIO - "HAPPY MADNESS"
A happy, carefree ambience breezes through this pleasing collection of tunes. DuMaine's voice is fresh and appealing, finding new colors in the melodies and unusual nuances in the lyrics. She works wonders with a wide variety of songs, including Spider Man, Here, There and Everywhere, Samba Saravah and Im Old Fashioned. Her version of Destination Moon is truly out of this world. Nobody Else But Me is another gem. Its Alright with Me is one of the winningly swinging numbers. But DuMaine is equally effective on ballads, such as the tender title track. The Dave Miller Trio - Miller (DuMaine's daddy) on piano, Perry Thoorsell on bass and Bill Belasco on drums - contribute to the jazzy perfection of this album. Guitarist Brad Beauthe and Saxophonist Pete Cornell pop in to add tasty passages. Youll be mad about this happy set.
JANE SIBERRY - "ANGELS BEND CLOSER"
For 35 years, Jane Siberry has been a startlingly original artist. On her first major release in five years, the Canadian singer-songwriter fashions lush and luscious ballads of love. Her elegant, detail-rich, poetic lyrics often float with a free verse quality. Among the outstanding tracks are the exquisite "Geranium," "In My Dream," "Send Someone to Love" and "Beyond Plus One" with its heavenly harmonies. Siberry can tell a spellbinding story, as in "Mama Hereby." There's both a ballad and a beat-heavy R&B version of "Anytime." The lengthy "Morag" is the most ambitious composition and one of the most mesmerizing. You'll be haunted by the divine beauty of Siberry's new work.
SANDY BULL - "FANTASIAS"
When people start bandying about the term "genius," when it comes to guitarists, they'd better have a long listen to Sandy Bull. He was in a musical world all his own, far beyond genre-categorization. On "Fantasias," the brilliant 1963 Vanguard album now made available on CD by Real Gone Music, Bull will expand your consciousness, traveling through guitar and banjo; acoustic and electric; folk, bluegrass, jazz. world music and previously uncharted realms formed in the virtuoso's boundless imagination. There's an Eastern music majesty to the 22-minute "Blend," with its modal tuning, that will transfix you. Jazz drummer Billy Higgins takes this magic carpet ride while intuitively adding accents. "Carmina Burana Fantasy" features banjo excursions that Bela Fleck would appreciate. Bull glides into a spiritual mode for the gospel classic "Little Maggie" and his own exciting, electric "Gospel Tune," which sounds a bit like Scotty Moore on acid. Bull passed in 2001 at age 60, but his music sounds as thrilling and daring as ever.
KENTUCKY HEADHUNTERS - "SAFARI"
The band has been around since 1968 and baby, they can still bring it. "I Am the Hunter" sizzles. "Caught in a Dream" is a honky-tonkin' titan. Other top tracks include "Beaver Creek Mansion," "Way Down Yonder," and the rollicking "Jukebox Full of Blues." When they slow things down for numbers like "God Loves a Rolling Stone"or the twangy instrumental "Governors Cup," the Headhunters are just as impactful. The Kentucky Headhunters gritty band of rock-blues still packs a wallop.
GABRIELLE LOUISE - "IF THE STATIC CLEARS"
Colorado Americana singer-songwriter Gabrielle Louise has created a disarmingly lovey, finely crafted album. Her magnetically pretty voice brings out all the honest emotion in her compelling material. There's a rare delicacy and gentility to such songs as "Breathing Easy," "The Graveyard Ballet," "No Moon at All (For Frida)," and the title track. The plaintive, bluesy, "Love on the Rocks" also stands out. There's a lilting country-folk charm to "Cherish Sincerity" and "Another Round on Me." Gabrielle Louise clearly captivates.
PRISCILLA AHN - "LA LA LA"
The folk-pop singer-songwriter, a new mom herself, delivers an album of children's songs and each is a unique delight. There are elements of whimsy, such as the clever "Body Sounds" and "Dust Bunny." Ahn moves listeners on beautiful numbers like "All By Myself" and "Leaves." There's a soothing, breezy samba feel to "Des Jeunes Filles et Des Fleurs." "Little Boat" sails along gently. "In My Bed," "Oyasumi" and "Desert Lullaby" will relax child and parent alike. Melodies and lyrics are both enchanting throughout. Playful or poignant, Priscilla's music provides you and your family with precious musical moments.

BOOKS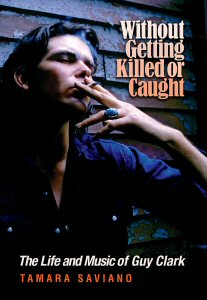 WITHOUT GETTING KILLED OR CAUGHT: THE LIFE AND MUSIC OF GUY CLARK
By Tamara Saviano [Texas A&M University Press]
Though a large portion of the public might not know the work of Guy Clark, to his peers - the maverick singer-songwriters - he earned godlike status. Clark is one of the most important and fascinating figures in the history of Americana music. And Tamara Saviano, writer, publicist and producer, has penned a gripping account of this rare artist's life and work. She got to know Clark well in the decade prior to his death in May, 2016, at age 74, from lymphoma. And she spent years exhaustively researching the book. There's a poetic quality to her prose. But no pretension, no wasted words - appropriate when the subject is such a genuine creative spirit. The biography is rich in details of Clark's background and personal experiences. We have to get to know the man to better understand his body of work. Saviano reveals his flaws, as well as his genius. The stoic Clark eloquently exposed his deepest thoughts and feelings only in his songs. He devoted every fibre of his being to his art. And he always enthusiastically championed other musicians whose songs resonated with him. He helped to forge Nashville's singer-songwriter scene, dating back to the early 70s. Many of the finest singer-songwriters recorded Clark's great material, which includes such classics as "L.A. Freeway," "Heartbroke," "Boats to Build" and "Desperados Waiting for a Train." Saviano presents tales of and quotes from a fantastic cast of colorful characters, among them - Rodney Crowell, Kris Kristofferson, Willie Nelson, Jerry Jeff Walker, Rosanne Cash, Joe Ely, Steve Earle, Emmylou Harris, Lyle Lovett, Willie Nelson, Waylon Jennings, Mickey Newbury and many more. We get to share in their adventures, misadventures and musical passions. But at the heart of the book is the complex relationship among Clark, his wife Susanna and the tragic Townes Van Zandt. The drinking and drugging Van Zandt made a shambles of his life, but his magnificent songs provided a high bar for Clark to aim towards. Clark could never commit himself to pursuing commercial success. His integrity as an artist was unwavering. For Clark, music wasn't a career. It was a calling. It's never to late to discover his towering tunes. Few before or since have been able to so artfully craft lyrics. And the experience of listening to Clark's songs will be greatly enhanced by reading Saviano's wonderful book.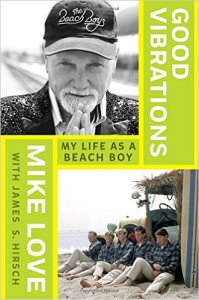 GOOD VIBRATIONS: MY LIFE AS A BEACH BOY
By Mike Love with James S. Hirsch [Blue Rider Press]
Yes, there have been endless volumes written about The Beach Boys and their endless summer, but there's still much to be learned. Mike Love's memoir offers abundant insights into his own rich life experiences, as well as the inner workings of the iconic band. Love's parents emphasized the arts, pointing him a creative direction. He says that, growing up, he was closer to his prankster cousin Brian Wilson than to his own siblings. But the Wilson family was always rife with drama. Love's Uncle Murry, frustrated father of the three singing Wilson brothers, was an abusive tyrant trying to live vicariously through his talented boys. That's been well documented, but it's interesting to view it from Love's perspective. The joy of vocalizing always rose above the turmoil for sensitive Carl, rebellious Dennis and music-obsessed Brian. In 1961, an unexpected pregnancy brought an early marriage for Love, who was toiling as a gas station attendant. His prospects didn't appear bright. But superstardom was just around the corner. Love reveled in the sex, drugs and rock 'n' roll briefly, but then sought a deeper spiritual fulfillment, leading to his ongoing devotion to Transcendental Meditation. Along the way, Love shares his encounters with compelling characters, from Marlon Brando to the Mahareshi to Charles Manson to Muhammad Ali. Throughout, details are revealed regarding the making of the classic Beach Boys songs. Love contributed key elements to many of the band's most beloved hits. But for years, he was robbed of credit. In the book, he seeks to fully put that right. Royalties were eventually straightened out, but he is still often given short shrift by the rock intelligentsia. He points out the hurtful headline British music bible Melody Maker printed at the height of the group's success - "Are the touring Beach Boys just puppets for sound genius Brian Wilson?" Brian was fixated on the artistic side. Love, who had his own genius for lyrical and musical hooks, didn't find "commercial" to be a dirty word. Then Love, while trying to keep the band viable, had to endure Brian's drug-induced descent into mental darkness. Love comes off as more thoughtful than one might expect. He gives credit to many who are not always given their due in the band's history, including David Marks, Jan Berry and Dick Dale. And through his journey, through the decades, Love illuminates wider aspects of America, beyond pop music.
I LOVED HER IN THE MOVIES: WORKING WITH THE LEGENDARY ACTRESSES OF HOLLYWOOD
By Robert J. Wagner with Scott Eyman [Viking]
Growing up in Hollywood, becoming a studio contract player, then a television star, Robert Wagner met, appeared with and befriended many of the greatest female screen sensations. In his latest book, which emanates his signature charm and his lifelong love of the movies, Wagner talks about all of the woman who became significant stars, from the thirties through recent years. It's an illuminating book, reflecting, as Wagner points out, the evolution of acting styles and standards of beauty. Most affecting are his remembrances of those he knew personally, including, of course, his wives Natalie Wood and Jill St. John. His first star encounter came when he was eight years old and given a royal invitation to MGM queen Norma Shearer's bedroom, as the grande dame lounged. Shearer was the mother of a school chum. Included in this unusual memoir are recollections of a number of dear friends for whom Wagner feels an enormous amount of affection, admiration and sympathy, among them - Joan Blondell, Claire Trevor, Betty Grable, June Havoc, Ann Sheridan, Barbara Stanwyck and Greer Garson. Also in the luscious lineup here are Bette Davis, Joan Crawford, Marilyn Monroe, Gloria Swanson, Loretta Young, Debra Paget, Dorothy Lamour, Rosalind Russell, Jean Peters, Susan Hayward, Linda Darnell, Stephanie Powers, Angie Dickinson, Elizabeth Taylor and many more. Wagner gives us the big picture, but it's the small, personal details only he can offer that make this a book any film fan will cherish.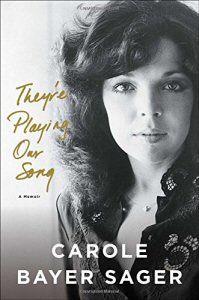 THEY'RE PLAYING OUR SONG
By Carole Bayer Sager [Simon & Schuster]
She co-wrote such timeless hits as "Groovy Kind of Love,""Arthur's Theme (Best That You Can Do)," "Don't Cry Out Loud," "Midnight Blue," "Nobody Does It Better" and "That's What Friends Are For." Her songs were recorded by such diverse artists as Barbra Streisand, The Monkees, Frank Sinatra, Aretha Franklin, Ray Charles, Celine Dion, Whitney Houston, Reba McEntire and Dolly Parton. From the 60s through today, she has been one of our premier lyricists. She has had successful solo records. She is a Grammy and Academy Award winner. Yet Carole Bayer Sager fought insecurities and self-esteem issues throughout her life. Fears plagued from early childhood. And her mother amplified those doubts. So did second husband Burt Bacharach. Fame and fortune didn't overcome her fragility and self-image problems. Though Sager lacked confidence about her appearance and her abilities in many areas, she had faith in her songwriting talent. Certainly, her way with words is magical. And that gift led to successful collaborations with such amazing fellow songwriters as Peter Allen, Marvin Hamlisch (another unsatisfying romantic relationship, though Neil Simon based his musical comedy hit "They're Playing Our Song" on the couple), an odd one-off with Bob Dylan, and, yes, Bacharach. She runs in heady circles, so her anecdotes include such icons as Michael Jackson, David Geffen, Bette Midler, Paul Simon and Hugh Jackman. And Elizabeth Taylor was an important figure in Sager's life, one who always gave her positive reinforcement, building up the songwriter's battered ego. Happily married for 20 years to her third husband, former Warner Brothers chairman Robert Daly, Sager was eventually able to break through her anxieties and, through a process of self-discovery and self-acceptance, become comfortable in her own skin. That makes her story inspirational. And she tells it with candor and humor, often of the self-deprecating variety. In additional to juicy personal details, Sager presents absorbing information about the songwriting process and how it differed with each of her colorful collaborators. It's an enlightening and entertaining read.
THE SPEED OF SOUND: BREAKING THE BARRIERS BETWEEN MUSIC AND TECHNOLOGY: A MEMOIR
By Thomas Dolby [Flatiron Books]
The title, "The Speed of Sound: Breaking The Barriers Between Music and Technology" may sound a bit dry, but Thomas Dolby's memoir makes a delightful read, fun, as well as smart. The story begins with Dolby, a teen, living in a rat-infested bedsit in London, just fired from his box boy job at a grocery story. He finds a discarded synthesizer. Suddenly his direction in life is crystallized. Already enthused with the city's late 70s music scene, which includes The Clash, The Police and Elvis Costello, Dolby obsessively experiments with sounds. Soon he's breaking into the limelight, along with contemporaries like Duran Duran and Spandau Ballet. In 1982, "She Blinded Me With Science" becomes an international smash. The fledgling MTV embraces his innovative videos. He's on "Top of the Pops" and dating a supermodel. For the shy Dolby, the pop star life may be a surreal, glamorous fantasy come true, but he's never quite comfortable in the role. He's particularly ill at ease with the insanity and corruption of major record companies. Dolby segues into scoring films (including, with John Barry, George Lucas' mega-bomb-turned-cult classic, "Howard the Duck") and computer games. Eventually, disillusioned with L.A., Dolby moves to Silicon Valley, where he pioneers internet sound and ringtones. But the massive corporations in that area can give Hollywood tyranny a run for its money. So Dolby is now composing on his own terms and working as a professor at Johns Hopkins University, where he will help create a new center to facilitate the mating of technology and arts. It's a fascinating journey and Dolby describes it all with wit, as well as intelligence. Along the way, he recounts remarkable tales involving such luminaries as Michael Jackson, David Bowie, Stevie Wonder, Joni Mitchell, Bill Gates, Steve Jobs and Al Gore.
DASHING, DARING AND DEBONAIR
TV'S TOP MALE ICONS FROM THE 50s, 60s and 70s
By Herbie J. Pilato [Taylor Trade Publishing]
Fans of vintage TV will definitely get a big kick out of this fun read from author Herbie J. Pilato, an expert on the subject. Having previously put the spotlight on female favorites in "Glamour, Gidget and the Girl next Door," here Pilato focuses on the charismatic guys who graced our TV screens in the medium's golden age. They're all here - the doctors and lawyer, cops and spies, private eyes and cowboys, teen idols and the funny men, superheroes and dads. Dozens of stars are included, among them Dick Van Dyke, Robert Conrad, Robert Vaughn and David McCallum, George Maharis and Martin Milner, Michael Cole and Clarence Williams III, David Soul and Paul Michael Glaser, Bruce Lee, Michael Landon, Robert Young, Johnny Carson, Mike Connors, Darren McGavin, Burt Reynolds, Ricky Nelson, Clint Eastwood, Rod Serling, William Shatner, George Reeves, Clayton Moore and Adam West, who contributed the foreword. And those are just a few. Even in the portraits of the most familiar names, you'll learn interesting new facts. For instance, did you know that James Garner smoked weed for 50 years to help offset the pains from decades of stunt mishaps? Enjoy this nostalgic trip.
ACCUSTOMED TO HER FACE:
THIRTY-FIVE CHARACTER ACTRESSES OF GOLDEN AGE HOLLYWOOD
By Axel Nissen [McFarland; www.mcfarlandpub.com; 800-253-2187]
We have indeed grown accustomed to these fascinating faces and their remarkable acting careers. Even the most ardent vintage film buffs wouldn't have been able to come up with their names. But, oh, the faces are familiar for anyone who's hooked on TCM or classic movie DVDs. A handful of famous names are including, such as Margaret Hamilton, everyone's favorite wicked witch. But most are far more obscure supporting players, like Anita Sharp-Bolster, who played the bearded lady in the circus caravan of Hitchcock's "Saboteur," or Patricia Collinge who played the poignant, alcoholic Aunt Birdie in the Bette Davis starrer "The Little Foxes.' Last time you viewed Cagney's "White Heat," did you wonder about that woman who portrayed his adored, tough-as-nails Ma? Here you'll learn that three years earlier, the actress, Margaret Wycherly, had starred in Tennessee Williams' "The Glass Menagerie" on Broadway. Many of the 35 performers in the book were leading ladies in the theatre, before being lured to the film world. But in Hollywood, where acting chops weren't as valued as looks, they were handed character parts. And they often turned a handful of lines into unforgettable moments. Many of these actresses, including Ona Munson (beloved as Belle, the madame with the heart of gold in "Gone With The Wind") played out tragedies in their personal lives. Poignant stories abound. Author Nissen, a Norwegian professor, has exhaustively researched his subjects, including annual incomes, addresses and prices of their homes, detailed descriptions of the houses in which they grew up, family histories. After reading this book, when you find these actresses' films on TCM again, you'll enjoy the performances all the more, thanks to Nissen's incredible insights.