DEJA RE-VU
Pop Culture Classics' Recommended CDs, DVDs and Books
By Paul Freeman

DVDs

"THE SAINT" - SET 2
Simon Templar - he knows how to handle guns, fists, fast cars and beautiful women. Originated by author Leslie Charteris in an immensely popular series of books, dating back to the 20s, the character was played to polished perfection by Roger Moore in the 60s series. Templar was revived a few times, including 1989, when Simon Dutton ably played the debonair and daring Simon Templar. Acorn Media has just released "The Saint" - Set 2, which contains three full-length TV-movies starring Dutton. In "Wrong Number," guest-starring Vince Edwards ("Ben Casey") a phone call leads Templar to find a corpse in a West Berlin hotel room. He connects with an anti-terrorist group and tries to thwart an illegal arms deal. Templar and a newswoman (Morgan Brittany of "Dallas")) deal with a deadly corporate takeover in "The Big Bang." Slain scientists connect Templar to a Russian-American beauty played by Pamela Sue Martin ("Nancy Drew," "Dynasty"). They're all absorbing adventures.

"VIKTOR"
When casting middle-aged action heroes, Gerard Depardieu probably isn't at the top of your list. Actually, in that genre, he probably isn't anywhere on anybody's list. After all, given his present girth, he's more suited to "The Expandables" than "The Expendables." Nevertheless, Depardieu stars in this thriller shot in Russia (the country to which, due to tax considerations, he has emigrated). Fresh out of prison, his craggy character learns that his son has been murdered. As he hunts for the perpetrators, Depardieu is aided by his former lover (Elizabeth Hurley, who's quite convincing and beguiling in the film), as well as a friend, a famed ballet choreographer. The noirish revenge tale relies more on character and mood than pace. But there are suspenseful sequences. Though his suits seem tailored to give him a Tweedledum look, Depardieu is still a commanding presence on screen. Arresting exteriors of Moscow enhance the film.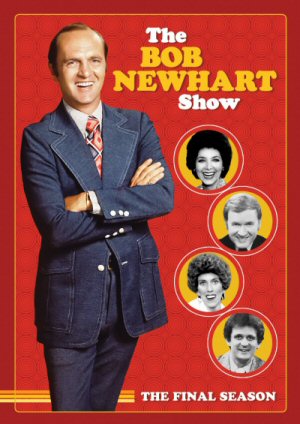 "THE BOB NEWHART SHOW" - SEASONS SIX
The final season of one of television's brightest, most endearing and funniest sitcoms is now available, via Shout! Factory. Newhart decided to bid adieu to the show while it was still at a popular and creative peak. Like the earlier seasons, series six presents nothing but comic gems. Each of the 22 episodes here is a delight. You'd have to be crazy not to love every one of these visits with the Chicago psychologist, his sensational wife and eccentric patients and pals. The writing is consistently sharp and inventive. Newhart's unique, stammering delivery is unwaveringly charming. And he's surrounded by one of the best ensemble casts in the history of TV, including Suzanne Pleshette, Bill Daily, Peter Bonerz, Marcia Wallace and Jack Riley. Among the most memorable eps are the zany "'Twas The Pie Before Christmas," the fantasy of "Grand Delusion" and the series closer, "Happy Trails to You," in which Bob ponders leaving his practice to become a professor. Season five has also just been issued. Twenty-two more opportunities for laughter!

"GENESIS - 'THREE SIDES LIVE"
We've come a long way since VHS. Along with a live LP, the "Three Sides Live" film was released on video cassette in 1982. Now we have this classic available on Blu-Ray and DVD. It has exciting concert footage, shot at New York's Savoy Theatre and Long Island's Nassau Coliseum. Most of the material is from Genesis' soul-seasoned "Abacab" album, at the time, the band's current release. There are also several numbers from "Duke," including "Behind The Lines" and "Turn It On Again." To please long-time fans, the band includes some of the early prog-rock songs. Throughout, the Genesis showmanship shines through, particularly via charismatic Phil Collins. Interviews with the band's featured members - Tony Banks, Collins and Mike Rutherford - provide welcome insights. This newly remastered version of "Three Sides Live," from Eagle Rock Entertainment, provides a welcome way to experience a great band at one of their creative peaks.

"MY LITTLE PONY: THE MOVIE"
Time flies, even for ponies! Mommies and daddies who grew up with the charming adventures of "My Little Pony" will now want to share that magic with their own kids. Shout! Factory has just released a 30th Anniversary edition of "My Little Pony: The Movie." The sweet, colorful adventures will please tots today, just as they did decades ago. Can our equine heroes save Ponyland from the witches? The animation itself is appealing. Clever voice performances are provided by Danny DeVito (far cry from "It's Always Sunny in Philadelphia," eh?) Rhea Perlman, Madeline Kahn, Cloris Leachman and Tony Randall. Video and audio quality is excellent, considering the age of the source material. Bonus sing-alongs add to the fun.

"PHANTOM OF THE OPERA"
The horror classic is own available on Blu-Ray, courtesy of Scream Factory. While Michael Crawford was trodding the boards, making the phantom a dashing, romantic, singing, tragic hero, Robert Englund was etching his own terrifying 1989 film version of the masked madman. Jill Schoelen ("The Stepfather") plays the object of his love/lust obsession. Some of the plot twists are rather baffling, particularly the modern bookend sequences set in New York, instead of 19th century London, where the rest of the film takes place. But this gory Grand Guignol is stylized fun for slasher aficionados. And Englund's strong performance is surprisingly textured. Efficient action/horror director Dwight H. Little ("Halloween 4: The Return of Michael Myers," "Brandon Lee's "Rapid Fire" and Steven Seagal's "Marked For Death") gives this "Phantom" a Hammer feel. There are many striking visual segments. Watch for appearances by Bill Nighy and Molly Shannon. Extras include a fascinating commentary track by Englund and Little, as well as a documentary, interviews and trailers.

"ON GOLDEN POND"
This warm family drama is now available in a Blu-Ray Collector's Edition from Shout! Factory. At their summer home on the lake, an elderly couple (Henry Fonda and Katharine Hepburn) are visited by their daughter (Jane Fonda) and her new fiancé (Dabney Coleman). They want to leave his son (Doug McKeon) with the old folks, so they can have some alone time. Gradually, the boy and the old man, who's battling encroaching dementia, find themselves bonding. Significantly, this was the only on-screen teaming of the two Fondas, as well as legends Henry and Katharine. It was his last film... and a very poignant one. He, Hepburn and screenwriter Ernest Thompson won Academy Awards for their efforts. Dave Grusin's score is a beautiful complement to the film. Special features on this edition include featurettes, a trailer and an illuminating commentary from director Mark Rydell.

"SECRET AGENT" AKA "DANGER MAN" - THE COMPLETE SERIES
Many of the 60s espionage films and TV shows opted to emphasize the gimmickry, bravado and cleverness. The U.K. classic series "Danger Man" (known in the states as "Secret Agent," with the rocking Johnny Rivers theme song, penned by P. F. Sloan and Steve Barri), built intrigue and suspense on a more intense, realistic, gritty approach. It was more "Spy Who Came In From The Cold" than "Our Man Flint." In the series, agent John Drake battles Cold War international threats. It was Patrick McGoohan's charismatic portrayal of Drake that made the series unforgettable. He simmers and smolders, yet remains ever so cool. Beneath his wit and charm, there boils, appropriately, a potent sense of danger. The many fight scenes are convincing. Early episodes ran 30 minutes, prior to the series switching to a one-hour format. In either length, the shows are consistently well-written, smart, tense and compelling. You'll have fun spotting all the notable guest stars, such as Honor Blackman, Robert Shaw, Donald Pleasance, Lois Maxwell, Judy Geeson and Bernard Lee. The terrific, jazzy original theme music was composed by Edwin Astley ("The Saint"). There are interesting ties, concrete and suggested, between "Danger Man" and McGoohan's other cult series, the allegorical "The Prisoner." All 86 "Danger Man" episodes, the last two of which are in color, are included in the newly released Shout! Factory/Timeless Media Group 17-disc set. Writer Brian Clemens and director Peter Graham Scott provide commentary for three episodes. And there's an appealing interview with McGoohan's daughter, Catherine.

"ANZAC GIRLS"
This riveting two-disc DVD series is based on the true stories of the Australian & New Zealand Army Corps (ANZAC) nurses during World War I. The six episodes, focusing on five of the nurses, provide gripping, moving, thought-provoking drama. Bolstered by idealism, patriotism and a sense of adventure, the women meet at their Cairo base. But, as their service takes them to the Suez Canal, Gallipoli and the Western front, they encounter horrors and tragedy that will emotionally scar them forever. Besides unflinching, gruesome, jarring sequences of battles and their aftermath, the series also reveals the compassion, romance and friendships that grow out of the horrific situation. The story of these brave women is inspiring. Well written and beautifully acted, "Anzac Girls" will make a lasting impression on viewers. Accurate in capturing the details of the era, the series offers insights into the perils and pain of all wars. The Acorn Media set presents featurettes and cast interviews among its bonuses.

KRISTIN CHENOWETH - "COMING HOME"
There's sentiment galore, as well as powerhouse vocals from petite Emmy and Tony winner Kristin Chenoweth, as she goes back to her hometown to share the spotlight with a new performing arts center bearing her name. In front of friends and family, the vivacious Broadway, film and TV star makes the most of her spectacular voice, engaging humor and bubbly personality. It's not all about vocal gymnastics. She puts her dramatic skills into every song and makes each lyric utterly convincing. Chenoweth can belt out a showstopper with the best of them. But she's just as mesmerizing on more tender ballads like "Bring Him Home." Extras on this Concord release include bonus songs. There are several beauties here - Dolly Parton's "Little Sparrow" and Stephen Foster's "Hard Times Come Again No More" - that were not included in the PBS version of this show. There's also a behind-the-scenes look at Chenoweth's return to Broken Arrow, Oklahoma. She's a dynamo and this Concord DVD is a perfect showcase for her talents.


"ABOVE SUSPICION" - COMPLETE COLLECTION
Based on the best-selling murder mystery novels of Lynda La Plante (creator of "Prime Suspect"), this brilliant British suspense series will hook you from the opening scene of each story. Heinous crimes are depicted in graphic and grisly fashion. But it's the human element, the flawed, fervent police investigators, that make the show such enthralling viewing. The lovely Kelly Reilly (Jude Law's love in Guy Ritchie's "Sherlock Holmes" film) plays Detective Sergeant Anna Travis. A cop's daughter, she's vulnerable and insecure, but also extraordinarily perceptive and compelled to find a solution to every case. Ciaran Hinds (Mance Rayder in "Game of Thrones") portrays DCI James Langton. A chauvinistic bull of a man, he can't help but respect Travis' skills and dedication. There's an uneasy chemistry between the two characters. And the fine performances of Reilly and Hinds bring out the nuances and layers of Travis and Langton. Their cases include the slaying of a female film star, a plastic surgeon's murder and a Black Dahlia copycat killer. The four-disc Acorn set offers interesting extras, including behind-the-scenes segments and interviews with the cast and La Plante. If you enjoy intense detective dramas, this one will more than fill the bill.



CDs
SISTER HAZEL
In celebration of 20 years of making gritty, hooky Southern pop-rock, Sister Hazel has released a double live CD, double LP and DVD. The philanthropic-minded Florida band, named for Gainesville missionary Sister Hazel Williams, still has its original lineup and their vocals and instrumentation are well honed. They've recorded these 20 tracks at 20 different venues. Three new songs complement such familiar favorites as "Mandolin Moon" and "All For You." Tight harmonies lift such numbers as "This Kind of Love" and "Release." Fans old and new will be over the moon with this anniversary package.

"SONGS FOR SHELTER ME"
This album not only contains great music, but gives you the opportunity to support a great cause. A portion of the proceeds from the album go to help shelter animals have a better shot at happy, healthy lives. Mindy Smith sings the poignant title track, which also serves as the theme song for the PBS TV series "Shelter Me: New Beginnings." She also duets with Matthew Perryman Jones on "Who Saved Who." Other artists represented on this collection include Kris Allen, Kate York, Korby Lenker, Shel, Peter Bradley Adams, Amy Stroup, Maggie Eckford, Trent Dabbs and Jenny & Tyler. You'll be glad you picked up this warm, winning album... and so will the shelter pets.

MOLLY VENTER & EBEN PARISER - "GOODNIGHT MOONSHINE"
For this project, Molly Venter of Americana group Red Molly teamed with Eben Pariser of Brooklyn alt band Roosevelt Dime. The result is an extraordinary album that melds disarming rural honesty and earthiness with urban sophistication and edge. Both of these talents have penetrating lead voices that blend beautifully in harmony. In the end, genre boundaries become irrelevant and what you get here is just plain good music - strong songs, delivered with strength, sensitivity and sincerity. Among the high points are the Venter gems "Gasoline," "WInston-Salem" and title track, Pariser's clever "End of The World Blues" as well as the duo's co-writes like "Willow Tree" and "Light at the End of the Day." There's also a winning rendition of the classic "Walking After Midnight." Let's hope Venter and Pariser find time for future collaborations.

BIG STAR - "#1 RECORD"/"RADIO CITY"
Possibly the ultimate cult band, Big Star created some of the best music of the 70s. Previously available as a paired set, Stax has now made the group's first two albums available separately They sound great, remastered from the original analog tapes. Big Star's debut, "#1 Record," is a power-pop masterpiece. Unforgettable tunes include "When My Baby's Beside Me," "The Ballad of El Goodo," "Don't Lie To Me" and "In The Street." Chris Bell left the band after the first album, so co-founder Alex Chilton fueled "Radio City" with his less poppy, darker, quirkier funkier genius. The songwriting remained exceptional, as in "September Gurls" (later covered by The Bangles and others). Numerous bands, like R.E.M. and Wilco, have cited Big Star as a primary influence. Here's another opportunity to discover what made Big Star so luminous.

ART PEPPER - "NEON ART"
Legendary saxophonist/clarinetist Art Pepper's "Neon Art" LP series comes to CD and digital for the first time, courtesy of Omnivore Recordings, in conjunction with the late Pepper's wife, Laurie, and Widow's Taste Music. The first of three volumes has a February 17, 2015 release date. It features two lengthy songs - "Red Car" and "Blues For Blanche" - taken from 1981 performances at Parnell's in Seattle. "Red Car" was introduced on Pepper's 1977 "The Trip" album and it is truly a trip, a bluesy sizzler. Pepper really wails on this one. "Blanche" is classically cool, as Pepper's awesome alto interlaces with Milcho Leviev's piano work. Pepper was only 56, when he died of a stroke in 1982 . Fortunately, he left behind a ton of amazing music.

MAUREEN BUDWAY - "SWEET CANDOR"
A sad farewell. A beautiful new life. The wondrous Pittsburgh jazz/cabaret singer Maureen Budway took her last breath on January 12, 2015. She was just 51. Two weeks later, "Sweet Candor," her first solo album, was released on CD and digitally. Despite her brave, decades-long battles with cancer, Budway's voice is pure, vibrant and lovely, displaying tremendous range, intuitive phrasing and a a rare understanding of lyrics. She deftly handles an array of material, from "White Cliffs of Dover" to a Gershwin medley to the swaying Latin rhythms of Antonio Carlos Jobim's "Aquas D Marco." There are deeply poignant moments, as on "Trav'lin' Light," "Hard Times Come Again No More," and the original number "Lonely Cane." That last touching song was composed by Budway's brother David, with lyrics by their sister Kathy. It tells of the cane left behind by the late pianist Kenny Kirkland. WIth Maureen Budway's passing, the number becomes even more moving. But there are upbeat and swinging tunes, as well, such as a wistful rendition of Rodgers and Hart's "Spring Is Here." The fine musicians on the album, include pianist David Budway, bassist Paul Thompson, drummer Thomas Wendt, guitarist Joe Negri, trumpeter Sean Jones and flutist Hubert Laws. They help enrich the joy of Budway's remarkable performances. Astonishingly, this impeccable album was recorded in just two four-hour sessions. But with its release, Budway's gorgeous voice will last forever.

BETTYE LaVETTE - 'WORTHY"
The very definition of "soul singer," LaVette pours her heart and soul into interpretations of great contemporary songwriters. She instantly makes each number her own. She opens with Bob Dylan's "Unbelievable," giving it a jazz feel that fits perfectly. And LaVette is ideally suited to "When I Was A Young Girl," a blues-rocker penned by Savoy Brown's Chris Youlden. She imbues Mickey Newbury's "Bless Us All" with a heavenly gentleness. LaVette finds every ounce of meaning in the Jagger-Richards song, "Complicated." And her unadorned, exquisite version of Lennon-McCartney's "Waiting," is a hauntingly beautiful track. Beth Nielsen and Mary Gauthier wrote the memorable title track. Other revelatory performances come on tunes written by Brian Mitchell & Christine Santelli, Randall Bramblett, James H. Brown, Jr., Linford Detweiler and this album's producer, Joe Henry. At age 69, LaVette could teach "American Idol"-era singers how to deliver a song with searing intensity and utter conviction. A false note never leaves her mouth. With every sensitively communicated, riveting moment, she makes you believe. LaVette's "Worthy" is inspired and inspiring. Worthy indeed.

ETTA BRITT - "ETTA DOES DELBERT"
Etta Britt (formerly of CMA multi-award winners Dave and Sugar) combines her country, blues and R&B sensibilities to bring a stunning emotional power to the songs of Delbert McClinton. A vocal dynamo, Britt, with limitless intensity and just the right amount of rasp, delivers rousing renditions of tunes like "I'm With You," "Lie No Better," "Best of Me," "Old Weakness (Comin' On Strong)" and "Every Time I Roll The Dice." She's also impressive on the hot-blooded ballad "The Jealous Kind," the plaintive "Starting a Rumor" and the gospelish You Were Never Mine." Britt duets with McClinton himself on the churning "Boy You Better Move On." And her husband Bob plays a mean guitar throughout this album. McClinton keyboardist Kevin McKendree's B-3 also helps the music surge dramatically. But it's Etta's soulful voice, meshing perfectly with McClinton's strong songs, that make this album so special.

ANNIE ROSS - "TO LADY WITH LOVE"
This classic jazz artist is revered for her work as a member of Lambert, Hendricks and Ross. She has sung with countless legendary musicians. Here, accompanied by John and Bucky Pizzarelli, Ross pays tribute to one of her idols, Billie Holiday. Now in her 80s, Ross can still communicate a song with rare authenticity and perception. Like Lady Day herself, Ross doesn't shy away from the most intimate or painful emotions. The moving performances here include "I Don't Stand A Ghost of a Chance With You" "I'm a Fool to Want You," "When Your Lover Has Gone" and "Nothing Is Forever."

GERALD ALBRIGHT - "SLAM DUNK"
Albright's 14th studio album, the first since 2010's "Pushing The Envelope," offers hard-to-resist upbeat numbers like "Sparkle In Your Eyes" and Cyndi Lauper's "True Colors." Then there's the understated funk of the title track. There are also more mellow marvels, like the yearning "Because of You," the spiritual-sounding "The Gospel" and "Where Did We Go Wrong?" with guest vocalist Peabo Bryson. A cool cover of the James Brown classic "It's a Man's, Man's, Man's World" is another highlight. In addition to his brilliant saxophone work, Albright also plays bass on the record. From start to finish, he's come up with another winner.

PAUL THORN - "TOO BLESSED TO BE STRESSED"
A potent vocalist with a terrific knack for penning hooky, blues-tinged rock songs, Thorn looks on the positive side of life on his latest album. He'll lift your spirits with tunes like the title track, "Everything's Gonna Be Alright" and "Everybody Needs Somebody." The plaintive "Don't Let Nobody Rob You of Your Joy" is equally effective. Thorn's sharp wit is in evidence on "I Backslide on Friday," "Mediocrity Is King" and "Old Stray Dogs & Jesus." The McCrary Sisters provide backing harmonies on several tracks, helping make Thorn's exceptional lyrics shine.

TOMORROW WE MOVE TO HAWAII - "INDEPENDANCE"
From Norway comes the cool electro-punk of Tomorrow We Move to Hawaii. The Oslo duo of Eyvind Brox and Marianne Stranger create a lot of energetic excitement on their debut album. You won't be able to sit still as such tracks as "Bamboos Break" and "Eau do Cologne" surge forth. "Boomerang" undulates seductively. There's a sense of wonder, a joy in the fantastical that permeates this record. It's electronica exotica.

LILI HADYN - "LILILAND"
For years, Hadyn has been stretching the boundaries of the violin, while collaborating with such luminaries as Robert Plant & Jimmy Page, George Clinton, Sting, Tracy Chapman, No Doubt and Tom Petty. This, the fourth album of her own, was created in the wake of a chemical accident that damaged her health and contaminated everything she owned. Certainly there are dark elements to the record, but there are also light, playful moments. Ultimately there's the sense of the phoenix rising from the ashes. In addition to her own wondrous songs, such as "Elephant Trapeze," "My My Cross The Line" (with David Essex as a co-writer), "Sea of Gold," "Did Your Mama (Teach You How to Share?)," "God Said," "Here Is The Rose" and "I Am a Man," she serves up a delicious version of Led Zeppelin's "Kashmir." Haydn is as imaginative as a singer and songwriter as she is with her violin. Rock, classical and world music merge in mind-expanding fashion. "LiliLand" is previously uncharted territory well worth discovering. A dazzling exploration.

"WOODY ALLEN - THE STAND-UP YEARS 1964-1968"
Before he established himself as a filmmaking genius, Woody Allen was one of the most hilarious, off-beat, adorably neurotic comics around. This new double-CD from Razor & Tie contains the material from his three 1960s albums, as well as bonus material. While other stand-ups were relying on stale one-liners about in-laws and airlines, Allen was inventing timeless, funny comedy about human desires, fears and foibles. In an era of humdrum humor, he ventured into the bizarre. In one bit, he recounts, "My weak spot is women. I always think someday, they're going to make me a birthday party and wheel out a tremendous birthday cake. And a giant, naked woman is going to jump out of the cake... and hurt me... and leap back in." Recalling his grandfather's funeral, he says, "On the buffet table, there was a replica of the deceased in potato salad." Other topics include Europe, Vegas, oral contraception, the police, pets, marriage and an unhappy childhood. There's a likability to Allen's stand-up. Though he was more comfortable as a writer, establishes a casual rapport with the audience. You'd be hard-pressed to find a recording, old or new, that contains nearly as many laughs as this classic collection.

NEW AMERICAN FARMERS - "THE FARMACOLOGY SESSIONS"
With a bumper crop of powerful, affecting songs, "Farmacology" proves to be addictive fare. There's a down-to-Earth, unpretentious rock spirit that calls to mind groups that emerged in the late 60s - Grateful Dead, Quicksilver, Moby Grape, The Band, Flying Burrito Brothers. There's an herbed-up Americana sensibility. "Breathe In, Breathe Out" delivers a potent feel. Piercing guitar and earnest harmonies nurture "The Garden." In addition to impressive originals, there's also a very cool cover of The Monkees' track, "The Door Into Summer," and a haunting rendition of Hank Williams' "I'm So Lonesome I Could Cry."

MARIANNE FAITHFULL - "GIVE MY LOVE TO LONDON"
One of the most distinctive artists in the history of pop music, Marianne Faithfull is celebrating the 50th anniversary of her recording career. On this, her 20th album, she shows she still has much to say... and a spellbinding way of saying it. Among those contributing in-studio were Brian Eno and Portishead's Adrian Utley. One of the great lyricists, her songwriting collaborators on this record include Steve Earle, Nick Cave, Anna Calvi, Patrick Leonard, Tom McRae and Ed Harcourt. Among the most memorable numbers are "Falling Back." "Mother Wolf" and "Deep Water." Faithfull is a fierce, brutally frank, richly insightful poet. She also puts her indelible imprint on The Everly Brothers' "The Price of Love," Roger Waters' "Sparrows Will Sing," Cave's "Late Victorian Holocaust" and even Hoagy Carmichael's "I Get Along Without You Very Well," which, in Faithfull's dramatic hands, is very Weill. It's an intimate, sorrowful and lastingly haunting album.

"HONEYMOON IN VEGAS" - ORIGINAL SOUNDTRACK
Based on the Nicolas Cage/Sarah Jessica Parker movie, the Broadway musical comedy tells the tale of a Brooklyn schmuck who, in a disastrous poker game, loses his fiancee for the weekend. Tony Danza, as a Rat Pack-like gambler who wants the fiancee, because she reminds him of his deceased wife, gets laughs on numbers like "Out of the Sun" and "Come To An Agreement." He can also smoothly croon a tune like "You Made The Wait Worthwhile." The exhilaratingly lovely voice of female lead Brynn O'Malley, as the fiancee, adds to the allure of songs like "Anywhere But Here." And Rob McClure, as the good-natured, misguided schlub who loves her, makes material like "I Love Betsy" and "Never Get Married" quite entertaining. This "Honeymoon" offers plenty of frothy fun with its pleasing tunes and clever lyrics by Jason Robert Brown ("Bridges of Madison County").

CHICAGO JAZZ PHILHARMONIC - "SKETCHES OF SPAIN REVISITED"
Inspired by Miles Davis' classic "Sketches of Spain," this album truly transports the listener. The composer, arranger, orchestrator and trumpeter for this work is Orbert Davis. And no, he's no relation to Miles, other than musically. The opening and closing compositions - Joaquin Rodrigo's "Concierto de Aranjuez" and Gil Evans' "Solea"- are fresh interpretations of the same material on the Miles album. In between, there are two arresting Orbert Davis compositions with a romantic Spanish flair, Muerte del Matador" and "El Moreno," as well as a classically oriented "El Albaicin," composed by Isaac Albeniz. The ensemble plays with style and imagination.

JAMILA FORD - THE DEEP END"
Ford displays a silky, elegant voice on this seductive EP. She opens with a winning take on Miles Davis' "All Blues." Her performance of "Gentle Rain" washes over the listener in lush fashion. She swings sweetly on "Sugar." Her sensitive rendition of "Wild Is The Wind" (by Dimitri Tiomkin and Ned Washington from the film of the same name) is breathtaking. And her own composition, "Silencio," is a lovely, Latin-flavored number. Ford is ready to take her place among the the elite of sophisticated jazz vocalists.

CAROL DENNEY - "UNLESS OF COURSE YOU DIE"
The Bay Area singer/songwriter/activist has a wonderfully expressive voice and songs that enlighten, as well as entertain. She approaches political and social issues with wit, as well as wisdom. Denney doesn't hesitate to tackle weighty subjects. Immerse yourself in "The Hungriest People" and "You Thought The Books Would Burn." The artist's humor shines forth on numbers like "Dump Your Boyfriend at Christmas" and "I Hate Songwriters and I Wish They Were Dead." She wields a sharp satiric touch on "There's Serious Money in Doomsday." Among the many other gems here are "Courtrooms Are a Rich Man's Game," "How Weary You Must Be," the consumerism-jibing "Unless of Course You Die," the jaunty "Have Yourself a Slice of Occupy" and the winsome "The Mountain Song." Denney is the essence of alt-folk.

MELISSA STYLIANOU - "NO REGRETS"
In one highly productive session, Stylianou and her outstanding musicians recorded this marvelous album of 30s and 40s treasures. A Toronto native now based in New York, she assembled a combo featuring pianist Bruce Barth, double-bassist LInda Oh and drummer Matt Wilson. They're joined by special guests Anat Cohen on clarinet and Billy Drewes on sax. They all intuitively complement Stylianou's subtle, soft, sensuous, pristine vocals. She works wonders with such great tunes as the Gershwins' "Nice Work If You Can Get It," Ellington's "I've Got It Bad," Billie Holiday's "Somebody's On My Mind" and the Thelonious Monk/Coleman Hawkins number "I Mean You." There's a rare graciousness about her performances.

PETER, PAUL & MARY - "DISCOVERED: LIVE IN CONCERT"
Always honing their beautiful concert performances, Peter, Paul and Mary began recording their shows from 1980 on. The idea was simply to listen back and gauge how the event had gone, particularly material they had recently added. But sifting through the archives has yielded the 13 first-class tracks on this new album. Only one, "Mi Caballo Blanco," had ever been featured on an album before. The audio quality of the music is excellent. And the trio's soaring harmonies are magical. Rousing numbers include the opener, "You Can Tell The World" and the closer, "Midnight Special." "Give Yourself To Love" is gorgeous. The trio, exuding charm, humor and sincerity, can be wonderfully weird, as on "Parallel Universe," cute, as one "Space Suits" or powerfully poignant, with "Show The Way." These are artists who spent their creative lives delivering vital political and social messages. But they also conveyed the power of music itself. The sheer joy of vocalizing, harmonizing, courses through every track, energizing and moving the listener.

BETTE MIDLER "IT'S THE GIRLS"
This is the divine one's first album in eight years. And it's baffling why she hasn't hit on this great concept before. Midler is a natural, when it comes to girl group classics. The title track, a Boswell Sisters favorite, provides 40s fun. Then there are the 60s wonderments, like "One Fine Day," "Baby It's You," "Be My Baby," and Goffin/King's "Will You Still Love Me Tomorrow." Another of these marvels is the Marvelettes' irresistible "Too Many Fish In The Sea." Midler's version of The Supremes' "You Can't Hurry Love" gets a bit of a country feel. Gliding into the 90s, she puts her own stamp on TLC's "Waterfalls," making it a powerful ballad. Midler's return results in a joy-filled, very entertaining record.

DC CARDWELL - "POP ART"
The Australian singer-songwriter returns with an irresistible set of jaunty new pop-rock tunes. Wonderfully crafted songs, conveyed through DC's earnest vocals and sweet backing harmonies, are sure to lift your spirits. There's a 60's kind of feel-good atmosphere to the album. Among the highly engaging tracks are "In The Cloud," "The Sun, The Moon, The Stars," "Love Is Patient" and "Magic For Everybody." "Don't Know Why" and "Serving My Time" provide wistful, pretty moments. These are songs you'll want to hear again and again.

"AKUA DIXON"
Cello virtuoso Akua Dixon has lent her remarkable talents to everyone from the Symphony of the New World to James Brown. She has played with many jazz greats, including Max Roach. All of her influences come into play on her eponymous new album, the second she has released as band leader. From the opening cut, Charles Mingus' "Haitian Fight Song," you know you're going to be in for musical thrills. Each track is distinctive and thoroughly engrossing. Dixon, her string quartet compadres and guests, including bassist Kenny Davis, bring out the best in adventurous arrangements. Composer/arranger Dixon came up with a new movement for "Freedom," to blend with two from Duke Ellington's Sacred Concerts. Her daughter, Adromeda Turre, provides a luxurious vocal for Billy Strayhorn's "Lush Life." The strings bring an enchanting new ambiance to Henry Mancini's "Moon River." Violinist Regina Carter solos on "A Gozar Con Mi Combo," a composition by Cuban bassist Israel "Cachao" Lopez. There's a stately beauty to Asto Piazzolla's "Libertango." The instruments, including voice, bring an exotic magic to Richard Rodgers' "It Never Entered My Mind." With every diverse musical phrase, Dixon is technically sparkling and endlessly creative.

FOILED AGAIN - "BLANKET OF WINTER"
The winter season may be waning soon, but this album holds timeless pleasures. Foiled Again, a glorious Chicago vocal trio (Allison Bazarko, Rob Lindley, Anne Sheridan Smith) apply their ample talents to folk, cabaret, jazz and country numbers, including winning interpretations of holiday tunes. Among those are Vince Guaraldi's "Christmas Time Is here" and "I'll Be Home For Christmas," teamed with Randy Newman's "I'll Be Home." Album highlights include Joni Mitchell's "Urge For Going," Judy Collins' "The Blizzard," a soaring "Cathedrals" and an exquisite rendering of Wendy & Bonnie's "The Winter Is Cold." The three group members all have sensational lead voices and they entwine for stirring harmonies. Bazarko's vocal arrangements are fresh and heartening.

MICHAEL BENEDICT & BOPTITUDE, FEATURING GARY SMULYAN - "FIVE AND ONE"
I just caught up with this release and man, it sizzles! The hip, hard bop combo - Chris Pasin on trumpet/flugelhorn; Brian Patneaude, tenor sax; Bruce Barth, piano; MIke Lawrence, bass; and Michael Benedict, drums - is joined by bari saxophonist extraordinare Gary Smulyan. The well-chosen material includes Nat Adderley's "Work Song," Sonny Stitt's "The Eternal Triangle," Thad Jones' "Three and One" and Miles Davis' "Compulsion." A pair of Gary McFarland compositions - "Train Samba" and "Last Rites For The Promised Land" - make a strong impact. Each component of the band shines on this outstanding record and together, they demonstrate an electrifying chemistry. Benedict should be delivering a new album in 2015. Watch for it!

ROBERTA DONNAY & THE PROHIBITION MOB BAND - "BATHTUB GIN"
This jazz baby makes the 20s roar again and swings out 30s tunes buoyantly enough to float away even the Great Depression. The delightful Bay Area vocalist digs deep to find lost treasures from the Prohibition era. She's backed by top-notch musicians and the results are gloriously entertaining. Her girlishly glamorous vocals are perfectly suited to tunes like "Why Don't You Do Right," "Happy Feet," "(We've Got to) Put The Sun Back in the Sky," "Wake Up and Live" and "When I Take My Sugar To Tea." Donnay can go coy and sexy or bluesy and torchy. She leaps forward a few decades for a poignant rendition of Charlie Chaplin's throwback jewel, "Smile." When she slows things down for Elizabeth Cotten's "Shake Sugaree," Donnay will melt your heart. Donnay's own "Horizontal Mambo" is a clever, frisky charmer. "I Gotta Right to Sing The Blues" makes a powerful closer, as Donnay does right by a song associated with Billie Holiday. It's well worth going back in time for an intoxicating sip of Donnay's "Bathtub Gin."


BOOKS

"TWITCH UPON A STAR: THE BEWITCHED LIFE AND CAREER OF ELIZABETH MONTGOMERY"
By Herbie J. Pilato
If you love Liz, you'll adore this book. Pilato's biography of everyone's favorite witch is incredibly detailed. He draws from many sources, including Montgomery's friends and his own interviews with the star. Career-wise, there was so much more to Montgomery than simply the endearing sitcom "Bewitched." She had a successful stage and film resume, prior to portraying Samantha Stevens. And after she stepped away from that iconic role, she etched memorable performances in TV-movies like 'A Case of Rape." Pilato also delves into her complex relationship with her father, matinee idol Robert Montgomery. In addition to her career, there are details of her marriages, motherhood and political activism. And Pilato offers insights into many of her co-stars over the years, including Dick York, Dick Sargent, Agnes Moorehead, Dean Martin, Gary Cooper and Cliff Robertson. The book also contains wonderful photos that chronicle Montgomery's life. Getting to know this remarkable woman, you'll love her for far more than just her dramatic and comedic talents.

"THE SCARLET LETTERS: THE MAKING OF THE FILM GONE WITH THE WIND"
By John Wiley, Jr.
For 75 years, the movie epic "Gone With The Wind" has enthralled film fans. Now John Wiley, Jr., has culled through a mountain of correspondence between author Margaret Mitchell and such prominent figures as producer David O. Selznick, screenwriter Sidney Howard, director George Cukor and actors Clark Gable, Leslie Howard, Vivien Leigh, Olivia de Havilland and Hattie McDaniel. It's a fascinating behind-the-scenes look at the making of a movie masterpiece. It also offers great insight into Southern belle/iron butterfly Mitchell herself and her perception of Hollywood. In her letters, spanning 1936-49, Mitchell shows herself to be feisty, candid, amusing and an astute businesswoman. All those interested in classic film will want to have this book in their libraries.

"WARNER BROS.: HOLLYWOOD'S ULTIMATE BACKLOT"
By Steven Bingen
Ever wish you could sneak into Warner Brothers backlot and learn the studio's secrets? Bingen's handsome, coffee table book enables you to do just that. You'll tour the soundstages, offices and acreage, finding out the glamorous film history. Fascinating anecdotes abound. Did you know that the studio's Tenement Street, used in the 1938 Jimmy Cagney gangster classic "Angels With Dirty Faces" later popped up in the horror movie "House of Wax" and the musical "My Fair Lady"? The studio likes its assets to be versatile. You'll discover details of so many facets of filmmaking, including set design, props, costumes and more. There are loads of interesting photos to peruse. As Doris Day says in her foreword, "With this book, we will all have a better appreciation of the studio lot and what went on there.'"

"GLAMOUR, GIDGETS AND THE GIRL NEXT DOOR: TELEVISION'S ICONIC WOMEN FROM THE 50s, 60s, AND 70s"
By Herbie J. Pilato
Pilato has authored another book that TV buffs shouldn't live without - this one a fun look at the women who lit up our screens in the 50s through the 70s. Boys had crushes on them, girls wanted to be like them. Now we can all enjoy this collection of breezy, affectionate profiles. Many types of women made lasting impressions in a wide array of roles. Pilato divides his subjects into categories: The Jills of All Trades (Sally Field, Marlo Thomas, Diahann Carroll, Goldie Hawn, Mary Tyler Moore, Cher, Marie Osmond), Teen Angels (Elinor Donahue, Shelley Fabares, Patty Duke, The Lennon Sisters, Maureen "Marcia, Marcia, Marcia" McCormick, Melissa Gilbert, Valerie Bertinelli, Kristy McNichol, Mary McDonough of "The Waltons," Kathy Garver of "Family Affair"), The Country Girls (Donna Douglas, Inger Stevens, Dawn Wells, Linda Evans, and the "Petticoat Junction" pretties), Supersleuths (Anne Frances, Diana Rigg, Barbara Feldon, Peggy Lipton, Stefanie Powers, Barbara Bain and, of course, Charlie's Angels), The Wonder Women (Elizabeth Montgomery, Barbara Eden, Julie Newmar, Nichelle Nichols, Lindsay Wagner, Lynda Carter), and last, but certainly not least, The Liberated Souls (Barbara Hale, Gale Storm, Tina Louise, Karen Valentine, Adrienne Barbeau, Meredith Baxter, Valerie Harper, Suzanne Pleshette, Suzanne Somers and Loni Anderson). In case he left out any of your personal favorites, Pilato includes an Honorable Mention list. The book is warm and winning nostalgia. Let's hear it for the girls!