DEJA RE-VU
Pop Culture Classics' Recommended CDs, DVDs and Books
By Paul Freeman


DVDs

"THE LAST UNICORN" (THE ENCHANTED EDITION)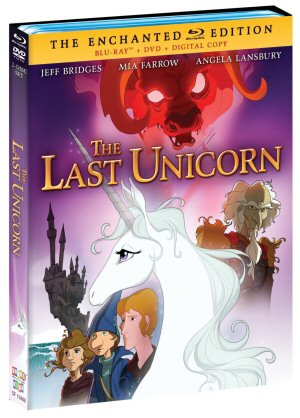 A unicorn sets out to discover whether she's the last of her species. An evil king turns her into a lovely human woman. Romance with the king's son complicates matters. An inept magician, Schmendrick, tries to help the unicorn on her quest. Arthur Rankin, Jr. and Jules Bass (the cartoon version of "The Hobbit") transform Peter Beagle's popular book into an imaginative, enchanting animated fantasy. The film benefits from compelling voice characterizations by Jeff Bridges, Mia Farrow, Angela Lansbury, Alan Arkin, Christopher Lee, Tammy Grimes, Robert Klein and Rene Auberjonois. The band America (of "Venture Highway" fame) sing most of the appealing pop-folk-rock tunes, with a fine score by Jimmy Webb. On Blu-Ray, courtesy of Shout! Factory, the animated adventure looks terrific, vivid and vibrant, and it sounds amazing in DTS-HD Master Audio 5.1. Extras on the Blu-Ray and DVD include commentary track (which features author Beagle and others), a featurette on adapting the book to animation, storyboards and the original trailer.

"THE WHO: LIVE AT SHEA STADIUM 1982"
You really must experience the Who's Farewell Tour. No, I'm not talking about the 2015 50th anniversary trek. I mean the first farewell - 1982. You won't need a time machine. Just view Eagle Rock Entertainment's new Blu-Ray release of the 1982 Shea Stadium concert. It's the next best thing to actually being there. With restored footage, this is the first time the show has been released in its entirety. It's 140 minutes of hard-hitting Whooliganism. Bouncing back after the 1978 loss of Keith Moon, the band sounds fresh, feisty and hungry. Kenney Jones was capably drumming, not trying to clone the whirling dervish nature of the dearly departed Moon. John "Ox" Entwistle was still standing tall on bass. Here's the set list, which covers a lot of ground, hits and rarities: "Substitute," "I Can't Explain," "Dangerous," "Sister Disco," "The Quiet One," "It's Hard," "Eminence Front," "Behind Blue Eyes," "Baba O Riley," "I'm One," The Punk And The Godfather," "Drowned ," "Tattoo," "Cry If You Want," "Who Are You," "Pinball Wizard," "See Me Feel Me," "Love Reign O'er Me," "Long Live Rock," "Won't Get Fooled Again," "Young Man Blues," "Naked Eye," "I Saw Her Standing There," "Summertime Blues" and "Twist And Shout." The DTS-HD Master Audio and LPCM stereo sound simply amazing. This concert was the second of the band's two nights at Shea. As a bonus, included are "My Generation" and "A Man Is a Man" from the first night at the stadium. There are windmills strums and frenetic action, but this is definitely not a band going through the motions.

"LYNYRD SKYNYRD - ONE MORE FOR THE FANS"
"One More For The Fans" (Loud & Proud Records) brings together an all-star lineup to celebrate the career of Southern rock icons Lynyrd Skynyrd. The event was recorded on November 12, 2014. Featured on this two-CD/DVD set are performances by Skynyrd and special guests Trace Adkins, Alabama, Gregg Allman, Blackberry Smoke, Cheap Trick, Charlie Daniels, Peter Frampton, Gov't Mule, Warren Haynes, John Hiatt, Randy Houser, Jason Isbell, Jamey Johnson, Aaron Lewis, moe., O.A.R., Robert Randolph and Donnie Van Zant. Don Was directs the house band. From the moving soul of Gregg Allman's rendition of "Tuesday's Gone" to Skynyrd and friends' rousing version of "Sweet Home Alabama," this is a night to remember. This release, with its great collaborations, should spark an even greater appreciation for the songs of Lynyrd Skynyrd. Their music has stood the test of time, still bringing audiences to their feet in excitement.

"FACTS OF LIFE": SEASON SIX
As we enter season six, Blair, Natalie, Tootie and Jo, on the brink of adulthood, are helping Mrs. Garrett at gourmet shop Edna's Edibles. Of course, the young ladies are also busy learning more about the facts of life… and friendship. The beloved cast - Charlotte Rae, Lisa Whelchel, Mindy Cohn, Kim Fields and Nancy McKeon - makes viewers feel comfortable. One of the funny episodes involves ambitious Blair taking charge of the store while Mrs. Garrett's out of town. Faced with a competing food shop, Blair mishandles the situation. In another story, Blair's erratic behavior, following the end of her first serious relationship, worries Mrs. Garrett and the girls. In the touching "Jazzbeau" episode, Tootie and Natalie reminisce about a famous singer they knew who has just passed away. This set, from Shout! Factory, is rich in warmth and humor.

"MYSTERY SCIENCE THEATRE 3000: XXXIII"
Viewing "Daddy-O," the gang has a blast with the lame rock 'n' roll, inept crime, less than impressive hot rods, lead Dick Contino's Dudley Do-Right jaw and general beef-o-tude, the Sydney Greenstreet-like villain (Bruno VeSota) and Dick's love interest, Marilyn/Jayne/Mamie/Sheree-style platinum blonde (Sandra Giles) who must have had her brain melted by the hair-bleaching process. And John Williams (Yes, John "Jaws"/"Star Wars" Williams) composed the film's score, his first. Joel, Servo and Crow's send-up of the movie's song "Rock Candy Baby," is priceless. There's a very cool bonus on this one, which not only gives great trivia about the movie, but offers context on the 50s youth exploitation genre. The sordid issue of juvenile delinquency rears its ugly head in "Teenage Crime Wave." A good girl gets caught up with bad companions. A prison break leads them to hole up in a rural home, leading to a sort of low-rent "Desperate Hours." Former child star Tommy Cook stars as a vicious teen. And senior citizen Tommy tells some interesting tales about his career in the disc's extras. There's also an informative mini-documentary on B-movie producer Sam Katzman. The James Bond knock-off "Agent From H.A.R.M." could have been titled "Agent from C.H.E.E.S.E." it's so tacky. But it's great to see a Peter Mark Richman interview as the disc's bonus. He's an under-appreciated actor with an amazing list of TV guest shot credits. And in this MST episode Mike Nelson is put on trial for being a planet destroyer. Professor Bobo is his defense attorney and Pearl Forrester is the Prosecutor! Before "Earth Vs. The Spider' unspools, there's a short, "Speech," about properly using the voice and speaking techniques, and it's certainly riff-worthy. The gang mocks mercilessly. When we get to the AIP feature "Spider," produced and directed by special effects artist Bert I. Gordon, teens encounter a giant insect. Yes, it's right in the crew's derogating wheelhouse. Meantime, during the break, Crow tries to capture the 50s horror zeitgeist by writing a screenplay of his own - "Earth Versus Soup." There's also another excellent behind-the-scenes bonus. So all four MST3K discs are filled with merriment for we Misties.

"THE DRIVER"


Once you get on this ride, you won't want it to stop. A Manchester cabbie, Vince (David Morrissey, "The Walking Dead"), disillusioned with his drab, spirit-crushing job and his decaying home life, meets an old friend, fresh out of prison (Ian Hart). This leads him into a liaison with the Tolstoy-quoting gang leader The Horse (Colm Meaney, "Star Trek: Deep Space Nine") and a dark world of illegal driving.The lure of excitement beats being humiliated by his fares. And the new job's fast money doesn't hurt. But Vince soon learns how deep into the abyss he's falling. He knew there would be risks, but the stomach-churning violence is a rude awakening. And things get more complicated by the minute. When he wants to break free, he realizes it's not going to be easy to retake his soul from his devilish new associates. He's in hell… and there seems to be no way out. And he's dragging his wife and daughter into danger, as well. The performances are riveting. The struggling relationships are engrossing. The action will give you heart palpitations. The car chases will leave you clutching at your armrests. A strong undercurrent of suspense runs throughout. Acorn has made the three-part thriller series available on DVD and it's a must-see.

"NEW WORLDS"
History and romance blend sumptuously in "New Worlds," now available on DVD from Acorn Media. The 2014 four-part mini-series takes place in the late 17th century. The Restoration is changing the landscape in the U.K., while political and religious refugees are trying to carve out new lives in America. Jamie Dornan ("Fifty Shades of Grey") stars as a rebel fighting the British aristocracy. Jeremy Northam, as Charles II, also makes a strong impression in the limited series, which was a sequel to "The Devil's Whore." "New Worlds" explores the theme of monarchy versus a free society. It's fascinating fare. And the cinematography and costumes are striking.

"THAT SHOW WITH JOAN RIVERS"
Joan Rivers wasn't always skewering celebs for what they were wearing. In "That Show With Joan Rivers," the target of her barbs is most often herself. Her 1969-69 syndicated daytime talk show has been unearthed and is now available in this four-disc package. It's a younger, more innocent, kinder Joan we see here. Each of the 29 color episodes focuses on different topics, such as nudism, today's teens, party planning, physical fitness, burlesque and life in Russia. It's very much a window on the era. Expert guests are joined by celebrities, including Soupy Sales, Johnny Carson, Steve Lawrence, Ed Sullivan, Vivian Vance, Rita Moreno, Rocky Graziano, Lily Tomlin, Joan Fontaine, Shelly Berman, Barbara Walters and Florence Henderson. Joan looks a tad ill-at-ease in some of the earliest monologues and interviews, but that's just endearing. It's a very different Joan from the one we got to know in her later, more acerbic years. In fact, at one point, she makes a crack about people being too fixated on fashion! The show on plastic surgery is a hoot, as well. This set is a lovely way to remember a pioneering TV personality.

"WKRP IN CINCINNATI" - SEASON THREE
Our favorite struggling radio station continues to spin great tunes… and charming comic yarns. Shout! Factory has just released the 22-episode third season and the show, created by Hugh Wilson, was definitely in its prime. It's the ensemble cast that makes the series so special - the oh-so-cool Dr. Johnny Fever (Howard Hesseman) and equally snappy fellow disc jockey Venus Flytrap (Tim Reid), man-melting receptionist Jennifer (Loni Anderson), the staff's bright and beautiful Bailey (Jan Smithers), bungling station manager Carlson (Gordon Jump), earnest program director Andy (Gary Sandy) and obnoxious, garishly-garbed Herb (Frank Bonner). One of the highlights of season three was a biting satire of the beginning-to-mushroom reality show genre. On "Real Families," Herb, his wife and kids are ambushed by the TV show's camera crew a day early. Herb is humiliated as the lenses follow him everywhere, but, of course, he can't pass up the attention. The show's co-hosts are cleverly played by Peter Marshall ("Hollywood Squares) and Daphne Maxwell (who was Tim Reid's wife). Another great episode involves Jennifer moving, discovering that her little dream house is a nightmare waiting to happen. Judith-Marie Bergen is delightful as the neighbor wife who is traumatized by having her dopey husband tempted by gorgeous Jennifer. In the season's eight episode, "Baby It's Cold Inside," Carol Bruce is chillingly hilarious as Carlson's fur-wrapped, iron-willed, domineering mother. Once you've voraciously consumed all these episodes, you'll be eager to get to the other seasons. The radio station's ratings might be anemic, but it's a smash with classic TV buffs!

"THE BOLD ONES: THE SENATOR"
Timeless Media should send copies of this series to every member of Congress. Senator Hayes Stowe is driven not by greed or thirst for power, but by a hankering to serve his fellow citizens. Like Jimmy Stewart and Henry Fonda characters, Holbrook's Senator is lanky, determined and brimming with integrity. In 1970, idealism could still be considered inspiring, rather than ironic, futile or archaic. In these episodes, Stowe confronts such still relevant issues as environmental disasters, violence, corruption and injustice. Included in the set is the pilot film, "A Clear and Present Danger," in which Stowe works for the Attorney General and his father (E.G. Marshall) is the senator. "The Senator" alternated on "The Bold Ones" with series about doctors, lawyers and cops. But this political drama stood out, because of its exceptionally literate, though-provoking writing, and outstanding performances by the convincingly sincere, stalwart Holbrook and Michael Tolan as his dedicated aide. Equally good is Sharon Acker as the perfect Senator's wife. She's smart, gorgeous, elegant and just as strong as her husband. Among the extras in this three-disc set is a recent interview with Holbrook, as well as a great clip of him on "The Dick Cavett Show," lamenting the series cancellation, far too early. It's a shame Netflix wasn't around to save such a bold, serious-minded program.

"A MUSICARES TRIBUTE TO CAROLE KING"
As an artist and as a human being, Carole King is truly beautiful. The MusiCares event is a worthy tribute to King, the Queen of Pop, one of the greatest singer-songwriters in history. Superstars galore turn out to sing her praises… and some of her enduring compositions. Among the highlights are Alicia Keys singing "Natural Woman", "One Fine Day" by Martina McBride and "Beautiful," performed by Sara Bareilles, Zac Brown, Jason Mraz and Raining Jane. There's a righteous rendition of "Way Over Yonder" by Merry Clayton, Darlene Love, Lisa Fischer and Judith Hill. Also contributing to the musical magic are Pink, LeAnn Rimes with Steven Tyler, Train, Gloria Estefan, Jennifer Nettles, Miguel with Kacey Musgraves, Jesse & Jay, Amy Grant, Miranda Lambert and will.i.am with Leah McFall. But the evening reaches its zenith when King herself takes the piano and microphone and performs several numbers with James Taylor, then soars on "Jazzman" with horn man supreme Tom Scott, climaxing with "I Feel The Earth Move," joined by the entire cast. Now available from Shout! Factory on Blu-Ray and DVD, the concert's sound really shines via DTS-HD Master Audio 5.1.

CDs



"STRAY CATS - LIVE AT ROCKPALAST"
These Cats definitely knew how to wail! The explosive trio reignited the rockabilly genre and this new set, available as a DVD/2-CD set, shows you how they created excitement. Once you've experienced these two live concerts (and the sound is sensational, by the way), you'll understand why the group became a huge force on the international music scene. The first show, Cologne, 1981, displays the lads at their raw, early best, tearing through such numbers as "Rumble in Brighton," "Rock This Town" and "Stray Cats Strut." The second concert CD is from Loreley, 1983. By that time the band had already achieved a bit of polish, as well as stardom. The set list includes "Built For Speed," "She's Sexy and 17" and "Oh Boy." That concert is also provided in DVD form, so you can see the super showmanship of Brian Setzer, Jim Phantom and Lee Rocker. The trio knew that rockabilly could be just as vital in the 80s as it was in the 50s. And The Stray Cats music is just as exhilarating in 2015 as it was decades earlier.

"RONNY AND THE DAYTONAS: THE COMPLETE RECORDINGS"
Ronny and The Daytonas may be remembered for just two classic songs - "G.T.O." and "Sandy." But this terrific 48-song, two-CD set from Real Gone proves that there was much more to the band than just those hits. The Daytonas sound can be attributed primarily to their front man, whose name was actually not Ronny, but John "Bucky" Wilkin. I guess Mala Records, the group's original label, thought Bucky and the Daytonas just wouldn't have the right ring to it. Wilkin's mother was country songwriter Marijohn Wilkin, so he subconsciously added a hint of Nashville to The Daytonas' sunshine/surf/rock-pop. With established musician/arranger Bill Justis ("Raunchy") as their manager/producer, the band had a 1964 smash with "G.T.O.," which perfectly captured The Beach Boys' energetic, harmony-laden vibe. Halfway through hearing the song for the first time, listeners couldn't help but sing along. A lot of the other tracks have that same kind of magic, including "California Bound," "Young" and "Bucket T," a number that reached the middle of the singles charts. With Buzz Cason, Wilkin co-wrote the gorgeous, sun-drenched ballad "Sandy" (a couple of their rare duo releases as Buzz & Bucky are included in this package). The discs offer other lush, pretty, romantic tunes about teen love, like "I'll Think of Summer," "Goodbye" and "Baby Say No." Moving to the RCA label in 1966, Ronny and The Daytonas had modest chart success with another soft, tender tune, "Diane, Diane," with the surging "All American Girl" on the flip side. Also included in this great package are a couple of Wilkin solo efforts, such as his take on "I Wanna Be Free," and unreleased Daytonas material like "Hey Little Girl" and "Chapel of Love." Ronny and The Daytonas definitely belong in the upper echelon of surf bands.

"FANNY HILL" (EXPANDED EDITION)
The pioneering band Fanny Hill (first all-female group to release an album on a major label) should have enjoyed massive popularity with their eponymous 1972 record (produced by legendary Richard Perry), but achieved cult status instead. This was their third album and the band's sound had emerged as fully forceful and engaging. The new Real Gone expanded edition of the album will make you hunger for more Fanny. The opening track is a rousing rendition of the Marvin Gaye hit "Ain't That Peculiar." June Millington's slide guitar gives it a unique feel. Keyboardist Nickey Barclay's composition "Knock On My Door" takes a silky, string-enhanced path. Then comes a searing rocker, "Blind Alley," penned by Barclay and drummer Alice de Buhr. Bassist June Millington wrote the album's prettiest track, the acoustic "You've Got A Home." Her sister June's wistful "Wonderful Feeling" follows. Barclay's soulful rock number "Borrowed Time" is a highlight. The album was recorded at Apple Studios, with Beatles engineer Geoff Emerick on board. So it's fitting that a ferocious Fab Four cover, "Hey Bulldog," is included. There's a hippie-era sincerity to June's "Think About The Children." The band composition "Rock Bottom Blues," fueled with some hot horns, is a rocker's story. There's an Americana twang to June's "Sound and the Fury." Vocal harmonies enrich the track. That's also true of Barclay's "The First Time," with its gospelish fervor on the choruses. This expanded edition of the album also offers six bonus tracks, Ike Turner's "Young and Dumb" among them. Whether on covers or originals, Fanny Hill had its own special sound. It's time to rediscover it.

BEN RICE & LUCY HAMMOND - "DESTINATION CLARKSDALE"
Vocalist/guitarist Rice and singer/producer Lucy Hammond, both also talented songwriters, team up for a fine EP of acoustic blues. The Pacific Northwest duo proves rousing on traditional-sounding numbers like 'Wants Me Back Again" and "Ida Mae," as well as the more modern folk-blues of "Turn My Back On You." Their soulful voices and Rice's vigorous guitar work create a dynamic, compelling sound.

"SAVED BY THE BELL: THE COLLECTED WORKS OF ROBIN GIBB 1968-1970"
This three-CD set is a treasure for Bee Gees fans. It encompasses Robin Gibb's solo work, when he left the group for a couple of years, following their early, folk-pop hits, long before the transformation into the Disco kings. Gibb's work here is lush and lovely, sumptuously orchestrated pop. Included are an expanded version of his solo LP "Robin's Reign," which was recorded in 1969 at age 19. The set also includes his unreleased, not-quite-completed album "Sing Slowly Sisters." Gibb abandoned the project to rejoin his brothers Barry and Maurice. Many additional rarities were unearthed for this package. Gibb's touchingly tremulous voice fill his ambitious compositions with a wondrous beauty.

CORINNE WEST - "STARLIGHT HIGHWAY"
Alluring melodies, poetic lyrics and a ravishing voice fill West's new album. This is intelligent, introspective, illuminative Americana music that gently caresses and leaves a lasting impression. Subtle, unobtrusive instrumentation allows West's songs to shine. Among the gems here are "Trouble No More," "Sweet Rains of Amber," "Give Our Ships Away," "Find Me Here," "Monday's Song" and the venturesome title track. Each song has its own pleasing personality. As you cruise through this "Highway," you'll discover delight and serenity.

IAN TYSON - "CARNERO VAQUERO"
The Canadian cowboy is back with a winning set of western tunes. Five of them are new Tyson originals, including a great co-write with Tom Russell, "Wolves No Longer Sing." Tyson still has the poet's soul. At age 81, Tyson eloquently reflects on the changing western landscape. Among the memorable covers is "Doney Gal," which he previously recorded in the 60s, when he was half of the legendary husband-and-wife folk duo, Ian & Sylvia. After an accident in 2007, he suffered throat damage, but after extensive rehabbing, his voice sounds strong and true once again. From ballads like "Darcy Farrow" to uptempo treats such as "Colorado Horses," Tyson exudes a wonderfully weathered honesty.

ANDREW GOLD - "THE LATE SHOW LIVE 1978"
When it comes to singer-songwriters of the 70s and 80s, Andrew Gold deserves to be ranked among the elite. With a compelling voice, terrific songwriting skills and expertise on many instruments, Gold collaborated with a variety of top artists, among them, Linda Ronstadt, The Eagles, Jackson Browne, Art Garfunkel, Trisha Yearwood, 10cc and Vince Gill. The son of film composer Ernest Gold ("Exodus," "On The Beach") and Marni Nixon (who did the singing for Audrey Hepburn in "My Fair Lady" and Natalie Wood in "West Side Story"), he was writing songs by age 13 and signed his first recording contract at 16. By the time this live show was recorded in 1978 at West Hollywood's Roxy Theatre, Gold was in his creative prime. He delivered an exceptional set of tunes, reflecting his blend of pop, British Invasion and Americana influences. Included is his smash "Lonely Boy," which has been featured in several films, including "Boogie Nights." Another highlight is "Thank You For Being A Friend," well known as the "Golden Girls" TV series theme song. "Endless Flight," from his 1975 eponymous debut album, a tune later covered by Leo Sayer, is another top performance. The show builds to a climax with driving covers of The Beatles' "Doctor Robert" and Chuck Berry's "Roll Over Beethoven," proving Gold and his tight band could really rock. Gold died in his sleep of heart failure in 2011 at age 59. Far too early, but he left behind a truly golden musical legacy.

MUMFORD & SONS - "WILDER MIND"
The band's "Wilder Mind" veers away from their banjo-fueled, more Americana-flavored sound in favor of a rock-pop approach. They've switched from previous producer Markus Dravs (Arcade Fire) to James Ford (Florence & The Machine, Arctic Monkeys). But the results are still thoroughly engaging. "Ditmas" and "The Wolf" display all of the trademark Mumford & Sons energy, enriched by dramatic power. "Only Love" is a lovely ballad, beautifully sung. "Hot Gates" is another stunner. Of course, vocal harmonies play a vital role. The group has shown pluck by refusing to stand still musically, even while on a lofty perch. Their fans should embrace this music and new listeners will undoubtedly relate to the righteously reshaped sound.

MICHAEL DEES - "THE DREAM I DREAMED"
Dees is certainly no newcomer to the scene. In 1968, he was named Best New Male Singer at the International Popular Song Festival in Rio. He became a much in demand session vocalist. It was Dees who sang "What Are You Doing The Rest of Your Life?" in the movie "Happy Ending." It became a standard. He was chosen to do the Sinatra vocals for HBO's "The Rat Pack." Perfect choice, as Dees has the nuances and impeccable phrasing needed to capture the Chairman of the Board. Those vocal gifts are still in evidence on the new Dees album, "The Dream I Dreamed." It's a marvelous record. As you're listening, you'll probably ask yourself, "Why do I not remember these great tunes from the Great American Songbook?" Well, though they sound like the pop/jazz songwriting masters, they're all Dees originals. From smoothly swinging, such as "In a Moment" and "So Crazy For You," to moving ballads like "Look at Me" and "I Miss You," these songs, and Dees flawless vocals, will make an indelible impression. Other top tracks include "A Kiss," "I'm Home," "A Long Time Comin'," and "Every Time You Touch Me," as well as the title tune. For lovers of classic pop, this album is a dream come true.

CATHAL SMYTH - "COMFORTABLE MAN"
In the 80s, Cathal Smyth, aka Chas Smash, was a huge part of the ska-pop band Madness' musical mayhem and merriment. His new solo album is a far cry from that infectious fun. It's a profoundly moving, nakedly honest, riveting self-exploration. Smyth has opened himself up completely to create these songs. This is an artist who is looking back on the end of a long-lasting marriage and embarking on a quest for wisdom, a new sense of self and of a personalized spirituality. It's a poet's desolate diary, set to music. Pop music rarely achieves this level of intimacy and introspection. The memorable melodies heighten the emotional content. The contemplation of a relationship's end will break your heart on "Are The Children Happy?" "Do You Believe In Love" has an upbeat country sound, but continues the theme of yearning and lost love. Other remarkable compositions include the plaintive "You're Not Alone," "A Comfortable Man," "Goodbye Planet Earth," "Love Song No. 7," "The Wren's Burial" and "Requiem For Common Sense." Smyth never gets mired in the melancholy. There's a beauty in the sadness, an appreciation for the love that once flowered. The arrangements - some simple, others sensitively orchestrated - are perfect throughout, the instrumentation complementing, delicately supporting, never intruding over Smyth's heartfelt vocals. These songs will hit you where you live, touch you, haunt you, leave you to contemplate Smyth's eloquent lines. In so many ways, this extraordinary work is a revelation.

WILLIE NELSON & MERLE HAGGARD - "DJANGO AND JIMMIE"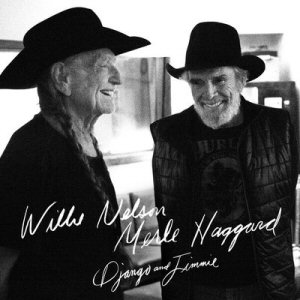 Willie Nelson and Merle Haggard, at 82 and 78 respectively, can teach any of the new breed of country superstars what the genre is really all about. Even in the twilight of their careers, their vocals still shimmer with authenticity. There are some great tunes by other writers, among them the title track, "It's All Going to Pot," "Live This Long," "Family Bible" and "Unfair Weather Friend." There's a wonderful, warm cover of Bob Dylan's "Don't Think Twice, It's All Right." But their own competitions shine brightest. Willie's co-writes include the uptempo "It's Only Money," the charming "Alice in Hulaland" and the touching "Where Dreams Come To Die." Merle's vintage "Swinging Doors" is revisited here. His "Somewhere Between" is an instantly classic country ballad. Hag's tribute to the duo's old pal, "Missing Ol' Johnny Cash" is a treasure. And the album closer, his "The Only Man Wilder Than Me" could make outlaw in again. It's always a treat, when these two legends collaborate. And on the "Django and Jimmie" album, Willie and Merle remind us that they're just as iconic as their idols, Reinhardt and Rodgers.

"THE DOOBIE BROTHERS: THE WARNER BROS. YEARS 1971-1983"
In the years 1971 to 1983, The Doobie Brothers reigned as one of the world's most popular bands. The new box set from Rhino brings together 10 albums of their finest work. It takes us from the early days, when The Doobies floated along via the joyous, harmony-high, rock-country-folk-funk vibes of Pat Simmons and Tom Johnston, through the more soul-inspired sound that evolved once Michael McDonald joined as the dominant vocalist. In all of the performances, there's a hard-to-resist, driving energy. Yes, the box set includes tons of mega-hits, such as "Jesus Is Just Alright," "Listen to the Music," "China Grove," "Long Train Running," "Black Water," "Take Me In Your Arms (Rock Me a Little While)," "Takin' It to The Streets," and "What A Fool Believes." But there are also dozens of superb album cuts, including "Chicago," "Toulouse Street," "Clear As The Driven Snow," "Without You," "Ukiah," "Pursuit on 53rd Street," "Road Angel" and "Sweet Maxine." Stirring vocals, tight instrumentation and great songwriting lifted the band to spectacular heights. The 1983 "Farewell Tour" album shows that, live in concert, the group could deliver the hits in electrifying style. The Grammy-winning Doobies' iconic songs remain immensely in demand, as evidenced by the group playing to packed houses on their current tours. It's not only nostalgia, but an appreciation for exceptionally well-crafted songs that keeps these Doobies smokin'.

JOSS STONE - "WATER FOR YOUR SOUL"
Stone's new album takes her into a whole new musical world. She's still a soul dynamo, but here, co-producing with Damian Marley, she seasons the sounds with reggae, hip-hop and world music. Stone penned all of the album's lyrically and melodically diverse tunes. She displays skill and sophistication in her writing. Many of the songs are brimming with social consciousness. There's a new maturity in Stone's vocals, relying as much on nuance as on her undeniable power. And she achieves a rare emotional honesty. Among the most powerful tracks are "Way Oh," "This Ain't Love" and "The Answer." "Water For Your Soul" is a percussive and persuasive work.

MEGAN SLANKARD - "RUNNING ON MACHINERY"
San Francisco-based alt-rock artist Megan Slankard has a wonderfully distinctive voice, literally and figuratively. She explores a wide range of topics and tones on her fifth album. Despite the diversity, Slankard and her producer, Alex Wong (Vienna Teng, Amber Rubarth, Delta Rae), have created a cohesive feel in the sound. Slankard can shift from dark to exhilarating in a heartbeat. "Bones Live Forever" gets the album off to a mesmerizing start. "Diving In," "Next to You (A Nuclear Love Song)," "Lost Together" and "Can't Keep It In" are other compelling tracks. Her inventive melodies, intelligent lyrics and expressive vocals make Slankard a standout singer-songwriter.

MELODY GARDOT - "CURRENCY OF MAN"
Gardot returns with another outstanding album. Blues, gospel, funk, pop and jazz elements are seamlessly entwined. And she has many powerful messages to convey in her lyrics. Bask in the warmth of the sound of "Morning Sun." Gardot delivers "Bad News" with a subtly simmering flair. There's a sense of drama to "After The Rain." "Preacherman is an affecting civil rights song. There are a number of great guitarists on these tracks, including Gardot herself and the legendary Dean Parks. Violin weaves seductively through the album, with strings arranged by Clement Ducol. Saxophones, drums and Hammond organ all play vital roles. Producer Larry Klein (Joni Mitchell, Madeleine Peyroux) has woven the perfect backdrop, sometimes rather sparse, sometimes fuller, depending on what each song calls for. But it's Gardot's remarkably soulful, emotion-packed voice that soars and rivets the listener.

LITTLE RICHARD - "DIRECTLY FROM MY HEART"


Nobody could whoop, holler, rock a falsetto, pound a piano keyboard or just generally rip it up like Little Richard. This new three-CD set from Speciality/Concord assembles 65 choice cuts, recorded during Richard's Specialty and Vee-Jay label years, 1956-1965. Naturally, there are his rollicking numbers like "Tutti Fruitti," "Heebe Jeebies," "Ready Teddy," "Lawdy Miss Clawdy," "Jenny Jenny," Lucille," "The Girl Can't Help It" and "Long Tall Sally." Richard banged out wild versions of "Money Honey" and "Whole Lotta Shakin'." But there are also blues - "All Night Long" and "Shake A Hand" - as well as R&B torch tunes like "I'm Just A Lonely Guy (All Alone")." He could convincingly deliver a soulful ballad like "Lonesome and Blue" or "Wonderin'." Few performers have ever been able to generate the fun or the fire of Little Richard. The informative liner notes are from the Beaters' own Billy Vera. He gives a historical context to the riotous work of Richard, one of rock's real pioneers and a true original. Half a century later, his records still thrill.

CAILI O'DOHERTY
Music has opened up an exciting world for 23-year-old jazz pianist/composer Caili O'Doherty. And her world travels have inspired exhilarating new music. Her debut album, "Padme" (lotus flower) reflects her globe-trotting. The songs display a sense of adventure, as well as assurance, beauty and sophistication. The composition "The Song of Old Panama City" came from O'Doherty's trip there with Global Jazz Institute. "The Tree of Return" reflects a story she heard while on a U.S. State Department tour in Benin, West Africa. O'Doherty wrote "Ode to St. Johns" for a neighborhood in her hometown of Portland, Oregon. O'Doherty has received awards for jazz piano performance and composition from Downbeat Magazine, as well as an ASCAP Foundation Young Jazz Composer award. On the album, joined by a number of superlative musicians, her fluid piano-playing enhances the flowing, moving melodies.

LEADERS IN THE CLUBHOUSE - "WON"
The San Diego-based rock-pop band debuts with a winning batch of songs on "Won." LITC is the brainchild of singer/songwriter/musicians Charlie Recksieck and Spud Davenport. They've fashioned a pleasing, percussive, piano-based, harmony-rich sound combined with well-crafted lyrics. There's a sunshine pop sense of joy in the music. And the lyrics have something to say. The catchy numbers include "She Gets Loud," "Law of the Jungle," "Trophies," "Lawnchairs" and "Awkward Town." There's a clever diatribe on the subject of technology - "These Goddamn Devices" - and a glimpse into the "Hater." "Old Forgotten Soldier" has a Randy Newman feel. This first full album should enable Leaders to enlist a lot of followers.

LEONARD COHEN - "CAN'T FORGET: A SOUVENIR OF A GRAND TOUR"
Leonard Cohen's songs are indeed unforgettable. Other live albums spotlight his most celebrated compositions. This new concert album - recorded during 2012 and 2013 shows and soundchecks, - focuses on lesser known, but equally magnificent material. The locales of the recordings jet from Denver to Copenhagen to Dublin to Quebec City to Monchengladbach to Odense to Aukland to Christchurch to Sydney to Hamburg. Cohen is a worldly fellow whose art translates universally. His distinctive voice - deep, raspy, whispery, nasal - is incredibly expressive. And the poetry rolls off his tongue, each line a morsel to be savored. His performances are remarkably intimate. And his band and background singers, as always, shine. The sweetness of sisters Hattie and Charley Webb's vocals contrast beautifully with Cohen's gruff grumble. There are a few covers and Cohen does a marvelous job with the vintage George Jones whisky-soaked cut "Choices," penned by Michael Curtis and Billy Yates. But it's Cohen's own songs, like "Light As The Breeze," "I Can't Forget," "Joan of Arc" and "Stages" that will linger in your mind. You'll wonder at his warmth, wit and wisdom.

MAESTRO CLASSICS - "MERRY PRANKS OF MASTER TILL"
Maestro Classics provides wonderful opportunities for parents and teachers to introduce children to classical music. Their versions entertain, as well as educate. The newest release, Richard Strauss' "Merry Pranks of Master Till," is performed by the London Philharmonic Orchestra, conducted by Stephen Simon. Kids will be enthralled by a charming narration by Yadu. It tells a tall of a naughty boy named Till, who lives in Germany in the Medieval age. That provides a perfect context in which to hear thin addition, you can hear the Strauss piece without narration. Once children know the story, they'll have a greater appreciation for the music on its own. Also, there's a track about the composer, Strauss. To add to the fun, an activity book is included. Thanks to Maestro Classics, classical music becomes an enjoyable adventure for the whole family to share!

THE SWINGING CHADS - "WITH THE SWINGING CHADS"
The Bay Area band brings a new vitality to the country-rock genre. With strong, winning lead vocals, clean harmonies, crisp guitar hooks, solid rhythm section and catchy original tunes, they recall the heyday of bands like Poco, Creedence, Loggins & Messina and The Eagles. Adding traces of pop and funk flavors enhances the sound. They deliver the goods on rockers like "Box Like Structures," "Office Party" and "Begin with Please." But the Chads are equally adept at slower numbers such as "Big Ol' Light," "Little Bit" "High Risk" and "Hate to Keep You Waiting." We cast our vote for The Swinging Chads!

JANE WEAVER - "SILVER GLOBE"/"AMBER LIGHT"


Jane Weaver stands as one of the world's most intriguing, adventurous and alluring singer-songwriters. Unafraid of experimentation, she can entrance listeners with the simplest instrumentation/production or with complex soundscapes. Her voice is a superb instrument and she uses it an array of amazing ways. Her melodies will haunt you. And her lyrics deserve extensive contemplation. Her brilliant 2014 release "The Silver Globe," has been newly packaged with an equally thrilling bonus album, "Amber Light.""Silver Globe" opens with the mesmerizing title track, one that calls to mind the pulsating sonic pleasures of her friend Laetitia Sadier or Broadcast. But Weaver is an artist with a vision all her own. A throbbing bass line helps propel the urgent "Argent." Crunching rock guitars fuel Weaver's ascent on "The Electric Mountain." "If Only We Could Be in Love" has a captivating magic all its own. There's a dreamy quality to numbers like "Arrows" and "Stealing Gold." "Cells" grabs listeners on a molecular level. On the "Amber Light" disc, the "La Pomme D'Argent" track opens with sounds that are simultaneously ominous and enticing, then primal drums grip the listener. On "I Need A Connection," scintillating synth and hypnotic beat provide an undercurrent for Weaver's angelic vocal. The title track, "Amber Light" is marvelously luminous. And "Cascade in the Dark" glistens with an unnerving beauty. This bonus album also contains instrumental tracks and interesting, reshaped versions of several "Silver Globe" compositions. The songwriting, arrangements and performances are extraordinary on both albums. Exploring these discs will leave you with a sense of awe. You'll be eager to venture into Weaver's other wellsprings of musical wonderment.

CHARLIE HUNTER TRIO ' "LET THE BELLS RING ON"
Hunter has always traveled his own path, inventively plucking his seven-string guitar. On his latest project, on which he teams with trombonist Curtis Fowlkes and drummer Bobby Previte, again explores avenues of blues, jazz, funk and R&B. All three musicians have ample opportunity to excel here. Hunter's original compositions are melodic and rhythmic, consistently engaging. "Welcome to Nutley" is inviting. "These People?" intrigues. The title track resonates. "Ojai Housecoat of Arms" has a cool bounce to it. There's a fun frenzy to "Hillbilly Heroine Chic." "Fellini Farm Team" is more introspective. Ring on, Charlie!

ROBIN FLOWER & LIBBY MCLAREN - "ONE PLUS ONE"
The beloved Bay Area duo takes Celtic and Americana influences and gives them a fresh, vibrant feeling. This marks the first time in their nearly 30-year collaboration when they've recorded an album on which they perform all the parts. Flower plays guitar, mandolin, strumstick and fiddle. McLaren adds piano and accordion. And both have glorious voices, which blend beautifully in harmony. Their songwriting is well honed and sparkling with inspiration. Among the stirring tunes here are "Pillars of the House," "When The Congregation," "County Down" and "Imagine a Night." In this case, one plus one equals infinite musical joy.

THE BETTY FOX BAND - "SLOW BURN"
Fox has a supremely soulful voice that generates much heat on these blues/R&B/rock numbers. Her invigorating originals include "Solid Ground" and "Think About It," which is the kind of powerhouse song James Brown use to tear it up with. The jazzy, scatty, breezy "Please Come Home" is a fun tune. That's also true of "Who's Holdin'?" Fox rides an undulating rhythm through "Goodbye." "Our Love" surges with passion. The title track, "Slow Burn" is a sizzling torch number, as is the blues-drenched "Baby Please" and Fox's rendition of the Otis Redding classic, "Remember Me." There's tenderness in her vocal on the album's other cover, Willie Nelson's "Angel Flyin' Too Close to the Ground."

CHICAGO - "THE STUDIO ALBUMS 1979-2008"


The legendary, horn-happy band has enjoyed such a long, prolific creative life that Rhino has been able to issue a second 10-CD box set. This one covers Chicago's later studio albums, spanning 1979-2008. That encompasses some huge hits, such as "You're The Inspiration," "Hard Habit To Break" and "Hard To Say I'm Sorry." Also included is the "Night & Day" album, which visits the vintage pleasures of big band tunes like "Caravan" and "Sing, Sing, Sing," imbuing the standards with Chicago's signature sound. Also in the set is the controversial "Stone of Sisyphus" album, which was scheduled to be released in 1994, but was rejected by the record company and didn't reach the public 2008. The band had taken risks with the album, as in the hip-hop drama of "Sleeping in the Middle of the Bed." Also on this disc is band member Jerry Scheff's "Bigger Than Elvis," his homage to his father, Jerry Scheff, Presley's longtime bassist. The remastered tracks all sound fantastic. Bonus cuts are included. Chicago remains an American musical institution. And this package represents a major portion of their legacy.

THE FALL - "SUB-LINGUAL TABLET"
This British band emerged from Greater Manchester in 1976. The post-punks still have plenty of snarl and energy. The new album bursts with driving new material, as well as a cover of The Stooges' "Stout Man." Mark E Smith still growls convincingly. And the lyrics give him scathing social commentary to spit out. "Auto Chip 2014-14," clocking in at around 10 minutes, is the creative high point. Other top tracks include "Venice with the Girls," "Dedication, Not Medication," "Junger Cloth" and "Pledge." These gruff lads, even after all these decades, still know how to get a groove going and then pound it into your brain until you surrender.

BILLIE RAINBIRD - "DEEP BLUE (EXPERIENCE)"
Canadian-born singer-songwriter Billie Rainbird should make a lasting impression with this new album. Produced and engineered by former Toto drummer Simon Phillips, the record is persuasive from start to finish, venturing into a wide range of musical territory along the way. "Adalay" undulates to a funk rhythm. "Cantik Calls" is an enticingly exotic number. Rainbird lures listener with "Deep Blue." "Move On" gets into high gear, rocking hard. "Yah Um" is a sex-charged bluesy burner, as is "Get Down, Get Dirty." "Dance For You" offers supple sensuality. The breathy vocal portion of "Things I Do" tantalizes. Listen to this Rainbird take flight.

THE DAVE MILLER TRIO WITH REBECCA DUMAINE - "THE CONSEQUENCE OF YOU"
With elegant backing from the Dave Miller Trio, Bay Area vocalist Rebecca DuMaine takes even the most familiar classic pop and makes it sound new. Her voice is sweet, sure and sophisticated, using nuance, sensitive phrasing and a deep understanding of the lyrics to capture the listener. She never tries to overpower with her voice. And that's a tremendous strength. DuMaine invites you to lose yourself in the music. Among the outstanding tracks here are "Too Close For Comfort," "One Note Samba," "Pure Imagination" and "There Will Never Be Another You." Having the inventive and intuitive pianist Miller (her dad) complementing her is a huge plus. This is a very pleasing album.

WENDY WOO BAND - "TIPPING POINT"
You won't be saying, "Wendy who?" after listening to this album. Instead you'll be shouting "Woo woo!" The Colorado rock-pop artist has put together an appealing new album. Woo can rock with the best of them on tunes like "In The Middle," "Takin' Pills" and "On With The Show." She brings powerful emotions to the ballad "Backbone Road." "Where It's Warm" basks in a ska-like glow. "Today" is another upbeat tune that will stick with the listener. Dynamic and diverse, the album win legions of new fans.

WES MONTGOMERY - "IN THE BEGINNING"
Where to turn for astonishing jazz guitar playing? The answer remains, "Go Wes!" Resonance Records has released a two-CD, three-LP collection of rarities and previously unissued material by the late, great Wes Montgomery. It follows Montgomery's musical journey, from working as a sideman in 1949 to reaching the recording studios. In the beginning, the guitarist was still developing his amazingly graceful, light touch. It's fascinating to hear it before it was fully polished. Many of the performances were captured during live shows at the Turf Club and Missile Lounge in Indianapolis, in 1957 and 1958, courtesy of a college student's portable tape recorder. But modern technology has worked wonders in making the vintage tracks sound great, considering. Other performances came from such sources as super rare 78s and a show at a Chicago lounge. There are tracks of Montgomery performing with his brothers, Buddy and Monk, at Columbia Studios in 1955, produced by a young Quincy Jones. "Ralph's New Blues," recorded at the home of Montgomery's sister, Ervena, is a remarkable, 12-minute jam. Other revelatory performances include "Brazil," "Wes' Tune," "My Heart Stood Still," "All The Things You Are" and "A Night in Tunisia." The CD comes with a 55-page booklet with notes by, among others, Quincy Jones, Pete Townshend and jazz historian Ashley Kahn. Montgomery influenced generations of musicians and these tracks are to be treasured. Montgomery died of a heart attack in 1968, age 45. But on these recordings, his fingers continue to fly.

LENKA - "THE BRIGHT SIDE"
The Australian artist definitely dances on the bright side with her fourth album. She uses her folk-pop-electronica sound to uplift. The title track is a jaunty little ditty, as is "Long Way Home." "We Are Powerful," which even has whistling, is indeed empowering. "Free" is an exhilarating declaration of liberation. In "Unique" and "Get Together," Lenka uses charming, catchy tunes to get across positive messages. She shifts tone for the moving "Go Deeper" and "Hearts Brighter." After listening to this album, you'll be humming all these sunny tunes, a skip in your step and a smile on your face.

NEAL SCHON - "VORTEX"
This two-disc set portrays an exceptional musician in total command of his art. A key contributor to Journey, Bad English and Santana, Schon displays his impressive skills as composer, as well as guitarist, on this new solo work. He coaxes an array of seductive and stimulating tones from his instrument. On "El Matador," Schon exhibits a powerful nobility. He rocks assertively on "Airliner NS910." There's more of a meditative quality to "In A Cloud." The guitar harmonies on "Unspoken Faith" are stirring. "White Light" has a lustrous, spiritual aura. And Schon pours much emotion into "Tortured Souls." Keyboardists Jan Hammer (the famed film composer) and Igor Len, as well as drummer Steve Smith, help Schon make this album a memorable work.

DAVID CLAYTON THOMAS - "SOUL BALLADS"
The big bluesy voice of David Clayton Thomas is ideally suited to these soulful ballads. In the bars of Toronto, he honed his chops singing them. Now legendary for his stint with Blood, Sweat & Tears, Thomas revisits these classics, bolstered by a full orchestra and new arrangements. His BS&T bandmate, Lou Pomanti, skillfully produced the album. Among the highlights are Jim Weatherly's "Midnight Train To Georgia" (made famous by Gladys Knight & The Pips), Sam Cooke's "A Change Is Gonna Come," Smokey Robinson's "You Really Got a Hold on Me" and Otis Redding's "Dock of the Bay." Thomas manages to make these classic numbers his own.

SIMPLY RED - "BIG LOVE"
The English pop-soul band has been around for 30 years. And after a 2010 announcement that Simply Red was simply done, they're back. Their 11th album is polished and rich in sentiment. Front man Mick Hucknall still knows how to sell blue-eyed soul. His tender vocalizing still tantalizes. The title track is a big ballad. Among the other top tracks are the lovely "Each Day," "Love Gave Me More" and "Love Wonders," the eminently danceable "Shine On," the airily R&B "Daydreaming," and the gently jazzy "The Old Man and the Beer." Cheers, Mick! The album is simply divine.

BOOKS



DIG THAT BEAT!
By Sheree Homer [McFarland] Sheree Homer, through her impassioned writing, has long been working hard to keep interest in roots rock alive and well. She shines a spotlight on artists who pioneered the form, as well as those who carried on the tradition. In her latest book, Homer interviews a wealth of fascinating performers, drawing out all sorts of wonderful memories. Included are R&B/Doo-Wop singers like The Orlons; rockabilly greats such as Janis Martin and Ray Campi; Sun Records artists like Ace Cannon and Sleepy LaBeef; country musicians like Conway Twitty, Billy Swan, Buck Owens and Leroy Van Dyke; pop performers like Dodie Stevens; plus roots revivalists, domestic and international. After reading this book, you'll want to race to your favorite music emporium to listen to the tunes these rockers are referencing. Ready to dig that beat?! (www.mcfarlandpub.com; 800-253-2187)

MY BROTHER'S BAND A.K.A. THE BEATLES!
By Louise Harrison [Acclaim Press]


Amidst the mountain of Beatle-related books out there, this one is rather unique, not to mention immensely appealing. This is really the memoir of Louise Harrison, George's older sister. The vivacious, sincere Ms. Harrison offers a charming glimpse at family life in England in the 40s and 50s. It then shifts to the U.S., where she settled, when she married. Based in the Midwest, she played an important role in helping her brother's band, the Fab Four, achieve the same kind of fanatical response they were already enjoying in the U.K. The book goes beyond the Beatlemania, into Ms. Harrison's own interesting ventures, including political and social campaigns. But it also details her role as "Mum" to countless Beatle buffs. She states in the book that she has no intention of breaking George's trust by revealing any secrets about his private life. But all sorts of wonderful, fond insights into his character pop up throughout the pages. This is particularly true of her account of the band's first visit to the States for their "Ed Sullivan Show" appearances. She was there in New York City, witnessing the frenzy first-hand, even nursing her kid brother through a nasty bout of strep throat. Her autobiography is warm, witty and moving. If you loved George, you're sure to love Louise and her reminiscences. Read the PCC interview with Louise Harrison: popcultureclassics.com/louise_harrison.html

LITTLE ANTHONY: MY JOURNEY, MY DESTINY
By Arlene Krieger [Mascot Books]
He's Jerome Anthony Gourdine. But we know him as Little Anthony, the man with the big talent and the fantastic falsetto. Shy and insecure as a youth, he felt that people ignored him, unless he was singing. Once he opened his mouth, heavenly sounds flowed forth. "Sing, Anthony, sing," his relatives exhorted the child. And he did - at church, at home with his musical family, at parties and, eventually, on stage. On the streets of Broadway, Anthony honed his doo-wop harmonies and his three-octave R&B voice. He had all the right dance moves, too. Girls wanted him. So did tastemakers like Alan Freed, Dick Clark and Murray The K. With his group, The Imperials, Little Anthony recorded such classics as "Tears On My Pillow," "Goin' Out of My Head" and "Shimmy Shimmy Ko-Ko-Bop." He played in every sort of venue, including those on the Chitlin Circuit. On a bus tour, he encountered the KKK. But in concert, his music broke through boundaries and prejudice. There were detours - drugs and womanizing. But Anthony survived, through faith and fortitude. Along the way, a variety of legends intersected with his journey, among them, Dusty Springfield, Eartha Kitt, Elvis, Paul Simon, Bo Diddley, Jimmy Reed, Frankie Avalon, Redd Fox and Dolly Parton. Little Anthony's story is an uplifting one, skillfully told by author Krieger.

KRIS KRISTOFFERSON: COUNTRY HIGHWAYMAN
By Mary G. Hurd [Rowman and Littlefield]
Hurd's study of one of our greatest singer-songwriters offers biographical information, but more essentially, a detailed study of his work. Coming from a military background, Kristofferson became a rebel, sensing his "separateness." Like his classic line in "The Pilgrim, Chapter 33," he has always been "a walking contradiction." His primary influences are William Blake and Hank Williams. He's a Rhodes scholar turned country music outlaw. So his lyrics have both an elegance and a down-home, working man's honesty. Few songwriters have been able to convey the ache of loneliness as well as Kristofferson. Of course, Hurd looks at his classic material - "Me and Bobby McGee," "For the Good Times," "Sunday Mornin' Comin' Down" and "Help Me Make It Through the Night." But she also takes the reader through the wealth of magnificent poetry filling his albums over the decades, giving us a better understanding in the process. Besides songs of love and loss, Hurd analyzes his political material, such as "Sandinista." After stepping away from recording new material for quite awhile, Kristofferson has returned and, in his 70s, is writing some of his finest songs, grappling with issues such as aging and mortality. Now's the time to fully examine and appreciate an astonishing body of work by a timeless artist. Fans of Kristofferson or anyone who admires the art of songwriting will find the book fascinating fare.

THE STAR TREK UNIVERSE: FRANCHISING THE FINAL FRONTIER
Edited By Douglas Brode and Shea T. Brode [Rowman and Littlefield]


Yes, there have been countless books about the ongoing phenomenon that is Star Trek. But this fascinating collection of essays, assembled by Douglas Brode and Shea T. Bode, boldly takes readers where they've never gone before. The scholarly essays explore esoteric elements of the franchise, examine deep philosophical questions, dissecting the ST universe's ambitious, prescient, progressive, thought-provoking, society-changing themes. The essays travel from "Star Trek: The Original Series," through the various TV incarnations, into the recent J.J. Abrams movie reboots, touching on their offspring - toys, games, comic books and their significance. Among the subjects are "How The Franchise Imagined/Inspired Future Technologies," "Science Fiction As Social Consciousness: Race, Gender and Sexuality in 'Star Trek: The Next Generation'," "Shakespeare in Space" and "Resistance Is Futile: Cyborgs, Humanism and The Borg." Other topics include the balance of romance and realism in depicting a non-dystopian future in "Next Gen," as well as an essay on that series' relationship to Emersonian transcendentalism. "Help When Times Are Hard," by Lincoln Geraghty, displays just how profoundly fandom has been affected by "Star Trek," with the dialogue of these beloved characters sometimes taking the place of family and/or religion, as a source of solace during bereavement. Douglas Brode's brilliant introduction will immediately immerse you in the book's frame of mind. And you'll find yourself poring through the pages, enthralled, absorbing perspectives on the Star Trek universe you might never have otherwise contemplated.