DEJA RE-VU
Pop Culture Classics' Recommended CDs, DVDs and Books
By Paul Freeman


DVDs


"THE SHOPKEEPER"
Yes, we've all heard about how the music industry is changing, how bleak the financial picture is for artists and how dire the plight of recording studios is becoming. But the story has never been told in such a personal, affecting way, as in this documentary from filmmaker Rain Perry. Perry is also a gifted singer-songwriter herself (and some of her tunes are among the great collection of songs assembled for this film), so she is both knowledgable and empathetic, when it comes to the musicians' predicament. In her compelling film, many fine artists are interviewed, including Eliza Gilkyson Sara Hickman, Ani DiFranco, Tom Russell, Mark Andes, Iain Matthews and Charlie Faye. But the focal point is Mark Hallman, the "shopkeeper" who runs the longest continuously operating recording studio in Austin, Texas — The Congress House Studio. Originally from Michigan, Hallman played in garage bands in the British Invasion era. He went on to become one of the key singers and songwriters of the 70s Colorado-based band Navarro. They released a couple of albums on Capitol. They came close, but didn't find stardom. However, Carole King decided to work with them as her backing unit. Eventually she relocated to Austin. And Hallman followed. He became her producer. While backing Dan Fogelberg, Hallman flew on private jets and played hockey arenas. Her toured in a trio with Iain Matthews. As talented as he is as a musician, Hallman displays a rare genius as a producer and engineer and his focus shifted in that direction. A skilled, intuitive multi-instrumentalist, he has a deft touch at enhancing the musical visions of other singer-songwriters. And he loves what he does. Yes, a good studio needs to offer top-notch equipment and acoustics. But that's only the beginning. It's all about creating a nurturing atmosphere, building trust and rapport between staff and artist. And that's exactly what Hallman and his Congress House engineers do. Hallman serves as collaborator, friend, family, mentor to those who record at this studio. Congress House became the homey place to go to find musical magic. But with the new millennium came new technologies and a new paradigm. The documentary points out that music sales peaked in 1994 with a total of $19 billion. By 2014 that had sunk to $7 billion. Streaming was shrinking artist income. Home recording had an equally negative effect on studios. Everyone can make a recording these days. But not everyone comprehends the nuances that enable you to do it well. However, fewer and fewer artists can afford the luxury of working with a master like Hallman. Making music is one thing. Making a living is another. For some dreamers, those driven to create, financial burdens won't stem the flow of art. "Let's do music for music's sake," Hallman says in the film. "It lives. You can't kill it." Will his studio live on? The future is very much in doubt. Perry has made a film that manages to be moving and inspiring, both joyful and sad.
"DELICIOUS"
This UK mini-series does indeed provide tasty entertainment. Charismatic stars Dawn French ("Vicar of Dibley," "French and Saunders"), Iain Glen ("Game of Thrones," "Jack Taylor") and Emilia Fox ("Secret Witness") make it a must-watch. It's a saucy dramatic stew brimming with food, family, secrets and scandal. Celebrity chef Glen, married to the lovely Fox, is having an affair with first wife French, from whom he stole his most renowned recipes. In addition to the compelling relationships between the incorrigible, but charming Glen and the two women, the interactions of French and Fox prove to be quite intriguing. Dollops of dark comedy season the situations. French is convincing in a very different, subtly played role. Sheila Hancock is excellent in support, playing Glen's mum. The stunning Cornwall scenery is another plus. Special features on the new Acorn DVD release include brief behind-the-scenes chats with French, Fox and Glen.
"SAXOPHONE COLOSSUS FEATURING SONNY ROLLINS"
The 1986 documentary from filmmaker Robert Mugge delves deep into the heart and soul of jazz tenor saxophone legend Sonny Rollins. It's a fascinating exploration into the artist's creativity, spontaneity and boundless hunger to learn and grow. His gift for improvisation is examined, as is his emotional involvement with his music and his passion for performing. We see Rollins the composer, Rollins the collaborator, interacting with his fellow musicians. There's detailed coverage of Rollins' trek to Japan to perform an orchestral piece he had written. We also see him wailing with his quartet. The concert footage is riveting and interviews — including Rollins himself and Lucille, his wife/manager — are illuminating. MVD Visual's Blu-Ray release comes from a new 4k transfer (It's being offered on DVD, as well). Director Mugge's "illustrated commentary," among the special features, is enlightening. Another attraction is the inclusion of digital audio performances of Rollins' tunes "G-Man" and "Don't Stop The Carnival." Viewers of the film will listen to the man's music with a new appreciation and understanding.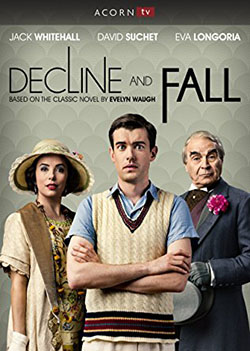 "DECLINE AND FALL"
Paul Pennyfeather's future isn't exactly looking bright. When the theology student is unfairly expelled from Oxford, the only job he can find is teaching in a dreadful school. He's supposed to be instructing his pampered charges in music, cricket and German. As he lacks knowledge of any of these subjects, hilarity ensues. Seemingly mired in the worst situation imaginable, Pennyfeather finds a spark of hope… and lust, when one student's brash and sexy American mother shows up. This BBC production captures the razor-sharp wit of novelist Evelyn Waugh's satire. And the jibes at class distinctions remain relevant. Jack Whitehall ("Fresh Meat") is a marvelous comic actor and displays ample charm in the role of Pennyfeather. Eva Longoria is a revelation as the aim of his ardor. David Suchet ("Agatha Christie's Poirot") drolly portrays the imperious headmaster, Dr. Fagan. In the Acorn Media bonuses, cast and crew discuss the process of adapting Waugh's work to screen.
"MURDOCH MYSTERIES" - SEASON 10
Apparently Victorian-era Toronto was a very dangerous place. Thank goodness they had the brilliant criminologist Detective William Murdoch and his extraordinary team to solve the plethora of brutal murders. Acorn has just made available the beloved, award-winning Canadian series' 10th season, all 18 episodes, on five DVDs or four Blu-Ray discs. As in previous seasons, every episode is thoroughly engaging. Murdoch utilizes cutting edge scientific methods — such as fingerprints and blood samples — to solve the crimes. The clever plots will keep viewers guessing. Cases include a dead debutante, a poisoned philanderer, a slain soccer player, a ruthlessly killed roller skating champ, a shamefully slaughtered show dog and a barbarous burlesque dancer. A young H.P. Lovecraft pops up in one of the stories. As Murdoch, Yannick Bisson, like the show itself, radiates low-key appeal. Fine in support are Hélène Joy as skilled pathologist Doctor Julia Ogden, Thomas Craig as Inspector Brackenreid, Murdoch's whisky-sipping, traditionalist superior, Jonny Harris as the earnest Constable George Crabtree and Mouna Traoré as morgue assistant Rebecca James. There's more to life than murder, so, during this season, we discover intriguing new elements of the regulars' personal lives. Guest stars include Samantha Bond ("Downton Abbey") and Ari Millen ("Orphan Black"). Series devotees will appreciate the bonus featurettes.
"EFFECTS"
This low-budget horror film was shot in the Pittsburgh area in 1978, but didn't see the light of day until a 2005 DVD release. It's a grindhouse gem. Now American Genre Film Archive (AGFA) has released a new 4K transfer from the only existing theatrical print. The Blu-ray version looks fantastic. The film was written and directed by Dusty Nelson ("Necromancer") and stars two George A. Romero pals, Tom Savini (special makeup effects whiz of "Dawn of the Dead" and "Maniac" fame) and John Harrison (who scored Romero's "Creepshow"). The plot involves a slasher flick shooting in Pennsylvania. But unbeknownst to the rest of the cast and crew, the director is actually making a snuff film. "Effects" proves to be strange, edgy and darkly entertaining.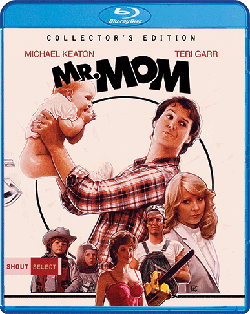 "MR. MOM"
Post-Batman Michael Keaton has developed into a heavyweight, Oscar-nominated dramatic actor. But back in the 80s, he was the master of comedic acting, bringing an irresistible, smirky charm to such appealing movies as Ron Howard's wicked, yet warm "Night Shift" and Tim Burton's wildly quirky "Beetjuice." In 1983, Keaton starred in one of his lightest and sweetest comedies, "Mr. Mom," directed by Stan Dragoti and written by none other than John Hughes. Keaton plays an unemployed Detroit engineer who becomes a stay-at-home dad, caring for three kids and handling a myriad of household chores. His wife (winningly played by the always adorable Terri Garr) meanwhile, goes back to work in the advertising world. Both face rising complications. Keaton and Garr display a delightful chemistry. And there are memorable comic turns from Ann Jillian, Christopher Lloyd, Martin Mull, Jeffrey Tambor, Miriam Flynn and Patti Deutsch. While the gender role reversal situation no longer plays as fresh and novel, the film is still quite cute and amiable. Shout! Factory has made "Mr. Mom" available on Blu-Ray and it's well worth picking up. Included in the bonus features is a new featurette looking back on the making of the movie. Among those interviewed are producer Lauren Shuler Donner and cast members, including Jillian and Flynn.

CDs


LAETITIA SADIER SOURCE ENSEMBLE - "FIND ME FINDING YOU"
Since Stereolab debuted in 1991, Laetitia Sadier has been making consistently captivating music — sounds that always seem fresh and true, inventive and relevant. Whether her subject is political, philosophical, whimsical or amorous, her music always shines. With echoes of sunshine pop, psych, electronica, vintage French pop, Brazilian music and German new wave sounds, Sadier again finds her own niche with "Find Me Finding You." Recording as Laetitia Sadier Source Ensemble, she's joined her by French drummer Emmanuel Mario, Brazilian bassist Xavi Munoz, keyboardist Phil M FU and filmmaker/musician David Thayer on flute and keys. This new album brims with surprises and diverse delights. The opener, "Undying Love for Humanity," is a fabulous track. Sadier's voice has never sounded better and the rhythms and instrumentation are mesmerizing. Alexis Taylor (Hot Chip) duets with Sadier on "Love Captive," a ballad that wishes for freedom within a love relationship. Sadier is a brilliant songwriter, as displayed in "Double Voice, Extra Voice" and "Deep Background." Another of the top tracks, "Reflectors," incisively and intelligently offers socio-political commentary. There's a sense of spontaneity in Sadier's music. You can never be sure what direction it's going to take next. And that keeps listeners ears perked up. She makes fascinating choices in terms of melody, lyrics, instruments and rhythms. She's not afraid of experimentation. Sadier's vibrant vocals, warm or cool, always entrance. She has long been one of our most intriguing, arresting indie-pop/rock artists. In her work with Stereolab and Monade, and then in all of her solo outings, Sadier has been a gentle force of creativity and integrity. And her artistry continues to blossom. Sadier takes listeners on another of her incredibly imaginative musical trips. These are sounds well worth exploring.
JAN & DEAN - "FILET OF SOUL REDUX"
We Jan & Dean completists were thrilled to learn that Omnivore Recordings was going to release the long-buried original version of the surf-rock duo's "Filet of Soul," album. To fulfill their recording company contract, Jan Berry and Dean Torrence owed one more album. Ready to move on to greener pastures at a new label, they turned in this bizarre music-and-comedy project. The record company, stunned, rejected it. The company ended up re-editing the messy, merry, madcap melange into an acceptable, pleasant package of mostly live material, mostly covers of pop hits. This rejected version would have baffled and upset Jan & Dean's teen fans. So it was consigned to the vaults. Now we can hear what so offended the suits. It takes snippets of concert performances — backed by a group that includes members of the Wrecking Crew, like Tommy Tedesco and Hal Blaine — and intermingles them with botched jokes, impressions and absolutely insane sound effects, including breaking glass, boos, retching, belching and hysterical giggles. But there are a few actual chuckles to be had. And there's some pleasing music, when the craziness isn't abruptly interrupting. The duo delivers credible interpretations of songs like "Lightning Strikes, "1-2-3," "Cathy's Clown," "Norwegian Wood," "You've Got to Hide Your Love Away" and Michelle," as well as their own "Honolulu Lulu" and "Dead Man's Curve." Berry was a production genius, so we have to shake our heads at the intentional disarray that comprises this strange album. On this "Rejected Master Recordings" release, the CD itself bears the title, "Filet of Shit." Jan & Dean were certainly never averse to self-deprecating humor, spoofing their own image. And it definitely sounds as if the guys in the studio were having a jolly old time making this record. It's a celebration of silliness. Not long after the cleaned-up, commercially viable, official "Filet of Soul" came out, with the duo still near the peak of popularity, Berry tragically totaled his Corvette on Dead Man's Curve and suffered permanent injuries. But "Redux," from the original master recordings, for all its mind-boggling weirdness, stands as a curious testament to the duo's unique, off-beat sense of fun.
ISABELLE FAUST, FREIBERGER BAROCKORCHESTER AND PABLO HERAS-CASADO - "MENDELSSOHN: VIOLIN CONCERTO - SYMPHONY NO. 5 & THE HEBRIDES"
This album is part of the harmonia mundi series, "Die Neue Romantik," featuring conductor Pablo Heras-Casado collaborating with Freiburger Barockorchester and elite level guest soloists. This time it's the brilliant violinist Isabelle Faust who steps into the spotlight. Faust's technique is extraordinary. And there's marvelous self-assurance in her interpretations. Her touch on Felix Mendelssohn's violin concerto is delicate in all the right places and passionate when it needs to be. She displays fluidity and elegance as she complements the orchestra. She seems to play even the most challenging passages with the greatest of ease. Freiburger Barockorchester's performance of the stormy Hebrides overture builds drama. In key energetic segments of Symphony No. 5, Heras-Casado heightens the sense of urgency, emphasizing the brass. As the piece rises to its powerful third movement climax, he brings a clarity, a joyfulness, a celestial, celebratory feeling to the composer's masterful work.
A.J. CROCE - "JUST LIKE MEDICINE"
The son of the revered Jim Croce has carved out an impressive career of his own as a singer-songwriter. He has come up with an outstanding collection of songs for his latest album, "Just Like Medicine." He delivers them with earthy, soul-packed vocals and cool keyboard work. There's a dark, bluesy feel that will rivet you on the opening number, "Gotta Get Outta My Head." A New Orleans flavor enhances "Full Up." "Move On" is a beauty. "I Couldn't Stop" is movingly confessional. The legendary Steve Cropper brings his guitar magnificence to "The Heart That Makes Me Whole," which is also fueled by Muscle Shoals horns and a fierce funk vibe. "Hold You" is equally gripping in its own way. Croce co-wrote that song with Leon Russell. Understated gospel influences bring an extra dimension to songs like "The Other Side of Love." Another of the memorable numbers here is "Name of the Game," a previously unreleased song written by his dad. Vince Gill adds to the magic of this rousing track. The intensely swirling "The Roads" is the end of the line for this album. But with this ninth release, Croce shows that is making leaps along the path to musical greatness.
JUDY DYBLE & ANDY LEWIS - "SUMMER DANCING"
Judy Dyble, the founding vocalist with Fairport Convention (and also briefly part of the band that evolved into King Crimson), returned from obscurity in 2009 with a fantastic prog-folk album titled "Talking with Strangers." Now the British artist is back with another brilliant acid-folk rock record, "Summer Dancing," teamed with DJ/producer Andy Lewis (who has played bass with Paul Weller). Propelled by Dyble's sweet, gentle, earnest vocals; magical melodies, as well as intriguing lyrics and imaginative, often haunting production, the songs will linger in the minds of listeners. There's a wistful, psychedelic enchantment to such tracks as "Up The Hill," "No Words," "A Message," "Night of a Thousand Hours," "A Net of Memories (London)," "Treasure," "My Electric Chauffeur" and "Such Fragile Things." "The Weathermonger" is an otherworldly wonder. The album has a timeless air. It has late 60s/early 70s sensibilities, but also sounds very modern. It's a collection of lovely songs that will transport you.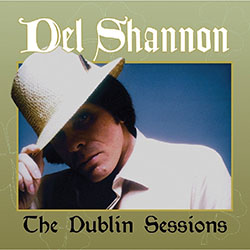 DEL SHANNON - "THE DUBLIN SESSIONS"
This is an unexpected treat for rock 'n' roll buffs. Del Shannon, with his piercingly potent voice and driving, twangy guitar style, wrote and recorded such 60s classics "Runaway," "Hats Off to Larry," "Little Town Flirt," Keep Searchin'" and "Stranger in Town." Though he was much ignored by the end of the decade, he continued to make great records. This enjoyable, rootsy, back-to-basics album, previously available only as a bootleg, was recorded in Ireland, in 1977, with his UK touring band. It gets off to a churning start with "Best Days of My Life." Next comes an easy-going, but rocked-up version of the old pop standard "Love Letters." Shannon's own moving, midtempo ballads, "Till I Found You" and "Raylene" are among the album's highlights. "Another Lonely Night" is an emotion-packed powerhouse. "Amanda" is pretty and pleasing. His tunes "One Track Mind" rocks it up. "Love Don't Come Easy" is Shannon's most sophisticated and complex composition here. There are also strong covers of Roy Orbison's "Oh, Pretty Woman" and Los Bravos' "Black is Black," as well as a heartfelt rendition of Merle Haggard's "Today I Started Loving You Again." Not long after a comeback with Traveling Wilburys, Shannon died of a self-inflicted rifle wound in 1990. His music lives on. Thank you, RockBeat Records for releasing "The Dublin Sessions," thus adding to his legacy.
JANE'S ADDICTION - "RITUAL DE LO HABITUAL ALIVE AT 25"
All the excitement of the band's 2015 20-city "Sterling Spoon Anniversary Tour" is captured on Blu-ray, DVD, CD and vinyl. The lineup of Perry Farrell, Dave Navarro, Stephen Perkins and Chris Chaney dynamically delivers their entire 1990 breakthrough album, "Ritual De Lo Habitual," as well as some of the band's other big hits. The material spans their 30-year career. The band sounds tight and full of fire. Among the highlights of the intense, dramatic, thrill-packed set are "No One's Leaving," "Been Caught Stealing," "Just Because," "Jane Says" and the moody change-of-pace "Then She Did…" Jane's Addiction's alt-rock music is powerful, personal and poetic. This release will help rock fans stay addicted to this band for decades to come. The sound is fantastic and, on Blu-ray, the show looks spectacular.
"KURT VONNEGUT'S GOD BLESS YOU, MR. ROSEWATER" (PREMIERE CAST RECORDING)
This show, based on Kurt Vonnegut's novel, was the first collaboration between composer Alan Menken and lyricist Howard Ashman. It's the story of a millionaire, Eliot Rosewater, who, inspired by the idealism of novelist Kilgore Trout and a lot of booze, decides to spend his fortune on a long-suffering town. However, greedy opponents plot to thwart him. Originally presented off-Broadway in 1979, for a brief run, it was recently revived for a semi-staged concert at New York's City Center. Fortunately, the performance was recorded and has now been released by Ghostlight Records. Several of the songs, including "Thirty Miles From the Banks of the Ohio," "The Rosewater Foundation" and "Plain Clean Average Americans," are strikingly relevant to our current social issues. Santino Fontana is outstanding, singing the role of Eliot Rosewater. "Dear Ophelia" is one of his memorable moments. James Earl Jones brings his sonorous voice to a number called "A Poem by William Blake." The rest of the cast is excellent, as well. Menken's score is diverse and delightful. Ashman's lyrics are wonderful throughout — clever, insightful and, on numbers like "Thank God for the Volunteer Fire Brigade," quite amusing. The original cast recording will make you wish for a full-scale production of this musical.
PAUL KELLY - "LIFE IS FINE"
Australia's Paul Kelly is back with a fine set of R&B-flavored rock tunes. The new album harkens back to his artistic zenith in the mid-80s. His songwriting is again in top form. And his voice is emotional and evocative. Top tracks include "I Smell Trouble" and "Life is Fine," as well as two numbers co-written with Bill Miller — "Rising Moon" and "Rock Out on the Sea." Another co-write with Miller, "Leah: The Sequel," is a clever reworking of a Roy Orbison classic. There's a lilting touch of whimsy in "Josephina." Kelly's background singers get a chance to shine with lead vocals — Vika Bull on the torchy "My Man's Got a Cold" and Linda Bull on the engaging "Don't Explain." The subject matter on the album spans many moods and ranges from love to loss to contrition, all of it dealt with eloquently by Kelly.
STEVE WINWOOD - "WINWOOD - GREATEST HITS LIVE
British singer-songwriter Steve Winwood has dipped into his rich musical history and come up with fresh, exciting live renditions of many of his best loved tunes. The 23-song collection is available in two-CD and four-LP packages. Winwood's distinctive voice is as soulful as ever and his phrasing, on vocals and keyboards, is sensationally rhythmic. The set goes all the way back to his days as lead singer of The Spencer Davis Group. "I'm a Man," with some cool Winwood Hammond B3 organ runs, lays down an infectious, jazzy, funk-filled groove. World music influences also flow into the new interpretations. Yes, the irresistibly rockin' "Gimme Some Lovin'" is here, too. His work with the band Traffic is also reexamined, as on a lusciously low-key "Low Spark of High Heeled Boys" and the undulating "Dear Mr. Fantasy." Another highlight comes with a powerful performance of the Blind Faith number, "Can't Find My Way Home." A flute interlude helps "Fly" to breezily, wistfully glide. Winwood's solo smashes are here, too, such as the ascendant "Higher Love" and lovely, Americana-inflected "Back in the High Life Again," which Winwood co-wrote with the great Will Jennings. Other top tracks include "Medicated Goo," "40,000 Headmen," "John Barleycorn," "Arc of a Diver" and "Roll With it." Though Winwood mostly focuses on his swirling keys, he occasionally whips out the guitar for his own hot licks on that instrument, as well. Fantastic musicians back WInwood throughout. This is an amazing collection, recalling an amazing career.
THE RASPBERRIES - "POP ART LIVE"
In the 60s, the Merseybeat sound brought an overpowering excitement to the music scene, with its sweet harmonies, chiming guitars, electric energy and endless joy. As the decade was ending, that spirit was fast fading. But in the early 70s, it was resurrected brilliantly by an American band, The Raspberries, and their McCartneyesque front man, Eric Carmen. The Raspberries served up tasty rockers like "I Wanna Be With You," "Go All the Way," "Let's Pretend," "Tonight" and "Overnight Sensation (Hit Record)." The original lineup reunited in 2004 for a tour, their first live performances in 32 years. Omnivore has released a live double-CD package capturing that Raspberries resurgence. It features all of the aforementioned hits, as well as zestful covers of The Who's "I Can't Explain" and The Beatles' "Baby's in Black," "No Reply" and "Ticket to Ride." Other highlights include the gentler "I Saw The Light" and "Starting Over." The band is clearly having a blast performing this music again. So is the appreciative crowd. A terrific set.
"ARTHUR ALEXANDER"
There's a rare combination of purity and a power in the voice of soul singer Arthur Alexander. He should have become a household name. He did influence many top musicians of his time. And now, Omnivore has re-released his self-titled album, adding six bonus tracks to the original dozen. Alexander's debut album came out in 1962. This one arrived 10 years later and it was worth the wait. With a strong country feel (Steve Cropper, Donnie Fritts and Billy Swan are among those who turn up in the songwriting credits here), this collection is filled with top-notch songs and robust performances. Alexander's vocals reveal profound emotions. "Burning Love" later became a massive hit for Elvis. But the version here packs plenty of fire. Alexander penned a number of the best numbers, including "Go On Home Girl" and "In The Middle of It All." He co-wrote several other memorable songs, such as "Love's Where Life Begins" and the gospelish "Thank God He Came." The bonus tracks are equally impressive. Alexander recorded one more album, issued in 1993, the year he died of a heart attack at age 53. The re-release brings a golden opportunity to rediscover an artist worthy of far more attention.
COCO MONTOYA - "HARD TRUTH"
The blues-rock great returns with another top-notch effort. This Alligator Records release smokes from beginning to finish. Montoya's vocals and guitar work are equally strong and emotion-drenched throughout. He and the terrific band get things off to a sizzling start with "Before The Bullets Fly" (which you might remember from an Allman Brothers recording) and "I Want to Shout About It." "Lost in the Bottle" is a powerful number with a bit of a country flavor. "The Devil Don't Sleep" is another searing number. "Hard as Hell" and "'Bout To Make Me Leave Home" (well known as a Bonnie Raitt staple) are mighty, muscular numbers. When Montoya slows things down a bit, as on Teresa James' "I'll Find Someone Who Will," the effect is just as powerful. He works wonders with Johnny Taylor's Where Can a Man Go From Here?" and Marshall Chapman/John Hiatt's "Old Habits are Hard to Break." The closer, "Truth Be Told," one of the numbers he co-wrote, surges with an R&B-inflected swagger. Montoya, who worked with such legends as Albert Collins and John Mayall, proves once again that he belongs among the elite of the genre.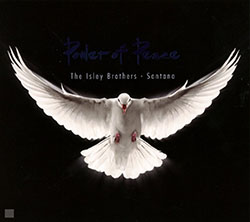 ISLEY BROTHERS/SANTANA - "POWER OF PEACE"
Theres soulful power aplenty when Ronald and his brother Ernie Isley team with Carlos Santana, friends and more family members for this standout, uplifting Legacy Recordings release. The opening number, The Chambers Brothers' "Are You Ready," crackles with energy. Later, another Chambers Brothers tune, "Love, Peace and Happiness," reaches great heights. The Isleys and company deliver fiery funk in "Total Destruction to Your Mind" and serve up a throbbing rendition of Stevie Wonder's "Higher Ground." They imbue the Eddie Kendricks classic "Body Talk" with intensity. The Isleys take a tender turn on the ballad "I Remember," penned by Cindy Blackman Santana (Carlos' wife). She sings it very movingly with Ronald. Deep emotion is also tapped into for Marvin Gaye's "Mercy Mercy Me (The Ecology)." Billie Holiday's "God Bless The Child" is touching, as well. Gospel and jazz elements enhance Bacharach & David's "What The World Needs Now." The album closes with the gentle "Let There Be Peace on Earth." Santana's contributions tastefully complement the Isleys' style, never trying to dominate on guitar. He has several sizzling solos, however. And he adds some lusciously sweet licks to Curtis Mayfield's "Gypsy Woman." This entire collection of songs takes flight spiritually, soaring with strong vocals and pleasing arrangements.
VARIOUS ARTISTS - "ICONIC PERFORMANCES FROM THE MONTEREY INTERNATIONAL POP FESTIVAL"
June marked the 50th anniversary of the original Monterey International Pop Festival. And this new 13-song album, courtesy of the Monterey International Pop Festival Foundation, reminds us just how important this event was, presenting a diverse roster of some of the 60s' most exciting and influential artists. For several of them, this was their breakthrough moment. The goodies in this package include a 16-page booklet. The album opens the us-versus-them anthem, "For What It's Worth" and Stephen Stills and his Buffalo Springfield mates deliver it in spine-tingling fashion. The Paul Butterfield Blues Band wails "Drifting' Blues." The Grateful Dead offers a lively "Cold Rain and Snow." On "Sounds of Silence," Art Garfunkel's sublime harmonies wrap themselves warmly around Paul Simon's melodic lines. Laura Nyro 's emotive voice and dramatic lyrics make "Poverty Train" a powerful statement. The Electric Flag gets cooking on the heady "Wine." Grace Slick's forceful vocal fuels Jefferson Airplane's gripping live rendition of "White Rabbit." Janis Joplin, backed by Big Brother & The Holding Company, holds listeners enthralled on "Ball and Chain." The Who brashly present an explosive "My Generation." South African trumpeter Hugh Masekela, who had fled apartheid, serves up a quirkily jazzy "Bajabula Bonke (The Healing Song)." "I've Been Loving You Too Long (To Stop Now)," is a knockout, as sung by the immortal Otis Redding. It would be difficult to top The Jimi Hendrix Experience's "Like A Rolling Stone," but somehow it's fitting that the closing number is The Mamas and The Papas "California Dreamin'." Monterey Pop captured the magic of the era's music. There was a joy to the event that can't be replicated, but should be celebrated.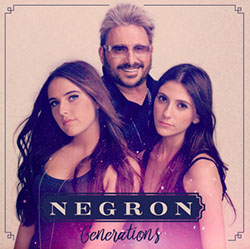 NEGRON - "GENERATIONS"
Chuck Negron, one of the trio of magnificent lead singers in Three Dog Night, battled through years of self-destruction and illness. Now healthy and strong, 26 years clean and sober, he has been reborn, musically and spiritually. At 75, that penetrating, soul-searing voice is wondrously intact. The pop-rock legend fulfills a dream by releasing an album recorded with his two youngest daughters Charlie, 23, and Annabelle, 16. A redemptive, joyous fervor suffuses the R&B-infused tracks. One of the most spellbinding songs is the passionate "I'm Sorry," written by Negron. He wrote several of the other winners here, including the driving "So Rude." His girls provide enchanting harmonies and ably take the lead in places, their spotlight number being The Ronettes' "Be My Baby/Do I Love You." As a bonus, three previously unreleased 1970s Three Dog Night tracks are included, featuring Cory Wells and Danny Hutton, along with Negron. This material sounds great and definitely deserved to be unearthed. And it's great that Negron is still making music that rocks and resonates.
PURPLE FOX AND THE HEEBIE JEEBIES - "MY PURPLE FOX'
Purple Fox and The Heebie Jeebies make slyly infectious music that will keep kids and their parents smiling and dancing. This is not your grandmother's children's music. Frontman Josh Friedman and his exuberant Silicon Valley-based band perform clever, percussive songs flavored with funk, hip-hop and rock. There are hot horns, cool guitar riffs, palpitating bass lines and snappy drum work. Among the tracks that will instantly grab listeners are "Red Hot Lava," "Live Like a Champion," "Sugar," "I Love You Infinity" and the title track. Kids voices occasionally pop up, adding to the charm. The album is bursting with fun and energy.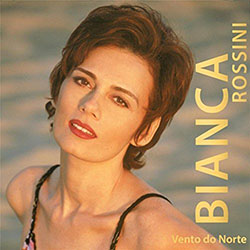 BIANCA ROSSINI - "VENTO do NORTE"
The beauty of Bossa Nova is back, courtesy of Rio de Janeiro native Bianca Rossini. Her third album is warm, winning and wonderful. Among the gems here are "Paris in Beverly Hills," "Ipanema Paraiso," "Doce Amor," "Why I Smile" and the title track. Subtly seductive rhythms and impeccable instrumentation complement the lovely and alluring melodies. Singing in both Portuguese and English, Rossini's voice is soft and sensual, sophisticated and sublime. Though she draws from classic Bossa Nova tradition, Rossini delivers the music with a fresh, contemporary feel. Every track here (and Rossini co-wrote thee of the tunes and penned the lyrics for all 10 of these originals songs) proves to be endlessly engaging. With "Vento Do Norte" (which translates as "North Wind"), she breezes along with authentic emotion and silky intimacy. Now based in Los Angeles, Rossini, who has also earned recognition as an actress, model, poet, author, arts columnist and talk show host, clearly has earned a place among the top Bossa Nova artists of the day.

BOOKS


MEOW! MY GROOVY LIFE WITH TIGER BEAT'S TEEN IDOLS
By Ann Moses with Ann Wicker [for autographed copy, go to annmoses.com]
She was living the dream! In the 60s, what teen didn't fantasize about meeting their British Invasion heroes? The teenaged Moses wangled her way backstage at a Dave Clark 5 concert, interviewed the affable, adorable lads and soon found herself a mainstay at Tiger Beat. She became the youngest editor of a national magazine. The book documents her remarkable personal journey and it's a delight for those who cherish the music and personalities of the era. The innocent young woman found herself in the full swing of the pop music whirl. Performers propositioned her and offered the drugs du jour. But Moses managed to keep herself on track. And the magazine played a large role in dictating which music and merchandising would be embraced by its teen readers. Moses went on tour with the Raiders and regularly spent time on the NBC set of "The Monkees." She attended a Mamas and Papas recording session and a Led Zeppelin rehearsal. She flew to San Francisco with the Airplane and caught a Stones concert (with full access, of course). She was there at the Monterey Pop Festival. Friendships developed. Most of the artists treated Moses like a sister. Kindness was exhibited by such stars as Davy Jones and Bobby Sherman. Of course there were the rare displays of boorish behavior, notably by Michael Nesmith and Michael Parks. But most of Moses' remembrances are fond. She had interactions with diverse performers, including David Cassidy, Harry Nilsson, and yes, there were even close encounters with Elvis. There was a much closer encounter with Maurice Gibb. That meaningful relationship began as a storybook romance, but eventually turned into a nightmare for Moses, who learned the Bee Gee was simultaneously hot and heavy with Lulu. But she cherishes most of her memories… and so will the readers. "Meow" is a warmly written, winning memoir.
PLAYBOY LAUGHS: THE COMEDY, COMEDIANS, AND CARTOONS OF PLAYBOY
By Patty Farmer [Beaufort Books]
In the 50s, 60s and 70s, Playboy was the hub of activity for progressive ideas. Hugh Hefner supported artists fomenting social and sexual revolutions. And that extended to comedy. This informative and enjoyable book by Patty Farmer gives readers an overview of the stand-up phenomenon, from its roots in vaudeville and burlesque to the Catskills, moving through daring club comics like the political Mort Sahl and the high-risk Lenny Bruce. Hefner never shied away from a battle with the puritanical elements of society, so he unwaveringly supported the controversial and persecuted Bruce. Farmer's coverage continues into more modern laugh-getters, like George Carlin. Hefner's Playboy Clubs not only showcased the top comedians, but provided launching pads for tons of new talent. You'll find stories about, or recollections from, a diverse collection of performers, old school and newer wave, including Shecky Greene, Myron Cohen, David Brenner, Larry Storch, Tom Dreesen, Jackie Gayle, Joe E. Lewis, Fred Willard and Professor Irwin Corey. The Playboy Clubs paved the way for Dick Gregory to reach white audiences. He details how Hefner helped in the struggle to forge a more open and equitable society. And Hefner, despite the magazine's image, promoted equality for women. Ground-breaking comediennes like Phyllis Diller, Lily Tomlin and Joan Rivers benefited. Ever the hospitable host, Hefner showcased comics not only at his clubs, but on his TV shows "Playboy's Penthouse" and "Playboy After Dark." Farmer also explores the humor Hefner featured in the magazine itself, particularly the cartoons of artists like Shel Silverstein, Jules Feiffer, Don Orelek, Clive Collins, Dean Yeagle and Doug Sneyd. With this book (a followup to her 2015 volume "Playboy Swings"), Farmer serves up a fun-fueled read that offers insights into the multifaceted world of Playboy and our nation's parade of popular humor.
THIS IS THE NOISE THAT KEEPS ME AWAKE
By Garbage with Jason Cohen [Akashic Books]
This sumptuous new coffee table book is a dream come true for fans of the rock band Garbage. It's all here — the wild adventure that is Garbage. All of the ups and downs are recounted. In stories, anecdotes, essays, interviews and rare photographs, the four band members (teaming with music journalist Jason Cohen) chronicle the dynamic group's history, which spans more than 20 years. The title comes from the lyric in Garbage's song "Push It." You'll find out tons you didn't know about Shirley Manson, Duke Erikson, Steve Marker and Butch Vig, including their path to forging a distinctive sound, the songwriting, the production process, details about the recordings, videos, fashions, favorite songs, cocktail recipes and extracurricular activities, such as Manson's stint on the TV series "Terminator" and Butch Vig's "Bad Boyfriend" wine. Through it all, the band remained defiant survivors, making their music, their way. And they're still doing it. Garbage collectors will be bowing down in gratitude to Akashic Books for this frank, in-depth, treasure-filled volume.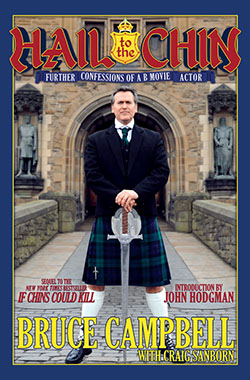 HAIL TO THE CHIN: FURTHER CONFESSIONS OF A B MOVIE ACTOR
By Bruce Campbell and Craig Sanborn [Thomas Dunne Books]
There's much more to Bruce Campbell than just a pretty chin. That heroic, historic jawline isn't nearly as impressive as this actor's fertile mind, off-kilter sensibility and wonderfully weird sense of humor. All are very much in evidence in his latest book. It's a sequel to the bestselling "If Chins Could Kill." The new one gives us his "Act II," picking where the first one left off, around 2001. Whether talking about his colorful career or his adventurous personal life, the maverick Campbell is always amusing. Forsaking Hollywood and moving to the rugged, rural Pacific Northwest, cattle herding, comic conventions or even car crashes and jury duty can be funny, as filtered through Campbell's razor-edged brain. And his career has taken wild swings, from unrated horror flicks to Disney movies to superhero blockbusters. Talk about versatility! He offers great anecdotes about the "Spiderman" films he graced with cameos, courtesy of his buddy, director Sam Raimi. And there are hilariously horrific stories about directing "Man with the Screaming Brain" in Eastern Europe. Fans will enjoy his detailed accounts of his time playing Sax Axe on the long-running USA Network series "Burn Notice" and his return to his favorite franchise with the current STARZ show "Ash vs. Evil Dead." When it comes to chainsaw-handed demigods, Campbell is the best, bar none. Studio producers might still have Campbell marked as a B-list actor. But he earns an A+, when it comes to entertaining readers. His pleasing personality is splashed across every page.
APPROACHING TWIN PEAKS: CRITICAL ESSAYS ON THE ORIGINAL SERIES
Edited by Eric Hoffman and Dominick Grace [McFarland; www.mcfarlandpub.com; 800-253-2187]
With Showtime's new season of a revived "Twin Peaks" having just concluded, the show's devotees are buzzing, sifting through different opinions and perspectives on a series that baffles as much as it intrigues. This new collection of essays on the original series will enrich and expand their discussions and debates about one of television's most controversial, confounding, innovative and bizarre shows of all time. Creators David Lynch and Mark Frost brought the groundbreaking "Twin Peaks" to life on ABC in 1990. It was an instant sensation. Eccentric characters, shocking moments, eclectic sets, stunning visuals and striking landscapes fascinated audiences and critics. But some confused viewers, becoming increasingly aware that they were watching neither murder mystery nor soap opera, but something entirely classifiable, began to gradually tune out. The show, wending its way beyond human consciousness, ran for only two seasons initially. A prequel feature film, "Twin Peaks: Fire Walk With Me" was released. That, too, is covered in essays here. The topics touched upon in the essays include the show's evolution as it went along, its surrealism, the evil, the supernatural and science-fiction elements and the dream/nightmare/hallucination-versus-reality component. There are essays focusing on spiritual ambivalence, and even Post-Christian Dissociative Rhetoric — not your common water cooler topics. One essay is titled "The Lucifer Effect and Domestic Violence in 'Twin Peaks' and 'The Shining.' Another is called "How 'Twin Peaks' Brought Viewers Existential Mobsters and Advertising Doppelgangers." "Twin Peaks," a cult series that constantly defied convention, will continue to be watched and re-watched, analyzed and dissected, as viewers try to grasp the show's deepest meanings. And this scholarly collection will open up many new realms of exploration.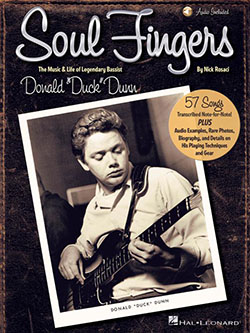 SOUL FINGERS: THE MUSIC & LIFE OF LEGENDARY BASSIST DONALD "DUCK" DUNN
By Nick Rosaci [Hal Leonard]
Hal Leonard has published a book that will make music fans salivate — bass aficionados and players in particular. This volume commemorates the life and music of the incredibly influential Stax bassist Donald "Duck" Dunn. A fixture of the Memphis scene, he was a member of Booker T. and the M.G.s. As a studio musician, he played on thousands of records, creating legendary grooves. His melodic, rhythmic lines helped drive the music of such artists as Elvis, Stevie Nicks, CSNY, Bob Dylan, Eric Clapton, Tom Petty, Otis Redding, Sam & Dave and Albert King. The introduction to this book was contributed by Dan Aykroyd — Dunn backed him and John Belushi in "The Blues Brothers" movie. The book presents the Rock and Roll Hall of Famer's dramatic history, as well as lots of rare photos and great anecdotes. There are also note-for-note transcriptions of almost 60 of Dunn's classic bass lines. Your purchase of the book also gives you online access to audio, which you can stream or download. The player allows you to slow down audio without changing pitch, set loop points, change keys, and pan left or right. Split-channel tracks separate the bass part so you can either isolate the bass to study it solo or remove it to play lead with the backing tracks.The book's author, researcher Nick Rosaci, is a bass player himself. And he had help from Dunn's friends, family and musical compatriots in compiling this book, which could help shape a new generation of bassists.