DEJA RE-VU
Pop Culture Classics' Recommended CDs, DVDs and Books
By Paul Freeman


DVDs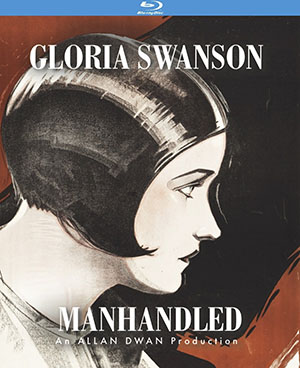 "MANHANDLED"
This entertaining 1924 Gloria Swanson vehicle has just released on Blu-ray and DVD by Kino Classics. The comedy will be prized by aficionados of silent film. Swanson displays her screen magnetism. In this picture, she gets to show off her comedic gifts through expressions, gestures and even pratfalls. Shedding her usual glamorous image, she plays Tessie, a gum-chewing shopgirl with a flapper-style hairdo. Tessie is weary of her humdrum existence, toiling in department store. It's a grinding, chaotic job. She craves fun and excitement, but her mechanic boyfriend (Tom Moore) is too busy working on his potentially revolutionary automobile invention to take her anywhere. When the rebellious, impatient Tessie is invited to a posh party, she can't resist the temptation. It can be awkward for the hoi polloi to mix with the elite and artistes. But Tessie soon finds herself in great demand. Opportunities are presented. While impersonating a Russian countess, she's wearing fancy garb and experiencing the high life. But she ignores the perils inherent in these encounters. Lascivious, duplicitous men abound. And soon Tessie is being "manhandled." You'll spot Frank Morgan in the film. But this is a far cry from his later stint as the Wizard of Oz. Often cast as an endearingly befuddled comic con man, in this one Morgan deftly portrays a smooth gentleman who may or may not want to take advantage of the beguiling Tessie. Lilyan Tashman has a nice bit as Tessie's naughty pal. Ann Pennington, of the Ziegfeld Follies, has a cameo as herself. With humor and understanding, the film explores the struggles — economic and social — faced by a young, working woman in the city, in the 1920s. The elements of class distinctions and women's issues give the film added resonance today. And it's a wonderful time capsule, giving glimpses into New York life in that era. Particularly memorable is a very funny subway sequence, brilliantly executed by director Allan Dwan. And we view women's clothing outlets from bargain basement to haute couture. Be sure to rewatch the film with Kino Classics' informative, perceptive commentary by film historian Gaylyn Studlar. The enclosed booklet is also enlightening. Another bonus is the charming piano score composed and performed by Makia Matsumura. This release of "Manhandled" — a brand new 2K master assembled from the surviving 16mm film elements — offers pleasures galore.
"STAGE STRUCK"
Kino Classics has made another terrific Gloria Swanson/Allan Dwan collaboration available on Blu-ray and DVD. It's the affable comedy "Stage Struck." The film looks great in this newly mastered version, created from 35mm film elements preserved by the George Eastman Museum. The opening segments, in the original two-strip Technicolor, are spectacular. Swanson parades around haughtily as the greatest actress in the world, worshipped by all. The sets and costumes in these scenes are stunning. Then the film changes to black-and-white, as we see that the previous portion was all a fantasy and now we're plunged into the dingy world of Jenny, a beleaguered, but spunky waitress in a bustling diner. She has a crush on the cook, Orme, who attracts giggling girls to the eatery's front window to watch his flapjack-flipping skills. Orme has a fascination with actresses. Jenny, whom he dismissively calls "Mouse," therefore wants to go into acting, to get his attention. Swanson, whether she's manning a griddle, botching her makeup or plucking her eyebrows, garners guffaws. A scene in which she's a "Masked Marvel," putting on a boxing exhibition on a showboat, facing an opponent a foot taller, is hilarious. Swanson demonstrates the kind of slapstick talents that Lucille Ball excelled in 30 years later on TV. And the tall Gertrude Astor is perfect as the other boxer, who's also the showboat's arrogant theatrical attraction and the target of Orme's amorous whim. The picture's enchanting ending reverts to color. The Kino release offers an audio commentary by Frederic Lombardi, author of a Dwan biography. The commentary contains extensive overviews of the careers of both the director and the star, as well as details of "Stage Struck." There's also an appropriate piano score composed and performed by Andrew Simpson.
"MANIFESTO"
Brilliantly written and directed by Julian Rosenfeldt, "Manifesto" began as an art installation. It explores the human condition — life, death, politics, drive, pain — and how art, in all its diverse forms, grapples with every aspect of it. The script, which flows like free verse poetry, is consistently intriguing and challenging. There's really no dialogue. It consists of inventively intercut snippets of philosophical manifestos written by such figures as Guy Debord, Philippe Soupault, Claes Oldenburg, Olga Rozanova, Yvonne Rainer, Karl Marx, Tristan Tzara, Manuel Maples Arce and even Lars von Trier, Werner Herzog and Jim Jarmusch. Topics and movements touched upon include Futurism, architecture, communism, Suprematism, Dadaism, Pop Art, Stridentism, Votricism, Fluxus, Minimalism, Situationism and film. Blanchett's ability to totally transform herself is truly remarkable. She plays 13 very different people in this provocative piece. Yes, makeup and costumes help create character, but this is an actor whose every vocal nuance, every gesture or facial expression speaks volumes. Regardless of each character's gender, economic condition, family status, background or beliefs, Blanchett can capture a unique persona in the few moments each is given on screen. Even in the most surreal circumstance, she imbues every frame with a reality of its own, making each physical movement, thought and feeling believable and fascinating. Among the absorbing little sketches she etches are a stockbroker, a homeless man, a Southern housewife, a hazmat-garbed worker, a tattooed goth rocker, an anchorwoman, a puppeteer, a teacher, a widow holding forth at a funeral and a tyrannical Russian choreographer. It's a tour-de-force performance… or, more accurately a baker's dozen of riveting performances. And Rosenfeldt adds striking imagery to accent the portraits. The sets and cinematography are arresting. It's a film worth pondering.
"TWILIGHT PEOPLE"
If you're familiar with "Island of Lost Souls" or "Island of Dr. Moreau," you basically know the plot of "Twilight People." Shot in the Philippines, this 1972 low-budget B-horror flick was ideal drive-in fodder. Now, with the new VCI/MVD Visual Blu-ray + DVD combo pack release, it's perfect for watching at home with a bowl of popcorn, as you toss out your own MST 3000-type riffs. In this one, a mad researcher plans to save mankind from itself by speeding up evolution. Thus we are introduced to his caged hybrid experiments — Antelope Man (who looks like SNL's Goat Boy], Bat Man (yes, actually a winged half-man, half- bat, not a superhero), the Ape Man (who is dangerously horny for the scientist's hot, raven-tressed daughter, played by Pat Woodell) and the Wolf Woman. And then there's the savage Panther Woman, played in growling style by none other than Pam Grier. Skimpily clad and unrecognizable under cheesy prosthetic makeup, we can presume she wishes she could delete this from her IMDB list of credits. The interaction among the beasties is bizarrely entertaining, like an improv troupe on acid. As the adventurer who is kidnapped and held prisoner on the evil doctor's island, John Ashley stars in the movie, which he also produced. Ashley was a pop singer/actor who was featured in movies like "How to Murder a Monster" "Bikini Beach," "How to Stuff a Wild Bikini" and "Young Dillinger," as well as tons of TV shows. He went on to be a producer on the 80s hit "The A-Team." Ashley does his best to portray our earnest, stalwart hero. Charles Macaulay is suitably sinister as the doctor gone wrong. And Jan Merlin is effective as his sadistic henchman, who has a homoerotic attraction to Ashley. There's a fun commentary track by film historian David Del Valle and cult director David Decoteau, offering interesting tidbits about the principals, the shooting challenges and the genre. Even more enjoyable is the video interview with the movie's director and co-scripter, Eddie Romero, who serves up many amusing anecdotes from his career. Remastered in 2K from a 35mm negative and presented for the first time in widescreen, the picture quality, overall, is excellent. The LPCM 2.0 sound mix is also clean and clear.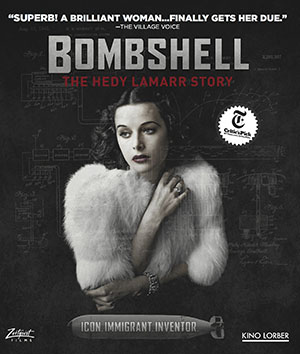 "BOMBSHELL: THE HEDY LAMARR STORY"
This new documentary will hold you enthralled as it takes you through the incredible life of Hedy Lamarr, from her Austrian Jewish roots to her sensation-making nude scene in 1933's Czech film "Ecstasy" to Hollywood stardom in such pictures as "Samson and Delilah." But it's not her acting career that makes this woman so fascinating. It's her brilliance as an inventor. The documentary goes into great detail about the revolutionary frequency-hopping radio system this strong, independent woman originated to help fight the Nazis during World War II. Her theory became the basis for many of our pervasive modern technologies —- WiFi, Bluetooth, GPS. But the public, the press and the powers that be shrugged off her contributions, pigeonholing her as a glamorous sex symbol, an adornment, not to be taken seriously. She did not receive enough recognition for her discoveries during her lifetime. Sadly, Lamarr eventually faded from view, financially strapped, reclusive, turning to plastic surgery in a desperate attempt to preserve what it was that people seemed to want and expect from her. It was only posthumously that has achieved her due as a true genius. This extraordinary film, directed by Alexandra Dean, will further expand the appreciation for all that Lamarr contributed to our world, not only in cinema and science, but in terms of women's role in society. Among those adding their insights in the documentary are Mel Brooks, Peter Bogdanovich, Robert Osborne and Lamarr's son and daughter. Diane Kruger reads from Lamarr's letters. And there are revealing portions of a vintage audio interview with Lamarr herself. The Blu-ray release from Kino Lorber includes an interview with the director, as well as deleted bits of interviews with Brooks, Osborne and Gillian Jacobs.
"KALEIDOSCOPE"
In this intriguing 2016 psychological thriller, Toby Jones portrays the meek Carl, a lonely man, recently released from prison, losing his grip on reality. Shout! Factory has just released this thought-provoking, tension-filled film on Blu-ray and DVD. Written and directed Rupert Jones (Toby's brother), the film, his debut feature, catches the viewer off-guard, time and again. Just when you're completely immersed in the intense drama, it takes a sharp turn. Can Carl elude the anger, violence and shame that corner him? What is real and what isn't? Past and present collide. Is Carl's life shattering? Is he suffering from nightmarish delusions? As he teeters on the brink of insanity, Carl's view is similar to that seen through his beloved kaleidoscope — fragmented, distorted. But what's racing through his mind is disturbing, not beautiful. This tale is as gripping as it is perplexing. What holds it all together is the superb performance by Toby Jones, as he subtly reveals the complexities of this troubled, troubling character. The versatile Jones etched memorable portraits in such diverse projects as "The Detectorists," "Captain America: The Winter Soldier," and, in "The Girl," uncannily playing Alfred Hitchcock. He's at the top of his game in "Kaleidoscope," a film that certainly would have appealed to Hitch. Equally remarkable is Anne Reid as Carl's mother. Initially she stirs audience sympathy, as she vulnerably seeks reconciliation and his forgiveness. But with each passing scene, she appears more twisted and domineering. As Abby, the unfortunate — or opportunistic — young woman who shows up at Carl's apartment for a date, Sinead Matthews also impresses. We can only marvel at the understated madness that threads its way through this unsettling film. The Shout! Factory release offers several interesting featurettes that add context.
"THE ACCIDENT"
This spellbinding French series, "L'Accident," opens with a terrible traffic accident. Late at night, Rebecca Cauvy's car is parked, facing the wrong way, on a motorway. She's in bad shape. We don't know why. A horrific collision occurs. She is killed. So are an innocent father and son in the other vehicle. An empty bottle of vodka is found in the charred remains of her car. Was that the cause of the accident? Could it, perhaps be suicide? Her widower, Gabriel, insists neither is possible. Rebecca didn't drink. And she wasn't depressed. To the detriment of his small construction company, he begins spending more and more time trying to solve this increasingly maddening mystery. In this lovely resort town, now barren during the off-season, secrets are lurking around every corner. Even the Cauvys' closest friends appear to be hiding information. And the Cauvys have become pariahs in the little community. There are larger, darker forces at work here. The cast is top-notch. A steady undercurrent of suspense courses through the series. As Gabriel, Bruno Solo boils with grief, rage and determination. Equally riveting are Rose Montron as his teen daughter; Charlotte Talpaert as the only police officer who doesn't want to quickly close the case; Emma Colberti, as Rebecca, making a lasting impression in her flashback scenes; Romane Portail, as her insidious confidante; Gabrielle Atger as their frightened friend; and Charlotte Des Georges, portraying Sabine, Gabriel's trusted employee. Well-directed, each of the six episodes ends with a cliffhanger, so be prepared to binge-watch. If you don't parlez Francais, no worries. The show is fueled by action and what's intensely expressed in the eyes of the actors. It's not dialogue-heavy. Acorn Media has made this extraordinary thriller available in a two-disc DVD set.
MYSTERY SCIENCE THEATER 3000: SEASON 11
Thanks to a wildly successful crowdfunding campaign and Netflix, the beloved and irreverent "Mystery Science Theater" has returned for an 11th season. Fans must have been awaiting the return with a mix of joy and trepidation. After all, maybe the resurrected version would fall flat, not live up to the illustrious MST 3000 legacy. Were we better off with just our memories, plus the hilarity provided by offshoots Cinematic Titanic and Rifftrax? Breathe a sigh of relief. There was no need for worry. The shiny new MST should have MSTies everywhere giggling in delight. The laugh quotient here is as high as in classic episodes. The 14 new flicks, turkeys ripe for the roasting, are "Reptilicus," "Cry Wilderness," "The Time Travelers," "Avalanche," "Beast of Yellow Mountain," "Starcrash," "The Land That Time Forgot," "The Loves of Hercules," "Yongary: Monster From the Deep," "Carnival Magic," "The Christmas That Almost Wasn't," "At the Earth's Core" and "Wizards of the Lost Kingdom" and its sequel. With material like a "Star Wars" knockoff, Santa, Bigfoot, two Doug McClure movies, a Rock Hudson-Mia Farrow disaster film, not to mention a talking chimp — we're talking about a riotous riff bonanza here! Fortunately, there's no attempt to overly modernize the show. If it ain't broke, don't fix it. There isn't an over-emphasis on 21st century references. The riffs reach back to such nostalgic touchstones as Scrooge McDuck, Mac Davis, and Quisp cereal. Zesty zingers abound and will appeal to all generations of viewers. The show's creator, Joel Hodgson, is back on board as a producer. Also connecting the old and the new are our timeless 'bot friends Crow, Tom servo and Gypsy, albeit with fresh voices — Baron Vaughn, Hampton Yount and Rebecca Hanson, respectively. Other original cast members pop up in cameos, as do such stars as Mark Hamill, Neil Patrick Harris, Jerry Seinfeld and Joel McHale. New cast additions fit in perfectly — Felicia Day, Patton Oswalt and Jonah Ray. All of the new MST magnificence is now available in eight-disc Blu-ray and DVD box sets from Shout! Factory. The package includes a bonus of a 73-minute documentary on how this new season was assembled.
"THE HOUSE THAT DRIPPED BLOOD"
A house can take on a life of its own… sometimes a very dark, dangerous, demonic life. 1971's "The House That Dripped Blood" tells the tale of one such cursed abode. A skeptical investigator from Scotland Yard arrives in a small, rural English village, and hears the story recounted by a local policeman. This horror film consists of four separate segments, connected by the Yard inspector. The beguiling screenplay was written by Robert Bloch, who based it on four stories he had penned for such publications as "Weird Science." We open with a horror writer (sympathetically played by Denholm Elliott) and his encouraging wife, leasing the bucolic place. Perhaps he should have been forewarned by the fact that the realty company handling the rental was called Stoker. The author, working on a new piece of fiction, sketches a terrifying lead character — a maniacal, murderous escapee from a lunatic asylum. This madman springs to life. Or is the author's mind playing tricks? Or? Next comes a retired stockbroker (played by an earnest and dignified Peter Cushing) who wants to spend relaxing days quietly reading and listening to music. But he's distracted by the local horror museum, where he becomes obsessed by the wax figure of a stunning woman, who seems familiar to him. The next renter is a widower (Christopher Lee, who brings an intensity to the role) and his young daughter. He hires a teacher (Nyree Dawn Porter) who can't accept the father's seemingly overly cruel restrictions on the child. Little does she know. That brings us up to the present and the case that brought the Yard investigator to town. A famous horror actor (a deliciously animated Jon Pertwee of "Doctor Who" fame), who was searching for an authentic looking vampire cape for a new film. Ingrid Pitt of "Countess Dracula" fame co-stars in this portion. The script contains several of Bloch's signature surprises. It's all good, chilling fun. With the film finally available in Blu-ray, courtesy of Scream Factory, it's time to fully enjoy the scares of this horror house. There are lots of worthwhile bonus features including a new commentary track by film historian Troy Howarth, another audio commentary featuring the film's director, a vintage featurette, a new interview with the second assistant director, theatrical trailers and radio spots.
"LIQUID SKY"
Wildly imaginative, weirdly wonderful, the 1982 psychedelic, underground, erotic sci-fi film "Liquid Sky" has now been made available on a two-disc Blu-Ray/DVD set from Vinegar Syndrome. It's all like cinematic performance art run amok. The plot puts aliens, heroin, 80s urban grime and glitter, sexual assault and serial killing into a blender and comes up with something that's strangely fascinating. New Wave-era New York is an intrinsic part of the dangerously daffy atmosphere. The colorful, crazy costumes add to the ambiance, as well. The score is appropriately disorienting. You'll find yourself compulsively drawn to the lead, Anne Carlisle, who plays both an androgynous, Bowie-inspired fashion model/performer and her male nemesis. The film looks amazing, as it was scanned and restored in 4K from the 35mm original negative. This avant-garde cult creation, directed, produced and co-written by Slava Tsukerman, proves to be insanely idiosyncratic. The Vinegar Syndrome release presents tons of special features, including director commentary, interviews, a Q&A from a screening, and outtakes.
"DEEP RED"
Arrow Video gives the deluxe treatment to Italian horror/giallo maestro Dario Argento's classic "Deep Red" ("Profondo Rosso," aka "The Hatchet Murders"). The Limited Edition Blu-ray package includes two discs — remastered from a 4K scan of the original negative. The visuals are stunning. You can view the shorter original Italian release version or the English long and short versions. Despite its minor flaws and excesses, the film, with its Hitchockian flourishes, is a thoroughly compelling thriller. The opening images —a Christmas tree, a murder in silhouette, a blood-covered knife tossed into the foreground. A child tentatively approaches. We see only shiny shoes. Thus the riveting and disturbing tone is set. Years later, a British jazz musician (David Hemmings of "Blow-Up") witnesses a horrifying killing. He begins obsessively investigating. More gruesome slayings follow. An eerie prog-rock score by Goblin contributes to the never-jangling atmosphere. Luigi Kuveiller's striking cinematography adds to viewers' involvement. Argento's inventive shot composition and his framing of images also keep the viewer off balance. He creates a jarring effect through extreme closeups, including a heavily mascara-encrusted eyeball, stream swirling ominously around a bathtub faucet and a tiny doll with a yarn noose around its neck. Style overcomes implausibility in the case of this film. Hemmings is intriguing in the lead role as is Daria Nicolodi as the feisty, amorous journalist who joins him in solving the mystery. The interplay between them is fun to watch. The Limited Edition's abundant extras include audio commentary, interviews and even mini-reproductions of lobby cards.

CDs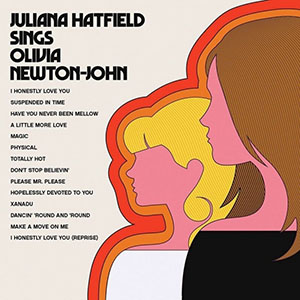 "JULIANA HATFIELD SINGS OLIVIA NEWTON-JOHN"
Odd combination? Just the opposite, actually. "Juliana Hatfield Sings Olivia Newton-John" (American Laundromat Records) turns out to be a perfect pairing. Hatfield, a leading figure of the 90s indie-rock scene, made a memorable impression with bands like Blake Babies, The Juliana Hatfield Three and The Lemonheads. On this new album it's evident from the opening notes of "I Honestly Love You" that she regards 70s pop princess Newton-John with the highest esteem and genuine affection. These 13 songs certainly suit Hatfield's sweetly sincere, girlish voice. She sings expressively and convincingly throughout. She also plays guitar and keyboards on these tracks, joined by drums and bass. Hatfield stirs in just the right amount of alt-rock edge to these pure pop pleasures, breathing new life into them. She puts plenty of bite into "Physical," while imbuing it with an unencumbered fluidity. One of Hatfield's prettiest vocals graces "A Little More Love." "Suspended in Time" is an unexpected treasure. "Hopelessly Devoted" glides with innocent emotion. Hatfield turns up the temperature again on "Totally Hot." Jeff Lynne's composition "Xanadu" soars with a joyous energy. Other top tracks include "Have You Never Been Mellow," "Magic," "Don't Stop Believin'," "Please Mr. Please" and "Make a Move on Me." The arrangements are loving, imaginative and effective, as are the performances. Beautiful harmonies enhance the lead vocals. You'll be playing this collection over and over again. But it'll also make you want to return to the original Olivia recordings, to savor them, as well. You'll come away from this new project with a greater appreciation not only for both Hatfield and Newton-John, but for the diverse songwriting of John Farrar, who penned most of these classics. One dollar from the sale of each album will be donated to the Olivia Newton-John Cancer Wellness & Research Centre (ONJ Centre).
"STEPPENWOLF AT 50"
This three-CD collection presents a half-century of Steppenwolf history. It encompasses the recordings of the band in its many forms, always fronted by the inimitable lead vocalist John Kay. There are even some tracks from his solo albums. With just the right amount of grit and gravel, Kay seasons his rock with an earthy measure of blues. The first two discs feature many deep album cuts and rarities. You'll discover strong numbers like "Straight Shootin' Woman" and "The Wall." The high-octane band rides on soaring organ passages, slashing guitar and Kay's potent vocals. There are interesting covers of "Drift Away," "Hot Night in a Cold Town" and Argent's "Hold Your Head Up." Kay ventures into country territory to good effect on "You Win Again." And He can deliver a power ballad, as well, as on "Feed the Fire." The bluesy "Labor of Love," one of the previously unreleased tracks, is another high point. Disc three presents 13 live performances recorded in the 90s. "I'm Your Hootchie Cootchie Man" is a real sizzler. "Desperation" show off one of Kay's most urgent-sounding vocals. Of course, also included are the best known Steppenwolf songs, such as "Rock Me," "Sookie, Sookie," "Magic Carpet Ride," "Born to Be Wild" and "The Pusher." They rock hard. But the package proves that there's much more to the band than the hits.
CHRIS SMITHER - "CALL ME LUCKY"
This great and often under-appreciated singer-songwriter-guitarist has a killer new album, consisting of eight original tunes and two covers. His blend of folk, blues, country and rock is hard to resist. Smither's movingly honest vocals complement the haunting melodies and insightful, intelligent lyrics. There's ample heart and humor. Among the highlights are the lovely "By The Numbers" and the relevant and impossibly catchy "Nobody Home." He tackles the topic of aging on "Too Bad, So Sad." His down-home approach to Chuck Berry's "Maybellene" is winning. There's also a sensitive reading of "Sittin' On Top of the World." A top-notch band backs him with just the right feel throughout. Smither's novel approach here was to make it a two-CD set, the Side B disc featuring very different, but equally effective versions of five of the self-penned songs. That disc also offers a pretty, reflective take on The Beatles' "She Said She Said." Smither is a distinctive, important artist. We're lucky he's back with this fine new album.
DANIEL HARDING - MAHLER: SYMPHONY NO. 9
In this new Harmonia Mundi release, Daniel Harding conducts the Swedish Radio Symphony Orchestra and captures all of the enthralling colors of Gustav Mahler's Symphony No. 9. This is Mahler's last completed symphony, which he finished in 1910. He died the following year of a heart ailment. Here the composer grapples with themes of life and death. The lengthy first movement ominously ponders, arresting the listeners with its interesting rhythmic patterns. The second and third movements move more swiftly, swirling through a myriad of moods. The final movement moves slowly, dramatically to a haunting conclusion. Harding brings all of the richness and depth, poignancy and power out of Mahler's great work.
CATHY FINK & MARCY MARXER - "ZOOM A LITTLE ZOOM: A RIDE THROUGH SCIENCE"
In 1961, the album "Ballads for the Age of Science" was released, featuring educational songs by lyricist Hy Zaret and composer Lou Singer, known for penning such hits as "Unchained Melody." Zaret's son commissioned two-time Grammy-winning folk and children's duo Cathy Fink & Mary Marxer to create an album with contemporary arrangements of some of the songs. The result, "Zoom a Little Zoom," is a delightful collection, filled with fun, energetic tunes on such topics as rockets, constellations and gravity. Among the clever ditties are "Snowflake, Snowflake," "Vibration" and "What Is an Insect?" Cathy and Marcy deliver pleasing harmonies on these breezy, diverse recordings. Styles range from island to country to swing to klezmer. Guests include Riders in the Sky, Justin Roberts and Andy Offutt Irwin. The album includes an activity guide. Kids are sure to enjoy the whole package. This release will undoubtedly enhance their interest in science, as well.
JOYANN PARKER - "HARD TO LOVE"
Anyone who likes the blues is sure to love this new album. Joyann Parker's voice is sensuously soulful and it raises the temperature on a wide variety of blues styles here. The opener, "Memphis" sizzles like a Southern summer day. "Envy" also cooks with a Memphis feel. "Home" achieves a gospel-ish/R&B warmth as a Hammond B3 swells in the background. There's a shining New Orleans buoyancy to "Ray." You'll want to get up and dance yourself senseless to "Dizzy." Parker builds on a traditional blues foundation for "Take My Heart and Run." "Your Mama" swings. "What Happened to Me" drives energetically with a Chuck Berry rockin' sensibility. The title track, 'Hard to Love," is an emotion-packed torch song. It could have been a standard from the Great American Songbook. On the album, Parker not only sings but plays guitar, piano and trumpet. She co-wrote these smokin' tunes with her guitarist/co-producer Mark Lamoine. Parker hails from the cold weather state of Minnesota, but her sound is hot, hot, hot!
CHERI MAGILL - "TOUR GUIDE"
In utterly charming fashion, award-winning singer-songwriter Cheri Magill sings sweet and sincere original tunes about motherhood. In uplifting songs, to which she lends her lovely voice, Magill reflect on the joys and challenges of being a mom. There are beautiful, gentle moments, as on "Tour Guide," "You Are Here" "Still," and "Unconditionally." Magill brings humor to "Crazy," as in, a cherished child can make even the most adoring parent nuts at times. "Don't You Forget" is another jaunty number. Imagination takes flight on "Lasso the Moon." Pride and strength shines through on "Brave." There's a wistful magic to the closing song, "Chopsticks Lullaby." Magill's melodies are memorable and her lyrics are insightful and well crafted. The whole family will enjoy sharing the warmth in Magill's tour of parenthood.
WILLIE NELSON - 'LAST MAN STANDING"
At 85, Willie Nelson, who would be guaranteed a spot on any Mount Rushmore of country singer-songwriters, delivers a new studio album. It's his 11th for Legacy Recordings and he's issued about six dozen studio albums altogether — an amazing output. Whether smoothly country swingin' or honky tonkin' or serving up a tender ballad, no one is more convincing. The title track, "Last Man Standing," deals with the subject of mortality. It's touching and leavened with a measure of wry humor. He movingly reflects on loss in the beautiful "Something You Get Through." A comforting comradeship comes through on "Me and You." On "Bad Breath," he warbles, "Bad breath is better than no breath at all." And on "Heaven is Closed," Nelson sings, "Heaven is closed… and hell's overcrowded… so I think I'll just stay where I am." We hope he stays with us for many years to come. "I'll Try to Do Better This Time" is a captivating contemplation of reincarnation. "Very Far to Crawl" and "Ready to Roar" are among other memorable tracks. Nelson co-wrote the 11 songs with longtime collaborator and producer Buddy Cannon. The creative spark still burns bright within Nelson, as does the ability to put a tune across like nobody else. How many octogenarians have this kind of energy? Maybe weed truly is a miracle drug. The resilient Willie realizes that life is finite, but he's still making the most of every moment. This stands among Nelson's finest works.
BOB GINGERY - "KITTYHAWK"
Bassist/composer Bob Gingery flies to exhilarating modern jazz territory with "Kittyhawk," his new album. It's a fitting follow-up to his widely acclaimed debut, "Traveler." Gingery's band enhances his musical vision beautifully. Gingery, saxophonist Jon Irabagon, guitarist Mike Baggetta and drummer Jeff Hirshfield display individual skills, while constructing a cohesive, creative whole. Irabagon's sultry sax shines on the opening "Arrival" and weaves in and out intriguingly with Baggetta's guitar on "Bell Curve." In addition to the half-dozen fine Gingery originals, there are impressive, fresh-sounding covers — Pink Floyd's "Shine On You Crazy Diamond" and Thelonious Monk's "Hornin' In." A beautiful bluesiness drifts through many of the tracks. There's an edgy funk feel to "Outskirts." The group delivers a subtly sublime "Eighties" to close this outstanding album.
TOM RUSH - "VOICES"
Throughout a career that has spanned more than half a century, the great folk vocalist Tom Rush has made his mark as an extraordinary interpreter of songs. On his 1968 album, "The Circle Game," he became one of the first to record landmark tunes of Joni Mitchell, Jackson Browne and James Taylor. He also recorded the occasional original number over the years. But his new album, "Voices," is his first to feature his own songs. Now age 77, Rush was obviously in no hurry to showcase his writing skills. But he has certainly studied the songwriting masters, because this is an impressive collection. A silver-tongued fellow, Rush has a way with words and melody. There's a gentleness and charm to his disarming Americana numbers. Some are amusing, others touching, all heartfelt and amiable. The album glows with warmth and intimacy. And some fantastic players back Rush, always with subtlety. Among them are Al Perkins on dobro, Sam Bush and Kathy Mattea. Country and blues flavors enhance the sound. Among the memorable tracks are"Going Down to Nashville," "How Can She Dance Like That?" and the beautiful title track. A couple of covers of traditional numbers will add to listeners' enjoyment. Rush's voice remains deeply expressive and authentic.
SARA LOVELL - "WILD IS EVERYWHERE"
2016 Parents' Choice Gold Award winner Sara Lovell returns with her second highly engaging children's album. Her pleasing pop songs are wonderfully imaginative, both in terms of lyrics and melodies. Lovell doesn't write down to kids. She gets it, as in tots' trepidation about what might lurk in "The Dark Side of My Room" at bedtime. Kids will relate to clever ditties like "All the Grownups Get to Stay Up Late." Whimsy rules in such tunes as "Rhinoceros Under My Bed" and the countrified "Raspberry Pickleberry Wormnut Pie." Lovell uses lively rhythms to fuel tunes like "Bounce." A soulful drive fuels "Where You Hiding All Day Long." There's splendor in "What Color is the Sunshine." A sense of wonder blossoms in "Wild is Everywhere." Kids will be encouraged by "The Problem Song" and the bluesy "How to Love Yourself." And Mom and Dad will chuckle in recognition at "I Want It Now." Other top tracks include "Get Up," the hand-clapping "Stand Together" and the pretty "Pie in the Sky." With its many moods, diverse musical styles and magical moments galore, this is an uplifting album that will enthrall the entire family.
BOB REA - "SOUTHBOUND"
This is just Bob Rea's third recording in a career that spans 50 years. The Americana artist, in the Guy Clark/John Prine vein, displays a worldly, sometimes worn, but always worthy manner in both his singing and songwriting. He can tackle heavy topics, as on "Vietnam" and "The Law," or lighter fare, like "Screw Cincinnati" and "Fish Can't Fly." Other top tracks include "Wanna Do," "Soldier On," "Skipping Stones," "Say Goodnight" and the poignant "A Place in Your Heart." Rea penned three of the songs on his own and co-wrote the other 10 on this fine album. He has a lot to say and he says it well, in his distinctive, winningly rough-hewn way.
DULCIE TAYLOR - "BETTER PART OF ME"
On her latest album, singer-songwriter Dulcie Taylor explores subjects ranging from love to heartbreak to climate change. With twang, edge and the ring of emotional truth, Taylor creates songs that are lyrically and melodically powerful. She expresses torment on "Used to Know It All," singing, "I hear a voice crying out for mercy/Wait a minute, that poor soul is me." The anguish inflicted by a cruel lover sears throughout "Watch Me Hurt." The flip side — finding a joyful relationship, following the shattering of her heart — is celebrated in "God Did Me a Favor." On her moving "Dove Crying in My Window," Taylor sings, "Has he lost his lover/To a hunter's gun/He sounds so lonely/A song so stark/He's so early /I'm listening here in the dark/To that dove crying in my window/Breaking my heart." "The Moon is Cold," which Taylor co-wrote, is particularly poetic and eloquent. "Better Part of Me," penned by George Nauful, Taylor's longtime collaborator, is hauntingly atmospheric. Taylor delivers a no-holds-barred message about our planet's devastation on "Halfway to Jesus." Her vocals are compelling on every track. She also plays acoustic guitar and dulcimer. Backing musicians are top-notch and the production suits the songs perfectly. Taylor's music makes a lasting impression, plunging far below the surface, delving into thoughts and emotions in all their complexity.
HOLLY GOLIGHTLY AND THE BROKEOFFS - "CLIPPETY CLOP"
Singer-songwriter Holly Golightly runs a horse rescue facility, so it shouldn't be surprising that her new album, "Clippety Clop" is equine-centric. She's joined again by The Brokeoffs, which in fact, consists of her longtime partner, guitarist Lawyer Dave. Folk, indie rock, blues and country are marvelously melded in these well chosen cover tunes. Among the highlights are Paul Siebel's "Pinto Pony" and traditional numbers like "Two White Horses," "I Ride Old Paint" and "Stewball" (the tale of the legendary British race horse). There are three strong mule-themed selections, "Mule Skinner," "Jinny Mule" and "Mule Train." The duo has an appealingly unconventional approach to each song. Golightly, originally from England and now based in Georgia, has a uniquely persuasive vocal style.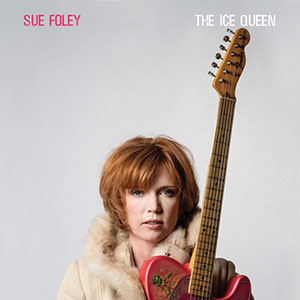 SUE FOLEY - "THE ICE QUEEN"
Canadian artist Sue Foley has given herself the name "The Ice Queen" and her latest album is super cool. The vocalist/guitarist/songwriter sizzles with a distinctive blues-rock vibe. Among the highlights are a soaring "Come to Me," the rollicking "Run," the more contemplative "Death of a Dream," a plaintive "Fool's Gold" and the slowly simmering blues of the title track. "Cannonball Blues" draws on a traditional sound. Foley launches "The Dance" with a flamenco feel, an example of her versatility on guitar. She caresses the vocal to great effect on "If I Have Forsaken You" and shines on a saucy rendition of the Bessie Smith classic, "Send Me to the 'Lectric Chair." Foley lured some impressive talent to help out here, including Jimmie Vaughan, Charlie Sexton and ZZ Top's Billy F. Gibbons. In summation — The Ice Queen rules!
BRUBECK BROTHERS QUARTET - "TIMELINE"
With TimeLine, the Brubeck Brothers Quartet honors the 60th anniversary of President Eisenhower's Special International Program for Cultural Presentations, the 1958 state department tour that sent jazz greats to 14 countries (including Russia and the Middle East) for 90 days of concerts. Among the luminaries were Dave Brubeck (father of the Brothers Quartet's siblings Chris and Dan), Duke Ellington, Louis Armstrong and Dizzy Gillespie. Many of the "TimeLine" numbers were performed by Dave on tour and others were inspired by his travels. Though the outing is steeped in history, the recording is fresh and vital. The arrangements give even the older material a very modern feel. With Dan Brubeck on drums, brother Chris on trombone and bass, Chuck Lamb on piano and Mike DeMIcco on guitar, the tight-knit quartet stirs ample musical excitement. They open with a vigorous performance on Dave Brubeck's classic composition "Blue Rondo a la Turk." Dave's "Tritonis" is another top track. Several fine Lamb compositions are included, such as "Boundward Home" and "Prime Directive." The quartet consistently delivers inviting, inventive rhythmic and melodic passages.

BOOKS


OUT OF BOUNDS
By Jim Brown with Steve Delsohn [Citadel Press]
It's time to catch up with this important memoir, just published in a new paperback edition by Citadel Press/Kensington. The story of Jim Brown, football legend and movie star, is packed with explosive, entertaining, edgy, troubling and often inspiring aspects. He exuded strength, both of the internal and external varieties. The book delves into all areas of his intensely lived life. And he pulls no punches. His challenges began early. Two weeks after Brown's birth, his father deserted the family. His mother wasn't much more nurturing. Brown was raised primarily by his grandmother and great-grandmother. A turning point came with the mentorship of his high school football coach. Brown dominated in college play and then became one of the NFL's all-time greatest running backs. In the book, Brown reveals just how vicious and dirty the pro game could be, back in the 50s and 60s. There was mayhem on the field. The players on the other side of the scrimmage line would do anything to stop him, even going for his eyes. A bounty might be placed on an opponent. But nothing intimidated this warrior. Brown left the gridiron while he was still in his prime. The charismatic figure moved quickly into films. He appeared in the classic "The Dirty Dozen." He sparked controversy when teaming with Raquel Welch in "100 Rifles," said to contain the first screen sex scene between an African-American man and a white woman. Brown doesn't shy away from discussing his seemingly endless sexual encounters over the years and his attraction for young women. In every area of his life, he was driven to perform. Brown tackles the topic of insidious and pervasive racism, including its role in both the sports world and Hollywood. He talks of fame, fortune and fans. And he shows no hesitation to drop in eye-opening revelations about many of the people he encountered along the way, among them Joe Namath, Muhammad Ali, Charles Bronson, Stella Stevens, Jacqueline Bisset, John Cassavetes, Marvin Gaye, Tom Jones, Bill Cosby, Richard Pryor, Gloria Steinem, Charlton Heston and Hugh Hefner. The recollections range from glowing admiration to sympathy to undisguised scorn. Brown tells his story with complete candor. He's proud and brash, not bogged down in apologies or regrets. He has lived life his way. And reading about it is a compelling experience.
LAIRD CREGAR: A HOLLYWOOD TRAGEDY
By Gregory William Mank [McFarland; www.mcfarlandpub.com; 800-253-2187]
In his too brief career, Laird Cregar gave several unforgettable performances. He was equally arresting whether his character was chillingly vicious or elegantly amusing. Few could match his ability to serve up a sarcastic bon mot. But in the roles of mad murderers, Cregar could also terrorize audiences. In this book, incredibly detailed and meticulously researched by author Gregory William Mank, the reader will learn what made Cregar tick. He was complex — beneath his wit and charm, a tortured soul. Conflicted by his sexuality and agonizing over his obesity, Cregar achieved great success. But happiness eluded him. The native of Philadelphia grew up fascinated by acting and idolized John Barrymore. Playing Oscar Wilde, Cregar became a sensation in the theatre. That catapulted him to Hollywood stardom. Within a few years, he had memorable roles in "Hudson's Bay," "Blood and Sand," "Charley's Aunt," "I Wake Up Screaming," "Hangover Square" and "This Gun for Hire." He was a delicious devil in Ernst Lubitsch's classic comedy "Heaven Can Wait." But it was as the Jack the Ripper character in 1944's "The Lodger," that Cregar made his most vivid, lasting mark. Tragically, by the end of that year, he was dead, only 31 years old. Radical dieting apparently contributed to his fatal heart attack. But he suffered from stress and misery before that. It was dangerous to be gay in the Hollywood of that era. Mank reports evidence that Cregar had romantic relationships with men, but points out that he was engaged to a woman and had a lasting crush on co-star Linda Darnell. He had a young niece he adored and wanted to raise. But that was not to be. Cregar was never fulfilled within himself. He viewed himself as "a grotesque." Tilting the scales at over 300 pounds, he wanted to be a leading man and planned to use drastic weight loss and plastic surgery to make himself into more of that traditional type. Mank offers juicy anecdotes about many of the luminaries Cregar encountered, including Barrymore, John Carradine, Gene Tierney and Darryl Zanuck. And he delves deeply into the demons that gnawed at Cregar. The author paints a poignant portrait of a true artist who was never comfortable in his own skin, but could colorfully and convincingly create other personae on stage and on screen.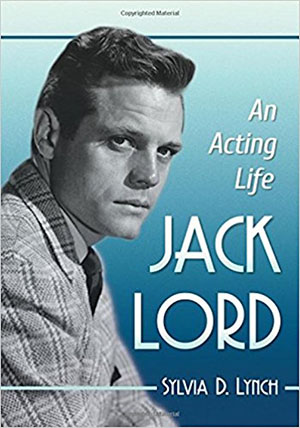 JACK LORD: AN ACTING LIFE
By Sylvia D. Lynch [McFarland; www.mcfarlandpub.com; 800-253-2187]
Jack Lord is still internationally revered for his role as Steve McGarrett on "Hawaii Five-O." But he was an enigmatic, sometimes reclusive man. Because he often shied away from discussing his personal life, there were misrepresentations and gaps in what was written about him. Lord wanted his work, to a large degree to speak for itself. This comprehensive new biography by Sylvia D. Lynch fills in the gaps and paints a rich, clear portrait of a gifted actor and an exceptional human being. She makes clear his remarkable perseverance. Lord had to overcome his first wife leaving him and the tragic death of his young son. He had years of struggle in the late 40s through the early 60s, trying to carve out a niche in theater and films. But Lord, a student of acting guru Sandy Meisner, had the talent. And he had the drive. He eventually landed guest shots in such prominent shows as "Rawhide," "The Untouchables" and "Bonanza." There were times when he turned down many roles, because he didn't want to be typecast as a villain, though he proved very effective in those kinds of parts. His range was showcased in such movies as "Man of the West" (with Gary Cooper), "God's Little Acre" and "Dr. No" (in which be memorably became the Bond franchise's first Felix Leiter]. In 1962, Lord found a starring role that really suited him — "Stoney Burke," about a rodeo rider. It ran for only 32 episodes, but made a lasting impression. Lord even became a rodeo and state fair attraction, singing western tunes. The series' cancellation came, in part, because he refused to ramp up the show's sex and violence content. Lord was a man who stood by his convictions. But it was when CBS offered him the life-changing role of Detective Captain Steve McGarrett, head of a special Hawaii state police task force, that Lord found the sort of creative and business success he had been seeking for so many years. It ran for 12 seasons, from 1968 to 1980. Lord and producer Leonard Freeman insisted, despite financial and logistical challenges, that the show be filmed entirely on the Hawaiian Islands. Its huge success was a boon to tourism there. The series was action-oriented, but managed to deal with a number of important issues over the dozen seasons, often at Lord's suggestion. A perfectionist, sometimes accused of being an egotist, Lord involved himself in every aspect of production and he was exhausted by the time series finally ended. At that point, Lord was able to spend time on his many philanthropic endeavors, his painting and his second wife of many years, to whom he was utterly devoted. Lynch offers a wealth of details about Lord's life and career, not even reaching "Hawaii Five-O" until page 144. Readers will wind up with far greater admiration for, as well as knowledge of, this intense individual.
THIS IS HIP: THE LIFE OF MARK MURPHY
By Peter Jones [Equinox Publishing]
Vocalist Mark Murphy was an innovator whose impact is still being felt in the jazz world. Yet he remains not nearly as well known as many of his contemporaries. Perhaps it's simply because he was driven not by a craving for fame and fortune, but by the quest for true artistry. This new biography, written by London-based journalist Peter Jones (who's also a jazz singer), offers an in-depth look at the life and career of this important performer. Never fully embraced by the jazz establishment, Murphy was an outsider among outsiders. He was gay, in a time when that was dangerous, to be hidden, not hip. From the beginning, there was no compromise in Murphy. He took time to pay his dues and learn his craft. He was featured on major labels and television screens in the 50s, but his refusal to be constrained, to be shaped or commercialized, may have slowed his rise. Murphy's vocals delivered the unexpected, challenging listeners. He displayed a revisionist attitude towards standards. The book goes into great detail about his recorded performances. He continued to perform into his 80s. The persistent Murphy, who died at age 83 in 2015, spent his life scatting, improvising, exploring — always finding new ways to immerse himself in a song. He was a leading proponent of Vocalese. He could imaginatively add lyrics to jazz instrumental classics. And, as the book points out, he was also inventive in his approach as a jazz educator. He influenced countless singers, including Kurt Elling. Despite building a fervent following and earning the boundless respect of peers, Murphy never really escaped anonymity among the masses. That was the cost of daring to take risks, artistically. The biography gives him his due.