DENNY LAINE: WINGS' GUITARIST STILL SOARS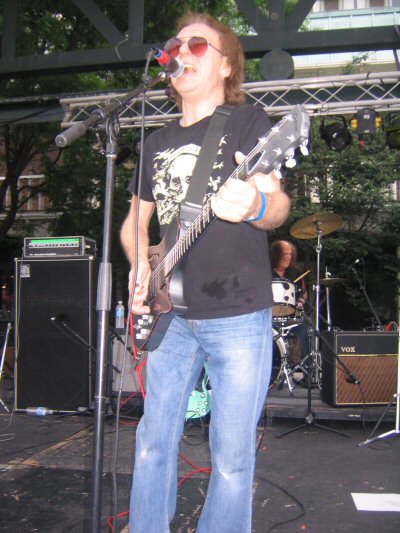 Photo credit: Grace Swedberg

By Paul Freeman [September 2009 Interview]

Though often under-appreciated by the public, Denny Laine has always been highly respected by his peers. For nearly half a century, the British rocker has had a significant impact on pop music. He was an integral part of two of the most successful bands of their time - The Moody Blues and Wings.

Laine continues to delight audiences with his live shows. He told Pop Culture Classics, "I mainly concentrate on the stuff I did with Wings, the songs I wrote myself or wrote with Paul. And three of the big hits that I didn't sing on, but I now do anyway. Then I do 'Go Now' from the Moody Blues. Then I do a few originals that I've done that nobody really knows, that I like to throw in, as well. Also a couple of songs from my musical, which is called, 'Arctic Song.' "

Laine wrote the environmental musical "Arctic Song" nearly 20 years ago. "It was a little bit too far ahead of its time. The way things are at the moment, this is the right time to put it out."

Laine is putting together a concert version of the musical, which will be produced at The University of Las Vegas, as well as a school in Pittsburgh. Someday, perhaps, it will reach Broadway.

"It's got a lot of information in it, but it's also very entertaining. It's not ramming the issues down people's throats. Now people are more willing to accept that subject."

Laine feels strongly about including more than just hits in his set. "It is difficult, because I do tend to be offered a lot of Beatle-related gigs, which I don't mind doing, as long as I'm doing my own thing, as well. I don't want to be just put in that category of being an ex-Moody Blues or ex-Wings person. It's very important to me that I move forward and have another identity, rather that just that.

"Although I loved all those days, I've moved on, like everybody else. I'm into this for the music... and I like to give people something a little bit original and a little bit new, as well."

Laine currently lives in Las Vegas. "I go where the work is, it's as simple as that, really. I don't make conscious decisions of where I'm going to live. I came to America to meet up with a company in Beverly Hills that was going to help me do this 'Arctic Song' project. That kind of fell through.

"One thing led to another. I got a job with an all-star band of classic rockers and I ended up doing that for quite a few years.

"I was house-hunting in California and Oregon, spent Christmas in Vegas and ended up moving there. I started to mix with people and saw what was going on in the music world here. I saw how it had veered more towards rock over the years. It used to be more cabaret. But now, it caters to all ages, all groups, all styles of music. They've got all these new venues. So I stayed. I'd been to Vegas a few times before with Paul and Linda and I've always liked Vegas, because it gives me that thing of being in the music business, all the music activity. I've ended up here. I kind of like it. It's a little bit hot. But I like the vibe."

He was raised in chillier Birmingham, England. Django Reinhardt's recordings first inspired Laine to pick up a guitar. "I always loved the old gypsy jazz music. One of my friends at school was learning jazz guitar. His brother was a jazz guitarist. So I started to play. I used to tune my guitar in my own way in those days. Then these people eventually showed me how to tune it properly. I went from that into folk/country music, which has always been a bit of my heritage anyway."

Laine eventually shifted his attention to Lonnie Donegan's skiffle sound, then early rockers like Buddy Holly and Eddie Cochran. He played in various bands before finding local renown with Denny Laine and The Diplomats.

At birth, Oct. 29, 1944, he was named Brian Frederick Arthur Hines. But he grew into the Denny Laine monicker.

"That came from me being in other peoples' bands and taking on the name of whoever the singer was. There'd be a band like Johnny and the Dominators. Johnny would leave and I would become Johnny. There was a lot of that going on in Birmingham in those days. I eventually stuck with a name and got kind of famous in Birmingham with that band."

International fame came in 1964, when he became a founding member of The Moody Blues. Laine sang lead on their first smash, the bluesy "Go Now."

"Two of the guys I was in the Moodies with approached me. They'd just come back from Germany, having seen The Beatles and all those other bands over there. They approached me to join a band to go to Germany. Now my band didn't want to move out of Birmingham, because they all had jobs. So I decided to join the Moodies.

"I wanted to do more blues and R&B sort of music and get away from doing hits and chart songs. So I joined them with that stipulation. We got discovered in a club in Birmingham, went to London and that's how it all started for us.

"We were sort of an underground band. We used to do the Marquee with lots of bands like The Who. That was when the Marquee had changed from being a blues club to a sort of media club. Eric Clapton and the Yardbirds, we used to work with them a lot. Jeff Beck with Rod Stewart singing. And were all under this Marquee Artists, which was kind of a blues-rooted agency. In fact, we recorded 'Go Now' at the Marquee studios. And we kind of were part of that underground London scene.

"Obviously, when we had a hit, we got a lot of publicity and became more of a sort of pop group. I only did that first album with the Moody Blues. It was more R&B and blues based.

"When I left, they tried to carry on being in that style, but when you bring in two new members, you've got to go in the direction of the writers and obviously, when Justin came in, he was writing more melodic kind of music and they became big, I'm happy to say, because I didn't want to leave and have them not have a career, because I was the lead singer. So I'm so happy that they made it."

Laine amicably parted ways with the band when they wanted to focus on road work in Europe and he wanted to concentrate on writing and recording.

"I wanted to go forward really, go into the studio and write more stuff. We owed another album to Decca, at the time, as part of our contract. They were just working in Europe, to keep the money coming in. Although I didn't fall out with anyone, I was saying we should be concentrating on doing more recording than doing that. I said, 'I'm going to go write some new material' and they got somebody else in and that was that. I was actually still living with them at the time, when they got that new guy in.

"I didn't want to leave and have them not have a career. So like I said, I'm really pleased that they had the success they did, because I went on and joined Paul."

But first Laine founded The Electric String Band, which combined folk, rock and classical. "I kind of stole the idea a little bit from The Beatles doing 'Eleanor Rigby' and George Martin's influence with The Beatles. But I also was very into classical music and folk music. When I left the Moodies, I was part of the London folk scene and met a lot of musicians as a result of that. At the clubs, I'd be sitting in, playing whatever instrument. There were a lot of Music Academy type people there. I put that together with the idea of having a folk-rock trio meets the Royal Academy of Music. A lot of people were doing that kind of thing, in a small way, at the clubs in London in those days.

"It took a while to get recognition for this, but I was happy doing it. The last show we did was the Jimi Hendrix show at the Saville Theatre and that got me a lot of recognition from all the people in the business. In fact, John and Paul were there.

"I'd already known The Beatles when I was in the Moodies. They were old friends of ours. We did their British tour, in fact. It all kind of came to me. I didn't go out looking for it so much as it came my way.

"We had a lot of fun. We were kept away from the craziness. We had some laughs in the hotels and stuff, hanging out , eating and joking and playing around. Because of the fan situation, they were kind of confined to quarters. It was all a good laugh."

Then, in 1970, Laine joined another ambitious, ill-fated ensemble, Ginger Baker's Air Force.

"The very first tour the Moodies did, when we had 'Go Now' out, was a Chuck Berry tour. And Ginger Baker and Jack Bruce were in a band called The Graham Bond Organization. So we had known them from those days. So me and Ginger go back a long way.

"I also had him and Ric Grech out in Spain, when I lived there, in the '80s, and we did some recording in Madrid.

"I knew Stevie [Winwood] from the Spencer Davis group in Birmingham. I knew Eric from the Yardbirds. So I've always been in touch with a lot of these people over the years. One night, at a party at my house, Ginger just said, 'Fancy putting a band together?' I said, 'Well, I'm not doing anything else. Why not?'"

The Air Force was a promising concept that didn't pay off commercially. "It was a bit crazy. There was a lot of great musicians there. But they were doing a lot of - we won't say. But they were all into different stimulants, let's put it that way. It was potentially a fantastic thing. But I would imagine it cost a lot of money to just survive with all those people. I think there were 15 members. But anyway, there were a lot of problems with Ginger's health and stuff. I don't know exactly what went down. But it was put on hold for a while and it never really got started up again.

"I've always been a pretty close friend of Ginger's, in a way. And we had fun, as well. To this day, we're still good friends."

A year later, Laine's fortunes turned around, when Paul McCartney invited him to join the new band he was forming - Wings.

"I didn't think too much about it. Again, I wasn't doing anything. The String Band thing had gone on hold. I was struggling a little bit. I was trying to put things together again. I bumped into Marc Bolan, who was actually being managed by the same guy I was being looked after by, who was The Moody Blues' manager. The Moody Blues' management discovered Marc Bolan.

"I bumped into Marc and got friendly with him. He was doing his own thing. I was looking at his success and it kind of encouraged me to think, 'Well, I'm going to keep at it. I'm not going to give up, whatever happens. I'll just try something else.' Marc actually gave me a guitar and said, 'This might just bring you some luck.' Because I was a bit down and out at the time. I was in between bands again, not knowing in which direction to turn.

"The Electric String Band was costing too much money to keep alive. Also, the guys in the band were off doing concerts all over Europe with the London Philharmonic Orchestra. So it wasn't easy to pin people down.

"As I was hanging out with Marc, I got this call from Paul. In fact, I was staying at our offices, in Mayfair, in London. So as soon as Paul called, I went up to Scotland within the next few days, to see what was happening.

"But like I say, I already knew Paul. We started jamming around and it fell into being a band after a while. I didn't even know if Linda was going to be involved at that time. We just kind of sat around, plunking away, while she was taking pictures.

"Danny Seiwell, who had done the 'Ram' album, was on the plane with me and we were just jamming for a while. Then I got Henry [McCullough] from Joe Cocker's Grease Band involved. That became the band."

McCartney initially faced skepticism with his post-Beatles band, particularly because he was determined to include his wife in the group.

"That was just the way that was going to be. He was determined to have Linda in the band. So there was always going to be some criticism there, because basically, she was not a musician or had never been a musician. She was there to kind of help him go through it all, in a way. Obviously, she learned a few things along the way. I've got to give her some credit. She did good for somebody who'd never done it before. And she was on the spot a lot. But that was inevitable. At the same time, she was a good influence, as far as like, she was into music and she was a very positive person. So it was all very easy for me, really, slotting into all of that.

"But I wanted to get out on the road and work and so did Paul. But there was always that fear that we'd get slammed. That's why we went off and did all these universities to start with, tightening up the band. And it went from there."

Wings eventually earned respect, as well as immense commercial success. They played arenas and stadiums, instead of schools.

"By then, we'd had a couple of albums and we were starting to have an identity as a band. There were a lot of young people coming to see us who weren't necessarily Beatles fans. They were Wings fans. We were a band of the '70s, whereas The Beatles were a band of the '60s. That whole new era was opening up for a lot of other bands at the time. Bands like Queen, Led Zeppelin were starting out. We all kind of new each other in London in those days. We'd all hang out in the same clubs. I went with Paul to see Jimi Hendrix for the first time. Rod Stewart had The Faces. It was kind of a new beginning for people who'd made it in the '60s, but were now trying to reinvent themselves in the '70s with new projects. That's what everybody was doing. Eric Burdon went off and did his thing in America. The people who were really into music continued. But they had to go into new bands and new ideas.

"Pink Floyd, for example, were friends of ours. I went with Paul to see their first recording audition at EMI.

"When we were doing our Wings albums at EMI, they were doing 'Dark Side of the Moon' in the next studio. So it was all kind of incestuous in a way. Everybody knew each other, encouraged each other. We were doing our own thing, so we weren't necessarily in competition, it was just great to be part of that whole '70s thing, especially in America. It was huge in America. We all wanted to do something new. All artists always want to be doing something new."

Laine co-wrote several of Wings' popular songs, including "Mull of Kintyre." But he didn't fret about not having equal creative input.

"I never thought of it, really. It was kind of Paul's baby. I just went along and jammed on a few ideas. We used to jam on a few old rock 'n' roll songs to start with, songs that we all knew.

"Paul, being such a prolific writer, and it was his thing. He was the one who had to live up to The Beatles thing. I think he was a bit, not scared of that, but he was aware of the fact that he had to be good.

"But it took a while for Wings to be a good band. We had to start doing gigs before we could get tight. Eventually, we got there. Really, it was just because he was my friend that I ended up being in that band. It's because I was his friend, because he knew me well enough that he knew that I was a kind of a creative musician and versatile and would try any style of music and that's what he wanted, I think. He was looking for someone like that. I learned after that Linda had liked The Moody Blues and Paul had obviously said, 'Well, I know Denny.' They were probably tossing it over in their minds, thinking, 'Who can we get who we'll get along with?,' or whatever."

Wings created music that has stood the test of time. "All the years I was there, we did so much recording. A lot of the stuff we didn't even use. But we were really in there like mad professors, just working on stuff. We had some good times doing it. We traveled all over the world. We went to various places to write.

"Ginger Baker had a studio in Lagos, Nigeria. When we were making 'Band On The Run,' we did one of the tracks in his studio. So again, you keep bumping into the same people as you go along. You kind of bring them in on your projects.

"Then when we did all those things with Stevie Wonder and Carl Perkins at the very end of the 10 years that I was with them, that was another direction."

Wings flew high for a decade, until, in 1980, they crashed when Paul McCartney was busted for pot possession in Japan. That caused visa and work permit problems.

"That thing in Japan with Paul caused a lot of problems. I wanted to go out and try something else after that. I knew that was kind of the end of an era... or the beginning of one.," Laine recalled. "It kind of destroyed that direction we were going in with a new lineup. I think Paul wanted to go back to the drawing board after that and so did I.

"I drifted away and promoted a new album, one that I'd been making over the years, actually. That made me think about going my own way. Working on solo projects, I knew it was going to be a struggle. And it was.

"It's hard to get work as a solo artist, when you've been in bands like The Moody Blues and Wings, because there wasn't any material out there representing me as a solo artist, apart from the stuff I'd done in those bands. For quite a few years, I just went in the studio, because I thought I might as well just record, instead of trying to get work on the road, because I would have had to start at the bottom again. In fact, I have had to. That's why I'm doing what I'm doing, because I suddenly realized how much I missed playing live. Then I was out there in England, to start with, doing a lot of live work."

In the '90s, Laine resurfaced with The World Class Rockers, which assembled former members of such bands as The Eagles, The Knack, Steppenwolf and Toto.

"At least I was working regularly, although I wasn't doing that many songs in the show. Eventually, it got to be a little bit stale. But I was playing live again. That's still the thing I love most. It's in my blood."

Laine is working on a new album and an autobiography. "I've proved it to myself and to a lot of people that, if you follow what you want to do, you can do it. You can get there. And I did. I got there with a lot of great people. I did it on all different levels, starting from nothing and getting to the top. Through the ups and downs, there's a lot of things that I'm proud of... or at least I'm happy to have had the experience of. If I hadn't done all that, I wouldn't be enjoying what I'm doing now.

"It makes life easier when you've done all that. You can sort of relax and do it at your own pace. Because all that other stuff, though it was great, it was so intense. It's very difficult to spend time with friends and family and do the normal things that people do, because you're just not that sort of person. You just turn into a different animal.

"But now I'm a little bit more leveled out. I can enjoy life a little more. I'm not going to say I'm semi-retired, but I'm more able to do other things than just music these days. I like to travel. We like horses, nature, filming. It all ties into music, as well, in the end. Because I'm writing music about my travels. I'm writing more songs about more things these days. The travel is like being a researcher in a way. I've had more time to do it these days, without having so much pressure. It's on a more relaxed level.

"The trouble with being in a band that's out there is that you're always trying to do something better. The public is expecting something better. Success breeds that kind of pressure. Now I can just do my own thing and if something sticks, it sticks.

"I've never lost the passion for music. That's been my main strength. Whatever happens, through the financial ups and downs, personal ups and downs, family things, all sorts of things that normal people have. Sometimes when you're not on the road, you wish you were. Then when you're on the road, you wish you were off it. You get dragged along on things and then you think, 'Time to move in a different direction.'

"The older you get, the more you start to realize what you really want to do and do it in your own way and learning to say no to some of the things that you didn't say no to in the past. When you learn to say no to things and make the right choices, then your life gets a lot better.

"I've made a lot of bad choices and a lot of good choices. But I don't regret anything. That's just the way it is.

"Being on the road, you're reminded of the fact that a lot of people are grateful for the music. That's one of the perks of being out there now. I get people telling me how I've influenced their music. That certainly feels good."

Catch up with Denny Laine at www.dennylaine.com.