DEVO: AGAIN CHRONICLING OUR DE-EVOLUTION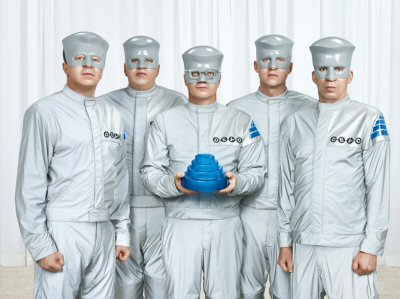 Photo Credit: Joshua Dalsimer
By Paul Freeman [August 2011 Interview]
The world needs Devo, now more than ever. How else will we recognize our rapid descent into de-evolution?
Fortunately, the band has returned with a new album, "Something For Everybody," the first since 1990, and a tour that's delighting fans, old and new.
The new material has the slyly satirical sensibility that Devo cultists crave, juiced up with cutting edge energy.
With writing partner Mark Mothersbaugh busy scoring video games and TV shows, Gerald Casale had doubts there would ever be another Devo album.
Casale has been directing music videos and commercials. His connection with the ad industry opened up an opportunity for Devo. Dell wanted to use "Whip It" in their new XPS laptop computer campaign. Casale suggested the song had been overused and offered to come up with a new Devo tune.
The result, "Watch Us Work" played endlessly in national TV commercials. Suddenly Devo was again on people's radar. And Mothersbaugh was finally convinced that the time had come for a new Devo record.
The concept for the album, as well as its marketing, was profoundly affected by Casale's ad business experience. Once again, Devo is utilizing catchy sounds, sharp satire and imaginative theatricality to cast a spotlight on society's foibles and follies.
While some stubbornly resist the theory of evolution, it's now impossible to refute de-evolution.
Pop Culture Classics chatted with Devo's vocalist/bassist/synth player, Gerald Casale.
POP CULTURE CLASSICS:
I'm really enjoying the new album.
GERALD CASALE:
[Laughs] I'm just glad that anybody gets to hear it.
PCC:
Were you beginning to wonder whether there would be another Devo album? Or were you always confident that was going to happen.
CASALE:
No, I certainly wasn't, as much as I always wanted it to happen, there weren't many signs it would ever happen. And so it came as kind of a surprise.
Devo, from the beginning, for anybody who bothers to know anything real about Devo, it was a collaboration and Mark and I did everything 50/50. So, without that collaboration, if you have four of eight cylinders not firing, you don't have a race.
PCC:
And what was the reluctance on Mark's part?
CASALE:
I don't know. You'd have to ask him. Just somewhere, a long time ago, all he wanted to do was stay in the studio and score for TV, which is a different kind of discipline altogether than writing songs and having a voice in the marketplace on that level.
PCC:
What about your work in the ad industry? Did you view that as just a different kind of creativity? Or was it confining to you?
CASALE:
Not confining at all. Being in a group and writing original material is like being a painter, in the sense that you are creating something that people didn't even know they wanted, until they hear it... and then they want it. And it's your voice. And you're the primary director of that creativity.
When you work in things like creating music videos and commercials, like I've been doing, it's a collaboration and you're not the primary creativity. People are coming to you. They want you to solve their problems. They see what you can do, what your style is, and they say, 'How would you make this work?' And it's up to you to try to make their idea palatable. It's different than sitting there and engendering an idea. So that's why I call it apples and oranges. It's primary creativity versus secondary creativity. And, because I enjoy making films so much, I still enjoy that. But would I enjoy much more directing a film that I wrote? You bet.
PCC:
Is it actually more enjoyable these days, because of the advances in technology?
CASALE:
Well, the good thing about the technology, it's making it cheaper, and therefore much more accessible, especially when you're talking about something like a feature film, where you certainly have to find investors. It's making it more appetizing to people, because the costs have come way down. You can shoot something with high-end HD cameras, with complete sets of lenses, and make it look really great, for about a third of the price of using 35 millimeter film.
PCC:
Is it true that it was that Dell commercial that paved the way for this new album?
CASALE:
It was. I had worked for Paul Malmstrom, the creative director of this agency Mother. It's got to be the coolest agency in America. He and his partner Linus Karlsson had been the top creatives at a big, well known agency out of Minneapolis, called Fallon McElligott. I'd worked for him, directing a lot of commercials, when he was at Fallon. And he called when he was at Mother and said that the guys from Dell were really into Devo. And they wanted to use 'Whip It.' I said, ''Whip It' has been used too much. It's kind of stale.' He goes, 'I know, but I'm just telling you, they want use it.' I said, 'What if we wrote a new song?' He said, 'Well, let me try to sell them on that. I have a pretty, good, trusting connection with this guy Bob, at Dell.' So he went to Bob and said, 'Devo would rather write a new song for you.' And Bob said, 'Great.'
So we submitted about five songs and Paul Malstrom said, 'This one. 'Watch Us Work It.' Let's develop this one.' And he hooked us up with The Teddybears, out of Sweden. And The Teddybears produced it. And it played in that national commercial for the XPS laptop endlessly, over and over. And everybody started calling on it. 'Devo? Is that Devo? Oh, my God! You guys should do an album!' I'm like, 'Yeah, well you're preaching to the converted. Talk to Mark Mothersbaugh.' And so many people came forward, people from record companies, record producers, managers. Somehow, they overcame Mark's resistance at some point. And he said, 'Okay.' So we started writing.
We started writing in 2008. And by 2009, we had something like 40 songs. And we were playing them for a number of people. And, of course, people at Warners were interested, because having been our label in the past, they owned our back catalogue, which then gave them a hedge against any financial risks, because they could reissue back catalogue. And it made sense to go back home to the devil you know. In an atmosphere where record companies were totally imploding and going down hard, Warners still looked viable. It's just hard to say what Warners does these days... or what a record company in general does. They're trying to reinvent their purpose in the digital landscape, because the old model imploded. And there is no new model to take its place. Unless a band can make a whole bunch of money off of merchandise, there's no way they can get any revenue from their creative content.
PCC:
So in terms of ways to put it together and market it, that was all affected by your experiences in the ad world?
CASALE:
Yes. We thought it would be funny, and poignant at the same time, like having your cake and eating it too, to adapt all the techniques that corporate culture uses to bring content to market. So Mother did our campaign and used all the techniques they would use, if they were presenting a new cereal. So we had all the test groups, the focus groups, and social media, and questionnaires. It was great.
PCC:
Is it difficult to walk that line, being part of the corporate world, while simultaneously subverting it? Or is that just an irony you really enjoy?
CASALE:
Most people do it with no irony whatsoever. But the only thing that would make us enjoy it is the irony. And I would advise anybody who's trying to present an alternative message in this world that we live in, that they better learn how to walk the line and be in the corporate world at the same time they may be lampooning it, because that's your only hope. Otherwise you have no voice whatsoever. You might as well just be in a barn, making some pots.
PCC:
You feel that the concept of selling out has become anachronistic?
CASALE:
Sure. I mean, that argument is dead and done, overcooked and sliced up and eaten and disposed of. I mean, The Who did it in 1968 with 'The Who Sell Out,' where they had all those pictures of themselves with fake products. That was brilliant. And Andy Warhol did it. And Jeff Koons did it. Damien Hirst did it. And so on and so on.
PCC:
And so the line between art and the selling of art has been erased at this point?
CASALE:
Yes. That's my point, yes.
PCC:
The focus groups, did you not see that as a risk, that they might run totally contrary to your instincts?
CASALE:
We wanted to take it further. We didn't see it as a risk at all. We wanted to make it more deep, more dimensional, more completely real. We wanted them to even weigh in on versions of songs. 'Would you like a synthesizer on this? Or a lead guitar?'
PCC:
So since the experiment succeeded so well, is it possible you will take it even further in the future?
CASALE:
If we do anything together, as Devo, we will. I can tell you that, unequivocally. We will. This was an experiment. We had a corporate distribution partner, Warner Brothers. We had the band, providing the content. And we had a very cool, cutting edge ad agency. And each of those entities had to find some common ground, in how to deal with each other, right? And it was complex.
I mean, the corporate culture in a record company, as opposed to an ad agency, is so different. I think there was a lot of blowback there. And, if we did it in the future, we would just do it straight with the ad agency, so that everybody's rowing in the same direction.
PCC:
Was one of the goals to keep the essence of the Devo sound, while adding kind of a cutting edge layer on top of it?
CASALE:
I think anybody would always hope to do that, because, certainly any artist or any musician, they can't not be them. If they try to not be them, it never works. It looks sad, when they try to copy somebody else. And so, you're still you. And there was a reason that Devo was Devo and sounded like Devo. It wasn't arbitrary. So we couldn't, unless we consciously did so, we couldn't suddenly be like somebody else. On the other hand, could we respond to and incorporate all the things that have happened in the interim, between pre-internet Devo and post-internet Devo? Yeah, I embrace it. And I listen to lots of music and I like a lot of what's going on. And so we let it filter into our music. And certainly the way we worked was the way people work now. And when Greg Kurstin [producer] worked with us, he worked totally in the box.
PCC:
A lot of bands that have been around a while have difficulty integrating new material into their live sets. I would imagine that your new songs work well with audiences.
CASALE:
Well, if you come to see us, you'll find out that you hit the nail on the head. We mix it in. We don't like go, 'And now, we're going to play some new material.' We just mix it in, a song here and there. And frankly, the audience that we have that's not the old audience, but the twentysomething audience that we have, doesn't know that those songs aren't also from 1983. They have no idea. And they like 'Don't Shoot' and they like 'What We Do' as much as they like 'Girl U Want' or 'Peek-a-Boo.' The cheers are just as loud.
PCC:
'Mind Games' is another of the great new songs. Do you enjoy playing mind games, giving out stuff that the devout might get, while the casual mainstream audience might not?
CASALE:
Yeah. Yeah, you got it on that one. [Laughs]
PCC:
Was there much discussion about changing the costumes?
CASALE:
Devo has always been theatrical on purpose, because we always felt like, if you get up in front of people, you're supposed to bring them some dimension and some form of entertainment that isn't just like standing there and playing your record.
We also use it as a device, because theatrically, it's as old of a device as a caveman painting some charcoal on his face to tell a story to everybody else, because he's going to scare them. And we adopted some new outfits that I designed and some Everybody masks, that make everybody look more similar to each other. Fun stuff.
We always did stuff that was self-demeaning and made us look absurd and people could feel superior, looking at Devo, going, 'Oh, look at those idiots wearing those yellow, plastic suits. And those funny things on their head.' It's disarming. We're not threatening them, so now they'll listen to what we have to say. And, at the same time, they wanted that stuff, because it's well designed and iconic. So they wanted it. They want the red hats, they want the yellow suits, after they get done laughing at them. So we kind of continued that tradition.
PCC:
How do you think the band's Ohio roots initially affected the band's attitudes and perspectives? Was it an important element?
CASALE:
Sure. Certainly. Absolutely. I don't think Devo could have existed in a big city. It never would have been allowed to come to germination. Nobody cared about us there in Ohio. And everybody thought we were losers and idiots and they left us alone. And it gave us a long incubation, a long time to work it out. And we had it totally worked out, before we ever walked in front of anybody. So they couldn't tear it apart.
PCC:
So once you had put it together, did you have any grand ambitions? What were the original goals for the band?
CASALE:
Uh, yeah. I thought Devo should be a very mainstream thing. [Laughs]
PCC:
How big a factor was the visual aspect? Could you have succeeded in the pre-video age?
CASALE:
Well, I think that, when you're a creative person and you have an idea, I think you've got to do it as quickly as you can and as well as you can. You can't wait. And I was the person, way back in Ohio, driving the urgency to make something happen and not just sit around and talk about it for years, going, 'We coulda, we shoulda, we would have been this and that... ' It was to do it. And it wasn't a moment too soon, when we got it out there.
PCC:
Was it a conscious decision to balance the intellectual and the more primitive/sexual elements within the songs?
CASALE:
I don't think it was so conscious. We were just those kind of people. We were like scientists from the waist up and we were Elvis Presley from the waist down. So, really, we definitely had the animal thing that, say, Kraftwerk doesn't have. We definitely had that. That was real. We had grown up listening to big stations out of Detroit. We'd listen to black music. We'd listen to rock 'n' roll. And we were thoroughly immersed in it.
PCC:
You were always kind of associated with the punk and new wave movements, yet you were really apart from all of that. Did you take pride in being separate?
CASALE:
Well, you know, people are going to lump you together with things, whether you like it or not. We never resisted it. It only helps, if people think you're punk or new wave, because then they accept you. You've been trivialized to point where you fit into a movement. And, frankly, we had some stylistic things that overlapped. We had the intensity and the anger. On the largest level, we were connected.
PCC:
Even though the band was always so full of surprises, did you feel you had to meet certain expectations for the followers?
CASALE:
No. We had our own expectations. We had so many big ideas we couldn't execute, because of money and because of record company disinterest or resistance. What you saw each time we came out in those first five records was probably the tip of the iceberg of what the ideas were that had generated those things. We never wanted to do the same thing twice.
PCC:
So, in terms of career, was that the greatest frustration, not being able to attempt some of the things that you had dreamed up?
CASALE:
Certainly. That's always the frustration of any creative person. Absolutely.
PCC:
So what were the greatest satisfactions? What made it all worthwhile for you?
CASALE:
When I look back at the body of videos we were able to create and just the statements on each of the first five records. While I wish there was more, I'm thankful that we did even that much. In retrospect, I look at it and go, 'How did we even do that much?' [Chuckles] When you know what the forces are that are against you all the time, it starts to look amazing.
I look at Bowie's career now. I used to always be critical and go, 'Why didn't he do this? Why didn't he do that? He could have done more.' Now when I look at his career, it's just so mind-blowing.
PCC:
You must be gratified by all the musicians that were influenced by Devo over the years.
CASALE:
That's always nice, to have acclaim coming from fellow creative people. That's always soothing.
PCC:
The devolution of the world, how has that become more evident since the band began?
CASALE:
Well, I think that you could probably answer that yourself, if you thought about it. If somebody showed you, in 1980, in a crystal ball, if they had shown you 2011, certainly, you wouldn't believe it. And, if you did, you would see that de-evolution is real. There wouldn't be any question in your mind.
It seems like what happened in some bad, grade-B, science-fiction movie plot, like 'Here's the dystopia of the future.' And you'd be going like, 'Oh, man. No way. It's not going to be like that. That's just silly.' You'd be watching Octomom and Snookie and you'd be watching eight years of George Bush. And now you'd be seeing Michelle Bachmann and Fox News. And more. Just ridiculous amounts of stuff that would be mind-blowingly horrid and stupid. The whole decimation of the environment. Bin Laden. This is de-evolution. Believe me.
PCC:
The fact that you were able to foresee, in some ways, what was coming, has won you the affection of a new generation of fans.
CASALE:
Yeah, they just think de-evolution is funny, because they grew up with it. It's not an argument for them. They just laugh about it and say, 'Yeah, let's move on from there.' It's kind of like Global Warming. Quit arguing about whether it's true or not. It's true. But now what?
PCC:
It's got to be great to have young audiences hearing Devo as something new, as well as your longtime fans still enjoying the music.
CASALE:
I really appreciate that we have any new audience. I love that.
PCC:
What's the future for Devo? I'd heard about a theatrical musical project, a feature film over the years. What has held those up?
CASALE:
Money.
PCC:
Does it seem any more possible at this point?
CASALE:
No one's stepping forward with the dough.
PCC:
But those are projects that you would love to see get off the ground?
CASALE:
Oh, my God. It's like 'Idiocracy,' Mike Judge's movie. That should have been a Devo movie. We were impressed and jealous. He basically told the Devo story in 'Idiocracy.'
PCC:
It just seems that a Devo movie or Broadway show could work so well, it's baffling that nobody is willing to back those kinds of projects.
CASALE:
That's what I think.
PCC:
So what do you see as the future for the band? You're not sure, if there's going to be a next album?
CASALE:
That's right. I couldn't even guess on that.
PCC:
If there are no new projects, what would you like the legacy of Devo to be?
CASALE:
That's a good question. I guess just that we were a singular presence and that, if we were new wave, we were what was new about new wave.
PCC:
We're looking forward to the current concert tour.
CASALE:
I guarantee you, if you come to the show, you will not be bored.
Visit www.clubdevo.com.