DOOBIE BROTHERS: WE'RE STILL LISTENING TO THE MUSIC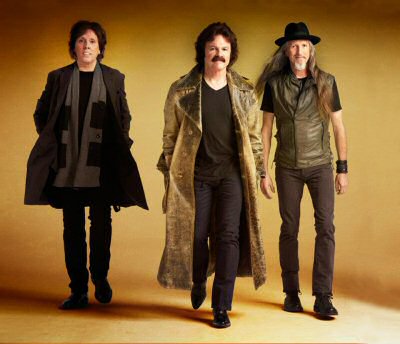 The Doobie Brothers
John McFee, Tom Johnston, Pat Simmons (L-R).
By Paul Freeman [2009 Interview]
Tom Johnston is sure glad he decided to attend San Jose State back in 1969. Though he was studying graphic design, he spent all day, every day, playing music.
"I was living on 12th Street," Johnston told Pop Culture Classics. "That house was like the music center of San Jose. There were always people there jamming, from all over the place - Santa Cruz mountains, Los Gatos, Cupertino. San Jose was a lot smaller. It was back when they still had orchards, before the urban sprawl hit the area."
The singer/guitarist/songwriter hooked up with a fellow Moby Grape fan, drummer John Hartman, who'd just moved out from D.C.
"John was searching for anybody from Moby Grape. That was his quest. I happened to be living around the corner from and hanging out with Skip Spence, who was in Moby Grape. John and I and Skip played together a lot. Skip was over at the house a lot."
Johnston and Hartman formed a band and played local gigs. At Campbell's Gaslighter Theater, they met another singer/songwriter/guitarist - Pat Simmons.
"They invited Pat to come to the house and jam. And we started doing gigs together - Pat, myself, John and Dave Shogren."
With Simmons and bassist Shogren on board, they launched The Doobie Brothers.
Four decades and over 30 million albums later, The Doobies, still featuring Johnston and Simmons, are still going strong. Eagle Rock Entertainment [in November, 2012] has just launched "Let The Music Play - The Story of The Doobie Brothers" on DVD, Blu-Ray and digital video.
The Doobies didn't always play the kind of prestigious venues they now fill. When they began, they were delighted to land gigs at pizza parlors, bars and clubs. "In those days, you didn't care. That was a groove. That was fun to do," Johnston says.
They developed a distinctively driving sound. "We had the harmonies," says Johnston, now a Marin County resident. "We had Pat's fingerpicking and my rhythm style, kind of R&B crossed with rock 'n' roll, and folk-blues, all stuck together in one big deal. That was basically what it was all about."
Johnston had a lot of musical inspirations growing up. "I'm just basically taking everything I learned from all those people and all the experiences I've had doing this job, every place I've been, put it all together and whatever comes out, comes out."
He lists some of the artists who inspired him: "Jimmy Reed, Little Richard, Bo Diddley, James Brown, B.B. King, Freddie King. To me, the king of rock 'n' roll was Little Richard. I liked a couple of Elvis songs, don't get me wrong. But I thought Little Richard was the one who brought the fire.
"Later on, a lot of rock bands influenced me. I was a huge Cream fan. And Mountain. And, of course, Moby Grape. Dug the musicality of the Beatles. And they were amazingly prolific."
Skip Spence connected The Doobies with San Mateo's Pacific Recording. That resulted in a demo that landed the band a Warner Brothers contract.
Once they'd recorded an album, The Doobies could get gigs at better spots, like The Keystone in Palo Alto and San Francisco.
The band began touring. "The first tour we ever did was with Mother Earth, all over the United States. It wasn't until the second album was cut and the first single came out, which was 'Listen To The Music,' that things really started popping.
"'Listen To The Music' reflected the era's idealism, the belief that we could change the world through song. That was the naive idea. Obviously it didn't work. But it was a neat idea.
"I was young and dumb. I was reading Herman Hesse and listening to Alan Watts, who was preaching the utopian society. All that stuff really sounded great on paper. But it wasn't realistic. The world doesn't work that way.
"I no longer think we're going to make even a small ripple in the way the world works and the way politics are. We're just a workin' band. Right now, the way I look at music, it's a way for people to get away from their troubles. That's pretty much it. Our job is to go out there, rock the crowd and get them up and having a great time.
"'Listen To The Music, that was the only song I called as a single and was actually right about. I called Ted [producer Ted Templeman] to play him the song at three o'clock in the morning. I was famous for doing that. I said, 'This is going to be the single, man.' He said, 'Well, maybe with some changes. I don't know.' At three in the morning, who the hell wants to hear it, right? But we cut it just the way I had written it and it did become the very first single"
Johnston wrote and sang many of the other Doobie Brothers' early hits, including "Rockin' Down the Highway," "China Grove," and "Long Train Runnin'." He also sang "Take Me in Your Arms" (penned by Holland-Dozier-Holland)
After a bout with a bleeding ulcer in 1975, Johnston left The Doobies for a while. That's when Michael McDonald joined and the band's style shifted.
"We were doing 180 shows a year, always on the road or in the studio, never at home. I just said, 'I've got to take a break, just hang out, go play baseball or whatever.' And I did."
Johnston also made a couple of solo albums. But he stayed off the road and it revitalized him.
In 1987, Doobie drummer Keith Knudsen (who passed in 2005) summoned all the former members to reunite for a concert benefiting Vietnam veterans. They sold out The Hollywood Bowl faster than any act other than The Beatles. More benefits followed, including several for Stanford Children's Hospital.
Over the years, the many Doobie hits have meant a great deal to a great many people. Johnston says, "From guys who went to Vietnam to people who were just leading everyday lives, they tell me how the music helped them through hard times or reminded them of good times, how it was kind of like the soundtrack to their lives."
By 1989, the band was takin' it to the streets full time again and Johnston was on board. More than 20 years later, they're still going strong.
The Doobies stayed on course and made an impact. Johnston said, "I'll occasionally run into somebody in a band who says, 'Oh, man, I've loved your stuff for years.' That's gratifying, because you realize you did something that was substantial and changed the way people thought about music... a little bit, anyway."
It's not just nostalgia for The Doobies. Johnston says they've completed a new album, which will be out in early 2010.
"We did an album in 2000, but we didn't have a producer. We decided to produce it ourselves. Although it came out good sonically and had a couple of good tunes, I wasn't that enamored with that particular production. But the new one, I think is going to be head and shoulders above that.
"This one [2010's "World Gone Crazy"] is kind of a different direction for the band. There's some stuff on it that people will hear and say, 'Yeah, that's The Doobies.' But there's also a lot of stuff on there that they won't. Everything from a New Orleans kind of R&B thing to a kind of Hendrix crossed with Tower horns kind of deal, which is a wild combination. There's a funky tune about Jamaica. I did a blues thing on slide. I'm not known for being a slide player. John plays dobro. I'm playing acoustic guitar. One is a shuffle, a Dylan/ Taj Mahal kind of a thing."
The Doobies paid for "World Gone Crazy" themselves. "We're not on a label. We're not beholden to anybody. Nowadays, signing with a record company probably isn't the best thing to do, because they're hurting. They're in the shape they're in, because they didn't embrace the internet. God bless iTunes.
"You've got these huge conglomerates. Record companies nowadays are run more by business people than they are music people. They used to be run by a lot of people who were either former musicians or producers or something like that and then they moved up into positions of responsibility in the company. It they signed a group, they would stick with them for awhile.
"If the first single and first album didn't take, they would stick with them for two or three albums. Nowadays, if your first single doesn't take, you're out of here. That hurts on the creativity end. It doesn't really let a band evolve like it should, because they're not getting the direction, from a producer, etc., that might help them. It's a whole different ball game now.
"Radio changed. The whole record industry has completely changed. The whole landscape of the music business has changed drastically. It's not anything like it used to be.
"There's a huge amount of luck involved in anybody making it in this business. It has always amazed me, the amount of people out there who are incredibly talented, but never make it. And some of the people who do make it, really aren't very talented at all. It has a lot to do with luck and with who you have behind you, the machine that's giving you a push."
Johnston's daughter Lara is a gifted vocalist who competed in TV's "Rock The Cradle" and "American Idol" shows.
"She's got a killer voice. I never ever encouraged her to get into the music business, because it's kind of a nutty business, to say the least. And it's so competitive, way more competitive, by leaps and bounds, now than it was when I got in it. But it was what she wanted to do.
"She was a great student. I said, 'If you want to do this, I'll back your play. Just make sure that you have something to fall back on, because it's a tough business to get somewhere in. But she has a really great voice. She's already done a lot of stuff. We'll see how it goes. I want her to have a good life. I don't want her to make it for a year or two and then not have anything going on. At the same time, with a voice like she has, it shouldn't be a problem to make it. It's just how long you can keep at it."
Johnston hopes the music fates will smile on Lara, as they have on him. "Not all bands are as fortunate as we are. We've been real lucky to have lasted this many years, that the engagements are there and that we make the amount of money we do. We've been really, really fortunate. It's not that we don't work hard. We do. But a lot of people work hard. And a lot of them gave up, said, 'the heck with it,' fell by the wayside and found a regular job. They might have been successful back in the day, but maybe the band fell apart or for whatever reason, it just didn't keep working for them."
He will keep working, keep creating. "I'm really into writing songs and my goal is just to keep getting the music heard. And that, like I said, is tougher nowadays than it's ever been. But I really enjoy being in my studio, writing songs. If I can get them on a record or in a movie, it doesn't have to be with this band. It could be writing songs for my daughter or any number of people. I just dig writing songs
"Sometimes it flows, sometimes the spigot's closed. It's nothing you can predict. In the recent past, one of the things that happened in my life that really triggered a lot of songs - and it's weird, because it was a sad thing - was when Keith died.
"For whatever reason, it just triggered a huge writing response. I wrote about 20 songs, one about going through his death. But the rest of them had nothing to do with that whatsoever. And they weren't down songs. They were up songs. It's really hard to figure what's going to cause a song to come about. I always write the music first and the lyrics later. They just come from wherever they come from.
"To me, the best songs always come out of the blue. If you try to make the song work, labor at it, mechanically put it together, it just doesn't seem to work for me. It just doesn't seem to have the same feeling. When you get an idea and run right into the studio to put it down, those seem to work the best. I just fool around with guitar or keyboard at home and things just pop up.
"I don't know what the source is. I don't question it. I'm just grateful that it's there. The songs come just as frequently now, but not on road, only when home."
Our phone conversation with Johnston comes as he's in the midst of a 14-hour bus ride. "It's just part of the gig," he says. "As Keith used to say, 'We get paid for the 22 hours it takes to get there and then we play for nothing.' It's grueling, but it's still a gas to play on stage, get the crowd on their feet. Otherwise, I wouldn't still be doing it. Literally, the only reason I still do this is that I get a bang out of playing in front of people."
Past, present and future, performing is part of Johnston. "We get a wide demographic. Everything from little kids to teenagers to college kids to people our age and everything in between.
"The songs still get radio play, which helps a lot. Also, we play in enough places, and often enough, that people hear the music, see the band. Not to be egotistical about it, but we put on a really good show. People really get off on it. They respond in a big way and word of mouth spreads."
For the latest news and tour dates, visit www.doobiebros.com.