ELIANE ELIAS:
SINGER/PIANIST BRINGS BRAZIL TO THE WORLD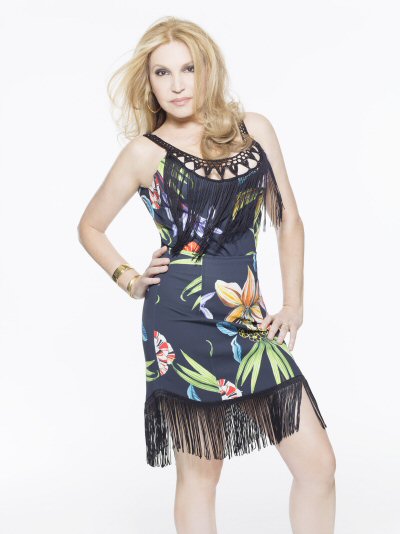 Photo by Philippe Salomon
By Paul Freeman [June 2015 Interview]
Yes, you can go home again.
On her latest album, pianist/vocalist and Sao Paulo native Eliane Elias returns to her homeland for "Made in Brazil." She brings her own scintillating sensibility to that region's sounds and styles. Whether delivering original tunes or jazz/pop classics, Elias knows how to make a song irresistible.
It marks the first time she's recorded a disc in her native country since moving to the U.S. in 1981. In addition to performing, she was also involved in the project's songwriting, arranging and producing.
The multi-Grammy-nominated Elias was born with musical ability. She comes from a musical family. She began studying classical piano at age seven, was transcribing jazz solos by age 12 and taught at a top school when she was 15. At 17, she toured South America with Jobim's writing partner, poet Vinicius de Moraes.
After moving to New York and studying at the Julliard School of Music, Elias joined the group called Steps Ahead.
She recorded her own first album with first husband Randy Brecker, the great trumpeter. It was called "Amanda," after their daughter, who's now a rising musical talent herself. Elias' 1987 release "Illusions" featured Steve Gadd and Stanley Clarke. In the 1997 Downbeat Readers Poll, the Elias recording "The Three Americas" was voted Best Jazz Album. She has continued to record acclaimed albums, working with some of the world's finest musicians
Elias, who has released tribute albums to Bill Evans and Chet Baker, as well as Jobim, considers herself an instrumentalist, a pianist, first and foremost. For EMI Classics, she has recorded works of Chopin, Bach and Ravel.
But once she did a bit of singing on her early albums, her label implored her to do a vocal record. Her soft, sensual voice, singing in Portuguese or English, bewitched listeners, who wanted to hear more and more.
Popular in many parts of the world, Elias is currently touring with "Made in Brazil." Her band includes her husband, bassist Marc Johnson.
Elias graciously spoke with Pop Culture Classics.
POP CULTURE CLASSICS:
The "Made in Brazil" album, what was the atmosphere, the feeling, going home to record?
ELIANE ELIAS:
To me, it was quite special. It's something that happened very organically, actually. It's not that I said, "I'm getting on a plane, going to Brazil and I'm going to make a record there" [laughs]. It was that I had some time off. I was in that cycle, starting to prepare for a new album. And I thought, "Oh, it would be nice to go to Brazil and write there." But you never know how things will happen, how much inspiration you're going to have, how much you will produce, in terms of new material.
And when I got there, it was very, very, very inspiring. I knew that I wanted to do a Brazilian album. And writing the material, just being there, the environment, the language, the weather, everything, being surrounded by my culture and my roots, it was all very inspiring. I got all this material together, wrote all the songs you hear that I wrote. And then wrote the arrangements for the covers. And then found the right musicians, went for a rehearsal, just to see how it would be. And after we rehearsed, I said, "That's it! We have to record!" [Laughs] Yeah, it felt really great.
PCC:
Is there any difference in your singing approach, whether you're doing originals or a standard, someone else's compositions?
ELIAS:
Well, my vocal approach, before this, I did the tribute to Chet Baker, who's an instrumentalist who sings. I'm an instrumentalist first, always been a pianist first. I did the tribute to Chet Baker, because he was so inspiring to the Brazilians, to the bossa nova. It's unaffected, without a vibrato, lyrical, soft. It's way of traveling. You know, I travel very comfortably through harmony, being a pianist. It's different than singing and not playing an instrument, not knowing how to play an instrument. So I have that comfortable relationship between harmony and melody. And, of course, rhythmically, as well.
So my general approach is the same, no matter what I do. But the inflection is different, when I'm singing a jazz standard than when I'm singing a Brazilian song.
PCC:
The process of writing, can you discipline yourself to sit down and write? Or do you have to wait for the muse?
ELIAS:
It happens both ways. Sometimes I'm very surprised. Like for example, the tune "Some Enchanted Place," the music - it was different for the lyric, because Marc Johnson wrote the lyric - but the music, I got up this particular morning and I went right to the piano and I had to get music paper really fast, because it was pouring out. The song called "Searching" happened the same way with music and lyrics together, like, "Wow!" So those are moments of inspiration. And you've got to be very aware, very connected to yourself, so you can say, "Yes, I can feel it. It's going to be now" and allow it and take everything else out of your mind. And allow that to happen. And I can feel, when it's going to happen.
And, of course, there are other times, when I think, let's say, "I really would like to write an arrangement for this tune. Let me see what I can come up with." So sometimes it takes a little more work to try to figure out which way I want to go, the color that I'm looking for. Creating art, sometimes it's like making a quilt, like putting pieces together of harmony and combining them in a way that's going to sound beautiful and have those colors. What colors am I going to use? So it's that kind of work. But I can go both ways. I can say, "Okay, I have to do it." But then I get myself into that particular state again, that is like, "Okay, let me empty my mind and just go into this." That's the number one thing.
PCC:
In choosing other artists' material to work with, is it usually something in the melodic content that reaches out to you? Is it the lyrics?
ELIAS:
When I'm singing a song, I have to feel compelled to speak that lyric, to think I connect to that lyric. When it's a vocal song, of course the content of the lyric is important to me. But also, the song has to speak with me. Melodically, harmonically, it has to speak, so that I can go in and do it. But if I'm going to sing it, I have to think, "Okay, do I relate to that?" It has to have a message or something I want to speak.
PCC:
Your daughter sang on the album?
ELIAS:
Yes, she sings with me on "Some Enchanted Place."
PCC:
That must have been a very special moment for you.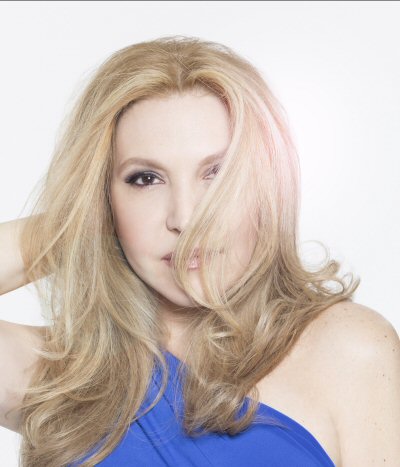 Photo by Philippe Salomon
ELIAS:
Very special. She's wonderful. She's so talented, has made some of her own CDs. She's a singer-songwriter. Very quick. Like a sponge and she gets it. You show her something She's extremely musical. So it was beautiful. It was wonderful to sing together.
PCC:
Had she shown a gift for music very early on? Or did you try to guide her in that direction?
ELIAS:
No, no, I didn't try to guide her. She showed, from the time she was a baby. In fact, the very first time, that was kind of shocking to all of us, I was making a recording, a CD that was named after her. I was like eight, nine months pregnant. I was playing a samba [she sings the beat], called "Samba De Bamba." And as I'm recording, I had to show all the musicians, nobody could believe it, as we played the samba, her little foot would kick on the second beat, ba-boom, ba-boom, like perfectly in time. I thought, "Oh, my God! What is this? Is this a soccer player that I have here or a musician?" [Laughs]
And, as a baby, even if I would sing a song, and leave like the last note for the song for her, she would sing it in perfect pitch. And then her father and I would look at each other and say, "Okay, I'll change the key, sing another key, and leave the last note." And she would sing that perfectly. And that's as a tiny baby. Her talent was incredible. As a child, she composed. She would come up with lyrics, like, "My Mom doesn't let me go to the party…" or whatever. She'd write these lyrics. Write songs. Play the piano.
And then, when she came to be a teenager, she decided that she didn't want to have the type of life that I had, because it's too much, too crazy, too much traveling, difficult. And she wanted to do something else. I said, "Whatever makes you happy." So she turned away from music and got a degree at Bucknell University, an Ivy League school, got her Masters at N.Y.U. and she was working at the United Nations International School as a French teacher. She studied in France for a while. And then she gets called to do a record [laughs]. And that changes everything.
PCC:
It also must be wonderful to be able to share your musical passion with your husband, Marc, who's part of the band.
ELIAS:
Oh, yes. It is. It is more than wonderful. We share music and work in our life together. And it's so wonderful.
PCC:
With this project were you reminded of what is so uniquely magical about the sounds of Brazil?
ELIAS:
This album has the authenticity. A lot of people love Brazilian music and many artists want to play the bossa nova or play the samba. But I feel the responsibility and the pleasure of giving continuity to the authenticity of this music. And an album like "Made in Brazil" goes beyond bossa nova. It has other grooves that are also Brazilian, different Brazilian grooves, different ways of playing that goes from the tradition to the music more of today in Brazil.
So I feel it's important for me to give that continuity, to continue recording some of my projects to be Brazilian. And this one was very special to me, because we have an orchestra, we have beautiful strings and we have Take 6, Ed Motto, Roberto Menescal, all those beautiful guests. But the idea is so that there is something that hopefully continues, inspiring people to listen to this music and satisfy their curiosity, how to approach it and what does it really sound like, when it's done by Brazilians.
PCC:
Growing up in a musical family, did you have a variety of influences, from classical to the Brazilian sounds and jazz?
ELIAS:
Oh, sure. Classical music has always been part of me, my upbringing, my studies as a young musician. And I had also the benefit of being in Brazil during one of the best periods of music - the 60s. 70s. And then jazz, I probably heard more than an American child would hear at home, because my mother had, you name it, she had all of the great collections of recordings and would play them in the house. So I had that perfect upbringing, very eclectic. But the classical music was very important to me, to study the great composers, the literature that is out there for piano is just so beautiful. So you can have inspiration and examples in composing for piano, but also to develop the technique, as I did, to be able to execute any ideas. So anything I want to tackle on piano, I can do it. I can choose to do something or not, but I can do it. And for EMI Classics, I recorded Chopin, Villa-Lobos, Bach and Ravel. It's part of what I have done in my musical life.
PCC:
Performing as a child, on piano, was music the sole focus on your life? Did you feel you were making a lot of sacrifices? Or were you able to have a well-rounded childhood?
ELIAS:
I wouldn't say they were sacrifices. They were choices that I made. I had a childhood that was a very, very normal childhood. I played a lot outdoors. I did all kinds of things that children do. At the age of 10, I was taken by music in such a way, I was crazy about jazz. I would hear improvisation, I wanted to do it. I started transcribing. I learned how to write music. I can hear everything that goes by and I can write that. So I have that facility, the gift of being able to do that. So I transcribed anything that I liked that a pianist played, or even another instrument. And I would play along with those records. So that became unusual for somebody my age, because everybody wanted to go play. And I didn't want to go play. I wanted to play the piano.
What I really didn't have was a normal teenage life. I never would go dancing or what other teenagers were doing. I was around older people. Like during the school breaks, I would be in the room that they had for the teachers, for their break, and they had a piano there and I would be there playing the piano. I wouldn't hang with the people my age. My interests were different. And the musicians I was already working with were so much older. At age 15, I was a teacher in the best school of music in Brazil. So I had an adult position. And age 17, I was traveling throughout all of South America, sometimes with Jobim, but mostly with Jobim's co-writer, Vinicius de Moraes, for three years.
So I went from childhood to adulthood. And don't feel that it was a sacrifice. I think it was a blessing. I don't know if music found me or if I found music, but I had this joy in my life, something that I love to do. I love to perform, to make music, to bring it to people, to do something for their lives, so they can hear it and have relaxation, have pleasure, happiness or whatever feelings they get from it. It's been a blessing in my life.
PCC:
The singing, did that come naturally?
ELIAS:
Yeah, I didn't want to, because I was such an accomplished pianist at a young age. I was a young prodigy, virtuoso. I didn't want to give room for the voice. I just wanted to play. And I didn't want to sing. But I sang on my very first record and then I sang on several of my records a little bit. But not until maybe 17 years ago, that's when things really changed. It was because I was doing a little bit live and the record companies asked me, "Please would you do a record, singing? Please just do this one singing for us?" I said, "Okay, I'll do one where the voice is in an even more important place than the piano. But just one and that's it." [Laughs] And I did and that did so well. And it became integral to what I do.
And I actually enjoy it so much, because doing both, I mean, you can't get any closer to what Eliane is. It's really integrated. And they can exist separately. I can do some concerts that are only instrumental. And I have done that. Or I can get up, leave the piano and sing with an accompanist, like guitar accompaniment. And I do both most of the time, playing and singing at the same time. And doing both opens a lot of possibilities. There are so many songs I wouldn't think about recording as instrumentals that I like doing as a vocal song. So it's really nice.
PCC:
Moving to New York, studying at Julliard, was adapting to the new surroundings scary or just exciting?
ELIAS:
It wasn't scary. I was ready. I had some invitations to move to New York before. A couple of different American managers heard me in Brazil, when they were traveling with their artists who were performing there. But I didn't feel ready. And I moved here, when I felt that I was prepared to come in and enter this profession here in the United States, that is predominately male and American. And I being a white, blonde girl from Brazil, I said, "Okay, I'm ready!" [Laughs] And I was.
Things happened fast. And coming to New York was like coming to a little town. I thought, "Wow! This is so sweet!" Because I come from a huge metropolis, huge city and I travel all through South America, so I came to New York and I thought, "That looks like a Disney World for adults, little numbered streets and safe." I was not intimidated.
PCC:
As you travel, it must be so gratifying to know how well the music translates, wherever you might be.
ELIAS:
Isn't that something? It is beautiful. It is very gratifying. Very. I don't stop touring and I go everywhere in the world and it's just wonderful.
PCC:
At this point, for you, what are the most rewarding and most challenging aspects of life as a musician?
ELIAS:
The reward is always my experience with music, creating music, performing music, making the music for the people. It's so wonderful. I normally try to, after concerts, sign the autographs and receive everyone who wants to say hello. And that's a lot of time I put in for the fans, because I like people. So I receive them. And it's wonderful to see, to hear what they have to say and what the music brings to them. My relationship with music is the number one reward and the reason why I do it. And then the results of that, when you reach people.
And challenging is that it's a lot of work [laughs]. It's very demanding of my time, of my life. I'm on the road about 220 days a year. And travel, it's not easy, going through the airport, the time changes, jet lag. So as much comfort as we try to travel with, it's hard on the body. It's hard to do this much. And sometimes, I'm just, "Oh, my God, I need to take a few days off!" And then, after two days off, I'm ready to go again. [Laughs]
PCC:
Do you know yet what your next project will be?
ELIAS:
I don't know. I've been thinking about it and usually that is dictated by when I have a little bit of time off, which I haven't had yet. And then I can be with the piano and, going back to that earlier question of yours, as to how it happens, well, when I allow it, when I'm in that place where I can just let it happen, and see what will come, that will dictate the next project. For more on this artist, including upcoming tour dates, visit elianeelias.com.